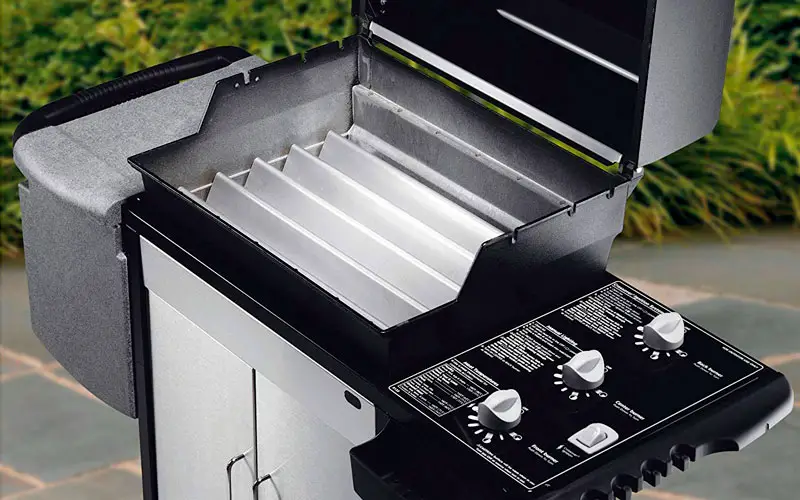 Grilling your barbecue can be exciting with the right Gas grill. There are quite a lot of them in the market today, and a typical example is the Weber gas grill.
It comes with different components that make grilling more fun. The different parts include items such as Ash catcher, Gas burner, Flavorizer bar, Hose, Grate, and ignitor Kit.
Out of all the components, the Flavorizer bar is quite important as it contributes adversely to the flavor of barbecue. A full context of the Flavorizer bar and its different types will be examined in this Weber Flavorizer Bars Stainless vs Porcelain Review.

Weber Flavorizer Bars Stainless vs Porcelain – Lets find the Difference
The use of the Weber 7620 gas grill flavorizer bar will help release the flavor feeling of your Genesis 300 series gas grill. The flavorizer bars are high-grade deflectors that distribute heat evenly.
They come in a build which can prevent direct exposure to flame and hence prevent food from burning. The flavorizer bar at the same time transforms juices into smoky flavor vapors that permeate your food.
This flavorizer bar comes as a set of 5 stainless steel pieces which is suited for use in Genesis 300 gas grills with front-mounted-control. In terms of size, the flavorizer bars come in a length of 17½ inches.
This flavorizer bar feature holes or notches, which allows for easy installation. Installing the flavorizer bars requires you to slide through bars in the grill.
Pros
It is a top quality product
It comes with high-grade deflectors that easily distributes heat
It grills food efficiently
Cons
Becomes rusty if it's not properly taken care of

Weber Stainless Steel Flavorizer Bars Guide – Find the right bars for your Weber Grill
Note: Before buying new bars I recommend you to check the size of your old bars to be sure that you are ordering the right ones.
Also you can check if choosen bars fits your grill by checking Serial Number here.
Your best take for your Weber grill is to replace bars in your grill with these flavorizer bars. The bars come in a set of 5 each having size dimensions of 17.6 by 2.3 by 2.2 inches.
This set of V-shaped angle Flavorizer bars sizzle and smoke when cooking juices are dripping down. This then adds flavor to your meal.
The flavorizer bars are a suitable fit for the Weber Genesis series gas grills with a front-mounted panel. It comes with a material construction of Porcelain-enamelled coated steel which gives it a quality look.
Pros
Easy to install
Protects and help extend the life span of the burner
Cons
They do not fit all Weber gas grills

Weber Porcelain Flavorizer Bars Guide – The bars that fits your Weber Grill
Note: Before buying new bars I recommend you to check the size of your old bars to be sure that you are ordering the right ones.
Also you can check if choosen bars fits your grill by checking Serial Number here.
The Weber 7537 flavorizer bars comprise entirely of stainless steel, which gives it a long-lasting ability. These flavorizer bars also come in a set of five and is a suitable fit for Weber gas grills like Weber Genesis Silver B and C, Platinum B and C (2005 model), Gold B and C (2002 and newer models), Weber 900, and Spirit 700 gas grills.
The Flavorizer bars help to deliver heat across the grill surface evenly, protect your burners from grease and change drippings into vapor, which helps flavor your grilled food items.
Pros
It is great for replacing your grill bars
It can create delicious and barbecue flavor
The Weber 7636 flavorizer bar is a good fit for Weber Spirit 300 gas grills. It comes with size dimensions of around 15.3 x 2.6 x 2.5 inches. This flavorizer adds Smokey flavor to your grilled foods, and it also can protect burners from grease drippings.
This flavorizer bars also come in a set of five. The Weber Porcelain-Enamelled Flavorizer Bars are designed to disperse heat for even cooking and turn drippings into flavorful smoke that enhances your food.
Pros
Will fit a wide variety of Weber grills
Easy to install
Cons
It does not fit all gas grills
Get the excellent grilling activity you can ever wish for with the Weber 7528 stainless steel cooking grates. These grates are heavy duty with size dimensions around 19-1/2 in. X 13 inches and weighs 14.3 pounds. Each one of the rods comes at a diameter of 7 mm. It is built to last for longer periods due to the stainless steel feature.
They consist of 18 rods welded together in an interlocking pattern. These robot-like -welded rods produce plenty of sizzle and spruce up easily after each use. It comes out of the box as a set of (2) stainless steel cooking grates. This particular set of grates comes as a genuine Weber gas grill accessory explicitly built for Genesis 300-series gas grills.
You see this product in our Weber Flavorizer Bars Stainless vs Porcelain Review because it is also vital to change your cooking grates for a better taste of grilled food.
Pros
The Weber grate is durable and long lasting
It can be used for heavy duty grilling, making it suitable for professional services
Cons
It is not suitable for small gas grills

Weber Flavorizer Bars Stainless vs Porcelain – What is the Difference?
Contents:
What Are The Flavorizer Bars?
Now, what are Flavorizer bars? How is it essential for a grilling activity?
In a Weber Grill, the flavorizer bars appear as a lustrous material in an inverted V-shaped piece of steel found lying over the burner and just below the cooking grates. Due to the flavorizer bar feature, the Weber gas grill can make excellent and savory pieces of barbecue.
For a Weber gas grill, there are two categories of Flavorizer bars based on their material construction; there is the Porcelain-enameled steel (least expensive) and Stainless steel Flavorizer bars (quite expensive). Their ability to withstand high temperatures running from the burner also makes them an indispensable component of the Weber gas grill series.
Why Is A Flavorizer Bar Important?
Irrespective of the material type, the flavorizer bars serve some inestimable purpose when it comes to grilling, and one can surprise it makes for safe grilling too. They serve purposes such as:
1.Preventing Flare-ups
When grilling over a burner, flare-ups are expected to occur. These flare-ups occur a result of excess oil or grease falling from meats and shed been grilled. This flare-up can cause scalding burns and other injuries to the body when in contact with the body.
However, the presence of a flavorizer bar helps to vaporize some of the oil drips quickly. They also prevent flare-ups by shielding any excess drips into a drip pan just below the flavorizer bars.
2.Stimulates Flavour and Pleasant Aroma
The extra benefit of Flavorizer bars in a Weber gas grill is that it adds flavor to your food.
You will ask "How?"
Since the flavorizer bars come with the ability, vaporize oil drippings from marinades and juices of the meat and other food. This vaporized oil is usually circulated back to the food, which in turn adds extra flavor and aroma to your grilled meats or any other food item.
3.Protect Burner
The Flavorizer bar serves to prevent oil drips from penetrating the burner while still at a high temperature. It is usually when the oil penetrates the burner that it can cause accidents.
The Flavorizer serves to protect the burner when it serves as a cover for the burner. By protecting the burner, the flavorizer bars prevent debris released from the grilled food items from clogging the burner tube ports.
4.Even-Heat Distribution
The flavorizer bars serve to create parallel heating throughout the cooking grates. In spreading this heat equally, you get to grill your meat/barbecue maximally.

Are Porcelain Grill Grates Better Than Stainless Steel?
For whatever material construction your flavorizer bar is made up of, either of them is exposed to extreme temperature conditions which could degrade them over time. However, their life span differs from each other so also is their ability to conduct heat. Your Flavorizer bar either comes as stainless steel or porcelain enamel steel.
Although both of them are excellent conductors of heat, however, in terms of Performance, the porcelain grate can grill faster due to its inherent ability to retain heat. One thing to note is the porcelain enameled grate are pieces of cast iron metals with a coating of porcelain.
However, the porcelain grate gets corrosive for a short period. While the stainless steel grates have extreme durability, it does not attract heat like the porcelain enameled grate.
Do Weber Flavorizer Bars Work?
The Weber series of gas grills such as the spirit, Genesis, and summit gas grill. They are excellent and quality performance gas grill because of the Flavorizer bars. The flavorizer bars in the Weber gas grill can direct grease away from burner tubes.
By directing the grease and drippings away from the burner, the burner tubes are adequately protected from any form of clogging which could hinder the performance of the gas grill with time. They take excessive punishment from heat generated from the burner tubes.
With time the Flavorizer bars' once attractive appearance becomes rusty and corroded usually due to excessive exposure to elements and when not properly cleaned.

What Kind Of Grates Are Best For Gas Grills?
The cooking grates are the essential part of a griller. It is often exposed to heat on a concurrent basis, which is the more reason why such a grate must be strong and heat resilient. Over time, a grate that once worked well from its first use will begin to cook up undesirable food. This is the reason why you need to make the best option of a quality grate when buying.
The typical example of cooking grates comes in types of which can either be porcelain-coated cast iron, stainless porcelain-coated steel, and plain steel.
Stainless Stell Grates
The stainless steel type can't retain heat over time. Steel grates are inexpensive cooking grates. However, with repeated use, plain steel tends to lose its temper, and it will start to develop chips or rough edges. This often renders the surface unpleasant and uneven, and, in turn, it leads to food sticking to the grate.
Porcelain-coated Grates
Although the Porcelain-coated steel or cast iron is the right choice, the coatings appear like a temporary fix since these coatings can wipe off with extensive use. When the porcelain coating is removed, the metal underneath is exposed to moisture and causes it to corrode.
This is true of coated cast iron, though coated steel can develop problems as well. When it comes to using a porcelain-coated cooking grate do not be put off by its cheap price tag, you need to consider it is of good durability.
Taking proper care of a quality porcelain-coated cooking grate involves that you keep hard metal scrapers from it. However, you can always rely on a subtle metal brush to clean the grate to preserve its quality for a good number of years.
With a cast iron grate, you can grill faster due to its inherent ability to heat up quicker and also retain heat for a more extended period. It, however, costs more but can last for decades if it is properly taken care of.
Which Way Do The Grates Go On A Weber Grill?
When installing a new Weber gas grill, it is not uncommon to find a gas grill set in different orientations. Now, the grates often appear in a triangle-like shape with a pointed end and a wide flat underside. There are also four small legs in each comer of the grate to ensure an even level cooking surface.
The wide flat underside of the grate ensures an even heat distribution and should face up for maximum contact with whatever food you are cooking. Having this piece of information in mind will ensure you install grates in the right direction.
How Long Do Weber Grill Grates Last?
A Weber gas grill comes with warranties that can cover up to 2- 5 years of usage. The extent to which the grates can last also depends on the material type.
For stainless steel, which is built to last for a long time it comes with a warranty of 5 years.
A porcelain-enameled grate comes with two years warranty. However, no matter the situation, both grates can last for decades depending on use (whether frequent or occasionally) and also maintenance culture. No matter the quality, they will still degrade over time, so it has to be properly cleaned and seasoned.

Should I Season My Weber Grill Grates?
It is all part of the maintenance culture, seasoning your grill grate is quite important. Now, the question is why it is important. After all, the grill is used for seasoning meats and barbecues.
If you want to use a grill for the first time, it is essential to season. Season gets rid of toxic wastes that might have accumulated over time from the manufacturing process. Here are other reasons you need to season your grill grates:
1.Easier Cooking and Cleaning
Seasoning gives your new grill grates a non-stick feature which allows for efficient cleaning. By seasoning, you are giving the grill grates the ability to work at their maximum peak. The ability to cook faster is because the cooking oils and fats create a smooth, slippery surface that makes the food adhere to the grate.
2.Better Flavour
When you season your grill grates the cooking oils vaporize to the entire surface and coat the surface of the grill. The vaporized oils on the grill surface add extra flavor to your grilled food items.
3.Extends Grate Lifetime
Seasoning helps extend the life of your grill grates by reducing rust and any form of degradation. With seasoning, your grill performs better and efficiently.
How Do I Season My Grill Grates?
The essence of seasoning grill grate cannot be underemphasized. Making an effort to season your grill grate will ensure its longevity and give food a good flavor. When it comes to seasoning, you will require the use of materials like cooking oil, paper towel, and a soft brush. Avoid the use of metallic scrapper.
On first use, rinse the grill grates thoroughly and then expose it to air (to air dry)
Use a clean paper towel and cooking oil. Wipe the surface of the grill grates all over with a high heat resistant oil such as a canola or vegetable oil. A spray bottle of oil is equally important to prevent the excessive application of oil to the surface of the grill
Lightly brush or wipe the oil on the grates. The idea here is to bake and seal the grill and grates. With cast iron, the oil will seep into the pores of the iron, bake in, harden and create a smooth non-stick coating
After adequate application of oil, you can then turn on the Weber gas burner. Light your burner to a scorching temperature
Let it burn and smoke between the periods of 30-40 minutes
Do note that the grates will change in appearance. The Shiny stainless steel will discolor and appear as a black sheen. This is a sign the non-stick feature is developing
Then you may turn it off and let it cool. Your grill is seasoned.
Important Note: Avoid over oiling, too much fat could start a grease fire when the grill hits high temperature.
How Do You Clean Weber Stainless Steel Grill Grates?
Keeping your grill grate clean involves that you clean it regularly. Cleaning methods consists of the use of materials such as paper towel, quality soap, water, vinegar, baking soda, and Aluminium foil. It involves three processes which are; Soaking, scrubbing, and rinsing.
1.Make a baking soda paste in a small bowl of water. The use of warm water allows for effective homogeneity.
2.The paste is then applied to the dirty corners and surface of the grates with the use of a dry clean cloth. Then allow the paste to sit on the grill grate for 20 minutes.
3.Scrub the surface of the grate gently with the use of a soft brush. Ensure the brush cleans between and the sides of the grate to remove all probable residues.
4.After scrubbing it is imminent, you rinse with water. Spray the entire surface of the grate with a garden hose.
5.Then Air dry. However, if the grill grate is very dirty, then the cleaning process should be repeated more than once to remove all food and dirt particles.
How Do I Maintain Stainless Grill Grate?
In maintaining the stainless steel or porcelain coated steel grate. It is vital you take some important steps to help keep the quality in check. They are the following:
Always clean after each use. This can be done with the application of a good quality barbecue brush
Clean the grate thoroughly once in a week if it is used frequently
Prevent future build-up of dirt or food debris
Always season regularly
Can You Put Weber Grill Grates In The Dishwasher?
Most of the accessories in a grill are dishwasher safe. So is the grill grates, but you can't just throw them into the dishwasher. You need to hand wash the accessory with warm water and non-citrus-based soap. Pre-washing is done because the pieces of dirty grates have oily parts that could clog the dishwasher.
When Do You Replace Flavorizer Bars?
Whenever you observe the flavorizer bars get rusty to the extent, it forms rusty holes. Then there is an urgent need to change them as they can no longer serve their specialized function.
Final Verdict – Weber Flavorizer Bars Stainless vs Porcelain
For any gas grill, you buy today; the ability to give you a brilliant grilling experience will stem from the type of material the grates and flavorizer bar is made up of.
With the use of a stainless steel flavorizer bar, you can be assured of good lasting material as it is corrosion-free. A stainless steel flavorizer can also grill faster and efficiently due to its inherent ability to retain heat.
Although the porcelain-enameled flavorizer bar offers good grilling, it is inexpensive and does not last for a long period.
I hope that my Weber Flavorizer Bars Stainless vs Porcelain review was useful and you liked it! Also, you can check my other Weber products reviews: