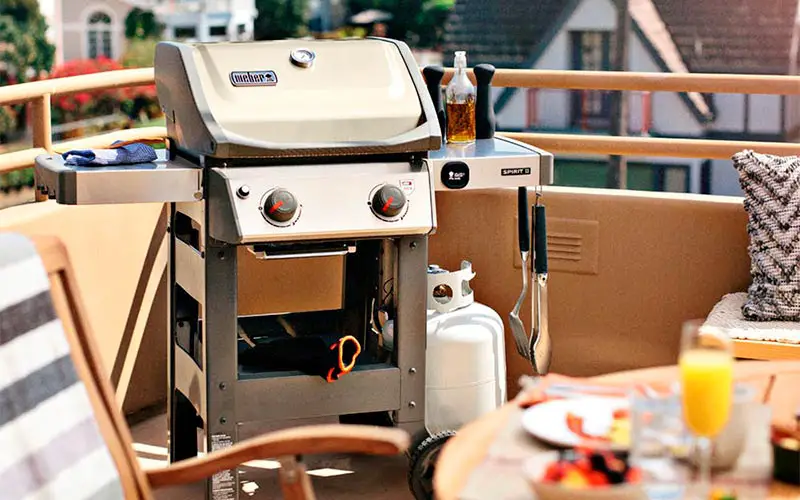 Today, one of the top brands leading the pack in the market is none other than Weber. They have a long history with grills and time after time again they have proven that they are the best.
It's a brand name with an excellent reputation, and that kind of reputation comes with a confident expectation. With that said, in this article we are going to look at and compare two of the most impressive weber gas grill series, the Weber Spirit and Weber Spirit II.
While they share the same name, the Weber Spirit II is basically an upgraded version of the iconic Spirit series grill and comes with several essential changes.
Therefore, in our Weber Spirit vs Spirit II review we will look at two different models from the Spirit version and compare them side by side with their sequel versions, that is, the Spirit II. We will highlight the respective features that make each unit standout including its cons and pros.
We've also included a detailed buyer's guide at the end with the aim of giving you a much better understanding of what really makes a good gas grill. If you are thinking of buying a Weber gas grill, then you will find this article quite useful. So read on, and once you are done, we are sure you will be able to establish which unit works best for you.

Weber Spirit vs Spirit II: Weber Spirit E-210 vs Weber Spirit II E-210
In this first part, we will compare the Spirit E210 vs the Spirit II E-210. They are similar but slightly different appearance-wise as well as in terms of performance and functionality. It's worth noting that the Spirit II E-210 together with all the other Spirit II models are relatively new products since they just came out in 2018.

The Spirit E-210 is no doubt the smallest and the most affordable model of all full sized grills produced by Weber. The model was released in 2013, and it had an incredible reception from customers thanks to the exceptional quality that's widely known for most of Weber's grills. Let's take a closer look at what makes it stand out.
Design and Build Quality
Measuring 32 inches in length, 50 inches in width, and with a height of 63 inches when the lid is open, the Weber Spirit E-210 is certainly designed for tight spaces.
The side tables are foldable making them even more compact and easy to store. It's an ideal grill for those with space constraints that would fit snug into almost any balcony or city deck.
Aside from its small footprint, the quality of construction of the E-210 is excellent too. It barely has any plastic parts. Most parts of the body are made of quality stainless steel, and the cooking areas are covered in porcelain enamel with grates made of cast-iron.
Plus it has a closed cart design with a spacious cabinet where a propane tank can succinctly fit inside while remaining out of sight. There are also three plastic tabs on both side tables where you can hang your tools.
The whole unit rests on four caster wheels which are quite convenient as you can move the grill from side to side or lock them such that it can only move from front to back.
It's generally a well-made unit that feels incredibly solid and durable. It can withstand years and years of use. The overall design is also very pleasing with a beautiful black/silver finish.
Cooking Performance
The E-210 is simply a very basic gas grill. It has 2 stainless steel burners which together generate 26,500BTU per hour which is pretty good. The grill is as well equipped with heavy-duty grates made of porcelain-enameled cast iron.
They are not likely to fade or rust throughout the lifetime of the grill and are very easy to clean. The best part about these grates is that they offer much better heat retention which is attributed to their thickness.
They hold a lot of heat that is effectively circulated throughout the grates, so your meat gets cooked evenly with beautiful grill marks. It will certainly do a great job of grilling a steak and even burgers.
Just below the grates are flavorizer bars that are made of porcelain enamel. These are Weber's unique creations and are angled such that they sit like long pyramids on top of the burners.
They work efficiently to divert the food drippings away from the flames which helps to protect the burners. Most importantly, they sizzle and smoke those drippings adding that extra charcoal-like favor to your food.
Weber has also equipped this unit with a built-in thermometer. It's quite accurate and a nice addition that goes a long way to help you ensure a consistent cooking temperature.
Cooking Surface Capacity
As I mentioned earlier the E-210 is a compact unit; however, it does offer a fairly large cooking area that can accommodate a decent amount of food at one go.
The primary cooking area is 360 square inches, but this can go out up to 450 inches with the warming rack included which is 90 sq. Inches.
Therefore, it's relatively spacious enough to allow easily grill a variety of meat as well as veggies at the same time. You can even cook a 20-pound turkey without much hassle on this.
Usability
The control panels of this E-210 model have been moved to the front unlike in the other previous models. The control is deceptively simple only requiring a twist of a knob to light up the burners and a flip of a second knob to crank the heat up.
The unit features a battery-powered crossover ignition system that provides automatic flames making it easier to use the grill. The ignition is faster, and the burners heat up quickly to the desired temperature in just a few minutes.
It uses AA-batteries which are included in the package. It also comes with a reliable fuel gauge that tells you the amount of propane you have left, which is essential for knowing when to get a replacement.
Moving this grill around won't pose any challenge as the four swivel casters allow for easy maneuverability and you can even lock the two front casters to prevent the unit from swiveling side to side.
Assembly
When it comes to setting up the E-210, you won't break any sweat. Weber has simplified the entire process as the unit comes already assembled with only a few parts left for attachment.
It will take less than an hour to assemble the other parts with a screwdriver, but the gas jet is fully assembled and even connected to the grill. Once it's set up, it weighs around 119 pounds, so it's a bit heavy and might require two people if you are to move it outdoors.
There are no serious setbacks about this model other than the fact that its compact size makes it only suitable for small grilling sessions.
Overall, the Weber Spirit E-210 is a solidly built, easy to use, and reliable grill that guarantees quick, even cooking. It's a unit we would highly recommend for people with smaller families or spaces.
Pros
Compact size with foldable side tables
Heats the grates evenly and leaves nice grill marks
Electronic crossover ignition facilitates quick start-ups
Easy to operate and move around
Easy to set up, clean and keep clean
Comes with a 10-year warranty
Cons
Not ideal for large grillings
You can't ignite either burner individually

Released in 2018, the Spirit II E-210 is one of the latest Weber models in the market, and it comes in as an upgrade of the original Spirit E-210 model. The Spirit II E-210 boasts of some perks that make it stand out, but how does Weber Spirit vs Spirit II differs?
Design and Build Quality
The first change that's immediately noticeable in the Spirit II E-210 is the design. Compared to the earlier version, this one is quite compact measuring 48 inches wide, 26 inches long, and 57 inches high.
While both models have side tables, only the left side table of the Spirit II E-210 folds down. However, both side tables are fitted with hooks where you can hang your cooking accessories.
Another area that was re-designed is the fuel tank cabinet. The new Spirit II model features an open cart design as opposed to the closed cabinet we saw in the original E-210 model. This upgrade provides easier access to the tank but puts it open on display.
When it comes to building quality, the Spirit II E-210 is a real powerhouse like its predecessor. The unit is solidly built using thick, stainless steel with porcelain-enameled cast-iron grates, so it's equally durable backed by a 10-year warranty which guarantees its durability.
The Spirit II E-210 model has also gone from four casters to two giant wheels with two thick legs. This might not be as convenient as the four-wheeled Spirit E-210, but it certainly helps in moving the grill over an uneven surface, especially rough surfaces, sand, or grass.
Plus the two thick legs make it even more suitable for outdoor grilling than the previous version. They provide the much-needed stability in the uneven outdoor terrain which can be a bit difficult to attain with the Spirit I model due to its swiveling small wheels.
Besides, it comes in different colors to suit any outdoor décor unlike the standard black color of the Spirit I. Generally; there's a significant change in the design, and the Spirit II E-210 seems more fine-tuned for outdoor grilling than the old model.
Cooking Performance
There's very little change in the cooking performance of the Spirit II E-210 compared to the Spirit I E-210. Unlike its predecessor, this one utilizes the GS4 grilling system. It's one of the unique upgrades seen in the latest Weber's Spirit II models aimed at facilitating a smooth backyard grilling experience.
The GS4 grilling system comprises burners, flavored bars, a grease management system, and an Infinity ignition. The system uses two burners just like in the Spirit I model both of which can output 26,500 BTU per hour which is the same power as the Spirit I.
The burners are well spaced and come in the form of tubes to facilitate even and consistent heating across the grates. Like the Spirit I E-210, the grates are thick and made of porcelain-enameled cast iron, so they can retain heat very well too and allow your food to cook evenly.
There isn't much change in the flavorizer bars as well. They are three bars, angled and well-spaced to catch the drippings, and will equally smoke and sizzle the drippings to give your steaks and foods a nice smoky flavor.
One area that has been revamped is the drip pan layout. In Spirit I E-210, the pan is located within the storage area, but in this new model, it's located just below the cook box in a catch tray that slides out.
This renovation is not only more convenient in terms of replacing the tray, but it also ensures that all excess drippings are completely removed hence significantly reducing chances of flare-ups.
The other key aspect that makes the Spirit II E-210 stand out from its earlier version is that it's iGrill 3 compatible which allows you to monitor the temperature of your meat or food through the phone. It's sold separately, but it's a neat feature that virtually eliminates the worry of undercooking or overcooking your meat.
Cooking Surface Capacity
The grilling space has not changed either as both models provide up to 450 sq. Inches of cooking space. However, the primary cooking area of the Spirit II E-210 is slightly large measuring 360 sq. Inches. The warming rack cooking area is the same offering 90 sq. Inches space.
Usability
Operating this unit is pretty simple just like the original E-210 model. The controls are located on the front panel with two knobs that allow you to control the heat levels of each burner separately.
The ignition system has also been revamped with the new Spirit II featuring an infinity ignition system. This one is much reliable than the crossover ignition system of the Spirit I E-210 and guarantees that your grill will ignite every time.
No changes have been made to the fuel gauge. It's the same easy-to-read liquid propane scale placed next to the gas tank just like in the original E-210 model.
Assembly
The Spirit II E-210 also comes almost fully assembled with only a few parts left to put together, but it's a bit lighter weighing 103 pounds while the Spirit I E-210 weighs 114 pounds. Furthermore, unlike its predecessor, the 10-year warranty covers the entire grill plus its parts.
As for setbacks, it's the same as the Spirit I E-210. It's a compact unit that's only meant for small capacity grilling.
To sum it all, while the Spirit II E-210 is much fancier and has a few nice additional features, it's not that much different from the original Spirit E-210 model when it comes to performance.
The only significant difference is in the design. Therefore, you can go with either option, but if you want something a bit more advanced in terms of operation, then you are better off with the new Spirit II E-210.
Pros
Solid built quality that can last for many years
Impressive design with different color choices
Powerful burners that can deliver even heating
Offers ample cooking area
Quick and reliable ignition system
Compatible with Weber's iGrill 3 technology
Open cabinet design to facilitate quick and easy access to the fuel tank
Cons
Only one side table is foldable
Not ideal for large capacity grilling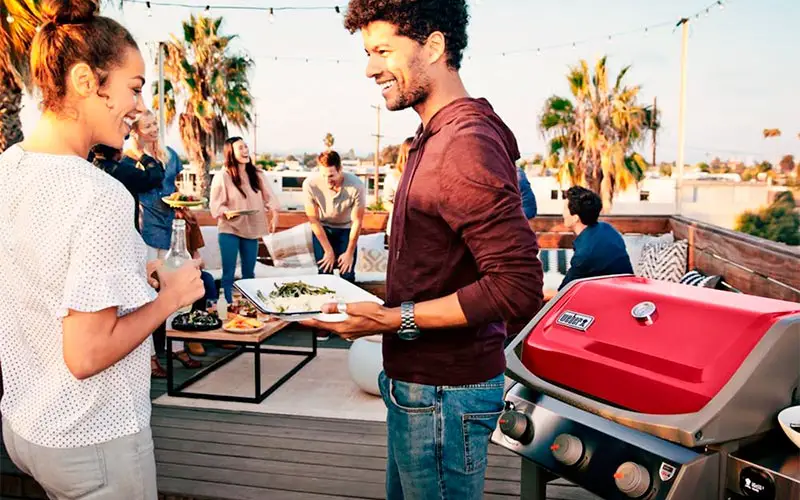 Weber Spirit vs Spirit II: Weber Spirit E-310 vs Weber Spirit II E-310
Like the Spirit E-210, the Spirit E-310 model was first introduced in the market in 2013 while its upgraded version, the Spirit II E-310 was released in 2018 alongside the Spirit II E-210. Below is our Weber Spirit vs Spirit II review, the is a comparison of these two models.

The Spirit E-310 is one of Weber's gas grills that were re-designed in 2013 from the earlier Spirit line models that were introduced in 2007. It was released as an alternative to the Spirit E-210 model for those who wanted a bit more power and capacity.
Design and Build Quality
To start, the E-310 is much similar to all the other Spirit models when it comes to size. It's a compact unit measuring 32 inches long, 52 inches wide, and 63 inches high.
It has a small footprint and it features two foldable side tables, so it doesn't take too much storage space. The grill's body is solidly built using heavy-duty porcelain-enameled stainless steel.
The lid and the side tables, as well as the burners, are also stainless steel with the cooking system components like the grates and flavor bars being made of cast iron coated in porcelain enamel.
It's a grill that's built to last and can withstand the outdoor elements pretty well. There's ample space in the tank storage area to accommodate several grilling accessories along with the tank, and you can fully hide them using a sturdy steel door.
The E-310 also comes with four sturdy casters that can swivel to facility easy maneuverability. They roll smoothly, and the front wheels can be locked to prevent the unit from moving side to side.
In short, everything about this grill is well built and made of quality materials. Even much better the stainless steel combined with the black look is really adorable and can fit nicely with most outdoor décor.
Cooking Performance
The Weber Spirit E-310 features 3 burners that provide a combined cooking power of 32,000 BTU per hour. They are spaced equally so that they can distribute heat across the grates.
The grates, on the other hand, combine the superior heat retention ability of cast iron with the great cooking performance of porcelain. They retain sufficient heat to enable even cooking. Furthermore, the cook box is shaped such that it encourages proper heat circulation which results in evenly cooked food.
There are angled flavorizer bars below the grates, and they cover the burners to protect them from the food drippings. They are porcelain coated and designed to vaporize the dripping juices which create flavorful smoke that's directed back up to the meat to give it that fantastic BBQ taste.
The juices that bypass the flavorizer bars drain into a funnel where they are directed away from the burner down into a drip pan that rests right beneath the cook box.
This system helps prevent flare-ups as well as excessive smoking plus it also helps prevent the burner tubes from clogging. Weber has even made accessing and removing the tray easier as it is accessible from the front.
Cooking Surface Capacity
The E-310 is amongst the largest spirit model in terms of cooking capacity offering up to 529 sq. Inches of cooking surface. The primary cooking area offers 424 sq. Inches of grilling space while the warming rack gives you 105 sq. Inch space.
In short, the cooking area provides plenty of space for grilling enough food that can accommodate 4 to 6 people. Each side table also has 3 hooks where you can hang all your grilling accessories so that they are within reach when grilling.
Usability
With front-mounted control knobs for each burner, this Spirit model is safe and quite easy to use. All it takes to control the burners or fine-tune the heat levels are turning the knobs.
Like the E-210 model above, this one features an electronic crossover ignition system too which makes lighting the burners a breeze. It uses a push-button that allows you to light up all three burners in a single push of the button.
There's a pretty accurate thermometer mounted at the center of the hood to help you monitor the heat inside the grill when preheating or cooking. The unit is also equipped with a reliable built-in fuel gauge that will let you know the exact amount of LP gas available in the tank.
In other words, Weber has tried as much as possible to keep the E-310 simple and very user-friendly. The fact that that most of its parts are coated with porcelain means that cleaning won't be that hard.
Assembly
Assembling the Spirit E-310 might require some work as it does come assembled like the E-210 models above. Also, the grill is somewhat heavy weighing around 120 pounds. However, once you fully put it together, the unit is rock solid. It's very stable and balanced plus you can easily move it around provided it's not a rough or uneven surface.
The only thing we noted which is not a drawback is that most of the instructions are totally pictorial with very few directions written in text to guide you. Considering that there are several parts to put together, some more text would have made things much easier during the assembly.
With that said, the Weber E-310 is no doubt a solidly built grill that can last and it offers an efficient and convenient way of grilling your food or meat. It has a nice size and can accommodate a decent amount of food which makes it an ideal option for a medium-size family and even small families.
Pros
Compact design with folding side tables to save on space
Powerful, well-spaced burners to enable even heat distribution
Grates retain heat pretty well and leave nice grill marks on the meat
Effective grease management system to prevent flare-ups
Offers plenty of grilling space for cooking enough food for a small family
Easy to use and move around
Cons
Instruction manual might be a bit hard to interpret during assembly

As we mentioned earlier through our Weber Spirit vs Spirit II review, the Spirit II E-310 came out in 2018 alongside the Spirit II E-210 both which are upgrades to Weber's previous Spirit line of grills. Boasting of improved quality, performance and reliability with some extra useful features, does the new Spirit II E-310 model really stands out when compared to it's older version? Well, let's find out.
Design and Build Quality
Fully assembled, the Spirit II E-310 measures 52-inch by 26-inch by 57-inch with its lid open. Therefore, it's a tad smaller than the original E-310 which translates to a smaller footprint.
It also sports two side tables with only the one on the left being able to fold down. If you are quite limited on space, then this can present a challenge since they don't both fold down like in the Spirit E-310 above.
Instead of the closed cart, this new Weber gas grill features an open-cart design with a bottom shelf for convenient storage and access to your accessories.
In addition, the gas tank is mounted to the outside of the cart which is quite different from the Spirit E-310 where it's enclosed inside the cabinet. While this change makes accessing and removing the tank easy, it does leave it exposed to the elements, and even worse, kids can end up messing with it which is really a point of concern.
Another area that this new model differs widely from its predecessor is the wheels. The unit features two large wheels that can move easily on rough terrains and robust legs to provide stability on an uneven surface. It's designed for easy movement outdoors but does not offer the flexibility and maneuverability provided by the previous E-310 model.
The construction, on the other hand, is incredible just like its predecessor. It's solidly built using quality stainless steel, and the structure is very sturdy, so it will equally last for a long time. It also comes with a generous 10-year warranty on top of the solid construction.
Cooking Performance
Weber has equipped this new Spirit II model with 3 stainless steel burners which are similar to the Spirit I E-310 model. However, while the previous model could deliver 32,000 BTU per hour, the burners of this new model only put out around 30, 000 BTU per hour.
Therefore, there's a slight downgrade in power, but it can as well allow you to adjust the heat settings of each burner separately to form direct and direct heat zones. The burners are well spaced to facilitate consistent heating from end-to-end hence will equally cook your food evenly.
The grates are made of cast iron that's porcelain-enameled and are reversible just like the ones in the Spirit I E-310. They will retain heat very well and leave impressive grill marks on your meat.
Weber has also not changed the flavorizer bar system. They are the same porcelain-enameled bars arranged in an angled position to cover the burners and protect them from the drippings while returning the flavor to your food.
You'll not worry about flare-ups with this model as it's equipped too with a handy grease management system. The catch pan sit's just below the cook box with an angled grease tray that slides in and out easily for quick cleaning and replacement.
One thing that stands out from its predecessor is the fact that it's compatible with the innovative Weber's iGrill 3 Bluetooth thermometer. This is a feature that's present in all of the Spirit II units. Although it's sold separately, it's a big plus to have since it allows you to monitor both the temperature and fuel through your phone.
Cooking Surface Capacity
The Spirit II E-310 offers a spacious grilling area that's the same size as the earlier model. The main cooking area has 424 sq. Inches of space while the warming rack provides 105 sq. Inch space.
Therefore, there's no change in the cooking space, and it as well comes with three hooks on the side to accommodate other barbeque gears.
Usability
Operating this Spirit II model is simple like all the other latest Weber grills. It features three knobs for each burner which are placed in the front similar to the Spirit I E-310 with the thermometer mounted at the center of the hood.
Apart from that, the igniter has been revamped to an infinity ignition system which is much reliable and faster than the crossover ignition system in the previous version.
To sum it all, in terms of usability, there's very little difference between the two models. They both offer a hassle-free cooking experience.
Assembly
While it's lighter and somewhat compact than its predecessor, putting this grill together alone can be a little bit hard unless you do it where you don't plan to move it. The instructions are not that straightforward, and it has several individual parts that you need to assemble to get it into action.
Other than that, there's nothing else serious to worry about. It's a well-built model although slightly lower in terms of BTUs compared to the original version.
We would recommend either option if you want capacity, but for anyone who wants more power, then the Spirit E-310 model is a better choice.
Pros
Powerful burners that deliver sufficient heating capacity
Quality grates that retain and distribute heat evenly
Offers plenty of grilling space plus hooks for holding accessories
Compatible with Weber's iGrill 3 technology
Comes with an open cart design for quick and easy accessibility
Easy to operate and clean with a smart ignition system
Comes with a generous 10 years warranty
Cons
With only two massive wheels, it can be a bit awkward to move it around
Assembly might require some work
Weber Spirit vs Spirit II – Our Overall Verdict
At the end of our Weber Spirit vs Spirit II review, we believe you've seen that the Weber Spirit II models which include the Spirit II E-210 and E-310, are slightly advanced in terms of functionality and are quite compact compared to their predecessors.
However, in terms of cooking performance, both units offer consistent, reliable, and even heat distribution with ample grilling space to take care of small to medium-sized families.
They are both basically great grills to buy. If you want convenience in operation, then a Spirit II grill is right for you, but if you prefer simplicity, then you can go for the earlier models. Either way, you will certainly not be disappointed.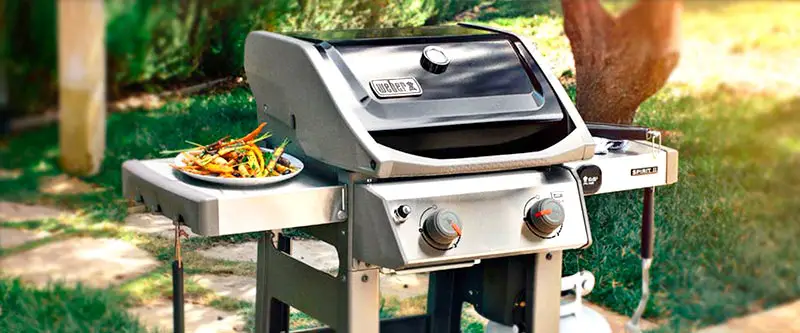 Weber Spirit vs Spirit II – Buyer's Guide
With an extensive variety of gas grills on the market, it can get somewhat overwhelming to find and choose the right one. To simplify this process for you, in our Weber Spirit vs Spirit II review we are going to break down for you here some of the key things and features you should look out for so that you can be able to pick the best grill for you.
Spirit vs Spirit II Review Contents:
Type of Gas Grill
The first thing you need to consider when purchasing a gas grill is the type of unit to get, and here you have two options, liquid propane gas grills or natural gas grills.
Liquid Propane Gas Grills
Propane gas grills utilize liquid propane gas which is simply a more refined byproduct of natural gas and comes in tanks that are attached to the burners through a regulator, hose, and nozzle.
These are the best option to go for if you want portability because the tanks allow you to move with the grill anywhere you want without any constraint. The only downside is that the LP tank will need to be replaced now and then. However, there are exchange programs to make this process simple.
Natural Gas Grills
Natural gas-powered grills are quite convenient if you use natural gas in your home. One of the best things about natural gas grills is that they don't run out of fuel. The supply of fuel is never interrupted.
The downside though is that you will be stuck in the same sport forever or as far as the grill hose allows plus you will need a licensed gasfitter to install the connection. All in all, when it comes to gas grills, these are the two options you will have in nearly all cases.
The four Weber Spirit grills we've reviewed above are propane-powered gas grills. However, there are also some units that come with conversion kits that can allow you to switch from natural gas to propane easily. This too is worth considering if you want some little versatility.
Size and Portability
Size is one of the most crucial considerations when shopping for a gas grill. It's vital to determine the amount of space available in your home beforehand so that you can know just how large the grill should be.
If you are planning to put it in your back yard, you have to figure out exactly where you are going to place it. There should be enough space to accommodate the whole footprint of the grill you want.
Most importantly you need to have enough clearance space around the grill area for safety.
The unit should be about 2 meters away from the main house and any inflammable materials as a safety measure.
If you intend to move it around a lot or use it outdoor more often, then it's important that you can move the grill around with much ease. This means considering a unit with wheels.
Go for bigger, solid-looking wheels that are not likely to crack quickly and can roll easily over rough or uneven surfaces. Some good examples are the Spirit II models above. On the other hand, for smooth, even surfaces like cement pads or smooth decks, then casters should be just fine.
The Number of Burners and BTU Level
The number of burners varies widely between different gas grill models. However, the number of people or the amount of food you will be cooking will determine your choice when it comes to considering the number of burners.
If you are cooking for only a few people, then you might want to go for a unit with two burners, but if it's eight to twelve people, then a three burner grill is convenient. If it's a lot of people, you might have to go for a five or six-burner unit.
Look also at the design of the burners because you want to ensure that they are well spread out to facilitate proper heat distribution across the grates. Having burners that can deliver consistent and uniform heating will result in evenly cooked food.
BTU levels of your grill is another important thing you need to factor in when looking at the burners. It's basically a measurement of how much gas a grill burns through in an hour at maximum output.
It determines the grilling power of a unit but not necessarily the amount of heat it can generate. It's worth noting here that you can find a model with a high BTU rating, but that doesn't really mean it's going to cook better or get hotter than a unit with lower BTU's.
In other words, if you are going to pick a grill with a higher BTU level, then ensure that it's more efficient. An efficient grill will be able to deliver more heat using less gas compared to a less efficient one even if it has a high BTU rating.
Grates and Flavorizers
To get the best results out of your grill, you need to have quality grates on top of the powerful burners. There's no other way to this. If they're crappy grates, then your food will undoubtedly suck.
The ideal option here is either a grates of a thick stainless steel or porcelain-enameled cast iron. Both are very durable especially when well cared for and offer excellent heat retention properties that allow your food to cook correctly and evenly. In addition, the porcelain coat will make cleaning a breeze as it provides a non-stick grilling surface.
Flare-ups are one of the main banes of good grilling. They can burn a nice piece of meat into an inedible crisp in just a matter of seconds. Therefore, to avoid this, ensure the unit you pick features flavorizer bars or some barrier between the grates and burners that can prevent dripping juices or grease from catching fire.
Having flavorizer bars like in all the Weber's Spirit grills above can also help give your meat or food that tasty smoke flavor as they help smoke and sizzle those dripping juices back to the grilled food.
Ignition System
Choosing a grill with a reliable ignition system is paramount. You don't want to end up dealing with a low-quality ignitor that will take ages to light the gas. It's not only annoying but also wasteful and potentially dangerous as the more time it takes; the more gas builds up which can result in a fireball.
Therefore, look for a unit with a quick and reliable ignition system. With regards to gas grills, the two options you have here are a push-button(battery operated) or electronic igniter. Push-button igniters require a battery pack, and although they are reliable, they only work well when the battery is full.
The best pick here would be electronic igniters. They are the most reliable and do not require constant battery replacements or external power. If you plan to use your grill regularly, then this is the kind of igniter you should go with.
Cooking Area Capacity
The size of the grilling area is another essential factor to consider when picking a gas grill. While this will majorly depend on the amount of food you will be preparing, you want to ensure you invest in a unit that offers a bit more space. One that will accommodate the right amount of food at one time.
For a small family grilling, a unit with a primary cooking area of about 250 to 350 sq. Inches are ideal. For medium-sized families, a 400 to 550 sq. Inches grilling space would do fine while a cooking area that's way above 550 sq. Inches are perfect for large-capacity grilling.
At a minimum, you should try to get a grill that comes with side tables/shelves where you can place all your grilling ingredients and other grilling gear.
You might as well want extra storage space underneath for stashing some accessories you often use whenever you grill. Look also for hooks on the side tables as they will give you additional storage space for your accessories.
Materials and Build Quality
Buying a grill is supposed to be a long-term investment, so you want to make sure you spend your money on something that can last for a reasonable amount of time.
Your best odd here is picking a unit that's solidly built using quality materials. A well-built grill would be one that's made of aluminum. It's very durable and also has excellent resistance to rusting. Grills made of stainless steel preferably 304 steel are also a good option.
They are durable as well and resistant to rusting. Besides the grill's body, you should also ensure the burners, grates, and flavorizer bars are all made of good quality materials.
The grates and flavorizer bars should be made of either thick stainless steel or cast iron and coated with porcelain. The ideal materials for the burners should either be thick stainless steel, heavy-duty aluminum, or cast iron.
Doesn't matter which one did you like more, Weber Spirit or Spirit II, both are top quality grills.
Other Important Extra Features
Several other essential features can enhance your grilling experience and as such are certainly worth having. Two of the most important ones to look out for are a fuel gauge and temperature gauge.
Choose a grill that's equipped with a fuel gauge so that you never get caught short. A fuel gauge provides a simpler way of telling how much gas is left in the tank allowing you to make suitable replacements. A temperature gauge will also come in handy in enabling you to monitor and easily control the internal temperature of the grill when the lid is closed.
Weber Spirit vs Weber Spirit II – Quick FAQ
How long do Weber grills last?
Weber grills last more than ten years, of course, it depends on how often it is used and where do you keep it, in the garage or not, does it have cover, etc. To be sure with the purchase, keep in mind that in general, all Weber Grills have a warranty for about 5 years. Weber Spirit II has 10 years warranty.
What colors do Weber grills come in?
The primary color for Weber grills is black. But some new models can have other colors, as for example, Weber Spirit II has the next colors available:
Black, Ivory, Red, and Sapphire (Blue). Weber Genesis II has extra colors as Crimson (Red), Smoke, and limited edition – Cooper.
Where are Weber grills made?
Nowadays Weber grills are produced in different countries, that could be the USA or China. It all depends on the model.
Weber Spirit vs Spirit II – Conclusion
As far as grilling is concerned, you can never achieve the best results or cook those delicious steaks and burgers without investing in a quality grill. You simply can't disregard quality. This is one factor that Weber has managed to uphold very well in all of their Spirit line of grills.
From our comparison above, you can clearly see that both the Spirit vs Spirit II gas grills are built to high quality, and they offer solid performance. However, in terms of design and operation, there are slight differences with the Spirit II models providing a bit more convenience than their predecessors.
In general, as much as we would recommend going with the newer versions, we still believe either option would do well whether it's for a small or medium-sized grilling. Ultimately, your choice will be primarily informed by your specific requirements.