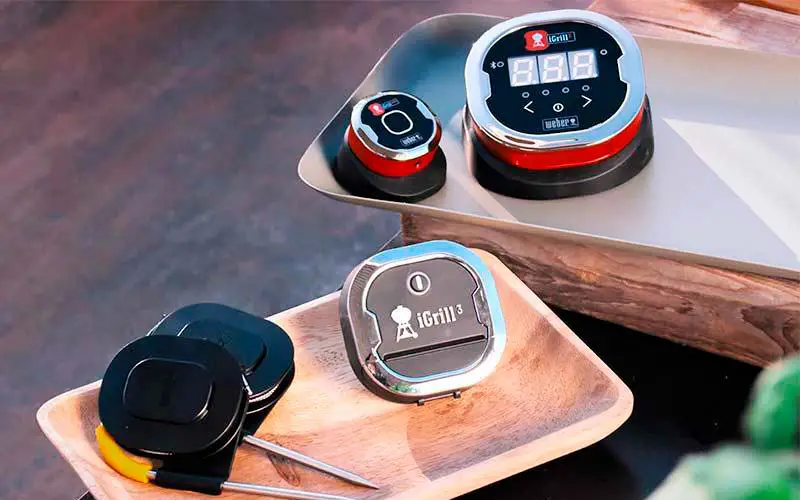 Okay! Who doesn't want to live a hassle-free life? I guess no one. We all want a life where we can get almost everything done with the touch of a button or at our fingertips.
This is what technology has brought to us; to make things easy for us and the kitchen is never left untouched. As an amateur or experienced griller that wants convenience in the kitchen, you can benefit from what technology has brought to the table by utilizing an iGrill thermometer that can be connected to an app on your smartphone.
The iGrill app-connected thermometer also known as Bluetooth BBQ thermometer will alert you to let you know when your meat, steak, and food are done. Generally, iGrill is available in three options, and they are iGrill mini, iGrill 2, and iGrill 3.
Of course, most of us want a high-performance gadget, so this article will focus on comparing the iGrill 2 vs. iGrill 3 to help you pick the best for you. Also, I will provide you with some other helpful information so you can have a well-informed purchase. Read on!
What is a Bluetooth BBQ Thermometer?
A Bluetooth BBQ thermometer is almost the same as other thermometers out there. They come with a transmitter, cable, and probe. The probe monitors the temperature of the food, and it is connected to the main control box.
How Does The Bluetooth BBQ Thermometer Work?
When the probe is attached inside the grill or the food, it will send the information about the temperature via the cable into the transmitter.
It is the transmitter that will send the temperature information to a receiver which is usually your smartphone. If you are next to the grill, you can see the temperature on a readout display. Additionally, some applications give an opportunity for 2-way communication. This means you can remotely change the thermometer settings.
What Are The Benefits Of A Bluetooth BBQ Thermometer?
It makes grilling and cooking more convenient as you don't have to stay with your griller till the food is done
The device gives you the opportunity to manage other things hassle-free and multitask
Some come with special features like an in-built alarm that beeps when the food is done or when the desired cooking temperature is exceeded
Most of the applications are user-friendly and easy to operate
Bluetooth BBQ thermometer makes meat safer as it prevents overcooked and undercooked meats
Wi-Fi or Bluetooth BBQ Thermometer?
Even though Bluetooth and Wi-fi typically work in the same frequency, they have their differences. They differ in incompatibility, technology, range, and convenience. No doubt, Wi-fi has a better connection range and more flexible compatibility. But when it comes to convenience, a Bluetooth BBQ thermometer works better.
Of course, you might think wifi will be more convenient due to its wider and better range but have you thought of the times when you will go camping outdoor?
A wifi device requires to always be on a wireless connection and may find it hard doing so outdoors. But a Bluetooth connection is always available once you have your smartphone with you. Have you thought about that one?
The truth is, choosing the best out of the two might be a difficult thing to do because they both have their advantages. If you won't be going far from home or if you are an outdoor person that loves to go camping, go for a Bluetooth BBQ thermometer.
On the alternative, you can eat your cake and still have it by going for a hybrid version that comes with both Bluetooth and wifi.
Weber iGrill 2 vs 3 – What is the difference?
The IGrill 2 and IGrill 3 are two out of the three Bluetooth thermometers manufactured by Weber. Both of these devices measure the temperature of the meat (food) and the ambient temperature within the grill. They alert you when the food is done and when the temperature is at the extreme. They have their differences, but the primary difference is their compatibility.
Weber iGrill 2 Best Grill Thermometer For All Grills
Features
Just like some other Bluetooth BBQ thermometers on the market, the iGrill 2 can connect to an app on your phone through the Bluetooth and help you monitor your food from the beginning to the end. It comes with a slightly larger magnetic base that makes it stand firm wherever you place it.
The device comes with an LED temperature display that is large and bright and shows the temperature in degrees Celsius or Fahrenheit. It features two AA batteries that can last for 200 hours.
When you are not using the device, it turns off due to the auto shut-off of its features. The probe and the base of the thermometer are resistant to water, and this allows you to use it in a wet condition without getting damage.
However, they are not waterproof so be careful where you put them. Not inside the dishwasher! The device has four probes with a 48-inch cord. Three of the probes are meat probes, and one is an ambient probe. The probes are resistant to about 716 ̊F of heat.
Also, the product comes with a wireless range of 150 feet which gives you the opportunity to lounge by the pool or goes inside while your food is cooking.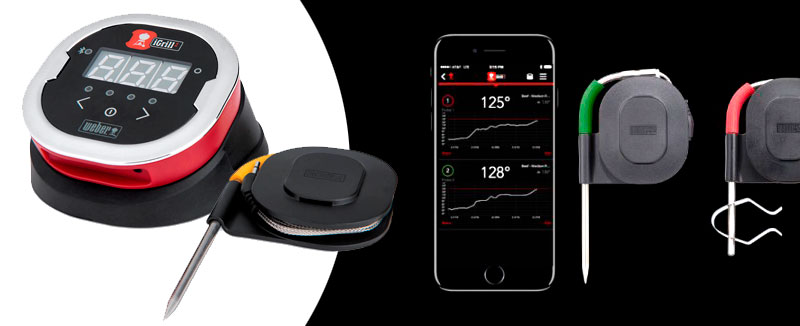 Performance
The iGrill 2 can be used with the Weber App that can be downloaded from the play store for Android devices and the Apple store for iOS devices. Once you have the app on your Android or iOS device pairing it with the thermometer is incredibly easy. The app gives grilling tips and recipes and also comes with nice interphase.
You can share the photos and temperature of the food you are cooking through text message, email, or social media. Also, the user can schedule an alarm that alerts them on both their phone and the thermometer when the food is done, or the maximum temperature is exceeded.
Also, the app will allow you to select what you are grilling and the level of doneness you desire. With the number of probes, it features you can joggle multiple probes and set alarms for each. So if you and your friends have a different level of doneness, this device can make it possible for you to cook the meat according to their preferences.
The manufacturer of the iGrill 2 claims that is accurate within one degree Fahrenheit. Additionally, the thermometer can measure between -22°F to 572°F.
Multiple probe support and inclusion
Pros
Quick, impressive response time and accuracy
It is compatible with all grills
Wider temperature range
Supports firmware update
Super tough built
Supports iOS and Android devices
Cons
It might not work perfectly well with Genesis and LX grills
If you get too far from the Bluetooth thermometer or have a concrete or brick home, the signal may disconnect
Weber iGrill 3 Best Grill Thermometer for Weber Genesis and Spirit Lines
Features
With Weber continuing to evolve they came up with the iGrill 3 which is only compatible with Weber Genesis II, Genesis II LX, and Spirit II barbecue gas grills.
It can also be connected with a Weber application downloaded on your Android or iOS smartphone or tablet. The iGrill 3 comes with three AA batteries which dispense power that can last for 250 hours. Also, it comes with a cable that gives you the opportunity to join the device with the battery pack.
Additionally, the iGrill 3 comes with two probes having different colors (red and yellow). This ensures you differentiate one from the other when cooking. Even though it comes with two probes, the device has four ports where you can add two more probes.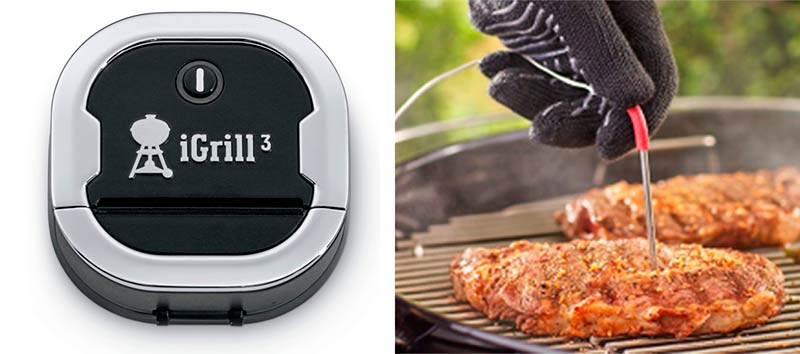 Also, the product comes with Fuel level detection for propane models and Knob light on/off for Genesis II LX only. Just like the iGrill 2, the iGrill 3 comes with a wireless range of 150 feet allowing you to take a walk away from the grill but not to a long-distance or out of the premises.
Performance
The iGrill three connects to the Weber application easily and gives you the opportunity to share the food you cooked, your cooking temperature, and activities on social media. This thermometer provides alerts for minimum and maximum temperature which ensures you to easily correct the temperature of your grill and that of your meat.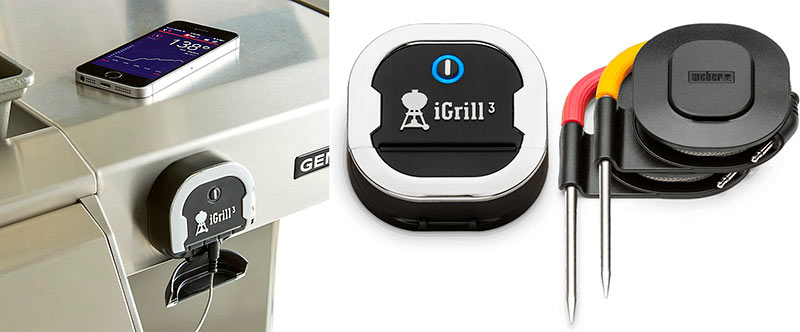 You can customize your cooking or select a temperature that is easy by meat option as you improve your skills. If your grill model uses propane, the fuel level detection feature makes it easy for you to know the amount of fuel left in your tank, so you don't get caught on aware while cooking your favorite BBQ. Also, the thermometer can measure between -22°F to 572°F.
Pros
Longer battery life
Temperature monitoring and preset temperatures
Easily connects with Android and Apple device
Temperature graphing and social sharing
Detection of fuel level
Cons
It does not come with LED temperature display
Limited compatibility
Weber iGrill2 vs iGrill 3: Which One Should You Go For?
Both Bluetooth thermometers do an excellent job at measuring the temperature of the grill (ambient temperature) and the temperature of the meat.
Also, they have similar functions with little variation in their features. So deciding on which one to go for depends on your preference. However, let me make some things clear to you and I believe it will help you make the right choice between the two iGrills.
Go for iGrill 2 if
– iGrill 2 vs 3:
you want a Bluetooth thermometer that displays temperature both on the thermometer and application
a device that comes with more than two probes needed
you want a thermometer that can be used for any grill available on the market
you want a Bluetooth BBQ thermometer that won't make you spend extra cash to buy a compatible grill
Go for iGrill 3 if
– iGrill 2 vs 3:
you don't care about LED temperature display
you don't do much of cooking and only needs two probes
any of them is yours: Weber Genesis II, Genesis II LX, and Spirit II grills
you have extra cash to buy the compatible grills in case you don't have them already
you want some extra features such as fuel monitoring and longer battery life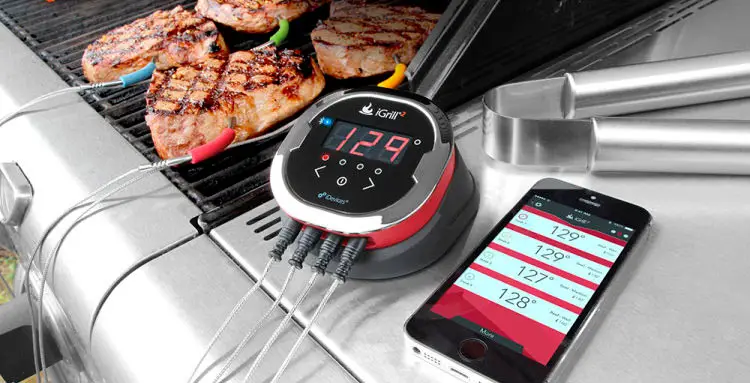 Weber iGrill 2 vs 3 – Buyer's Guide
Contents:
Can You Use iGrill 3 on Any Grill?
No, iGrill 3 designed specially to mount into Weber Genesis II and Spirit II.
In case you don't want to mount it into the grill, you can use it with any other grill, but it wouldn't be so comfortable as it was planned.
What Does the iGrill 3 Do?
The iGrill 3 can connect up to four temperature probes and give data of current temperature of meat, chicken, and other product on the grill at one time.
After you sync iGrill 3 with your mobile device, you can monitor all data remotely. The Weber application will also notify you when the food has reached the perfect temperature to serve and provide you with info on the level of fuel for the grill.
Can I Use iGrill in a Smoker?
Yes, you can. Just keep in mind that you shouldn't mount it on the lid of the grill or smoker.
Is iGrill Waterproof?
No, it isn't. You can place it on a wet surface, cause the base is water-resistant, but don't leave it under the rain and don't put it into the dishwasher.
How Do I Connect My iGrill 3?
First, download the iGrill app by Weber. Then switch on your iGrill 3 and turn Bluetooth. Open the app and select your device (iGrill 3) from the drop menu. That's it!
Can I Use iGrill in The Oven?
Yes, it is possible to use probes in the oven. Don't forget to put iGrill near the oven, don't put it inside and don't mount it on the door of your oven.
iGrill 2 vs 3: How to Choose the Best Bluetooth BBQ Thermometers?
When buying a Bluetooth BBQ thermometer, there are some key factors you need to consider before making the final decision. These key factors are:
Numbers of probes
How many channels of a probe and how many probes do the thermometer you want to purchase have? This should be the first factor to consider.
There are some thermometers with two probes and some also come with four probes. If you are someone that grills a lot of meat, then it is preferable you go for a Bluetooth BBQ thermometer with about six probe channels. This will give you the opportunity to monitor the pit temperature and lots of meat.
Probes accuracy and consistency
Note that the quality of a probe can vary with the thermometer. However, most of the Bluetooth BBQ thermometers available come with RTD or thermistors probes which are high-quality probes.
They have a high level of accuracy which is always within plus or minus 1F of the true temperature. On the other hand, there are some that are poor and inconsistent thereby giving an inaccurate temperature that swings widely.
To prevent going for the inconsistent and inaccurate Bluetooth BBQ thermometer it is advisable you read reviews about the product you want to go for to be sure you are making a reliable and right choice.
Bluetooth strength
No denying the fact that walls can obstruct the range of Bluetooth connectivity and that most Bluetooth BBQ thermometer available gives a range of about 150feet. But some products offer a stronger signal that can boost to about 300feet. The signals from thermometers like these are less affected by walls or other obstructions.
Battery life
How long the battery of a Bluetooth BBQ thermometer can last is very important to your cooking. Of course, you will not like a situation where your thermometer dies while your meat is on the grill and halfway done.
Will you? No! No one would. A thermometer with a battery that can be recharged or replaced easily is a perfect choice. At least, go for a device that claims to have about 3000 hours of life.
Mobil app quality
How smart your Bluetooth BBQ thermometer is will determine how flexible and convenient it is to use. No doubt, the app, and smart features are the reason why most people are getting a Bluetooth BBQ thermometer.
So what is the point if you can't get the most of what you have? Go for a thermometer that offers apps with a variety of presets for different meats. This will allow you to be able to customize to your own needs. You can set the alerts, notifications, alarm, temperatures.
Additionally, you can go for ones with cooking charts and graphs that help you in creating logs for your grilling session and smoking. There are some that also allows you to share your logs with friends on social media. Isn't this going to be a good choice?
Durability, build quality, and design
Go for a Bluetooth BBQ thermometer that is made of FDA approved material and high-quality wire that can withstand heat while cooking. Also, look for one with a backlight screen that displays the temperature in large digits and with waterproof probes.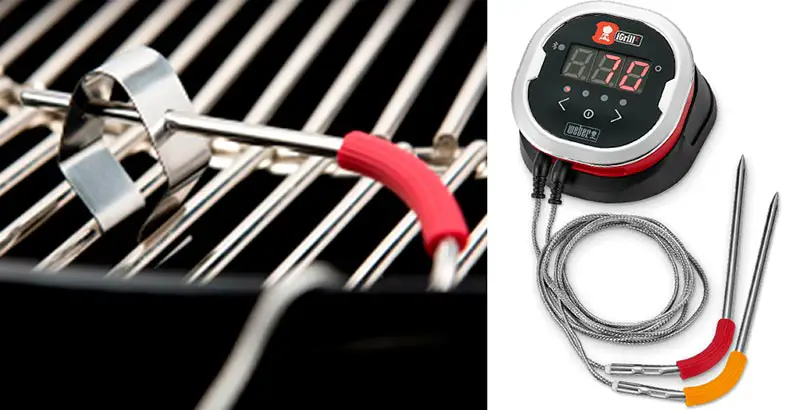 iGrill 2 vs 3: How to Get the Best Out Of Your Bluetooth Thermometer?
Even though Bluetooth BBQ thermometer might have some cons, you can get the best out of them by using them correctly. Here are a few tips that can be of help:
As I have mentioned, obstacles such as bricks, walls, glass, and more can interfere with the Bluetooth signal from this device. However, there is a way to go around it. You can try removing any possible obstacles or place your grill in a location where interference can be minimized.
You can get a faulty temperature reading if your probes are dirty. Ensure you keep the thermometer probes clean always.
Insert the probes the right way. Ensure you read and do not exceed the level marked on the probe to get a correct reading
Do not exceed the rated maximum temperature of the thermometer so as not to damage the device.
Read your manual to understand your device and familiarize yourself with it
If you are using your Bluetooth BBQ thermometer outside, ensure you take it back inside when you are done cooking.
Also, pay attention to other Bluetooth devices around as they might be interfering with your thermometer signal. If possible switch them off till you are done cooking.
iGrill2 vs iGrill 3 – Conclusion
It is obvious that both the iGrill 2 and iGrill 3 has the accuracy, range, probes, battery life, and features needed to help cook your steak, meat, and other foods perfectly. However, before you make a choice, take a closer look at their differences and compare them with what you want in an iGrill. Doing this will help you make the right and perfect choice of Bluetooth BBQ thermometer.
Finally, I know that choices differ from person-to-person, that is why I have provided the guide on how to pick the best Bluetooth thermometer for you and also give some important information.
Utilize this information, hit the market, buy the right Bluetooth thermometer and you will not be disappointed. And share with me your opinion on iGrill 2 vs 3 – which one is better?.