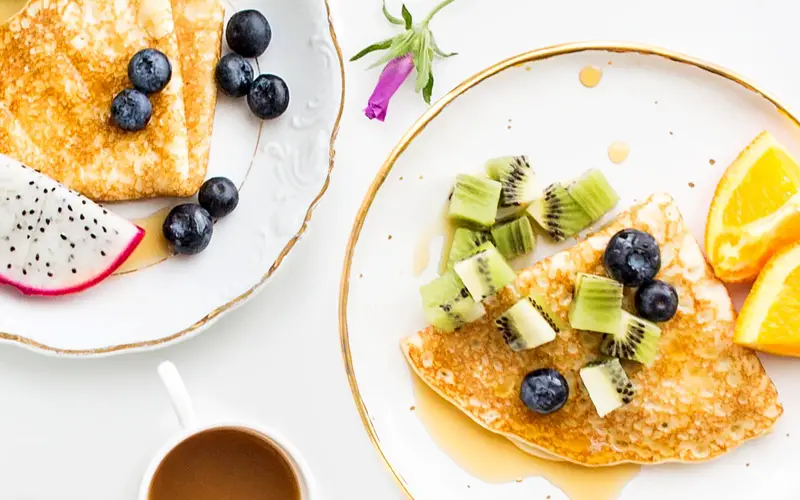 A commercial crepe maker is one specialized tool that can make things much more manageable. It not only simplifies the whole process but can also help you prepare tasty crepes just like a professional chef.
The best part is that you don't have to dig deep into your pocket to get the best commercial crepe maker and that's where we are here to help.
We spent a couple of days researching and going through different top models available in the market today and herein we are going to share 5 of the best commercial makers that we are certain are worth checking out.

Waring Commercial Products is amongst the few brands that continue to take the lead in the foodservice industry, particularly in commercial kitchen equipment.
They have consistently produced several fabulous countertop appliances that make food prep easier, and again here they demonstrate their prowess in this industry with this commercial WSC160X crepe maker model.
If you are in search of a heavy-duty electric crepe maker that's capable of handling high demand or for commercial use at places such as restaurants, then this it.
Superb Build Quality
The first thing to appreciate about this Waring crepe maker is the fact that its overall construction is nothing else but total commercial quality. The cooking plate is a thick, heavy-duty cast-iron with the base made from an equally heavy-duty stainless steel.
The whole unit is super sturdy and highly durable. It will undoubtedly withstand constant or daily use, which makes it ideal not only for commercial use but also for domestic use as well.
Besides that, the carrying handles of the unit are heat resistant to provide safe operation. You can lift it without requiring a kitchen mitt, and your hands won't get burnt even when cooking over high heat.
Excellent Cooking Performance
Featuring an 1800-watt heating element, the Waring WSC160X is no doubt a powerful unit that's designed to provide superior performance when it comes to making crepes.
The robust cooking plate can heat up to 570° Fahrenheit. However, what makes it even much effective is the excellent heat retention and distribution abilities of the cast iron itself.
The plate retains heat very well and evenly distributes it across the surface, allowing you to make crepes that cook evenly consistently.
The best part is that the plate is quite generous. It measures around 16 inches in diameter, which is a reasonably large surface area. If you are planning to prepare a lot of crepes, then this is an ideal machine for you. It's perfect for small eateries as well as large households.
The unit also offers a broad temperature range to suit your particular needs. It has an adjustable thermostat with a range of 280 to 570° Fahrenheit. It's pretty handy when cooking different types of batters that may require varying degrees of heat.
Once you set your preferred temperature, it remains consistent throughout and the plate takes about 10 to 20 minutes to heat up depending on the temperature you select. It's a bit long, but once it's ready, you will be able to make crepes every 3 to 4 minutes.
Very Easy to Operate
Using this Waring crepe maker is no hassle at all. You have only one knob for controlling the temperature and two LED bulb indicators. A red one for power on and a green one that indicates when the cooking plate has reached the set temperature. That's all.
You will also appreciate that the handles remain cool for easy transportation, whether it's on the lowest or highest setting. Furthermore, the griddle is slightly bigger than the base, so less oil and crumbs will be entering inside the base.
One thing though that you should note is that this model must be appropriately seasoned as directed in the instructions. Otherwise, it won't work right. The instructions are straightforward; hence, you won't break a sweat doing it.
The only issue we noted although not a deal-breaker is that the unit doesn't feature an on/off switch. You plug it in to use and unplug it when done, which means you must have good access to a power outlet. It's a relatively big unit too hence might take up some space.
Besides the crepe maker, Waring has also included a straight spatula and a butter spreader in the package which are useful additions to have. The cooking surface becomes non-stick once seasoned, so cleaning it is easy.
To sum it all, the Waring WSC160X crepe maker is indeed a reliable, commercial-grade unit especially due to its robust build and the large cooking surface. It's a great choice that we would highly recommend for professional kitchens or even home use if you often make lots of crepes.
Pros
Robust overall construction with a durable stainless-steel base
A powerful 1800-watt heating element
Thick cast-iron plate with excellent heat retention
Adjustable temperature up to 570° Fahrenheit
Heat-resistant carrying handles for safe operation
Very easy to use and to clean
Ideal for both professional and home use
Great price
Cons
Must be appropriately seasoned to work effectively
Doesn't feature an on/off switch
Requires a bit more counter space
If you want a crepe maker that heat fast, evenly, and can allow you to make lots of large crepes quickly, then the ALDKitchen Electric Crepe Machine might be the right choice for you. This is one of the most powerful units on our list with the only other strong competitor herein being the Denshine model which we will get to look at below.
Solidly built and Very Durable
By just looking at this ALDKitchen unit, you can tell that it's a very robust unit that's made to withstand significant abuse for years. It has a thick base made of complete industrial-grade stainless steel that's both tarnish resistant and rust-resistant.
The whole body is strong and very sturdy with a cooking surface consisting of a thick cast iron panel. The handles are heat-resistant,
but their positioning can make carrying the unit a little tricky.
It's a relatively heavy machine which is understandable because of the robust construction. Nonetheless, if you don't mind the weight, then this is a highly durable crepe maker that you can use heavily for years.
Awesome Cooking Performance
As I mentioned earlier, this one of the most powerful units when it comes to heat generation, and this is majorly attributed to its 3000-watt heating system. With such great power, the unit is capable of heating the crepe pan faster than most other models.
It will take just a few minutes to reach the desired temperature, probably less than 10 minutes, which is convenient since many other units can take up to 20 minutes to heat the pan properly.
The thick cast copper griddle is a slight deviation from the cast iron plates often found in most crepe makers, but it's equally very effective. It's capable of retaining heat adequately and spread it evenly throughout the surface, so you can expect your crepes to cook more consistently like those made in restaurants.
The size of the griddle is also something you will highly appreciate this ALDKitchen Electric Crepe Machine if you are looking to prepare crepes in a restaurant setting.
It measures 15.7 inches in diameter which is a large surface area that's sufficient enough for making large, restaurant-kind crepes. Furthermore, the fact that it heats up fast despite its size and thickness means that you will be able to cook dozens of pancakes within a short time.
You can as well adjust the temperature to your preference with this unit as it features an adjustable built-in thermostat that offers a temperature range of 122 to 572℉.
Now the best part is that the griddle comes pre-seasoned with butter and garlic. Therefore, no preparations are required to prevent the crepes from sticking on the cooking surface.
Ease of Use
Operating the unit is a breeze too. It requires no prior knowledge. The control panel consists of a single knob that you use to set the desired temperature. There are two useful LED indicators as well, a red one to indicate power on and a green one to notify you when the plate was heated to the desired temperature.
Like its counterpart above, the Waring WSC160X crepe maker, this ALDKitchen model does not feature an on/off switch which has become a common design feature in many crepe makers.
However, that's not the major concern. What caught our attention is the weight. At 45.2 pounds, it's a fairly heavy unit and the wide base makes it even bulky such that it will have to take a lot of storage space should you plan to keep it on your countertop.
All in all, when you factor in the solid built quality, powerful heating system, and the very effective griddle, the ALDKitchen Electric Crepe Machine is undoubtedly worth every coin.
It's a reliable option for those that are looking for a fast and reliable commercial-grade unit that can allow them to make a lot of crepes quickly. Plus, you get a wooden spatula alongside the crepe maker.
Pros
Robust and highly durable stainless steel constructio
Ultra-powerful 3000-watts heating system
Thick, large-sized cast copper griddle retains heat adequately
Griddle heats quickly and distributes the heat evenly
Temperature is easy to adjust and has a broad range
Comes already pre-seasoned with batter and garlic
Operating is a breeze as well as cleaning
Cons
Heavy and bulky to carry around
No on/off switch
Taking the fourth position is yet another crepe maker from ALDKitchen. If you love to experiment with your crepes or want a unit that's ideal for a very busy restaurant or eatery, then this ALDKitchen double griddle crepe maker might be an excellent choice.
Robust and Highly Durable Construction
To start, like its counterpart above, this ALDKitchen crepe maker is a robust unit that's built to withstand the test of time.
The entire frame is made of a very thick stainless steel that gives the unit a strong, solid feel which allows it to hold up pretty well against massive abuse on a daily basis and still stay durable for many years.
However, the most outstanding thing about this crepe maker is that it incorporates a 2-in-1 design consisting of two griddles which are both made of a durable cast iron material.
The unit is further equipped with four adjustable stainless steel feet encased in non-slip plastic caps to prevent unnecessary movement while you are busy preparing those delicious crepes.
There are two heat-resistant carry handles at the center and another pair at the right side both of which also serve as protective bars. In short, it's a robust unit that's built for nothing but the vigorous environment found in most busy restaurants' kitchens.
Outstanding Double Cooking Plates
With two cast iron cooking surfaces that measure 15.5 inches in diameter, this ALDKitchen crepe maker allows you to make two large-sized crepes simultaneously efficiently. This is a big plus, especially for those working in a highly busy restaurant setting where a lot of crepes need to be made within a short time.
The unit utilizes three 3600-watt heating elements which make it the most powerful heating system on our list. It allows the griddles to heat up rapidly with the heat adequately distributed across the cast iron surfaces. As a result, the crepes get to be cooked fast and more evenly.
Moreover, the plates are finished with a non-stick coating. Therefore, no stressing about seasoning so that your crepes can slide out without any damages.
On top of that, each griddle features a thermostatic control knob that enables you to adjust the temperatures separately within the range of 122 – 572℉ which much convenient than having a single knob that controls the heat on both plates.
Ease of Use
Same as all the other units, using this double griddle crepe maker won't pose any challenges. Apart from the knobs, it has two light indicators on both sides of the griddles, one for power on and another for alerting you when the skillets are ready.
Now while the other models we've reviewed have no on/off switched, ALDKitchen has included one in this model which is a thoughtful addition that's worth noting.
The major downside about this unit though is that it's really heavy, weighing 114 pounds. You will need an extra pair of hands to move it. That's the only setback.
In general, ALDKitchen double griddle crepe maker is a solid investment that won't disappoint. It's the best unit for busy restaurants that make lots of crepes regularly.
Pros
Robust crepe maker that can last many years
Ultra-powerful heating system
Double griddles that heat up quickly and cook evenly
Non-stick coating for flawless crepe making
Adjustable temperature with a decent heat range
Features an on/off switch
Simple to use, clean and maintain
Cons
Very heavy for a single person to carry alone
Made in France, the Krampouz CEBIR4 is an impressive and versatile crepe maker that's much suitable for small restaurants or households with large families. It offers quality and unbeatable reliability as far as crepe making is concerned.
Durable Design
The Krampouz CEBIR4 is without a doubt quality and attractive crepe maker that's built not just to last but to add a touch of style in any kitchen that it's installed.
The unit features a very sturdy stainless steel frame and a thick cast iron cooking surface both of which can withstand great abuse for years.
It's designed very carefully to ensure easy transportation and optimal safety when using it. Unlike most other models, the CEBIR4 comes equipped with a built-in, heat-resistant wall guard that doubles as a carrying handle.
The guard ensures that the machine has ample space around it throughout, which helps prevent your countertop supplies from getting too close to the unit's hot surface.
To further ensure extra security and stability while preparing your crepes, the unit comes with rubber feet that keep it firmly in place, and they also help protect the countertop from getting scratched.
Precise Cooking Performance
When it comes to cooking performance, this Krampouz crepe maker doesn't disappoint either. It features a 1740-watt coiled heating element with reinforced heat insulation to provide fast and consistent heating throughout the cast iron surface.
Coupled with the effective heat retention ability of the cast iron, the unit assures even distribution of heat across the griddle for precise cooking. Therefore, you get to end up with nicely cooked crepes that are blemish-free and pristine to the eye and the mouth as well.
The griddle is 16 inches in diameter, which gives you ample space to make those large, delicious crepes, and it doesn't take much time to heat up either.
It takes around 5 to 10 minutes, depending on the selected temperature plus the edgeless design makes it a suitable choice for settings where speed is a priority. You just easily slide each crepe onto a plate without having to stop to flip it out.
Ease of Use
Controlling the heat has been made easy too as the unit utilizes a single knob that allows you to adjust the temperature to your liking. It has five temperature levels that range from 120 to 570℉.
Next to the knob is a green indicator light to alert you when the set temperature has been reached and a red indicator light for power on. You definitely won't have any difficulties as far as operating this unit is concerned.
However, like the Waring WSC160X crepe maker above, the griddle of this unit is polished cast iron, so it must be seasoned to ensure that crepes don't get stuck.
If there is any setback worth pointing out it would probably be the weight as it weighs 42 pounds which makes it somewhat heavier to move around.
Other than that and the fact that it has no on/off switched, there's nothing else to worry about. Furthermore, besides the unit, you get a wooden spreader and spatula as bonuses.
Overall, this is a versatile and effective crepe maker that's ideal for either commercial or domestic use. It's also an excellent choice for those looking for a bit of style than just functionality.
Pros
Durable design with a sturdy stainless steel frame
Rubber feet to keep the unit stable when cooking
The heating element provides quick and consistent heat
Large-sized griddle that cooks evenly
Heat-resistant carrying handle that also serves as a wall guard
Comes with a wooden spreader and spatula
Easy to operate and clean
Reasonable price
Cons
Does not feature an on/off switch
Has to be seasoned before using it
Preparing the best possible crepes requires a reliable unit with a good quality non-stick skillet and this Denshine electric crepe machine offers just that. It's purposely designed for making the perfect crepes every time and easily and quickly.
Built to Offer Years of Service
The Denshine crepe maker sports a heavy-duty stainless steel base to guarantee maximum durability as well as great heat resistance. The unit sits on four strong non-slip plastic feet that keep it firmly in place when put on the workstation to facilitate stable performance.
The plate, on the other hand, is made of a fairly thick iron which a durable metal that will hold up well for years even with regular use. However, the unit does not feature any carrying handle, which is a bit disappointing as it makes moving it around difficult.
Excellent Cooking Performance
One of the most common problems with most crepe makers that boast of using non-stick technology is that the claim often doesn't hold up. After using it for only a few days, you find yourself having to use a bit of cooking spray most of the time, and this can be troublesome.
The skillet of the Denshine electric crepe machine stands out from the rest as the surface is not just non-stick, but it also integrates aluminum which aids in the separating of the crepe molecules that tend to stick when heated intensely. With that, you get to cook and easily remove perfectly cooked crepes every time.
You even get to clean it easily too since nothing sticks on the surface. The unit is powered by a 3000-watt heating system which is powerful enough to heat the pan fast and evenly to ensure that the crepes cook properly.
The pan has a large diameter allowing you to make all the ideal sizes of crepes you wish to make including traditional French crepes. Furthermore, you can set your desired temperature to get the perfect outcome.
Ease of Use
The Denshine electric crepe makers a very basic machine, not different from the four models above. Besides the heat knob, there are two light indicators red for power and a green one for temperature change.
The best part is that it's completely non-stick, so seasoning is required. It's not that heavy too as it weighs only 33.1 pounds, so it's that hard to carry it but what can make things somewhat confusing is the fact that it has no carrying handles. There is no on/off switch too.
With that said, the Denshine electric crepe machine is designed for those that have been struggling with pans that claim to be non-stick and end up being the total opposite. It's the best non-stick crepe maker for commercial purposes.
Pros
Sturdy and very durable construction
Best non-stick cooking griddle for crepes
Heats the pan quickly and evenly
Temperature is adjustable
Elementary and simple machine to operate
Cons
Carrying it might be challenging due to lack of carrying handles
Best Pancake Dispensers to Simplify Your Crepe Making Process
Pancake or batter dispensers have brought sanity back to the process of preparing pancakes. They are a definite game changer and the perfect kitchen tool for minimalizing the mess.
One of the top options on the market, especially if you love to keep your kitchen looking sleek and modern is the Winco B00HFASGM2 APCD-6. This is the best metal pancake dispenser out there, perfect for dispensing batter for pancakes or crepes with relative ease and minimal mess.
Build Quality and Functionality
Crafted with 10 gauge restaurant grade aluminum, this Winco dispenser is a very sturdy and long-lasting unit that can offer years of service even with regular use.
The dispensing trigger is an improved plunger system that's sturdy but very easy to operate. Doesn't require a lot of thrusting energy and always delivers consistent amounts of batter.
However, the spout falls in the small-size end as it is only large enough to pass liquor mix, not dry. The nice thing though is that the unit can hold the right amount of batter. It can hold up 2.5 quarts, and moreover, it comes with eight potion control settings with a range of ½ to 8 ounces.
Usability
No skill whatsoever is required to operate this dispenser. It's a straightforward unit. Once you have your batter ready, the only effort required is pushing the plunger to dispense it.
Just as it easy to use, it's very much comfortable to clean it too as the sleek aluminum finish gives that easy-to-clean feel and appeal of metals.
In total, this is a convenient and reliable dispenser. The solid construction and decent size make it even attractive to buy. If you want a durable dispenser with a sleek, modern look and easily dispense batter whether for cupcakes or muffins, then we recommend checking out the Winco B00HFASGM2 APCD-6.
Pros
Heavy, long-lasting construction
Sleek, modern look
Decent capacity
Easy to use and works very well
Cons
Spout might be a bit small
Another popular design on the market is hard plastic dispensers featuring hand-operated spout. Amongst the many options available out there, this KPKitchen batter dispenser stands out as one of the best-rated models. It's straightforward, functional, durable, and effortless to use.
Build Quality and Functional
The whole unit is made up of molded hard BPA-free plastic right down to even the locking lid which makes it a very sturdy piece of kitchenware, one that can last a long time and be used over and over. The handle has been made such that it can withstand heavy loads.
Aside from the strong built quality, the unit is very spacious capable of handling up to 4 cups of batter, which is sufficient to make enough pancakes to feed average to large families.
Moreover, with its wide mouth opening, filling it up is quick and a breeze. The quick-close valve allows you to pour the batter precisely like a pro and as such your pancakes get to come out nice and round every time.
Usability
The unit is much easy to use too. It uses a pull-trigger system, and all you need to do is to properly squeeze the pulley handle and release it once you've let go of enough batter. It's that easy.
You can use it with different types of foods that utilize batter as their base. It's not just meant for pancakes. You can use it to make cupcakes, muffins, waffles, and even pizzas.
There's nothing terrible we could point about this KPKitchen batter dispenser. Everything is built to superb quality, and it functions flawlessly. If you don't prefer the sleek appeal of the metal dispensers, then this is a suitable alternative.
Pros
Heavy-duty, durable plastic construction
User-friendly pulley handle that squeezes with minimum effort
Large capacity of up to four cups
Wide mouth opening for easy and quick filling
Cons
None that could raise an alarm
Best Commercial Crepe Maker – What to Consider Before Purchasing a Commercial Crepe Maker
Commercial crepe makers don't come cheap, and before you settle on a particular unit, you want to make sure you are getting value for the price. This means taking a hard look at each available option and picking the unit that suits your needs best, including your budget.
Below we have highlighted some of the critical things you need to consider and look at when evaluating different crepe makers so that you can choose the best unit for you. They include:

Contents:
Electric or Gas Crepe Maker
The first you want to do before proceeding to look at different models is deciding the type of crepe maker you want. Should you go with an electric model or a gas model?
Well, each has its benefits. Electric crepe makers are more energy-efficient, especially in the long run, and the fact that you can simply be plugged in and unplugged makes them highly portable and easy to transport or move around. They are also often the best choice if your kitchen has fairly limited space.
Gas units heat up faster than electric units. However, they need a source of liquid propane or a natural gas line to function, so they might be quite limited in terms of movement which limits their portability. They are not energy efficient but can no doubt boost productivity as well as the profitability of your kitchen.
In short, the choice here will come down to your personal preference and the exact needs of your kitchen. Therefore, make sure that you pick the type that would work best for you and can give value to your investment.
Materials
Once you know the kind of crepe maker you want, the next important thing you will need to look at as you evaluate different models is the materials used to make them.
You want to make sure you pick a unit that's made using durable materials that can withstand the amount of use that you will be subjecting the machine to.
For heavy-duty commercial use, crepe makers with stainless steel exterior and frame are the best since they can hold up pretty well to any amount of abuse and are highly durable.
Stainless steel crepe makers are also very easy to clean, which makes them even more ideal for commercial use. Aside from the frame, you should also consider the material used to make the cooking surface.
A cast-iron cooking surface or skillet is the perfect choice for commercial crepe making. Compared to aluminum or steel, cast iron tends to heat much evenly and consistently, which makes it very effective for cooking specialty crepes.
However, it might require seasoning, but once it's done, it can become practically non-stick not to mention that it can stand up to heavy use for a very long period.
You will also find some units that come with non-stick griddle plates like the Denshine electric crepe machine. These are a great choice if you want to avoid the need for seasoning and they also make it a lot easier to turn and remove crepes from the skillet.
Generally, for heavy, commercial applications, we would highly recommend going with a unit that has thick stainless steel construction and a cast iron griddle plate. Both can stand up to great abuse and still last much longer.
Size and Shape
When buying a crepe maker for commercial purposes, it has to be practical for daily usage, and as such, size becomes an essential factor that's not to be overlooked.
Your choice here will mainly depend on the type or size of crepes you regularly make as well as the amount of real estate you are planning to devote to the machine in your kitchen.
The standard size for many commercial units is usually 15 to 16 inches in diameter, which is the size of the griddle plate. If you have sufficient space in your kitchen or you are planning to a lot of large crepes, then a machine with 16 inches cooking surface or bigger would be perfect.
This way, you will be able to cook more authentic crepes, and you also have enough room to experiment without causing a mess in the kitchen. However, if you are low on space, then you will need to go for a smaller size unit probably with less than 15-inches griddle.
The shape of the crepe maker is also something that you would want to factor in too when looking at size. There are two types of shapes, round, and square. Round frame crepe makers are an excellent option for restricted and tight spaces, or if you intend to save up space. On the other hand, if you have no space issues, then a square-frame model would do fine.
Single or Dual Griddle
Your choice here will solely depend on how much crepes you place to produce. If you need to create a high volume within a short time, a dual griddle unit would be a much preferable choice.
The only downside is that it may end up taking more space, so you must ensure you have enough counter space to accommodate it. However, if you are planning to serve only a limited selection or if you have a small restaurant, then a single griddle crepe is ideal.
Temperature Range
Most commercial crepe makers offer the ability to adjust the heat or the temperature. In this case, having a unit with a larger temperature range is more beneficial as it would give you greater flexibility in terms of recipes you can cook.
A wider temperature range basically means that you will have the opportunity to experiment with a variety of different recipes from those that require lower heat to those that need higher heat. The best range to consider here would be around 120 to 575°F.

Best Commercial Crepe Maker – FAQ
Contents:
How do you keep crepes from sticking?
If you are using a cast-iron pan, then seasoning it which is basically burning thin layers of oil on the pan multiple times can help prevent the crepes from sticking.
However, the best way to keep crepes from sticking is using a good quality non-stick pan like that of the Denshine electric crepe machine. You can also apply a non-stick spray or add a half spoon of butter after every 3 or 4 crepes.
How long does crepe batter last?
Crepe batter can last 24 hours unrefrigerated. When kept in the fridge, the batter can last up to
Three days but any longer than that will lead to the components breaking down and destroying the overall integrity of the butter. However, it can go up to a month when stored in a freezer.
Why does crepe batter have to rest?
Resting the batter allows the starch molecules in the flour to absorb the liquid while at the same time giving the gluten enough time to relax. This resting step is the secret to ensuring thin and uniform crepes with an incredibly delicate texture that seems to melt in your mouth rather than being chewy.
Is crepe batter supposed to be runny?
Crepe batter no doubt needs to be runny, not thick like in the case of pancake batter. Crepe batter is better when you allow all the starch molecules in the flour to absorb as much water as it can slowly when left to rest. This way you are guaranteed of getting those thin crepes you want.
How long do crepes last in the fridge?
You can refrigerate crepes for up to three days and free them up to one month. However, you need to ensure that they are tightly covered with plastic wrap and there are wax papers or sheets of parchment if you are to freeze them for a month.
Can pancake batter be left overnight?
Unlike crepe batter, you can't prepare your pancake batter and leave it overnight or even more than an hour before you start making your pancakes. It should rest around 10 to 30 minutes because the leavening agents begin their job immediately they get into contact with liquid. The longer the batter rests, the less and less effective they will become.
Which crepe maker is best?
The Waring WSC160X crepe maker is the ultimate choice if we are to pick the best crepe maker amongst the 5 models we've reviewed above. It's a highly reliable and functional unit for commercial application, and it strikes the right balance between quality and value for money.
Best Commercial Crepe Maker – Conclusion
If you run a restaurant or a busy eatery and you frequently have to make a lot of crepes for breakfast, getting a commercial crepe maker is a significant investment that you will undoubtedly come to appreciate in the long run.
All the units we've included in our list above are specially made for commercial applications, and they have got all it takes to handle the heavy use that's common in most busy restaurant settings.
Most affordable is Waring Crepe Maker. If you need something more durable then ALDKitchen Maker will be great option. And in case you are planning to load your crepe maker really hard, double crepe maker from ALDKitchen will be the right choice.