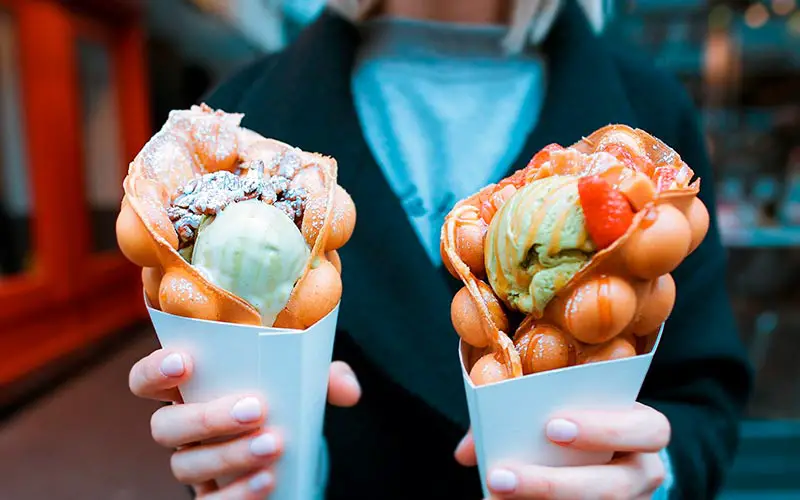 The best way to surprise our family or guests is to make something incredibly tasty for them. Today one of the trendiest dishes is bubble waffle or Hong Kong egg waffles. They are not only tasty but at the same time, they look significant.
Bubble waffles came to us from Hong Kong, where the owners of grocery stores to save their expenses used to make waffles from broken eggs that couldn't be sold to their customers. Adding flour, milk, and sugar to prepare a mixture, they cooked them in a very unusual shaped cast-iron machine, which at the end gave waffles that were looking like nothing else before.
To make this fantastic eye-catching waffle you don't need a lot of things. Flour, milk, sugar, your favorite add-ons like chocolate to put inside the bubbles, and of course you need a bubble waffle maker. Now there are a lot of them on the market, so I have prepared this best bubble waffle makers review to make your purchase very simple and informed.

Best Bubble Waffle Maker
For constant, delicious bubble waffles from the comfort of your home kitchen, look no further than the Cucina Pro Electric. Having an electric waffle maker definitely might be suitable for anyone who is not willing to stand behind a stove.
Built Quality
Cucina Pro Bubble waffle maker is electric. It's made with the same high quality you expect from CucinaPro manufactures of quality kitchen appliances. It features a non-stick cooking surface on both sides of the maker. Combined with an easy-lock handle that is resistant to heat and a power indicator light that notify you that the maker is preheating.
CucinaPro waffler is made in a square shape with upright storage. The wrap-around cable cord storage maker is convenient when flipping your waffles. This unique waffle maker might serve your needs for several years with its guaranteed durability.
Cooking Performance
The 120V waffle maker heats up quickly and can take under 5 minutes to make bubble-shaped waffles striking the right balance between quality, functionality, and value for money. It uses variable temperature controls with six different settings which ensure you set the desired temperature for a more evenly cooked bubble waffle.
The built-in light indicator is essential while cooking. After plugin allows it to preheat until the green light turns on. The green light is an indication that the maker is fully heated and ready for use.
Firstly, you need to coat both of the non-stick surfaces with oil then add your dough. Easy-clock mechanisms function effectively in preventing accidental opening when flipping the maker 180 degrees after the first 2 minutes of cooking. The 180 flip ensures quick and uniform cooking.
The bubble waffles should come out crispy and have a great color. However, it's important to flip back over the waffler before opening it.
Once the bubble waffle is ready, it will indicate with both an audible alert signal and ready baked indicator light, therefore, making it convenient if you have a habit of leaving food unattended.
When cooking the Cucina Pro maker safe handle prevents you from accidental burns. The handle is insulated so that the high heat temperature doesn't affect it, and the handle remains cool throughout.
The state-of-the-art non-stick cooking tray is specifically designed to reduce consumers' cooking process workload. When you are finished preparing your bubble waffles, the non-stick cooking plates ensure easy waffle release and a fast cleaning process. This unit also stands upright for efficient and handy storage.
To sum it all, Cucina Pro is a reliable, high-quality maker and might be great for those who want the cooking process to be simpler. It's designed to give you the best functionality you expect in a waffle maker. If it's an electric maker you are looking for, I would recommend this unit considering its price range.
Pros
2 colours available for better match to your kitchen
Easy to use
Upright storage
Great quality for durability
1 year warranty
Final Verdict
CucinaPro is an excelent option for those who don't want to make cooking process too complicated. The price is definitely one of advantages of this waffle maker.
It makes wonderful waffles and it is my top pick for the electric bubble waffle makers.
 [This product was reviewed and added on 31st of August] 
Many thanks to my readers, cause they share their experience. They pointed to me one more Bubble Waffle Maker which is also great and has to be in our review.
Electric Hong Kong eggettes maker by CGOLDENWALL produced in China and not really known in the market. However, the brand counting several years of history and has a wide assortment at Amazon in Japan and other Asian stores.
This bubble waffle maker priced at a medium level, it costs higher than the usual small waffle maker for home use, and not so expensive as commercial-grade waffle makers. However, for its price CGOLDENWALL suggests a full-size machine that can cover both needs, either home and commercial.
Powerful heating elements provide up to 572°F (300°C), together with Teflon covered plates, it makes the cooking really fast and easy. You need about 45 seconds to pre-heat the waffle maker. The heating indicator lamp will turn on when it is ready to start. The cooking time for one waffle is about 3-4 minutes with the 350-390°F (180-200 °C) temperature.
The great thing about this Puffle Maker, that it has EC certification, which means it passed all safety requirements in the European Union, which is not easy. By the way, you can order a waffle maker with different types of socket, for 110v in the USA or 220v in Europe.
Overall feeling about this Bubble Waffle is positive, the only thing that I pointed in a wrong way, is the quality of assembling, some screwers could be tightened better. However, the brand has excellent customer support, and in case of any service issues, it not seems to have any problems.
Pros
Powerful
User-friendly features and design
Reputation of the brand
Cons
Assembling could be better
Final Verdict
This product review started from
Bubble Waffle Maker by Seeutek
, when I contacted owners to get their reviews. Unfortunately, their experience with it wasn't great, so they bought another waffle maker, and it was CGOLDENWALL Bubble Waffle Maker.
It works great, and the result is fantastic. This is Reader's Choice for home use, but from my point of view, in general, it seems to be an excellent choice for starting your business, cause the price is not so high.
Proudly made in the USA this pan for bubble waffles covers all needs. In other words, it is very easy to use, with no complicated instructions, indicator lamps, and wires. Just pour the dough and that's it!
This pan has a non-stick coating, so the cooking process is straightforward, and cleaning also is not a problem. But you have to be careful with a non-stick coating, because it is very easy to scratch it, to keep your pan as new for a long time I recommend to use non-metal utensils during cooking.
It is so much fun to cook Hong Kong waffles using this Nordic Ware! The process will entice everybody!
The only thing you need to keep in mind is the weight of this pan, and it is 3,49lbs, which is a bit heavy for everyday use.
This pan can work with any stove, no matter which one do you have, you have to add an induction plate if you have an induction stove.
Don't forget that any prolonged heat can be damaging.
When cooking, I recommend using the same size of the stovetop as the pan for maximum heat output. If you are using a gas flame please contain it to the surface not the sides of the pan.
Avoid sliding the pan if you are cooking on a glass stovetop because it can either damage the stovetop or the pan.
The cooking size is 10.5 inches to 9.5 inches, so the waffles are big enough to wrap and put inside the ice cream or whatever you want. Bubbles are not too large and it is a bit complicated to put a lot of toppings inside.
I recommend following this instruction to have an excellent result.
Before first use and after subsequent uses, hand washes with warm, soapy water. For cooking preheat the griddle and brush with oil before each use. Add two tablespoons batter to each cavity and cook until the waffle are golden brown.
Pros
10 years warranty
Easy to use
Easy storage
Cons
Weight
Aluminum surface, not induction ready
Final Verdict
This is my
top pick
product which I find very effective in making bubble waffles.
It is an excellent offer from the all-known brand. No matter how many times you cooked something before, anyone can make bubble waffles in this pan.
I recommend this pan for your cooking needs.

AldKitchen is the only popular manufacturer of bubble waffle makers for commercial purpose. It's an amazing choice for your coffee shop, sidewalk vendors, trendy restaurant and home kitchen. This maker produces higher loads, made from high-quality materials with great features and easy to use.
Built and High-quality materials
ALDKitchen model FY-6 is a solid construction made of high-quality material. The metal parts are made from durable stainless steel. The steel is waterproof, rustproof, and has a simple cleaning process. This unit handle is crafted from non-perishable solid wood with an effective anti-scald purpose.
ALDKitchen waffle maker is built with replaceable non-stick 1.1 In Teflon coating cooking pan which can rotate 360 degrees. Being design for commercial use, the panels are rounded body edges with 30 holes to accommodate more waffles.
The US plug is built with an improved flexible hose that allows it to rotate 360 degrees whenever in use without any damage. Combined with a double power indicator that indicates when the maker is ready to cook and when the waffles are ready.
This unique bubble waffler with installed temperature controls is 100% guaranteed quality and comes with a money-back guarantee, therefore, proving to stand out in terms of quality and durability.
Cooking performance
This waffle is characterized by its high productivity taking at most 5 minutes to completely bake the waffles, which extensively reduces the time taken on production, therefore, increase the overall turnover. In addition, to quick production, the large capacity tray allows you to prepare a large number of waffles at a go.
For great convenience and safety, the ALDKitchen FY-6 the wooden handle is heated long enough and heat resistant. Its dimensions make the installation of the appliance easy in any kitchen. The green light indicator is a very useful sign which indicates that the waffle maker is preheated and ready to cook.
Temperature control is one of the greatest features that improve your cooking performance. To achieve accurate control of the temperature you can adjust the manual thermostat setting to either of the three defined settings established. The timer knob is an added advantage that regulates the time set to produce a complete evenly colored hexagonal-shaped waffle.
Heat distribution is uniform, and the 360 degrees rotation mostly influences this. The three layers of the non-stick coating don't allow food to stick on the pan, consequently, making it easy to clean after every use.
Made from high-quality stainless steel and non-stick coating, ALDKitchen FY-6 is a commercially graded product with guarantee durability. Regardless you can still use it at home to produce higher volume. However, the price is on a higher level.

Pros
Commercial quality bubble waffle maker
Variable temperatures to set for the precise cook
Useful timer alerts
Flip rotation is 180 degrees
Cons
Is not valuable only for home use
May Lose non-stickiness with long-term use
Assembling needed
Final Verdict
Great start for having commercial grade bubble waffle maker. ALD provide good quality for its price, and this is the answer, why you can meet ALDKitchen 1400W Hong Kong waffle maker in many cafes.

If you are looking for an electric bubble waffles maker, compact and affordable that can produce the desired amount of delicious waffles, then this iron griddle MasterChef bubble waffle maker is one of the best options you'll wish to consider.
Design and Built Quality
Being a product of MasterChef, you definitely expect to be of a high-quality unit. It's an asymmetrical solid waffle maker with an iron griddle that is designed to run on AC 110Volts only. MasterChef is equipped with a non-stick pan that produces a perfectly bubbled shaped tasty waffle.
Complete with power indicator light useful for notification purpose. On the plus side, this Hong Kong Egg Waffle features an easy-lock closing tool to hold the cooked egg waffle when spinning tight and steady.
This is not a significant, heavy appliance. Has a decent quality that ensures you can use it over and over with consistent well-shaped and baked waffles.
Cooking performance
MasterChef Bubble Waffle Maker lets you prepare a delicious breakfast in Hong Kong-style bubble waffles within few minutes. Using the maker, make sure you note what the instructions say. Spray the pan with non-stick spray evenly on the pan once before you plug in to heat up. The spray maintains the non-stick iron grill from sticking on to the waffles being cooked, therefore, allowing quick removal of the waffles.
There is no temperature setting, and this means you need to be alert when preparing this snack. The indicators lights work perfectly to notify you when the desired temperature is reached and to alert you when the waffles are ready to be served, isn't it pretty smart?
The heat is distributed evenly to form perfectly crisp and golden waffles. In the instruction, you are advice to cook for one and half a minute on the first side, then manually spin the whole bubble maker. Why not flipping? You might ask. This maker doesn't flip; instead, it's designed to cook both sides at the same time.
Featured easy-lock mechanisms remain relatively cool when the maker is hot thus prevents you from common kitchen burns, it also reduces mess as a result of slipping.
The non-stick iron grilled is fixed but still easy to clean with a damp cloth or sponge. Make sure though; you don't overfill the batter which will later ooze out and stick on the sides making cleaning a challenge. Storage is quite easy, thanks to the handle lock and standing base.
MasterChef Bubble Waffle Maker might be a thoughtful gift for a college student, perhaps, anyhow it's a great product, looks good, excellent design that suits its functionality. However, it seems pricey for its quality. If you are looking for a quick simple and safe waffle maker, then I recommend getting this one.

Pros
Produce waffles under 5 minutes
Indicator light for alerts
Non-sticky cooking plates
Cook both sides simultaneously
Cons
Lack of temperature controls
Can be hard to clean if not oiled properly
Egg mold is too shallow
Final Verdict
MasterChef is a well-known brand that brought to the market very nice bubble waffle maker. It is a bit overpriced comparing to other offers, however it has almost everything what you are looking in a waffle maker made for home use.
This Hong Kong waffle maker is one of the pioneers on the market, two years ago it was one of the best waffle makers, now there are some better models, but still this one is pretty good.
Star Blue works very well; it has non-stick coated plates to make the cooking and cleaning processes easy. The shape of the body is formed in the right way, so it is very easy to tilt this waffle maker.
The great advantage of Star Blue is its safety. It has built-in protection against overheating.
So you can cook and talk on the phone at the same time, do not worry that at some moment you will forget about your waffle maker. It automatically stops to prevent the machine from burning and damaging it.
An additional concern for your safety is provided by a cool touch handle that protects your hand and fingers from burns after accidentally touching the handle.
The only thing where competitors are better is the size of cooking plates and the size of bubbles. Here are the minimum number of bubbles per small cooking plate.
As a result waffle is not big enough to make with it popular desserts where you roll the waffle and put inside ice cream or anything else.
Pros
Safe handle
Overheating protection
Easy to use
Cons
Very hard to clean, batter comes from everywhere
Final Verdict
Star Blue is a proven solution! For 2 years it keeps it position on the market and makes lots of cooklovers happy with astonishing Honk Kong waffles. This waffle maker is very simple and safe!
But you should be ready to spend the same time cleaning as you spent on cooking.
AldKitchen Pro Best Original Hong Kong Egg Waffle Maker Review
AldKitchen is the only common producer who makes bubble waffle makers for commercial use.
This one doesn't look like a commercial, but it is made from it!
For the production of this model Ald Kitchen decided not to create something new and complicated, engineers just took the cooking plates and handle from commercial use waffle maker. Undoubting it is a genius and straightforward decision.
As you know, all products for commercial use are usually designed for higher loads than products for home use.
Probably this waffle maker is not an exception, and it has a 1.3inch thickness of cooking plates to serve you for a long time. You could use it with any stovetop (for induction stovetop burner plate needed) or even on an open fire or grill.
Details for this waffle maker were taken from the last Ald Kitchen model, so it has modified handles that are very convenient to use. The handles are not very wide in girth and not as long as the previous model, so now they are suitable for everyone.
The size of cooking plates are great. Waffles made by this waffle maker are big enough to roll it and put something inside and the bubbles are also great.
The only thing that could be better is the price. This waffle maker priced on a higher level of all presented waffle makers for home use in our review.
And by the way, it comes disassembled, a screwdriver is not provided so be sure that you have one.
Pros
Quality
Durability
Possible for commercial use
Cons
High price
Assembling needed
Aluminum surface, not induction ready
Final Verdict
Ald Kitchen made very simple, durable and high quality Hong Kong waffle maker. The price is not friendly so you have to decide do you need waffle maker applicable for commercial use and pay more, or it is enough for you to have waffle maker designed for home use only but for lower price.
For those who decided to make bubble waffles their way of earning money, AldKitchen has in their assortment different commercial Honk Kong waffle makers.
This model is the latest created, It is absolutely different from what they made before or you could find on the market.
This model has a new design, new size, configuration, and in other words, it is a purely newly designed machine for bubble waffles. Engineers from AldKitchen took in the consideration all feedbacks about previous models and created almost the ideal.
AldKitchen professional has a perfect fit and shape. It doesn't need a lot of space in your food truck, café, or restaurant.
Metal parts are made from industrial stainless steel, the body is tarnish-resistant, rust-resistant, and easy to clean.
As a result, it is very durable and will be good looking for a long time which is very important for the open kitchen.
The cooking panels are made with a high resource Teflon coating and if they run out the business it is possible to buy a new one from the producer.
The size of the panels is about 7 to 9 inches, with the diameter of each bubble about 1.1in, so the size of waffles is excellent, it is easy to create a dessert from them which will be easy to eat for all your customers.
AldKitchen RC08 has a digital thermostat and timer to make your waffles great all the time, and give you an opportunity to leave waffle maker for a minute and do something else during this time. It is provided with a US plug and needs 110v voltage to work. The power consumption is 1500 watts.
Pros
Don't need much space
Commercial design and materials
Digital timer and thermostat
Spare parts available
Final Verdict
RC-08 by AldKitchen is definitely new step in production of commercial use waffle makers.
For the new model, AldKitchen wants more than twice the price than for their other models, considering all the characteristics it sounds reasonable, but at the same time it is a significant investment, so the final decision is up to you.
Best Bubble Waffle Makers – Buyer's Guide
I now delve into the comprehensive buyer's as promised at the start.
Contents:
What is a bubble waffle maker?
The bubble waffle maker is a utensil or appliance used to cook Hong kong waffles or Bubble waffles. It usually consists of two hinged metal plates with bubbled texture. The useful surface in common has a hexagon shape.
Where are bubble waffles from?
The bubble waffles are from Hong Kong, but now days are very popular all over the world.
What is the right name of this waffles?
It is possible to find different variations of names for this waffle, two of the most popular and common are Bubble Waffle or Hong Kong Egg Waffle. Also, you could find the next variations: egg waffles, Hong Kong waffles, Hong Kong eggetes, Puffle waffles.
Taking into consideration that primary the recipe for these waffles came from Hong Kong, the correct name is Hong Kong egg waffles.
During the boom of popularity Bubble Waffle's name also become well-known; therefore, from my point of view, it is correct to use both of them.
But it doesn't matter which one you like, because it doesn't influence taste.
How does the waffle makers work?
All the waffle makers prepare waffles heating the batter. The difference is in how the healing process takes place. There are two types of waffle irons, electric waffle maker and stovetop waffle maker.
Stovetop waffle maker simpler, it is gaining heat from the stovetop or open fire (yes it is possible to use outdoor). While the electric waffle maker has a built-in heating element in both its plates, these elements start to heat after turning on the waffle maker.
No matter what type you prefer, the rule for both of them is to archive the best result you have to turn it upside down while you are cooking the waffle. This will help to evenly distribute and bake the batter, as well as allow you to cover any filling that you put into each unit. As a result, you will get the crispy and golden brown waffle.
How do you clean a bubble waffle maker?
The most popular bubble waffle makers are electric, so you can't use a dishwasher to clean them.
To clean a bubble waffle maker, you will need paper towels, soft textile, and soapy water. First, unplug the maker. Then remove all oil with paper towels from plates. Using a soft textile and soapy water wash the maker inside and outside. That's it.
Do I need any extras to make bubble waffles?
Usually, if you are not the first time in the kitchen you don't need to buy any extras. If you are going to cook for the first time, make sure that you have a mixing bowl to prepare the batter and all the necessary utensils.
For making bubble waffles, I would recommend using a bottle for the batter in the first place, because it is the fastest and easiest way to add batter on cooking plates, and also it keeps your kitchen clean.
Secondly, non-metallic spatula, or wooden skewers for flipping, it will keep non-stick coating safe.
Thirdly, it is a silicone brush for applying oil to the cooking plates.
How to make a bubble waffle?
Here is the Classic Bubble Waffle recipe, the result of it will be a great Hong Kong waffle. Just top it with your favorite sweet or any other addition.
Hong Kong Egg Waffle – Batter Recipe for 5-6 waffles
4 egg yolks
¾ cup milk
1/3 cup melted butter
¾ cup sugar
1 ½ teaspoon baking powder
2 teaspoon vanilla extract
1/8 teaspoon salt
6 egg whites, beaten to stiff peaks in a mixing bowl whisk together the egg yolks, milk, butter, vanilla, and sugar until combined.
Then in a second bowl combine flour, baking powder, and salt. When the flour mixture is combined you could start to whisk the egg yolk mixture in it until the batter will be smooth. Finally, add one-third of beaten egg whites to the batter and stir until lightened, and then carefully add in the remaining whites.
For stovetop babble waffle maker
To start cooking with a waffle pan you have to preheat both sides of the pan over medium heat until it hot. Brush each side of the pan with oil and pour batter into the center of one side in enough amount. Immediately close the pan and flip it over for two minutes, then flip it one more time cook it 2 minutes more until the waffle is golden brown.
For electric bubble waffle.
Preheat your bubble waffle, usually, electric waffle makers have red and green indicators, after you turned on the waffle maker red light switched on. When it is ready to cook green light is switched on.
Brush each side of the waffle maker with butter, then close the waffle maker and flip it over. Wait for 2-3 minutes until the waffle is golden brown.
At the end for both variants put the waffle on a plate and add topping which you like before serving.
Enjoy you dessert! You deserve it!
Wrap up!
Finally, I have come to the end of the review. Thank you for sticking with me as I unfold the best bubble waffle makers on the market.
These waffle makers are essential to make the sweetest and delicious Hong Kong Egg Waffles for your breakfast. I have handpicked the 5 best bubble waffle makers which I believe would be best suited for enthusiastic cookers like you.
Just to remind you my top pick is Nordic Ware – Best Bubble Waffle Maker for Stovetop and Cucina Pro – Best Electric Hong Kong Egg Waffle Maker.
Good luck with purchasing your best waffle maker!
P.S. Want to add some whipped cream to your waffles? – Have a look at this Best Whip Cream Chargers Review – https://kitchengeek.com/best-whip-cream-chargers/