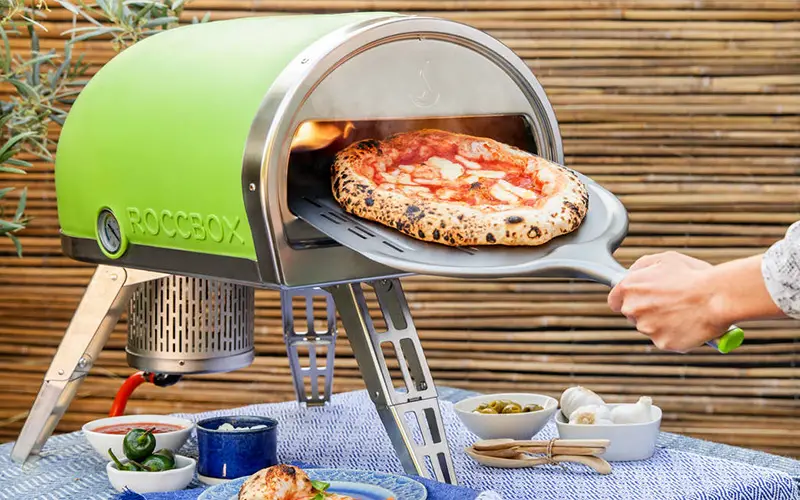 I made a Roccbox review for everybody who loves pizza, especially those with lots of toppings, yummy melted cheese, and toasted crust with fillings.
Pizzas are best when they are cooked correctly and baked with the right equipment. Well, the best equipment you can use to cook those lovely pizzas is an excellent and reliable conveyor pizza oven.
The usual equipment that you need in preparing pizzas would include the pizza prep table, mixers, dough press, pizza accessories, dough sheeter, holding cabinets, and countertop pizza ovens. Speaking of ovens as pizza equipment, that is necessary for you to have, you may also look into outdoor pizza ovens which you can use at your very own home.
In this article, we will be reviewing Roccbox outdoor pizza oven and the top 5 alternatives to Roccbox. Moreover, I will guide you through everything you need to know so you can confidently make the right buying decision.

Roccbox is the world's first portable outdoor pizza oven cooker with excellent efficiency. A UK company that is manufacturing a genuinely portable pizza oven that's able to reach temps of over 900°. Roccbox comes with Insulated stainless steel, stone floor oven that's capable of cooking a fresh pizza in 60 seconds! This pizza oven is capable of heating pizza in a very efficient way.
Roccbox is an amazing little oven with simple and reliable operation, whether you use gasoline, wood, or charcoal to light it. It keeps the temperature of the wood-burning stove constant and keeps it as long as you cook, without worry or care, which means you can spend more time enjoying pizza with your friends and family and less time pampering a flame.
That's a lot. It comes with an elegant strap that Velcros itself places around the oven, but the oven weighs nearly 45 pounds.
How does it work?
The Roccbox is made up of highly insulated stainless steel and stone box with a rubber exterior. You can place it on any surface, including plastic or wood, and it rests on three solid folding legs.
It also comes with accessories for two burners, depending on the fuel source that you want to use. The burner box is a rocket-type combustion chamber with which you can light the flame with firewood or charcoal briquettes. Meanwhile, with the gas burner, you can heat the Roccbox with a standard propane tank.
Once lit, the flame goes to the back of the room and is led to the top of the oven. The stone floor is indirectly heated with hot air and radiation from above. After about half an hour, the dome and the oven floor can reach temperatures of more than 900 °F, allowing you to prepare pizzas in less than 90 seconds.
What we like about Roccbox
Made from quality materials that are going to stand up well to being outdoors 24/7
Reach temps of over 900° in less than 15 minutes
Excellent value for the high temps you can achieve
Can bake a pizza in approx. 90 seconds
The choice between wood fire and propane
Propane option allows for 20 hours of use with a single 5-pound propane canister
Carry strap and peel included
Pros
Quick to Heat
The Roccbox oven can work with gas, wood, or even charcoal
The anti-stick pizza peel included
It comes with many recipes that you can use with it
Cons
It is expensive – almost $600
Not to many selling points available
Final Verdict
If you like the idea of a mobile wood-fired oven that is easy to use, is moderately affordable, and can bake a pizza in less than 2 minutes, this is the model for you.
Also, if you want the experience – and somewhat fun – of managing a large fire inside a large oven, this may not be the best option for you.
Top 5 Roccbox Review Alternatives
When it comes to an outdoor pizza oven, Roccbox will be the first thing that comes to mind. It is one of the most popular backyard pizza ovens as it is capable of effective performance and very reliable that can help you create the most delectable pizza that your customers will surely adore if you own a pizza business.
However, it may happen that you are unable to afford the Roccbox outdoor pizza oven because it is a bit expensive for you. If you are experiencing a similar issue, then these top 5 Roccbox alternatives for outdoor pizza oven we gathered will come in handy.
Therefore, don't worry in case you cannot afford the Roccbox. In this article, we are going to recommend other similar products to Roccbox, which are equally and probably more useful than Roccbox.
The Napoli Pizza Oven is a portable outdoor pizza oven that is very affordable from the list of the oven. It's the most authentic and high-quality outdoor oven. It is quite portable and supports wood, charcoal, pellet, and gas. In addition to pizza, you can prepare a wide variety of foods, including meat, fish, vegetables, and desserts.
This outdoor wood-fired pizza oven is incredibly fun and addictive to use. It offers amazing results when cooking with coal, gas, or wood fire. The Napoli oven is extremely portable and lightweight, so you can take it with you in almost any outdoor environment.
The oven is made of a steel body and is covered with a layer of black powder, making it very pleasant to look at especially if you drive it on your terrace or your entertainment area in the presence of your friends.
With a package size of 24 cm x 16.8 cm x 11.5 cm and a weight of 31.6 pounds, it has enough space to slip into your own pizza creation, and your guests can taste the rustic kitchen at its best, with a really smoky aroma.
Napoli Pizza oven is perfect for grill lover. It's the ultimate choice for the outdoor needs of your wood, charcoal, pellets or gas pizza oven!
Pros
Good Heat Retention
Built-in or countertop options
Work with Pellets, Charcoal, Wood, or Gas
Affordable price
Cons
Hard to Keep Temperature Constant
Final Verdict
It is considered to be one of the best lower-priced ovens on the market at the moment with the huge selling point of being able to move it easily thanks to the wheels and its lightweight structure.
It can be a real option for those who are a little nervous about whether they would get enough use out of an outdoor oven without spending a good fortune on a more premium product.
This is an excellent alternative to Roccbox when it comes to price differences.
Pizzacraft Pizzeria Pronto Outdoor Pizza Oven is the perfect choice for someone who wants to have a small portable outdoor pizza oven in their backyard. It is the ideal oven for parties or family get-togethers.
It's an excellent alternative to Roccboxx; however, it must be brought outside to achieve the desired result. The oven heats up faster on a hot day. It takes about 10 – 20 minutes for the oven to get preheated.
After that, it will take 2 – 5 minutes to cook it depending on how thick you want the crust to be. It is easy to set up, and you can hook up to a propane gas tank. However, some parts will require a screwdriver to assemble.
It has a fairly small cooking surface that can only cook a pizza about the size of a medium plate. Despite that, its small size allows you to bring it with you on vacation conveniently.
The oven can reach a maximum temperature of about 900 degrees. There is a temperature gauge on the lid that shows you whether the oven has already reached the ideal temperature zone (700-900 degrees). The oven offers great results and has the same quality as the pizza you order from a restaurant.
This simple oven will not get much hotter or perform much better than your kitchen oven, but it's a fun option for someone who wants to bring the experience outside.
This pizza oven is going to save you a lot of time as it is fairly easy to bake pizzas with this oven. The process of preheating the oven to the complete cooking of the pizza is not going to take you more than 15 minutes which is pretty cool. This pizza oven is perfect for your backyard and is relatively affordable in comparison to the other outdoor pizza ovens out there.
Pros
Can be kept outside
Great size – easy to store and move
Assembled in less than 10 minutes
Affordable price
Cons
Does not get much hotter than the kitchen oven
Final Verdict
Pronto from Rizzacraft is designed for someone who is looking for a no-frills, easy to use pizza oven that is very affordable.
Great quality, smart and functional design. One of the best offers at the market which is presented there for more than 5 years.
Ooni 3 Portable Wood Pellet Oven is a wood pellet oven that can bake great tasting pizza in just a few seconds. The oven is easy to set up, and there are videos on the manufacturer's site that teach you how to use it. The oven looks like a small chimney, and it has three foldable legs on hinges underneath.
It features a well-insulated body that allows the heat to reflect the pizza effectively. The flame deflector on the roof prevents the flames from facing towards it and dropping ashes on it.
During cooking, you need to keep the storage hopper loaded with pellets all the time. To start cooking, you must first slide out the combustion chamber and fill it with some wood pellets. After that, you can use a torch to light a fire on the wood pellets through the small hole on the side.
You should leave the pellets burning for about 10 – 15 minutes before starting to cook. At the back of the instruction manual, you will find a few pizza recipes that you can try for yourself.
This pizza oven is made with a stainless steel design and features a chimney clip on the front of it. This clip will help to remove air from the oven to prevent the interior from overheating.
Ooni provides a small peel that is custom made to fit the oven. It's not so much a peel as it is a small piece of thin metal that fits the width of the oven. It should also be noted that the height of this unit is low and you will need to be careful when you are launching or removing your pizza.
This pizza oven will quickly warm up within 10 minutes of being turned on. To cook pizza, this oven uses wood pellets which make it an excellent option for those who enjoy a smoky flavor with their food.
With this pizza oven, you can bake pizza faster than conventional kitchen ovens. You will notice that most pizzas cook for about 9 to 10 minutes. If you preheat the oven, the cooking time will be shorter after placing the pizza. If done correctly, your pizzas will come out perfectly browned from the oven. This oven is recommended for anyone who regularly prepares frozen pizzas or other food.
Pros
Eco friendly – runs on energy-efficient and sustainable wood pellets
True portable
Compatible with Gas Burner
Cons
It's made with a stainless steel taht getting a little hot
Final Verdict
Since the Ooni is so compact, it can preheat and be ready to cook on in as little as 15 minutes.
If you want the challenge of a building and managing a wood fire, this is the right choice for you.
Camp Chef Italia Artisan Pizza Oven is designed after a wood-burning brick oven. It adds a close to the smoky wood-fired flavor. The cooking surface is large enough for cooking a medium or large size pizza. It can get preheated at a fast rate. You can expect it to cook your pizza to perfection in less than 10 minutes. It doesn't take up much space, and you can connect it to a stationary propane gas tank.
It can bake pizza from a cold temperature up to a high temperature of 700 degrees. A cookbook is included along with the purchase of the oven. The cookbook teaches you how to make artisan pizza dough. It takes minimum effort to set up the oven. It works great for outdoor cooking during a BBQ party.
You need very high temperatures for this authentic and traditional pizza. The Artisan Italia pizza oven from Camp Chef can easily reach oven temperatures above 371 ° C (700 ° F) and 343 ° C (650 ° F). These temperatures are more than sufficient to prepare high-quality homemade pizzas.
The materials used in the manufacture of this oven guarantee a longer lifespan. The exterior stainless steel material is durable and easy to clean.
Pros
The oven has valves specially design to give you heat control
Accompanied by a cordierite Ceramic Pizza Stone
Total flame and heat control
Final Verdict
Whether you are at your home or have gone camping with your friends, this Oven will give you the best Pizza that you need.
This oven is worth its price; its cool features make it perfect for your kitchen. If you are looking for the finest pizza oven without spending a good fortune, then this should be your top choice.
The Mont Alpi oven is professionally designed to fit on the counter in the kitchen of your home or office. You can now try baked pizzas in your own kitchen.
The 3-in-1 pizza oven from Mont Alpi is made of polished stainless steel for the outer cable and the front of the basket. The inner housing and the internal parts of the housing are made of aluminized steel to protect against corrosion. Its physical dimensions are 16.5 inches x 20 inches x 22 inches, cooking area: 13 inches x 13.5 inches. It preheats up to 540 F in 5 minutes.
This oven is also great for preparing non-greasy snacks such as quesadillas, pretzels, spring rolls, chicken fingers, and fish fingers, to name just a few. Even with homemade dough, baking pizzas gives much better results compared to a conventional oven.
Its cooking quality is close to commercial pizzas. In addition to baking pizzas, the oven is also suitable for heating, baking, roasting, or grilling non-greasy food that can be adjusted to the compartment.
Please note that this pizza oven is not designed for baking crust pizza or fatty food.
Pros
Base and grease tray are dishwasher asfe
Wide temperature range
Multi-purpose oven – can be used as a grill
Cons
Needs an LP gas tank in order to run
Final Verdict
The pizza grill of the Mont Alpi is ideal for those looking for a versatile pizza oven. This oven can serve as a grill or pizza and can help you prepare different dishes. You can easily keep it outside or on your terrace and prepare your breakfast there.
If you want to be a little more adventurous, you can check the oven capacity by organizing a family reunion and checking the effectiveness of the pizza oven grill. The price of the product is reasonable, which gives it an additional reason to be a perfect purchase.
Roccbox Review – Buyer's Guide
Outdoor ovens are available in various styles and designs. It is therefore important to choose a model for your garden. We have developed a buying guide that examines all factors that distinguish outside ovens. If you are on your guard, read our guide. This will help you make a good decision so that you can get the most out of your purchase.

Contents:
Essentials to Check Prior To Purchase – Roccbox Review
Before purchasing a pizza oven, you should consider the following points:
Pizza type
Power type
Size
Materials
Double Deck Pizza Oven with Stand
Yield / Capacity
Efficiency
Warranty
Weight
Pizza type
If you are looking for a specific finish for your pizza, it is important to check whether your oven can do this. For example, hair stoves can make delicious Chicago-style frozen pizzas with heavy toppings, while transport ovens are better suited for thin-walled, slightly trimmed pizzas.
Power type
Whether you use gas or electric versions, make sure your oven matches your kitchen. Electric pizza ovens are generally available in single-phase or three-phase versions, while the gas can be natural gas or "bottled" liquid propane gas.
TIP: If you opt for an electric oven, a three-phase electrical conductor can be useful.
Size
Pizza ovens can be surprisingly large or small. As such, there is a wide variety of products, and it is essential to check the dimensions before purchase to ensure that they fit into the kitchen. Also, don't forget to check the height – if you plan to stack more than one machine; your employees must be able to reach the upper deck easily.
Materials
When examining the different types of outdoor ovens, you should consider some important material differences. For example, insulated walls help to keep heat in the oven during cooking, and tiled floors help to store heat. When cooking in a pizza oven, ensure that the entire oven is able to maintain the heat so that your food cooks evenly.
This is especially the case when baking pizzas. The pizza is on the oven floor and if only the top of your oven is hot, only the top of the pizza bakes. There is nothing worse than a soggy pizza with crispy toppings.
One of the reasons why outdoor ovens are so popular is their cooking process: they reach higher temperatures than conventional ovens, making it possible to prepare food more evenly and faster.
Lincat Double Deck Pizza Oven with Stand – Roccbox Review
Pizza ovens are generally designed to be either positioned on a counter or free standing. If you choose a free-standing version, check whether the stand is included. If this is not the case, the medium is usually available as an option on the 'Accessories' tab of the product's web pages.
Yield / Capacity
A special pizzeria on a busy weekend usually requires much more capacity and performance than a country-style café. All pizza ovens have a stated capacity – adjust the oven to your expected demand. The capacity also refers to the maximum size of the pizza that can be cooked.
Efficiency
In general, powerful pizza ovens reach higher temperatures and cook faster. However, you can balance this with the cost of running the unit during the year. Energy-efficient ovens can save you considerable operating costs over time.
Warranty
Most of the commercial pizza ovens have at least a one-year warranty for professional use. Nevertheless, it is useful to check the duration of the guarantee, as some ovens may have longer guarantees than others.
Weight
If you are involved in mobile catering or events, you may need to change the oven occasionally. Commercial ovens can be heavy and bulky. Therefore, weight can be a crucial buying decision in terms of transport and positioning costs.
Why You Need Outdoor Pizza Ovens
A complete range of outdoor and indoor kitchen appliances is important if you are arranging a party. If you are looking for modern cooking materials for an outdoor party, then an outdoor pizza oven will be the right choice. These products are totally different from regularly used products.
In addition, pizza ovens have become more popular among people all around the globe. If you are interested in buying the outdoor pizza oven for your friend's party, it is definitely the right choice. Pizza ovens are not very different from the traditional ovens, and this will be a very nice experience for such an occasion.
The new range of outdoor pizza oven is available in the market with additional features that are an added convenience. These things are commonly used in professional pizza making with all their expertise and duplications, but options of ease in use and integrity are always there.
The professional stoves for baking are certainly different from the ones used for domestic purposes, and they are not brittle. In addition, these have the capability of heat transfer and are used as a source of heat, but the most significant advantage is that you can control the temperature within a wide range that is from 250-800 degrees. With these outdoor pizza ovens, you can have delicious pizzas at a very nominal cost.
These ovens have ease of handling and make your life comfortable. You will feel how wonderful it is with an outdoor pizza oven to have such a great experience at an affordable price.
Conclusion
For a genuine and authentic wood-fired pizza experience, there are many options at the market. One of them and the most famous is Roccbox. It is a great offer, except for the price which is almost $600.
In my Roccbox review, you could find different pizza makers that are also great and have much more affordable prices. My pick is Pronto from Pizza Craft.