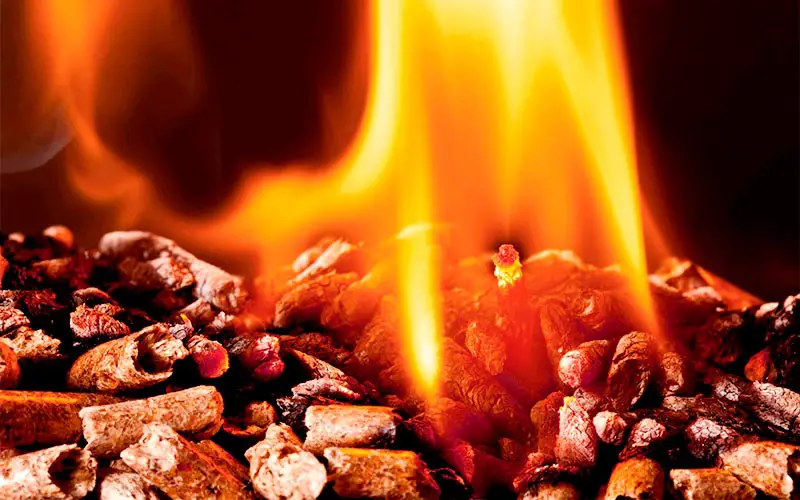 Pellet grills offer a different but incredible alternative to traditional grilling. Instead of traditional smokers and grills, pellet grills can be what you need to satisfy your smoking craving. There are so many types of pellets to choose from on the market. However, to make it easier for you, we have compiled SIX of the best pellets for smoking available.
Continue reading our Best Pellets for Smoking review to find out what these six pellets are. We will also guide you on the factors necessary to be considered when buying a smoking pellet. Lastly, we will answer some of the most Frequently Asked Questions about pellets. So read on to find the best pellets for smoking and other important information.


Jack Daniel's smoking BBQ pellets offer a unique experience for smoking. It is unique due to the process of production. These pellets are from oak wood and whiskey-soaked charcoal right from the Jack Daniels distillery. Jack Daniel's smoking pellets are made of the same oak wood that is used to house whiskey.
After some days, the whiskey starts to seep into the wood of the barrel and age. No wonder it gives a distinct smell and taste! Just as the Jack Daniel's whiskey is smooth in taste, these smoking pellets are a great source of flavor and fuel with their smooth performance.
There is no need to soak the Jack Daniel's smoking pellets in water before using it.
These smoking pellets are great for different types of foods, but provide an especially impressive experience when used to barbecue hamburgers and similar foods. Furthermore, these pellets can be enjoyed on a smoker, gas, and even electric barbecue.
Pros
The smoking pellets are made of Oak soaked in whiskey. They deliver a unique and distinct smell and taste.
It is versatile. It can be used for different foods. It can also be used on different smokers and barbecues including gas and electric barbecues.
Oak charcoal yields more smoke and adds a more smoky flavor to your food.
These pellets are 100% natural. They have no chemicals or additives added that could alter taste and smell or even be harmful to your health.
Cons
It is quite expensive when compared with other smoking pellets.

Lumber Jack is a company that is known in grilling circles for the quality of their products: smoking pellets to woods and other grilling accessories. With the Lumber Jack 5086 grilling wood pellets, Lumber Jack satisfies the grilling desires of anyone interested in it.
These grilling pellets are made from the bark of various trees: maple, hickory, and cherry. This blend creates an incredible smell and taste. Lumber Jack does not use a trial and error process in creating high-quality smoke pellets. Instead, smoking pellets are first tested for their chemical composition.
It is then manufactured to give a high-quality smell, a hotter burn, and ultimately more smoke for your food. When you grill with smoke instead of more conventional or traditional methods, it can go badly.
Grilling requires high temperatures. And grilling involves food cooking in a short time. The Lumber Jack blended grilling wood pellets are exceptionally efficient for grilling.
The wood pellets are designed to give off higher temperatures to let food cook in a short time.
Lumber Jack creates its wooden pellets from 100% natural tree bark. The pellets are not made from castoffs from sawmills. Rather they are from Lumber Jack's very own trees. No chemicals or additives are added to the process of production.
Pros
100% natural wooden pellets. They are made from the trees grown by Lumber Jack. The quality is impeccable, and customer satisfaction and health is the priority.
The pellets have a small diameter which aids in producing higher temperatures. Higher temperatures mean shorter cooking times.
The blend of hickory, maple, and cherry gives a unique smoke and flavor to the food.
The original wood is independently analyzed for chemical composition and ash.
Cons
Since the wooden pellets contain a dense wood like hickory, if not carefully monitored, it is easy to overpower the flavor of the food.

Many people who have used the CookinPellets smoking pellets have referred to it as the "Perfect mix." When used, it is no surprise to see why it is so labeled. The packaging of this product shows that CookinPellets are here for business. There are no fancy adverts or gimmicks to try to deceive buyers.
The product is made of different types of wood: hickory, maple, apple, and cherry. It is the most diverse smoking pellet on our list. This diversity lends these smoking pellets a unique flavor.
The brand, CookinPellets, is no stranger to the smoking industry and has continually churned out high-quality products. The Perfect Mix smoking Pellets are arguably the best of the bunch.
These pellets do not contain any bark because they are derived from the center of the log: the heartwood. Aside from bark, they do not have any additives, oils, or fillers.
Despite not containing any bark, which can increase heat and ash, these smoking pellets have a low moisture content. This helps them maintain a steady temperature and create an even cooking process. They are perfect if you have time and need a long smoke, for example, for your brisket or your pork.
The use of 4 different types of wood; hickory, maple, apple, and cherry creates a perfect mix. No flavor overpowers the others. They all work in sync to create a complex, yet pleasant flavor. You can be assured that these pellets will not cause damage to your equipment.
Some manufacturers bar customers from using other pellets aside from the manufacturer's, but with CookinPellets, the pellets are often of similar quality or even better than the machine manufacturers.
Pros
The labeling and packaging accurately describes what the product contains. There is no attempt to hoodwink or deceive the buyer.
It is made from high-quality woods and a perfect mix of maple, apple, hickory, and cherry.
It is free from bark, oil, and additives. It does not contain filler woods that produce greater amounts of ash.
The versatile mix makes it useful for a variety of foods.
Cons
The product might contain a bigger amount of dust than usual due to handling and transportation.
The flavor could too mild for someones taste

Except you are a complete novice in the world of grilling and smoking pellets, you'll have heard of Traeger. This brand is famous for producing economical woods and smoking pellets that retain a high level of quality.
The Signature Blend is a mix of Maple, Cherry, and Hickory woods. Aside from the economic advantage, these pellets are over other brands. They are one of the long-lasting and hottest burning pellets on this list: perfect for beginners!
The pellets are made from 100% natural wood. The trees used to make these pellets are sourced here in the United States and the pellets are completely made here. With a base flavor of hickory, the other woods maple, and cherry create a rich and dynamic character that is great for meats and other foods.
There are none binders or filler woods found in these pellets. Environmental and health-friendly, these pellets do not have any chemicals or additives added to them. The lack of filler woods means that they produce less ash. This makes it easy to clean up after use.
Pros
High-quality pellets with the entire production process strictly monitored and supervised.
It is economical and pocket-friendly.
Low volume of ash is produced. After use, it is easy to clean away.
The pellets are great for different types of meats.
Cons
Pellets are a bit big-sized. Before use, it might require breaking them into smaller chunks.
They need to be kept away from moisture as this can cause disintegration.

The RecTec Grills Ultimate Blend Pellets are the best premium smoking pellets available. This product has a 4.5 out of 5-star rating on Amazon, and for a good reason. It is simply, hands down one of the best smoking pellets you'll ever use. Made of Oak and Hickory woods, this blend provides a smoky, intense flavor to your food.
It is especially great for smoking meats. Although it gives a stronger flavor than other pellets, its flavor is surprisingly not overwhelming. The Oakwood in this product means that it burns hotter than your average smoking pellets. Folks might be put off by the combination of Oak and Hickory (since Oak is known infamously as a filler wood), but RecTec has blended these two kinds of wood to produce fabulous results.
The quality of these pellets is undeniable. Each of them is cut into uniform size and shape. This makes it easier for your automatic smoker or grill to use the pellets. Do not be worried about voiding your grill manufacturer's warranty: the high quality of these pellets ensures no danger comes to your equipment.
Despite the high temperatures generated by these pellets, they last for long. They can be used to smoke or grill any food but are especially recommended for smoking meats and similar foods.
Considering the price of this product, it is no surprise that the quality is high. For example, the pellets are made of only fresh woods. This is discernible even immediately you open the bag. The smell that hits you is the smell of fresh, healthy wood.
Pros
The pellets are made of freshly cut, healthy wood.
Despite the Oak composition, it surprisingly produces a relatively low amount of ash.
Made with pride and quality in the United States.
It can be used for different foods and different grills and smokers.
Cons
The packaging does not completely specify the composition of the Oak and Hickory blend.

Time after time, Pit Boss continues to stand heads and shoulders above most of the wood pellets in the market. The brand is famous for the high-quality of grilling and smoking pellets produced. The Competition Blend is no different. This blend combines the smoke and flavor of Maple, Hickory, and Cherry to deliver outstanding results.
Coming in at 40 lb., these pellets are long-lasting and significant for any grill or smoker. Ignore the myth that the brand of grill must match the brand of pellet. The Pit Boss competition blend disproves it completely. The pellets work superbly with any type of grill or smoker.
The pellets are made of natural heartwood of Maple, Cherry, and Hickory wood. The trees from which these pellets are obtained are sustainable and sourced for in the United States of America.
Pit Boss pellets give a clear, hot burn. As 100% natural woods, they do not contain any chemicals or additives that can alter their quality. Artificial binders are not employed in the production of these pellets, and rather, the binder is the naturally occurring adhesive present in the wood.
Since the pellets are a combination of different woods, they can be used for different foods: from vegetables to meats and hamburgers.
Pros
100% natural hardwoods. There are no fillers, no synthetic adhesives, no chemicals, and no spray-on.
Can be used for a variety of foods.
Suitable for a host of grills and smokers.
Reasonably priced.
Best Pellets For Smoking – Buyer's Guide
Since there are so many smoking pellets on the market, you need information on how to choose one that will work for you and match your tastes. This section focuses on the information required before making a purchase.
Contents:
What Are Smoking Pellets and How They Are Made?
Smoking wood pellets follow a different process from that of making woods for smoking or barbecuing.
Wood pellets are in most cases made from the by-products of mills. Originally used as a source of fuel and heat, pellets have used in cooking and grilling. They are made of wood. This wood is sawdust from mills. The sawdust undergoes tremendous pressure and is compressed.
To hold this compressed sawdust together, the naturally occurring compound from trees, lignin, serves as an adhesive. After compression, it is forced through holes to form the desired shape. The compound lignin binds the sawdust together to form wooden pellets. These clean, dry, and combustible pellets produce a distinct, smoky flavor that enhances the taste of your food.
Types of Wood Pellets
There are different types of Wood Pellets. These types are categorized based on their quality. The higher the ash content, the lower the quality. In the context of this article, there are three main types of pellets.
Standard wood pellets
These wood pellets are the basic type of pellets. They contain a relatively high proportion of ash. In most cases, they are made from the by-product of the forestry industry. Not all these pellets are suitable for cooking or smoking food because they often have additives or artificial binders in them.
Food-grade wood pellets
These pellets can be used to smoke or cook food. They do not contain chemicals, additives or artificial binders.
Premium wood pellets
These are wood pellets of the highest quality. Not only do they lack additives, chemicals, or synthetic binders, but they also do not contain bark. Hence, they have a low ash content of less than 0.5%. As a result of their quality, they are more expensive than lower-grade or food-grade wood. Furthermore, these wood pellets are usually flavored to give off a distinctive smell and taste.
Benefits of Wood Pellets
1.Size
The size of the wood should be considered. Why? Although all wood burns eventually, smaller sizes mean shorter smoking and cooking times. Wood chunks might release a steady flow of smoke, but wood pellets are much faster.
2.Convenience
Unlike wood chunks that can be difficult to use, wood pellets are easy to use. They do not require constant attention and can be left for some time unsupervised.
3.Clean and Healthy
Wood pellets, especially food-grade and premium pellets, are made from 100% natural wood. They do not usually contain additives.
4.Versatile
Because of their small size, these pellets can come in a variety of flavors. For people that love experimenting with smoking, wood pellets are the dream. Don't you like a certain combination? Switch it up and change the blend proportions or combinations!
How to choose Wood Pellets for Smoking?
Most folks are content with using the wood pellets recommended by their smoker's manufacturer, with the claim that these pellets are the best for the said smoker. However, this is a myth. In fact, in many cases, other pellets are better than those suggested by the manufacturer. Choosing a good pellet can make a world of difference.
Pellets are a source of heat and smoke. Thus, they are liable to influence the outcome of your food; for better or worse. With this in mind, here are some tips on how to choose a wood pellet.
1.Flavor
One advantage of pellets is the sheer variety of options available to choose from. From the tarty taste of cherry to the intense flavor of Oak and the nutty hints of pecan, wood pellets have so many flavors.
These flavors can be mixed in different proportions and diverse combinations. Each flavor has foods it goes well with, while some do not mix too well. Here are some pellet/food combinations that are popular among folks who love smoking with pellets.
For beef, use pellets that have Oak, Mesquite, or Alder flavors
For poultry and tender meats, Apple, Cherry, Pecan, and Hickory are great options
Seafood tastes better with Oak or Alder
Vegetables are great when smoked with Alder, Maple, Pecan, or Apple
2.Type of Pellet
As discussed earlier, pellets are categorized into different types. When buying a brand, read the labeling to know the kind of pellet it is. There is a difference between heating pellets and Barbecue pellets. Heating pellets might look like BBQ pellets, but they are different.
For one, heating pellets are made of different types of wood as BBQ pellets. Heating pellets are not made with the goal of smoking in mind. Hence they are made of woods like pine that can change the taste of your food, and not for the better. Furthermore, they might contain harmful chemicals, barks, and substances that can damage your health and ruin your food.
On the other hand, BBQ pellets are made with high-quality hardwood. It is free of fillers and artificial adhesives.
Heating pellets might be cheaper but ignore the temptation to swap them for food-grade BBQ pellets. Your palate and health will thank you for making the right choice.
Best Pellets For Smoking – Frequently Asked Questions
Which is better: wood chips or pellets?
The differences between wood chips and pellets include the fact that wood chips are made of wood while pellets are from the sawdust and by-products of mills.
Due to their size, wood chips burn faster than pellets Pellets, on the other hand, might burn slower, but burn hotter. Thus they quickly release smoke and are great for times when you have to cook quickly. Furthermore, wood pellets burn more slowly than chips and are easier to control. They leave little ash and are easier to clean up.
There is no 'better.' The choice is ultimately yours.
What brand of wood pellets are the best?
There are so many brands that offer quality wood pellets. The most reliable brands have been discussed in this article. They are, in no particular order:
CookinPellets
Lumber Jack
Traeger
RecTec
Pit Boss
BBQ Jack Deniels
What is in Pit Boss Competition Blend Pellets?
Being a blend, Pit Boss Competition contains different flavors of hardwood. It is a combination of Maple, Cherry, and Hickory
Can you smoke meat with wooden pellets?
Yes of course!
In fact, smoking meat with wood pellets is one of the best ways to enjoy meat. Wood pellets come in different flavors that will make your meat taste exquisite. From Mesquite to Oak to Hickory, and Pecan, there are smoke flavors for every type of meat!
So smoke your poultry, bison, beef, pork, and other meats with wood pellets!
Do you soak wood pellets for smoking?
We have a good answer for this question from Steve, who is one of our readers.
"Never soak wood pellets. In just a few minutes they disintegrate into sawdust paste and will clog your auger feed."
Before being packaged, wood pellets have been thoroughly processed and all contaminants removed. This results in pellets that are clean and highly combustible. Pellets do not require any soaking before use. There is no point in soaking. They designed to give excellent performance without it. However, if it makes you feel better and you love different tests, you can soak them.
How long does a bag of pellets last in a smoker?
This is dependent on the quantity and quality of the wood pellets. Some wood pellets come in 20lb bags. Others are 40 lbs. The more the weight, the longer it will probably last. Furthermore, premium wood pellets have the ability to burn at high temperatures but still burn slowly.
Final Thoughts
There are so many good brands out there. The array of choices can seem overwhelming. However, we have helped you to narrow it down to six of the best. So whether you are new at smoking, or you are an old hand, we hope that you have found something useful in this article.
Follow the buyer's guide to choosing one that suits your taste. Don't forget to have fun while smoking. Wood pellets are in so many flavors. Thus mix things up till you find a combination that you love.
Need somethimg else? Here is our review of best wood for smoking turkey and best wood for smoking brisket.