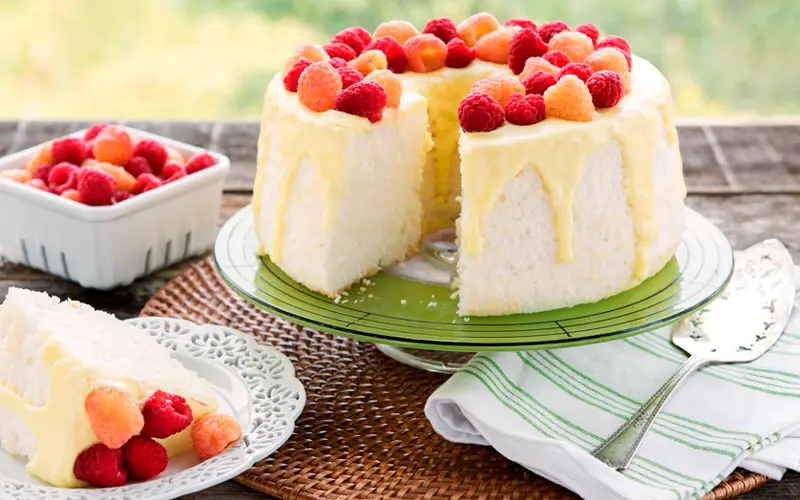 One of my loveliest desserts is angel food cake. Through several years of cooking experience, I've tried so many different forms and pans, that I probably could be an expert in Best Angel Food Cake Pans.
If you want to prepare a good cake, I recommend investing in a high-quality form from the begging. That will save you time, nervous, and money. In this review, I gathered the 15 Best angel food pans and tried to answer such questions like what is the difference between the usual tube pan and these. Do you need one with a removable bottom or not.

What for Angel Food Cake Pan Is Made?
The recipe for this cake is not complicated, but it is so delicate that it requires the proper process of cooking and cooling. For these processes, the angel pan is responsible.
There are lots of different cake recipes in the world, and almost all of them get their height from the power of baking powder, yeast, baking soda, or whipped eggs while angel food cake gets its height from the form.
First, the tall sides provide a surface for the batter to hold as it bakes. For that reason, it can rise high. Second, the shape of the center part provides efficient heat distribution. So the center is cooking at the same temperature rate as the outside.
What is the difference between angel food cake pans?
Material
While the primary material is aluminum, it could be heavy-weight aluminum or a light one. My experience tells me that heavy-weighted pans work better, so in this Best Angel Food Cake Review, you will see only heavy ones.
Another difference could be in the non-stick coating. Some pans don't have it at all, and others have silicone coating or ceramic coating. From my point of view, this point is not so important, I mean the material of the coating. But I would definitely choose an angel cake food pan with a non-stick coating.
Handles
Some models on the market have handles, which are, of course, makes it more comfortable to use a pan. But in case you will use oven mitts always, that doesn't make handles essential things. Using oven mitts allows you to hold, flip, and rotate any pan, even without handles on it.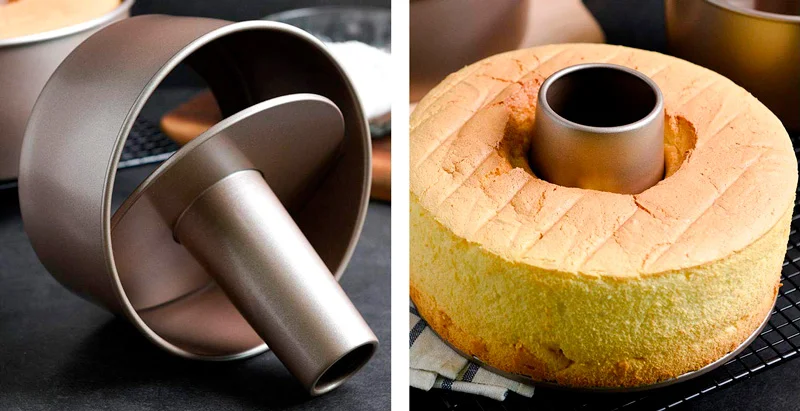 Removable Bottom
This feature makes use of the angel bake cake pan more effortless. It allows you to pull the entire cake out of the pan and then lift it off the base with no fuss. You don't need to use a knife or shake the pan to remove a cake.
The only cons are possible leaking of batter and messes. There are two options to prevent it. The first is to wrap the pan with aluminum foil. The second is to place it inside the form of parchment paper. Another option will not prevent leaking but will make future clean up easier. This method is to place the pan on the silicone baking mat.
Finally, I would recommend for the first time trying to assemble the pan as tight as possible and place it on the silicone mat in the oven.
Angel Food Cake Pan with Feet
These little metal pieces are a great add-on to your pan. It allows you not to put the pan on the bottle for cooling. These feet will enable you to invert the pan onto a flat surface and let it cool evenly.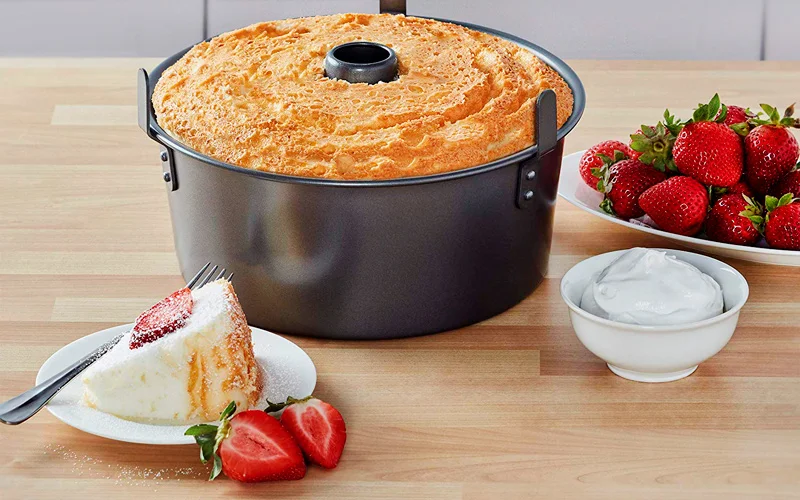 Best Angel Food Cake Review – Bottom Line
While all pans in this Best Angel Food Cake Review produced angel food cakes about the same height, interior texture, and a crunchy crust. I recommend choosing one with a removable bottom, non-stick coating, and feet. But the final decision is up to you.
Chicago Metallic is my top choice angle food cake pan. It is a piece of serious bakeware that performs extremely well. This pan is made from heavy-weight aluminized steel, built for durability, and will last for a long time.
This angel food cake pan is 9.5 inches in diameter and features a two-piece tube design. Both pieces have a non-stick coating, which makes cleaning effortless and makes it easy to release the cake.
The pan from Chicago Metalic has feet that allow you to invert the pan onto a flat surface and let the air circulate underneath. Also, it is dishwasher safe. But I recommend a hand wash to prolong the life of the non-stick coating.
This is another 2-piece set that works great. Like the previous unit, this one also has a silicone non-stick coating. It does not only ensure optimal browning but also makes it easy to clean up.
The size of this pan is 10-Inches, and the height is 4,5-Inches. The pan is made from cold-rolled steel and is very durable. It is dishwasher safe but also does not require much time to hand wash because of its coating.
I like this pan, which is made from a hard material, and the removable bottom has a tight enough connection with a second part to prevent any leakage of batter. The non-stick surface works perfectly, and cakes are coming out of the pan like a pro.
I guess you know what kind of company is Nordic Ware. Almost all their products are still proudly made in the USA and have incredibly high quality. I have several baking forms and even an egg waffle pan from them. All the stuff is great.
This pan is one of the biggest, which you can find on the market. The diameter is 10-inch, and the height is 5-inch. A large-capacity pan makes it easy to bake a big cake. But the material and constructions make it possible to keep the right temperature to get a big cake without losing the quality.
I like this pan because all recipes rise evenly, and have a delicious golden crust. For sure, this angel food cake pan provides superior baking performance.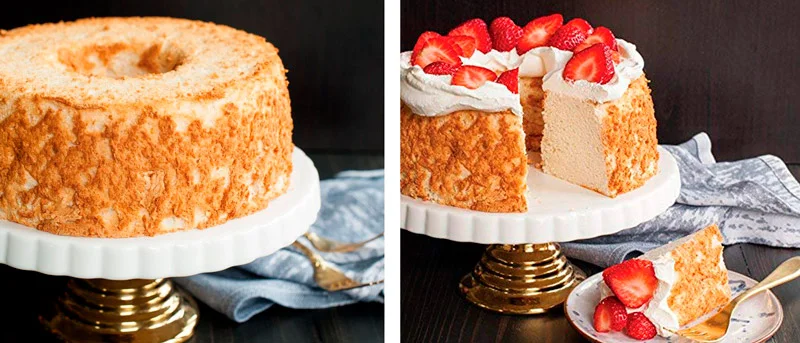 I guess that Calphalon is the only manufacturer of cake pans, who provides a lifetime warranty. Maybe it's because they don't recommend putting their pans in a dishwasher?
But jokes aside! Calphalon pan is made of heavy-gauge aluminized steel. When you are holding it in your hands, you feel how durable is it. I also like its two-tone non-stick surface. It not only makes the release of cake breeze but also promotes perfect browning.
The size of this pan is 10-inch in diameter and only 4 and 1/8-inch in height. So it is not the best choice if you want to make a high cake. But I have to mention that this cake pan is a commercial-grade pan and often used in professional kitchens.
Here is another pan from Calphalon. It is almost the same but has some valuable differences. The most important is the ceramic non-stick coating. First, it influences the design of this pan. I will proudly put it to the most visible place in my kitchen. It is gorgeous.
Also, this ceramic coating provides long-lasting durability and is made to last. Another benefit of this coating is its scratch-resistance.
This pan beautifully releases light and airy angel food cake and worth its price.
If for any reason, you don't want to buy it for yourself, you should be sure that it will be a great gift to any of your friends who like to cook and bake.
Bakerdream is a brand under Angel Yoast company. Which is in the bakery industry for over 30 years. That means quality and smart ideas in all their products. For example, this pan has an enhanced edge of the bottom, which makes the baking tray more stable and allows the removable bottom to fit and tight better.
This pan is available in two sizes, 6-inch, and 8-inch in diameter. Both heights are 4.13-inches, which allows them to be used in the instant pot or an air fryer. And this is an excellent benefit because using this pan with these appliances helps to save time without losing the quality of your recipe.
I like this pan for its quality, non-stick coating, convenient removable bottom, and very handy size.

This pan by Wilton made from solid aluminum that is the right solution to reach even heating. Another benefit is durability. Also, pay attention that this pan has feet. As we already know, this add-on makes the use of angel food cake pan more convenient.
Also, I have to mention the size of this pan. It is a bit smaller than the 10-inch. It holds about 8 cups to the rim. Another thing I would like to point is that it doesn't have a non-stick coating. That makes the process of release a bit more complicated, but I did it with the help of a metal cream spatula.
In general, this pan is a good option. It bakes a brilliant angel cake and seems to be very durable.

It is one of the biggest angel pans in our review with its 12-cups capacity. Made from aluminum allows with non-stick coating; this pan does not only performs well but also is a beautiful addition to your kitchen.
It is available only in red color, which is soft and bright at the same time. It could be a beautiful gift for your friend. Just remind him or her that it is not dishwasher safe.
Some users complain that cake sticks to the walls of this pan. Honestly, I didn't meet this problem. Just don't forget to wash the pan before the first use. Also, I recommend using only high-quality components, such as flour and sugar, and keep the proper temperature range.

Here we got another wonderful pan which is available in three colors. It is not usual paint but a granite ceramic coating. For us, it means that it is durable and features great non-stick ability.
I also love the weight of this piece. It is made from carbon steel and feels solid in hand. There are no problems with even heating, and the quality of any recipe is excellent. The non-stick coating also works great, and it provides a unique baking experience. No problem with the release and cleaning is a breeze.
casaWare pan made in China, PTFE/PFOA/LEAD/PFOS/Cadmium-free, has required certification even for the EU and has a high quality.
For sure it is a strong competitor in our Best Angel Food Cake Review.

One more 2-piece angel food cake pan but for a very affordable price. Probably it is the cheapest pan in our Best Angel Food Cake Review. Farberware produces bakeware for may years, and in general, all their products have the minimum set of necessary features.
This pan has a non-stick coating, handles for more comfort in use, and standard size. The only thing that I didn't like – the bottom could tight better.
With its price, it is a real competitor for all other angel food cake pans with only one caveat. You will change this pan after some time to something more robust, for example, Chicago Metalic Angel Food Cake Pan.

What I like in this pan is its non-stick coating. Cuisinart declares that here they are using Whitford Xylan non-stick interior and exterior coating. I don't know what it is, but I should mention that it works great – no sticking at all.
Cuisinart even says that it is dishwasher safe, and that is very handy, cause cuts time for its cleaning to zero minutes. I just will recommend not to use any metal utensils with it. Also, another great point of this pan is minimal leaks around the seam.
Besides, this pan has a limited lifetime warranty. But I think you will never use it, cause Cuisinart made thick rolled edges and a whole pan constructed from heavy-gauge aluminized steel. All together means durability for years.

This pan is an old school or classic (what you like best) angel food cake pan. It is a one-piece pan, that is sometimes is a bit complicated to find, because all companies moved to the models with a removable bottom.
Such pans are usually used in commercial kitchens because they are incredibly durable, and it is almost impossible to damage them. This pan doesn't have any non-stick coating, but I have to declare that still, it works great. No hard work is needed, released smoothly with only a gentle loosening around the sides with a spatula.
Fat Daddio produces basically only anodized aluminum bakeware, and all of it performs excellently. This material heats and cools quicker than other metals, so the dough will rise faster and then cool quicker.

I found this set useful when you don't need to make a big cake, or you want to make at the same time small gifts to your neighbors or similar, but a little bit different recipes.
Each pan has a rather modest size, a bit more than 4-inch in diameter and 2,5-inch in height. This size makes the baking process run fast cause you need to bake a smaller amount of batter, and this is an essential point for your first try.
These pans have a non-stick coating, but still, it could be a little bit challenging to release the cake without any damage. I used to take a silicone spatula to loose around a cake. However, this set is a great thing to have in your kitchen.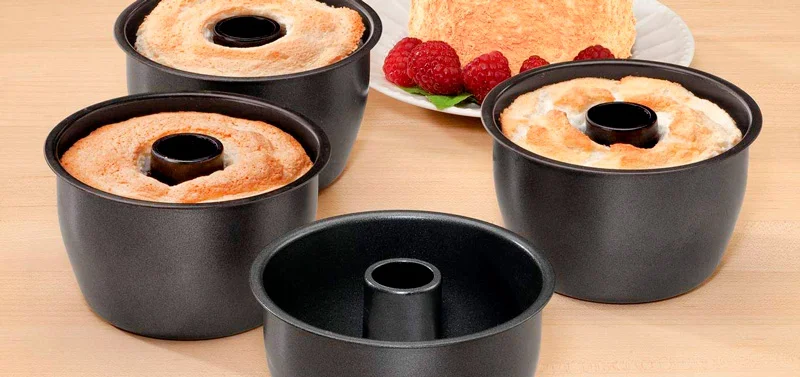 I couldn't skip such a shape in the store. This pan looked so cute, so I added it to my collection of bakeware. Finally, I was surprised by this scalloped angel food cake pan because it makes delicious and beautiful airy cakes.
This pan consists of 2-pieces, the bottom tight thoroughly, but still, I will recommend using a silicone matte to prevent possible mess. The pan has a non-stick coating, which works. The release of the cake doesn't take much effort.

My winner in the nominee of the most beautiful pan of our Best Angel Food Cake Review. Being honest, it is not exactly what you need to make the best angel food cake. But it makes fantastically beautiful ornately cakes.
This pan is proudly made in the USA, has the excellent quality, and will work for many years. I'm but afraid of exterior coating, I guess it could lose after several times of using, but anyway, it will not influence the cakes.
It has a non-stick coating, which is essential for such complicated shapes. Here are no problems with releasing the cake.
I like this pan for its ornaments and the great results. I will also recommend you to check other similar pans from Nordic Ware to find your favorite.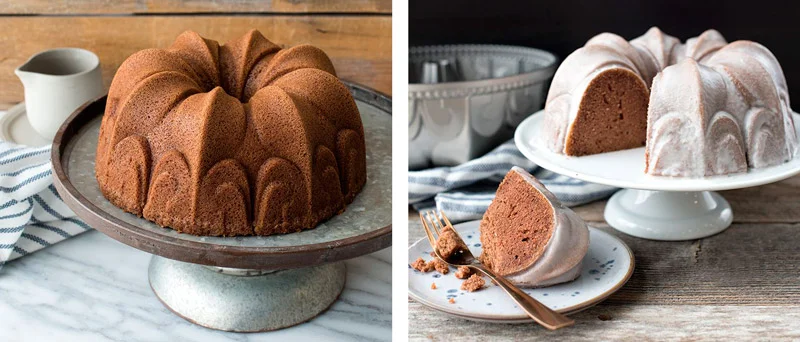 Best Angel Food Cake Pan – Frequently Asked Questions
Why does angel food cake need a special pan?
The shape of the angel food cake helps the cake to cling to the walls of this pan. It is essential to this cake because of its gentle and delicate batter. Also, it makes it possible to flip over the pan for cooling without losing the cake.
What kind of pan do you use for angel food cake?
The right answer is an angel food cake pan. It is not a versatile pan and works excellent only for angel food cakes. In case you will buy one with a removable bottom, it would also be easy for you to bake pound cake.
Is a tube pan the same as an angel food pan?
Not, they are different. A tube pan is an excellent choice for cooking the heavy and dense batter. For example, it could be coffeecake or pound cake. A tube pan doesn't have a proper shape to help the delicate dough of angel cake to get a needed height.
Can you make angel food cake in a round pan?
In the case of baking dough for an angel food cake in a round pan, the final result will differ from the typical expectations of such a cake. That concerns the shape, size, and interior texture.
What is the angel food cake pan?
This pan has a conical tube in the center and angled walls. This shape helps egg-foam cakes to rise and cook evenly. The inner tube distributes the heat most efficiently, and the form of walls helps the batter to cling to as it bakes so that it can rise high.
Another distinguishing feature of this pan is a hole in the middle of the pan. With its help, you can invert the pan onto a bottle for cooling.
How to care for non-stick bakeware?
Wash the pan before the first use with soapy water by hand. Don't put your bakeware in a dishwasher. That will prolong the life of a non-stick coating. Avoid using abrasive cleaning pads or cleansers, and metal utensils. Always allow bakeware to cool before cleaning. Never immerse hot bakeware in cold water for cooling.
Do not use aerosol cooking sprays. They release effectiveness in the longterm because they can build up on non-stick surfaces.
Best Angel Food Cake Review – Final Word
All Angel Food Cake Pans from this review perform excellently, and you can choose any from them. For sure you will be satisfied with your cakes.

According to the overall rating, in this Best Angel Food Cake Review, I will recommend Chicago Metallic Angel Food Cake Pan because it has many features that you will also find useful.

I wish you to cook the best cake ever! And if you would like to comment on my Best Angel Food Cake Review, you are always welcome!
Do you love desserts? Then check our Best Bubble Waffle Maker Review!