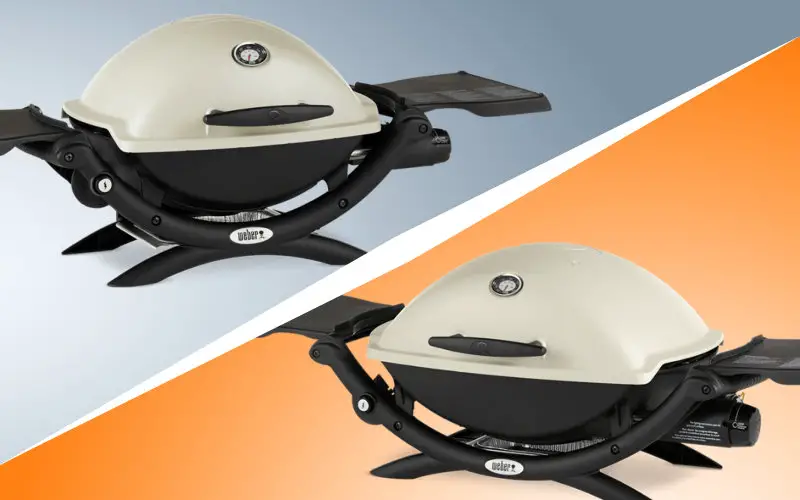 Weber Q1200 vs Q2200 – two top-quality grills that have been produced by a well-known brand. Both have a lot of similarities, but there are some salient differences in their makeup, compositions, size, and energy output. This article will make a humble attempt to compare the Weber Q1200 and the Weber Q2200.

Weber Q1200 Best Compact Propane Grill
This little machine produced by Weber is both sleek and powerful at the same time. Available in titanium color, each stainless steel burner heats a 189 square inch cooking area, using 8500 BTU per hour.
It possesses sturdy porcelain-enameled cast-iron grates and a cast aluminum lid and body. All in a bid to minimize weight at maximal functionality. This device also is very user-friendly as you can take it straight out of the box fully assembled and ready to use.
To further on its user-friendly nature, the Weber Q1200 grill has an easy-start electronic ignition and infinite control burner valve settings.

Good Old Q120 – Weber Q1200 vs Q2200
In using the Weber Q1200, you would have to acquire separately some disposable 14.1 or 16.4 oz LP cylinders of liquid propane, which is the fuel this little grill runs on.
Initially, the Weber Q1200 was the Weber Q120 but was restyled to match the requirements of the 21st century in the year 2014. It's still the same performance, but now, the grill also adds on some stunning, ergonomic, and sleek styling, adding varnish to an already powerful and efficient grill.
The aesthetics are both pleasant to the eye, and easy to use. Some added features include a more substantial grip handle to prevent accidental drops. Then much larger fold outside table which is stronger and less likely to break away. The design is in the form of split grates which allows you to have both the grate and the griddle cooking experiences.
All in one machine, opening a new vista to the way you prepare breakfast, lunch, and dinner. All you have to do is to remove one of the grates and replace it with a griddle that is compatible with the Q1000 series. You can find this type of griddle in markets near to you.

Some things remain the same; however, as that familiar Weber logo which we have come to love is branded on the lid of the grill. The high top of the grill helps you roast small pieces of roasted meat or maybe a whole plucked turkey.
The built-in thermometer ensures that you can carefully monitor the temperature of the grill, keeping it at the degree you want, nothing more, nothing less. In other words, no more burnt roast, everything will be roasted to an even, appetizing brown.
Durable and Lightweight – Weber Q1200 vs Q2200
The frame of the grill is made with cast aluminum, which ensures that the rack is sturdy and durable, but at the same time remains lightweight so that portability will not be sacrificed on the altar of durability.
A variety of foods can be cooked with this grill, including burgers, hot dogs, chops, and steaks. But no need to restrict yourself to the mainstream fare, you can unleash your inner creativity in the use of the grill.

The grill can ensure that whatever you place in it is cooked to whatever temperature you wish for it to be prepared to, through adjustments of the infinite burner control valve.
In line with the goals of portability, the Weber Q1200 runs on disposable LP cylinders which you will have to obtain separately. When you are making use of this appliance at home, you may want to use it together with a 20-pound tank adapter hose. You can acquire this hose as an accessory.
How to Save Money
This grill is remarkable and marks a strong statement based on its cleanup, motility, and cost-efficiency. The grates do not stick, which can explain why it is so easy to clean up. There's little to no set up that you are required to do when you want to use the grill.
Just cook everything you cook, turn the knob, and you're done. I sincerely recommend you buy an adapter hose. And why would I do that? Yes, agreed, the adapter hose is quite costly, but continually buying disposable liquid propane canisters proves to be much more expensive in the long run.

If you can cough out the initial 55 dollars required to purchase the adapter hose, you can then refill your gas canister at a little less than the cost of buying disposable liquid propane canisters. Another great feature of this grill is that, even though it can cook at stable high temperatures for a long period, the floor of the grill does not get too hot to burn what you cook.
This means you can use this grill on a rug, on a plastic table, or at the back of your car. Components of the grill like your cooking grates, burner tubes, and grease management system are housed within the cook box.
The cook box itself has cast aluminum and ad such, no matter the temperature you are using to grill, this sturdy cook box will be able to withstand it, all why needing minimal care in the form of maintenance.

Pros
Powerful
Affordable
Great quality
Durable
Final Verdict
Think of all the things you can do with a powerful grill of this size. Its size ensures that you can fit it into a corner of your room, or the rail end of the car, but at the same time, it gives you an output you would have expected from a grill of a larger size.
At the same time, the grill price in a pocket-friendly range. Many people who have bought and used this grill have only one major regret that they did not buy this grill sooner.
If you're looking for something you may use for your family's grill night, something that the grill up four steaks quickly for you, something that can stay unobtrusively in a corner, delivering large amounts of heat, then this is entirely the grill for you.
Weber Q2200 Best Portable Gas Grill
This fantastic, gray-colored grill has a lot in common with the Weber Q1200, but it happens to be a little bigger, and a little more powerful. The grill boasts a cooking area of 280 square inches, along with a stainless steel burner which you can trust is very durable and will deliver a satisfactory performance. The main burner gives a heat output of 12000 BTU every hour.
Just like the Weber Q1200, it has two folding tables, which you can utilize to provide you with more surface area to work with while grilling. At 44 pounds the Weber Q2200 is slightly more substantial than the Weber Q1200 at 29.5 pounds.

The Weber Q2200 has porcelain-enameled cast-iron cooking grates, a cast aluminum lid and body, a built-in lid thermometer, electronic ignition, a removable catch pan, and infinite control burner valve. One significant addition to this grill is a glass-reinforced fiber frame. This makes sense as the Weber Q2200 is designed to withstand higher temperatures than the Q1200.
Q2200 Care About the Taste – Weber Q1200 vs Q2200
One significant advantage of this grill is that care was taken to make sure it doesn't grow too large, in keeping with its immense power. This way, you can easily take it with you whenever you go camping, and at the same time, you can use it as your stationary sit at the home grill for Saturday night barbecues.

Once again, just like the Weber Q1200, the Weber Q2200 runs on disposable liquid propane canisters, but also has an LP adapter hose which you can use if you're not one for disposables. Another nice feature of this grill is that it limits, more like eliminates the chances of flare-ups. This is how it works.
Usually, when oil from whatever you're grilling lands on the burner of the grill, it almost immediately catches fire. This is bad as you were aiming for heat cooking, but you get flames. It might even char your precious medium-rare steak.

But with the Weber Q2200, the grease runs through grooves on the surface, drips down, and is collected in catch pans on either side of the burner. Then there's this essential perk. Unlike some gas-guzzling giants, the Weber Q2200 is very efficient and economical in its fuel usage.
A 16 oz canister of liquid propane should be enough for you to do ten complete grills. How's that for value on money?
Assemble Needed – Weber Q1200 vs Q2200
OK, I've already mentioned the fact that the Weber Q2200 is very mild on liquid propane usage, which I think is a huge plus in the performance category. The materials the grill is made of are very sturdy, also, and they will stand the tests of both time and the elements.
So, this drill may also be handy to someone who is frequently in the wild, as you do not need to fear that its components are corroding, or that it is rusting, or maybe getting more brittle.
The keyword here is stability. On technical issues, this grill is not ready to use from the package, and as such, you have to assemble it before the first use. However, fear not, a video on YouTube can quickly guide you on what goes where, and how.

Pros
Great Quality
Large grill
Smart made grid
Powerful
Cons
Not ready-to-use, assemble required
Final Word
Big grills may have their advantages, but there's something about a grill that can give you almost as much power as one of the larger grills, but at the same time, takes up as little of your living space as possible.
Also, its small size is compensated for in a way by the side tables which you can unfold to increase the surface area of the grill.
Therefore, perhaps you live alone, and you want to make your all-for-one meals as palatable as possible, or you have a small family, and you want something that can heat four hot dogs for you, then, I would strongly recommend this grill.
Even if you have a large family, and you use one of the larger Weber grills, I would still recommend this grill as a substitute for the moments when you want instant gratification, also, for when you want a grill you can carry over to your friends' places for an all night's out.
From my point of view in a battle Weber Q1200 vs Q2200 only one winner and it is Q2200.
Nice Add-On – Weber Q1200 vs Q2200
Some add-ons which are really useful for both of this grills are:
Weber Q1200 vs Q2200 – FAQ
Contents:
What is the difference between Weber q1200 and q2200?
The main difference between Weber Q1200 and Weber Q2200 is in the size of the cooking area and the heating power.
Weber Q2200 has 280 sq.inch cooking area and 12 000 BTU, while Weber Q1200 has only 189 sq.inch cooking area and 8 500 BTU.
How hot can a Weber grill get?
All gas grills from Weber have a maximum temperature of 500-550 F. To reach this temperature you need to close the lid, switch on all burners at maximum and wait about 10 minutes.
Why does my Weber grill flare-up?
Weber gas grills are provided with Flavorizer Bars which cover the burners. In case your Weber flares-up, check that you have placed flavorizer bars, they are installed correctly and clean. For the next step, make sure you cleaned the grease catch-pan, and it doesn't have much oil and fat.
How long does it take to heat up a Weber grill?
To reach max temperature in need about 10-15 minutes. To pre-heat the grill before cooking you need only 5-7 minutes, but don't forget to close the lid.
How long does a Weber gas grill last?
Weber Q1200 and Q2200 have 5 years warranty, but according to the experience of using other models from Weber, they will work much longer. The only things that you will need to change after 4-5 years of using grill are flavorizer bars and griddle.
Conclusion
Weber Q1200 vs Q2200 – which one is the best? Both represent the top brand and poses great quality. In terms of power, Weber Q2200 is the better machine. It is a bit more expensive, but it's worth it.
The Weber Q2200 is larger than the Weber Q1200 and this is an advantage because a larger size means you can grill more things at once. Believe me, you just have to start grilling, and then you will need to grill more and more, this time you will recognize that a large grill is better.
Weber Q2200 still is compact enough to have a name of a portable grill. However, strongly recommend buying a portable cart (for both of them).
Aside from that, each of these Weber products is a fantastic grill in its own right.