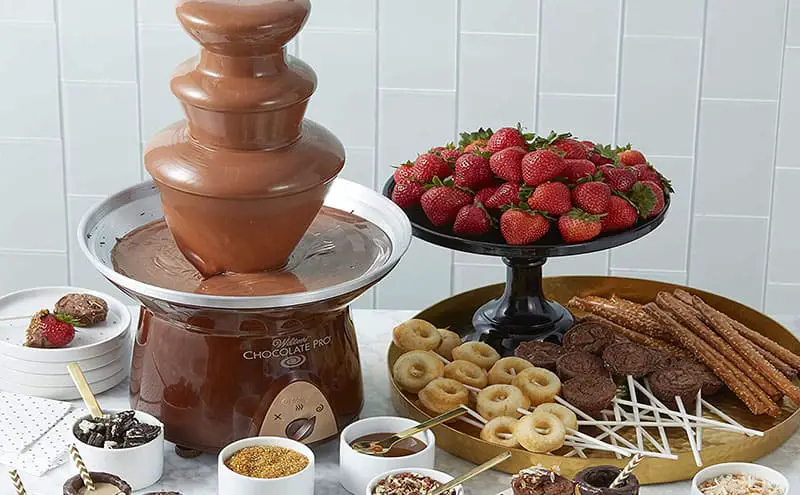 Some people can't get over the taste of chocolate, starting from its taste when eaten alone, to when a snack is being dipped into it, to its effect on cake, it is always irresistible. Chocolate also has a way of making someone happy.
The best thing about chocolate is that it is suitable to use on any occasion, be it formal or not, as it can also be used for desserts, which is why you need a chocolate fountain for your personal use and parties.
You sure don't want people to feel dull and be unresponsive at your party. Input a chocolate fountain and watch how it will positively affect you and your guests at your party. Below, you will find the best chocolate fountains in the market today.
Top 5 Best Chocolate Fountain Review
If you are looking for a chocolate fountain that can help to give your guest a lot of space to dip in cookies, fruits, and more in chocolate, the Wilton Pro Chocolate Fountain can be an ideal choice.
Capacity and Design – It is a three-tier stainless steel fountain that can make up to four pounds of melted chocolate, which is enough to feed about 20 to 50 people. It is 16-inches high and has a bowl design that is unique and makes sure the chocolate melts and flows freely. This best chocolate fountain is constructed with stainless steel with durable plastic at the bottom. This ensures that the machine serves you for a long.
Controls – With the included simple control switch, you can quickly put this machine to work. The controller comes with three settings; off, heat, and flow. The heat switch is used to melt the chocolate slowly first. Then the chocolate would be pumped up and flow down once the switch is turned towards flow.
Usability – This model is straightforward to use and has adjustable feet to enable the smooth flow of the chocolate.
Pros
Suitable for different chocolate varieties
Powerful machine with little to no noise
Suitable for bigger events.
All parts are dishwasher safe except the electrical element.
Cons
Not suitable for thicker ingredients.
No separate control for the heat pump.
Our Verdict: – it is suitable for a large gathering of people.
If you are looking for a three-tiered stainless-steel chocolate fountain that will fit into your small gathering, large gathering, and also serve you indoors, be sure that Sephra Select will surely stand out in any form of gathering.
Capacity and Design – This model can produce up to four pounds of melted chocolate, enough to feed up to 30 people at full capacity. With the 16-inch height of this top of the range chocolate fountain, it is perfect for just anything from baby showers to home parties. The stainless-steel construction material makes it highly durable and always dance to your tune. Also, the whisper-quiet motor included ensures that the machine does not disturb anyone resting or sleeping in the house.
Controls – A very simple on/Off button is included to activate both the heating element and the motor without stress.
Usability – Apart from it helping to deliver a stream of warm chocolate, it can also be used for cheese fondue, caramel fondue, BBQ sauce, and even ranch dressing. With the simple control, well-balanced foot, and skewers for fruit, pastries, and more, this fountain for chocolate is relatively easy to use.
Pros
Whisper-quiet motor to minimize noise pollution.
Great height, suitable for kids, small parties, and family events.
It is suitable for feeding a lot of people with sweet treats.
Easy to Clean.
Our Verdict: – Suitable for both large and small gatherings. It is also very comfortable to use indoors.
Are you looking for a four-tier fountain with a retro style that adds uniqueness and delicious fun to any occasion? The Nostalgia CLCF4AQ Retro Fountain can bridge the gap.
Capacity and Design – With this machine, you can produce up to two pounds of melted chocolate, and this makes it ideal for birthday parties, family gatherings, and baby showers. This appliance is made of durable plastic that ensures it survive any use you throw at it. Additionally, no pump is included. This makes the flow of chocolate continuous. Also, the heated bowl is constructed with stainless-steel to ensure that the sauces keep flowing, and you always get a consistent dip.
Controls – You can switch to three different settings with the included LED-lighted heat/flow power gauge.
Usability – This best chocolate fountain can be used easily. Apart from making chocolate, it is also perfect for making the BBQ sauce, cheese, and many more.
Pros
Easy to use.
Easy to assemble
Even Flow.
Very versatile
Cons
It can be sometimes noisy and messy during use
Our Verdict: Perfect for small gatherings, parties, and indoor use.
With the remarkable design that creates an appetizing flow of deliciousness that the Nostalgia Stainless Steel Cascading Fountain showcases, it is no doubt one of the reliable and top best chocolate fountains in the market.
Capacity and Design – This machine is a four-tier auger-style fountain that can produce about two pounds of melted chocolates. The tiers are designed and constructed in a way that makes them easy for you to assemble. Unlike traditional models of a chocolate fountain, this product is designed in a unique way that allows the chocolate to flow from tier to tier pleasingly. Also, this best fountain for chocolate features a stainless-steel heated base and bowl that makes the chocolate flow at the perfect temperature.
Controls – A simple turn dial control is included to put this machine to work without stress. All you need to do is to turn the control dial to either heat motor, off, or heat functions.
Usability – This model can be handled easily without any complexity. From BBQ sauces and cheeses to chocolate and liqueurs, you can use this appliance to add fun to any occasion.
Pros
Excellent Capacity
Hygienic Design
Easy to operate
Easy to clean
Operate quietly
Cons
Can't handle very thick ingredients.
Our Verdict: – It is very suitable for adding mouthwatering fun to parties and gatherings.
5. Nostalgia CFF965 FountainBest Auger-Style Chocolate Fountain with Nice Flowing Effect
The Nostalgia CFF965 Fountain speaks elegance and style and also creates a nice flowing effect making it one of the best chocolate fountains you can get for your next gathering or party.
Capacity and Design – This is a three-tiered auger-style fountain that can produce up to 1.5 pounds of melted chocolates. The tiers are very easy to assemble. You do not need to worry about your sauce, not flowing. A stainless-steel tower and heated bowl are included to ensure that your sauce or chocolate flows perfectly.
Controls – the settings are easy to navigate because this top of the range fountain for chocolate features a simple switch that makes switching between heat functions, off, and heat motor a breeze.
Usability – this machine is not limited to chocolate production alone. You can also use it to make ranch, Nacho cheese, liqueurs, and more.
Pros
Easy to assemble, operate, and clean.
Works well with cheese and other thick ingredients
It does not waste chocolate
Tips and recommendation on the manual are easy to understand and follow
Flows well
Cons
It can be noisy sometimes
Not ideal for a large gathering
Our Verdict – this product is the best chocolate fountain that is ideal for small gatherings and personal use.
Best Fountain for Chocolate – Buyer's Guide
How to Pick A Chocolate Fountain?
It can be enjoyable to shop for a chocolate fountain. However, it can also be quite tasking, especially if you've never bought one before. Thankfully, we've listed the best chocolate fountains and what they have to offer to you above, which will serve as a great help to you later on.
Nevertheless, some things need to be taken care of when shopping for a chocolate fountain. Some of them are:
Size: – The number of people that will eat from the chocolate has to determine the size of the chocolate fountain you will buy. You might be attracted to the magnificent size of a chocolate fountain when shopping. However, you have to consider the amount of chocolate required to fill it up alongside the number of people expected to eat from it.
Price: – When buying a chocolate fountain, you would love it to fit into your budget, which is why the price has to be considered before buying it. It is wiser to buy a chocolate fountain by following your budget. Once you spend above your budget on a chocolate fountain, it will affect the quality of the chocolate you will settle for, which will, in turn, affect the output, thereby making the chocolate fountain useless.
Noise: – The noise made by a chocolate fountain definitely can be controlled or stopped. Although the noise can't be eliminated, it cannot be delightful, especially when the fountain is placed indoors. It is therefore advisable to go for a less noisy one when shopping for a chocolate fountain. Unfortunately, decibel ratings are usually not listed on most chocolate fountain models, which is why it is essential to check up on the consumer review of each model before purchasing it.
Heating Capacity: – When shopping for a chocolate fountain, you have to consider its heating capacity. The best chocolate fountain should be able to start melting the chocolate within two minutes, and the chocolate should begin to flow within 30 – 45 minutes.
Easy Cleaning: – You do not want to end up with a chocolate fountain that would take you the whole day to make it clean. This is why you should carefully choose a chocolate fountain that wouldn't be difficult to clean. An example is a stainless-steel chocolate fountain, which is rust/corrosion resistant and also dishwasher safe.
Durability: – This should be your topmost priority when shopping for a chocolate fountain. You sure don't want to end up with a chocolate fountain that needs to be changed after using it for a couple of weeks. This is why you should pay close attention to both the manufacturer and the consumer's review of the product of your choice.
What are Chocolate Fountains?
Chocolate fountains are machines used for serving chocolate fondue. Often resembling a stepped cone, it has stacked tiers from the basin, with a crown at the top. A chocolate fountain is also known as a fondue fountain
Types of Chocolate Fountain
There are two types of chocolate fountains. They are; commercial-use and personal-use chocolate fountains. Commercial-use chocolate fountains can be further categorized into the Auger system and Pump system.
Commercial-use chocolate fountain's typical size varies from 20 inches to 50 inches tall, which is mostly designed for professional usage like catering and the likes. A commercial-use chocolate fountain can hold as much as 35 pounds of the chocolate subject to its model.
Personal-use chocolate fountain's size varies in sizes up to 19 inches tall. They are predominantly made from plastic with some element of stainless-steel. However, some models are entirely made of stainless steel. A personal-use chocolate fountain is usually dishwasher safe. It can also hold as much as 6 pounds of chocolate.
How does a Chocolate Fountain Work?
The chocolate fountain makes use of an appliance called the Archimedes screw to transport the liquid chocolate to the top, also known as the crown.
To melt the chocolate, a heating device is placed inside the base(bottom) of the chocolate fountain under a metal bowl that retains the liquid chocolate.
Once the chocolate melts, it is pulled up into a cylinder that sticks out vertically from the bowl.
Inside the cylinder, the Archimedes screw powered by a motor pulls the liquid out, emptying it over the tiers, usually two or three, then spilling it into the bowl, where the whole process begins again.
Steps to Set Up a Chocolate Fountain
Have you bought your chocolate fountain and are confused about how to set it up? Below are some helpful tips.
First of all, place the chocolate fountain on a countertop table.
The chocolate fountain has to be leveled entirely to make the chocolate flow evenly. If the chocolate fountain isn't balanced, the chocolate won't only flow unevenly, the pump under pressure can also be affected.
Ensure a cover is placed on the table, and every part of the chocolate fountain is cleaned, to protect it from the wind and other elements.
Ensure that the chocolate fountain is out of reach of pets and little children. This is necessary to prevent little fingers and paws from scalding from the heat.
It would help if you were mindful of the wind, whether your chocolate fountain is placed outside or inside. This is to prevent the chocolate from hardening and putting a strain on the pump, as this can affect its durability.
It is advisable to melt the chocolate before putting it in the chocolate fountain, to make melting the chocolate in the fountain easier.
Before using the chocolate fountain, it is advisable to preheat the fountain first.
Benefits of having a Chocolate Fountain
Chocolate fountain helps to add a special feeling to parties, gatherings, reunions, and the likes, and it comes with a handful of benefits. The first being that buying one is cheaper than renting every single time you want to host a party, especially when you host parties a lot.
When you buy one, you won't need to pay every time you host a party, and it can also be useful for your personal use. Some other benefits of having a chocolate fountain are listed below:
Apart from chocolate fountains being an excellent dessert tool, they also have a way of beautifying your party. Place a chocolate fountain on a table in the corner, and your party is unique already.
The joy of dipping delicacies into a chocolate fountain is not restricted to any age. Eating delicacies dipped in chocolate has a way of uplifting the spirit of an average human being, be it a child or an adult, and this will benefit your party as everyone would be in high spirits.
A chocolate fountain spot in a party instantly serves as a fun spot as your guests would want to try dipping different delicacies into the fountain. This will also help in relieving you of the stress of trying desperately to get the attention of your guest and entertaining them.
With the help of a chocolate fountain, you are relieved of the stress of making a lot of desserts and also of serving all your guests personally or worrying that your guests would not have enough desserts.
A chocolate fountain is also very versatile, and not just confined to making chocolate fondue alone. This versatility of the chocolate fountain is very beneficial to everyone who owns one. A chocolate fountain can aid in performing many duties, some of which are listed below.
A chocolate fountain can perform the function of a nacho cheese fountain where hotdogs, meatballs, and the likes can be dipped into.
It can also help in the preparation of a ketchup or barbecue sauce for your chicken nuggets, french fries, hotdogs, and the likes.
A chocolate fountain can also help in mixing frosting or Nutella, which is great for dipping cookies, doughnuts, marshmallows, fruits, and the likes.
Additionally, it can also help in preparing maple syrup for dipping chicken nuggets, waffles, fruits, bacon roll-ups, and the likes.
Tips for Maintaining a Chocolate Fountain
Cleaning up a spilled regular chocolate bar is a messy affair, not to talk of liquid chocolate, especially after a party. Unfortunately, it can't be left till the following day, or else, you won't only have to deal with the messy chocolate fountain, but also with nasty pests.
So, you are left with no choice but to clean the chocolate fountain once the party is over. Lack of immediate cleaning of the chocolate fountain can also lower the lifespan of the chocolate fountain.
Here are some helpful tips in maintaining your chocolate fountain.
Drain all the residue of the chocolate in the fountain after use. The chocolate can either be preserved in a container or thrown away. If crumbs or bits of fruit are found in the chocolate, it is preferable to throw the chocolate away as it is not safe for consumption. Also, it is not advisable to power the machine and use it to drain the chocolate. However, if the chocolate has been hardened, you can power the fountain for a while. On the alternative, you can use a hairdryer to heat the chocolate until the machine is utterly free from chocolate.
Once the chocolate has been drained, fill the basin up with warm water, and power the fountain for a few minutes to make sure every bit of chocolate is removed from the fountain. After that, drain the water from the basin and then disassemble the fountain. The disassembled appliance should now be in four parts: auger, auger tubes, bowl tiers, basin/base, which are all dishwasher friendly, excluding the basin.
Use warm soapy water and a sponge to wash the basin. However, be very careful while washing to stop the water from penetrating the area where the machine is as it can lead to a short circuit, thus, hindering the fountain from working correctly. After washing, allow the basin to get dry before packing it up.
Once the auger tube is out of the dishwasher, ensure you examine it for any form of residue. If any residue is found in it, dip it in a bowl of warm soapy water for a few hours before rinsing it off under running water. After this, dry and pack it in a dry and ventilated place, keeping it away from any form of liquid as it can cause damage to the fountain.
Best Chocolate Fountain Frequently Asked Questions
Can A Chocolate Fountain Be Used Outdoors?
A chocolate fountain can be kept outside, as long as an electrical outlet is close to where you want to place it, and also well built. However, a small breeze can cause the chocolate to splash, or worse still, fill the chocolate with sand.
Also, chocolate attracts insects, which makes it advisable always to place the chocolate fountain indoor.
What Kind of Chocolate Should I Use for My Fountain?
Chocolates in a machine need to melt easily and stay so for a long time, thus, requiring a lot of oil, which is a little bit different from the average candy bar. This is why there are bags of chocolates that are exclusively produced for use in the chocolate fountain alone.
However, if you plan on using a candy bar in a chocolate fountain, you will need to coat the appliance with a whole lot of oil to help the candy bar melt easily and quickly.
How Much Chocolate Can A Fountain Hold?
Knowing the amount of chocolate a fountain can hold is very important in planning for a party. An average serving chocolate fountain should be able to hold between 1.5 to 5 pounds of chocolate.
What Is the Perfect Place to Put My Chocolate Fountain?
To set up a chocolate fountain, you will need a leveled table or a countertop so that your guests can get to it effortlessly without requiring to stretch uncomfortably.
Also, avoid places where air can easily get to the fountain because it can cause the chocolate to spill unevenly, splash, or splatter. Additionally, the chocolate can harden the machine which would significantly affect it.
Also, place the chocolate fountain in a place that is not as crowded as a dancefloor or a busy passage.
What Is the Cost of a Chocolate Fountain?
A chocolate fountain is relatively cheap compared to the numerous benefit it provides. Most personal-use models cost between $35 to $50, while the commercial-use one's costs about $100 and above.
Final Words
Chocolate fountains are a necessity for every party you are hosting. Therefore, you must purchase one. We believe that you are now equipped with the necessary knowledge about the appliance. It would help to guide you in buying the best chocolate fountain for your party or family.