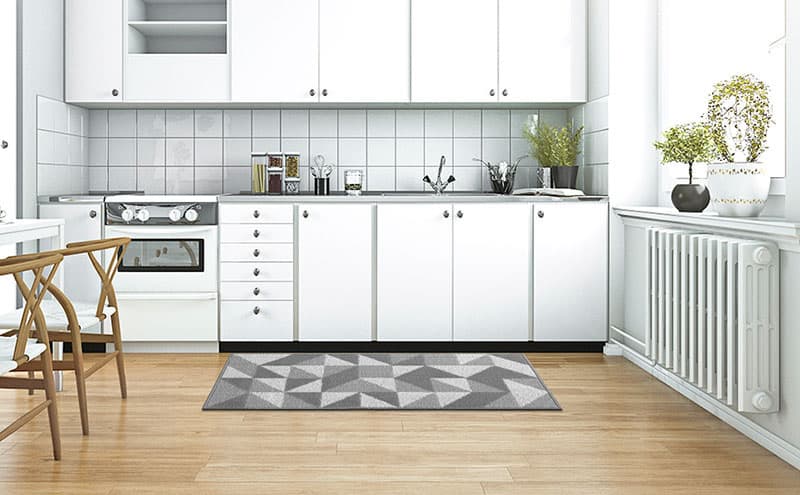 Undoubtedly, the kitchen is the central hub of any house. This is where you cook, store, and sometimes eat. Besides, many modern kitchens come in varying sizes, shapes, and designs, serving as an excellent fit for any homeowner.
The essential feature you should consider in any kitchen is its size.

Knowing your kitchen's average size allows you to gauge the ample space to perform your kitchen activities. It is the primary consideration you need to note when making a simple kitchen upgrade or expansion.
With this article, you should understand the average size of small, medium, and large kitchens, the best use case, and ways to manage.
What can be considered an average kitchen?
The term "average kitchen" is a relative one, as it evolves with any house's overall size. Do note; there is no official size measurement for any kitchen.
However, an average kitchen is known to take about 10-15% space of a house. Kitchens are known to be the heart or center of the home; hence, the reason it's taking such a significant portion.
Here are a few averages for different kitchen sizes:
70 square feet: The National Kitchen and Bathroom Association declared this kitchen size as the average size of a small kitchen. It's a typical size found in small apartments and condos. Such kitchens don't have enough space for non-essential kitchen appliances or fixtures like microwaves, dishwashers.

100 square feet: The 100 sq. ft. is a benchmark measurement to determine a kitchen renovation cost. The cabinet industry states this measurement, and it's also defined as a small kitchen.

175 – 200 square feet: This is a typical measurement for an average kitchen with function extending to a dining and common room. One can socialize and eat in such a kitchen area. Here you see more functionality and increased storage than an average kitchen around 70 – 100 square feet.

225 square feet: This is the standard average size for any kitchen space. You get to see this in a house with an average rough measurement of 1500 square feet overall.

180 – 440 square feet: Many modern homes now measure 180 to 440 square feet. This is still held relative to the average size of a modern house.

720 square feet: This impressive size comes from large houses or mansions with a size of no less than 4,800 square feet. It is a typical size number stipulated by contract builders. This average large kitchen was almost the same size as ancient homes several years ago.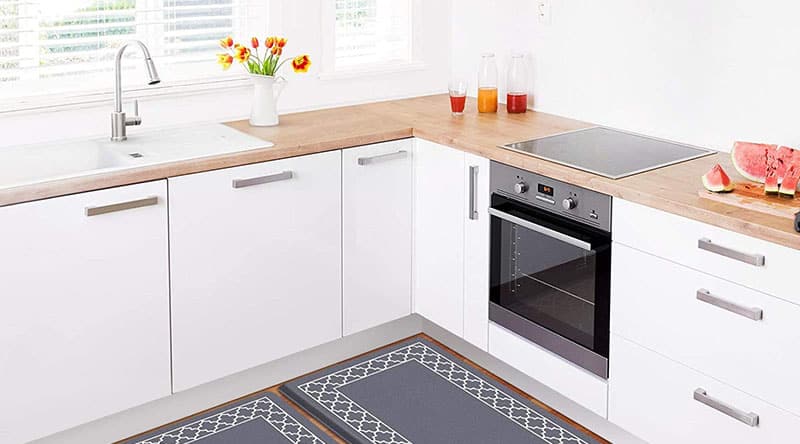 What can be considered a small kitchen?
A small kitchen is considered to take no more than 70 – 100 square feet of a home. This site is based on how American homes were built and designed in the 1900s. The average American home then comes in a size of 1000 square feet.
Such small kitchens can't take in excess appliances, and there isn't enough space for portable dining areas. Also, food is kept in a separate pantry from the kitchen. On the whole, a small kitchen does feel like a hidden space and only accommodates a single person.
What can be considered as a large Kitchen?
A large kitchen is found in large houses and measures around 720 sq. Ft. Most homes with this kitchen size do come at a design size of 4800 square feet.
This kitchen allows for social interaction and can take more than one cook. Unlike small kitchens, large kitchens have a large dining area and are open-spaced.
What should determine a kitchen's Size?
Design: Some different designs and shapes depict the size of a kitchen. These shapes include U –shaped, G-shaped, L-shaped, and Gallery Kitchen.

A thin U-shaped may take 42-48 inches of facing aisles. One of the tails of an L-shaped kitchen may have a peninsula to accommodate cabinets extending from the ceiling.

An L-shaped design is a standard design for small-sized kitchens. The L-side of this shape can accommodate full-height cabinets with 8 feet vertical and 3 feet horizontal, which runs to an open space where one can place a dining table.

The G-shaped and Gallery kitchen design is best suited for large kitchen sizes.

No of people: Many a person takes a kitchen as a source of social interaction. As technology expands, you see kitchens with extra features like TVs, dining centers, and even ventilation systems. Such features could cause more people to work and hang-out in the kitchen.

However, these features exist only in big-size kitchens that can accommodate more than one person. A one-chef household can manage a small size kitchen at a time with no other person involved.

However, cooking in pairs or having visitors in the kitchen will propel a need for additional cooking space.

Kitchen appliances: The amount of kitchen appliances you use regularly comes with an influencing effect on kitchen size. You do need more space to keep such devices up and running.

Therefore, to maximize, you do need to let go of appliances you don't use regularly. Remove such clutters and store them away in drawers or cabinets.

Cooking frequency: If you frequently cook, a big size kitchen would serve as the right choice. This owes to the fact that your kitchen appliances, tools, and equipment are kept in constant use. Also, you need more space to keep your groceries organized and accessible.

All these require a spacious countertop, cabinet space, and a large freezer to help preserve cooked food items.
How does the mid-20th century kitchen sizes look like?
Kitchens built in the mid-20th century are relatively smaller than the modern-day kitchens in this age. Now there is a revolution of technological appliances into the kitchen that requires more prep and counter space.
The current kitchen designs also account for more square kitchen footage, which is a step higher than kitchens in the mid-20th century.
The kitchens of the mid 20th century have average sizes around 70 to 100 square feet. Most houses built around this timeline are relatively small and provides little space for kitchens. The considerably small size is attributed to the style of entertainment and culture.
The mid-century kitchens were built primarily for food preparation hence without the need for socials and equipping with peripherals. Even uncooked food items were stored away in a pantry separate from the kitchen.
However, these modern times have seen a changing social role in Kitchen spaces. You see kitchens fitted with mirrors, radios, and televisions. Other appliances fit into cabinets and counter space hence requiring more kitchen sizes different from the mid-20 century kitchen.
How will the future kitchens look like?
A lot of cultural influences depict the outlook of most modern kitchens. Now, homeowners prefer to have white cabinets, garbage, and recycle bins right in their kitchens.
With such an outlook in this present age, how can we expect future kitchens to look like? How will these advancements influence the size of average kitchens?
According to a Global kitchen report, kitchens of the future will be multi-functional (beyond cooking and entertainment). There would be an incorporation of smart technologies to help save on space and energy.
The future kitchens will be health-focused and would take in a refined concept of minimalism. There will be small but smart kitchen appliances that will take less counter-space and enhance high-level workflow.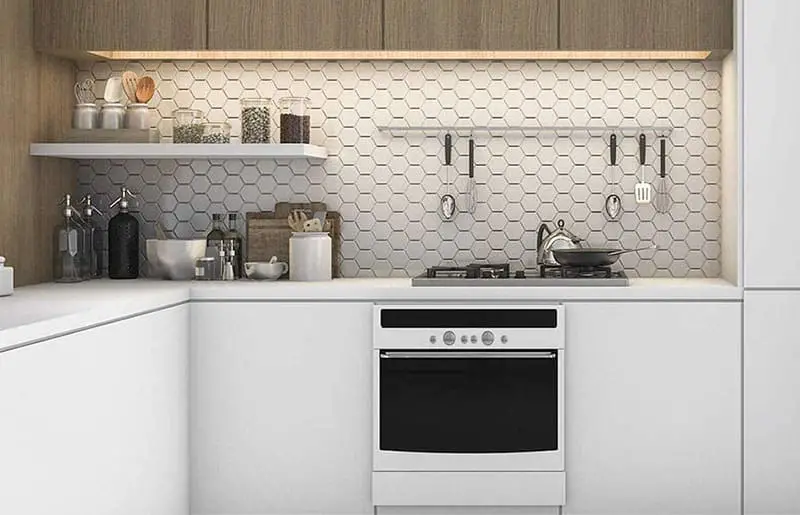 How to create more space in your kitchen
One detriment with any small kitchen is the fact that you can't move around easily. You also don't have the luxury of keeping lots of kitchen appliances.  Hence you do need to develop a way to maximize the space effectively. Here are various hacks you can use to create more kitchen space;
Install hooks on walls: The presence of hooks on walls allows you to maximize vertical storage space. You can hang on cutleries, mugs, and baskets on such hooks for proper storage. Using such hooks will help keep the kitchen well organized and items accessible.

Make use of tension rods: Tension rods can serve as organizational tools to hang cleaning materials and other supplies properly. To maximize kitchen space, such tension rods are best installed under the sink cabinet. The tension rods will arrange items like cooling racks, cutting boards, and sheets in a vertical manner.

Maximise cabinet doors: With the help of an organizer, you can store various items on cabinet doors. This serves as a smart storage area for things that might add to kitchen clutters.

Opt for smaller appliances: The best way to save more counter space for your kitchen is to invest in small devices. A small kitchen could use a small size microwave in place of a smaller unit to save on counter space.

Install small sinks: Look out for small unique sinks to install and ensure it comes with a cover-top. The cover-top can help add more space to counter-space when the sink is out of use. Such small sinks should come with excellent plumbing fixtures.

Install a magnetic Knife bar: The installation of a magnetic knife bar on walls helps one hang-up knives without much use of cabinets. Such bars serve as a great alternative to knife blocks, which takes up more kitchen space.

Consider leaving the freezer outside kitchen space: Most kitchen freezers and refrigerators take up more kitchen space than any other appliances. Keeping the freezer outside the kitchen will provide ample space for your cooking or prep needs.

Install a pot rack: The use of a pot rack allows you to store up pots vertically on walls to conserve space for other items in your kitchen cabinet. A kitchen with a low ceiling situation may require the installation of pot racks over the sink.

Make another shelf-system inside cabinets: Creating a proper shelf system within cabinets help keep your items organized. More of your kitchen items can get into cupboards, reducing the placement of kitchen items and utensils in other spaces.

Build a Pantry with Manson Jars: Without a pantry and you want to store food products? Creating a Mansion will prove to be beneficial for this purpose. This micro-storage is placed on wall racks and allows order storing of dry foods.

Open shelving: Open shelving is a good alternative for small kitchens without space for hanging cabinets. You can keep items organized on such shelves without the need to clutter them on counter-tops. Also, one can access and grab items stored easily.

Table storage system: A storage table system is a hack for small kitchens that you can re-attach after creating space. This table comes with a pull-out mechanism to keep the dining table out when required. The folding table is another creative table system that helps save space and can be used in place of counter-tops.

Use Sliding doors as the best option: Sliding doors don't take up space when opening. You don't have to pull out from the plane to access contents. It is the best case to install for cabinets.

Purchase a cutting board that fits a sink: You don't have to build an extra countertop that takes up space for cutting. With a cutting board that fits over a sink, you can conveniently cut down veggies and other food ingredients. This helps create enough space for you to walk around and cook food without any hindrance.

Install a Pegboard above the cooking area: If your cabinets can't take enough utensils, use Pegboards. A pegboard increase provides more storage space and removes items that can clutter your counter-space to keep it organized and neat.
Conclusion
The Kitchen is a central location in the home, and its average size is dependent on the overall size. Understanding the average size of your kitchen allows you to determine ample space available for kitchen activities. Through this guide, you can plan and model your kitchen to suit your needs.