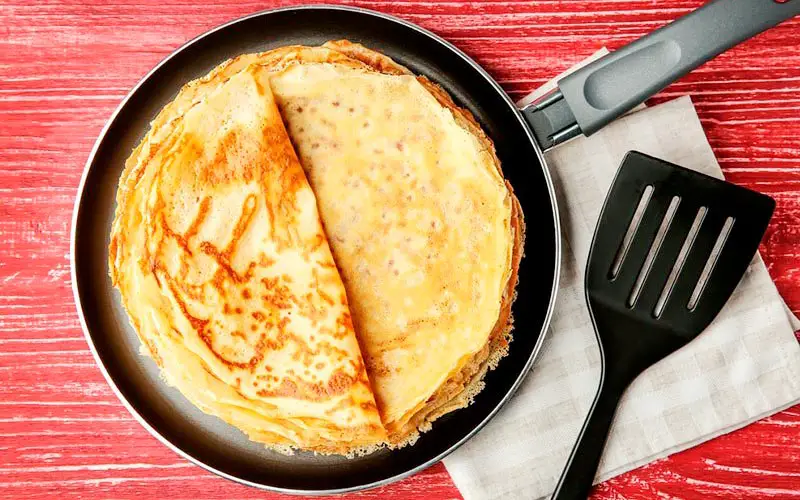 The key to making the best crepe is to have the best crepe pan. Originated from France, crepes are delicious treats, desserts, or snacks to ignite your mornings.
Making crepes could be an effortless task for any enthusiast cooker provided you follow the right ingredients and have the best crepe pan at your disposal.
In this guide, I have handpicked the 5 best crepe pans that can surely make your crepe preparation an absolute breeze.
Coupled with this selection is a comprehensive guide at the end where I help you make an informed purchase. I discuss the important features to consider when selecting these crepe pans. Let's start with the table below to give you a glimpse of the features of the best crepe pan.
Best Crepe Pan of 2020
Starting off my list is the Le Creuset of America Crepe Pan sized at 11-inch to make adequately-sized crepe pans.
This is the crepe pan I reckon in making crepes for your breakfast preparations.
It has a lid with the brushed stainless knob to lift it easily without burning your hands.
The handles are insulated so it is convenient to tilt the pan and flip the crepe for even browning.
Of most importance is the
non-stick coating
that contains no hazardous fumes like the Teflon-related coatings. There is no PFOA ingredient, so cooking in this pan will not expose you to any harm.
The surface will not chip.
With the non-stick coating, you can slide off the crepe after cooking or flip it effortlessly without leaving any pieces. This also becomes easy when cleaning the pan after use because it negates the need for abrasive cleaning tools that could scratch it.
To improve heat conduction, the surface of the pan is made of the anodized aluminum for even heat dispersion.
The design is also reinforced with the magnetic stainless steel which enhances its longevity and resists corrosion. The ergonomic handles make it easy to maneuver the pan.
They are large enough. Because of the anodized aluminum and tough stainless steel, the metal-utensils will not have a detrimental effect on the pan.
However, handle with care to extend its durability because the coating deteriorates over time.
You can clean the pan using the dishwasher machine or by hand. Avoid using abrasive soaps. Hot water with dishwashing liquid should be enough.
A word of advice though! You must condition the inside of the crepe pan after receiving your purchase. Remove the labels and wash the pan in hot water with soap, then rinse and dry it.
Put a bit of corn or vegetable oil on the interior surface and wipe it off with a paper towel to condition it.
Important: Watch out the heat requirements when using this pan because extreme heat can damage the coating in a short period of time. Preferably use medium and low settings when cooking.
Let it heat slowly and evenly before making your crepe. If you are searing meat you can increase the heat temporarily and then reduce it after the pan is hot enough.
Any prolonged heat can be damaging.
When cooking, I recommend using the same size of the stovetop as the pan for maximum heat output. If you are using a gas flame please contain it to the surface not the sides of the pan.
Avoid sliding the pan if you are cooking on a glass stovetop because it can either damage the stovetop or the pan. The maximum overheat is 500 degrees Fahrenheit.
Pros
Nonstick coating surface with anodized aluminum
Stainless steel handles
11-inch pan size which is adequate and more than the average 10-inch size
Cons
Nonstick coating degrade with prolonged high heat
Aluminum surface, not induction ready
Final Verdict
This is my top pick product which I find very effective in making crepes. Made with an
anodized aluminum surface
it helps disperse heat evenly while preventing uneven browning of the crepe.
The handles make it easy to handle the pan, while the non-stick coating prevents any sticking of crepe when flipping it or when cleaning the pan. I recommend this pan for your cooking needs.
You can use it for many cooking needs other than making crepes. It's definitely my best crepe pan.
If you plan to sear meat, make omelets or fry crepes, this could be the best crepe pan you have been looking for.
It is one of the best stainless steel crepe pans on the market featuring a strong composition of aluminum and tri-ply stainless steel.
The Cuisinart FCT23-24NS Crepe Pan comes with a lifetime warranty which is an assurance of a top-notch quality.
Like others in my review, the pan is nonstick and there are no harmful ingredients used in the coating. With this coating, you can enjoy cooking your foods without the fear of them sticking onto the surface when flipping them over.
Also, cleaning becomes an enjoyable chore because the food will not stick. Just take care of the coating especially if you are accustomed to cooking at extreme temperatures.
That could compromise the durability of the nonstick coating.
Moreover, only use a mild detergent with a non-abrasive cloth to clean this pan.
The pan has the Heat Surround Technology which ensures that heat is evenly distributed to avoid uneven browning of the crepe. Aluminum was included to improve this heat conduct property.
When handling the pan, it becomes easy with the contoured and highly-elevated stainless steel. They are properly insulated and provide a comfortable grip.
The design of this pan is good to an extent of storing food with the pan in a freezer. You can also lift the pan from the stovetop directly to the tabletop.
It weighs 2.6 pounds, which I found a bit bulky compared to the aforementioned products. It can be heavy if filled with contents.
Nonetheless, that's not a bad weight to affect your hands.
Pros
10-inch crepe pan
Aluminum and tri-ply steel construction
Contoured and well-insulated steel handles
Cons
It is bulky compared to others in the review
Not good for induction cooktops
Final Verdict
Given its great features, I would recommend this crepe pan anytime. It is made with the
three-layered stainless steel with the aluminum
to improve its heat conduction.
The pan is 10-inch, which is a fair diameter to make just adequate crepes or pancakes.
The interior has a nonstick coating making it convenient to flip around the crepe or to clean it. The overall design is impressive with highly elevated and contoured handles for ease of handling. I consider it to be my second best crepe pan.
A composite of aluminum and steel construction is popular in many crepe and regular pans.
Of course, this has been done to give the pan the benefits of each material.
For instance, aluminum is good at conducting heat and it is lightweight.
Stainless steel, on the other hand, is durable and resists corrosion even though it conducts heat poorly. Nordic Ware'took advantage of this composition.
The pan performs better than most of the traditional pans in making crepes. It is 11-inch big to make bigger crepes to satisfy your stomach.
The size is in fact above the average size of most pans. The interior side of the pan is coated with nonstick material with no Teflon ingredients such as PFOA and PTFE.
It makes it easy to flip the crepe side by side to brown each side.
Also, when cleaning the pan it becomes easy with the nonstick coating. It won't call for abrasive metal cleaning materials.
Beware of how you clean the pan because the nonstick coating is sensitive to any abuse. I recommend using a mild detergent and washing with hands.
Either way, it is not dishwasher safe.
More on the design of the pan, it has slopped sides which make it easy to insert the spatula and flip the crepe. If you are pouring the oil or other ingredients while the crepe is inside it will be easy with these slightly shallow sidewalls.
The pan is made in the USA but the handle is imported from China. Well, I must say I found this somehow weird as it may mean that the USA is incapable of producing handles of that caliber.
The pan is lightweight. Weighing just 1.75 pounds, it will be convenient to travel it or lift it up while filled with contents without causing muscle fatigue.
If you are using the induction cooktop note that the pan is incompatible with that. The maximum overheat is 500 F.
Do not exceed this because it might compromise the quality of the nonstick coating. Also, play safe when using metal utensils in the pan to avoid scratching the surface.
The same with the cleaning pad, I recommend a soft nylon cleaning cloth because either way the surface is nonstick so no need to use abrasive cloths. What stands apart in this pan compared to others is the 10-year warranty the manufacturer offers.
Pros
11-inch diameter
Stainless steel and aluminum construction
Nonstick coating of non-hazardous chemicals
Cons
Not induction ready
Pan and handles made in different countries which may be challenging to replace if one component is damaged
Final Verdict
Featuring the steel and aluminum construction, this is a great pan to look up to in your crepe preparations. It is
compact and lightweight
.
This makes it easy to travel with when camping outdoors. I give the design a round of applause.
But the aluminum and steel are not good ferromagnetic materials meaning a stovetop made of a magnetic field will not work well with the pan. All in all, is it a good pan to prepare a variety of foods such as eggs or pancakes. My best crepe pan with non-stick coating.
Cuisinart 623-24 Chef's Classic is the best value for money when you want to invest in the best crepe pan for your crepe making efforts.
The exterior of the pan is non-porous, wear-resistant and dense with the hard-anodized material to extend its durability.
It also improves performance in heat conducting.
The interior side is, on the other hand,
coated with the titanium-reinforced patented Quantanium
which improves its nonstick properties. This will help in flipping the crepe or cleaning the pan so that you do not use abrasive cleaning cloths.
There are no noxious fumes emitting by the coating because chemicals such as PTFE and PFOA are eliminated.
For a comfortable grip, the handles are made of the solid stainless steel to stay cool. It helps when lifting the pan up or when tilting it.
The surface of the pan is
not induction ready
, so if you have an induction cooktop the pan is not ideal for you. Take note of the maximum oven heat of 500 F.
Highly notable is the 10-inc size of the pan which helps in making moderately big crepes for your breakfast. That is the average diameter of most crepe pans on the market.
Anything below 10-inc is not recommended.
Weighing just 1 pound, this pan is easy to travel with or handle when cooking. Stainless steel pans are generally lighter than the popular cast iron material but heavier than aluminum of the same size.
Pros
Quantanium non-stick coating
Hard anodized aluminum exterior which is dense, wear resistant and nonporous
Stainless steel handles for ease of operation
Lightweight crepe pan
Cons
Not compatible with induction stovetops
Not dishwasher safe
Final Verdict
This is an
affordable
crepe pan with plenty of features and quality. It's made of the hard anodized aluminum which improves its durability and makes it a lightweight pan.
The handles are made of stainless steel and the interior is coated with nonstick Quantanium which makes it easy to clean and slide off the crepe. I would recommend this pan to anyone looking for a high-performing pan.
However, aluminum is a non-ferromagnetic material so the pan will not be ideal for induction stovetop.
5. Lodge Best Pan for the Money
It's unsurprising that the Lodge L9OG3'weighs about 4.5 pounds, which is almost 4 times most of my aforementioned crepe pans.
It is made of the heaviest material ' cast iron.
It is heavier than both stainless steel and aluminum.
So, lifting this pan with foods will not be an easy single-hand task.'You have to exercise more power.
Nonetheless, this heaviness comes with great benefits of the cast iron. Cast iron is the
most durable material
which is also naturally nonstick but needs a bit of seasoning before frying your crepes.
This will improve its nonstick property.
A nonstick coating is important to prevent the sticking of your foods. But, it degrades over time and is sensitive to the use of metal utensils.
Other coatings are in fact hazardous. With the cast iron, you can say good shot, but then you have to spend oil to season the pan and improve its nonstick.
The pan is 10.5 inches in diameter, which is still good since it is above the average 10-inch size. You will be able to make bigger crepes.
Not only is this pan designated for crepes but for a variety of cooks such as roasted vegetables, fried eggs, sandwiches, and tortillas. A cast-iron pan can work well on a wide range of stovetops including the induction cooktop which aluminum pans fail to work with.
The interesting thing about cast iron is that it takes longer to heat and to lose heat. So heat retention is a priority for this pan which then becomes a great feature when cooking meat.
Cast iron has been used for many years and still counting. It is a typical material that can last for ages to come provided you are properly caring for it.
Beware of how you care for this crepe pan. It comes pre-seasoned to give it a nonstick coating, but it will still be helpful if you season it with vegetable oil before using it.
Avoid cleaning it with unapproved and abrasive cloths. A nylon brush and hot water should suffice to care for the crepe plan.
This will prevent scratches. The dishwasher and soap are discouraged.
The lodge is a world-class company incepted more than a century ago. This assures us that this product carries top-quality.
It is an American company renowned for its quality flagship of kitchenware.
Pros
Durable and good heat-retention
Cast iron material
No harmful coating of hazardous materials
Works well in high temperatures
Cons
It is heavy
Needs additional oil to season it to provide the nonstick property
Final Verdict
While this is the heaviest crepe pan on my list, it is also the most durable.
Cast iron is more durable compared with stainless steel or aluminum
.
It conducts heat well and resists corrosion. Again, there is no special coating of harmful chemicals.
I must say it is a special crepe pan material you would like to invest in despite its high price tag. What I like more is the heat retention even though it takes time to heat up.
That's actually a great feature suitable for searing the meat or fish fillets at high temperatures. Unlike other materials with their nonstick coating, cast iron still performs well under high heat. This is surely the best crepe pan for the money.
Best Crepe Pan – Buyer's Guide
I now delve into the comprehensive buyer's as promised at the start. It is important to make an informed purchase if you want the best crepe pan on the market.
In here I answer frequently asked questions to clarify a few concepts and also discuss the most important features needed to consider before making a purchase.
Contents:
What is a Crepe Pan?
It is a pan specifically designed for the making of crepes, originally from France.
Crepes are thinner to pancakes and as such need special pans with fairly shallow sidewalls and all other properties such as a nonstick coating to enable flipping of the bakes.
How is a Crepe Pan different from a Crepe Maker?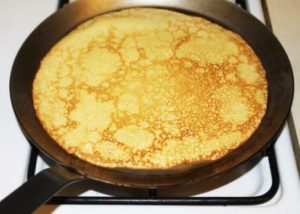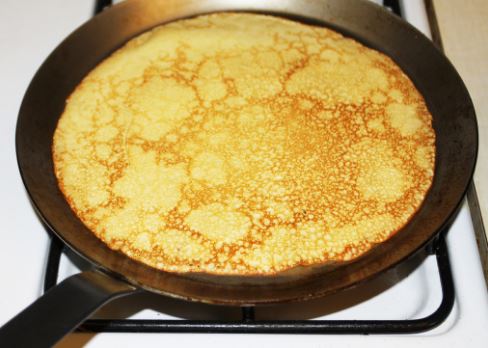 This is often used interchangeably and that is incorrect. A crepe marker is an electronically-operated device used to make bulks of crepes.
It can also make pancakes and tortillas. Crepe makers are often found in commercial kitchens and are generally expensive and not flexible.
A crepe pan, on the other hand, is
cheap and portable to travel with
to any outdoor setting. Crepe pans come in different materials as will be discussed later in this buyer's guide.
What is a Crepe Spreader?
Crepe Spreaders come with the T-shaped wood that is meant to spread the crepe on the pan. It is a 7/8-inch wooden tool that is designed to evenly distribute the crepe on the pan quickly.
Here you can find our review of Crepe Spreaders.
Just a single spread will be enough.
What should be the Size of the Crepe Pan?
How big should a crepe pan be? These crepe pans come in different sizes. You may even find 8-inch or 9-inch, 15-inch etc.
The ideal and the average diameter of the pan is around
10-inch
. Any size below 10-inch is too small unless you just want crepes for fun.
Ideally, I would recommend looking for pans over 10-inches as I did in my product reviews. However, note that a few inches are offset by the edges of the pan.
As thus, a 10-inch pan can fit about 9-inch of a crepe.
Which Features are Important Before Making a Purchase?
Like any other important product, you need to consider the number of features before buying the crepe pan. These include the size, materials, coating and the convenience of handles.
Let's discuss these below:
Size – The size of the crepe pan is important when making a purchase. As aforementioned, the ideal diameter is 10-inch. In general, the sizes range from 8 inches to 12 inches.
An 8-inch pan size is not necessarily a problem but it is too small.
Weight
– You should also consider the weight of the crepe pan when purchasing because this informs you about the
portability
of the pan when filled with crepe or any other food. In my reviews, cast iron is the heaviest with 4.5 pounds.
It's unsurprising because cast iron is heavier than aluminum and stainless steel. If you want a lightweight pan I would recommend considering the aluminum one, but also take into account the pros and cons of choosing aluminum.
Coating
– Most of these crepe pans are coated with a
nonstick material
. This has become the standard and the main competitive feature among brands of crepe pans.
Previously, kitchenware was coated with Teflon until it was revealed that Teflon ingredients such as PFOA and PTFE are harmful to human health. PFOA is known as a carcinogen ingredient.
Nowadays Alternative coatings are employed to eliminate these harmful ingredients.
You need to verify the
nonstick coating
. This coating helps in preventing the crepe from sticking on the surface when flipping it or tilting the pan.
Again, it helps when cleaning the pan because you won't have to use abrasive cloths to remove the tough stains.
Induction-compatible surfaces
– if you have an induction stovetop you should be on the lookout for crepe pans that contain ferromagnetic materials such as
copper and steel
. Aluminum performs badly in that field.
However, aluminum remains the best conductor of heat and it is infused in many pans because of this property. Many stainless steel pans have the
anodized aluminum
at the bottom to enhance heat conduction.
Comfortable handles
with the best handles you will enjoy handling the pans. The handles should have a
comfortable grip and should be long enough
.
Again, they should be well-insulated to protect your hands from burning. Stainless steel handles have proven to be the most effective hence best crepe pans in my reviews come with this feature because steel is a poor conductor of heat.
Pan material
– As I've indicated, these pan come in
different materials
such as aluminum, copper, ceramic, stainless steel, carbon steel, and cast iron. Each material performs in its unique way considering a myriad of factors such as heat conducting and non-stick properties.
Pan Materials
I have discussed these materials below:
1. Aluminum
You could have probably seen many crepe pans made of aluminum and wondered what could be the reason. The fact is that aluminum is not only lightweight but also a good conductor of heat.
It distributes heat evenly to avoid uneven browning of your bake in the pan. Compared with the stainless steel, aluminum shines high with heat distribution.
However, aluminum has its flip side, and this entails its lack of durability. The aluminum surface may be susceptible to warping after a prolonged use.
To overcome this flip side, pan manufacturers have resorted to the enhanced durability of the anodized aluminum. Most of my chosen products have this feature.
It also boosts the nonstick properties of the material.
2. Cast Iron
Perhaps the most preferred material due to its durability despite being the heaviest. Cast iron crepe pans perform well without the nonstick coatings because they are naturally nonstick.
However, to enhance this coating you need to season the pan with vegetable oil before cooking. Patina is often included to improve its nonstick coating.
A cast-iron pan can last you for many ages. Again, it is good at retaining heat.
If you want to use the pan to sear meat, a cast iron crepe pan could be the best option for you. It is also expensive, but that shouldn't be a problem if you are serious about investing in such cookware.
3. Carbon Steel
Carbon steel crepe pans are also as durable as cast irons. Their surfaces are smoother.
However, if the pan is going to be used in cooking acidic foods such as tomato sauces, then this pan is not a good choice because of its vulnerability to reacting with such foods.
As a result of this reaction, it can harm your body and corrode easily. Other than the carbon steel material is a good consideration especially for ceramic and glass cooktops.
4. Stainless Steel
The stainless steel is also popular in crepe pans for its durability and lightweight as well as an aesthetic shining appeal. However, the steel is not a good conductor of heat.
As such, the pans made of steel have a surface made of anodized aluminum or copper to enhance their ability to conduct heat. The stainless steel is resistant to corrosion and scratches.
It also acts well with nonstick coatings. Most of the pans, however, are made of stainless steel because it remains cool through the cooking session so it's easy to handle the pan.
What is the best commercial crepe maker?
1. Waring Commercial WSC160X Heavy-Duty Electric Crepe Maker
2. ALDKitchen Electric Crepe Machine Griddle
3. Krampouz CEBIR4 16 Inch Crepe Maker
4. ALDKitchen Electric Crepe Machine Griddle
5. Denshine Electric Crepe Machine Commercial Crepe Maker
Here you can find our review of all these Commercial Crepe Makers.
Wrap up!
I have come to the end of the review. Thank you for sticking with me as I unfold the best crepe pan on the market.
These pans are important to make the sweetest and delicious crepes for your breakfast. I have handpicked the 5 best crepe pans which I believe would be best suited for enthusiastic cookers like you.
For each product, I have highlighted the pros and cons to help you weigh your purchase decision.
I then wrapped the article with the buyer's guide in which I have discussed the important features to look up to when making a purchase. These include, in a nutshell, the material, the nonstick coating, size, and the weight of the pan.
The price is also worth considering factor but not really indispensable because these pans are generally inexpensive. Among all, cast irons are the expensive options.
Do not confuse the crepe pans with the crepe makers. Check the buyer's guide where I've explained the main difference.
Good luck with purchasing your best crepe pan.
If you feel I have left one of the best crepe pans you know, please leave a comment below.