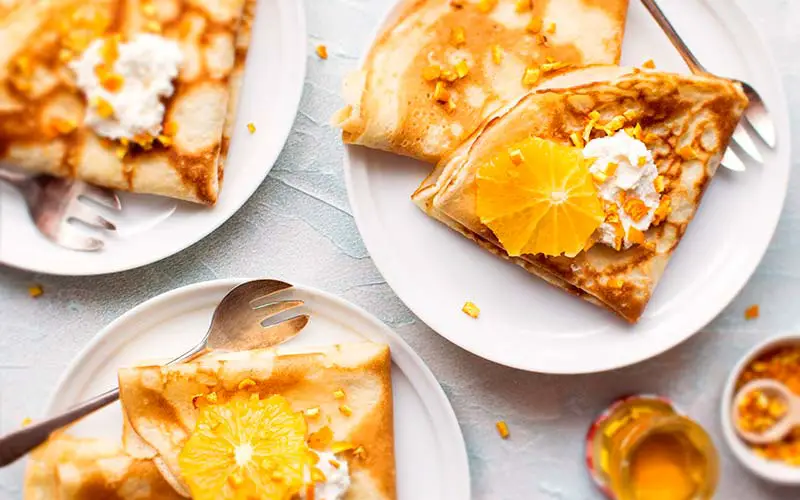 Have you ever noticed how thin crepe can be when you order it in a cafe or restaurant? No matter how many cooks you ask about the secret of the best crepe, everyone will tell you that you need good batter, the best crepe pan and the original crepe spreader.
Choosing a crepe spreader is not an easy thing, because you will find plenty of them on the market. However, this is only one problem, and the other is to gain knowledge of how to use it effectively and make the best crepe you ever eat in your life.
Let's figure out how to choose the best crepe spreader, take care of it and properly prepare the crepe.



It doesn't matter are you a chef or a newbie in the kitchen, everyone will like this set of original crepe spreaders.
It consists of 3 spreaders of different sizes and spatula. Set comes in a good package.
All pieces are made from high-quality beech wood, seasoned with food-grade mineral oil and have a good finish.
If you want to make it smoother, you can use the sandpaper that comes with the kit. In addition, in the future, it will be helpful to keep everything in good condition.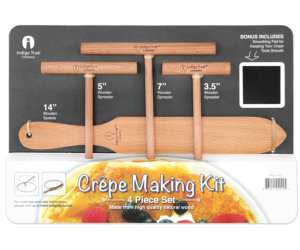 Spreaders have the following dimensions: 3.5", 5", and 7", so it is easy to find one that fits perfectly with your loveliest crepe pan.
The spatula is designed to make turning crepes a breeze, the edges are thin enough to lift pancakes without damage, and the size of 14" allows you to turn even very large crepes.
Pros
Three different sizes work well for all crepe pans
Including recipe and care tips
Work carefully with all pans – no scratches at all
Cons
Finish can be more smooth
Final Verdict
Must have crepe spreaders set. It covers all needs and easy to use by anyone. The quality is excellent, even packaging that is easy to wrap in gift paper and make a great gift.
If you want to show off your culinary skills or prepare the perfect gift for your friends or your mom, Sempre Milano can easily satisfy all these needs.
The set comes in wonderful packaging, which is not only fancy but also practical. A handy storage bag keeps your spreaders in a drawer and does not allow them to mix with other tools or it can be hung to save room space.
Made of beech wood and seasoned with food-grade mineral oil for a smooth and safe finish, this set feels like a masterpiece. Spreaders have two sizes, 5" and 7", which is convenient for small and large pans.
The package includes a card with care instructions and recipes, printed on high-quality paper, so don't worry if it's dirty, just wipe it off.

Pros
Excellent storage bag
Nice card with recipes and care tips
Perfect Finish
Cons
Spatula is bigger than storage bag, so you have to keep it separate or it will come out
Final Verdict
Great crepe spreaders set with perfect finish. The idea of a whole set as a present is good, but implementation is a bit weak, in relation to the different sizes of the bag and spatula.
Adore Amore as the previous manufactures in my review provides a set of spreaders and a spatula made of natural beech. The finish is good enough and the quality of assembling is on a good level too.
All three spreaders have different sizes to fit most, if not all, crepe pans. The main difference from the previous set is the spatula.
The spatula have 14"size and has a rounded end that is wider than we have seen before. At first glance, you don't even indicate this, but when it comes to cooking, you will very soon feel the difference.
This rounded end at the same time has pros and cons. As Cons – for the first time, it seems a bit difficult to lift a crepe. It took some practice and, unfortunately ,waste, but finally, you can easily handle this spatula. As Pros – it is hard to tear a crepe.

Pros
Good quality and finish
Wide spatula
Cons
Poor package – only plastic bag
Final Verdict
Adore Amore – double love, as pointed by the manufacturer, consider only the product that is good enough to be in your kitchen. If you plan to order it for a gift, don't forget to prepare a full package instead of original.
This set consists of only two parts: a crepe spreader for the 6 inches in size and a spatula. We already know the brand – Indigo True who provides us with this set. Quality, materials, in other words, everything is at a very good level.
The only thing that differs it from my first choice is the number of units. Two units instead of four means a lower price for me.
Therefore, if you know what kind of pan you will use to cook crepes, and you plan to make only one-size crepes, you can save a few dollars and add them to buy the best crepe pan.
The size of the spreader that I use is 6 inches, if you need bigger one or smaller, this is not a problem. Indigo True have the same set of 4", 5" or 7" spreaders, so you can choose the one you like best.

Pros
High-quality
Lower Price compare to big sets
Cons
You have to know which size of spreader suits to your crepe pan
Final Verdict
Everything is good in this set, the only question is would you like to save a few dollars and space in the kitchen or not? The other side of this question – do you need more than one spreader? If not, do you know the size of the spreader that fits your crepe pan?
This crepe spreaders set consists of two 4.7-inch spreaders and one 10-inch spatula.
The whole set is packed in a very cozy box, never mind who gets it, this person will be pleasantly surprised.
All parts are made from 100% beech wood and have an excellent finish. The advantage and disadvantage of this kit is the size of the spreaders. 4.7" for spreader is not enough from my point of view, but on the other hand, it will be great for small or medium-sized pans.
You just need to practice a little, and as a result, you will customize crepes to the size you need.
Spatula has rounded end with a little peak, it is wide enough, so it is so easy to lift and turn crepes.

Pros
Excellent packaging
High-quality
Perfect shaped spatula
Cons
Size of spreaders is not common and it will take some time to get used to it
Final Verdict
In general, this set is very good, it works fine, crepes come out thin and tear-free. The packaging is perfect, the kit material is well finished, smooth and without pins.
Best Crepe Spreader – Buyer's Guide
Contents:
How to Use Crepe Spreader?
It is better to see once than read a lot of text. So here's the video for you.
How to Take Care of Your Spreader?
All spreaders and spatulas are 100% natural wood, this is the perfect organic material, but you have to take care of that.
Rule number One – Never put it in the dishwasher.
Do not forget to wash the spreader and spatula after each use, for this you only need to rinse it with water and wipe with a soft cloth.
Rule Number Two – All wooden kitchen utensils need mineral food grade oil.
You don't need to apply oil very often, once in 3-6 month will be ok. Believe me, it will keep your utensils for a long time.
Sometimes wooden utensils become rough, which means two things, there are a bit old and were not seasoned with oil. To solve this problem, you can use sandpaper, and after applying some mineral oil, that will make your utensils smooth again.
If you don't have a mineral oil, don't forget to buy.
Rule number Three – Do not dry kitchen utensils near any heaters.
Follow these basic rules and your wooden utensils will serve for a long time.

What to look for?
No matter what you buy, all the time you are looking for quality, efficiency and usability.
Quality
The main quality problem that can occur with a spreader or spatula is a crack in the wood. If you bought a new one and found a crack, you must change it, at this point it is considered a defective item.
In another case, if you use the dishes once, and some of them are deformed, then you also have contact with the seller, because in most cases this is also a defective item.
To avoid other cases, do not forget to follow the rules of care, and everything will be fine.
Efficiency
Speaking about the effectiveness of the spreader and spatula, I mean the size of the spreader and the shape of the spatula.
For the best crepe, you should use the optimum crepe spreader for your pan. In other words, turning clockwise with a spreader, you must cover the entire effective part of the pan.
As an example, take a look at this Le Creuset Crepe Pan – the spreader that fits together is two times smaller than the pan, as a result, it will cover the entire diameter of the pan while you rotate it 360 degrees.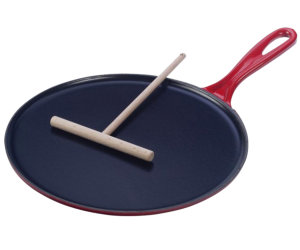 I have already mentioned about different shapes of the spatula, the main thing is that it should be thin, with a good edge to lift the crepe, and wide enough to turn it.
In addition, don't forget about its size, for example, the size of Le Creuset Pan is 13.75 inches, as result you get a crepe of the same size. What size of spatula do you need to turn it easy? Right answer – 14 inches.
When it comes to the shape of a spatula, there may be different opinions, so I will share my thoughts with you, and you must accept or leave them.
There are different shapes, the first one is sharp, and it helps to lift the creep, but makes it easy to break it. The second one has a rounded edge, therefore, it is difficult to damage the crepe, but hard to lift it.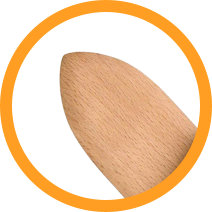 Which one you will prefer?
Usability
When we are talking about usability, we have to mention such things as storage bags and boxes.
One inconspicuous thing but very useful is a hook hole. However, pleasant little things are never superfluous. Therefore, pay attention to this and when choosing from the options "Yes" or "No", it is better to choose "Yes".
How to Cook a Crepe – Best Recipes?
Finally, I checked a lot of recipes and selected the best three for you, which are very easy to repeat and cook. From professionals and street vendors, the recipes are very similar and unique at the same time, enjoy and share the comments you liked the most.
Recipe from Professional
50gramms melted butter
3 Egg yolks
250ml Milk
1 Pinch of salt
1 Deseed vanilla bean
Recipe from the street
1 cup flour
¼ Teaspoon salt
3 Eggs
1 Teaspoon white sugar
2 Cups milk
2 Tablespoon butter, melted
Recipe from bloger
1 cup flour
1 Cup Flour
2 Eggs
½ Teaspoon Salt
1¼ Cups Milk
2 Tablespoon Melted Butter
Final Verdict
Sweet crepes are delicious for dessert at any time of the day, to create a beautiful and tear-free crepe you must have a crepe spreader, this is a small, but very useful kitchen tool that have its own secretes.
For those who want to start cooking the perfect crepes, I would recommend a set of True Indigo, it has different sized spreaders, a useful spatula, excellent quality and all this is ready for gift packaging. It doesn't matter if it is a gift for yourself or someone else.