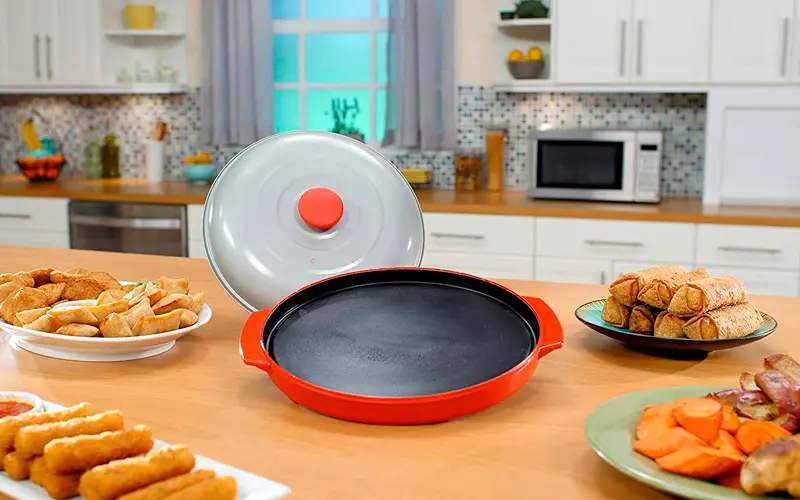 A most common question about cooking or reheating food in a microwave is about how not to ruin the food in a microwave? Have you ever tried to reheat leftovers of your yesterday pizza? If yes, you probably know what soggy and rubbery pizza is.
To solve this problem, you can use different tricks, like a cup of water. Or you can use a special pan to use a microwave most effortlessly without losing in the taste of your food.
In our Best Microwave Crisper Review we are talking about the most efficient ways of reheating and cooking food in a microwave.



This crisper look like a usual pan, but the difference is in its construction and used materials. While an ordinary metal pan will cause sparks and possible fire inside the microwave, this crisper is safe to use.
It has the right size of 12 1/4-inch, which makes it possible to fit in almost all microwaves. And also, this size is excellent to accommodate even frozen pizzas. In the set comes a convenient handle, which I recommend using because the crisper is always going to be hot after use. In addition, it is dishwasher safe, which cuts time for cleaning.
Pros
Fits almost all microwaves
Has handle in the set
Non-stick surface
Dishwasher safe
This one of the most popular crispers on the market. The first reason for that is its commercial on TV. The second reason is the price. Reheatza's crisper comes at a very affordable price, and the set includes not only the crisper but also the lid and silicone mitts.

The main problem with using this crisper is following the instructions, which is always annoying for me. If you try to use it without reading the direction, you will think that this thing doesn't work, as I did. In another way, you will fall in love with it, cause it really works. Just be careful with the cooking time, you can quickly burn your food.
The only thing which I didn't like about it is that it's not a dishwasher safe and the design.
Pros
Affordable price
Comes with a lid and mitts
Fits almost all microwaves

Crisper from Waveware is something average between the previous two crisper. It is the same simple as one from Whirlpool and the same cheap as one from Reheatza.
The set consists of a crisper and a lid. Both work pretty well; the cover is what was so needed in the set from Whirlpool. Some users noted few sparks from the lid during the first use, but through our test, everything was fine. At least, the manufacturer reports that this crisper with a cover designed to work in a microwave.

This crisper is dishwasher safe, or it could be cleaned up nicely with just the swipe of a paper towel. Notice that it is going to be very hot, so you need to use silicone mitts or something else to take it out safely.
Pros
Low price
Comes with a lid
Dishwasher safe
Cons
No handle or mitts in the set

Microhearth has a very popular line of pans for microwaves. It is a bit another level, then just a crisper. Microwave pans from this manufacturer can grill, saute, steam, poach, bake, and stir-fry. Notice that this pan could be used only in a microwave.
I recommend making a value purchase and buying the biggest set. This set consists of two pans with lids. The first pan is an everyday pan, as you can get from the name, you will use it almost every day.

It has a round shape that allows you to use it almost with all microwaves. This pan can be used separately or with the inserts. Generally, different variations of use let you cook plenty of different dishes just with one pan.
The second pan is a grill pan. It has grill grides inside, which makes it easy to cook bacon or any meat. Both pans have lids with safety knobs, so you don't need to use any heat resistant gloves or mitts. Just pay attention, that this set is not dishwasher safe. You have it to wash by hand, or it is also possible to clean it with a paper towel.
Pros
Versatile set of pans for microwave
Ceramic non-stick coating
Lids with safety handle included
This is not the same crisper, as we reviewed above. This pan is closer to a microwave tray, which is usually used for cooking bacon and meat in a microwave. But it is also working well with frozen pizza and reheating some food in a microwave.
This pan is made from BPA and melamine free plastic, which means that it is incredibly light and simple in use. Another benefit of plastic – it doesn't heat as much as metal does. The only cons that plastic is more fragile than metal. So please, be accurate and don't drop it on the floor.

In general, this pan is extremely handy. For a very affordable price, you are getting a 2-sided dish. Yes, you can use two sides to cook food. It is durable and can long for many years.
Pros
Pretty good price
Easy to use
Made in the USA
Best Microwave Crisper – FAQ
What is a microwave crisper?
A microwave crisper is a pan that allows you to keep food crisp and tasty after cooking or reheating it in a microwave. Usually, it is made from plastic or non-stick coated metal, which does not cause sparks. Metal alloy concentrates microwaves and heats to high temperatures. Better to use one with a lid. Pay attention that a microwave crisper gets very hot.
What to cook in a microwave crisper?
You can reheat any food that is allowed to cook in a microwave. Also, it is suitable to cook frozen food, like chicken fries. Also, it works great for frozen pizza.
How do you use a microwave crisper?
Before the first use, wash in hot, soapy water and dry the crisper.
Pre-heat empty microwave crisper dish before each use. To pre-heat it, place the crisper and the lid in the microwave for 2-3 minutes in an 800-900w power. Add food to the crisper and close the lid. Put the crisper back to the microwave and cook the necessary time. We advise you to turn food halfway through the cooking time.
For a better result, do not cook more than 300-350g of food at one time.
How do you keep food crispy in the microwave?
The most effortless way is to use a microwave crisper. In case you can't do it for any reason, you can follow any of the next recommendations. The first way is to place the parchment paper underneath your food. In case you are reheating pizza or roll, you can wrap it with parchment paper.
The second way which works great for reheating pizza is placing the cup of water into the microwave with your pizza. Put pizza and a glass of water for 30 seconds to microwave on medium power, and you will be surprised by the result.
Does the Reheatza microwave crisper work?
Yes, it works. The main rule to use it and to get the proper result is to read and follow the instructions. As with every metal crisper, Reheatza has to be pre-heated, don't forget to do it.
Is a stainless steel microwave safe?
No — no metal utensils cookware or dishes with metal coating allowed to be used in a microwave. In case you run the microwave with the metal inside, at least you will see sparks, sometimes flames. Finally, it can cause damage to your microwave and be the reason for an open fire.
Metal microwave crispers have a unique construction, so they are safe to use in a microwave. We recommend checking that the dishes which you are planning to use in a microwave have corresponding marking at the bottom.
Best Microwave Crisper – Final Verdict
Well, first of all, I would say that I can't imagine how I was living before without a microwave crisper. It actually makes using a microwave much more effortless and time-saving.
According to the model we reviewed, I will choose the crisper from Whirlpool. It is straightforward and looks to be durable. And of course the most important – it works great. In case you don't like to cook on the range and the microwave is your most favorite kitchen appliance, then I would recommend Microhearth Pan Set. It is very versatile and also works excellent.
Did you like our Best Microwave Crisper review? Please, comment! And don't forget to check our latest Best Buy Air Fryer review.