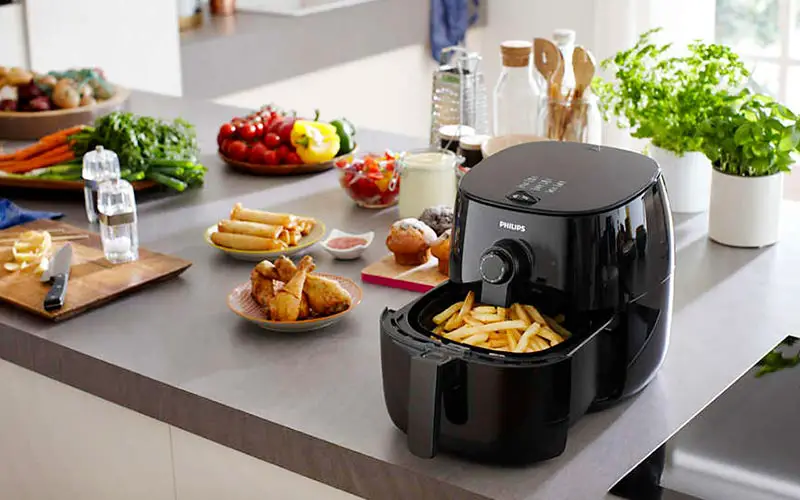 Since back then in 2010 when Philips introduced their very first air fryer, they went ahead and dominated the industry and market selling millions of units to happy customers.
The air fryer produces the taste of deep-fried food which is almost 75% fat-free. You get to enjoy evenly cooked crispy yet juicy foods with just a little amount of healthy fats.
Most air fryers work just like an oven, using a combination of electric heat and powerful fans to cook food. Philips brand of air fryer comes installed with several great features and functions.
Rating by design, cooking performance, ease of use, functionality, and durability we can review some of the Philips air fryer brands.
Read on to explore different models of Philips air fryer brands and compare the functionality of each model. You can also scroll deeper to read more helpful information on buyers' guide to help you determine the right kind of air fryer for your health needs.


Philips XL HD9240/34 is a full featured packed, do-it -all-digital air fryer. A great versatile kitchen appliance made with at most quality from Philips manufacturers. With this air fryer you can, fry, bake, grill and roast different types of your favorite meals.
Great Cooking Performance – Philips Airfryer XL Review
The rapid air technology is one of the top unique highlights of this Philips Air Fryer. With a power of 1750 watts, it ensures speed and precision in hot air circulation inside the unit, so that you get evenly cooked food.
The heated air from above directs powerful heat to quickly give your meal a combination of crunchiness on the outside, with golden-brown deliciousness.
The patented Starfish Technology of this Philips air fryer works to ensure all food is subjected to constant heat circulation. You are able to cook your favorite meals with just a tablespoon of oil. Regardless of the food capacity, this model doesn't require shaking or turning of the food. It'll still bring a consistent result which is something uncommon with most other brands of air fryers.
What makes this model great is its simple to use digital controls. You simply adjust the temperature up to 360 degrees depending on the type of food to be fried.
In addition, it allows you to set the exact temperature for particular dishes using the smart pre-set button. Therefore, you consistently get a properly cooked meal.
A 60 minutes timer comes in handy to remind you when the food is ready. A large capacity of 1.75lbs is a great amount to produce one bag of air-fried fries for at most two people.
Usability & Accessories – Philips Airfryer XL Review
Since this unit has digital controls, it's easy to operate without any required skills. You can choose either to set your temperature or pre-set settings. It uses just a little bit of oil which is considerably less messy to clean up afterward.
Fortunately for this unit, the total cook time was quite quick; you can enjoy your meal without wasting time. Plus, the removable non-stick drawer and the food basket are both dishwashers safe for the fast and easy cleaning process.
In terms of accessories, you'll get a free recipe book and app containing more than 150 recipes.
Pros
Non-stick dishwasher safe accessories
Good capacity
60 minutes timer
User-friendly digital controls
Evenly cooking results
Solid construction
Cons
Reported increments and decrease in already set temperature and time
Final Verdict – Philips Airfryer XL Review
Generally, the Philips XL HD9240/34 is a great versatile unit that we would highly recommend to anyone looking for an air fryer. Simply designed to offer reliable and evenly cooked meals using user-friendly controls. One of the best options in our Philips Airfryer Review

Air is the new oil! When looking for the most ideal analog air fryer for your home, this Philips XXL Air fryer is your best fit. It features a fantastic twin Turbostar technology that allows you to make mouth-watering fried delicacies while using 90% less fat.
Design – Philips Airfryer XXL Review
This HD9630/98 Avance air fryer is designed with you and your family in mind. In fact, it is considered to be the larger unit in the Philips collection. The unit has a 3lb/4qt holding capacity.
This XXL size air fryer can effortlessly handle up to two bags of fries or even a whole chicken for the whole family. This makes it possible to make up to six portions worth of meals for a variety of possibilities.
Cooking Performance – Philips Airfryer XXL Review
The Philips Avance XXL unit has been designed to use hot air to fry foods. It incorporates a unique Twin TurboStar innovation that generates a rapid airflow similar to a tornado.
This amazing technology exposes all food contents in the unit to constant circulating heat that allows you to prepare your favorite meals with less oil. No turning is required even with piled-up food as the air fryer ensures you get the best results as food is evenly fried.
With this air fryer, you will not be limited to only frying your food. The unit can handle grilling, baking, and roasting comfortably. It gives you the option of making quick healthy snacks and full family meals.
It also arrives with a free recipe book that contains more than 30 cooking ideas and tips from professional chefs. Also, you can download the Philips app for more tips, tutorials, and guidelines for cooking.
This unit has a powerful motor and heater of 1725 watts. The combination of these two with the twin Turbostar technology allows the extraction and capture of excess fats from your food.
It removes excess fats captured and stored in the fat reducer located at the bottom of the unit. You can simply pour out the excess oils once you are done.
Usability – Philips Airfryer XXL Review
Using this unit is quick and effortless. There is no pre-heating required, and food cooks fast and hastily. This means that your dinner will be ready and set for the table in a quick and easy manner.
Also, the unit comes with a 60 minutes timer and 175 – 400°F temperature dial that provides you with full control all through your cooking process.
When making this air fryer, Philips ensured it was one of the easiest to use. The product comes with removable parts that save time and warrant hassle-free clean up. It incorporates a QuickClean basket that has a removable non-stick coated mesh.
Both the basket and removable drawer are dishwasher safe thus easy to clean. Besides, this air fryer greatly impacts you and your home by eliminating the odor of traditional deep-frying.
Pros
Easily cleanable
Solid construction
Dishwasher safe basket and non-stick drawer
Gets hot and ready instantly
12 months warrant
Great capacity to size ratio
Cons
The small dimple on the dial can be hard to see and challenging to set it to the required temperature
Final Verdict – Philips Airfryer XXL Review
Overall, this XXL air fryer is an excellent selection for anyone looking for a quality analog unit. It does a great job considering its price range.

Are you someone wanting a new, healthier you? The Philips HD9621/99 viva TurboStar air fryer should be your next kitchen appliance purchase. It's a small sized and frustration free analog kitchen air fryer that utilizes air to fry your meals in a healthier manner with up to 75% fewer fats.
Design – Philips Viva Airfryer Review
This next-generation viva Turbostar air fryer by Philips has a fantastic design and thoughtful size that can fit effortlessly on your kitchen countertop. It has a small personalized footprint of 1.8lb capacity that can offer up to four servings.
It also has an EasyClick handle that can be removed without too much hassle to make switching between accessories, storage, and cleaning easy.
Cooking Performance – Philips Viva Airfryer Review
The unit incorporates a new and exclusive patented TurboStar Technology. This Turbostar innovation continuously swirls hot air throughout the cooking basket. As hot air circulates the cooking basket, the food contents inside are exposed to the constant swirling heat that allows you to fry meals with up to 75% less fat.
Besides the hot airflow that circulates in the unit to fry your food, this unit also has a powerful direct heat that comes from above to make your food crispy and faster. This allows you to achieve delicious, golden-brown results and drain excess oils and fats.
This innovation requires you to add a tablespoon of oil or even less so as to make food that is crispy and tender on the outside and inside respectively.
Another great feature is that no pre-heating is needed with this Philips Viva air fryer and you can even cook food on aluminum foil. The unit is a great time saver as it heats rapidly and is ready for cooking in a nutshell.
You can actually put it on and start cooking right away. You will get results of evenly fried meals, and no turning is required even if the food is piled up in the unit.
It's worth noting that this air fryer unit is not limited to only frying food. It gives you more options whenever you're entertaining guests or feeding family as you can use it for frying, roasting, grilling, and baking.
Usability – Philips Viva Airfryer Review
The Philips kitchen viva air fryer comes inclusive of a quick clean basket and a removable non-stick mesh. These two items make the unit super easy and fast to clean.
Clean up is estimated to take less than 90 seconds. Besides, both the food holding basket and the removable non-stick coated drawer are dishwasher safe and can also be cleaned manually.
It's also easy to use this unit as it arrives with inspiring recipes. The unit comes with more than 200 recipes that can be found on the Air fryer recipe app. This is a unique Bundle from Amazon that contains the Philips Air fryer cookbook containing 150 recipes for desserts, breakfast, lunch, and dinner.
Pros
Easy storage, cleanability, and switch accessories
Simple analog controls
Dishwasher safe parts
Uses up to 75% fewer oils and fats
Perfect crispy results
Free cookbook containing 150 recipes
Cons
You may be required to buy accessories separately
Final Verdict – Philips Viva Airfryer Review
With this Philips Viva TurboStar air fryer, your cooking can never be boring. Above all, it is an excellent choice for anyone with a small family. In addition, this air fryer is on the lower price level in our Philips Airfryer Review

When it comes to frying food at home, we all love the crispy flavor but dislike the excess fats and oils! Therefore, when looking for a perfect air fryer for your home cooking and frying requirements, the Philips Kitchen HD9650/96 is your best choice. It's a digital XXL air fryer that makes fried delicacies with up to 90% fewer fats.
Design and Build – Philips Turbo Star Airfryer Review
This digital air fryer by Philips has been designed and structured with you and your family in mind. It is the largest digital air fryer in the Philips collection.
It has a 3lb/4qt capacity that allows you to fry delicious foods that can serve your whole family every day or entertain visitors during an occasion. This large size and capacity can fit two bags of fries or a whole chicken perfectly.
Aside from that, it allows you to prepare up to six portions worth of meals for a wide range of possibilities. It also has five one-touch programs on its digital display to provide more cooking options.
Great Cooking Performance – Philips Turbo Star Airfryer Review
The unit incorporates a unique Twin TurboStar innovation that involves hot swirling air to fry your meals. This exclusive technology is designed to generate a rapid airflow to ensure all the food components in the unit are exposed to the circulating heat.
The hot circulating air is what allows your meals to be cooked evenly and you don't have to keep turning your food even if it's piled up. This unique twin Turbostar technology makes it possible to fry foods with just a tablespoon or less of oil.
Besides just frying, you can also bake, roast and grill using this Philips digital twin Turbostar air fryer. It allows you to make a variety of meals ranging from rapid, healthy snacks to whole family meals.
The unit also arrives inclusive of a free recipe book. The recipe book contains more than 30 delicious tips and easy to follow guidelines from executive chefs. You can also make use of the Philips air fryer app for more cooking ideas, tutorials, and recipes.
You can use this unit to make healthy meals. The unit combines its 1725 watts powerful motor and heater with the exclusive Twin TurboStar innovation to drain excess fats from foods and capture it in the fat reducer located at the bottom of the unit. The collected extra oils can then be poured from the fat reducer upon completing your cooking.
Usability – Philips Turbo Star Airfryer Review
This Philips Air fryer XXL unit doesn't need any preheating. It gets hot hastily and cooks' food faster. This makes it quick and effortless to get dinner ready and set for dining. A 60-minute cooking timer and a 175 – 400°F temperature dial provide you with full authority and control throughout your cooking procedure. This unit will save you and your home from the odor of traditional deep-frying.
When it comes to cleaning the unit, no time is wasted as it contains parts that are removable for a hassle-free clean-up. All removable parts are dishwasher safe.
Pros
Powerful heater and motor
Easy to clean
Easy to use
Removable dishwasher safe parts
Heats up quickly
Great design
Cons
It might be smoky when cooking fatty foods
Final Verdict – Philips Turbo Star Airfryer Review
This is an excellent choice for those with huge families and an even higher technical affinity.

In today's modern world, there're many health issues associated with unhealthy eating. One of the best ways to avoid fatty foods is by using an air fryer as it uses less oil. Therefore, when looking for a perfect personal size digital home cooking air fryer, the New Philips HD9238/22 might be your best deal.
Design – Philips Avance XL Digital Airfryer Review
The New Philips Viva Digital plus multi-cooker has been built with an amazing design that easily fits on most kitchen countertops. Its overall outlook is appealing and goes well with most kitchen appliances.
It has a bright digital display screen with touch-activated buttons for easy operations of the timer and temperature.
This unit includes an air fryer, handle, drawer pan assembly, basket lid, wire fry basket, and owner's manual. It has a cooking basket with a holding capacity of 1.8 pounds. However, it's important to note that this product doesn't include a double rack, grill pan, and baking pan.
Cooking Performance – Philips Avance XL Digital Airfryer Review
When it comes to cooking functionality, this unit involves the standout innovation of the regular air fryer. It incorporates a Rapid air circulation technology responsible for heating up food contents and reducing fats and oils in your meals.
To achieve the perfect results, the units allow you to set temperatures for a different variety of foods. However, this unit lack pre-set settings which are always considered as a bonus.
It fries your food leaving it with crunchiness and sweet fried smelling which is surprisingly great. There's an optional lid that you can use to keep cooked food contained.
Easy to Clean & Use – Philips Avance XL Digital Airfryer Review
Being a digital unit, most people find it user-friendly and effective. The touch controls are clear and very intuitive, you just need to set the desired temperature and timer, and you're good to go.
Cleaning is quite smooth because all of its parts are removable and dishwasher safe. You don't need to worry about removing stick food on the wire because of the non-stick coating.
Pros
It's a breeze to clean
Easy to clean
Digital display screen
Timer and temperature settings
High-quality
Cons
It's a bit small for large size family meals
Final Verdict – Philips Avance XL Digital Airfryer Review
For high-quality units and results Philips HD9621/99 viva TurboStar is the best. Despite its small size, this unit features different features that might help you eat healthier food. We'll definitely recommend it.
Philips Airfryer Review – Buyer's Guide
Contents:
What to Look for When Purchasing an Air Fryer
Like any other kitchen appliance, you need to be vigilant before you purchase an air fryer to ensure that you get the right model that suits your needs. Despite the fact that all air fryer uses a small amount of oil, there're certain features that set each model apart from another.
Let's take a look at some of the key factors to consider before you get your air fryer.
Cooking Ability
It is so hard to judge cooking performance because it has a lot of variables. The rate of performance depends on how much and what type of food to be cooked, the temperature and time settings, and how much oil you're willing to add.
A critical component of an air fryer's cooking potential is the ability to cook food evenly, basically that food should be crispy on the outside while the inside becomes juicy and tender.
For this purpose, we have two different types of models. Manual rotation being the most used design by major brands. By manual, it means you are required to shake or rotate those fries to make sure there is an even distribution of heat.
However, to remove the need for manual rotation of the food, you can get yourself an air fryer that features a paddle to do it for you automatically.
Besides these two features, some models like Philips use specific design integrated with fan construction that promotes even distribution of airflow. Lastly, you still need to follow the recipe book for better results.
Functionality
All air fryer install with different features that are achieved through the use of the control panel they include:
Timer
A timer can be set either by analog knob or digital controls. Since food in an air fryer cooks fast, most of them have timers. A timer can be set up to 60 minutes depending on the model. For those who want an air fryer that they will use to cook food for a more extended period of time be sure to get one that can go up to 60 minutes.
Temperature
Mostly air fryer has a temperature range between 200 °F – 400 °F which is a pretty good range to prepare a variety of dishes. Just like a timer, the temperature can be set either digitally or using an analog display.
Even though using analog dials is straightforward, they are prone to errors. Analog dials tend to have accuracy issues which results in increments temperature jumps or unnecessary turning off. Whereas the digital controls are more accurate with additional features such as pre-set cooking programs. However, they're not 100% perfect. Some models feature both analog and a digital display which is really advantageous.
Other Features
Other air fryers include more controls for particular features such as pause mode, warm mode, and preheating. At the end of the day, it depends on what functionalities you desire in your air fryer.
Capacity
Air fryers come in different sizes which usually associates with capacity. Yet, you might realize that capacity doesn't increase essentially as size does. Therefore, a smaller air fryer is more efficient. Less food capacity means even airflow plus smaller models are portable.
In addition to size, building design influence any model capacity. The pull-out drawer is easy to use but tend to have less capacity.
However, the flip-top kind is usually designed to cater for large capacity, although the downside is that it can be cumbersome to operate and not as safe as the other.
Just like Philips, most brands express their air fryer capacity in terms of small, larger, and extra-large.
Ease of Use
You want to get an appliance that is easy to use and maintain. An easy to use air fryer makes your work simpler, safer and ensures excellent cooking performance. Get an air fryer that has user-friendly controls that are intuitive and easy to understand.
Cleaning of the equipment should be a breeze and simple. It also an added advantage if the components are removable and can be washed with a dishwasher.
Adding and removing a dish should be an easy task. For larger appliances, this part can be more cumbersome since they have more heavy lids or baskets.
The controls are supposed to work as expected. Some useful features like a timer should perform its duty?
It's also important to note safety measures installed in each air fryer to avoid accidental burns. In terms of smoke, choose the one that is designed to keep the smoke from building up.
Durability
This is a delicate factor to judge since in order to ascertain the durability of a product you need to have used it regularly for some months. Despite the fact that they are made of durable heat-safe metal, the peeling of outside paint or the non-stick coating might happen.
Another issue of concern is on the mesh basket or drawer which tends to be flimsy because of the high temperature. Or even unexplained smoke build-up or the functions simply stop working.
The best way to ensure a long-lasting appliance make sure you get a model that has quality assurance. Plus, follow the instructions when operating and cleaning the unit to prevent these problems.
In case of any damages, most models guarantee at least a one-year warranty for replacement.
FREQUENTLY ASKED QUESTIONS – Philips Airfryer Review
How does an air fryer work?
An air fryer is an electrical appliance that cooks food using a fan that circulates hot- air heating up your food. They are built with rapid air technology to prepare any type of food that you would otherwise deep fry.
They tend to cook faster since it circulates air rather than producing concentrated heat like in the ovens. On the right side, is that you don't have to preheat the air fryer before cooking.
Once you set the desired temperature for a particular type of food, you can expect your food to have a level of crispiness and more tenderness that can be achieved in deep frying, only with less oil content.
Are air fryers really healthier or Do you need oil?
The answer is yes and no. Oil is not a necessary requirement in an air fryer, but it adds taste and makes the food crisper. The manufacturers recommend no more than a tablespoon of oil for each 2.2lbs of food.
The oil is applied by either brushing or spraying on the food before you put it into the fryer. Unlike deep frying, this is more of a healthier option with almost 75% fat-free.
Both result in healthier food than usual fried or deep-fried food.
What can and can't you cook in an air fryer?
Relatively, a variety of foods can be cooked using an air fryer from frozen foods to raw meat, vegetables, baked foods, and nuts. Most air fryers are versatile, they can bake, grill, roast and definitely fry food. Cooking time and temperature vary depending on the food.
Despite their versatile usage, they're still a lot of different snack and food that shouldn't be cooked on an air fryer. They include, wet-batter coated dishes since the hot circulating air can push away the wet batter. Other foods like pasta, rice, and steamed vegetables is a no-zone for an air fryer.

Conclusion – Philips Airfryer Review
To sum it up, it is now clear to you that when it comes to purchasing an air fryer, your primary needs, functionality, durability, cooking performance, ease of use and capacity should be at the forefront.
If you are about versatility and functionality, then Philips XL HD9240/34 is the way to go. The Philips Kitchen HD9650/96 and Philips HD9621/99 viva TurboStar are for those looking for a unit with large capacity.
If you want something that is of great quality with a bit more high-tech with excellent results, we recommend Philips HD9621/99 viva TurboStar. The Philips HD9621/99 viva air fryer offers you the best value analog air fryer in the market. However, whatever you decide to choose, ensure you get a unit that is right for you and at the right price.