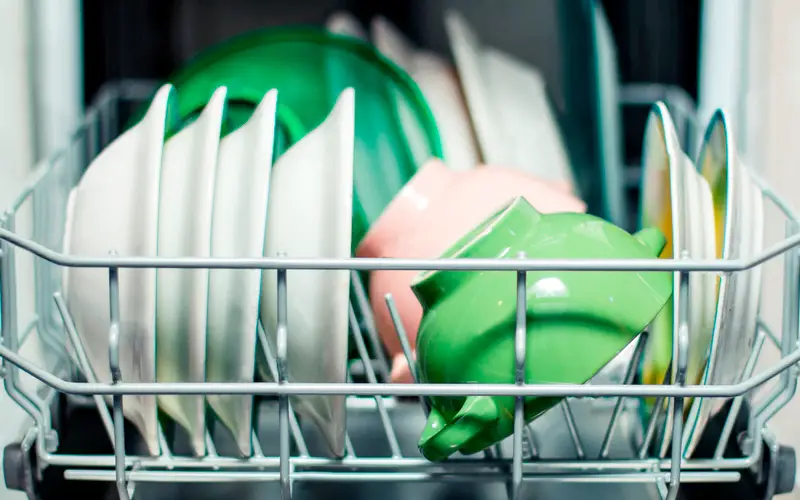 While none of us really want to start doing the dishes after dinner, it is a necessary evil for those who cannot afford the space for a built-in dishwasher. However, you can solve the problem by buying the best countertop dishwasher instead.
However, even the best countertop dishwasher might be movable, but do not have enough space to load all the dishes.
The countertop dishwasher is a combination of portability along with ample internal capacity. If you are looking for one, here are 10 reviews that will help you to find the best countertop dishwasher.
Best Countertop Dishwasher of 2020
hOmeLabs Compact The Best Seller Countertop Dishwasher
If you desire to improve the washing dishes experience with the help of a dishwasher that won't consume a lot of kitchen space and money, then probably hOmeLabs HME010033N might work for you. This unit is designed with excellent cleaning performance and convenience perfect to fit on a countertop.
Design and Build Quality
hOmeLabs HME010033N designed this unit with small households in mind. The model displays a simple yet sleek and stylish contemporary design to match any kitchen design. The controls are design with an LED display and light indicators with no knobs, handles, and dials.
The most striking feature is the stainless-steel interior which is highly durable and can withstand the forces of tear and wear for a longer period of time.
Despite being a compact dishwasher, the interior is built to accommodate up to 6 places setting capacity suitable size for small kitchen needs.
Cleaning Performance
This compact unit has six wash cycle options meant to perform different functions. Thereby, you can choose to clean dishes either, normal, heavy, glass, rinse, ECO and speed. With all these options even the toughest sticky food stains can be removed.
The rinse aid dispenser ensures streak-free shinning dishes and with minimal damage to your countertop dishwasher.
You don't have to connect this model with a hot water inlet since the unit heats water on its own. The stainless-steel interior provides quality, functionality, and effectiveness that ensure the dishes get clean with hygiene and consistent results for a long time.
Ease of Use
The LED display offers a user-friendly experience. The controls are easy to use; you just need to set up how you want your dishes cleaned.
In addition, light indicators are so convenient, just load the utensils on the dish basket and rack and wait for cleaning the ending indicator light. However, if you want to clean the dishes later, simply press the delay button.
hOmeLabs HME010033N comes with a male or female thread for easy connection. No tools are necessary for this unit, includes an inlet and drain hose with a faucet adapter that fits with round-shaped outlets. If your faucet is round-shaped with removable aerators, then water connection is pretty simple.
For reliable usability, a water failure indicator will alert you. During the cleaning process, its noise level is about 55dB not so much indeed. For better results each time, utilize the rinse aids designed for automatic devices.
Pros
Highly durable stainless-steel interior
ISeveral cleanings option
User-friendly control panel
Streak-free utensils cleaning
Easy installation
Cons
Too intense light indicator can be annoying
Final Verdict
Overall judging this unit from installation, quality, functionality, and convenience, it's safe to say hOmeLabs HME010033N can be your ideal portable countertop dishwasher. Compared to other units in the market, this is a far a better option.
Ideal for small families or individuals living in RV, boat, and apartments with inadequate space for big kitchen appliances. Well designed to provide the reliability that a full-size dishwasher would. It's a great quiet machine that needs your attention.
Design and Build Quality
DELLA countertop dishwasher measuring 19″ length, 21.5″ Width, and 17″ height compact design to fit your small kitchen countertop space.
It is finished either in black, silver, or white that allows you to select the perfect color based on your preference.
The interior is built with stainless steel featured are a long-lasting rack, cup shelf, and silverware basket that ensure smooth and easy loading and unloading of freshly cleaned utensils.
Despite its compact size, this unit just like hOmeLabs HME010033N come with six setting capacity that can fit standard dinner plates. Plus, it can accommodate enough dishes in one wash.
Cleaning Performance
Just like most models, this unit has six programmed wash cycles which include heavy, normal, glass, ECO, speed, and rinse that the user can set according to washing needs.
A combination with a powerful water spray jet that can operate at temperature up to 148 degrees Fahrenheit, it delivers excellent water force that kills bacteria and microbes on the dishes.
The stainless-steel interior is convenient in rendering and dependable washing with consistent results. The previously mentioned rinse aid dispenser comes in handy to ensure your utensils are not only clean but also without any marks.
Ease of Use
DELLA countertop dishwasher is very user-friendly. Using the electronic control panel that allows easy set up of the required washing mode. Also, the light indicator alerts you about undergoing a wash cycle making your work easier.
Furthermore, not only is the installation easy but it equally provides an option to delay start your dishwasher by 2, 4, and 8 hours. Therefore, making it one of the best dishwashers in regards to user-friendliness.
If you are a constant traveler no need to worry since this unit comes with a quick-connect kit that connects it with the kitchen faucet and then drains water down into the kitchen sink.
Pros
Heater and powerful water spray jet wash dishes thoroughly
Easy to fill detergent and rinse aid dispenser
Compact with large capacity
CSA certified
Cons
The quick-connection kit is only meant for temporary connection
Final Verdict
DELLA countertop dishwasher is definitely designed with young parents' requirement in mind. This unit does all. It kills bacteria making it suitable to wash kids' utensils. Higley convenient dishwasher with winning advantage of power and versatility in one compact design.

Are you someone looking for a dishwasher that is compact and enough to fit in your cramped kitchen? The Black+Decker BDC6W is a compact dishwasher with a sleek design and a pleasing user interface. It is energy star-certified, highly portable and offers you plenty of features.
Design and Build Quality
This Black+Decker unit has been constructed with you in mind. Aesthetically, it is very easy for the eyes. It contains a sleek design that's accompanied by attractive colors mainly black and white.
Its dimensions are 21.7 by 21.5 by 17.2 inches with a height of 17.2 inches. It comes with an easy loading feature. It has a dish rack and removable utensil basket that slides in and out of the unit effortlessly thus creating room for simple loading and unloading of dirty and clean dishes respectively.
The name compact does not mean that the interior washing space is small. In fact, this unit has spacious interiors of six place setting capacity. This means that it can accommodate dinner plates of up to ten.
Its interiors are made of high-quality stainless steel meaning it's highly durable and can last for long. Besides, the unit has a compact design that makes it easy to fit in most kitchen cabinets or on tabletops.
Cleaning Performance
Another fantastic feature about this product is its wash cycle and dry cycle. It comes with seven different wash programs. These programs include normal, intensive, 90 minutes, glass, Eco, soak, and rapid.
As you have already seen, this unit is both energy and water-efficient. It has a high-efficiency rating and is an Energy Star-certified product. This helps you to minimize your water and electricity bills whereas saving the environment.
Ease of Use
As this dishwasher is very compact, it fits in most kitchen cabinets effortlessly. Besides, it is simple and quick to connect to your kitchen taps. It also consumes less water in comparison to other portable dishwashers. You can use this dishwasher on a regular basis.
The unit is user-friendly as it contains a digital display control panel that is easy to use has precise setup and adjustments. Aside, its water hook-up, drain connections and other connections are simple and quick to set up. This ensures the machine starts within no time.
Pros
Small size is easy to fit under most kitchen cabinet
High-efficiency rating
Free tech support from Amazon
Child lock keeps the unit safe from unknowing interruptions
Cons
Required to pre-rinse the dishes in the sink before actually washing them in the unit
Final Verdict
The BLACK+DECKER BCD6W Compact Dishwasher is one of a kind. It is quiet enough as the only noise made is the low humming sound. It works fast and is a good deal for small kitchens and those with regular dishwashing routine.
Magic Chef The Best Countertop Dishwasher
On the other hand, if you do insist on purchasing a dishwasher equipped with a dryer, you can consider this one from Magic Chef.
This is usually the more viable option for those who do not have the time or the space to dry the dishes separately.
It certainly was a nice change for me, from dealing with soggy cook-wear even after spending money on a dishwasher.
Moreover, if you have the tendency to over-fill your dishwasher, this could come in handy with its anti-flood mechanism. Further, unlike the Costway dishwasher, it even comes with a70′ inlet and a 47′ outlet water hose.
You can add the detergent to the dispenser and relax without having to measure out the exact amount. However, unlike the Costway dishwasher, this one comes with 5 wash cycles.
That could be an inconvenience for those who like their options to not be so limited.
But it does have 6 place settings and even separate cutlery and cup compartments for ease of use. Moreover, I found that it does accommodate larger plate sizes as well.
Pros
Drying mechanism
Inlet and outlet water hoses
Anti-flood mechanism
Separate cutlery and cup compartments
Cons
5 wash cycles instead of the usual 6
Final Verdict
To be honest, I preferred this dishwasher over the other two. While I can deal with limited options when it comes to washing cycles, I would rather prefer my dishwasher
with a dryer and water inlet and outlet
.
This makes for a lower expense when you are fixing it up. You can even use the setup kit it comes with for easy installation.
SPT Best Price Countertop Dishwasher
For countertop dishwashers, it is not enough for it to be just portable in size.
It needs to be adaptable with every faucet you have at your place as well.
I liked how I could set up the dishwasher, wherever it was convenient for me.
This SPT dishwasher comes with a faucet adapter that can fit the standard size male and female connectors for aerator openings. However, do make sure that your faucet is equipped with a removable aerator.
Apart from that, unlike the Magic Chef dishwasher, it comes with 6 wash cycles including a soaking cycle. You can heat the water up to 148 F for better washing.
The interior is built with stainless steel which increases its durability. It comes with detergent and rinses agent dispensers which make it easy to use as well.
The dish rack and silverware basket have 6 place setting capacity. It even has a spray arm that cleans the dirty dishes easier. However, the space inside is very limiting.
This is great if you have a few dishes to deal with but not equipped for larger crockery.
Pros
6 wash cycles
Includes faucet adapter
Durable interior
Includes spray arm
Final Verdict
For a
cheaper
range, this is one of the best dishwashers that you can have. However, it lacks the space required for some of the larger mugs or pots that you might use.
It is perfect as a countertop dishwasher though and because we are talking about a smaller or the requirements for a single user, it could be a good one, to begin with.
SPT SD-9241 Best Compact Countertop Dishwasher
The SPT portable is probably my favorite out of all the dishwashers on this list.
It is equipped with all the best features that a countertop dishwasher can provide and perhaps more on top.
It comes with an eight place setting which is far better, than the regular six-place setting, which most dishwashers come with.
Moreover, the maximum water temperature of this one can be extended up to
154 F
. A higher water temperature ensures that any remaining oil or grease is washed off the plates without any residue.
You can pre-set the operation within 24 hours as well.
Moreover, this dishwasher saves you the trouble of remembering when to add in more rinse aid as it comes with a reminder that does the job for you.
The faucet adapter will fit any standard sized aerator, both male and female. You can adjust the rack to accommodate large pots or pans if you want to wash them instead of your plates as well.
This makes it more versatile and almost on par with inbuilt dishwashers.
A couple of my friends have complained that their model started leaking after a while. However, this is not something that I faced and it depends on the individual item.
Apart from that, I have encountered no such obvious flaws with this one.
Pros
Eight place settings
Water temperature up to 154 F
Can be pre-set till 24 hours
Rinse aid reminder
Final Verdict
Like I mentioned, this dishwasher is one of the best on this list. It is probably
one of the best
in the market as well in this range.
The larger area allows us to truly use it instead of an inbuilt dishwasher. Moreover, the higher water temperature cleans the dishes better which adds up to its reliability as a dishwasher.
Unlike the previous dishwashers, the SPT SD offers seven wash cycles.
This includes the usual ones like heavy, light, soak, rinse, normal, and speed, along with a 'mini-party' option that you can access.
Moreover, it has a water supply warning which warns you when you have the faucet turned off.
It happens often that I switch on the dishwasher but forget to turn the water supply on. That could be dangerous at some level.
While the cavity is pretty large, it has just six space settings. While not as abundant as the SPT Portable with its eight space settings, this is still enough for smaller families.
The LED displays are easy to read as well. In fact, the entire mechanism is very easy to operate, along with its automatic rinse aid and detergent dispenser.
It even has a rinse aid refill reminder. However, while the dishwasher does have pre-set options, it
does not extend up to 24 hours
like the others.
You can pre-set for two, four or eight hours at the most.
Pros
7 wash cycles
Water-supply warning
Rinse aid refill warning
Six place settings
Cons
Limited pre-setting options
Final Verdict
For
smaller requirements
like one or two members or even an office, this is pretty convenient. However, if you have larger needs, you might consider getting something with more capacity.
Nevertheless, within its range, this is one of the only products that offer a 7 wash cycle option.
Danby Best to Buy Dishwasher
If you want a dishwasher that caters to your economic needs, you can try out this one from Danby.
This is a good product for those who are buying their first dishwasher and doesn't want something too complicated to handle.
It has electronic controls along with an LED display which makes it easy to read and operate the machine.
Moreover, it has
six wash cycles
including Intensive and Economy and more. I would stick to the economy as I bought this with its low water and energy requirements in mind.
This comes with a connect feature as well so that you can connect it to any faucet that is convenient. The capacity includes six place settings with a silverware basket.
However, I have noticed that for those plates that are too greasy, this does not produce satisfying results. It is good for taking off a few crumbs stuck to the plates but not more.
Pros
Six place settings
Silverware basket
Six wash cycles
Low energy and water consumption
Cons
Does not clean greasy utensils that well
Final Verdict
This is perfect as an
entry-level product
. But if you are looking for something more exclusive, there are products far better at this range as well.
However, apart from that, for some light washing, there should be no complaints either.
SPT SD-2213 Best Heavy-Duty Dishwasher
The SPT 2213 is actually a previous model of the SPT 2224 that I reviewed earlier.
There is not much difference between the two except for the fact that the SPT 2213 has six wash cycles instead of seven.
I could put in some of the larger plates with a 10.5'diameter during washing. It has a decent capacity with six place settings.
The controls are
easy to operate
and include indicator lights as well.
Further, I also loved the water supply warning and the rinse aid warning that this dishwasher provides. It helps when you often forget to refill the rinse aid or switch on the tap in the midst of everything.
However, the reason I replaced this dishwasher was that it leaked a lot. That could be a major problem in spite of all the benefits that it offers.
Pros
Six wash cycles
Six place settings
Water supply warning
Rinse aid warning
Final Verdict
Compared to some of the
budget
products in the market, this is a far better option. However, that still doesn't make it the best of the lot.
It provides the usual settings and cycle options. However, it becomes a little hard to deal with the leaking on a regular basis.
Ivation Best Budget Dishwasher
While searching for the best countertop dishwasher, I came across this one from Ivation.
This is one of the few dishwashers which really get the job done.
It is equipped with a spray arm that helps to better clean the dishes.
It has a
spacious interior
for countertop dishwashers and can accommodate up to 6 space settings. Moreover, it has a durable stainless steel interior which will last the test of time.
You also get six wash cycles along with automatic dispensers for detergent and rinse agent.
The control panel is built with touch buttons which are very easy to operate. It comes in a compact design which you can store even in a small dorm kitchen.
You can just tuck it between compartments, or true to its name, place it on the counter.
However, the water temperature it can withstand is a bit low when compared to the other products. It can tolerate only up to 148 F which, while being sufficient for some users, could still be better.
Pros
Spray Arm
6 space settings
6 wash cycles
Easy to operate control panel
Cons
Low water temperature toleration
Final Verdict
While this is a
relatively good
dishwasher, I couldn't end my search here. However, if you do not have too many heavy requirements and are just buying or a couple of washes in a week, this should be good enough.
It is good for offices and dorms, more than for families who cook regularly.
Costway Best Countertop Dishwasher of 2018
While we might not have the space required for installing a permanent dishwasher, we do not want to compromise on the outcome either.
The Costway dishwasher equips you with all the facilities that you would get out of an installed one.
You can use the six standard place settings at home for a nuclear family or even at the office. There are six wash cycles that you can choose from according to the occasion.
I loved the
stainless steel interior
that is set with a durable and foldable rack, a cup shelf and a silverware basket. All of it helps you to easily and quickly load your utensils.
In fact, the installation process with its quick-connect assembly is one of the easiest that I have ever encountered when it comes to dishwashers.
It has semi-integrated electric controls and the pushbuttons and rotary cycles are very convenient and easy to figure out. You can pre-set the dishwasher up to 24 hours.
However, you can also extend it by one-hour increments.
However, I was a bit disappointed to discover that it does not have pre-installed water output and input connections. It was easy to connect it with separately bought ones though.
However, if you want something that is pre-equipped, you might want to look further.
Pros
Six place settings
Foldable rack
Preset Timer
Easy to use push buttons and rotary cycle
Cons
Does not have water input and output connections
Final Verdict
It is a good choice for college going singles who have recently purchased or rented a new apartment. It
saves time
and you won't even be aware that your dishwasher is on, due to the quiet operation.
However, you have to get the water connections separately and install them and that takes a bit of extra work. If you are willing to extend that effort, this is a great option at a reasonable price.
Antogoo Best Table Top Dishwasher
While a dishwasher is great for saving you some effort, it is not that safe when you have little children running around.
The Antogoo comes with a child lock benefit that you can use to keep your baby safe, without having to constantly be on the alert.
Moreover, it is equipped to deal with some of the larger pots and pans, having a 10.5′ diameter capacity. I could wash almost all my cooking utensils with this, and not just the cutlery, cups, and plates.
However, I found the best features of this dishwasher to be how little power it consumes and its water-saving benefits. It can
work on as 61% less power
than what other dishwashers would require.
The inbuilt spray arm works to provide a thorough cleaning of your dirty utensils. You can load the cups and the cutlery in separate compartments for better organization.
I loved the internal water heater that can heat the water up to 149 F. That saved me from pre-heating the water.
There is a built-in agent dispenser as well. You can further connect the hose to any water faucet that is convenient for you as well.
However, the dishwasher lacks a dryer on the downside. You either have to wipe the dishes or airdry them later on.
While it is not that much of an effort, it is a bit disappointing.
Pros
Child lock system
Saves water and energy
Internal water heating
Standard faucet connection
Final Verdict
For a reasonable budget, I am willing to accept a dishwasher without a dryer. Considering the fact that it is
highly portable
and can fit in any compartment, it is easy to position wherever you like.
Moreover, the faucet fitting is standard which is convenient for most people as well.
Koldfront Best Affordable Countertop Dishwasher
Quite similar to the EdgeStar dishwasher, the Koldfront dishwasher is a good alternative, if you are looking for one.
It requires significantly less energy compared to most other dishwashers.
I could set it up at an input voltage of 120 V, which was easy enough to find.
With my smaller space requirements, I could also neatly arrange the silverware and the cups in
separate compartments
along with the dishes. For the plates, it can easily fit the ones as large as 10.5′ in diameter.
Like the SPT dishwasher, you get the quick connect adapter that can fit with most of the faucets as well. Moreover, the five feet hose makes it easy to set it up at a place of your convenience.
It also has an internal water heater that can heat the water up to 149 F, which is, however, slightly higher than the water heating capacity of the SPT. You can also expect a spot-free wash with its agent dispenser.
The best part is, apart from a few manufacturing defects, which are individual to the buyer, it is not much you can complain about. While it might not be the best that a dishwasher can offer, it certainly fits the need for small-range users.
Pros
Consumes less energy
5 feet hose
Faucet adapter
Internal water heater
Cons
A couple of individual manufacturing defects
Final Verdict
This is a very convenient choice for those, who want most of the requirements of a
larger dishwasher at a convenient price
. If you want a dishwasher for larger plates, this might not be enough.
But for average sized ones, it has a decent fit. The faucet adapter is an added perk that makes it easier to connect at your will.
Best Countertop Dishwasher – Buyer's Guide
Contents:
What is a Countertop Dishwasher?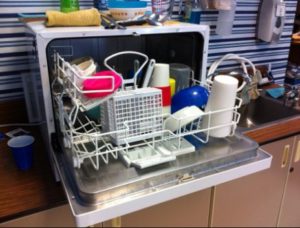 As its name suggests, a countertop dishwasher is a dishwasher that can be placed on top of a counter.
This is a portable dishwasher, as opposed to a built-in one which you have to fix in one position with a permanent and dedicated water inlet.
Countertop dishwashers, on the other hand, can be fitted to any faucet with the help of a connecting adapter. The drain hose positioned behind it acts as an outlet for the dirty water.
Moreover, a countertop dishwasher consumes less energy than a built-in one.
It provides some of the same benefits as a larger dishwasher. But it has a
lower capacity
in most cases.
This is, often a preferable option for smaller family units or singles.
How Do You Install Countertops?
Countertops are as easy to install as they are to use:
To install a countertop dishwasher, firstly, choose a position. It is preferable if it is near to a sink so that you can drain the water easily. Moreover, space should be large enough to fit the dishwasher.
Then, you need to

remove the screws and level

the dishwasher with the countertop.
Most dishwashers come with a connect. You need to remove the aerator of your faucet and put the one with the dishwasher on instead. You can take this off when you need to use the tap separately.
Now, connect the water input hose to the faucet on one end and to the dishwasher on the other. Position the drainage hose into the sink as well.
Make sure that everything is secured to prevent any leaks.

Test out

the water hoses before you begin to load the dishes.
How Do You Measure a Countertop To Replace?
To measure and replace countertops:
Draw the design of your countertop on a piece of paper.

Measure

the dimensions of the countertop. If there is any window openings or islands, measure them and jot it down accordingly on the drawing.
If you are making laminate countertops, cut the line using a masking tape. For a straight cut, use a rip fence.
According to the line, cut the laminate.

Sand down

the edges after the cut has been made.
How Do You Work a Portable Dishwasher?
Unlike a fixed dishwasher, you can roll in a portable one and use it wherever it is convenient:
Make sure that there is a water input, a drainage facility and an electric input nearby.
Many dishwashers do not have an inbuilt water heater. Even if it does, make sure that you add only hot water to the machine.
Next,

attach the inlet hose

to the faucet. You might need to use a faucet adapter to secure it properly. Place the drainage hose in the sink as well.
You can start by placing the plates or any vertical utensils along with the cutlery on the lower rack. You can place your cups and bowls on the upper rack.
Add the detergent to the dispenser before you close the door.

Turn on

the dishwasher and add the water as well.
When you are done, unplug the machine and put it away.
How Do You Hook Up a Portable Dishwasher?
It just takes a couple of minutes to hook in a portable dishwasher. Here is what you need to do:
Take off

the aerator from the faucet. Replace it with the connection adapter from your dishwasher. Check if the water is hot enough and then turn the faucet off.
Take out the input and output hoses. Attach the input to the faucet by pushing the collar down and then sliding it on the adaptor before you let the collar ring go. Make sure that the collar is secure enough. Turn the faucet on.
Plug the dishwasher in.

Load it

, add the detergent and choose your wash cycle.
Can You Convert a Portable Dishwasher To a Built-In?
You can, of course, buy a portable dishwasher and then turn it into a built-in one. You just have to tweak the plumbing a little. Here is what you need to do:
Buy a

dishwasher installation kit

from the same company from which you got your dishwasher.
You will notice that your dishwasher comes with a drainage hose. You need to remove the pre-installed on and replace it with the new one you will find with the kit.
Connect this drain line with the dishwasher fitting that you have on your garbage disposal. In case you don't have a garbage unit, you need to get a separate dishwasher drain adapter in the sink.

Take off

the inlet hose and use the one in the kit as well. Connect it to a shutoff valve on the hot water supply below the sink.
Next, you must have noticed the wheels on your portable dishwasher. Permanent ones do not require them at all. So you can remove the wheels from the dishwasher.
How Do You Install an Adaptor for a Portable Dishwasher?
You will find that your dishwasher comes with a faucet adaptor that you need to replace the aerator on your faucet with. Here is how you can do that:
Remove the aerator or strainer from the faucet.

Look for external strings

on the faucet. If the faucet does have external strings, you don't need to take out the adapter ring. Next, secure the aerator assembly onto the faucet.
If the faucet has internal threads instead, set the gasket and the ring before securing it. Then install the assembly.
If you do not find any thread, you can get an adapter from any plumber.

Place

the dishwasher where you want it to be. From the receptacle, take out the coupler and press the thumb release. Connect the coupler with the adapter and release the pressure on the thumb release. This will set the coupler in position.
When you open the faucet, there should not be any leaks.
How Do You Clean Your Dishwasher?
While your dishwasher cleans your plates, you need to keep your dishwasher clean as well:
Take out the filter

. Clean it and then soak it in hot water and soap for about ten minutes before you put it back in.
Next, take a cup of vinegar and pour it into the bottom of the dishwasher. Make sure that your dishwasher is empty before then. Set a heavy clean cycle.
Then, pour a cup of baking soda into the bottom of the dishwasher. Let it for one night and in the morning, you can set an empty cycle.
If there is any dirt left,

scrub them off

with a toothbrush.
The Bottom Line
There are several brands which offer different features. Before you buy, make a note of your requirements and the size of your utensils If I have to boil it down to just one product for you, I'd most definitely go with Magic Chef.
However, if you are looking for an alternative, specifically designed to accommodate large utensils, Antogoo' would be your safest bet. After all, like everything else, the best countertop dishwasher for you depends on your needs.
Don't forget to check our latest review – Keurig vs Nespresso.