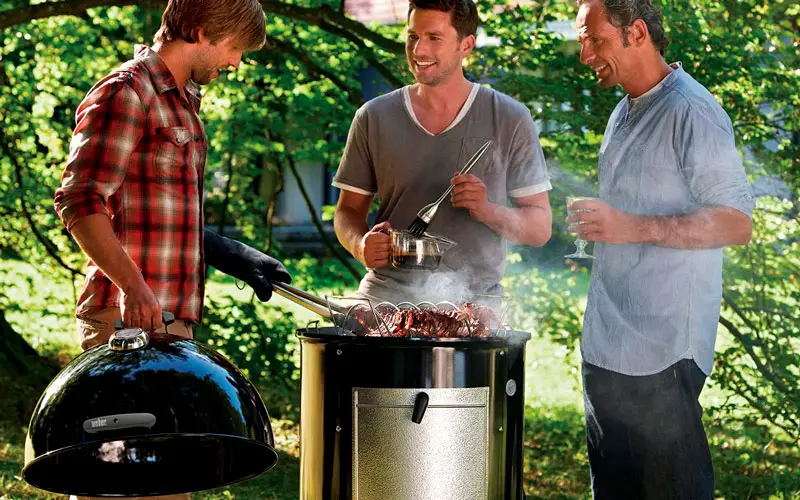 There are a lot of ways to smoke, but lovers of real BBQ will definitely agree that the best type of smoking is done when a pure charcoal smoker is used.
This type of cooking requires a lot of skills, time, and minor talent, but the result is worth the difficulty. Well, beginners need not get worried about the difficulty of this type of smoker because newer and modern models are made to be perfected.
The charcoal smoker depending on the two types listed below comes with plenty of ups and downs, which is why I have decided to review and contrast between them to make it easy for you to choose the one that fits your specifications. A professionally built charcoal smoker makes it easy to maintain a required temperature over a long period of time without much hassle.
I have prepared a short Pit Barrel Cooker vs Weber Smokey Mountain guide to finding out the difference and which grill is better?

Grilling and smoking have been part of the earliest ways to prepare food. When human beings created fire and ways in which it can be used 1.5 million years ago, the origination of cooking food followed. Cooking your food kills bacteria, and it became one of the integral parts of our daily meal prolonging its life.
Cooking your food with wood or coal may look outdated or ancient, but with this method of food preparation, the juice and the flavors of the meal comes out very natural. This is where the Pit barrel Co. The cooker comes in. With this review, we will explain what to expect when you select this charcoal cooker.
Description and Design
The concept of this cooker is simple yet creative; it moves away from the typical type of grilling. With the standard kind of grilling, the meat is horizontally placed on the rack.
It is then cooked for some time then flipped over to let the fire cook the other side. According to cooking experts, this type of cooking tends to leave the meat moistureless and uneven.
This charcoal cooker has a vertical cooking method by hanging the meat on a hook while using conventional heat to cook from down to the top. The moisture produced from this meat drips down the pan, which in turn creates a cloud of smoke that would surround the food giving it that tasty aroma.
This brand also considered added a grate, which is equally another versatile way to cook too. Grate provided by the smoker makes it possible for you to cook fish, pizza, shellfish, or ribs wrapped in foil.

The Pit Barrel Cooker does not require any special type of tools to install. Mount the provided barrel on the three-legged barrel stand and fill the charcoal basket with wood/charcoal or pellets for smoking. Fix the hanging hooks on the drilled holes and arrange them as preferred. With the Pit Barrel Cooker, you can roast ribs for about 8 to 12 people at a stretch.
This cooker is durable because it is made with strong materials. With over 30-gallons in size, this porcelain steel drum is constructed from 18-gauge steel. For rust-proofing and more strength, the barrel is coated with porcelain enamel.
The Pit Barrel Cooker weighs over 57 pounds, and it comes with its complete accessories, it is almost assembled in the package.
The outside part of the steel barrel can reach unbearable high temperatures, but it can as well circulate heat of up to 275 – 310 degrees Fahrenheit inside.
It features a vent under the barrel, and it can be adjusted to set the temperatures higher or lower. The only downside to this product is that lump charcoal and wood cannot be added once you have started cooking. It is best to take note of the recipe, and the time it takes to prepare the particular type of food you are cooking in case you need a longer smoking time.
What will you find in the box?
One unit of the charcoal basket
One unit of 30-gallon steel drum/lid
Two pieces of steel hanging rods
One unit of the standard grill grate
Eight pieces of stainless steel hooks
One pack beef & game bit rub
One pack all-purpose pit rub
One unit three-point barrel stand
One piece wooden hook remover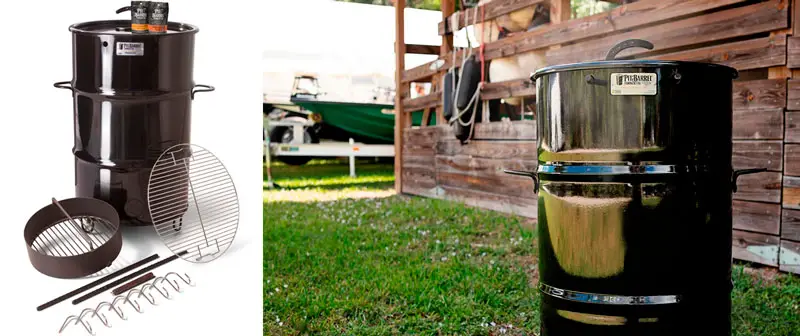 Pros
Two-way method of cooking – grilling or hanging
Conventional cooking style
Cover hook on the other side of the barrel
Hanging method won't mix the meat juices unlike two level grates
Coated with porcelain enamel which can make it durable for a long period of time
It has a large charcoal basket
You can prepare meat for 8 – 12 people at a time
It can be easily operated
Cons
You cannot add wood or coal once cooking has been started
The barrel can get uncomfortably hot outside during cooking
Final Verdict – Pit Barrel Cooker vs Weber Smokey Mountain
The method used in the Pit Barrel Cooker is not really a technological breakthrough but an improved way of vertical smoking. This product seems to be durable, aiming to last for a lifetime with its porcelain coated steel body.
It always fulfills its promise to provide its users with juicy and tender poultry, meat, or seafood with its conventional style of cooking.
It is perfect for both beginners and experts who feel the need to do some outdoor cooking. The only negative fact about this product is the inability to add charcoal to its chamber. This can be prevented by adding the required amount of charcoal needed to finish up your recipe.
Spending time with family and friends over barbecue and grills behind your house or in the backyard is an excellent opportunity to bond with them. You can also show off your grilling skills in the process.
There are so many ways one can enjoy this get-together, but nothing says better than meat that is smoked low and slow. This is the main reason charcoal cookers were made – to bring out the flavors when you smoke fish, meat, and poultry.
Once the Weber Smokey Mountain Cooker is purchased, you can achieve tasty ribs or a restaurant-quality steak easily. The products fit right in your outdoor space with most of its customers satisfied with the quality and function.
Description and Design
The Weber Smokey Mountain Cooker is one of the best charcoal cookers to be ever made. It is made up of durable materials with a wide range of attachments which will make smoking and grilling fun for the whole clique. This 18" charcoal cooker has a grilling capacity that serves up to 6 people at a go, or even more, for example, our reader Marcus shared with us his experience:
I have cooked pork butt on my WSM 18 for way more than 6 people.
Markus also recommended to us to mention WSM 22, which is a monster and can cook a ton of food. Both models are made up of three parts. The first is the top part, which is the lid. The outer section of the lid has a factory-produced thermometer that accurately shows the temperature inside the smoker.
At the top of the lid is a glass-reinforced nylon handle that can resist a bearable amount of heat. The lid of the Weber Smokey Mountain also comes with an adjustable vent which can help regulate temperature.
The middle section is the main attraction. This is where the magic of cooking happens. This part features a plated steel cooking top and lower grate which is perfect for thicker and larger food portions.
At the bottom, there is a porcelain-enameled water pan that holds all the grease from the food. This helps feed indirect heat to the food while maintaining the heat level throughout the lower and upper grades.

A factory thermometer provided already at the top of the lid, but at the middle part of the product, there is a silicone temperature grommet which provides a slot in which oven thermometer can be inserted and used. The double accuracy in temperature ensures that its users can enjoy a tasty smokey roast.
The last part of the charcoal cooker is located at the bottom, which is lined with a fire ring to help keep the wood and coal in the chamber.
There is 3 adjustable damper system that lets its users regulate the temperature inside the cooker. Keeping the damper system open generates a greater amount of heat while closing the damper system can help regulate or reduce the heat.
Closing all available vents on this product will also block oxygen from entering its chambers, thereby extinguishing the fire inside.
Under the Weber Smokey Mountain Cooker are rust-resistant metal legs and a rust-resistant aluminum fuel door. This product requires just about 40 minutes to set up, and you will only need an adjustable wrench to install the legs and a flat-tip screwdriver. The Weber Smokey Mountain Cooker offers three types of warranty to back up their product:
Cooker – Warranty for 10 years, no burn through, no rust through
Plastic components – warranty for 5 years, excluding discoloration or fading
All remaining parts – 2 years
What will you find in the box?
Lid cover with glass reinforced nylon handle and built-in thermometer
Plated steel bottom and top grates
Body (barrel)
Ceramic coated oil pan
Charcoal chamber with three vents for temperature control
Grill cover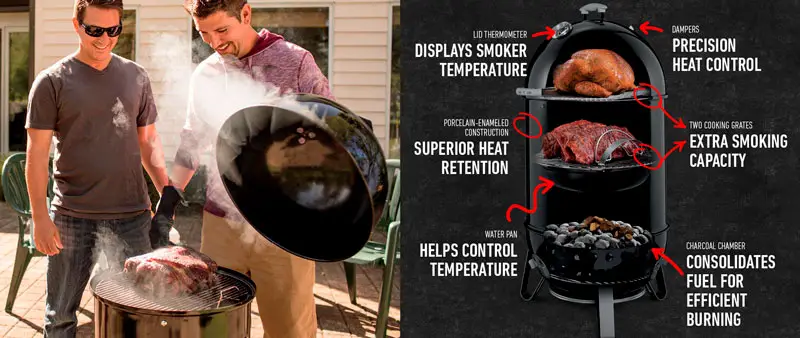 Pros
Two-way temperature monitoring for accuracy
Seals tightly
Made with durable raw materials
Two-level smoking
Adjustable dampers
Large charcoal chamber
It can be easily operated
Cons
It can prepare meals for up to 6 people only
Vents and dampers can reach high unbearable temperatures
Final Verdict – Pit Barrel Cooker vs Weber Smokey Mountain
The Weber Smokey Mountain Cooker no doubt is on top the list of grillers/smoker in the market today. It is durable for up to a decade ranging from 10 – 15 years without replacing its parts as long as it is used carefully and properly.
When you start cooking with the Weber Smokey Mountain Cooker, you need not open the lid because the temperature can be checked on the lid and through the temperature grommet.
This smoker is totally sealed so tightly that no smoke comes out of the chamber, trapping the juice and flavors on the meat. The Weber Smokey Mountain Cooker is genuinely a unique smoker that can bump the brand to the top.

Pit Barrel Cooker vs Weber Smokey Mountain – Buyer's Guide
Contents:
Owning a good charcoal smoking is necessary, especially if you are one who frequents cookouts. There is no point uncomfortably using a poorly designed product.
Fortunately, the demand for charcoal smokers these days is massive, and this makes it possible for you to find the right products at an affordable price.
If you have no idea where to start from, you can start by reading on what to pay attention to.
What to Look for When Picking the Best Smoker
Choosing between the Pit Barrel Cooker and the Weber Smokey Mountain cooker depends mostly on your budget and your style of cooking, but these two factors alone won't give you what you want. That's why I have prepared a short paragraph on these factors you have to pay attention to when you are choosing.
Size
Remember that size has a significant impact on the type of smoker you want to use. With that said, it is essential to know that the bigger model consumes more fuel, and it is heavier, making it less mobile. An average dedicated smoker tends to take up more space. However, there are different models that are available in various sizes.
Budget
If you are on a budget, the best solution is to go for the cheaper one. Both are excellent charcoal smoker pots. If you care more about smoking, I would advise you to save up cash and go for the more sophisticated cooker.
Cooking Style
This is one of the major features which is used when choosing a charcoal cooker. The Pit Barrel Cooker was designed with smoking meat with hooks in mind, and the Weber Smokey Mountain cooker was constructed with smoking on grates in mind.
However, both charcoal smoker can work well in both cases, but it is advised to pay full attention to the main reason they were built for. Depending on the differences, one may be great for low and slow cooking, whereas the latter fast and hot cooking.
Convenience
If you desire comfort while smoking, you have to choose the model which was designed originally to smoke, and nothing else added. Due to this reason, the construction of such a smoker makes it possible for effective airflow and temperature control. Most cookers are built to perfection in other to achieve and maintain a certain temperature for a very long time without much energy.
Cooking Area
If you are planning on smoking a lot of meat and whole chickens, you are going to need something bigger than the old traditional grilling stand. Choose a professionally built smoker to get the best when it comes to the size of the cooking area.
Quality and Warranty
If you can't test run a smoker that seems to get your attention, the best indicator for quality can be found in the manufacturer's warranty. If you are buying equipment and products from the internet, it is important to check the manufacturer's warranty, and its return policy is included. It is also important to check people's reviews, especially people who have purchased and tested this product.
Versatility and gadgets
When buying a charcoal cooker, it is essential to expect something more than a regular one. Every model comes with its different specifications and devices to make cooking easier. Most models do have external gadgets that can be found online too.
How do you clean a Weber Smokey Mountain?
Cleaning a Weber Smokey Mountain professionally makes the product durable while keeping it fresh and clean for the next time it can be used. Here are some ways in which you can clean a Weber Smokey Mountain:
Open the lid and take both the lower and upper grates out
Remove the oil pan. Carefully bring out the oil pan to avoid spillage. Transfer the grease in a ziplock bag
Using a brush, scoop out the sides of the smoker's inner chamber. This process will remove all the splatters and gunk. This scrap will be pushed down the charcoal chamber
Clean the chamber by dismantling the middle part of the cooker. Remove the fire ring then scrape out the remaining ashes in the barrel. Gather and dispose of the ashes with a bag
Using the grill cleaner, clean out the grates. The grill cleaner is usually sold in a spray form, and the correct way to make use of this product is by placing the grates inside a disposable bag then spray the grill cleaning to do its work. Let this soak before washing it off with a sturdy sponge
Tips and tricks when using a charcoal Cooker
Always close the lid of your cooker to ensure that there is no airflow trapping the heat inside and regulating the temperature too. If it is left opened or out of place, you would have temperature controls
When cooking is taking place, it is essential to relax and let the smoker do its job while occasionally checking it. If hooks are not secured in the right way, the meat can fall inside the charcoal chamber. If the meat is huge, consider using two hooks
In winter, you need to leave small gaps on the lip to build up more airflow. This, in turn, builds up more heat for cooking
If the temperature becomes too low, you can slide the lid off a bit or open the vents to build up more airflow
Hang the meat a few inches above the coal. If there are really long slabs of meat, consider cutting them in half
Replace the covers slightly to avoid fire shooting out of the machine
Pit Barrel Cooker vs Weber Smokey Mountain Cooker
From the two reviews above, you might have figured out that the Pit Barrel Cooker is being compared with the Weber Smokey Mountain Cooker within the charcoal cooking category. We will help you see the differences between each cooker to help you select the one you are taking home.
Both the Pit Barrel Cooker and the Weber Smokey Mountain cooker measure 18.5 inches in diameter. Both cookers are made barrel type smokers. The Pit Barrel Cooker cover is flat while the Weber Smokey Mountain cooker's lid is shaped like a dome.
The pit cooker has only 1 vent while the Weber cooker has 4 vents in which one of which is located at the top, and it remains open. Both cookers have the same size of the charcoal chamber; the only difference when it comes to this part is that the Weber cooker has a removable ring.
The most notable difference between these two cookers is just the cooking method. The Weber cooker uses the bottom and top grates for smoking; however, the other cooker uses a hanging-type of cooker. The standard set comes with a grate that is included in the box to smoke fish, pizza, shellfish, and veggies.
The Weber company might have recognized that vertical smoking is a" thing" at one point. They manufactured sets of hanging rods that fit at the grate slots, but it seems that the company might have called it off.
Fortunately, both products have their weaknesses and strength too. For you to decide which product to buy, the decision will depend mostly on the type of meals that would be prepared by the cooker. If you ask me, I would say these two products would be a great tool to perfect your cooking ability and enjoy outdoor events with your family.
Conclusion
Both the Pit Barrel Cooker and the Weber Smokey Mountain cooker give you the power to make tender smoked steaks in your backyard.
As far as I can say, the Weber Smokey Mountain cooker is perfect for people who enjoy control while the choice for people to hang their meat from the Pit Barrel while effectively being cooked makes it better for individuals who don't want to watch over their food regularly.
Again, although both options have slightly different functions, they can prepare typically every type of barbecue so do not be afraid of getting one and regretting buying the other. Get the one on sale or the one which can be easily reached in your area.