Lump charcoal delivers a distinct, smoky flavor that propane gas can never match. And the taste is apparent in everything you grill with it.
Finding the best lump charcoal can be a difficult task. You need to know that the fuel you use for cooking heavily impacts the taste of the food.
When it comes to cooking, I am always inclined to the old-school methods. I am writing this review to help you buy the best lump charcoal within your budget. I will also talk about things to look forward to while selecting the charcoal and more.
Find here the right lump charcoal that suits your grilling needs:
Best Lump Charcoal
Fogo Premium Best All-purpose Charcoal
Natural hardwood charcoal, otherwise known as charwood has always been the chef's favorite (actually my favorite). These charcoals are usually made from oak and sometimes hickory as well.
You must have heard the name of Fogo if you're into barbecuing at all. If you're a seasoned cook, a mere look at the charcoal pieces inside the bag will give you a hint of its quality. They use Central American Hardwood for the manufacturing. It has all the ideal characteristics of good quality charcoal.
It produces tremendous heat in a short span which makes smoking big chunks of meat easier. The reason is the big size of the charcoal pieces. I just needed 5 pieces of charcoal to light the fire. I was more pleased to see it not creating flying sparks. Honestly, I'm hell scared of flying sparks. So, the overall cooking experience was certainly the best I'd ever had.
As I already said before, the quality of the charcoal will heavily influence the taste of the dishes. Being made from selected hardwood trimmings and no other ingredient, it leaves a fine smoky flavor in the grilled edibles.
I have been using Big Green Egg for years. I have tried slow cooking for halibut, Salmon, and Tilapia fillet directly on the hot charcoal and they turned out to be perfectly seared. I was afraid of overcooking them since the charcoal burns super hot.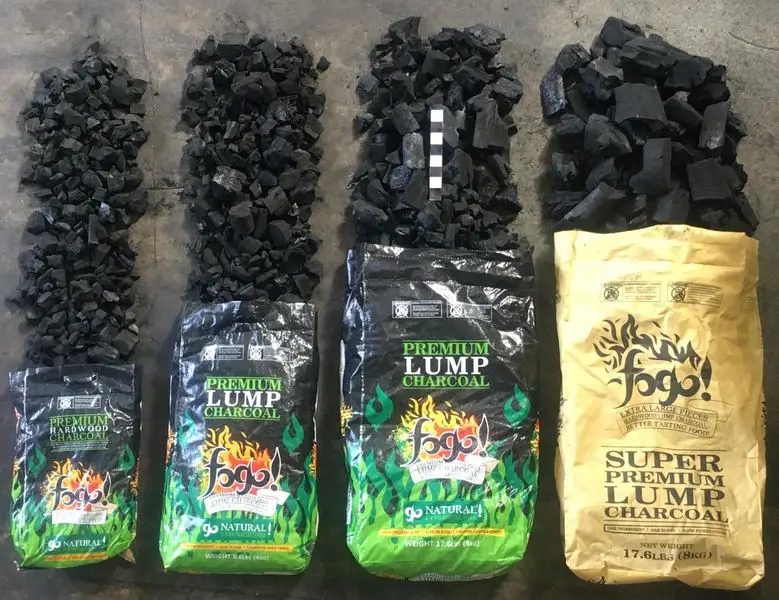 Starting the fire is also incredibly easy. As per the manufacturer's recommendation, I used vegetable oil instead of Lighter Fluid to light the charcoals. Only 100% natural hardwood lump charcoal can retain its signature mild smoky flavor for hours and Fogo is, fortunately, not an exception. It is great for both slow and fast cooking which is not the case with most other charcoals.
Last but not the least, the makers have kept the prices really modest provided the efficiency of the charcoal. Given the large size of the coals, they burn significantly longer than most other branded charcoal.
You will only need 4-5 pieces for a single grilling session. One more thing though, Fogo has made it a point to create charcoals only from tree trimmings and already cut trees. This may not be a significant selling point but this little initiative to discourage deforestation deserves a mention.
Pros
The chunks of the charcoals in the bag are really huge. They burn quickly and last long
Made from 100% natural material
Great for both slow and fast cooking
Reasonably priced
Cons
You have to break the large chunks into small pieces if you don't have a big bbq chimney
Fogo Charcoal Review – Final Verdict
The brand name, the price, the fuel efficiency, and flavor – everything goes in full favor of the Fogo. I have used bags of this charcoal in the last two years and the consistency it has maintained is commendable. From pork ribs, salmon fillet to veggies, everything comes out perfectly grilled if you can control the temperature properly.
 [This product was reviewed and added on 16th of April] 
This lump charcoal it's a new upgrade on the market today, at least if you're much concerned about the packaging.
Compared to other most known lump charcoal, Kamado Joe's charcoal comes packed in an enclosed bin which helps protect it during transportation; therefore, it's much easier to transport and store.
The big chunks of wood are made from an exclusive mixture of Argentinian hardwoods which are completely natural.
The Guayacan, White Quebracho, Guayaibi, and Mistal Argentinian hardwood produces lump chunks of charcoal that burn hotter, therefore, giving the steak-rearing temperature you are looking for.
Since it's 100% natural, Kamado Joe burns for a more extended period of up to 18 hours producing a consistent heat temperature, allowing your steak to grill over 750 degrees Fahrenheit.
At this temperature, you'll achieve a perfect steakhouse style burning experience with a signature of smoked flavor. Concerning longer burn, the charcoal slow cooks at hotter temperatures producing moisture meat.
The lump charcoal lit up easily and fast with minimal efforts ideal for a ceramic grill that insulates and contains much heat. For a better start, I recommend using the original Komodo Joe lighter.
Within the first 15 minutes, you are guaranteed to achieve the desired cooking temperature. Since it lights pretty fast, it gives you ample time to concentrate on grilling and less time on keeping the charcoal burning.
If you're worried about consumption, this lump charcoal is reusable up to three times by just adding a few new champs of charcoal to the old ones and light it up.
Consequently, this charcoal comes at an affordable price, plus you can reuse making it very effective for your grill.
Kamado Joes being from all-natural ingredients without any trace of additives and chemicals like some brands which tempers with the original smoky aroma, also it might be harmful to your health.
One more advantage is that it burns clean which leaves little ash after grilling, thereby ensuring you sear your steak like a professional chef, clean and tidy.
However, the lump charcoal sizes may be inconsistent with larger, medium, and smaller pieces. You can decide to use the smaller pieces to start and light up your grill, then gradually add the larger pieces that give you even slow cook for a longer time.
The Kamado Joe brand of lump charcoal has a more distinct smoky scent that is ideal for grilling a variety of ingredients including, chicken, lamb, beef, shrimp, and fish of the most precise cuts. The Kamado Joe charcoal also adds a sweet aroma pure from unhealthy additives.
If you are looking for slow cooking charcoal, the Kamado Joe is the one for you. Great for outdoor grilling and gives your meat a perfect moister and smoky flavor. Will recommend this especially for BBQ at high temperature.
Pros
Burns longer and slowly
Gives your meat a distinctive smoky flavor
Clean burn with little ash and few sparks
Achieve high temperature over 75 degrees Fahrenheit
Great box packaging
Cons
Inconsistent champs of lumps
The odd smell may not be everyone's favorite taste
Kamado Charcoal Review – Final Verdict
Natural and organic Argentinian premium quality hardwoods, great choice for unbeatable price. Best seller during last years.
It is clear why this Lump Charcoal is so popular, a perfect option for your grill from all points of view.
 [This product was reviewed and added on 31st of August] 
With summer comes the season of barbeque parties! The grill and quality of coal used really adds to the flavor and texture of the meat.
However, charcoal smoke has an adverse effect on the environment. Not anymore, the BIG Green Egg is committed to manufacturing eco-friendly products.
The BIG CP 20-pound bag of lump charcoal contains only 100% natural American oak and hickory and none of the artificial chemicals.
On burning this charcoal on the grill, I noticed how it burned brighter, produced minimum ash, and also was a lot cleaner than other fuels I've used so far.
The BIG CP charcoal also enhances the taste of the meat without using any adulterations such as nitrates, artificial filters, limestone, or petroleum products.
Thanks to this product, I could finally enjoy the smoky succulent flavor of the steaks without the bitter aftertaste of chemicals and filters.
The food cooked using natural charcoal is also a lot healthier, and easy to digest. It is definitely a better and cheaper alternative for lighter fluids or any other quick-burning fuel.
If you're keen on making restaurant quality steaks right at your home, I'd definitely recommend this.
Pros
Contains no chemicals
Burns brighter
Produces less ash
Easy to clean
CE certified in the European Union
Cons
A bit expensive
Food takes longer to cook
Big Green Egg Charcoal Review – Final Verdict
Made from natural and organic oak and premium quality hardwood, the Big Green Egg lump charcoal is a must-have for all your BBQ parties. The lump charcoal bag is huge and lasts for quite a while.
Devoid of any chemical filters and adulterations, the charcoal is also eco-friendly and produces less smoke and ash when compared to other products. And if you're solely concerned about the taste, the BIG CP bag of charcoal is well worth the investment.
On a very irrelevant note, anything that comes in black and red packaging grabs my attention immediately. Moving on to the more serious things, the Jealous Devil is known by many for its one-of-a-kind burnt aroma.
There's a local and extremely popular food joint near my apartment that uses this brand of charcoal for grilling.
The charcoals are procured from the Quebrancho Blanco tree and have an amazing density.
The charcoal apparently reaches peak temperature (1172 degree F) within a few minutes and keeps burning for more than 3 hours. At this high temperature, one would easily expect a lot of sparks but it was an exception.
Upon opening the bag, I hardly found any junk or scrape. However, the amount of dust was a bit bothersome. The charcoals are otherwise well-filtered to ensure optimal efficiency. Coming to the size of pieces, the majority of them are medium-sized.
There are a number of large pieces as well but they make up only 10% of the mass. Lighting up the fire is also fairly simple and the fire spreads quickly if lit up properly. You need to crumble 3-4 3.5 sheets of paper to ignite the charcoal.
Its smoldering hot flames and long burning time make it the best option for grilling all types of meat. The grilled goods adopt a mild smoky aroma, completely free from any chemical smell. The clean burn and low ash production make handling the bbq easy. Apart from grilling, you can also make wafer-thin pizzas.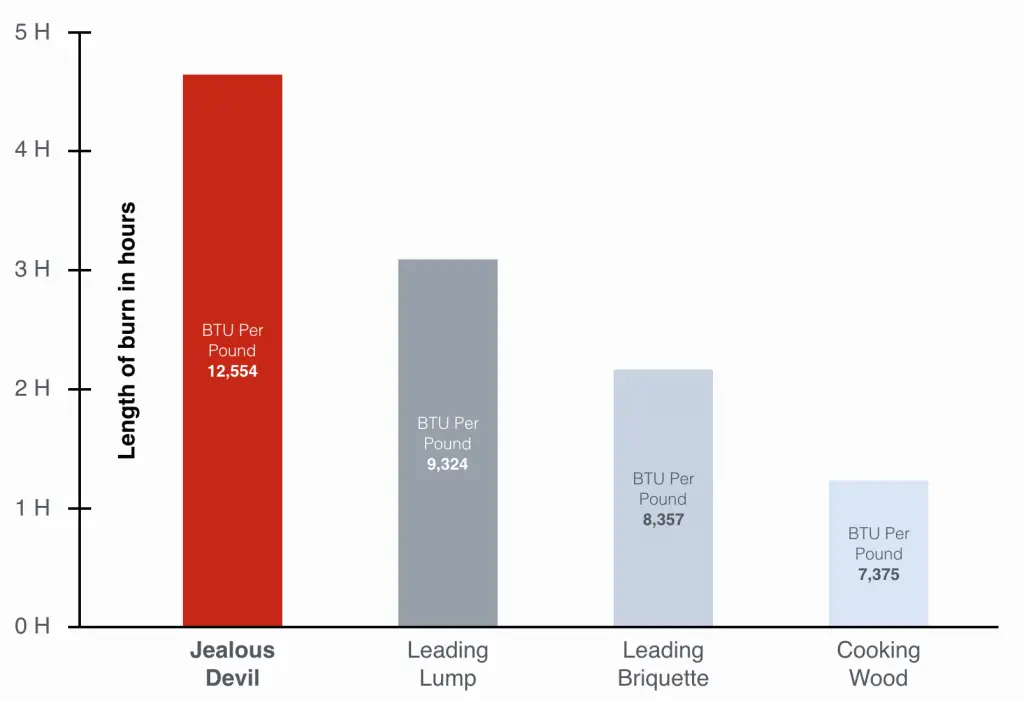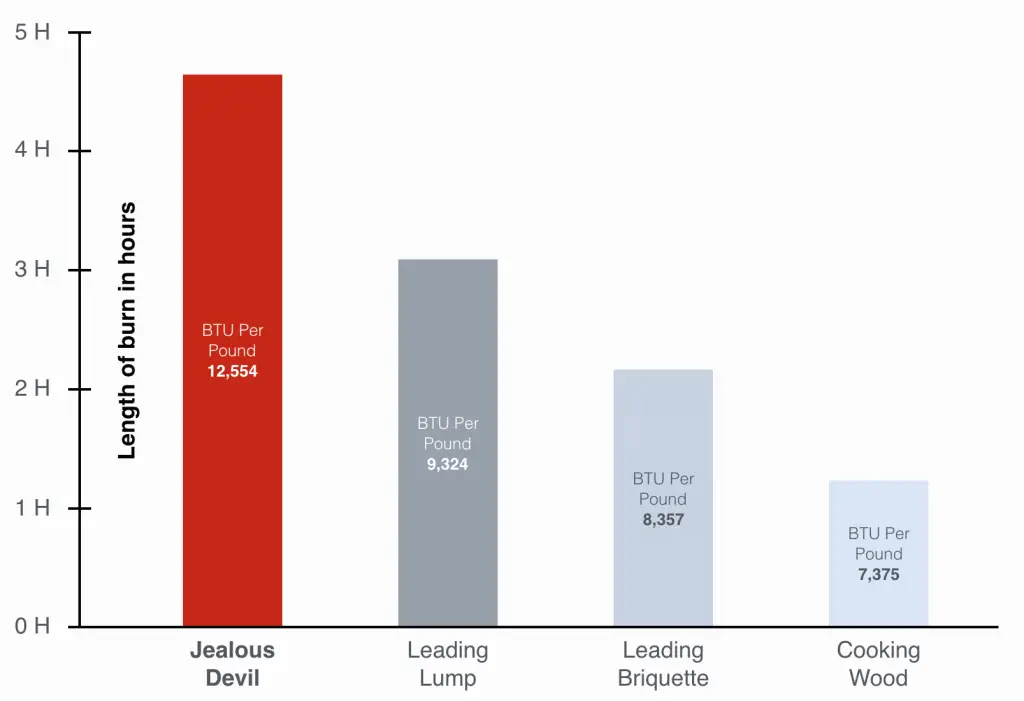 Although it claims to be engineered for low and slow cooking, I doubt its capability in this regard. On the downside, the bag it comes in is a big disappointment. There's a lot of dust in the bag that I got and I heard the same complaint from many other users.
But as far as the quality of the charcoals is concerned, it is a good bang for the buck. Not as great as Fogo but decent enough.
Pros
Ideal for grilling
Lights up quickly and burns super hot
Creates low ash, doesn't pop
Even heat distribution
Cons
The bag is full of dust
Doesn't contain many big chunks of charcoal
Jealous Devil Lump Charcoal Review – Final Verdict
Despite minor flaws, the Jealous Devil lived up to my expectations. I used it for my big old BGE and it took roughly 10 minutes to achieve a piping hot temperature. I cooked a sumptuous dinner for 5 hours and the charcoals held the temp quite well for that long. If you are on a budget yet not ready to compromise with the grilling quality, this might be your go-to product.
Fogo! Best Hardwood Lump Charcoal
Many Fogo loyalists swear by this charcoal. And this fan base includes many renowned chefs of top restaurants as well. They call it the 'award-winning charcoal'. I was naturally very curious to know what all this fuss is about. I was lucky enough to give it a try a few weeks back at a friend's pool party.
Hardwood charcoal has always been my favorite as the mild yet distinct aroma it infuses with the food is simply unmatchable. As expected from Fogo, all the pieces in the bag are carefully selected and there is a very little amount of chips and dirt in the bag. It burns nice and slow and the fire lasts way longer than conventional charcoals.
However, I did notice temperature fluctuations which bugged me a little. However, I have no qualms about its grilling abilities.
The steaks and prawns came out juicy and full of flavors, just the way everyone likes it. I could rake the temp up to 700 degrees without much issue. The bag contained a good number of large pieces.
They burn real hot real quick and seal the moisture and smoky essence in the meat. As a result, they turn out tender and properly cooked. And one thing I can tell for sure is that this charcoal beats many of its expensive counterparts hands down.
I used it with my friend's Kamado and regulating the temperature was an absolute breeze. If you are into low and slow cooking, you'd have a good time cooking with it. It also doesn't create much sparkle, although it pops a little. The burning duration is really praiseworthy. After preparing a feast for dozens of guests, I still had enough coal left for another cooking session.
Pros
Imparts a nice and subtle smoky flavor in all the dishes
Burns hot and for a long time
Easy on the pocket
Cons
The charcoal bag needs better filtration
Fogo Charcoal Review – Final Verdict
The Fogo! has rightfully earned a position in my list of the best charcoals. It has got almost everything one should look for in a premium quality charcoal. It is affordable, efficient, easy to handle and most of all, it passes on its classic hardwood flavor to the foods when cooked over an open fire.
 [This product was reviewed and added on 4th of April] 
Rockwood premium all natural lump charcoal is a quite new offer and you have to know about it. It works in smokers, a Weber traditional charcoal grill, usual smoke charcoal grills, and also capable of a Green Egg.
Anyway, this is real charcoal made of pure lump charcoal from premium Missouri oak, hickory, and maple. It's free from chemicals, fillers, binders, and other impurities. It lights quick, it burns hot, it's beautifully imperfect so that means it has unique shapes which means it's unmatched.
It's not pressed together so you'll see when you open this up it's not like a synthetic briquette. And it's 100 percent Missouri.
"Rockwood charcoal is proudly grown, kilned and bagged in the show-me State of Missouri."
Rockwood lump charcoal is light, I think it's because it's a pure state of carbon. As a result, you can hear that really high pitched glass sound when it is burning.
It produces very low ash and does not affect the taste of food, so if you are looking for the best lump charcoal, it is a great option.
Pros
The chunks burn quickly and last long
100% natural
Great for all charcoal grills
Cons
Different chunks – big and small, all in one bag
Final Verdict
Great option for any charcoal grill, doesn't matter which type you own, Big Green Egg or classic Weber. The charcoal burn in a right way, easy to light and last long. Overall – value for money.
Grill Dome Best Charcoal for Kamado
Kamado style grills are a hot favorite among many Americans. These traditional Japanese grills require the best quality charcoal to perform to its optimal potential. The product under scanner this time is specially created for such grills.
Recently, I have come across the news that the lump supply for Grill Dome'comes from the supplier of Wicked Good. In the packet I bought last month, the size of the pieces was significantly larger than how they used to be a year ago. So, that's definitely a great improvement. There were almost no flying sparks and it didn't leave much ash after I put it off.
One pack can last you for multiple grilling sessions. So, even if the price might be on a bit of a higher side, it makes up for it in the long run. I used it for cooking Easter lunch for a large number of guests and the leftover charcoal could still last for another 4-5 hours.
Those who are into slow cooking would make the most of this product. My family loves smoked lamb rack and Grill Dome charcoal keeps the flavor of it intact for more than half a day.
The fact that it uses a mix of a variety of woods to procure the charcoal makes it ideal for almost all type of smoked and grilled dishes. Unless you want a specific wood flavor dominating your food, you will be satisfied with the taste it imparts in the dishes.
Pros
Specially made for Kamado grills
Good for slow cooking
One pack could be used for months
Minimal ash and flying sparks production
Cons
Only 1/4th of the charcoal pieces in the bag are large
Final Verdict
Grill Dome'lump charcoal is an absolute value for money when you consider that a single pack of it would suffice for several grilling sessions. As far as the flavor is concerned, be it pizza, ribs, or bacon, it simply leaves no room for complaint.
The price of a 20 lb. bag is pretty modest as well. All-in-all, it would be hard to find better charcoal for Kamado grills at this price.
 [This product was reviewed and added on 16th of April] 
Good charcoal is not just any ordinary charcoal! The Char-Broil Center Cut Lump Charcoal is produced from 100% natural hardwood. Unlike other brands, the hardwood which is to be processed into this charcoal is carefully selected to ensure a clean burning on the grill.
When looking for the best charcoal lumps in the market, it is essential for you to remember that your charcoal selection will affect your stove or grilling results. It is thus recommended that you go for charcoal that is made using only the center-cut hardwood.
This means that all the barks, binders, limbs, dust, and excessive charcoal fines are filtered away. As for this product, only the center-cut wood is used for efficient burning and long-lasting heating.
The Char-Broil charcoal starts rapidly, offers better grilling results, and cleans neatly without creating smoke or depositing ash residue. This brand ensures a maximum ash amount of about 3% for ease of use and reliable results.
Also, its lumps come with inconsistent quality and size of three inches per briquette that allows for more natural utilization and offers a positive outcome.
This charcoal is fired longer during its production to make it a premium light-weight charcoal that offers clean-burning while reducing unwanted wood sparks, ash, and dirty smoke.
Besides being light in weight, the Char-Broil charcoal is heavy on quality and contains no added chemicals.
It is fired until all water, and other organic impurities are burned away and eliminated from the product. This offers you lump charcoal with the top-most rank of quality standards.
Lighting this charcoal is simpler compared to other brands. Once lit, it quickly delivers high warmth and temperature.
Besides, it gets consumed by fire slowly thus giving you more grilling time. This also limits the emission of wastes, therefore, guarantee that you use the insignificant sum available.
Apart from quick heating, the Char-broil charcoal continues heating uniformly thus ensuring the food cooks nicely. Therefore, when you buy this charcoal, you will be assured of quality.
This means that you will be able to cook your red meat, shrimp, chicken, and vegetables thoroughly for a refined taste. Your food will be amazing as there will be no dirt smoke or grime present to leave a bad taste in your mouth.
In terms of packaging, this product is very convenient. It comes in a neat package that is easy to open, close, and store.
It is advised that you store this product in a dry area that is away from moisture. If you leave the packaging open or not tightly closed, it could be hard the next time you want to burn it.
Pros
100% natural and organic
Friendly to the environment
Spreads fire rapidly and burns thoroughly
Only manufactured from center-cut hardwood
Cons
May be unsuitable for some stoves and grills
It may go for lesser hours than expected
Final Verdict
Char-Broil is famous for there gas grills. Therefore they started their history with charcoal grills. That is why lump charcoal from Char-Broil is an excellent choice to begin grilling. Also, professional grill masters will appreciate it for high quality.
Combining with the affordable price it is an excellent offer at the market.
Royal Oak Best Lump Charcoal for Smoking
The product package says '100% All Natural' which I refused to believe completely before I had actually used the charcoal.
Upon opening the packet, I did notice a few lumber mill scraps but that's all, no other fillers. With the minimum amount of chips and junks in a bag full of charcoal, Royal Oak nailed the first test.
Like the previous product, it also injects a mild, smoky taste in the meat, fishes, and veggies. The charcoals are procured from American hardwood that comes from Argentina, Brazil, and Paraguay. It takes minimal effort to lit up the charcoal, you can easily achieve an ideal cooking temperature within 15 minutes.
If you have used only charcoal briquettes so far, you will instantly notice the difference. The heat lasts longer and keeps the flavor locked into the smoked meat for a pretty long time too. I used Royal Oak Lighter Fluid to burn the charcoal as recommended by one of my colleagues. You can also use newspaper sheets and place them right at the bottom of the grill.
One of the key advantages of this charcoal is the low production of ash. This way, it ensures a clean fire, letting you sear the meat like a pro chef. I would recommend this product particularly for barbecuing at a high temperature. I ordered it for a camping trip last summer and it left no room for complaint. The chunks are not huge but big enough. All the pieces burn properly to ensure the uniform distribution of heat.
Pros
All the charcoal pieces burn fully to aid maximum fuel efficiency and reduced cooking time
Easy to lit up
Imparts a distinct smoky flavor, especially recommended for smoking ribs and leg pieces at a high temperature
Produces minimum ash
Cons
Many pieces in the bag are quite smaller than expected
Royal Oak Charcoal Review – Final Verdict
Royal Oak is specially manufactured for smokers. If you're not well-experienced at grilling, controlling the temp would be easier with this charcoal. Honestly, I feel the charcoals could have been better filtered but that doesn't take away its efficiency it. The pieces burn quickly and retain the ideal temperature for a long time. On my Weber grill, it took me merely half an hour to prepare hot dogs and tandoori chicken.
Cowboy charcoals are made from tree limbs. The main purpose of using the traditional method of cooking over an open fire is to impart gentle smoky flavors in the meat and vegetables.
Cowboy charcoals might not get the best charcoal available, but it injects a unique taste in the food, and that's what really counts. 'It is essentially a lump wood barbecue charcoal and produces very little ash. It also leaves no chemical odor in the dishes and all these make it a good choice for in-house grilling purposes.
The charcoals are made from kiln-dried hardwoods. Almost all the pieces are scrap lumber mainly used in milling operations. Although it burned quickly, I wasn't very impressed with its temperature retention ability.
This is maybe because of the low density of the charcoals. However, the heat it creates is astonishingly high and that's the biggest USP of Cowboy charcoal. If achieving high temperature is your primary concern, this product should be on your bucket-list.
Thanks to its supreme heat production, it is one of the best lump charcoals for searing chicken and pork and many other types of meat. I haven't myself tried it for low and slow cooking but many of my acquaintances have. Their reactions were quite positive.
For the same reason, you will only need a handful of pieces to get started with the BBQ. It also burns clean and doesn't add a strong smoky flavor to the food which I really liked.
Also, Cowboy charcoals are more eco-friendly than most other branded charcoals currently circulating in the market. The manufacturers use a smart energy recovery system. Thus, it drastically reduces the number of gases released into the air.
Pros
Burns real hot
Affordable
Good for those who don't want a strong smoky taste in the meat
Cowboy Lump Charcoal Review – Final Verdict
One bag of Cowboy charcoal will last you a whole season. Most of the pieces are medium-sized but the fire spreads rapidly and gets to the perfect cooking temperature in minutes. Highly recommended for searing. The subtle woodfire flavor it adds to the dishes is the biggest plus point of this product.
I am a proud owner of a BGE and it has been in my family for generations. Almost any kind of charcoal can be used for Green Egg. Eco charcoal stands out in the crowd for the lip-smacking hardwood flavor it adds to the grilled items.
As the name hints, Eco charcoal is manufactured in an environment-friendly way. Only those trees which are already cut or supposed to be cut are used for the manufacturing of the charcoals. The bag I received had almost equal numbers of big and medium-sized chunks.
The primary advantage of this product has to be its long burning time. The grill turns hot enough for searing and meat smoking within 15 minutes or less, a boon for impatient people like me!
It burns long enough to keep the meat pieces tender, juicy, and flavorful for hours. However, it does create sparks (not a lot) so, I would suggest you not to use it indoors. But the ash production is minimal and gives a clean burn to make grilling easier.
Since no additives have been used in the process, there will be no odd smell or taste in the food. I know many top-notch steakhouses and pizzeria in my city which use this particular brand of charcoal. The burning duration makes it a perfect choice for those who love cooking steak on an open fire. The smoky flavor it releases is at par with high-end restaurants.
Pros
Excellent heat retention. Half a bag will keep burning hot for 15-16 hours
No use of chemicals
Burns within 15 minutes
Final Verdict
I simply loved the taste of the smoked chicken I cooked using this charcoal. I didn't notice any chemical smell. It took me much less time than I expected to prepare a meal for 20 meat-blokes. There would make a few flying sparks and popping, so I would ask to you use this charcoal for outdoor BBQ. A bag of it will be adequate for a whole summer.
Mangrove Lump Charcoal Reviews
Last but definitely not least, I'll end this segment by throwing light upon Mangrove lump charcoal. Those who don't like the strong smoky flavor in the meat will appreciate the subtle grilled-charcoal aroma it brings to the dishes.
Lighting up the coals and controlling the temp won't require a lot of expertise over grilling. Do not use lighter fluid to ignite as it may negatively impact the taste of the food.
Being made from dense hardwood trees, the charcoals can sustain for hours end without showing any temp fluctuation. I didn't have to wait too long to yield 1000 degrees F which I needed for making hamburgers and smoking bacon until they were crispy.
As the coals turn too hot very quickly, make sure to use them in small amounts and monitor the temp constantly to avoid overcooking. Using small amounts will also help you tweak the temperature conveniently as I have gathered from my own experience.
However, a major drawback is that there are plenty of small pieces in the bag along with a lot of dust and chips. But nevertheless, the usable pieces provide a nice and clean burn. If you want to try out low and slow smoking, that won't be an issue as you can bring the temp down to 250 degrees F.
Pros
Has a unique hardwood flavor
Good for regular grilling, searing, and roasting
Only a few pieces of charcoal can produce enough heat for a single cooking session
Cons
Too many small pieces and too much dust in the bag
Final Verdict
To sum it up, I would say that Mangrove is not the best charcoal option out there. But people love putting their trust and money on an established brand. There are many chefs who prefer and recommend Mangrove. It's easy to ignore the drawbacks when you finally taste the food flavored by this charcoal. Undoubtedly, it is one of the best I have ever had.
Original Natural Lump charcoal has gained quite a massive popularity among home cooks as well as in steakhouses and pizzerias in the last few months. It takes the coals roughly 30 seconds to get ignited. It gets to the perfect temp for smoking and searing within 15 minutes. If you wish to let the charcoals burn hotter for a longer time, simply increase the airflow by opening the vent.
The lump charcoal pieces are mostly scrapped wood used for milling operations. The majority of the pieces were small. Yes, the sizes of the charcoals do disappoint a bit. On the brighter side, they come in plastic bags which help to control the mess of the charcoal dust to a great extent.
I was recommended to use Original Natural solid fire to light up the charcoals. However, you can use a liquid starter as well. One thing I would like to inform you about is that the charcoals burn really hot in a short span. You have to constantly keep the temp under check to make sure you don't overcook the food.
Although the price of this product is a bit on the higher side of the cost spectrum, it provides a good value for money. I have to give that to it. A 20 lb. pack can be used for a number of BBQ parties and camping trips. Indeed it was a disappointment to find so many junks, dust, and chips in the bag but the dishes came out really well. I couldn't have asked for more.
Pros
Long-lasting flames
Adds a delicate smoky flavor to the meat
Produces high heat for searing meat
Final Verdict
Original Natural'would lump charcoal is purely natural. As you'd expect from premium charcoal, it leaves nothing but a wood-smoked taste in the delicacies. I found no traces of chemical odor while using it. If you're okay with stretching your wallet a little bit, Western charcoal could be a value for money deal for you in the long run.
Quebracho Carbon – Best Natural Charcoal
No briquette, gas, or propane can bring the explosion of flavors that natural lump charcoal can. Quebracho is one of the strongest woods in the world. The barbecue charcoal derived from it burn for a long time and turn piping hot within or less than 15 minutes.
Quebracho charcoals are mostly imported from South America.
To my knowledge, South American charcoals do produce a great number of sparks and popping. This one, however, is an exception. The fire burns clean and leaves minimal ash after it is put off.
It truly doesn't contain any chemical which is evident from the taste and smell of the grilled food items. Due to the high intensity of the wood, the charcoal can hold the high temperatures for extended hours. You can also regulate the temperature easily. The charcoal can yield up to 1000 Degree for searing steaks. On the other hand, you can lower it up to 200 degrees F if you want to smoke the meat low and slow.
When I opened the bag, I found a lot of dust, and only 20% of the charcoals comprised of big pieces. Initially, I was a bit worried about whether it will work well with my Kamado. It does create a lot of smoke in the beginning. But once you manage to set the temperature right, you won't face any other issue.
The fire burns low and slow, keeping the subtle flavors and moisture of the meat intact for a long time. After the cooking was over, I had a good number of leftover charcoal which could burn for 3-4 hours.
Pros
Good for both low and slow smoking as well as searing
100% natural lump charcoal, no additives or funny stuffs added in the package
Adds a nice, smoky and earthy essence in the meat and fishes
Cons
Lots of dust in the bag. Contains only a handful of big pieces
Final Verdict
Quebracho stands true to its claim by infusing restaurant-quality flavors and aroma in the food. Reaching the desired temperature for cooking a variety of dishes is quite convenient with this charcoal. You don't have to toil much to ignite the fire. The fire spreads fast and distributes the heat all over the chimney equally.
Best Lump Charcoal – Buyer's Guide
Contents: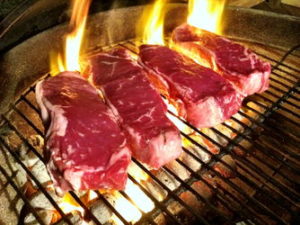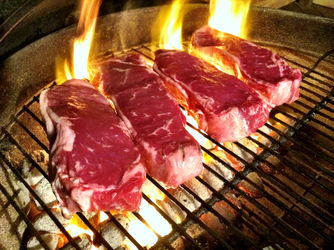 With summer comes the season of Barbecue. Who doesn't love the soul-steering smell of meat seared and grilled over the open fire in the lawn?
Americans love grilling with charcoals, mainly because of the beautiful smell and flavor it infuses in the meat and veggies.
Moreover, charcoal-powered grills are cheaper than electric or gas-powered models.
Grilling is one of the smartest methods of cooking meat. Not only it makes the meat tender and delicious, it also drips the excess fat away. Cooking on a gas stove doesn't have that benefit.
The next benefit is the high temperature. Best'lump charcoals can reach more 1000 degrees or even higher in less than 20 minutes. Therefore, charcoal is the best fuel you can use for searing steaks. By the way here is our review on grill thermometer iGrill 2 vs 3.
Moreover, charcoal grills are portable. You can carry them with you for campfire trips, picnics, or outdoor gatherings without breaking a bone.
Charcoal Burning Temperature or BTU
The right way to talk about this question is to operate only with BTU numbers. But what is BTU? In general, it is the amount of energy needed to increase the temperature of one pound of water by one degree.
In our case, it means that the more BTU is, the quicker you will get grilled food.
The only point, that in general, all lump charcoal has approximately the same BTU amount. All brands produce their charcoal from wood, different wood which have various BTU features. But it is charcoal, which has almost 100% carbon content and the same BTU features. So please, don't use commercial messages with BTU numbers as a decision making info.
Then you are using the charcoal grill you can influence temperature by airflow (next question), and if you need more heat than you have – you need to move to a gas grill.

How to Control Temperature On Charcoal Grill?
The only answer – by airflow. One of the easiest rules is next:
Need High Heat – All vents are open = Max Air Flow
Need Medium Heat – All vents are half-opened = Medium Air Flow
Need Low Heat – All vents a quarter-opened = Low Air Flow
So, the higher temperature you need, the more air you are letting in.
How to Light a Lump Charcoal?
You can go in different ways. My loveliest is to use the Weber starter like this. For such grills as Komado and Green Egg a recommend to use next charcoal starter – it simple and easy way to start a fire.
You can also use different liquids or bricks, the only thing, the essential one – to be sure that it doesn't have any fillers, etc., which could add a bad taste to your food or even more worth – be dangerous for your health.
By the way, another great thing is ash basket.

What's Better Lump Charcoal or Briquettes?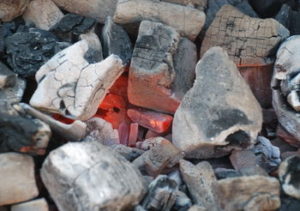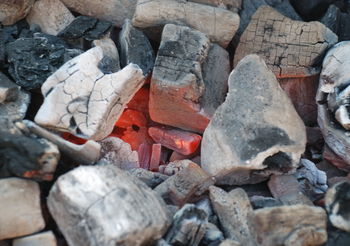 I have seen gastronomy-geeks engaging in heated debates over this one topic. To be honest, there's no definitive answer to this question.
It all depends on your personal preference. But there are several in ways in which lump charcoal proves to be abetter alternative to briquettes.
Since natural lump charcoals are not mixed with any additives, the flavor it imparts is pure and soothing to the taste buds.
Among the other benefits, charcoal burns hotter and for longer, giving you full control over the cooking process. If you get your hands laid on a pack of quality charcoals, you will be greeted with minimal sparks and ashes.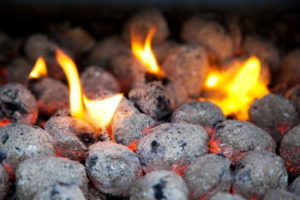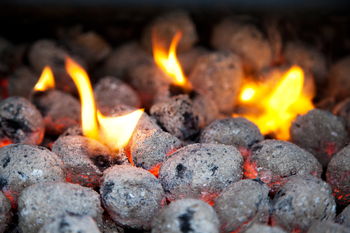 Briquettes are technically a more reliable option than charcoals. They may not burn as hot as charcoals but they do maintain a consistent temp.
You least likely to experience any temp fluctuations with briquettes.
Also, it is easy to control the flame with them. But, one of its major drawbacks is the addition of additives in their making process.
No matter what precaution you take, you are sure to notice a weird smell and a slight hint of chemical taste in the food. So, unless you are in a hurry, I would always recommend you to go for the traditional style of charcoal grilling.
Is Charcoal Grilling Safe for the Environment?
Charcoal combustion is not 100% eco-friendly. Charcoal emits a higher amount of carbon dioxide than propane. However, the former is sourced from sustainable sources like the branches, twigs, and prunes of trees. Charcoals are of several types.
The cheaper quality charcoals are made from materials like lumber scrap and sawdust. The
carbon footprint
of such coals is 3 times higher than gas.
But natural lump charcoals have a much lower rate of carbon emission. You can always go for electric grills but they are nowhere near to the efficiency of charcoal-powered grills.
What Are the Disadvantages of Charcoal?
I have already discussed this topic to some extent in the previous sections. But there are a few more cons of grilling food at such a high temperature.
Some studies have shown that grilling and roasting increase the level of a substance called HCA in the food. Apparently, HCA creates the risk of cancer. But hey! This is no gospel truth as well.
I don't think anybody has ever got cancer for attending multiple BBQ parties.
Still, if you are worried a bit, I would suggest you always marinate the meat pieces and make thin slices of veggies to reduce the cooking time. This way, the chances of producing
HCA in the food reduces significantly
.
Another word of caution, always use the recommended lighting method to ignite the charcoal. Try avoiding lighter fluid as it may spoil the taste of the meat.
Among the other minor demerits, charcoal dust can be a bit of a fuss to handle. Some of the variations also produce a lot of ash and sparks. They do increase the humidity of the house if used indoors.
Plus, unless you have the experience, you might have a hard time learning to control the temperature of the chimney.
How to Choose the Best?
Know the Materials
The raw materials used for deriving the charcoals are the highest determinant of its quality and performance. Klin-dry hardwood, charred hardwood, oak, maple make the dense charcoals that burn hot quickly and last long.
Hardwood lump charcoals are hailed by expert chefs for infusing a nice smoky scent and mild flavors in the food.
Size of the Charcoal Pieces
The best lump charcoal bags come with plenty of big chunks to aid maximum fuel efficiency. They also help in controlling the temperature quickly. Small pieces tend to block the air passages which is why they take longer to burn properly.
Cheaper products come with a lot of fillers. As a result of this, half of the charcoal pieces are unusable. So, make sure to do your research before buying a pack of charcoal.
Know Your Cooking Goals
While some charcoals are specially made for searing, some are excellent for low and slow cooking. 'What would give you the best bang for the buck depends on your preferred cooking method.
To Sum it Up
After giving a lot of thought, Fogo Premium'emerged as the clear winner. All the products I have included in this article have a specialty of their own.
But Fogo charcoals score high in every department, be it the burning time, temperature control, fuel efficiency, or flavor imparting. To top it all off, you won't even have to burn a hole in your pocket to afford it.
Through this article, I made an attempt to pen down my years of experience as a grillmaster. I run a food truck and grilled meat dishes are my specialty.
Charcoal has always been my go-to fuel when it comes to barbecuing. Hope my experience and knowledge will help you find the best lump charcoal for your own cooking expeditions.