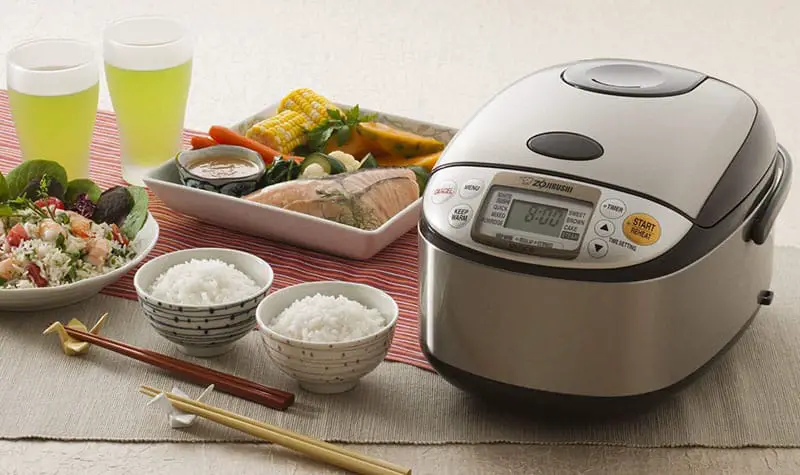 Rice cookers are a big help in the kitchen. A good rice cooker does all the work for you, giving you the delicious warm rice that your family loves at any time of the day.
Your family always deserves a nutritious and delicious meal, at any given time of the season. However, having a kitchen assistant that makes sure your rice is being prepared while you battle with some other pressing kitchen matters can come in handy and make the kitchen task less stressful.
There are numerous rice cookers in the market today that are specifically designed and embedded with the right features to prepare, steam, and preserve quality-made rice.
Also, they can help you to prepare your veggies and sushi with the maximum quality required to give your rice meals the best taste possible. In the next few sentences, we are going to be discovering some of the best rice cookers you can get for your family today.
If you've found yourself asking "what are the best rice cookers?" you've come to the right place! Today we will be reviewing some of our favorites.
Top 7 Rice Cookers Review
We start with the very formidable Aroma Housewares brands, which can easily be detected from its strikingly professional design and color. Making your rice meal has never been made more comfortable, as it comes with various features such as digital controls, auto-warming, among other functions.
These brands are very powerful and durable. Also, they can be used to prepare a wider array of meals, which underlines their versatility as one of the most valuable kitchen gadgets you can possess.
Construction
As mentioned earlier, the Aroma Rice cooker boasts of an impressive design with its metallic body coating and cylindrical build. It has a timer installed on the body with a few decipherable buttons, each representing its designated functions.
The device weighs about four pounds, which makes it is a bit portable.
As a whole, the Aroma rice cooker gives the impression of a food flask, and its shape is perfect for gifts and home decor. Also, a rice measuring cup and a spatula are present when you purchase your Aroma cooker.
There is also a non-stick inner pot and steam tray to make your cooking experience the real deal.
Features & Settings
Aroma rice cooker embodies an automated timer that offers about 15 hours of steaming standby time. This timer saves your energy that should be used on other home chores while your rice is always kept and served warm.
Just press the switch-to-warm button, and there will be no need to monitor or stir. It's that easy!
Capacity
The cooking capacity of this 2.5-quart cooker is up to 4 cups. With the capacity, you can steam vegetables and meat above and cook rice below.
Pros
It is convenient
Appealing design
Affordable and durable
Flexible meal planning
Cons
Its small capacity isn't suitable for a larger family.
Verdict
Using the Aroma Housewares appliance only gives you the best value for every penny spent. Most customers laud its multi-purpose and restaurant-style quality for both white and brown varieties.
With the automatic buttons and switches, it is safe to say that the cooker is more convenient to use than most rice cookers out there.
This cooker can be called "small but mighty," given its numerous usage ability all in one astute-sized appliance. The DASH Mini can prepare any grains other than rice and are also very proficient in making stews and soups of many varieties.
However, this cooker can only take at most 2 cups of rice, but this comes with its own advantage. The capacity can be used to regulate healthy dieting and also getting just the right amounts for breakfasts, lunches, and even snacking.
Construction
It is also a built-in cylindrical shape but doesn't look like most rice cookers. This top of the range cooker possesses two stands underneath, two side-by-side handles, and then a thermal glass lid, which gives it seamless balance and modern design.
With the stand, you need not worry about the surface of your counter as it helps minimize heat or damages.
Another cool feature of this cooker is that it comes in many colors such as red, black, white, pink, and sea green. The available color options make it one of those rare best rice cookers that can cook and preserve with utmost efficiency while also serving as kitchen decors.
Features & Settings
DASH Mini rice cookers are very easy to use as prep time has been cut down to only a few minutes. By adding a little amount of water, press the cook button, and your meal will be steamed and ready to serve in just under twenty minutes.
The indicator display and cook button can be found at the front of your cooker, giving it the simplicity it is meant to be.
Capacity
As the title implies, DASH Mini rice cookers come in small sizes and can only be able to prepare delicious rice and grain meals of just two cups max.
Pros
Very easy to clean
Affordable, portable and perfect for gifts
Versatile cooker
It can be used in offices and dorms
lightweight
Cons
DASH Mini rice cookers might not be powerful enough for long term preservation and have to be switched on again
It has a small capacity not sufficient for large proportions
Verdict
This cooker gives users the best value for their money as it is affordable, portable, and very efficient. They might be small in size and not powerful enough to not satisfy a large family.
But when you are just a couple and know precisely what you desire, it will meet all the requirements of your shopping list.
Aroma Housewares cookers are back again with a 20-cup rice cooker that can also be used as a multi-functional kitchen machine to prepare both brown and jasmine white rice in two separate ways. The stove is entirely convenient to use, and the space for more cups is tripled here.
Construction
The design is strikingly similar to the ARC-954SBD maintaining an inner pot that is non-sticky for easier washing. It has a steam tray and a measuring cup.
Features & Settings
It comes with a slow clock timer function that can also be used to steam vegetables, prepare both brown and white rice, and some of your favorite cake varieties. The digital display serves as your assistant monitor that keeps your cooking process easier than ever.
Besides, the product is user-friendly, giving you peace of mind when cooking as you don't have to worry about your food getting burnt or undone.
Capacity
This cooker is much larger than the ARC-954SBD mentioned above and can cook from 4 to 20 cups, which is a perfect choice for large serving proportions.
Pros
The large size makes it suitable for a large family
Easy to clean and wash
It has a great design and quality build
Cons
The ARC-150SB is a heavy kitchen appliance at over 6 pounds.
Verdict
For those seeking a rice cooker that can fill the belly of the whole family in one round, the Aroma ARC-150SB rice cooker is an ideal choice. It prepares one of the best rice meals along with other necessary toppings to make your dinners memorable.
We move on to the BLACK DECKER rice cooker, which looks a little bit like the DASH Mini, but much bigger and powerful. You can only prepare a rice meal of 3 cups for the RC503 model for smaller proportions while the larger family size RC506 can carry up to 6 cups of rice.
The result is always a treat; soft, delicious, and quickly made. BLACK DECKER cookers can also handle other grain meals and then oats, quinoa, sushi rice, risottos, and many varieties of stews.
Construction
The cooker is plastic made, but elegant and rigid plastic durable enough to last for years. The white color appears to be the only variation available, but it is still sufficient to highlight the product's fantastic design.
Additionally, it has a lid, two handles, and a stand that gives it balance when in use. The non-sticky pot inside is removable for cleaning purposes.
Features & Settings
The included serving spoon is also made from plastic material that prevents scratches or noise when stirring. A little vent is embedded in the lid for releasing steam in the most appropriate rhythm and keeping the food at a favorable temperature.
Also, an automatic warming feature is included to keep your meal ready to be served at all times.
Capacity
This rice cooker has an all-round dimension of 8-inches by 6.5-inches that is also powerful enough to excellently prepare and preserve up to 6 cups of rice meal.
Pros
Great design and large cooking capacity
The one-button control is simple and easy to use
Smooth surface makes it extremely easy to clean
2-year warranty
Cons
It may be stressful to carry around due to its heavyweight
Verdict
This can be an ideal choice for you if you are more than 2 in your family and won't be moving the rice cooker around.
At first glance, it looks complicated but straightforward to operate while maintaining excellence in every single requirement needed in a modern-day rice cooker. It is a home appliance that should be on everyone's wish list.
Construction
The stainless-steel coat on the body is perfect for exterior cleaning and durability purposes. A steam basket can be found in the Rice cooker, which serves as an extra hand for steaming other recipes at the same time without hampering your cooking sessions.
There is also an inner cooking pan made entirely of a non-stick material that also ensures easy cleaning is a success in the interiors. Besides, it has an automatic warmer that keeps your food warm for very long periods without necessarily flipping on the switch again.
The retractable power cord on the NS-TSC10 cooker makes it possible to move around the kitchen despite its large build.
Features & Settings
One unique ability of this impressive machine is its menu settings for the two major types of rice; white and brown. Believe it or not, both modes work differently as one keeps your white rice in the perfect condition for main treats or to blend seamlessly with other toppings or seasonings.
The different menu settings make brown rice healthy-looking and full of flavor. The menu settings have been configured with the nature of the grain in mind. All you have to do is push the button and wait.
When all these are done, your rice will always need some steaming. Thankfully there is a menu setting for that. The steaming configuration is also ideal for seafood, porridge, sushi, cake varieties, and vegetables.
Capacity
This rice cooker weighs almost 10 pounds and is 14, which makes it one of the largest rice cookers you can buy for the family today.
Pros
Reheat and extended keep warm functions
Removable inner lid for easy cleaning
Excellent cooking signals (sound and light)
Operation is simple
Holds cooked rice for a long time without getting cold
Cons
They are weighty
The cooking cycle takes longer
Verdict
If you want to cook rice and get the same quality as the ones served in restaurants, this is an ideal cooker for you. It is loaded with features that will make your rice cooking experience one of its kind.
Zojirushi is back again with another one. This product offers technology that helps you to cook your rice exceptionally and as desired.
Construction
It is built with stainless steel that is extremely easy to clean and also brings out the aesthetics of your kitchen. It also comes with a triple heater and a cooking pan that is specifically designed to keep your food at the perfect serving temperature at all times.
Features & Settings
The heating system rice cooker has all the cooking menus and functions you need, including sushi, porridges, white and brown rice, and the mixed form as well. Also, this product induces a high-tech heating system for preparing the best rice recipes.
Many will be afraid of their food getting easily burnt with this machine's heating prowess. However, it comes with an automatic temperature regulator that keeps the rice meals at appropriate levels at all times.
Capacity
The system heater rice cooker is about 10 inches wide and 8 inches high on the counter and can easily capacitate up to more than 5.5 cups of rice.
Pros
Triple heater for even heating
Beep signal and interchangeable melody to keep you alert
Multi-menu cooking function
High heat that cooks rice flawlessly
Cons
The appliance sometimes makes noise when you are using it
Some users complained that it is expensive
Verdict
The extended reheating cycle features, the concentrated intensity of the inner cooking pan, and the sizeable multi-purpose steam basket make this product the right choice for rice lovers.
This programmable appliance is a rare possession because of the unique features and functions that come with it.
Apart from its modern-day technicalities, the Lux Mini cooker is also a perfect multi-purpose kitchen utility that serves as a pressure cooker, steamer, cake maker, sauté, and food warmer.
Construction
Instant pot cookers have a great pot-style design that will appeal to those who crave some aesthetics along with performance. A steel steam rack, stirring spoon, a measuring cup, recipe booklet, and a time table is included for better meal planning for the home.
Features & settings
Instant Pot cookers are a 6 in 1 kitchen appliance that can also seamlessly handle a lot of meals, which are also prepared with top-notch quality. Also, the 10-hour automatic warming is impressive to have for rice cooking as meals can be served at any time after initial preparation.
Capacity
Pros
A multi-purpose kitchen appliance mirrors its excellent versatility.
Very easy to use
The cooker is straightforward to clean
It has numerous safety features
Quality built and design
Cons
It is relatively expensive
Verdict
The Lux Mini rice maker is a good deal with many features to improve your cooking experience, and the result is always a treat. The 6-in-1 utility is already a steal considering its price, and the verdict is simple- add it to your shopping choice!
Best Rice Cookers – Buyer's Guide
What to look out for when buying a rice cooker
There are so many prerequisites to consider before setting out to get your next rice cooker. Although this is usually 100% subjective, let's take you through a few of them to get a broader scope of what you might be looking for.
Light and sound indicators– A great rice cooker must have prompt indicators to keep you posted on the cooking progress, either by light or sound. This ensures a luxurious experience as well as kitchen safety.
Non-sticky inner pots– Sticky kitchen wares can be very problematic when washing or cleaning. Many manufacturers employ non-stick material in designing their cookers, and you should get yourself one.
Cooking proportions– Be it for a couple, a small family, or a larger one, you must know the kind of cooker that will serve your proportions. You can save money and energy when you keep this in mind.
Quick cook functions– There were numerous rice cooker functions mentioned throughout this guide, and knowing the best one that works for you might do the trick. Examples are Slow Cook function, warming functions, indicators, digital display, and more.
Warming time– Many homes prefer their meals on standby for long hours. This might also be the same case for occasions or parties. Some cookers have great preservation time that can last for up to ten hours, and the food will still be served warm.
Price– This is one of the most prominent parts of getting a new cooker for your home. Everything depends on your budget, and it is essential to know how much you'll be willing to spend before setting out. However, getting the best deal that will be worth every single penny spent is more important. Many brands possess all you need in a cooking machine at an affordable price.
Other factors to consider are:
Digital controls
Ability to cook other dishes
Slow cook or simmer functions
Automatic keep warm function for flexibility
How does rice cookers work?
Your rice cooker works in so many ways, from heating to warming, and then preserving. Your rice cooker is an automatic machine. Most of the time, you are not engaged, so it is safe to say the operation is quite smooth when you have a good knowledge of how to use it.
When turned on, the inner pot begins to heat up, meaning the rice and water starts to cook. During the boiling, it begins to release steam, and it is time to add your ingredients.
What are the best brands of rice cookers?
There are so many manufacturing companies producing amazing cooking machines that are sure to meet every need of rice lover out there. Below is a brief list of some of the best brands around;
Aroma
Instant Pot
Tiger
Zojirushi
BLACK DECKER
Hamilton Beach
How to use a rice cooker (the steps)
First of all, measure the desired amount of rice and pour it into a bowl.
Rinse the grains with clean water
Pour the clean rice into the cooker's inner pot
Add the appropriate amount of water into the pot
Insert the pan back into the cooker and close the lid
Switch on the cook button and fire away!
Why do you need a rice cooker?
Your rice cooker serves as your kitchen assistant, that extra hand that keeps things in progress while you invest energy in time in other chores of the home.
Like the way every other home activity such as the laundry and gardening benefit from the ever-evolving technological world, so is the case of cooking quality rice the whole family deserves. The best rice cookers help you get the desired results in rice preparation at an affordable amount.
Safety tips
A kitchen can become a dangerous place when safety precautions are not strictly adhered to. Careless users tend to fall victim to both physical and property damages. Here are a few safety tips to know before planting a rice cooker on your kitchen counter.
Buy your appliance from a reputable dealer to avoid falling victim to spending money on substandard products
Get your cooker registered with the manufacturer in case of damages for warranty
Keep your cookers in an open place when cooking because escaped steams can damage your appliance
Ensure the appliance is switched off before cleaning to avoid electrical shocks
Do not immerse your cooker into the water. This will damage the product almost immediately
Always turn off the cooker when not in use.
Do not fill up the inner pot to the brim. Fill considerably.
FAQs
Are rice cookers and slow cookers different?
Yes, there is a huge difference between both appliances. The main difference is heat-induced. Rice cookers make use of way more heat than a slow cooker to get your meal done in shorter periods as well as for warming and serving.
Can I make other foods in a rice cooker?
Yes. Most rice cookers are very versatile, and you have the opportunity to prepare other meal recipes right at your beck and call.
How long do rice cookers take?
Most rice makers take approximately 25 to 35 minutes to prepare your rice meal, depending on the amount of water added for texture.
How much water is needed with a rice cooker?
It is much more appropriate to apply the 1:1. It means to add one 1 cup of water is to one cup of rice.
Final Words
The best list you can find on rice cooker choices has been laid bare for you. With all the information highlighted above, picking the best deal that is right for you becomes a walk in the park.
Every single cooker mentioned serves its' own special purposes and the ball is now in your court to decide which works best for you.