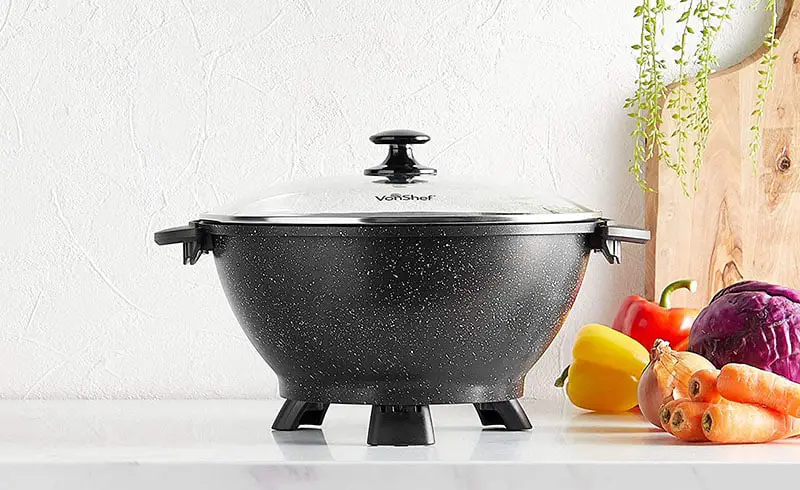 Do you need a portable Kitchen appliance to make your favorite dish? Then you should consider the best option of an Electric Wok.
They are more popular for use in cooking Chinese dishes; however, there are other uses to an Electric Wok. The best part is you can either choose to use them in your kitchen or outside during a camping expedition.
Now, if you are on the lookout for an Electric Wok, our list of the best electric wok will help in making the best choice. These Electric Woks are easy to use, intuitive, and quite innovative.

Do read on to see their beneficial features.
The Aroma Housewares AEW-305 electric wok is a sleek looking electric wok that is quite budget-friendly. This particular model is easy to use, comes with good capacity, and has excellent heat retention.
From the outlook, this Electric Wok comes with size dimensions around 18.6 x 10.2 x 14.4 inches and weighs 4.5 pounds. It comes in a classy design with a dome-shaped lid, and a wide convex curve allows for excellent heat distribution or circulation.
For the best part, this classic Electric Wok comes with a spacious capacity of 7quart, which can cook your desired food items. Internally, the top pan of the wok features a non-stick coating that makes it scratch-resistant and easy to clean.
It features a heating element that provides good heat capacity for braising and steaming. The presence of cool-touch handles allows you to transport the cooked food item.
This Electric Wok comes with a no-fuss dial for adjusting the temperature of the heating element. Cleaning this Electric Wok requires you to practice handwashing since you can't separate its components. It is best-advised one uses a wooden utensil to prevent scratches.
Key Features
Classic design
Dome-shaped Lid
7-quart capacity
Cool Touch handles
Pros
Large quart capacity to cook for a large crowd
Well domed lid to prevent splattering of cooked food
Good heating capacity
Presence of temperature control for adjustment
Cons
Doesn't have a transparent Lid cover for food monitoring.
This flat bottom wok is not fit for effective stirring
Verdict
The Aroma Housewares AEW-305 electric wok will give you a good bang for your buck. With this wok, you can make your super- savory Asian dishes in a fast and efficient manner.
VonShef Electric Wok is one of the best Electric Wok constructed with good aluminum material. It comes with standard features fit to cook for a crowd. From the outlook, you get to see an Electric Wok with size dimensions 14.8 x 14 x 8.7 inches and weighs 5.5 pounds.
Internally, the wok comprises a non-stick surface, making preventing stains and greases from staying on the pan.
Moving on, this Electric Wok comes with a large capacity of 7.4-quart enough to cook for a large crowd. The presence of heat-resistant silicone handles on the wok allows one to carry this utensil with ease after cooking. What's better?
This electric wok features an electric-powered heating element with 4-heat adjustment settings. This heat adjustment setting can be accessed through a rotary dial embedded on the wok.
Key Features
7.4-quart capacity
4-heat adjustment settings
Non-stick coating
Pros
Presence of a detachable power cord
Easy to transport due to cool-touch handles
A non-stick coating making it easy to clean
Presence of 4-heat adjustment settings for suitable selection
Cons
A flat surface bottom doesn't allow one to stir food smoothly
Verdict
This Electric Wok comes with comfortable transportability and consumes less oil when it comes to stir-frying.
If you are looking for an innovative Electric Wok with the best non-stick feature, then Oster 4.5Litre DuraCeramic Wok is your best choice. This particular Electric Wok comes in black color and has one of the most durable surfaces.
From the outlook, the Oster DuraCeramic Wok has size dimensions around 15 x 7 x 15 inches and weighs 7.48 pounds.
Furthermore, this utensil comes with a 4.5-Litre capacity, which is ample enough for making family-sized meals. With the Oster DuraCeramic Wok, you can cook your food at a 20% rate faster than any average Wok available.
It is well coated with a non-stick coating that is essentially PFOA and PTFE free, making it safe for cooking food dishes. Always keep this wok handy for the purpose of stir-frying vegetables and making a couple of Asian dishes.
Key Features
4.5 Litre capacity
PFOA and PTFE-free coating
Pros
Easy to use with variable temperature control
It can be used for cooking for a large crowd
Fast and efficient to cook
Highly durable
Cons
Some customers complained about the temperature control
Verdict
If you are looking out for a completely safe and durable Electric Wok for use, then do try out the Oster 4.5L Electric Wok.
The Breville brand is well known for making the best kitchen appliances with intuitive and innovative features. The same can be said for Breville Hot Wok Pro, which is a handy tool for making your best side dishes at home or during a camping expedition.
From the outlook, this electric wok comes with a size dimension of 17.91 x 9.09 x 17.91 inches and weighs 18.6 pounds.
Furthermore, you get to see a pan of 8 quarts large capacity with a quick release base. This pan is coated internally with QuanTanium with an attribute of a non-stick characteristic to prevent grease and oil from staining the pan.
This non-stick feature also ensures proper cleaning of the Electric Wok.
With a 1500-watt power heating element with an innovative butterfly shape that supplies enough heat to cook your dishes. This heating element has 15 heat settings for cooking based on food dish type. Also, this heating element provides a maximum heat of 425oF.
A glass lid with embedded vents is used in covering the wok while cooking; you can also monitor your cooking by looking through the transparent glass lid.
Key Features
QuanTanium coating
1500-watt heating element
15-heat adjustment setting
Transparent glass lid with embedded vents
8-quart large capacity
Pros
Comes in a durable construction
A non-stick surface that makes use of less oil
Easy and safe to clean
It features an Aluminium body that helps retain heat
Cons
The temperature-control dial does not have actual temperature indicators
Verdict
With an Electric Wok like Breville Hot Wok Pro, you are armed with an intuitive Kitchen appliance fit for making the best side dishes.
The Presto stainless steel Electric Wok comes with a durable design and other super-powerful features. It is the best wok to prepare Asian dishes like stir-fried veggies and noodles. The best part of this Electric Wok is the fact that it comes with maximum heat retention.
From the outlook, this electric wok has size dimensions of 17 x 14 x 9.5 inches.
What's better? The Presto stainless steel electric wok comes with an Aluminium-clad base that ensures even and fast distribution of heat received from the source. Within the cooking pan, you get to see a Teflon coating that is scratch-resistant, allowing you to use metal utensils in cooking.
This Teflon coating also provides a non-stick feature and ensures ease in cleaning the Kitchen utensil. When unboxed, you discover a tempered glass cover that has a stainless steel rim to help monitor and prevent splattering of cooked dishes.
With a heating element of 1500-watt, you get the required temperature needed to smear your veggies into a desirable flavor. The heating element features a unique Master heat control that helps ensure cooking at optimum temperatures.
Embedded on this Electric Wok are side loop handles that accommodate easy transport of cooked food dishes.
Key Features
Teflon coating
1500-watt heating element
The aluminum-clad base for efficient heating
Pros
Presence of cool-touch handles for easy transport
Vast temperature settings
BPA-free Electric Wok
Makes use of less cooking oil
Cons
Not best use for steaming food dishes
Verdict
The Presto Stainless steel Electric Wok is a durable Wok that's effective for cooking the best variety of Asian dishes.
Best Juicer – Buyer's Guide
What is an Electric Wok?
Electric Woks is a portable cooking utensil consisting of a pan and a heating element used for cooking fast dishes. Its ability to make quick dishes comes from the fact that it heats up faster. Many of these Electric Wok comes with an internal coating which makes it easy to clean.
How To Choose The Best Electric Woks
When it comes to purchasing a good-quality Electric Wok, you will need to take some features into consideration. You can never go wrong with making the best selection of Electric Woks when you look out for features like;
Size and Shape: The size of the Electric Wok you choose determines the number of people you can cook for using the wok. If you need to make Asian dishes for a large number of people, then you need an Electric Wok with a large diameter. A small sized Electric Wok may be suitable for making family-size meals.
Also, Electric food items. Woks come in different shapes of flat, round, or rectangular. The round-bottom type is the best shape of the Electric Wok. With such Electric Wok, you can stir-fry, braise, and steam.
Interior coating: What makes an Electric Wok easy to wash and less stained with oil grease is its non-stick internal coating. There are different types of layers which are DuraCeramic, Teflon, and ordinary non-stick. Also, do ensure such coating is BPA-free to help cook healthy food dishes. Do note that such non-stick coating requires the use of wooden or plastic utensils to prevent scratching.
Build and construction: The overall construction of an Electric Wok contributes to the durability of an Electric Wok. Do well to check the handles, legs, and overall body parts. Also, do well to consider whether it is made from Aluminium or stainless steel as that determines its heat retention ability.
Heating Element: Do well to consider the power capacity for an Electric Wok heating element. An Electric Wok with more power capacity provides more heat than a lesser one. Therefore, if you need an Electric Wok that is highly fast and efficient to use, pick up anyone with a power rating of 1000-watts above.
Lid: Electric Wok features a lid to help prevent food from splattering while cooking. It can be termed as a safety part of an Electric Wok. However, the type of lid that accompanies an electric wok varies. You have to ensure it's a glass lid so you can properly monitor your cooked food item.
How to use an Electric Wok
The Electric Wok is a Kitchen appliance that shouldn't be overlooked. A top-notch Electric Wok can be used for any cooking style and is long-lasting. For the best part, a Kitchen appliance like this accounts for easy and fast meal preparation.
However, to make the maximum use of this Electric Wok, you do need to be armed with some handy tips, which are;
Plugin the Electric Wok to a power source to help heat it up.
Pour in tablespoons of desirable oil and stir well to ensure the oil reaches all the sides.
Once the oil has been heated, you can add in food ingredients like tomatoes, vegetables, meat, and the likes.
If you intend to stir-fry your food items, you are to continuously stir them in a circular motion all-over the Electric Wok.
Adjust the temperature of the wok regularly to ensure no part of your food ingredient is burnt.
Once you are done adding and cooking the ingredients, turn off the Electric Wok and transfer your savory food meal to a plate.
Advantages of using an Electric Wok
The use of Woks started in Asian Cuisine at inception; they are commonly used in making Chinese or Thai food. However, there are found to have more benefits and can be adapted for use in any modern Kitchen today. You can use a Wok to stir-fry, boil, steam, and make stew.
Advancement in technology and demand for energy-efficient Kitchen appliance as bought about the Electric Wok which comes with lots of advantage;
Storage Efficiency: Modern electric woks were built in a compact manner, which means they are well-designed for storage. Once you are done with using your Electric Wok, you get to keep them in a cabinet or stack to a corner without taking up much space.
Ease with cleaning: The presence of a non-stick coating on the surface of an Electric Wok helps to ensure easy clean-up. For the best part, no oil or food remains sticks to the wok's surface. Hence you don't need to scrub thoroughly when cleaning.
Fast and Efficient to cook: Electric Wok generates enough heat for you to cook your favorite delicacies in less time duration. This is particularly true for Electric Woks that is constructed from stainless steel or aluminum material with high heat retention.
Portability: An electric Wok is not restricted to the kitchen and can be taken from one location to another. You can opt to take it on a camping expedition as long as there is an electric power source.
Ways to Maintain an Electric Wok
Maintaining and cleaning an Electric Wok can be done in many easy steps. This owes to the presence of an interior coating that prevents food items from sticking to their surface.
However, you do need to follow the guidelines listed in the user manual on the best way to clean and maintain your Electric Wok. Some of the maintenance tips you can practice includes;
Ensure you turn down the temperature control probe and unplug from the power outlet before cleaning.
Clean after every use and avoid the use of metallic cleaning materials to help maintain its quality.
The use of an Electric Wok entails you using a high-heat oil that can withstand a temperature of 500oF.
Always make use of plastic or wooden or plastic utensils when cooking with an electric wok.
Ensure all loose ends are well tightened before use.
Store your Electric Wok in a cool, dry, and well-ventilated area.
Frequently Asked Questions about Electric Woks
Can I clean an Electric Wok with a dishwasher?
Only the Wok bowl or pan is dishwasher safe; therefore, cleaning the electric wok in a dishwasher requires you to remove the heating element. The removable Wok base and temperature dial should not be placed in the dishwasher to prevent technical faults.
Can I use an Electric Wok to cook all kinds of dishes?
You can virtually cook any kind of meal on an Electric Wok. With this kind of wok, you can fry beef, chicken, and other meats with the use of less oil. The use of Electric Wok also allows you to steam meat, vegetables, and some other sliced food items.
Can I deep fry a Chicken in an Electric Wok?
It is possible to deep-fry or roast a Chicken in an Electric Wok. However, such Electric Wok has to be a flat bottom type to roast well. Roasting a Chicken over an Electric Wok entails adding an amount of oil on fire, placing the chicken, and then set to the highest temperature.
Reduce the temperature setting once the chicken becomes brownish, cover the wok, and switch off after a couple of minutes.
What is the best Wok material construction?
The bowl of the Electric Wok is usually constructed from different materials, which could be stainless steel or Aluminium. The best Electric Woks are made out of carbonized stainless steel because they heat up quickly and can retain heat well.
The best part is they form their own non-stick coating making it easy to clean.
Can one boil water in an Electric Wok?
Boiling water in an Electric Wok is possible since as average electric wok heats up to 400oF. Water only requires a temperature of 212oF for it to boil.
What makes a Wok better than a Frying pan?
There is no much difference between the use of a frying pan and a Wok. The difference only lies in their cooking rate. For a Wok, it is designed in good shape to help concentrate heat, so it cooks food faster in like 3- 7 minutes.
Also, you can stir fry your food ingredients in a large amount when you use a Wok. On the other hand, it is entirely unsafe to overload a frying pan.
Final Words
The use of Electric Wok provides a versatile and efficient means of making your favorite dishes. You can always boil, braise, or deep fry, different kinds of food ingredients. However, to get the best of Electric Wok, you do need to pick the best quality ones.
This article comes with some of the best Electric Woks handpicked for your use, and we do hope you make the best decision today.