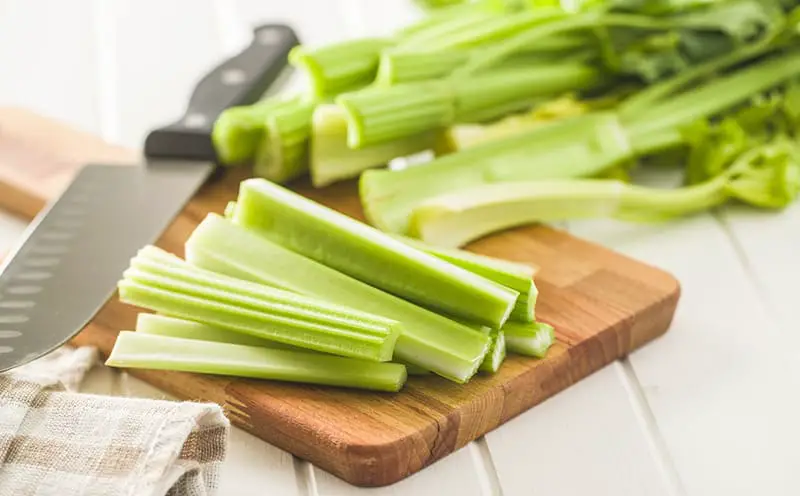 Celery is termed an herbal vegetable with lots of essential health components. Many a health-conscious person ascribes to the therapeutic effect this vegetable tends to offer.
It plays specific roles in weight loss, reduce the risk of diabetics, and improve the digestive system. Many a person prefers raw celery or celery juice instead of cooking to take full advantage of every anti-oxidants and nutrient.

How many stalks of Celery makes a Cup
Many Celery enthusiasts love to prefer making nutritious celery juices as against boiling and other cooking methods. The fact remains that Celery made into a juicy form retains all its anti-oxidants.
However, there are different varieties of Celery, such as light or dark green; the stalk size also varies. Therefore it's often difficult to measure the number of stalks needed to make a cup of celery juice.
Besides, you need to be careful of celery quantity you need to make a perfect tasting recipe. Too little or too much Celery can deter the taste of the juice recipe. Now a whole bunch of Celery comes with 12 medium stalks of Celery. A cup of juice of sliced Celery will require two stalks.
With well-crushed Celery, you do need three medium stalks to make a perfect cup of celery juice. If the Celery is diagonally sliced, you should take three medium stalks to make a perfect cup of celery juice.
How to choose the Best Celery
The best Celery you can ever get is the raw organic Celery with stalks and leafy parts present. This vegetable is a type that can be eaten raw. There are two categories of Celery you will find – Leafy Celery and stalk Celery.
The stalk celery is the best for salads and side dishes. Leafy Celery comes with flavor, which is the best for cooking soups and stews.
However, that determines the choosing the best choice of Celery. The first part is for you to consider organic bunches to conventionally grown ones. The conventionally grown Celery comes with pesticide residues, which can generate allergies in the body system.
The best celery bunch should have a crispy stem and vibrant green leaves. There should be no spotting or signs of insect damage. The best Celery is the type that has a rounded stem at the center of the bunch; without this, the Celery could be bitter tasting.
Tips for buying and storing Celery
You can maximize the potential health benefits when it is fresh. Hence it's necessary to keep some tips handy when it comes to buying and storing Celery. These include:
To buy Celery, look for ones with no brown spots and yellow leaves.

Fresh Celery comes with no wilts and has a vibrant green color.

Look out for Celery, whose stalks have no rubbery feeling when purchasing.

The best Celery to buy should have thick ribs that break in a crispy way.

To preserve Celery, it's best to store it in the high humidity produce drawer of your refrigerator. Don't keep in cold spots of the refrigerator to prevent thawing.

You can store Celery in a dry paper towel then place it in a bag for a few days. However, you do need to remove the stalks, wash them, and air dry them before storing them.

The use of Aluminium foil is another good option to wrap up washed and dried celery stalks to keep them fresh for 2-4 weeks.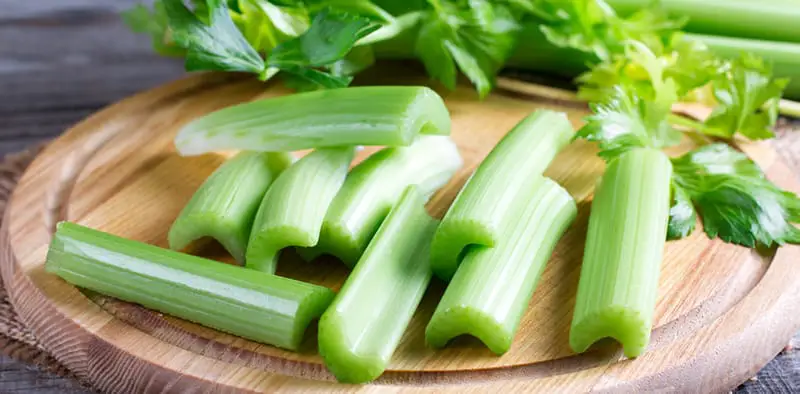 Ways to eat Celery
There are diverse ways Celery can be included in your diet. Celery can be modified in different food forms to make it pleasant to eat and digest in your body. Celery is precisely what you need in the summertime, and you can eat it in the following ways.
Raw form: Crunching on raw Celery is the standard way to eat it. All you need is to wash well in water and take a bite from the stalk. There isn't much to be desired since it comes with less flavor.

Celery juice: You can make juice from Celery by blending and extracting the juicy contents. Then you can drink the highly nutritious juice to get the best health benefits.

Celery soup: Celery soup is the best dish for cold seasons to keep you warm. This soup can be consumed with bread. You can make celery soup with ingredients like celery head, onions, butter, olive oil, vegetable stalk, salt, and pepper to spice up.

Celery salad: Celery makes a good blend with any salad. All you need is sliced celery stalks into tiny bits and add to various salad, stir well and serve it at cold or normal temperature.

Dipping: Another way to chew Celery is by dipping it into a different tasty sauce. Eat Celery help replace some nutrient deficiencies in Celery. For instance, dipping Celery into peanut butter is a classy move to add more protein to your celery snack. You can dip Celery in salad dressing, hummus, yogurt, and cheese sauce.
The Best Way to Cook Celery
There are different methods to cook Celery, and it includes boiling, steaming, and sautéing. All cooking methods come with their advantages, and they are best applied based on your preference; boiling is the best method for making tender Celery.
The steaming option comes in handy when you need to preserve nutrients. Now, if you need to take crispy Celery, then stir-frying will be a great option.
Steaming: To steam Celery, you need cooking materials like a cutting board, paper towel, knife, frying pan, and strainer. The process of steaming comes in this step-by-step process:
Clean celery stalks by washing them under running water to remove hidden debris.
Place the washed stalks on a cutting board, pat dry with a paper towel then chop in bits with a knife.
Pour cuts of Celery into a frying pan containing water, then place over a burner.
Heat slightly for 5-10 minutes without boiling till it softens.
Strain the steamed Celery by pouring the pan contents over a strainer to drain out water.
Boiling: The process of boiling Celery requires materials like a saucepan, knife, cutting board, strainer, and burner. To boil Celery:
Wash off Celery under running water to remove dirt.
Then dry with the use of a paper towel and cut top and roots of stalks with a sharp knife; also discard the leafy parts.
Transfer the clean and chopped Celery into a saucepan placed over a heater and cover entirely with water.
Close the saucepan with a lid and cover to boil for ten minutes.
Reduce the heat and allow chopped Celery to simmer for 10-15 minutes till it becomes tender.
Drain out water completely by removing the pan from heat and pouring the content over a strainer.
Serve the drained Celery; you can add other condiments like salt, pepper, butter, and sugar to give it a slight flavor.
The leftovers of Celery cooked by boiling can be refrigerated to maintain crispiness for a long time.
Stir-frying: Stir-frying a celery vegetable allows you to prepare one with good flavor. This cooking method for Celery is entirely different from boiling and steaming. To stir-fry celery:
Rinse Celery under running water and cut the stalks into tiny-looking strands. The match-stick-looking celery strands can be cooked evenly than bit cuts of Celery.
Place frying pan over high heat, then adds two tablespoons of cooking oil. You can choose either option of canola or peanut oil.
Add the celery strands to the cooking oil to fry, and stir occasionally. To get more flavor, you can add a few tablespoons of soy sauce.
Add seasoning to achieve your desired flavor. The seasons could be salt, pepper, red chili flakes then serve to eat.
Health benefits of Celery
The medicinal properties of Celery provide a range of health benefits once consumed in the body. This includes:
Lowers Cholesterol level: A body with a low cholesterol level comes with a healthy heart. The presence of dietary fiber in Celery helps reduce bad cholesterol. Fiber scrapes cholesterol from the bloodstream and eliminates it through the bowels. Celery also has phthalides, which stimulate bile secretion to reduce cholesterol levels, hence boosting cardiovascular health.

An important source of anti-oxidants: The presence of anti-oxidants in Celery helps curb free radicals' activities capable of causing cell damage. Hence it prevents damages to essential organs like the pancreas, gallbladder, liver, and kidney.

Supports the digestive system: Celery comes with anti-inflammatory nutrients that help keep the digestive tract healthy. Celery is known to have a compound known as apiuman, which guides against stomach ulcers and ensures normal stomach secretions. The compounds, high-water content, and diet all work to provide support for a healthy digestive tract.

Reduces inflammation: Celery contains anti-inflammatory compounds to offer protection to the body against inflammatory diseases. These diseases include arthritis and osteoporosis. Celery can protect against inflammation due to high levels of apigenin, luteolin, Kaempferol, and other bio-active compounds in it.

Prevent urinary tract infections: Research work has shown that Celery comes with anti-bacterial effects on the body. The anti-bacterial can help in the prevention of urinary tract infections. Furthermore, a dose of Celery in the food diet can help deal with erectile dysfunction in Elderly men

A good boost for the immune system: Celery is rich in Vitamins A and C that boost the immune system. The vitamin C from Celery can stimulate the immune system for the efficient production of white blood cells. This, in turn, improves the chances of your body defending itself from pathogenic diseases.

Weight control: If you need to lose a few pounds of weight, Celery, your safe bet. Celery is an excellent addition to salads and soups as it comes with low caloric content. Taking a juice of Celery daily helps one to burn off high-fat content.

Serves as Nerve tonic: Celery comes with rich calcium and magnesium content, which plays a vital role in neuro-transmission. That implies effective communication of the body with the brain. Studies show that Celery contains coumarins with the potential of treating neurodegenerative diseases like Alzheimer's, Parkinson's, and others.

Improves body circulation: High water content in Celery boosts the body's circulatory system. That, along with a moderate amount of iron, stimulates red blood cells' production for proper oxygenation. When body circulation is improved, there is an appropriate flow of hormones and other body resources, promoting metabolism and healthy organs.

Bone strengthening: Celery as a vegetable comes with essential minerals like iron, magnesium, and calcium. These minerals play a broad role in strengthening bones in the body and lowers the risk of osteoporosis.

Lowers blood pressure: Chemical compounds known as phthalides help lower stress hormones in the blood. Such compounds stimulate blood vessels to expand for efficient transport of blood in the body. When blood pressure is reduced, there's less stress on the cardiovascular system and a reduced risk of heart attacks.

Inhibits Asthmatic Symptoms: Vitamin C is known for its anti-inflammatory measures. Research from a medical journal states that Vitamin C serves as a protective effect against exercise-induced asthma. This characteristic puts Celery in a positive light since it's a good source of Vitamin C.

Regulates Sleep: Celery is the right choice of food for anyone who has insomnia. The notable amount of magnesium in Celery (in a juicy form) lowers heart rate and soothes the body. This, in turn, gives one ease with natural sleep.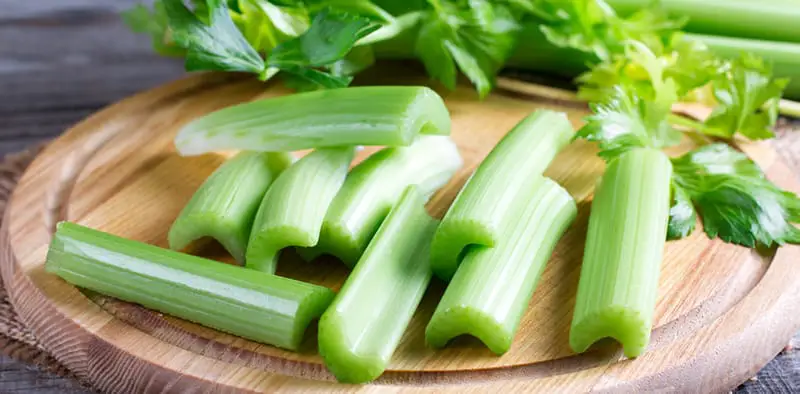 What are the nutrients present in Celery?
Celery is a vegetable with the same family classification as carrots, parsnips, and celeriac. This vegetable has evergreen leaves with crunchy stalks. It has a low caloric but high water content, making it a low-carb snack option.
Research studies for this vegetable show it has medicinal properties like anti-inflammatory and anti-bacterial. The nutrients in Celery play a role in benefitting the digestive and cardiovascular systems.
Celery as a vegetable comes with a host of beneficial nutrients for body heath, growth, and development.  These nutrients include the likes of fat, sugars, protein, fiber, vitamins, and minerals. The table shows the nutrient content per 100g of Celery according to USDA;
| | |
| --- | --- |
| Nutrient | Nutritional Value per 100g |
| Water | 95.43 |
| Energy (KJ) | 14 |
| Protein | 57 |
| Lipid | 0.17 |
| Ash | 0.75 |
| Carbohydrate | 2.97 |
| Fiber | 1.6 |
| Sugars | 1.34 |
| Sucrose | 0.08 |
| Glucose | 0.4 |
| Fructose | 0.37 |
| Galactose | 0.48 |


Based on Celery's USDA nutrient profile, a medium stalk (40g) comes with 5.6 calories and 1.2g carbs. The 40g celery stalk has 38.2 g of water for proper hydration. You also get nutrients like calcium, iron, zinc, and potassium whenever one digests Celery.
Risks of Celery
Despite the beneficial attributes of eating Celery, there are some underlying risks one needs to avoid. There are risks associated with excessive intake and nutrition deficiencies. Also, Celery isn't the best fit for people with body allergies.
The risks of taking Celery includes:
Nutrient deficiency: Excessive intake of Celery makes you lose out of essential body nutrients. This vegetable comes with low caloric content and hardly any protein or fat. Therefore taking Celery regularly without other food supplements might expose you to health problems.

You don't get enough energy to carry out daily activities, low brain function, and even gastrointestinal problems without adequate calories. To take Celery regularly, you need to consult a nutrition specialist to recommend supplements in place of deficiencies.

Pesticide Residues with potential body allergies: Celery falls in the list with fruits and vegetables with many pesticide residues. Several studies and research have found Celery with a high pesticide residue with a potentially damaging effect on the human body.

Kidney problems: Taking Celery isn't the best option for someone with Kidney problems. It can pose the risks of further inflammation when taken in medicinal amounts.

Potential miscarriage: Celery can cause miscarriage in pregnant women; hence it's deemed unsafe for this category. An excessive amount of Celery taken into a pregnant body can cause the uterus to contract, leading to miscarriage and stillborn.

Bleeding Disorders: Anyone suffering from bleeding disorder shouldn't take Celery. This vegetable comes with a minute amount of Vitamin K, which helps with blood clotting. Taking Celery will only increase the risks of bleeding.

Low Blood pressure: The Celery vegetable is used as a medicinal herb for lowering high blood pressure. The presence of certain compounds in Celery helps ensure the widening of blood vesicles to promote even blood movement. However, this won't be beneficial to someone with low blood pressure. In worst cases, such individuals may die from a high intake of Celery.
F.A.Q.
Why raw or juicy celery?
A raw form of Celery comes with all its nutrients and therapeutic compounds intact. Cooking methods such as steaming and boiling can lead to the loss of essential nutrients. Hence the reason why raw or juicy Celery is preferred.
Now, the intake of celery juice is becoming popular, but how many celery stalks are required to make a cup of celery juice? In this article, you get an overview of Celery, its health benefits, and a complete solution to the big question.
How to make Celery juice using a blender
Celery juice is a highly nutritious drink with various nutrients—essential vitamins and minerals for overall gr
You need a bunch of Celery (4-12 stalks), purified water, a blender, and a nut milk bag to make Celery juice using a blender. Now, take the following step-by-step process to make your nutritious celery juice using a blender.
Take out a bunch of Celery, cut out the base to separate stalks then discard.
Wash celery stalks under running water to remove every form of dirt and accumulated debris
Cut the washed celery stalks into tiny bits, pour into a blender, and add ¼ cup of clean water.
Connect the blender to a power supply and blend till it appears smooth.
Place a nut milk bag over a clean bowl and pour the blended juice to extract watery juice.
Squeeze the nut milk bag well to extract the juice altogether, then serve immediately.
Can you freeze Celery?
To store excess Celery, you can chop it up, store in a bag and freeze it. You can also decide to freeze Celery as a whole, but this thaws easily and losses freshness.
A thawed celery is no longer useful for making juice, just for soups and stews. For the best preservation, you can blanch Celery by dipping chopped parts in hot water before freezing. This maintains its crispiness and taste for up to a year.
Conclusion
At this end, you did be aware of the healthy benefits of Celery. A basic overview of how to prepare and eat. Most importantly, you now have an idea of how many celery talks you need to make a cup equivalent of nutrient-filled celery juice. Do well to take advantage of the informative article and stay healthy.