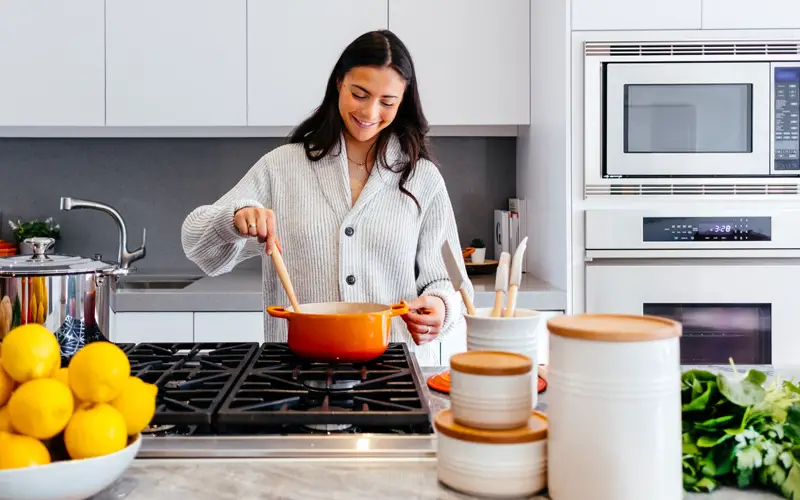 The kitchen is no doubt one of the most frequently used rooms in the house, and as such, it often tends to get cluttered and messy quickly. With so many different activities taking place in this area and considering that it also holds so many individual items, keeping it organized is no easy task.
However, if you do spend most of your time in the kitchen, then keeping it well organized is something that you simply can't avoid. You don't want to work in an area where everything seems just laying around or hidden far away, from such that reaching out to them is a struggle.

Ensuring that your kitchen is always organized will not only allow you to easily access all the things you want without too many movements but can also help improve your overall productivity.
So, how do you make sure your kitchen remains organized throughout? Well, that's why we are here.
What are the Benefits of Maintaining Well-Organized Kitchen Space?

Whether you have a large kitchen or a tiny one, there are undoubtedly great rewards from good kitchen organizations. Here are five benefits that might just motivate you to start decluttering and organize your kitchen right away. 
  
A poorly organized kitchen with everything scattered all over or not arranged appropriately means all those usual jobs like cooking and cleaning will definitely take much longer than usual to complete.
Just think about the amount of time you waste whenever you have to stop cooking or preparing a dish and start searching for something you need. You know it's somewhere around the kitchen, but you just can't seem to locate it.
While you may not notice those little extra minutes spent hunting for that utensil, appliance, or ingredient you need, it's quite surprising how they eventually add up.
This is, however, something that you could easily avoid if you have a well-organized kitchen. It will certainly help you save a lot of time in the kitchen.

  
Having to stop in the middle of cooking every other time to search for something can be really frustrating, to say the least. Furthermore, clutter has been found to have some impact on the brain.
According to a study conducted
by Neuroscientists at Princeton University
, people's task performance in
an organized space was found to be much better
than when working in a disorganized space.
The main reason behind this is that the clutter within the kitchen competes for your attention. The outcome of this is an increase in your stress levels, which ultimately leads to a decrease in your performance.
This is an impact that often goes unnoticed, and it's something that well-organized space can easily remedy. It can help clear the mind from all the clutter and the frustrations that come with not finding something that you need when you are halfway through your cooking.
Num. 3
You Will Cook More
  
One of the best benefits of keeping an organized kitchen is probably that you will actually be more motivated and comfortable to get in there every time and cook. A clean and organized kitchen is so inviting and encourages you to utilize it often.
Therefore, not only will you want to cook more, but you will also be able to enjoy better and more nutritious food than the ones you would buy.

  
It goes without saying that cluttered countertops, refrigerators, and cabinets overflowing with containers, utensils, and food, are tough to clean. However, it's much easier and quicker to wipe surfaces down and clean everything in an organized kitchen.
  
The impact of an organized kitchen is not just about visual appeal and improved performance. It can also help save you lots of unnecessary expenditure.
When you have a tidy kitchen, and you know the exact location of everything you have, you won't end up buying duplicates of things you already own — not just utensils or appliances, food as well. You might easily forget what you have stored in your freezer and pantry amidst all the clutter.
When this happens, chances are you will likely end up stockpiling items that you already have or even throw away food that you never used simply because you were not aware it was there.
However, when you have everything organized, and you've prepared an inventory for both the freezer and pantry, it's way easier to keep track of your food and avoid unnecessary purchases.
Tips to Keeping Your Kitchen Well Organized

Tip 1
Declutter the Kitchen First
  
The first step to returning your kitchen into shape is decluttering it or rather tossing anything you don't use. This is very important because it will make the whole process of organizing your kitchen a lot easier.
Start with your fridge and pantry. Go through them and throw out any expired food or other products that you don't want or can't eat anymore. Ensure that you only leave what you are going to consume.
One of the major deterrents to a clean and tidy kitchen is the plethora of utensils, appliances, and gadgets you have, but you never seem to use them. Go through your drawers and cabinet, and pull everything out.

Carefully sift through all the items and set aside anything that you haven't used in the last few months. Kitchens are often short on storage space, and as such, you can't hesitate to keep anything which you don't truly use including appliances.
Once you sort out the items that you don't need, you can throw them away or even much better; you can bag them up for donation or take them to Goodwill.
Tip 2
Group the Materials Correctly
  
After you've decluttered, the next step is to begin the organization process. Since you've everything removed and laid out on your counter or floor, the first thing you want to do is to group like-minded items together.
Decluttering is just part of the job, but you will likely have to change the way you store things since clearly, something isn't working. Therefore, when everything is appropriately grouped together based on use, then it will make it easier and faster to get organized.
For instance, you can have all your cutlery in one place, and other cooking equipment and appliances in separate places. This way, you will have a quiet time when it comes to deciding where to put back different items for quick and easier access.

Tip 3
Evaluate Your Storage Space
  
Once you have your items grouped together, take a few minutes to evaluate how you usually use your kitchen so that you are able to store your items accordingly.
This is important because you want everything arranged in a manner that will allow your kitchen activities always to go smoothly. If you have limited space in your cabinets, this is the time to get a bit creative with how/where you place things.
Basically, you want to avoid shoving things into the cabinet or drawers as it isn't very organized. You can use drawer dividers to separate your dishes, cutlery, and other items for better access to everything.
The main idea here is to try to arrange things in a useful and creative fashion so as to save as much space as possible. You can even place some items inside larger bowls and casserole dishes to save some room for other things.
Tip 4
Use Storage Containers and Racks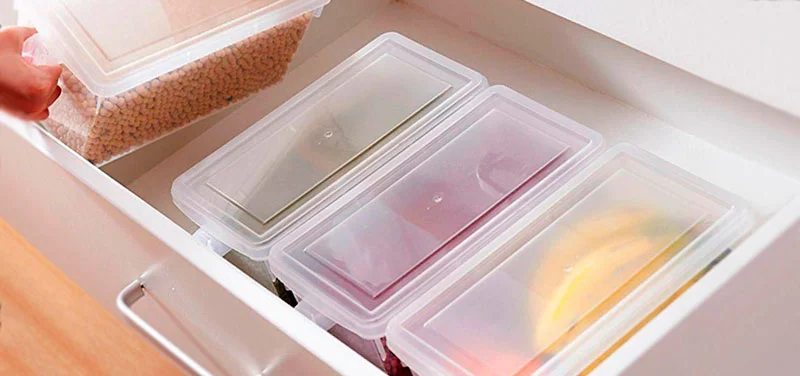 Storing things individually inside the cabinet often takes up a lot of space than you may realize. Investing in storage containers is one great way to free up more space and as well as help with your kitchen organization.
You can store foodstuffs such as floors, cereals, snacks, sugars, and any other smaller goods in containers and arrange them in your cabinets, pantry, or on your counter.
Clear containers are the best choice to use as they can effectively reduce the time you would waste searching for items. Alternatively, you can repurpose old containers for storage purposes to help cut down the cost of getting additional containers.

Besides containers, using racks, especially two-tier racks, is another ideal way of creating additional space while minimizing clutter. Identify a suitable corner in your kitchen and then arrange the racks there.
You can store all the small-sized containers in the rack or anything else that can fit into it. Make sure not to overload the rack with too much stuff since it can end up being very messy.
Try as much as possible to arrange the products you've placed in the rack systematically to make retrieving them really easy. Using containers and racks in addition to the cabinet will not only simplify your life and help keep your kitchen well organized, but it's also quite appealing to the eye.


Your kitchen will only be more organized when you are able to locate what you need every time you cook easily. As such, labels are always important. This is true, especially if you are using storage containers.
To make things easier on yourself, clearly label each container and everything else that you feel needs labeling for quick identification. This way, you will always easily find anything you're looking for.
Bonus Tip: You can probably create a color code for labels of different kind of items. For instance, label utensils as purple, food items as green, and condiments as yellow. Doing so means you won't have to read through everything to locate something.
It's also advisable to always mark plastic freezer bags or any container holding foodstuff with contents and date. This can help you keep track of when they are bound to expire and can also help you avoid freezer burn.
Tip 6
Make Use of Doors and the Wall Space

If you don't already, then you should start making use of your cabinet doors or wall space than just the drawers and racks. This is a tip that can come in very handy, particularly for those with limited kitchen space.
The idea here is to utilize the side of the cabinet doors by installing hooks even on the wall space where you can hang several items. Locate a designed area in your kitchen preferably next to the cooker, install the hooks, and hang your most-used pans, cooking spoons, dish towels, aprons, pot holders, et cetera.
By hanging these items in one area, you can free up much space in the drawers and cabinets as well as keep your countertops clutter-free. In fact, you'll have created extra space for storing far more things than you thought you could and at the same time still be able to maintain an organized kitchen.

Tip 7
Clean the Fridge Often
  
Well, it may come as a surprise to you, but cleaning out your fridge regularly is one of the best ways that guarantee to make you feel more organized. Remove and get rid of anything that you don't use, or it's expired (and no judgment, just toss it out).
After you are done with that, you can clean and properly arrange back everything else that's left. It won't hurt a bit also if you commit yourself to give your fridge a thorough deep-cleaning at least once per week. Trust us; it's worth it.

Smart and Easy Ways to Organize Kitchen Utensils

One of the most challenging items to store in a kitchen are cooking utensils. They come in a wide variety and while you want them within close reach, getting them into order is an issue.
Below we've shared some smart ways of organizing your cooking utensils that we are sure will help simplify and improve your cooking experience.
Way 1
Reconsider Your Countertop Storage
  
Don't overwhelm your countertop or sink with clutter. Instead of scattering containers full of utensils all over, create one dedicated space or side station.
Make the most of this space using a rustic caddie or a rail system where you can stash some of the utensils necessary for your daily cooking needs.
This is will not only prevent cluttering, but it's also quite handy for keeping your key utensils close by so that you don't have to dash around the kitchen each time you need something.
Way 2
Place it in a Pull-out Drawer
A pull-out drawer is one handy tool when it comes to storing utensils. This is something that you should consider as a must, especially if you plan to do a more significant kitchen renovation soon.
Instead of having to dig through drawers, you can put your utensils and other containers in a pull-out drawer which makes retrieval a complete breeze and conceal everything with much efficiency.
It will save space and amaze your guests when they hang out in your kitchen while you cook. One important thing you should consider, though when working with pull-out drawers is the weight of the items.
Some heavy things like cast iron skillets should always be placed in the lowest section possible because it's much safer to pull them out when stored that way without having to worry about the shelf holding them collapsing under their weight.
Way 3
Use Your Cabinet Strategically
Even if you have small cabinet storage, there's a lot you can do with that space when it comes to storing utensils. Utilize the otherwise empty space by attaching hooks to the inside part of your cabinet doors.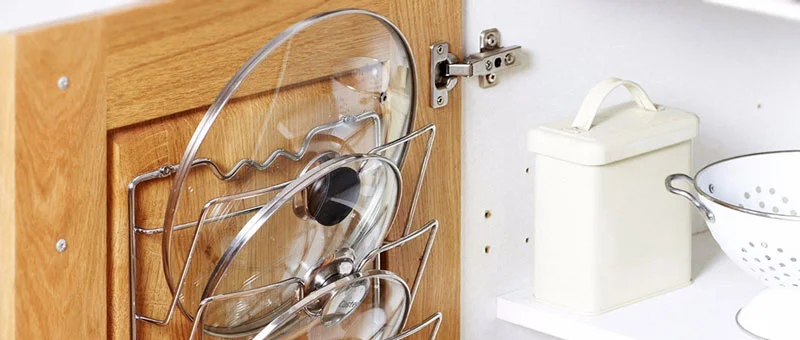 You can set up the hooks in two rows so that you can hang your utensils in an inconspicuous spot while allowing the door to close properly. You can as well install an organizing rack on each back side of your cabinet doors and there and then you have instant storage.
Under your upper cabinets is another great area that you can put into use. You can mount hooks underneath the upper cabinets or a float utensil holder that comes with flexible grippers that can grab and hold onto your utensil handles.
You might think you've exhausted your storage space, but when you get a little creative, you can transform the interior of your cabinets and create extra room for keeping your utensils.
Way 4
Invest in a Diagonal Drawer Organizer
Sometimes it can be frustrating when you are trying to get your biggest utensil actually to fit in that drawer space of yours, and it doesn't. Instead of struggling to fit that big ole' spoon into the drawer or piling it into a countertop container, you can invest in a diagonal drawer organizer.
It's a slight twist but one that will really come in handy. You will be to fit both your small and big utensils just right. Alternatively, you can take a whole different angle and store those long utensils diagonally in your drawer. It's a simple yet smarter and more efficient use of your drawer space.

Way 5
Think Out of the Box with a Pegboard
Although it's commonly used for holding tools in a workshop or garage, a pegboard can equally be a handy tool for storing kitchen utensils. It might seem a little bit out there, but it's an effective way of creating additional space for your utensils without having to remodel your kitchen.
Mount a decent-sized pegboard on the wall in a designated space where you have an easy reach to your kitchenware. You can utilize hooks or pegs to support various items like pans, spatula, pots et cetera. In fact, it's the best way to clean pans and pots out of your cabinets.
It will not just give you more space, but it can also serve as a decorative wall piece since you can paint the board to fit your décor and give your kitchen that appealing look.
Way 6
Put Your Old Rake into Good Use
Another great idea that might seem a bit off too but can ultimately get the job done is mounting an old rake on your wall. If you don't have one, then you can opt for a rake utensil holder.
The tines of a rake provide the perfect hooks for hanging utensils such as a spatula, slotted spoon, tongs, whisk, and pastry wheel. You can as well install a towel bar and combine it with canisters for holding loads of utensils and other kitchen tools.

As we've mentioned earlier in this article, pace, especially in small kitchens, is a precious thing, and a filling organizer is one ideal tool you can use to overcome the limited space in your cabinets. You can use it to file those massive serving platters, trays, and cutting boards.
The best part about this tool is that you can screw it into the bottom of your cabinet so that it doesn't wiggle when you pull the items in and out.
Way 8
Make Your Fridge Work Harder
Do you own a magnetic fridge? Well, then you are in luck. There are magnetic savers featuring hooks and racks that can no doubt help transform your fridge's exterior into a neat storage space.
These organizers can be installed on one side of your fridge and can do well to declutter your countertops and cabinets and give your towels and kitchen tools a neat new residence just on your refrigerator.

Parting Shot
It goes without saying that one of the biggest benefits you will enjoy most by keeping your kitchen organized is daily usability. A well-organized kitchen is indeed a happy kitchen.
You will have peace of mind knowing that everything is where it needs to be and within reach, for you to easily use each time you are preparing your meals. It's something that may take a bit of your time and energy, but at the end of it all, you will ultimately appreciate it.
Follow these simple tips we've highlighted above, and you are sure to have a more peaceful, organized, and neat kitchen space that will require less maintenance.
One thing you want to keep in mind, though when organizing is that less is always more, plus efficiency is crucial. Your goal should be to create a pace that exudes cleanliness and organization not crowded with clutter.
Thanks for reading our How to Organize Kitchen article! Don't forget to check 22 steps to clean kitchen.