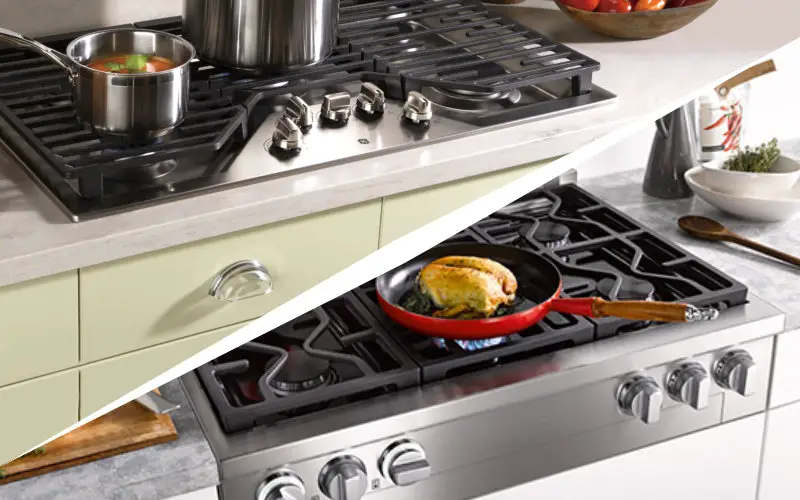 You might agree with me that one of the most important parts of your home is the kitchen. If you are one of those who find being in the kitchen fun, you might probably spend more of your time in the kitchen preparing your favorite meal and delicious food for yourself and your loved ones.
With technology and innovation not leaving out the kitchen there are modern and new appliances hitting the market every day, and these include the range, rangetop, and cooktop.
Almost every home now uses these cooking appliances but can you tell the difference between range top vs cooktop? Just like many terms and phrases that are used interchangeably today, most people think range and cooktop are similar and can be used interchangeably. However, there are differences between the cooking appliances and that is what this article will focus on. Let's dive in!

Rangetop vs Cooktop: What is a Range?
A range is a freestanding cooking appliance that can be placed between the cabinet and countertop. Also, it is regarded as an all-included cooking appliance that comes with an oven below it. It has knobs that are used for controlling and regulating its temperature at the front. It is commonly available in gas and electric and predominantly made of stainless. The sizes range from 20" to 60".
It is possible to divide ranges into three categories. These are:
• Specialty ranges
• Restaurant or medium-duty ranges – they are substantially constructed and well suited for smaller operations
• Hotel or heavy-duty ranges – which feature sturdy construction and high energy inputs for continuous use in high-volume operations.
Rangetop vs Cooktop: What is a Range Top Stove?
A range top stove is a slide-in cooking appliance that looks like a cooktop and freestanding range. It is built into the cabinet and countertop.
Rangetop stove takes more space because it extends from the counter rear to the front. Just like the range, a range top has its knobs and controls in front of the unit. Mostly, 30", 36" or 48" are the common sizes available with 30" and 36" being most popular.
Unlike the range, a rangetop does not come with an oven and this help create space for storage below it. But you can combine it with an oven if you wish.
Rangetop vs Cooktop: What Is A Cooktop?
A cooktop is a cooking appliance that requires a smaller cutout in the space of your countertop. It is placed within the countertop and regarded as a drop-in unit that does not come with oven below it. As a result, the cooktop gives you more space for storage.
It also has knobs, but they are located in a position different from that of that range top. It is available in induction, gas, and electric. Also, 30" or 36" are the most common size available.
The Best Cooktop and Rangetop to Start with
With the breakdown in Buyer's Guide, I believe you will have the sense of the option that best fits your needs. No doubt, there are dozens of models, features, and brands on the market to choose from.
However, to help you to start, I will show you the top three models that have proven to be the best. The selection is based on users' experience and reviews, online reviews, and my personal experience.
If you want a cooktop that delivers high heat for fast cooking and guarantees an exact fit in case you will be replacing a similar cooktop in the future, the GE JGP5036SLSS Cooktop might be able to meet your needs.
It comes with five sealed burners which include two 9,500 BTU burners at the left, one 5,000 BTU burners at the right rear, and two 15,000 BTU burners at the middle and right front.
The product also features control knobs that are is up-front and offers a one-touch control at 120V power. Heavy-cast burner grates which feature edge-to-edge grates, dishwasher safe, and continues grates are included to make the movement of pots and pans within burners easy without lifting.

Pros
It has spills making grates and burners easy and safe to clean
Precise simmer burners for delicate goods and high heat burners for fast boiling
Has Guarantee for exact fit in case of replacement in the future
Cons
The cooktop scratches easily
Final Verdict
Great cooktop with hi-end burners. This is a good choice to start with, and it will service for many years. Good combination of burners makes this cooktop very effecient. Small burner with only 5000 BTU for small pots, the big ones with 15000 BTU for big cookware.
With the built and features the Thorkitchen Pro-Style rangetop comes with, this might be the perfect option for you if you are a cook-aholic. It is constructed with cast iron, zinc alloy, and stainless steel which provides it durability and ensures you can use it for a longer time.
The product comes with six sealed burners which include three single 12,000BTU burners, two single 18,000BTU burners, and one dual 15,000BTU burner. This feature gives you the opportunity to cook at your desired temperature without worrying about getting your food burnt.
Three heavy-duty flat grates constructed with cast-iron are also included. The grates are strong and can withstand rough use. It also requires minimal cleaning. Also, the rangetop comes with six high-quality zinc alloy knobs that are located in the front and on a control panel built with stainless steel.
Additionally, it features a pan that made of a ceramic material called porcelain, and it has a black color. The strength and toughness of the material make the pan resistant to heat, fluids and other substance that can be destructive.

Pros
Strong and durable construction to withstand daily use
Easy to install and set-up as it comes with 120V electronic auto-ignition
Burner controls are lightened for safety purposes
Value for the money when compared with other high-end stovetops
Cons
It is not easy to clean because of the depth of the pan
Final Verdict
Are you ready for the professional grade kitchen appliances? Thorkitchen came to the market to provide us with professional kitchen ware for reasonable price. This is going to be a premium pick for those who like to cook a lot. Durable, Powerful, Great.
Are you someone who jugs lots of balls at mealtime? You might be able to bridge the gap with the Frigidaire Professional Gas Cooktop if all you want is a cooking appliance with burners that deliver a strong performance.
The product features five burners with two 9,500 BTU burners at the left, one 18,200 BTU burner at the middle, one 5,000 BTU at the right rear, and one 12,000 BTU at the right front.
It comes with three cast-iron continues grate that is durable and gives you the opportunity to slide pans and pot around easily. Also, PrecisionPro angled control knobs with blue LED display are included and located at the center front making the knobs easy to use and read.

Pros
PowerPlus Burner for strong performance
Continuous and durable grates to cook dishes with ease
Controls allow you to prepare dishes with precision
Safe, easy, and quick electronic pilotless ignitions
It is convertible to liquid propane
Cons
The grates are too high for the right and left burners which makes it difficult to clean the burners and cooking surface without removing the grates
Final Verdict
Value for money. In other words, Frigidaire have everything you need for very reasonable price. The only thing – size is smaller then common, however it would be a great choice if you don't have enough space in your kitchen.
Range Top VS Cook Top – Buyer's Guide
Contents:
What Is Differences Between Cooktop and Range?
Apart from the differences between the two you might have noticed from the discussion above, there are some distinctive differences.
1. Installation process – Rangetop vs Cooktop
This is the major difference between the cooktop and range. When installing range, you will need to interrupt a section of the countertop and cabinet entirely. The range is an appliance that is installed in an interposing manner with the countertop picking up on either sides or one side.
But on the other hand, to install the cooktop you have to cut out the precise dimension of the cooking appliance on the countertop. The cooktop is set into the cut-out space with three or four of its sides flanked by the countertop materials.
2. Where the controls are located – Rangetop vs Cooktop
I have mentioned above that the cooktop and range have control knobs. But the location of the controls is different. Ranges have knobs and buttons located in the front, slightly sticking out of the cabinetry below the cooking surface.
The location of the controls is similar to the ones that come with a traditional stovetop/oven unit. With where the controls are located, you will find it more accessible and won't have to risk burning your hands while making adjustments.
For cooktops, they have their controls situated on top of the unit where they can be easily reached. Also, there are lots of modern cooktops with touch activation. This is a unique control that makes the cooking appliance more accessible for people who find it difficult to grip the knobs.
3. Design and technology – Rangetop vs Cooktop
The requirement for the kitchen design of the cooktop and range varies because of the differences in the installation. Typically, ranges are designed to run on gas and electric energy. Also, the dual-fuel range is available. Cooktop, on the other hand, is available in three fuel options, and these are gas, electric, and induction cooktops.
Also, cooktops have cooking sensors and touch-control that allow you to control your cooking appliance without using knobs. However, ranges with this unique feature are hard to find on the market if there are any.
Speaking of the burners, the range often comes with the burner of the same sizes and in some cases features one or two different sizes. Cooktops often have burners of different sizes, but there might be an exception in some cases.
Additionally, range feature two design styles which you can pick from. You can go for either the slide-in rangetop or the freestanding range designed to standalone which you can also install directly within your cabinetry.
Do Rangetop And Cooktop Have Anything In Common? – Rangetop vs Cooktop
No doubt, range tops, and cooktops perform the same function which is to help you cook your meals. Even though they have their differences; there are a few similarities that make people think they are the same.
They are both available in electric and gas models. Also, the cooking appliances do not come with an oven. Additionally, they are both available in a wide variety of sizes.
What are The Benefits and Drawbacks Of Range? – Rangetop vs Cooktop
The benefits of ranges are:
• It is available in several cooking styles, size, and types. You have the opportunity to select from dual-fuel ranges, double oven, drop-in, slide-in, or freestanding ranges.
• The orientation of the control knobs allows you to control the appliance without having to reach over the hot pans and pots to adjust the temperature of the burner. This reduces the risk of burning yourself
• It offers superior heating functions and power that ensures faster cooking and limit the time you use in the kitchen.
• Ranges can help bring your kitchen together if you need a strong focal point
The drawbacks are:
• It requires more space for installation and might not be perfect for kitchens with limited space
• The range comes at a higher price
What Are the Benefits and Drawbacks Of cooktops?
The benefits are:
• It requires a smaller space for installation making it a good option for smaller kitchens. Also, it helps leave enough space for cabinets below.
• Cooktops can be a safer option for families with small kids because small children can not access the control knobs easily.
• It offers more flexibility in options as it allows you to pick between different fuel sources.
• The separate baking and cooking zones make it the best for multiple cook scenarios.
• Cooktops ensure you don't have much to eat in the kitchen.
The drawbacks of the cooktops are:
• Even though there are lots of exceptional premium cooktops on the market, there are also many cheaper and more basic models that may not meet the busy kitchen demands.
• The location of the cooking appliance might pose a risk to users when it comes to making adjustments while cooking.
• Your choices might be limited for feature replacement because it is difficult to find a cooktop having the same countertop cut after many years.
Are Cooktops Better than Ranges?
When it comes to cooking, both options perform the same function. However, just like we have discussed, they are different in design, performance, features, available options, and much more.
These differences coupled with the tons of cooking appliances available on the market might have you wondering about the best option to opt for and use in your home or restaurant. There are some key factors you need to consider before making your final purchase decision.
• Performance – Rangetop vs Cooktop
When talking about performance, lots of the range available provide great power and heating functions for burners and ovens, especially the gas option. Even though you can find a cooktop and range top with superior performance, it is easier to find a single range that provides strong performance than finding a cooktop and oven that match both offering superior performance.
The truth is if you are an avid home cook and wish to bring commercial-grade quality to your kitchen, either go for a range or a cooktop with a gas option. Electric and induction options take time to heat up.
• Size – Rangetop vs Cooktop
Both the cooktop and rangetop have almost the same size. But the spaces they occupy in your kitchen vary. If you do not have enough space in your kitchen and want a cooking appliance that will not take more of the limited space, go for a cooktop with a smaller size.
If your kitchen is spacious, you can go for range tops and ranges. However, the choice is yours when it comes to size. You might decide to go for a wider or bigger cooktop even if you have enough room for it in your kitchen.
• The number of burners – Rangetop vs Cooktop
This depends on how intensively you expect to use your cooking appliances and the answer often depends on what you will be using it for and the size of your family.
If you are an avid cook or have big family cooktops and rangetops with four burners and above may be a perfect option. But if you have a small family or you are someone who doesn't cook frequently, a cooking appliance with a single or two burners should meet your needs.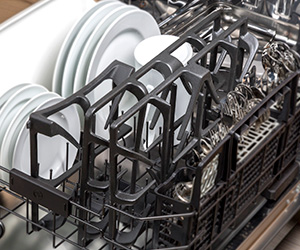 • Modern and advanced features – Rangetop vs Cooktop
If you are a tech freak and need something to complement the modern look of your kitchen, you can benefit from cooking appliances that have some modern features. Advanced features available are a timer, precise temperature control, automatic safety shut-off, child lock function, and hot surface indicator.
Most of these features you can find in cooktops. However, some are available in range tops too. Make a decision depending on which feature you are looking for and the ones that will meet your cooking needs.
• Price – Rangetop vs Cooktop
The price of a cooktop vs a range top typically depends on the features they come with. However, rangetops are considered pricier than cooktops. This doesn't mean you won't get a pricey cooktop too. Of course, a cooktop with advanced features would be pricier than a range top that does not come with modern features. It means that regardless of your choice, you will get what you paid for.
Note that knowing which one is better for you is ultimately up to you. It depends on how much space you have in your kitchen, how much you cook, and of course your cooking style. The range and cooktop provide exceptional benefits and can prove to be a great addition to your kitchen.
What does rangetop mean?
A range top stove is a slide-in cooking appliance that looks like a cooktop and freestanding range, but it doesn't have an oven. A range top doesn't need much space and could be installed into the cabinet or countertop. Similar to the range, a range top has its knobs and controls in front of the unit.
What is the best gas cooktop?
There are plenty of different gas cooktops on the market. To choose the best one for your needs, you have to know you should know what area you can allocate for the cooktop and its size, in addition, you have to understand your needs.
Do you have a small or big family, for how many persons do you usually cook and etc? As a result by answering these questions, you will choose the one which will suit you best.
How much does it cost to install a gas cooktop?
The average cost for installation of a gas cooktop may vary depending on state and city, however, usually, it starts from $99 and can go up to $200. If your house has no connection with the gas line, you need to add about $250 for this operation.
Conclusion
Now that you know the differences between a range, range top, and cooktop and also their benefits, you shouldn't have a problem selecting the perfect cooking appliance and creating your perfect kitchen. Additionally, we believe our best cooktop and range top should be able to set your foot on the right part.
Remember that both cooktops and rangetops have their advantages and disadvantages, so do research, consider the key factors such as performance, size, and other important features, and make an informed decision. Rangetop vs Cooktop – what will you choose?
Don't Forget to Check Our Review on KitchenAid Dishwasher KDTE334GPS – https://kitchengeek.com/kdte334gps-review/