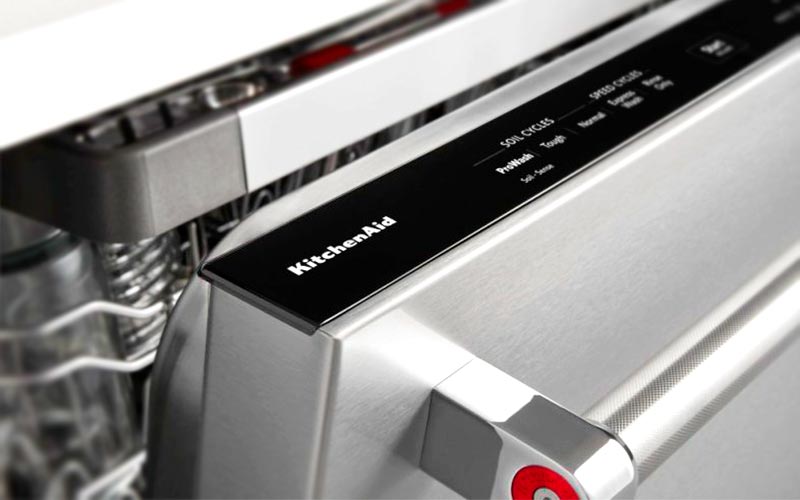 KDTE334GPS review should have appeared, because KitchenAid has made one of the quietest dishwashers at a reasonable price, which also has lots of features. The dishwasher has three racks, individual bottle washers, two spray arms, an automatic wash cycle, adjustable racks, folding shelves, and many other options.
Unfortunately, however, things cannot be that good, and Kdte334gps has some Cons that you should know before purchasing.

KitchenAid KDTE334GPS Review – Appearance
As usual, the KitchenAid design is gorgeous, at once the body is sleek and features a durable heavy-duty appearance with distinctive design elements.
The front panel is fingerprint resistant and has a large handle that feel and look premium. The texture of the handle is not only pleasant to the touch but also useful as it prevents the towels from falling. While it works, the small blue light will indicate it. Unfortunately, this light doesn't look great and seems to be out of the total look of this dishwasher.
Inside it has hidden top controls on the door and the entire interior made of stainless steel. I don't know which view is better, outside or inside, however, both have a beautiful industrial appearance.
KitchenAid KDTE334GPS Review – Performance
One of the most incredible features of KDTE334GPS is unnoticeable, with only 39 dBA you need to be very careful to understand that the dishwasher is ON. Just keep in mind that the quietest available dishwasher on the market produces 38 dBA, this Miele G6987SCVIK2O will cost you more than twice as much as KitchenAid.
Washing Cycles
This dishwasher has 5 wash cycles, ProWash, Tough, Normal, and two-speed cycles – Express wash and Rinse only.
ProWash mode uses an optical sensor that detects water temperature, soil and detergent amount. Based on all these measurements, the dishwasher adjusts the washing cycle, which can last from 2.5 to 3.5 hours.
According to my experience, ProWash took almost 3 hours, however, it was only the first experience, and I will update this data later.
Tough and Normal cycles take 2.5 – 3.5 and 1.5 – 3.5 hours, respectively, the result was good in all modes, the dishes were clean and dry.
Express and Rinse only cycles cut the wash time by half and even more and help save water and electricity. Express mode takes up to 1 hour, and Rinse Only performs for 20 minutes.
For each of the cycles you can set a delay of 2, 4 and 8 hours.
The most efficient mode is Normal, with its minimum operating time the dishwasher will use only 2.7 gallons.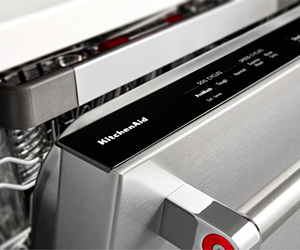 Drying Cycles
For drying this dishwasher uses a fan and a heated metal rod at the bottom, and as a result, no matter which program you will choose, ProDry or Extended ProDry, you get the perfect result.
Useful Details
KitchenAid has also prepared things for you such as three racks, a bottle wash option, and SaniRinse mode.
SaniRinse mode increases the temperature of the main wash from 105°F to 140°F, and the final rinse from 140°F to 155°F. You probably would like to use it after someone in the house has been sick.
At the middle rack (sometimes it is called an upper rack) you can find spray nozzles, each is adjustable, to wash bottles or vases in the best way. This rack also has a fold-down shelf with a steam wear holder and 2 rows of fold-down tines.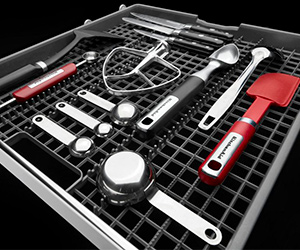 The third level rack is perfect for cooking tools, food processor blades, and many other small things.
KitchenAid KDTE334GPS Review – How To Keep Dishwasher Clean?
For best performance, don't forget to clean upper and lower filters regularly.
I also recommend running a normal cycle once during a few months, using a certified dishwasher cleaner to keep the optical sensor and the inside in the best shape.
Alternatively, you can follow budget cleaning "mode" from YouTube.
KitchenAid KDTE334GPS Review – Add-ons and Spare Parts
For installation, you will probably need Universal Industrial-Grade 6′ Dishwasher Water Supply Kit.
As add-on for more convenient use, it would be nice to have a Whirlpool 8519716 Small Items Bag for Dishwasher.
Another great thing is DishTrick Dishwasher Extension Bundle.
If you have babies at home, it is helpful to have DishTrick Dishwasher Baby Bundle.
In case you will need some spare parts, there are no problems finding them. For example, KitchenAid/Whirlpool even sells handles or Dishwasher Rack Repair Kit.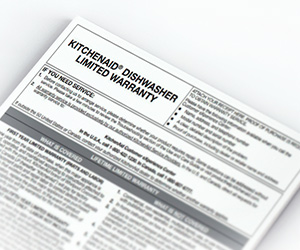 KitchenAid KDTE334GPS Review – Warranty
KitchenAid provides First Year Limited Warranty for part and labor and Second through Fifth Year Limited Warranty for certain component parts, with not included labor. Stainless steel tub and inner door liner have Lifetime Limited Warranty.

In general, this warranty period is more than sufficient for any product defects to appear.
KitchenAid KDTE334GPS Review – The Brand
KitchenAid is a premium brand owned by Whirlpool Corporation, the largest appliance manufacturer in the US. Whirlpool is based out of Michigan with plants across Northern America. Whirlpool has more than 100 years of history and is one of the most recognizable brands.
KitchenAid KDTE334GPS Review – What Could Be Better?
Some customers note a poor quality of washing, so you need to rinse the dishes before washing. I also met some reviews that the silverware basket has too thin wholes, so if you have flatware with thick handles, it could not fit. I didn't face these problems, but…
My negative feedback relate to the handle, it seems to play a little, which I do not expect from the dishwasher at this price level. Furthermore, from my point of view, the washing times too large. Over wise, you can run the dishwasher at night or use express mode, so it is not a real fault.
Sum Up
KitchenAid made a great dishwasher, which not only looks magnificent but is also very quiet and performs at a high level. The only thing that stops me to recommend it to everyone is Bosch SHX878WD5N 800 Series. The problem is that KitchenAid costs almost the same as Bosch, while Bosch is a recognized leader in this market.

This dishwasher has everything KitchenAid has and even more.
It is very quiet, only 42 dBA (you will not feel the difference), 6 washing modes and extra 6 options.
Speed 60 mode gets dishes from dirty to dry in 60 minutes.
The design is gorgeous, the interior holds 3 racks, one of which comes with foldable tines to fit large pots and pans. Dishwasher provide many small and useful details.
At the top it has a self-latching door and 24/7 leak protection.
KitchenAid KDTE334GPS Review – FAQ
Contents:
Who Makes The Most Reliable Dishwasher?
To find out the most reliable dishwasher we need to know the sales results and the number of service calls for each model through the market, unfortunately, I don't know about such statistics in open resources, but, I don't think it really exists.
However, from the open resources, we can find general statistics over the brands. Thus, after submitting all the data, we see that the most reliable brands are Whirlpool, Miele, and Bosch.

Are GE Dishwashers Reliable?
According to all open statistics on the web, GE dishwashers are in the middle of reliability rating closer to the bottom. From my point of view, choosing from all brands is better to stop on those, which we mentioned in the previous paragraph.
Is Bosch The Best Dishwasher?
Usually, the answer to this question is very subjective. Just keep in mind that at approximately the same price Bosch will be quieter and more reliable than other brands. In addition, if you compare different brands at the same price level, Bosch dishwashers will most likely have more features and smart solutions
Finally, Bosch is a German brand with production in the USA. My vote is for Bosch
What Is The Best Dishwasher To Buy?
One of the most expensive are these Miele and Bosch. If you mean high price as a marker for the best product.
Another way to keep in mind that by buying an expensive dishwasher, you pay for features that are sometimes not needed.


In addition, inexpensive models usually also pay for quiet and customizing.
If you need a dishwasher at a reasonable price with a good quality, you should check Bosch Ascenta SHX3AR75UC
Which Dishwashers Dry The Best?
For best result, a dishwasher should have a heated dryer, for example, Whirlpool. KitchenAid, Maytag, Samsung and GE have models with it. Some of them also has a fan to speed up the drying process and gain the significant result.
All common models have condensation drying, which usually takes longer to dry and still leaves some amount of moisture on the dishes.
Which Dishwashers Use The Least Water?
In 2019, this is Miele Futura G6365SCVISF. It use only 1.72 gallons in Auto Program.

Which Dishwashers Are Made In USA?
The following companies have production in the USA: Bosch, GE, Thermador, Frigidaire, Electrolux, Sharp and Dacor. Not all of these companies are American, most of them are international, but have factories in USA.

What Brand Make The Best Dishwasher?
Bosch, Miele and Whirlpool. However, please note that this is my subjective opinion. What do you think? Please share in comments.