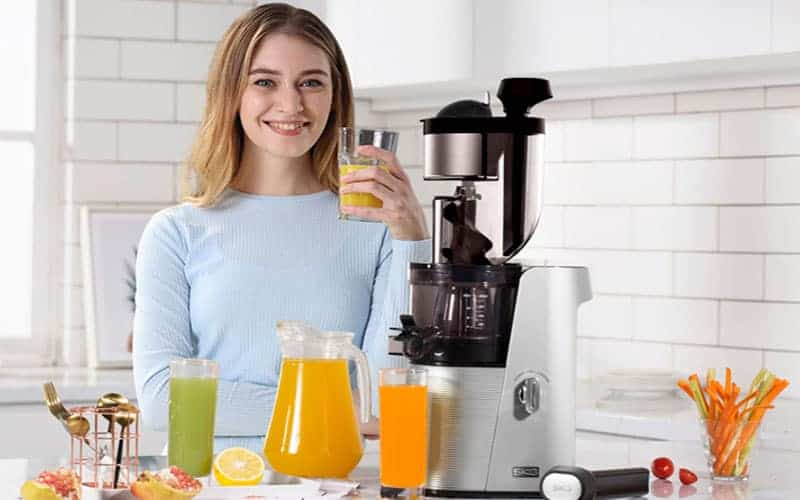 If you're looking for the best masticating juicer, you're in the right place.
Juicers come in all shapes and sizes, but the two main categories are centrifugal and masticating. Centrifugal juicers spin at a high-speed and produce juice by shredding and grinding your fruits, vegetables, and leafy greens. Masticating juicers use a single auger to crush your food into tiny little particles.
It provides more power than a simple blender and makes the crushing and extraction easier. There are different models available to meet your needs, but choosing the best masticating juicers will ensure that there is no limit to what you can achieve.
We have researched the top of the range models available and selected the seven best masticating juicers. Read on to find the perfect one for you.

Review of the Top Range Masticating Juicers
This product can be a perfect choice if you want to improve your juicing experience. The Aicok Slow Masticating Juicer is the best for you if you plan to juice plenty of soft produce and leafy greens.
This upgraded model comes with features that offer the best in class operation, performance efficiency, juice yield, and quality of juice.
Performance
This masticating juicer comes with seven segment spiral openings that ensure maximum juice yield and nutrition by cutting, breaking, squeezing, milling, grinding, and extracting the juice.
It also offers a low 80 RPM speed, which provides lesser juice agitation, increases the grinding and masticating process, and causes a 90% growth in nutrition.
Build and durability
The Aicok Slow Masticating Juicer is constructed with food-grade PMMA. Also, it is made of heavy-duty materials, which makes it more durable than the classic model and its counterpart. Besides, a two directions switch is included.
This feature helps you to release ingredients and clean the machine without clogging. Anyone sleeping in the house won't be disturbed because the juicer comes with a motor that generates a noise of less than 60 dB.
With an auto pulp injection feature included, this product ensures that only the nutritious juice is extracted.
Quality of juice
As one of the best masticating juicers, this machine ensures the juice is not agitated too much and also generates less heat. Besides, the juicer clogs and foams less due to the low RPM speed.
All of these ensure that trace minerals and nutrients, enzymes, vitamins, and minerals are reserved, resulting in nutritious and quality juice. Also, the liquid will have less pulp.
Pros
Inexpensive but so much value
Assembly and cleaning are hassle-free
No clogging and lesser foaming of the juice
Better nutrition and durable construction
Cons
You may need to chop up large fruits and vegetables
Overall
The Aicok Slow Masticating Juicer can be the right choice for budget-conscious buyers that are also looking for a juicer that works well with leafy greens. Also, it will work for you if you don't want a juicer that makes noise.
This is one of the best masticating juicers for newbies, as it is easy to assemble and use. The features it offers ensure you don't have problems making your favorite juice out of both soft and hard fruits and vegetables.
Performance
The Jocuu Slow Masticating Juicer comes with two-speed regulation and a reverse function that helps you to extract all kinds of fibrous vegetables and fruits and also prevent blockage. Additionally, the 150W motor included ensures that the rate of oxidation is reduced.
The machine also operates at less than 60 decibels, ensuring that you enjoy a quiet environment.
Build and durability
Intelligent motor protection chips are included in this machine to stop operation automatically every 20 minutes. This ensures that the Jocuu Slow Masticating Juicer serves you for a long time.
The materials used in the construction of this juicer are high-quality food-grade antioxidant materials. It also comes with a cleaning brush to make cleaning easy.
Quality of juice
This tool features a small feeder chute that helps you remove the peels and seeds of fruits to reduce or prevent the juice from having a bitter taste. Also, the motor ensures that the pulp is separated from the liquid to produce tasty and highly nutritional juice.
Pros
One-touch assembly design
Two-speed control for soft and hard fruits and vegetables
Operates quietly
Good warranty
Cons
Some users think that durability needs improvement
Overall
Even though you should not expect a miracle from this masticating juicer, it can still perform well in its category. You can go for it if you need an affordable juicer that does a decent job and operates quietly.
If you are looking for a masticating juicer that concisely and correctly extracts juice from fruits and vegetables, the AMZCHEF Professional Cold Press Juicer can bridge the gap. The spiral system, versatility, low speed, and other features make it one of the best masticating juicers in the market.
Performance
This machine uses a seven spiral system that reserves most nutrients in the juice, minimizes oxidation, and ensure you get much more juice by completely squeezing the fruits and juice.
The AMZCHEF Professional Cold Press Juicer comes with a low-speed motor that provides fine grinding and separates pulp from the liquid. An intelligent protection chip is added to ensure that the operation of the juicer stops automatically every 20 minutes to protect the machine from damage easily.
Build and durability
The masticating juicer comes with a design that appeals to the eye. It is built with high-quality materials that are BPA free. Also, it is constructed in a way that allows you to clean it with a dishwasher. It also comes with a brush, which makes cleaning easier.
The stainless-steel filter is durable and will help to get the job done for as long as you want. You can easily disassemble it with the one-button disassembling feature included. It also comes with a reverse function to get rid of the blockage.
Quality of juice
The oxidation produced by the AMZCHEF Professional Cold Press Juicer is less – about 3%. More nutrients, such as vitamins, minerals, and enzymes, are retained. Also, a drier pulp is generated, and the yield is about 90% due to the long spiral structure.
Pros
Drier pulp and more juice
Unique juice storage cup panel for easier cleaning
Heat and corrosion-resistant construction materials
Cons
Some users complained that the filter is not easy to clean
The cup can get stained easily
Overall
The AMZCHEF Professional Cold Press Juicer is one of the best masticating juicers with a great design that is easy to put together and put apart. It is durable and stands up to your juicing task anytime. Also, it offers maximum efficiency and extracts lots of juice.
The Aicok Slow Upgrade Filter Juice Machine is one of the best masticating juicers that crushes almost every fruit and vegetable. It allows you to make various healthy juice and foods for your baby and even your family.
Performance
Just like the Aicok juicer mentioned earlier, this machine comes with a low-speed motor, which ensures that the nutritional value of your greens, veggies, and fruits is preserved. This feature with a strong filter also provides a purer and higher juice yield.
You can continuously and easily extract juice without clogging due to the reverse function included in the juicer.
Build and durability
The material used in the construction of the blade is plastic, which is durable and robust to breakdown your fruits and vegetables without difficulty. It is also built to have a solid body and make less noise, which makes it easy for you to use anywhere and anytime.
Quality of juice
The way this juicer is constructed ensures that less air is added when you are masticating the fruits and vegetables. This allows you to store the juice for about 72 hours. Also, the liquid produced with this machine produces less foam.
Pros
Easy installation
Strong filter and worm
Reverse function to prevent clogging
Versatile
Cons
It can't handle big pieces
Durability may need some improvements
Overall
This juicer can handle more than the regular fruits and vegetables, so it won't be a bad idea to go for it. You will get enough and healthy juice and won't struggle to clean the machine after use.
If you are looking to bring your juicing experience to a whole new level, the Kuving's Elite C7000P Slow Juicer can be a perfect pick with its improved features that prove superiority. Even though it appears simple, it is one of the most elegant vertical masticating machines we have seen.
Performance
The machine is one of the best masticators that come with 60 RPM speed masticating technology. This feature makes the Kuving's Elite C7000P squeeze the ingredients gentler than its counterparts in the market and also prevent oxidation.
It also comes with a durable 240W motor that is powerful enough to crush fruits and, at the same time, work quietly. Besides, it is known to be a 3-in-1 masticating juicer that can handle almost everything from wheatgrass and herbs to vegetables and fruits.
Build and durability
The sleek innovative design of this masticating juicer ensures that it takes up less space in your kitchen and on your counter. Also, it is constructed with BPA-free components making your juice safe to drink after extraction.
A feed chute that is three-inch-wide is included to reduce the stress of cutting your ingredients before masticating them. It means it won't take much time to prepare your juice. Additionally, this machine comes with a juice spout that is spill-free and chrome plated.
With the feature, you can quickly rinse between the recipe and also create a well-mixed juice.
Quality of juice
The Kuving's Elite C7000P Slow Juicer also preserves all the beneficial nutrients in your juice like most of the best masticating juicers. Besides, it offers your juice a long shelf life without degradation.
The BPA-free components also ensure that your juice is not contaminated.
Pros
Wide mouth for plentiful produce
Breeze cleanup
Quick juicing session
Chew up all produce
Highly Durable
Cons
Some users complained that it is expensive
It may overheat if juicing a lot
Overall
This machine is a reliable, functional juicer and will serve you for many years. Also, it produces drier pulp and amazing juices.
If you are making juice out of big fruits and veggies, the SKG A10 Slow Masticating Juicer should be your pick. It is designed to accommodate products regardless of their size.
Performance
This juicer features a 250W motor that allows it to operate at a speed as low as 36RPM. The low speed allows enough time to grind your produce and squeeze it to produce lots of juice without oxidation.
The vertical masticating juicer comes with a broader chute that measures 3.15-inch and two feeders that makes it convenient to put vegetables and fruits of different sizes.
Overload protection system and two directions switch are included to ensure your juicer continues to do its job for as long as you have it.
Build and durability
Every component of the SKG A10 Slow Masticating Juicer is designed to look good, work well, prevent contamination, and also provide a fast and efficient cleaning. The components are assembled in a way that won't take time if you want to put them apart.
Also, the masticator comes with two plastic cups that are large enough to accommodate a lot of juice at once.
Quality of juice
Just like some other best masticator for making juice, this machine produces long-lasting, and better-tasting juice as nutrients from each vegetable and fruit are retained. A rough strainer and fine strainer are also included for purer juice and easily get rid of pulp from liquid with more pulp.
Furthermore, pulp and foam are strained out with the filter included.
Pros
Better taste and superior quality
Wide turnover chute
Less preparation work
Solid and well-made
Cons
You can't wash it with dishwasher
It can be challenging to squeeze too soft ingredient
Overall
The SKG A10 Slow Masticating Juicer will be a good pick if you want it for fruits such as apples, beets, carrots, and the likes. Although it can also handle some greens, it is not often the best choice if you will be dealing with lots of greens.
One of the best masticators with an extraction system and robust motor that can not be matched by most of the juicers available in the market is Omega NC900HDC. The 15-year warranty also makes it a good buy.
Performance
The machine features a motor that delivers 200W of power and a speed of 80 RPM to ensure that the juicing job is completed very quickly. With the dual-stage extraction system, you can process any vegetable, fruit, and produce.
The adjustable end cap with five settings included allows you to wring out your toughest produce easily. The masticating juicer also comes with an auto pulp ejection system that takes care of debris automatically.
Build and durability
This Omega NC900HDC juicer ensures that you grip the machine thoroughly with the handle it comes with. The chrome finish and shiny enclosure are included to resist corrosion that can result from acidic fruit juices.
According to the manufacturer, this tool can remain structurally firm and fully operational for about 15 years and even more if well maintained.
Quality of juice
You can get lots of juice, and the maximum amount of vitamins, minerals, and nutrients from a few vegetable and fruit. It means you don't need a lot of produce to get the desired quantity and quality juice. During the masticating process, minimal oxidation occurs, resulting in healthy enzymes.
Pros
Dual-stage extraction system
High juice yield
Easy transportation
15-year warranty
Corrosion-resistant exterior and interior
Cons
The juicing screen is fragile
Overall
The Omega NC900HDC juicer will be the right choice for your kitchen if you need the best masticating juicer that can handle other jobs. Although it is perfect for juicing, you can also use it to grind the coffee, make baby food, extrude pasta, mice herbs, and more.
Best Masticating Juicer – Buyer's Guide
How to Pick the Best Model of Masticating Juicer for your Needs?
At first glance, most of the available masticators look similar. So, this can make it difficult for you to pick the one that best meets your needs. To make selecting the best masticating juicer for you easy, there are some factors you need to consider.
The versatility
If you need a machine that will do more than juicing, you should consider the top of the range masticating juicer that can handle different types of food. They can be used to make juice, nut butter, pasta, baby foods, and more.
Some masticators come with different types of nozzles to suit the kind of food you want to prepare. Most of the time, it is better that you have a machine that can multitask than two or three that do a single job.
The juice yields
The juice yield often depends on the auger or augers' RPM and machine size. If you want a masticating juicer that yields a lot of juice, go for a big one with low RPM. It means the machine will deliver drier pulp and enough juice.
Chute opening
Go for the best masticating juicer with a 3" chute opening or more. It means you will be able to process large fruits and vegetables without chopping them down to smaller sizes. This, in return, reduces the prep time.
The speed
The lower the speed, the better. If you pick one with low speed, the oxidation process will be suppressed, and minerals and vitamins are preserved in the juice.
Other tips that can help you are:
Go for the best masticating juicer that comes with a motor that is durable and delivers high torque.
Pick models that do not make too much noise or operate silently – less than 60db sound.
The higher the warranty, the better. Select the top of the range masticating juicer that offers a 3-year warranty and more.
Look for one that is easy to clean.
What is a Masticating Juicer?
A masticating juicer is an appliance that is basically used in the kitchen to produce juice, and it is also called a cold press juicer or slow juicer.
The machine basically uses an auger, also known as drill, gear, or blade, to slowly grind, crush, and chew up your fruits, vegetables, and any other products to dry pulp while squeezing out the liquid (juice).
What are the Types of Masticating Juicer?
There are two types of masticating juicers. They include the horizontal and vertical masticating juicer. The horizontal configuration is the common one, and it can have a horizontally placed single or double auger (screw-like element) that crush, grind, and extract the juice.
The horizontal position of the auger makes this type most efficient at juicing leafy greens.
On the other hand, the vertical configuration has its auger placed vertically. This type is easier to clean, ensures that the juicing process is sped up slightly, and does not occupy much space on the counter.
Whether you go for horizontal or vertical configuration, you will still get higher-quality juice.
How Does a Masticating Juicer Work?
Your produce is inserted into the masticator through the chute opening. The auger with a helical screw blade that rotates drills your fruits and veggies, and also squeezes the produce against the wall of the machine to crush them.
The side of the walls has a screen or filter which holds the pulp, pushes it into a separate container, and sieve the liquid which is conveyed to where it will be collected.
What are the Benefits of a Masticating Juicer?
Using a masticating juicer has lots of benefits, and they are:
Usually, there is less heat generated because it is a slow process. Due to the low temperature, the nutrients, vitamins, and enzymes are better preserved in the juice.
More juice yield is provided due to the slow and efficient process of extraction
Less foam is produced in the extracted juice
It is very versatile as you can efficiently extract juice from grasses, leaves, leafy greens, fruits, herbs, and more. You can also use it to mix food to make pates, butter, sauces, baby foods, ice cream, and sorbets.
The juice extracted by masticating juicers often have a longer storage life
Most models offer higher warranty
What is the Difference Between Centrifugal Juicers and Masticating Juicers?
Even though both the centrifugal juicer, which is also known as a fast juicer, and the masticating juicers also called a slow juicer, produce juice, they are different. The differences are in their speed, function, juice quality, degradation time, oxidation rate, noise level, juice yield, and more.
To better understand their difference, check the comparison table below.
| | | |
| --- | --- | --- |
| | Masticating Juicers | Centrifugal Juicer |
| Speed | 40 to 100 RPM | 3000 – 10000 RPM |
| Noise | Low | Moderate to high |
| Quality of juice | Juice separates slowly, preserves its nutrients, and has less foam. So, the quality is high. | Juice separates faster, has more foam, and some nutrients escape. So, the quality is moderate. |
| Function | Reduce or remove fiber, extract juice, processes food like pasta, mix, and grind powder. | Reduce or remove fiber, and extract the juice. |
| Rate of Oxidation | Oxidation is deficient | It is moderate |
| Juice shelf life | Within 0ne to three days | It degrades few hours after juicing |
| Produce | Leafy greens, soft and hard fruits, and thick vegetables | Thick vegetables and hard fruits |
| Yielding rate | Dry pulp and very high yielding rate | The yielding rate is high, but the pulp is often wet |
FAQ about Masticating Juicers
Why is the masticating juicer better than a centrifugal juicer?
No doubt, centrifugal juicers are faster, making it crush and grind produce faster. However, the slow process of masticating juicers makes it better because it does not produce heat that can result in oxidation. Also, it is better because more juice with higher nutrition is produced.
How long does it take the masticating juicers to extract juice?
What you plan to juice and the model you go for often determine the juicing time. However, generally speaking, you can get about a liter of juice in 10 minutes. This does not include prep time.
Is a cold press juicer and masticating juicer different?
Both use the same process. However, the masticating juicers retain more fruits and vegetable nutrients than the cold press juicer.
Final words
The best masticating juicers mentioned in this review are easy to use, durable, efficient, and deliver a high yield of healthy and delicious vegetable and fruit juice. So, you should pick the one that suits your preference.
Even though all the juicers will get the job done, we will suggest that you should go for the Omega NC900HDC juicer for its pure versatility and ability to serve you for many years.