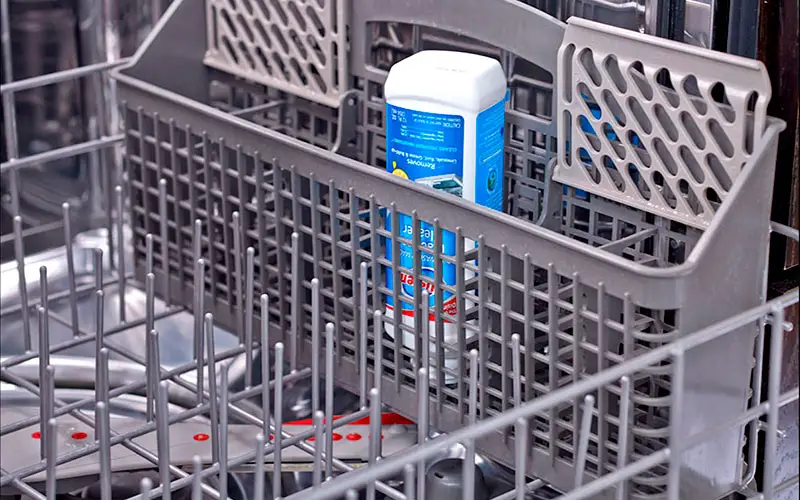 Is your dishwasher lined with hard to remove lime residue? Tired of dealing with scum covered dishes that come out of your dishwasher? I may have just the right solution for the scaly and clogged dishwasher issues you have.
Finish Dishwasher Cleaner boasts of tackling with the hardest to remove limescale residues effectively and effortlessly. Is this true? I have reviewed Finish Dishwasher Cleaner and a few alternatives, so you can know more in detail about the dishwasher cleaner and decide whether it can be the right cleaner for your dishwasher.

Finish Dishwasher Cleaner Review – The initial impression of Finish Dishwasher Cleaner
Finish Dishwasher Cleaner helps maintain your dishwasher clean and good as new. When compared to manually slogging over keeping the dishwasher clean, the cleaner solution definitely reduces hassle.
With regular cleaning using Finish Cleaner every month, you are guaranteed the best results. According to the manufacturer, the deep cleaning mechanism in the cleaner cleans, freshens, and maintains all parts, including the hidden parts free of grime and grease.
Finish Working Mechanism
Finish dishwasher cleaner works in a two-pronged way to get rid of the stains and scales that build up and clog your dishwasher.
The working mechanism of the cleaner is as follows:
Removes limescale deposits
The offending limescale deposited on the inner parts of your dishwasher is removed thoroughly.
The cleaning action extends to all the difficult to access parts inside the dishwasher, such as pipes and sprayer arms.
Gets rid of grease stains
In addition to removing limescale residue, Finish also takes care of the unsightly grease stains that you see on the inner sides of the machine.
When left unattended, the grease can cause unpleasant odors. The finish helps tackle the grease stains successfully and does a thorough cleaning of the pipes, spray arms, and filters, leaving them grease-free and looking sparkling clean.
Finish Dishwasher Cleaner Performance
For a dishwasher to work its magic on your dishes and save you time and effort, you spend on cleaning them, and it has to be clean.
Just as you would not think of washing your dishes in a dirt-filled sink, having them washed in a clogged and dirty dishwasher is not a sensible thing to do.
In my opinion, to get the best cleaning results and for your dishwasher to provide a better performance, you need to have it cleaned at regular intervals using a cleaner like Finish.
How to Use Finish for Best Results
As far as I know, any product works best when it is used as instructed by the manufacturer. This is true in the case of the Finish Dishwasher too.
During preparing Finish Dishwasher Cleaner Review I followed the steps recommended by the manufacturer, and I could really see the results.
So here I have shared how the dishwasher cleaner should be used:
To start with, use the cleaner only when the dishwasher is empty
It is not necessary to remove the cap. Just remove the sticker present on top of the bottle. This will expose a plug made of wax
Place the cleaner bottle on the bottom rack of the dishwasher in an upside-down position
Now to the settings. Set the temperature to the highest temperature or at least a minimum of 125 degrees Fahrenheit and set the wash cycle to heavy or pots & pans mode
Last but not least, use the dishwasher cleaner at least once per month or sooner in case you find scale buildup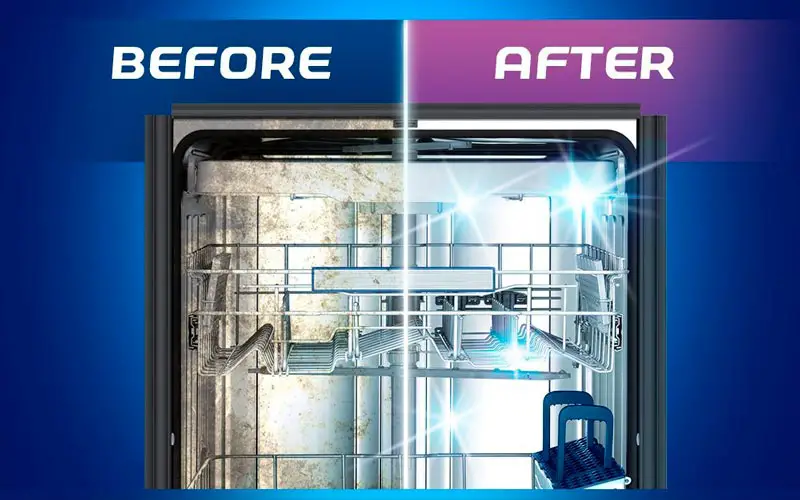 Recommendation on Finish Dishwasher Cleaner
There are various versions of Finish available in the market now. I have tested each one of them and found that they can give sufficient cleaning action and luster to the dishwasher.
I'd recommend using the versions below according to the specific problem you encounter with your dishwasher.
Finish Dishwasher Cleaner Review includes the following recommendations:
Finish Quantum Dishwasher Cleaner
This Finish dishwasher cleaner is for hard to remove stains
It is made of three chambers containing fast-dissolving cleaner liquid. Each chamber delivers different actions such as break down difficult to remove the mess and lift them, cut into toughest grease stains and final shine boost action
Jet Dry Rinse Aid
This Finish product is for use along with dishwasher liquid. It provides excellent glass protection component that results in better shine for dishes such as cutlery and plastics as against using just the detergent
Dual Action Finish Dishwasher Cleaner
This dishwasher cleaner provides dual action to get rid of grease and limescale deposits on all inner surfaces of the dishwasher, including the difficult to reach nooks and corners and in the vital but inaccessible parts
Finish Booster
This Finish cleaner might be the answer you seek for all the hard water induced limescale deposits in your dishwasher
The booster works with the dishwasher solution resulting in clean and sparkling dishes and also cleans the dishwasher at the same time
Who manufactures Finish Dishwasher Cleaner?
The brand name is one of the factors that help in deciding the choice of product. So I decided to find about the manufacturer of Finish Dishwasher Cleaner. While doing my research about Finish Dishwasher Cleaner, I discovered that the Finish brand had more than 6 decades of experience in the field.
Founded in 1953 by Economics Laboratory, which is a U.S. based company, Finish brand enjoyed a prominent position in the dishwashing field. This was because the period saw the rising popularity of dinnerware made of molded plastic, which showed issues like coffee staining and stain spots due to the slow drying nature of the material.
Finish and Electrasol the two significant products introduced by Eco Lab became famous in the dishwashing segment. J.A. Benckiser later acquired it in 1987 as part of the consumer products division takeover of Eco Lab.
The company now has an impressive presence in automatic dishwashing products and is sold in more than 40 countries all over the world.
Pros
It gets rid of lime residue and white scale formation effectively leaving the dishwasher spotlessly clean
Does not leave behind light scum covered dishes. It cleans thoroughly
Avoids the dishwasher from getting clogged up with residue and from smelling funky
When used once in a month it prevents major maintenance issues
Easy to order and delivery is also quick
Keeps the dishwasher shiny and new and smells great too
Cons
The odor of the dishwasher is very strong. It requires running two or more cycles to remove the strong smell
Does not contain natural ingredients so might not be safe for pets and children
Finish Dishwasher Cleaner Review – Final Verdict
It is a strong leader in the market of household chemicals for dishwashers. Excellent results, no matter when you started using the Finish, immediately after buying a dishwasher or a few years.
Alternatives to Finish Dishwasher Cleaner
Here is a couple of alternatives I have also tested and found them equal or in some aspects better than Finish Dishwasher. These might be the choice for your specific dishwasher stains, grease, and odor buildup issues.

If you are looking for deep cleansing action, Affresh Cleaner might be a good contender for the position.
It has the ingredients needed for penetrating residue, dissolving it, and removing it along with the offending odor. I have chosen this alternative as it can be a choice for those who prefer using the tablet form of cleaner.
Now let us see the features of this cleaner so you can know how it compares with Finish dishwasher cleaner.
Affresh Design
Affresh is made in tablet form. This patented design helps in making the cleaning agent last through an entire washing cycle.
Guaranteed to work more effectively than bleach, this cleaning tablet is made of safe to use chemicals.
The EPA approved ingredient formula is a factor that works in its favor. The makers claim it is safe to use in dishwashers with plastic as well as stainless steel tubs.

Working Mechanism of Affresh
The tablet form helps in easy use of Affresh. The tablet has specially formulated cleaning ingredients that act on limescale deposits and stubborn mineral deposits.
The main feature of Affresh that differentiates it from Finish is it can be used along with dishwashing detergent.
This reduces plenty of hassle as you need not run the dishwasher separately for cleaning it.
Affresh works its magic as the dish wash detergent cleans the dishes.
And this saves water and power too, which I think is a significant advantage. But the makers recommend you go through all cleaning instructions before using it.
Performance of Affresh Dishwasher Cleaner
Besides being available inconvenient to use tablet form, Affresh ingredients pack sufficient power to deal with touch limescale residue and other unsightly stains that accumulate in a dishwasher over time.
When used as recommended by the manufacturer once in a month or sooner the tablet form cleaner helps descale glassware and other dishes.
The recommendation by renowned brands like Whirlpool, KitchenAid, and Maytag further makes it a product that you might consider for your dishwasher.
Who makes Affresh Dishwasher Cleaner?
Affresh Dishwasher cleaner is part of the Affresh cleaning solutions series, which is owned and marketed by Whirlpool Corporation. Affresh products are aimed at providing efficient and effective cleaning of household appliances.
The company deals with providing a solution for difficult cleaning situations. It aims at developing smart cleaning solutions for the challenges put forth by modern technology.
Inspired by Whirlpool Corporation, an establishment with over more than a century's experience in delivering home appliances across the globe, Affresh products are focused on ensuring cleaner and better performing appliances with their high-quality cleaners.
Pros
Works well with dishwasher detergent
Removes hard limestone and calcium deposits from the dishwasher
The tablet is easy to place and dissolves completely when a cycle is over
Cleans up clogged pores, so dishes don't turn up dirty or with a white film on them
Unpleasant odor due to stains and other deposits is removed completely
Removes deposits from door seal crevices too
Cons
Is not good on glazes on pots as it damages the glaze
The foul odor is not completely removed. It comes back after some time
Hard water issues are not taken care of for good by this product
Affresh Washer Cleaner Reviews – Final Verdict
It is a strong competitor for Finish. The result is great and I strongly recommend using Afresh in case you don't have Finish or you don't want to use Finish. The only thing you have to mention, don't use it at the same time you wash dishes, as it is shown on the package. That will affect glass and maybe glaze on pots.

If you find dishes coated with a white film after a wash cycle or find offending stains in your dishwasher with an unpleasant odor, it's high time you picked an efficient dishwasher cleaner like Glisten.
This is another good alternative dishwasher cleaner to Finish I think you might be interested in.
Glisten helps in a thorough cleaning of the dishwasher and works on grease, limescale, food, detergent residues, and even rust.
Let me get you through its features in detail.
Design of Glisten
Glisten, unlike Affresh, is available in solution form just like Finish. It is an EPA registered dishwasher cleaner.
According to the manufacturer, it acts intensely on any type of unwanted and unsightly buildup in your dishwasher.
The product is available as a three-pack of 12 oz each.
Working Mechanism
Glisten cleaning solution is specially created to clean and also disinfect your dishwasher. It reaches even the hard to access corners and crevices in your dishwasher.
The DfE certified cleaner solution leaves behind no traces of residue or mess in your dishwasher. Using it in your dishwasher is similar to how you do with Finish.
Keep in inverted inside the basket for silverware in your dishwasher or the bottom rack after removing the cap and leaving the wax plug intact.
Run the dishwasher with the setting at the hottest to enable melting of the wax and proper dispensing of the solution. In case of heavy deposits, you need to use it twice. And the manufacturer recommends using it at least once a month.
Performance
The EPA and DfE certification of Glisten ensures it works safely on your dishwasher irrespective of whether it is plastic, stainless steel, or other types of dishwasher you use.
When used as per the manufacturer's instruction, it leaves behind a fresh smelling, clean, and efficient dishwasher.
Unlike Affresh, it has to be used separately and not along with the dishwasher detergent.
Who Makes Glisten Dishwasher Cleaner?
Summit Brands, founded in 1985, is the manufacturer of Glisten products. The company is known for its effective, innovative, and sustainable cleaning products for household use.
Iron Out a rust-removing solution was the first product of the company, and it later expanded and has several specialty cleaning solutions including Glisten that are popular in the market.
Pros
Removes odors and stains completely
Removes excess residue of dishwasher soap and hard water deposits
Cons
Is not as effective on plastic as on stainless steel interior
The wax plug does not melt even when the dishwasher is set at high temperature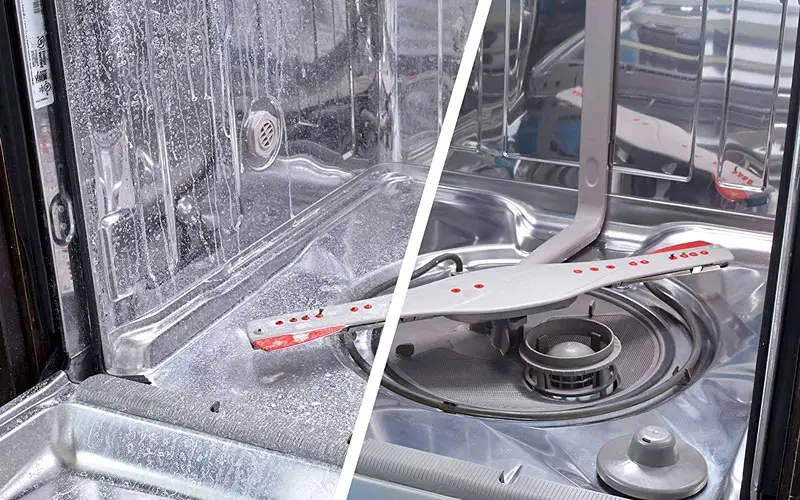 Glisten Dishwasher Cleaner Review – Final Verdict
Overall it is a good choice to keep your dishwasher in a good shape. But it is important that you will use it from the first month you bought the dishwasher. Glisten is not good enough to fight old sediments.
Finish Dishwasher Cleaner Review – Buyer's Guide
Contents:
Is a dishwasher cleaner really necessary? Won't the dishwasher detergent take care of the stains?
While it may look like a cleaning solution for an appliance that cleans dishes is unnecessary, even your dishwasher needs proper maintenance for performing well.
The cleaner helps to maintain the sprayers and other parts in the dishwasher in good condition, so the machine runs optimally.
How does dishwasher cleaner work?
Dishwasher cleaner helps remove grease, limescale deposits, and other food stains that buildup inside the dishwasher over time. It also removes foul odor due to the unwanted residue build-up.
It also helps maintain the sprayer arm's mechanical power. Using it regularly will help the dishwasher to reach its optimal temperature for best washing results.
Is using the chemical cleaner safe for drainage system including aerobic septic system?
The dishwasher cleaners are safe to use and do not cause any problem with the drainage or septic system.
Is the cleaning agent safe for use on plastic dishwashers?
Finish dishwasher cleaner acts as effectively on plastic-lined dishwashers as on stainless steel models.
Can a single bottle be used more than once?
Each bottle of dishwasher cleaner is for single use only. Since it is recommended for use once in a month a pack of four or three can last for 4-5 months if you use it once in six weeks after the first time use.
Does the cleaning solution have an expiry date?
The number printed on the package is the date of manufacturing, and the expiry dates are not generally printed in the packs.
Is the product safe to use?
All products from Finish are free of phosphates, sodium, dairy, egg, and peanut.
Finish Dishwasher Cleaner Review – Final Impression
Now that you have gone through my detailed review and recommendations of Finish Dishwasher Cleaner and the alternative products I have suggested, you would have a better idea as to the best product for you.
Finish Dishwasher with its different versions and functions certainly gives the impression of a better cleaner. The dual action powered ingredients promise a deep cleaning effect that may be the answer to all your dishwasher issues such as hard water triggered limescale deposits and other stains.
Affresh, with its tablet form, offers a more convenient usage method.
There is no hassle of placing a bottle upside down or other steps that are needed with Finish and Glisten.
Further, it can be used along with the dishwashing detergent reducing time, power, and hassle. But some reviews do suggest that the stain-removing action is a bit overpowering as it removes the glaze or measurement markers in cups or prints on the mugs and other dishes. EPA certification is another advantage.
Glisten, on the other hand, has EPA and DfE certifications and its cleaning action too is good. Cost-wise all three products are in the same range, making them an excellent budget buy.
And considering all are recommended to be used once in a month the value for money is present for all of them.
When it comes to maintaining your dishwasher, using a powerful cleaning solution like Finish or its alternatives can improve dishwasher performance to a great extent.
Your dishes will come out squeaky clean and fresh-smelling without any white residue over them. The dishwasher, too, will look good and smell good.
Did you like my Finish Dishwasher Cleaner Review? Please share with me!