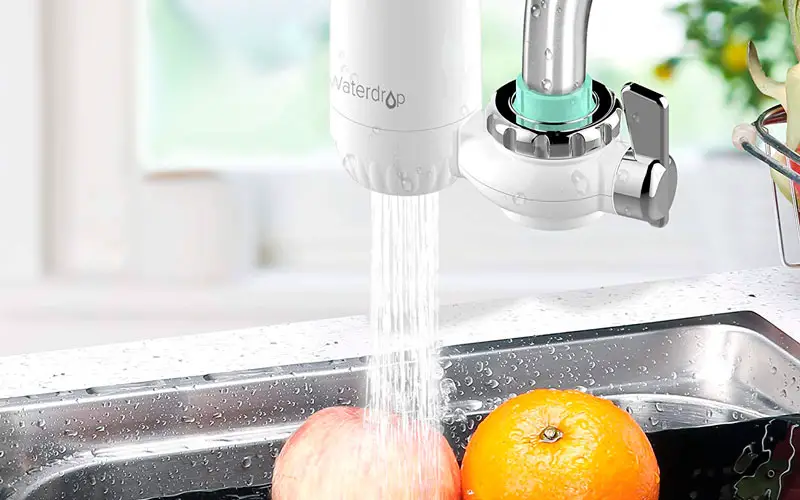 Clean and safe drinking water is vital for healthy living. But tap water does not always meet these criteria. Bad taste and impurities can make tap water cause health issues. Using a water filter is an excellent solution to make tap water safe and clean.
Waterdrop series of water filters is an innovative effort towards improved water filtration. How effective are the different Waterdrop models?
In this Waterdrop Filters Review, I will discuss Waterdrop Plus, Waterdrop, and the Waterdrop faucet filtration system their differences and how each of them works to meet your water filtration needs.

It is a well-known fact that replacement filters for big brands like Samsung, LG, etc. are quite expensive. This is why I prefer using inexpensive third party replacement filters like Waterdrop filters.
Waterdrop refrigerator replacement filters offer a cheap and effective solution. Smartly designed with an appropriately certified filtration method the filters are an excellent choice to consider for your fridge. Let me get you through a detailed review of the standard Waterdrop filters.
Budget Benefits
Available as a pack of 3, this Waterdrop product offers good value for money. At around $11 per filter, the product is very affordable buy that sports features that are comparable to the original replacement parts.
Design Matters
Waterdrop products are designed to provide effective filtration with precise engineering for proper fit without any worries about water leakage. The design is simple so that you can use it with ease. It can be fixed without the use of any tools and any hassle.
Material used
The filters are made of activated coconut carbon that is renewable. I like the fact that it offers an environmentally friendly solution.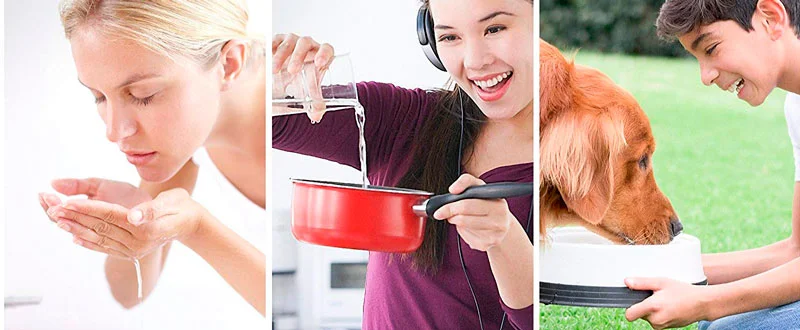 Performance of Waterdrop Filters
The filter is designed to last for about water of 300 gallons or up to 6 months. The certification part is the most important as you can know how the filter acts and what impurities and contaminants it removes.
NSF 53 certification indicates the removal of all harmful contaminants such as Cyst, Lead, Benzene, Endrin, and Carbofuran.
NSF 42 certification ensures the filter is capable of reducing chlorine odor and taste from the filter. You will have refreshingly tasty water similar to spring water. NSF 372 certification denotes the filter is lead-free, providing reliable and safe drinking water.
Pros
After running the filter through the water to clear excess carbon, the taste of water improves a lot
Installation is easy with the set of instructions provided
Reinstalling the filter helps remove flow or noise issue present with the wrong installation
Two rubber washers in the filter help prevent leakage
The filter has 3 O ring seals like OEM filters for a better fit
The packaging is very secure, so the filters are not harmed in any way
Cost is affordable
Cons
When compared to OEM design, the flange and seal of the filter is not good
Water leakage is present when used on models like Samsung RH22H90190SR as there is a gap present in the locking system
Water speed could be higher
Overall Impression
Waterdrop filter, with its convenient and leak-free design, is easy to install and use. The NSF certifications ensure the water is refreshing, healthy, and clean, so you and your family have access to healthy and safe drinking water always.
And additionally, the manufacturer donates a percentage of the proceeds from every Waterdrop purchase to provide clean water to a child in need.
The water filter is compatible with several commonly used models of refrigerator filter models including Kenmore, Maytag, Puriclean II, Kitchen Aid, and Viking, and various refrigerator models.
To get the best results, it is best to throw away an initial couple of gallons of water before you start using the filtered water.
Water quality is essential for leading a healthy life. But tap water does not always meet the quality criteria we want. One way to overcome this issue is by using an effective filter.
The right filter can meet your demanding needs and improve the quality of life too. The Waterdrop series is one such system that can provide you good quality water without having to spend an excessive amount.
My detailed Waterdrop Filters Review would have given you an exact idea about the replacement refrigerator filter. The Waterdrop Plus series is an upgraded form of the basic Waterdrop filter with changes in the filtration process and performance.
Here is more information on how it provides a much more effective filtration than Waterdrop filters.
Design of Waterdrop Plus
The Plus series from Waterdrop is an effort to improve the filtration method and thereby the water quality. The improved design of the filter enables this.
In addition to the convenient on and off the twisting design and precise filter attachment that is completely leak-proof; the Waterdrop Plus has a significant difference.
While the Waterdrop series has filters made of 0.5um carbon block of top-grade quality, the Plus series features filters made of 1um carbon block from coconut.
This change in design is aimed at removing more impurities and harmful contaminants.
Performance of Waterdrop Plus
On the performance front, the Waterdrop Plus series does not disappoint. It has filter certifications similar to the Waterdrop series such as NSF 53 certification that entails the removal of impurities and contaminants such as carbofuran, lead, benzene, endrin, and cyst.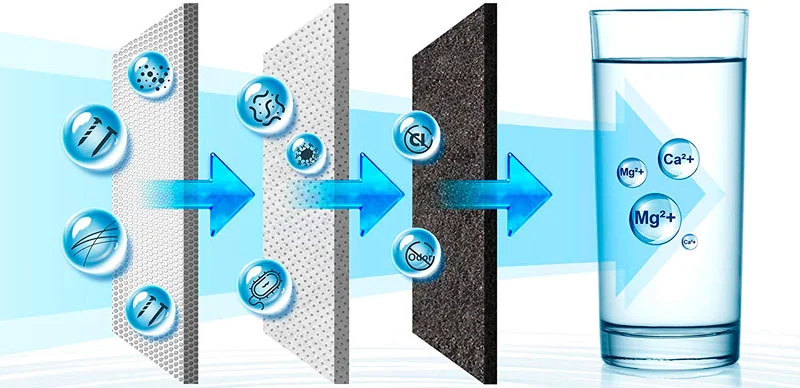 Waterdrop Plus also has NSF 42 certification for its removal of 97% chlorine, odor and taste from water. It is also free of lead for which it has NSF 372 certification.
The Waterdrop Plus series of refrigerator filters have an additional certification of NSF 401, which is for reduction of industrial chemicals and trace pharmaceuticals like BPA, Nonyl Phenol, Ibuprofen, Naproxen, Estrone, and Phenytoin.
All these certifications are proof of the filters being safe for use and also indicate their high-performance capacity.
Budget Benefits
One of the reasons for Waterdrop being popular is its affordable price tag. When compared to original or first-party refrigerator replacement filters, the Waterdrop filters are cheaper.
And the lower price does not affect the filtration effect, which is why I recommend this third-party filter.
At around $14 per filter when bought in packs of 3, the filters are money savers, especially when you consider long term use.
Pros
The filter fits in the refrigerator as precisely as the original filter for brands like Maytag, Samsung, etc.
Installation is very easy. It needs just about a quarter turn for a tight fit
The shape and size is similar to the original filter
The filter provides clean water without any cloudiness after running it through water and discarding the first few gallons
Price is very affordable making it an economical choice
Taste of water is similar to the OEM filters
Cons
The filters are a bit shorter for some refrigerators making it an improper fit
Does not diminish lead levels
Overall Impression
If you are looking to have safe drinking water without offending chlorine odor or other contaminants like lead, benzene, cyst, etc. the Waterdrop Plus series is an ideal choice to consider.
However, bear in mind that it does not remove as many contaminants as the OEM filters, including heavy metals.
And, I like the fact that the company is committed to providing clean drinking water for everyone with its Water Project. As per the project, a percentage of money from the sales of the filters is spent on providing clean drinking water to children in Africa.
The project has benefited thousands of families and schools, allowing them access to safe and clean water.
If you are concerned about the quality of your tap water and the health issues that arise due to the presence of harmful contaminants, a faucet filter can help solve all these problems.
After reading about Waterdrop and Waterdrop plus series, you know that the brand focuses on water filtration.
Waterdrop has filtration products other than the Waterdrop plus and Waterdrop series of which the Waterdrop Faucet filter is a notable one. It meets your needs for filtered tap water via its innovative filtration features and high-performance design.
Our Waterdrop Filters Review will be not full without this part. So, let me explain this product in more detail.
Design of Waterdrop Faucet Filter
The faucet filter from Waterdrop is designed to maintain a steady and robust flow of water at a speed of 0.5 gallons per minute. So you need not worry about the slow trickling of water slowing down your work.
Materials
The Waterdrop faucet filter uses ACF (Activated Carbon Fiber) material that helps in fast and excellent filtration.
This is an innovative material with a rating of 0.5 microns, making it nearly 12 times adsorptive power when compared to standard carbon fiber filters.
The carbon fiber also has a long-acting chlorine reduction capacity. You can quickly fill four 16.9ounce water bottles in one minute. And if you do not need the filter, you can easily switch over to tap water by using the switch lever present. This helps filter life, and it will last for a longer time.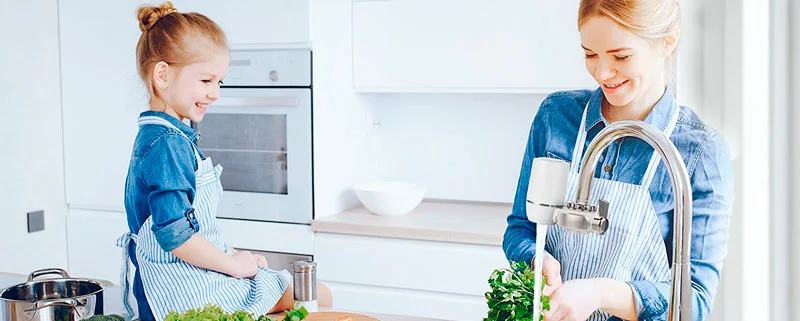 Performance
The faucet filter features upgraded technology for filtration resulting in reduced levels of fluoride, lead, and other contaminants. This filtration is mainly due to the use of activated carbon fibers.
The design and materials used help the filter perform effectively for three months or 320 gallons of water, whichever comes first. When compared to competitor faucet filters, this is two times longer and hence good value for money.
Budget Benefits
Speaking of value, the faucet is available at around $19, which is very economical, considering the filtration efficiency and durability of the product. Further, the money back offer of 30 days is another advantage to find as it offers risk-free benefit.
Pros
The faucet filtration is very effective in removing chemicals and offending chlorine smell and taste
The aerator of rain style helps in the faster and free flow of water five times better than other competitor filters. Fills coffee pot in seconds
Fits well with standard faucets
It is easy to install. Comes with multiple adaptors to ensure proper fit
Water is cleaner and tastes better
Changing filters is easy, and the package includes items like nylon tape used by plumbers for a better seal and set up
The easy switch lever helps to use the filter when needed only and use regular tap water at other times increasing life of the filter
Price is affordable
Cons
The faucet filter is a bit huge so does not fit in small sinks
Does not fit with many faucet types
Overall impression
Waterdrop faucet helps filter tap water and remove harmful contaminants like fluoride and lead, thereby preventing damage to the circulatory and nervous system and also avoid fluorosis. The convenient and stylish design with ACF and longer filter life makes it a good faucet filter.
However, you cannot use it with pull out, spray style, sensor inbuilt, or handheld faucets. According to the manufacturer, you have to verify whether the faucet filter suits the faucet in your home before buying it.
While preparing this Waterdrop Filters Review we found that the faucet filter fits great with many common faucets. However, the producer gives 30 days to think, so you can always return it in case it doesn't fit.

Waterdrop Filters Review – Buyer's Guide
During working on Waterdrop Filters Review we found different common questions about fridge filters. Here are the answers that will help solve your doubts regarding the right filter to purchase.
Waterdrop Filters Review – Contents:
Do fridge water filters really work?
Water filters used in your refrigerator and faucet can help in removing many of the harmful contaminants, including chlorine.
Are refrigerator water filters worth it?
The use of refrigerator water filters is based solely on your preference related to water taste and your living circumstance. If the tap water in your area is good, you may not require a water filter.
On the other hand, if the taste is not good and is marred by chlorine odor etc. investing in a water filter is ideal. It gives refreshing and tasty water in addition to removing unwanted and harmful impurities from the water.
What happens if I don't change my refrigerator water filter?
Using the same water filter for longer periods leads to the formation of black specks in water. The black particles are a result of filtration particles breaking away from the filter and ending up in the water.
This is true for faucet filters too if they are not changed as recommended. Further, an overused filter will lose its ability to remove contaminants and also dislodge contaminants it traps into the water.
What are the best water filters?
While original replacement filters for refrigerators are of top quality, they are costly. Third-party filters like Waterdrop filters are cheaper, while not compromising on the quality of the filter.
Best water filters are those that remove the contaminants that you are concerned most about. For instance, if chlorine odor and taste are the main focus for you, using a system like a Waterdrop filter is ideal. Another good choice is EveryDrop Filters.
NSF certification is an important criterion that helps choose the right water filter as it indicates the proper removal of contaminants by a filter.
Are water filters safe?
Water filters help to remove most of the harmful contaminants present in tap water. In the absence of a good quality water filter, you stand the risk of consuming contaminated water.
How long do refrigerator water filters really last?
According to refrigerator manufacturers and experts, changing the water filter is recommended once in six months on average. This duration, however, differs based on the flow rate, usage, and other such factors.
In most cases, the cartridges used have six months or 12 months of lifespan based on your usage. Tanks in refrigerators last up to 10 years or even more based on size. A larger tank lasts longer when compared to smaller tanks.
Can a bad water filter cause a refrigerator to leak?
If the connection between the filter and the supply source for water is not proper, it can cause a leak in refrigerators that use a filtering system.
Improper installation, wrong size filter, or old cracked seals can cause the leak.
In such cases, it is best to replace the filter, especially as per the recommendation of the manufacturer.
Waterdrop Filters Review – Final Word
Chlorinated and high fluoride-containing water is undrinkable. It is also unsafe for washing vegetables and while showering.
Use of filters for fridge filter replacement like Waterdrop series or the faucet system for water filtration helps access clean and safe tap water rather than spend an excessive amount on bottled water.
With great features, eco-friendly design, and an excellent warranty, the Waterdrop filters offer an ideal choice for households. The fact that a percentage of the proceeds go to meet the water needs of underprivileged children in Africa further sweetens the deal.