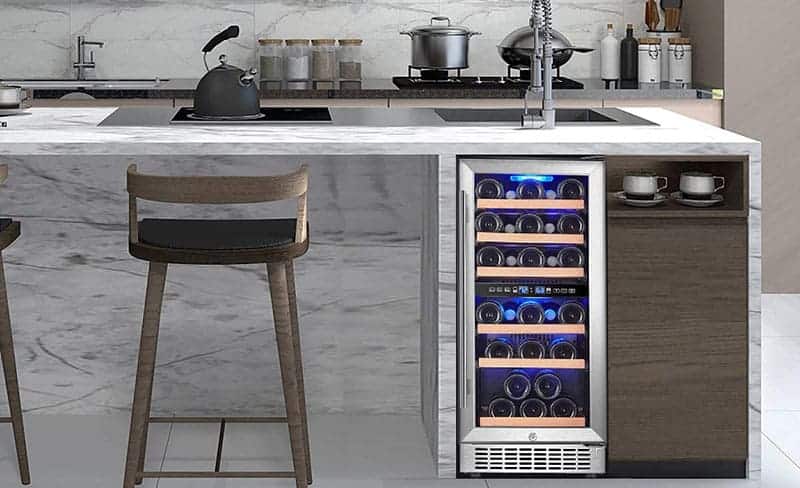 Are you a wine enthusiast looking to store your wine properly, keep them safe, and the same time show off your collections in style? A freestanding wine cellar will provide you with a cold, dry, and reliable long-term storage.
The unit offers consistent storage temperature and ensures that you don't have to stack bottles together with groceries in a refrigerator. Wine coolers are available in different types, capacity, and brands, which allows you to choose the best freestanding wine cellar for you.
However, making the right decision on the best wine cooler that will meet your needs can be tricky because there are a lot of unmatched wine fridges in the market. So, how do you know the one worth spending your money on and how to choose it? Read on as we show you in this buyer's guide.
Quick Comparison of the Best Freestanding Wine Cellars
Top Freestanding Wine Cellars Review
If you are a wine lover with a small space, the NutriChef 15 Bottle Wine Cooler Refrigerator can be a perfect solution. The wine cellar comes with a standing rack and four contoured chrome rack that allows you to store 15 wine bottles conveniently and safely.
You can easily place the refrigerator on the kitchen countertop or floor because it comes in a compact size that won't take much of your kitchen space. With the adjustable temperature setting and compressor cooling technology included, you can adjust the temperature to suit your needs.
The freestanding wine cooler features a durable glass door with an auto-lock that ensures your child or another person does not change your preferred setting. Besides, this door with the air-tight seal ensures a silent operation.
You can easily adjust the temperature of this appliance with the digital soft-touch button added. Also, you won't have problems seeing the wines you have in the cooler because the interior comes with a LED light that illuminates it.
Pros
Operates without making a noise
Sturdy and durable
Compact and stylish
Safes space
A fair price
Energy efficient
Cons
Some users experienced longevity issues
Why you should pick it and who the cooler is suitable for
Even though some users complained that the temperature does not hold again after some time, this freestanding wine fridge can still be the right choice if well maintained. If you have a small space in your kitchen and won't be keeping lots of bottles, this product is going to an excellent choice.
The style and design of the Antarctic Star Wine Fridge make it a perfect choice for an individual that wants to store more than bottles. With the horizontally designed racks, you can store canned beverages and beers conveniently.
The removable partition is also a plus as it allows you to store bottles of any height.
The air-tight seal, reinforced dual-pane glass door not only provide you with a design that works well with your living room but also offer an ideal humidity level to keep your wine safe and stored for a long time.
With the interior featuring a blue LED, your collections will be beautifully showcased.
Additionally, the Antarctic Star Wine Cooler features a reversible door that ensures you open the door from either right or left, depending on your preference. The adjustable leveling legs and advanced cooling system makes sure that you are not disturbed as it makes the cellar to operate quietly.
You can easily switch the appliance on and also control the temperature with the on/off switch and mechanical control knob located at the door's exterior.
Pros
Efficient cooling system
Its glass offers protection against room temperature and light
Removable, adjustable, and durable shelves
Cons
No soft-touch temperature control
Why you should pick it and who the cooler is suitable for
The stainless-steel shelves, no noise feature, dual-pane door, and three-dimensional air-cooling cycle system is a good reason you should pick this product. If you want something that will fit well in your living room and allow you to keep your bottles and canned drinks, this is the answer.
Restaurants, café, club or anyone looking for a dual-zone freestanding wine cellar that fit perfectly into any décor will find the Aobosi 15-inch Wine Cooler to be an excellent choice. The classy and durable design of this product makes it a great addition to your modern home and business.
You can fit the fridge with a variety of different wines as it holds about 28 bottles. It features sturdy beech wood shelves that can safely keep your bottles and also slide in and out quickly.
The lower zone of the fridge offers 54 to 68-degree Fahrenheit, and the upper area offers 41 to 54-degree Fahrenheit. With the different temperatures, you can rest knowing your wines will be chilled and readily available for enjoyment when needed.
Also, your wine won't be disturbed in storage as the wine cellar is designed for low vibration and quiet operation.
To serve you better, the Aobosi 15-inch Wine Cellar has an upgraded version that comes with a security lock, sturdier handle, shelf space for larger bottles, and smarter light control design.
It also features a screen lock function that ensures an undisrupted set program when the operation is disturbed.
Pros
Durable stainless-steel handle
Optimal temperature
Accommodate larger bottles
Temperature memory function for the upgraded model
Low operating noise of 42 dB
Hold temperature well
Cons
The manual is deficient, and this can make installation a bit difficult
You may lose some capacity to add big bottles
Why You Should Pick It and Who It Is Good For
Overall, the Aobosi 15-inch Wine Refrigerator is a nice cooler and with excellent features. It will serve you for long and also ensure that your wines get the right temperature to keep them chilled and preserve them until you need them.
This wine refrigerator from Antarctic Star will give you a better chance to store more bottles and cans as it comes with 24 bottles capacity. You can customize the temperature to suit your needs with the working temperature range of 40 to 61-degree Fahrenheit it offers.
The glass door is reinforced to prevent it from breaking easily and also to ensure the safety of your wines.
Besides, the seal is air-tight so that an ideal humidity level can be maintained. The stainless-steel shelves and construction ensure the longevity of the appliance. Also, the cooling system and digital temperature control allow for more efficient, silent, and convenient operation.
Pros
Enough space to keep more bottles
Store both bottle wines and canned beverages or beer
Beautify interior lights
Well-spaced shelving
Good customer service
Cons
Manual is confusing
Some users complained that it is a bit noisy at times.
Why you should pick it and who it is suitable for
The well-spaced shelving, quality build, and versatility are good reasons for you to choose this freestanding wine cellar. So, if you are hoping to add more collections, you can go for the Antarctic Star 24 Bottle Wine Cooler.
You will have plenty of space to store your wine bottles with the Ivation Compressor Wine Cooler Refrigerator if a small wine fridge can't accommodate your collections again. With this top in the range wine cellar, you can store about 51 bottles of wine conveniently.
The appliance comes with a compressor technology that stabilizes the temperature to preserve the aroma and flavor of your wine. Also, the glass is constructed to be UV resistant and also keeps the interior insulated to prevent your wine from getting damaged.
Additionally, the LED light included is energy efficient and illuminates your bottles gently and beautifully. A lock button is added to help you lock settings, and a digital display is also available to turn on the light and adjust the temperature easily.
The shelves of this best freestanding wine cellar are solidly built and designed to hold your bottles. In case you have bottles of varying sizes in your collection, you can easily rearrange the racks to fit them in.
Pros
Touch control is easy to use
UV light resistant glass door
It can hold 51 bottles
Insulation and compressor cooling system is superior and efficient
Built-in lock to keep your collections secure
Cons
Large containers sometimes push the rack above up
Why you should buy it and who it is suitable for
You don't need to buy two or more freestanding wine refrigerators to store about 50 bottles of wine if you have the Ivation Compressor Wine Cooler. Also, you don't need to worry about your wines and the appliance itself getting damaged with the high-quality material used for its construction.
This wine refrigerator is a perfect fit if you want a countertop cooler that can store bottles, cans, other drinks, and fruits. The KUPPET 19 Bottles Wine Fridge comes with a stainless-steel frame, LED display, fashion edging, and transparent glass door for a modern, elegant look.
You can easily see the wine with the internal LED and secure it with the safety lock feature.
With the operating sound less than 35db, double-layered glass, and the high-elastic door seal, the appliance won't make noise and disturb family rest.
Also, the excellent stable temperature, which ranges from 41 0F to 64 0F, will create an ideal temperature that prevents your wines from aging.
Pros
Precise temperature control
Powerful and quiet fan
Soft-touch digital control
Four layers high-quality curved shelves
Stores more than wines, beers, and beverages
Cons
The door is not reversible
Best Freestanding Wine Cellars – Buyer's Guide
Why you should go for and who it is suitable for
The KUPPET 19 Bottles Wine Fridge is an excellent value for the price. You can adjust the shelves to your need, store anything from drinks to fruits, and also adjust the temperature quickly to your preference.
How to Choose the Best Freestanding Wine Cellars that Suit You?
If you need a wine fridge to store your wine collections, you need to be careful in your selection. There are some factors you need to consider so that you don't make the wrong choice.
Price – nobody knows your budget more than you. So, you should first consider the amount you can spend on getting a freestanding wine cooler. The cost varies with size, type, model, make, and features.
The number of zones – wine refrigerators generally come in two zones – single-zone and dual-zone. A single-zone wine fridge is ideal for you if you rarely cross the bother with white or red wines. However, if you serve wine often and like both wine and red wines, a dual-zone wine cooler will be a logical choice.
Bottle capacity – this is often determined by whether you buy bottles one at a time or by the case. You can buy a small capacity wine cooler if you serve wine often and also drink it as you go. However, you will need a medium to large capacity if you like to keep collections for months or years and don't always serve the wines.
Wine cellar's size – the space in your kitchen or home and number of bottles you want to store will determine this. If you have limited space, you will need a small size freestanding wine refrigerator. However, if you have a big space, you can go for large and tall coolers.
Other features – decide if you want a wine cellar with a digital soft-touch control or mechanical control (knob control). We will recommend the soft-touch control because it makes the appliance easy to operate. Also, consider the shape of the rack. Contoured shelves or racks are often better because they hold your bottles securely. The UV ray resistant feature is a factor you need to consider too. Additionally, consider energy efficiency. Going for wine cellars with energy-efficient features like thermoelectric cooling technology, double or triple-pane glass, and LED lighting is a great choice.
What is a Freestanding Wine Refrigerator?
A wine fridge is a temperature-controlled appliance that is specially designed to store, preserve and age wines.
The device often comes with a stable temperature zone, and you can set between 50 and 59-degree Fahrenheit, which is the ideal temperature to keep the full flavor potential of wine and also keep it from aging badly.
Now that you know what a wine cooler refrigerator is, what is a freestanding wine refrigerator. It is a type of wine cellar that often comes with rear exhaust and can be installed anywhere. With this fridge, you don't need to build your cooler under the counter or into existing cabinetry.
Types of Wine Cooler Fridges?
The different types of modern wine cellars available in the market are single-zone, dual-zone, freestanding, and built-in wine cooler refrigerator. Read on for a better understanding!
Single-zone wine cellar – this type of wine fridge features one cooling area with single temperature control. It can either be small (housing 25 bottles or less), medium (housing 38 to 66 bottles), or large (housing 66 to about 300 bottles).
Dual-zone wine cellar – this type of wine refrigerator comes with two cooling areas with each area having its temperature control. Also, the temperature range is sometimes different. It is often available with medium to large capacity.
Freestanding wine cellar – as mentioned before, it is a type of wine refrigerator that comes in either single or dual zone and can be installed anywhere you want – kitchen, living room, bedroom, and more.
Build-in wine cellar – it is often integrated with your kitchen cabinet and can not be installed anywhere.
What is the Different Between a Wine Cellar and a Standard Food Refrigerator?
No doubt, a refrigerator can make your wine chill, but a wine cooler fridge can do better at protecting your it. The comparison table below will tell you more!
| | |
| --- | --- |
| Wine Cellars | Standard Food Refrigerators |
| It offers a vibration-free environment and preserves the natural sediment in wine | Regular refrigerators make disturbing vibrations that also affects the natural sediments in wine |
| Wines are not exposed to UV-radiation or natural light that can damage them and affect longevity. | Wines have a significant chance of been exposed to natural light that is not good for them. |
| Wine fridge provides a consistent temperature range that you can set between 10 to 15-degree Celsius. This temperature is ideal for wine. | It offers a temperature well below 10-degree Celsius (50-degree Fahrenheit), which is not suitable for wines. |
| Wine can be stored for both short and long term and still preserve its flavor | You can only save your wine for a short time if you don't want it to lose its flavor |
Thermoelectric Wine Coolers Versus Compressor Wine Coolers
Compressor and thermoelectric are the two cooling technology used by wine cellars to cool down the cabinet. How are they different?
Compressor cooling system – it has four components which are evaporator, expansion valve, condenser, and compressor. In the compressor wine cellars, heat is removed from the interior and expelled outside through the vapor compression cycle. Also, the evaporator produces cold air, takes it via a panel constructed with aluminum, and then radiates into the interior of the cooler to reduce the temperature.
Thermoelectric cooling system – in this technology, heat is removed from the cabinet using a different process. In the thermoelectric wine cellars, two pieces of metal transfer electric current and create heat flux. The heat is then sent from one side of the metal to the other side. This makes one side get cold, and the other side gets hot. The cold side is attached to the cabinet of the cooler, and the hot side is installed inside a heat sink, which breaks up and expels heat efficiently. The heat in the cooler's interior is absorbed into the heat sink through the Peltier element and then discharged into the air. The fan in the exterior and interior of the Peltier device ensures proper ventilation and sufficient air circulation.
How to Clean a Wine Cellar?
If you want to clean your wine fridge, unplug it, and remove the wine bottles and shelves.
Use a clean, soft cloth with warm water or baking soda solution to clean the inside surfaces
Use a mild detergent solution to clean the racks or shelves
If you have wooden shelves in your wine cellar, clean them with wood cleaner and a soft cloth
Clean the outside with a detergent solution
Use a soft cloth to dry wet parts
FAQ about Wine Cellars
Can I install a freestanding wine cellar under my counter?
If you install a freestanding wine refrigerator under your counter, it can affect the operation because the heat dissipated by the appliance won't be able to escape.
The inability of the heat to escape will make the cooler overheat and decrease the ability to maintain its internal temperature and make your wine cool. Also, this will eventually shorten the lifespan of your wine cellar.
However, if you can create about three inches gap in the back, at the top, and each side, it is possible to install a freestanding unit under your counter.
How long should I keep my wine in a wine fridge?
Generally, it is recommended that you should not keep your wine in a wine cooler for more than a year. You should keep drinks that you are ready to drink in the appliance. Do not use the refrigerator to age your wine for many years.
How do I store red and white wine in the same refrigerator?
Getting a dual-zone wine cooler is the best way to store both red and white wine in the same cellar. However, if you have a single-zone wine refrigerator, store red wine between 58 and 68-degree Fahrenheit and store white wine between 46 and 56-degree Fahrenheit.
Final Words
We have brought you honest reviews of the best freestanding wine cellars and some helpful information that will help you make the right choice of the wine refrigerator.
With the products mentioned above, you can store a collection of wine at home and keep both red and white wine for days, weeks, and even months.