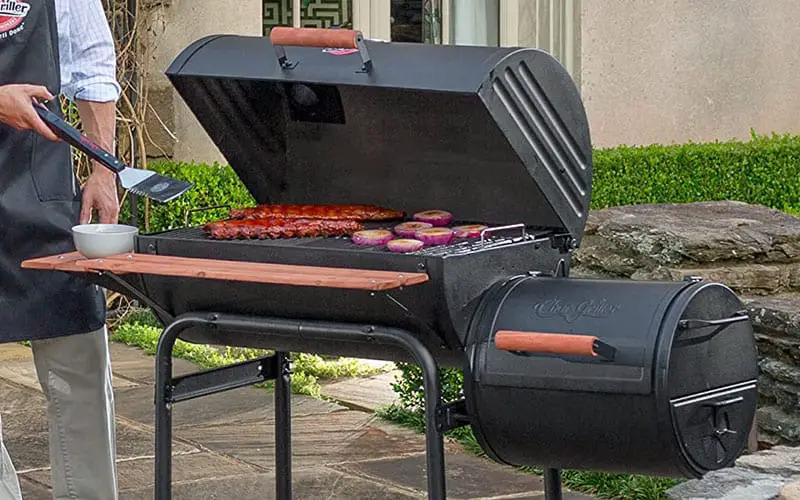 We have a long tradition of smoking our food, which is labor-intensive, but highly effective and sustainable. In the last few decades, there has been a noticeable increase in people turning from charcoal grilling to different methods of cooking, including wood pellets.
Today's busy lifestyle means that some folks wouldn't cook bbq at home without something this easy to use. It is a lifestyle choice, and if you are working, or raising kids, maybe the right choice.

Although charcoal grills give a "great smoky" taste to the meat, wood pellets are not far behind. Perhaps, you can mix with some charcoal, have a better fire, taste, and fire maintenance.
As wood pellet manufacturers are getting smarter, tools are being produced to capture that similar taste like the Flavor bars and such. Plus, it is convenient using wood pellets and saves us a lot of time cooking with it, quite perfect for our busy lifestyle.
What are the Advantages of Wood Pellets?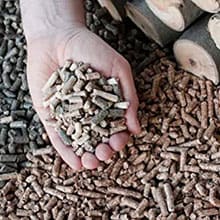 While this is a perfectly acceptable way to barbecue, purists would argue that there is no substitute for a charcoal fire when creating excellent barbecue flavor. Well, from our findings, we discovered wood pellets also do great with a charcoal grill.
Whatever benefits you sought with the charcoal, you can get them with wood pellets too. In our research, we found that wood pellets offer so many advantages that we have put together a few of them.
Usability
Pellet grills are famous to a great extent due to their usability. The great thing about grilling with wood pellets is getting the fire moving. It makes sense that the most engaging element of this smoker is lighting the fire and utilizing it as a smoker. While you can hack a wood pellet into a good smoker, you can also experience an extraordinary degree of comfort and proficiency.
Sear meat easily
If you want great taste and a nice texture, you need to grill your steak with the appropriate heat temperature. You can cook a steak low and slow and, in the end, sear it over a hot skillet or open flame.
That will give you an incredible smoke flavor and good exterior crustiness with a soft, tender center. With adequate amounts of heat, you can sear meats easily, developing a flavorful crust through the magic of Maillard Browning. After all, the Maillard reaction is what makes grilling worthwhile.
It Burns neatly and easy to clean
 Wood pellets are subsequently dumped into a hopper on the stove. The pellets self-feed on the bottom of the hopper through an auger system and drop into the burn pot. There is usually a draft fan that assists in burning, plus another fan that blows the warm air into the room. They imbue a clean, lightly smoked flavor.
This whole system is controlled by a thermostat, which prevents kitchen mess that may occur when grilling. The ashes are stacked in the ashtray while the wood pellet burns. This makes it easy to dispose of the ashes when you have a small metal trash can and keep it by the grill to dump the ashes in.
Temperature control and range
Wood pellet lets you control hot and medium heat spots by arranging the briquettes where needed and can impart an excellent flavor. Wood pellets exceed expectations when cooking low and moderate, with the sweet spot being between 200-350°F.
They battle at temperatures of 400°F also, and by and large, might not arrive at anything above 450°F.
That being stated, a decent quality wood pellet will make a superior showing of keeping reliable low temperatures. Pellet grills work with complex calculations that control the temperature, and a few models can much offer exactness of +/ – 5°F, which is truly noteworthy.
A pellet fueled "grill" has an offset burn chamber, which means the food is never cooked by direct heat. But there is a mistaken belief that a pellet grill cannot create searing heat, which is untrue. When used correctly, wood pellets smoker creates a "bark" or crust.
The natural wood smoke flavor
Pellets can provide fair, dry heat with natural wood smoke when cooking steak. The heat caramelizes glucose and creates complex flavor compounds that our taste buds cherish. Maillard Browning is the reason grilled foods tastes better than some other food items.
Natural wood flavor development and grills excel in this department. The "grilled" flavor of grilled meats comes from meat juices dripping onto the pellet at the bottom of the grill. The wood pellet and radiants vaporize meat juices and send a waft of smoke back up, over the foods.
These vaporized meat juices create that "grilled meat" flavor we all love. As with generating color, more heat causes a deeper grilled flavor within the meat. Burning wood pellets does give foods a unique taste of their own, which can not be duplicated by some other grill.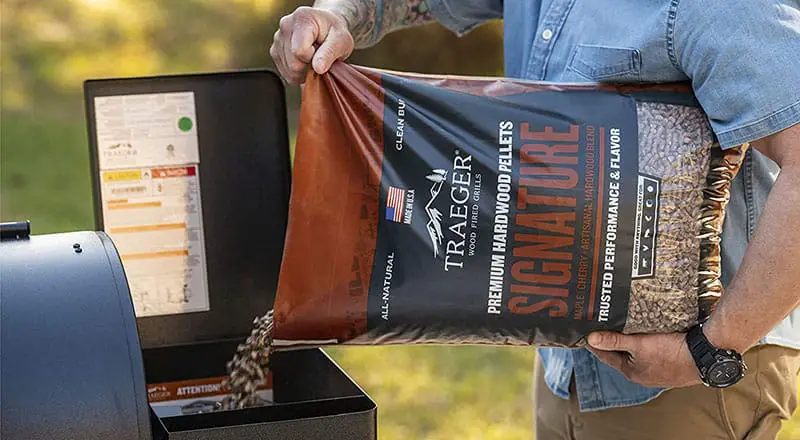 Steps to use Wood Pellets in Charcoal Grills
Wood pellets burn in pellet grills. However, you can burn wood pellets inside a charcoal grill because of how pellets work. The key to smoking is application and duration as much as anything else.
With modern charcoal grills, almost all the puzzles are solved for you. Here are simple few steps:
Step 1
Select a charcoal grill
Use a grill with a height-adjustable pan & supply door. It might be helpful to you when grilling with a charcoal grill. With an adjustable charcoal pan, you can easily lift the wood lumps closer/more distant to your meat and regulate the heat source what's more!
With a pellet supply door, it will be more than convenient to add (or even you want to remove) a pellet in the middle of the time. So try some user-friendly designed charcoal grills at the beginning to save your time and energy.
And from then on, you are expected to elevate the grilling experience.
Step 2
Feed the hopper with wood pellets
Pellets are stored inside a large container called a hopper and are introduced into the stove's combustion chamber bit by bit. When a fuel of a different size is added to the grill, then it will not burn at the highest efficiency.
It may be physically possible, but you would stress the internal components and end up wasting the wood pellet's heat potential due to inefficient burning. To get a more consistent smoke application, feed the hopper with few Charcoal lumps first and wood pellets of the same size on top of it.
Step 3
Ignite the wood pellets
Don't use flammable liquids to start your fire; use a charcoal chimney instead and allow an electric spark inside the combustion chamber. After the pellets are lit, programmed fans and blowers intensify the flames. This process is very efficient because the pellets are not introduced all at once, and the programming is made for pelletized fuel.
Step 4
Allow to heat and cook
For a steady flow of constant temperature, fuel feeds automatically into the fire pit regulated by internal sensors. The most important thing is to learn how long the cook is, the amount of temperature you need to achieve the grilling process.
How to Pick the Best Wood Pellet?
Wood pellet is one of the most popular fuels which can also accommodate solid fuel. However, ash grows fast in wood pellets compared to most hardwood trees but has excellent fuel value.
It burns clean and hot and will burn reasonably well when not properly dry. Here are a few factors you should consider before selecting a wood pellet.
Size
You will find wood pellets in different sizes and varies in quantities. Depending on what you intend to cook; wood pellets come in various sizes ranging from 1lb-40lbs. However, when you place smaller dimensions of pellets in a grill, it burns efficiently.
Heat output
If you are using a wood pellet burning pit, then reasonable fire control, clean burns are what you are looking for. Choose ones with a high BTU rating with a broader temperature range, more flexibility, and a larger capacity for less money.
Ash contents
The number of chunks burned is how much the ash content will be. Some other factors involved are the ash residues, or whether it produces lots of ash while burning.
Hence, choose wood pellets that have lesser ash. Check the bark also as it creates a vast amount of smoke and good at smoldering. This could result in an inconsistent burn and more ash content.
Flavor
Wood pellets impart a lot of smoke flavor. Various woods infuse a different flavor into your food; hence, the need to select what matches the food you plan to cook. This applies to meat and veggies. Most prefer a mixture of nut wood like Hickory or pecan and a fruitwood like an apple or cherry.
The taste is all that matters and you should experiment to know your preferences. Many dedicated BBQ Masters wouldn't think of anything but Hickory or mesquites.
These are good flavors but if you have access to maple, oak, apples, or pecan wood pellets, try cooking meat with wood pellet chunks. You will be amazed at the subtle taste it makes.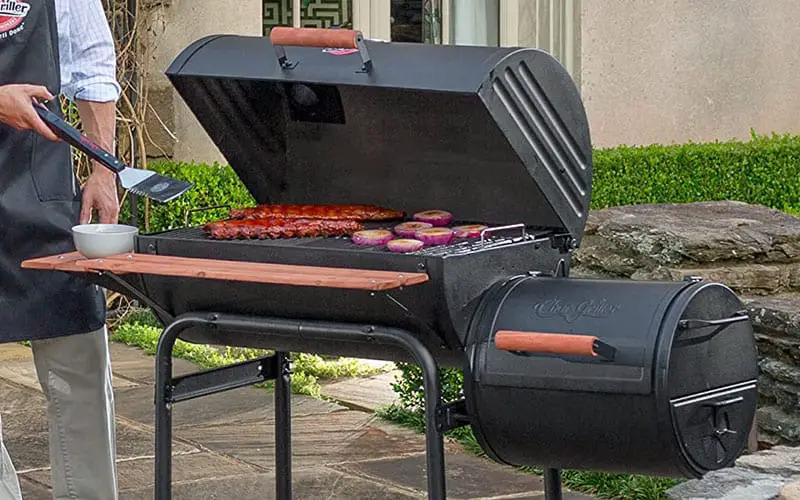 How long do Wood Pellets for a Charcoal Grill Last?
Pellets have many variables (size/density) and grill feed rates that affect the amount of time wood pellets last. To determine whether wood pellets last, It is vital to consider which pellet pit, what setting, which pellets, and whether it uses a thermostat or not.
Every pellet grill has a large hopper capacity that varies from 55–150 lbs. So it can store a vast amount of pellets that can heat your steak to 4500F. You can also get a proper sear with a 7000F temperature for grills that offer a direct sear zone.
A bag of wood pellets will last for about 12 hours on a medium heat setting or about 3-4 pounds per hour. This works for less fuel in the lower heat settings or even more if you go higher.
What cooks and tastes better: Wood Pellets or Charcoals?
Taste is entirely subjective, and only you know what is better when it comes to taste and flavor. It also depends on the food item and preference. However, charcoal can be finicky and sometimes need to babysit it.
You can control the heat, and adding more charcoal is easy. But, it is a process that needs lots of attention as opposed to wood pellets. Pellet grills are more consistent, usually due to the "low and slow" style associated with smokers.
To ensure ample time for the pellet smoke to penetrate the surface of the steak, you need to cook your steak at a relatively low temperature.
The outer and interstitial fat needs enough time to soften, dissolve, and baste the steak. This is because of the addition of pellets or charcoal smoke, which happens when you use indirect heat during the cooking process. Then you lid the grill and vent creatively to ensure smoke passes over the steak on its way out.
F.A.Q.
What are Wood Pellets?
Wood pellets are an artificial product, usually made from compressing sawdust into the pellets under heat and pressure. The sawdust is chemically treated nonetheless to make the best pellets.
The fuel might be a bit more costly, but worth the extra expense. Depending on regional availability, it can be the most economically efficient fuel.
You will find a pellet smoker easy to use, as it produces superior results to some other grilling fuel. Wood pellet burns their wood fuel quite efficiently while holding the desired temperature. The burning and glowing of pellet woods give delicious aroma and flavor to the food. The only alternative is to add wood pellets to charcoal grills, and that works wonders as well.
"Set it and forget it" is the principle of a wood pellet. With a charcoal grill, you can easily set a temp, plug it in, and add the meat. Then the auger adds the wood pellets till it's done. But if you want good smoked food regularly, wood pellets make it almost as easy as throwing meat on a grill.
What is a Charcoal Grill?
The charcoal grill has more real fire flavor and also cheaper to purchase. Charcoal produces virtually moisture-free, intense radiant heat and super-heated air.
The combination of these begins the Maillard reactions and "case-hardens" the meat's surface we all love so much. These coagulate the meat's surface proteins and results in charcoal-smoke flavor.
A charcoal grill is better designed for high heat grilling. You can, however, use it for smoking steak if you offset the heat source with the meat being cooked. Sometimes you want to get the right color and grill marks on your food and that charcoal taste. But, it requires more cook time to become thoroughly done.
Once it's nice and browned, you have your food ready for consumption. So the searing effect is much more pronounced on a charcoal grill just because you are dealing with so much more energy.
The thing responsible for that excellent charcoal taste is natural juices from the food dripping onto the hot coals and creating smoke that permeates the food.
Conclusion
Wood pellets are tiny that they combust fairly rapidly, providing smoke to the cooking chamber and maintaining the smoke output. Charcoal, on the other hand, takes care of smoke and gives a quality amount of heat while grilling.
At least with charcoal, you get a consistent fire profile, but you're better off using wood pellet chips to heat your food with a specific flavor.