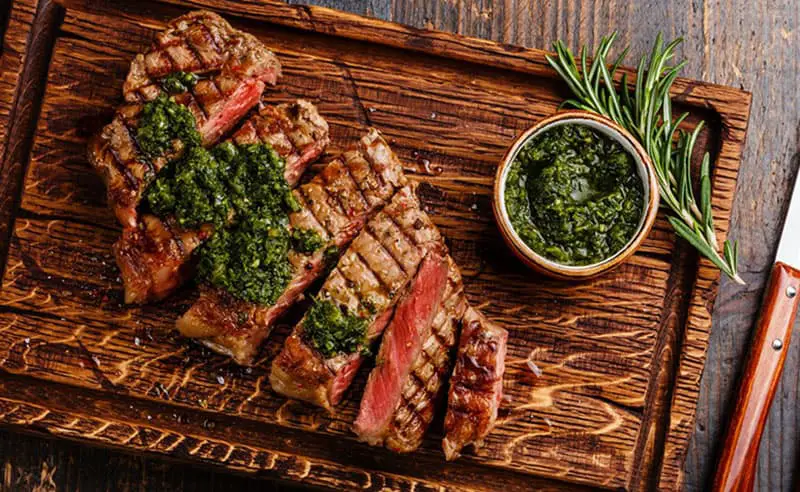 If you are looking for a delicious dish that is easy to prepare, then cooking a steak on the pellet grill is one of the most practical ways to be done.
With its thick, juicy taste and tender texture, a grilled steak is an enjoyable flavorful experience.
Grilling steaks is undoubtedly a challenging task, but what do we say about our cravings that won't just go away unless satisfied? If it is essential, then it is worth it, regardless of the stress.
Pellet grilling as a method of preparing food requires time and patience, and this shouldn't be counted as stressful, especially when you have a mouth-watering steak on it. It creates a memory that cannot be easily forgotten for you as well as your stomach.

What kind of memory will that be? This would depend on your skill as you are set to prepare your steak in your comfort zone.
Yes, I mean, you can prepare the sumptuous, prestigious, noble, and juicy steak by yourself without visiting a restaurant whenever you have a craving for it. If you have never tried something, you may not know how good you are at it or even discover how better you can become.
So, let us help you with your new decision at giving steak a trial on a pellet grill.
What are the Tools Needed for Cooking Steak on Pellet Grill?
Just like when you want to make a regular meal at home, you will have your apparatus ready for the meal to come out perfectly with the right taste. The same is true of cooking a steak on a pellet grill. You need tools for smooth sailing and landing of a yummy steak on your plate.
You will need a right GRILLING GEAR – this is an essential tool that will determine the outcome of your grill. Putting good meat with the right spices can turn out bad if the griller you used is not supportive.
You also will need a THERMOMETER to keep a watch on the internal meat temperature to determine when the meat is done.
GRILL GRATES is another indispensable tool you must-have for the searing of the meat without stressing out yourself.
These tools will suffice for a professional grilling result.
How to Choose the Right Meat to Cook on Pellet Grill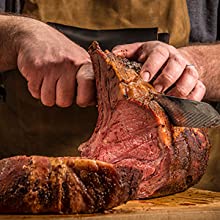 Now that you have the apparatus ready, the next thing is the meat you can cook on the machine – your steak!
The meat to be grilled must be of high-quality to get a palatable steak; otherwise, you will always remember ever trying steak as a sad memory irrespective of the quality of apparatus engaged.
The rib eye has set an excellent record of being the best meat fit for steak. Besides, the strip steak, sirloin steak, and T-bone are found to be of enjoyable taste. You should as well decide whether you want a rare or well-done steak.
With a thickness of 1-inch, you would achieve a rare steak, but if you prefer a well-done steak, you will be having a 1.5 to 2-inches thick cut. A steak cut less than 1-inch will fail to give you a crusty exterior and a red interior, so don't forget to trim your steak to your taste.
Now that you know the best cut for a steak, some planning will go far in helping you to bring the best out of whichever cut you might decide on. After you have decided to make a steak, ensure you get a freshly packed steak the very day you want to cook it, better still early that day.
The advantage is that it will allow the steaks to lose some of their coldness and be at room temperature. A cold steak when it is cooked will turn out tougher and take a longer time to get done.
Also, pick meat with traces of marbling. The white stream-like structure in the steak represents thin bits of fat, which will eventually melt into the meat while it cooks and help make the steak moist and soft.
So, when you go for your steak shopping, don't be shy about choosing steak with marbling. I hope you will decide to try each of these steaks one after the other- what a delicious exploring that will be!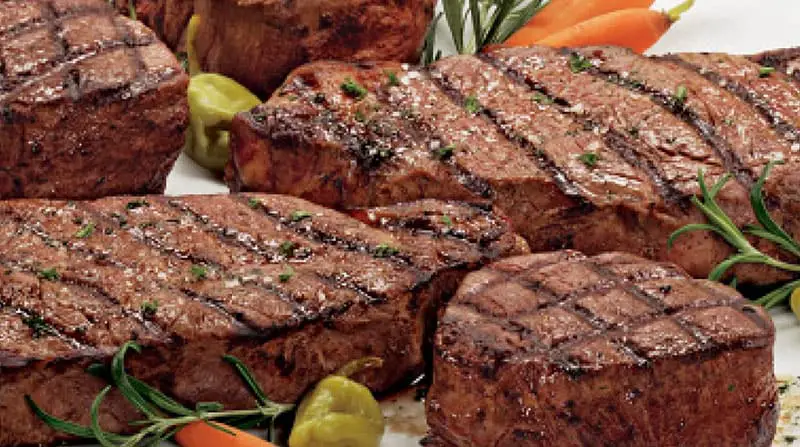 How to Prepare the Meat before Grilling?
The next bus-stop the steaks need to reach before finally arriving on the grill is preparation or seasoning.
First thing first, remove the steak from the refrigerator and allow it to sit out for 40 minutes at room temperature. Remember, a cold steak will take extra time to cook and, by implication making the steaks tougher. It is best to cook at room temperature.
You can as well trim out the excess fat from the steaks but do not trim it all.
It is not hygienic to leave the steak out for too long- you wouldn't want to compromise your health by leaving it out for hours that encroaches into the food safety Hazard territory.
Also, it is ideally suitable for you to have the center of the steak a bit cool when it hits the grill to achieve a perfect medium-rare steak. Additionally, leaving the steak out for too long makes the whole steak warm and increases your chances of error.
At this junction, let's talk about the seasoning of the steaks. No need to get complicated about seasoning, and if you want to, it yours. There are various kinds of spices, rubs, and seasoning mixes that you can buy. But a simple salt and black pepper will work out a perfect steak.
I love mine with garlic, chili pepper, and paprika.
Finally, you have to seal it by brushing it with oil before grilling. This will prevent sticking the steaks to the grill grates and help moisturize them. You should try melted butter as it is said to add its own taste to the lot.
Whether you chose to go simple, buy a prepared steak rub, or mix up your spices, you could sprinkle, marinate or massage your spices on the steak.
How to make the Pellet Grill ready for your Meat?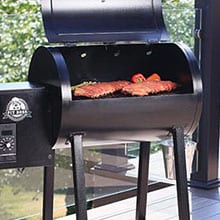 When it comes to using a pellet grill, never compromise using the best wood for your meat. Woods such as mesquite, oak, and hickory should be highly considered for grilling because of the bold and unique flavor commonly associated with them.
It is necessary to keep your pellet grill clean for it to function at full potential and efficiency. Though a pellet requires extra maintenance tools, following a regular cleaning and maintenance pattern does maximize the flavor it produces as well as its efficiency.
Clean the grill grates, vacuum the firepot ash and wipe out the grease bucket and drip trays of any oil. And always cover up your pellet grill when not in use.
The boat is ready, so put fuel (your choice of the wood pellet) in it as the voyagers-steaks are already prepared (well-seasoned) for smooth sailing. Be calm and let the meat absorb as much smoke as possible. This will help the meat cook and acquire the right flavor.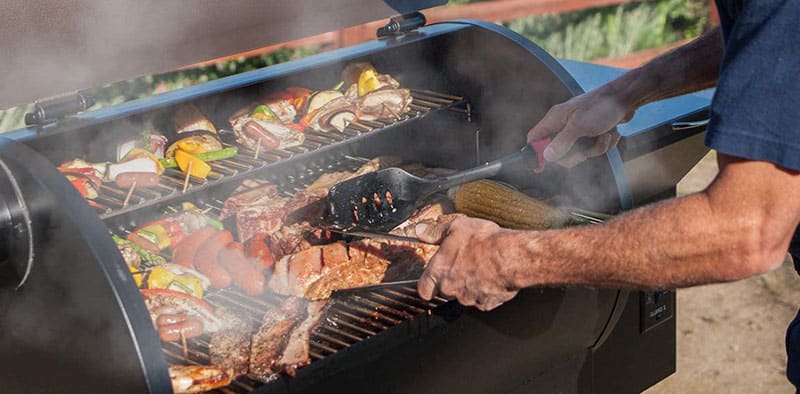 Ideal Way to Cook Steak on Pellet Grill
Now the steaks are ready to go on board-grill. There are two methods to achieve the best steak that will create a palatable experience for you.
Searing Crust (Traditional) Method – this is ideal for rare steak with crusty skin and red center. It helps to save time. The following are the steps to take if you are using this method.
Heat pellet griller up to 3500F for 10 minutes
Place seasoned steaks on the cooking grates and cook for about six minutes per side. This makes 12 minutes for both sides.
After 12 minutes, measure the steak's internal temperature using your probe meat thermometer.
Remove from the grill once you are satisfied with the doneness.
Reverse Sear Method – this is a process of smoking steak at a lower temperature for a while. It does not only helps the steak cook evenly but also the steak picks the smoky flavor of the ignited wood pellet.
After the steak is cooked, it is removed from the grill, and the temperature is flared up-it is time to sear the steak. Once the recommended temperature is attained, the steaks return to the grill for searing to get it done. It takes a longer time than the sear crust method.
The following simple steps will land you a mouth-watering flavorful steak.
Preheat grill to 1800F for about 10 minutes
Place the seasoned grill on it. Ensure to place meat where smoke is concentrated rather than the part exposed directly to heat. The best place is the top rack of the grill
Check the internal temperature of the steak timely. You should check the temperature 15 minutes after you start grilling and flip for even heating. Then you can check 10 minutes afterward.
Once the steaks attain a temperature of 100 to 110 degrees (use a probing thermometer), remove the steaks and gear up the grill temperature to 5000
Coat the steak with searing rub and place them on the heated grate.
The internal temperature for a rare steak is 1200F to 1300F, medium rare steak is around 1300F-1350F, medium- 1450F -1550F and thoroughly done at 155oF to 1650
Once you get the desired internal temperature of your choice, take them off, slice, and serve.
You can as well check whether your steaks are done by cutting it to see its center. The red center shows rare; a slightly red center almost turning pink indicates a medium-rare and a mostly gray or even brown color shows medium-well. The touch test could also be helpful.
A soft and slightly springy feel gives a rare steak, and a tight and firm response to the finger proves a medium-done steak.
What is the Best Wood for Cooking Steak on Pellet Grill?
Wood Pellet comes in various flavors, and this will go a long way in affecting the outcome of whatever is grilled with it, especially your steak. Here are some of the best-flavored wood pellets for a steak that you can choose from.
Mesquite
Pecan
Hickory
Oak
Mesquite and hickory produce a prominent flavor on the steak. Mesquite has more potent smoke than hickory. Because of the beefy nature and strong cut of steak, it can hold up nicely to strong smoke flavor, and this also helps to cook the meat.
If you want to spice things up, then you have Pecan at your service. It is less smoky compared to mesquite and hickory, therefore less appreciated for grilling and smoking. It has this vanilla and nutty finish that just made the steak flavor awesomely complex.
Some people have also testified to using oak wood pellets for their steak and complimented the medium smoky result; you can give it a try as well.
What is the Perfect Temperature to Cook Steak on Pellet Grill?
Knowing and following the required temperature will go a long way in achieving a concise and appreciated result without any regret of ever venturing on steak grilling.
For the searing crust method (traditional method), at the initial preheating stage before placing your steak on the grill, your grill thermometer must read up to 3600F before you place your steaks on it.
This is because you need a sizzling hot grill grate to make the perfect sear on the steak.
For the reverse method, a preheat temperature of 1800 is required to set the grilling in motion. After about 15 minutes, take off the steaks and increase the grill temperature to 5000F till your steaks get done.
Note that you should keep your griller covered when preheating. This will help reach the targeted temperature faster than when left open.
Can a Steak Be Sear on Pellet Grill?
Yes, it can. A Pellet grill is a conventional cooker. It consists of a firepot covered by a deflector plate where pellets are set on fire. A fan then distributes the heat in a convection style.
Owing to this, you may be confused about whether the pellet grill will be capable of searing because steak does not come directly in contact with heat. Despite this, the pellet grill can sear and produces grill marks on your grill meats.
Searing occurs when food comes in contact with heat. A pellet grill steak will acquire sear when it comes in contact with scorching grill grates. The secret is to increase the temperature of the grill when it is time to sear to supply more heat to the grates- typically up to 450-500 degrees.
Searing will be achieved on the part of the Steaks that have direct contact with the grates giving them beautiful grill marks.
How Long Those It Takes to Cook Steak on a Pellet Grill?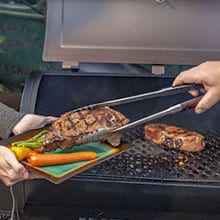 Cooking a steak on a pellet grill can be fun and challenging, but the result is satisfactory when done correctly. It takes time and skill and depends on you-yeah, you!
Depending on your choice of cook: rare, medium-rare, medium, medium –done, well-done, and the method you chose to use, whether it be the traditional method or the reverse method, all these add up and make the time of cooking varies.
As a person who adopted the seared crust method, you will be saving yourself time compared to the reverse sear method. However, the detailed flavor and correct tenderness that comes from the reverse sear method cannot be competed with by the seared crust method.
At least you will spend up to 45minites using the reverse approach.
Dos and Don'ts of cooking steak on a pellet griller
Do
Set the grill to smoke setting when preheating. Keep the lid open till it smokes up. Afterward, close the lid for 10 minutes.
Use spirits or butter to grease the steaks
When you are sure your steak is done, let it rest for 10 minutes. This will help lock the flavorful juice throughout each strip.
Donts
Do not use steak rub with high salt content. This tends to draw out the water from the meat. Instead, use a sugar base rub, so has to help caramelize the external body of the steaks.
Do not flip too often. You might end up with a raw center and dry steak, so be patient with the steaks.
Do not grill a steak coming from the fridge directly. Let it rest and loss some of its coolness till it reaches room temperature. It helps the steak cook fast and make it more tender than otherwise.
Can you Use a Pellet Grill to Cook a T-bone Steak?
A resounding YES! The T-bone steak offers a unique taste of butter tender filet mignon with a hearty strip steak.
How can you achieve this superfluous tasty steak is your question right? Ok, let us see it.
Ensure your steak is completely defrosted
Leave to reach room temperature. You can achieve this by removing the steak from the refrigerator 40 minutes before grilling.
Season steaks as desired.
Preheat pellet grill up to 2500F then close lid for 10 minutes
Lay the steak on the grill for 60 minutes or until you measure the internal temperature to be at 105 to 1100
Remove the steak
Increase the heat to 5000F and open the flame broiler
Place the steaks over the flame broiler and let it sear for 4 minutes- each side taking 2 minutes each. Then measure the internal temperature of the steak till you reach the desired level of doneness
The internal temperature for the different cooking preference are:

Rare- 1250F
Medium-rare – 1300F
Medium- 1400F
Well Done-1600F

When you reach your preferred cook level, take the steaks off the grill, and serve it.
Tips to Cleaning a Pellet Grill after Use
The best way to know it time to clean up your pellet grill Is if you hit the button and coming back after ten minutes, and the pot hasn't caught fire yet. This happens when there is a build-up of ash that prevents the heat from reaching through the pellets.
That is why regular cleaning is essential.
As a rule, it is expected of you to clean the grill after every bag of pellets and, very importantly, ensure you only clean when the grill is cold and unplugged.
Clean your grill by:
Brush the surface of the grates with a grill brush.
Remove the flame broiler to be able to wipe off any grunt that is stunk on it. To make it easier for yourself, you should put a foil liner inside so that the bucket can be a shield from the grease and you will toss the liner away.
Get the ash out from inside the burnt pot and whatever may be on the bottom of the barrel by using a shop vac.
It would be best if you also get rid of excess food debris that burns off between grilling sessions- this is called burn off
To do a burn off is to:
Scrap off and vacuumed up heavy debris.
Crank grill temperature up to 3500F or above
Open up the flame broiler for 10 minutes
Clear out the hopper by emptying pellets remnant into a storage container.
Final Words
You can now see that pellet grilling is not as complicated and technical as you imagine. Yeah, you need a little knowledge, and now you are enlightened about the pellet grill. It can sear a steak, and it is fast to make steak with it depending on your choice, of course.
Now take the bull by the horn and start creating sweet memories for yourself and loved ones grilling your own steaks at your comfort zone, even by yourself. Make every day special, and don't starve your craving anymore. I see you brimming as you make that delicious steak.