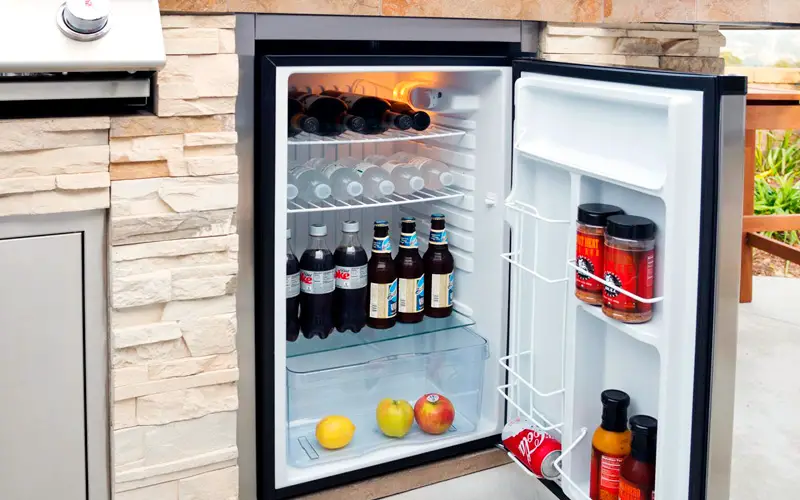 It is one good feeling to enjoy a cold and refreshing drink when you eventually take a summer break. Now, imagine this comfort is appreciated in the perimeter of your home, yard, or patio. Best outdoor beverage refrigerators give you chilled soda or bottled water or any preferred drink without having to leave your comfort zone.
They usually come in different sizes and models, available in compact, full-size, indoor, or outdoor. They are ideal to have if you have an outdoor kitchen or you want to enjoy some chilled drinks while working in your yard.
However, if you are wondering if these refrigerators truly work amazingly and efficiently, worry no more. We will provide you the three best outdoor refrigerators that can save you anytime, any day with their respective features and other vital information you may need to know.

The interior and exterior parts of the Bull premium outdoor rated refrigerator is made from 304 stainless steel. The fridge also has a practical towel bar handle on its body. Inside there are a digital LED control panel and temperature probe.
The 23-68 degree temperature is a fantastic feature of this product. However, if the environment in which the product is operated is hot, the interior of the refrigerator may not be so chilly. Bull premium outdoor rated refrigerator has an auto defrost, one feature that so much makes it different from many outdoor cooling systems.
It also has adjustable shelving, twenty distinct shelving heights which enhances setting it up at nearly any configuration. Also, includes additional wire shelves and an in-built temperature and door alarm.
The bull premium outdoor rated refrigerator has ETL, CE, and DOE certifications for energy saving. It also has a self-closing door with enhanced seals for insulation. To improve the cooling and long-lasting performance of this fridge, it is built with front venting internal and external fans. The reversible door can be removed, swiped, and opened from right to left and from left to right.
Pros
Approved for outdoor use
Auto-defrost to keep the unit free of condensation and ice
Temperature and door alarm to notify when the door is not closed
The fully reversible door that can be opened at either side
Easy to move because it have casts
Cons
Slightly costlier than most outdoor refrigerators
No freezer section to store ice/frozen items
Final Verdict
Bull premium outdoor rated refrigerator is a top tier choice with many great features. Although, it is somewhat expensive, yet it's worth the price with such amazing features.
There are just a few outdoor refrigerators that can stand the test with Bull premium outdoor rated refrigerator. This unit is non-arguably one of the best on the market.
This unit has almost every feature you need an outdoor refrigerator to do for you. It can comfortably store an impressive 142 cans. The first thing you notice about the outdoor fridge is the stunning exterior stainless that is thoroughly coated. The coat is to protect the unit against rust and unfavorable weather conditions.
The unit also has a handy door lock positioned near its bottom. The door is fully reversible for any setup and opening it is quite more comfortable with its large stainless steel handle. There's a unique front vented design under the front lip. Summarily, the unit is built-in.
It has a built-in digital control panel feature and a compressor. These together help to set the temperature between 38 and 55 degrees. The temperature regulation is essential for your outdoor drinking.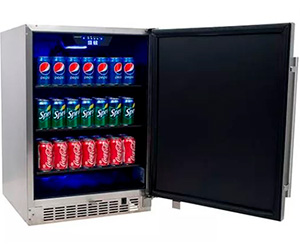 In addition to these features, EdgeStar has three standard shelves surrounded by sifting blue glowing LEDs. However, the shelves are fully adjustable and can be arranged in six different configurations. It is featured with an internal fan liked a high-quality carbon filter. They primarily help in eliminating nasty odors and bacteria that ultimately causes debris. The unit is UL certified.
Another great feature of EdgeStar CBR1501SSOD is compressor cooling technology. Technology help to save energy in the long run. As a result, the consumption of energy is very low. Primarily, the device was designed as a built-in outdoor refrigerator but can also be used as a freestanding refrigerator. The material of the door is solid stainless steel that can resist corrosion.

Pros
Auto-defrost system
It has s powerful cooling compressor
A digital temperature control
It has a carbon filter
Approved for outdoor use
Cons
Difficult to adjust shelves
Final Verdict – Best Outdoor Beverage Refrigerator
EdgeStar has a reasonable price for the approved outdoor use fridge. For surely this is one of the contenders for the title of best outdoor beverage refrigerator. It has so many features plus that it also features an auto-defrost system for humid environments.
This is very handy to have and can save you a lot of trouble. If you want to opt for a mid-tier unit with high-end features and incredibly high qualities, then EdgeStar CBR1501SSOD outdoor refrigerator should top your list.
Bull 11001 outdoor refrigerator is good to keep all your favorite beverages and snacks cold in the summer. It has a 4.4 cubic foot capacity, a stainless steel door and a beverage can dispenser that can comfortably hold up to 5×12 oz cans.
The door of the refrigerator is reversible, so you can move it from one side to another depending on the need. It also features full-range mechanical temperature control. This enables quick and easy adjustment of temperature to suit needed conditions.
Bull #11001 has ETL Certificate, so it is safe to use according manufactures requirements. And here is the point, that Bull requires to use it under the covered patio or in office, dorm room. As a result, as I see, this fridge works for outdoor 50/50.
Pros
It has a temperature regulator
A reversible door
Low market price
Cons
It gives the best cooling after a long time
Not really for outdoor
Best Outdoor Beverage Refrigerator – FAQ
Contents:
What is the best outdoor refrigerator?
Bull 11001 Stainless Steel Front Panel Refrigerator
EdgeStar CBR1501SSOD Outdoor Refrigerator
Bull #13700 Premium
Can you put a refrigerator outside?
Yes and no. First of all, you have to be sure that your fridge or ones you willing to buy have the right certification. If not, I guess it will lose its warranty in case you use it outdoor. Also, keep in mind that fridges do not suppose to work at temperatures lower than they have inside.
Is there a difference between indoor and outdoor refrigerators?
Yes, there are. You could find several differences, for example – size, weight, materials, and others.
In case that outdoor fridges usually are used in a higher temperature range than inside, they are smaller. It is much easier to cool low volume than big.
Heat loss of glass is higher than metal with an insulator, so outdoor fridges are very rarely made with glass doors.
So there are many differences, last and the most important is certification. If the fridge has the certification to be used outside, it means that it is ready for harder temperatures, high humidity, and other factors.
Final Verdict
It is not such secret that Bull product refrigerators look great and big enough to store a good amount of drinks to keep you going for a while when outside. It has also poised to be better and cheaper than a lot of other outdoor refrigerators on the market. This model is one of the cheapest, but it is not 100% for outdoor use.
Conclusion – Best Outdoor Beverage Refrigerator
Bull and EdgeStar are one of the most popular brands on the market, and by buying them, you can be sure that you are getting a great product. The difference between them is in the details.,
Bull #13700 Premium is heavier but has a cast on the bottom, so it is easy to move even for one person. The inner dimensions are bigger and the temperature range is wider. Bull premium is definitely the best outdoor beverage refrigerator.
If you are not ready to spend a lot on such kind of fridge, then you have to stop or choose on EdgeStar. Compare to Bull #11001, it is more powerful, bigger, has more features and the price is more than reasonable.