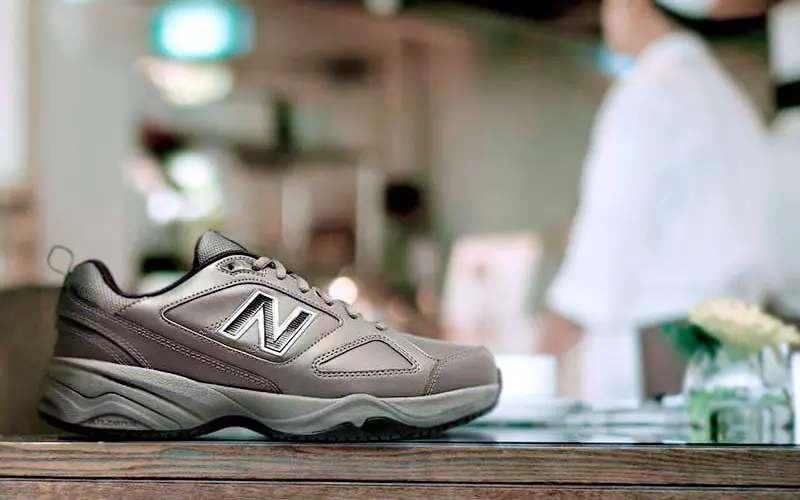 Spending whole day on your feet rises a risk of leg problems, such as pain, swelling, cramps, numbness and others. How to protect your legs and don't spend a lot of money, that is the reason why I decided to make this review.
Recipe for successful working day is the quality and convenience of a uniform. For people who spend most of their time on their feet, the most important part of the wardrobe are shoes.
Proper shoes not only take care of your comfort, but also protect your health. For some professions with hazardous conditions, such us wet floor for example, even can save lives.
In this article, I chose 5 most comfortable shoe models for men and 5 great models for women that not only fit perfectly on feet, but also possess other qualities that are important at the kitchen or restaurant.

Best Restaurant Work Shoes of 2019
This pair of shoes are very easy to buy. If you don't want to read a lot or don't want to spend much money, just take Skechers McAllen.
It is a good-looking with a nice design shoe, which covers all necessary needs for kitchen or restaurant workers, it is durable, comfortable and slip-resistant.
It is made from 100% synthetic, upper fabric is breathable, water and stain resistant. The outsole have slip-resistant traction.
All together it mean good airflow what will keep your feet dry and cool even on the hottest days and possibility to wear it outside during light rains.
Additionally the material is extremely light, meaning that Skechers McAllen won't weigh you down.
The shoe is very comfortable, it have padded collar, soft fabric lining, dual side elastic fabric panels for easy slip on fit and one of the most important thing – Memory Foam cushioned comfort insole, which means you would not spent extra money for additional insole.
Pros
Breathable
Water resistant
Light weight
Memory Foam insole
Tested – ASTM F2892-11
Cons
Don't have enough support
Final Verdict
This is an affordable slip-resistant shoe with the most needed features, comfortable to wear and durable enough to use at last a whole season or even two.
Also, it is the most popular model from our best restaurant work shoes review according to the messages from our readers.
All the best what could be added to work shoes used in this model.
Comfort Flex PRO made for those who are working 24/7 on their feet or may be more if it is possible.
This model combine plenty of features to made it comfort and safe, and have many variants of design which set them apart from many other boring work shoes.
It is made from water and stain resistant smooth fabric upper, for better durability it provided with synthetic overlay at laces and translucent overlays at toe and heel. Outsole have slip-resistant rubber traction.
The insole is made from air cooled memory foam and it is extremely comfortable. The upper fabric is breathable, so your feet would be dry even after extra 8-hours shift.
It seems that super comfort were placed as the top aim in this model while it was designing. Comfort Flex PRO have lightweight flexible shock absorbing midsole with superior impact cushioning protection, midsole also have dual density design which provides perfect arch support.
Pros
Varieties of design
Light
Breathable
Tested – ASTM F2892-11
Cons
Hard to choose best style
Final Verdict
Comfort, protection and versatile style you needed come in this Skechers. It is definitely one of the best shoe which covers all needs of restaurant workers in comfort and health protection or even more.
This model is editor's choice of our best restaurant work shoes review.
For those who liked Skechers McAllen, but want fitting setting available, Skechers made this pair of shoes.
It is still light and comfortable, but also have lace up front with smooth synthetic overlay for better durability.
Talking about material I have to highlight, that at this model synthetic upper have Scotchguard protection which is made by producer, for usual user it means high standards of water and stain resistance.
Also it helps to keep the upper clean and tidy, what is really good when you are on hurry whole day long.
Responsible for comfort are Memory Foam insole and very flexible shock absorbing midsole, which makes your steps very light. Soft fabric lining inside of the shoe with textured air mesh on the top give to your feet the filling of freshness and lightness.
On the top of all is slip-resistant outsole to protect you from falling on the wet floor.
Pros
Good support
Lightweight
Breathable
Tested – ASTM F2892-11
Final Verdict
All you need for a reasonable price could be found in this model of shoes. Great advantage of this model are laces which allows you to fit the shoes as you like, at the other hand it takes longer to get it on comparing to the same slip-on model. Which one will you prefer?
When you are working for the hours, your shoes should work as hard as you do.
New Balance Mid626v2 is the latest generation of Mid626, it mean that the producer have upgraded this model according previous reviews from the users and now this shoes become closer to the ideal working shoes, which are hidden inside a sporty design from well-known brand.
The shoe features a supportive leather upper to provide a secure fit, inside it have compression molded midsole to aid in absorbing forceful impacts, as a result your legs will say: – Thank You!
The outsole is made from non-marking rubber which are slip- and oil-resistant to provide perfect traction under various surface conditions.
Mid626v2 is very comfortable, the weight of each shoe is just 12.3 oz. (338 grams), and it is designed with supreme cushioning, so you can focus on your job, not shoes.
Pros
Light
Sizing options
Great support
Tested – ASTM F2913-11
Tested – ASTM D471-16a
Final Verdict
For those who are looking for a good investment to their comfort that would be a great option. New Balance Mid626v2 is made for hard-working industrial conditions and could be on your feet for all day. It is durable enough to use for two years or may be more.
Skechers Cottonwoods Oxford design look grate, it have slightly polished leather what makes it seems a bit classic. Inside it feels like casual shoe which have a number of comfort features to make your day delightful comfortable.
The upper made from 100% nappa leather which mean durability. The midsole is shock absorbing and lays on slip- and oil-resistant outsole.
This model is made specifically to be a comfortable for a variety of jobs.
It is
designed for a roomy comfortable fit
what makes your day delightful.
Extra comfort is reached by soft fabric shoe lining and padded collar. On top of the "cake" supportive midsole and Memory Foam cushioned comfort insole are added, just to be sure that you have all you need.
Pros
Durable
Memory Foam insole
Comfortable fit
Final Verdict
Cottonwood is definitely one of the best model of working shoes, it is comfortable and durable as work shoes have to be. It have versatile design to suit at any work and could be easily combined with your daily dress. The only question is about weight, it not seems to be friendly for everyday use.
This Skechers is a great option for women who are looking for a comfortable shoes that comes at an affordable price. In this model sporty style meets surefooted comfort.
The top of the shoe is water and stain resistant with smooth synthetic overlay at laces for added durability.
The sole is made from slip-protection rubber with lightweight flexible shock absorbing material inside, what helps to keep your legs in peak conditions.
The Ghenter Bronaugh have all you needed to feel comfortable during whole day. It is made for added support and comfort.
The shoe designed for a roomier comfortable fit, the heel is 1 inch height, and tongue and collar are padded.
At the top of all benefits, it is easy to take care of it, even of insole, because it is removable, so it is easy to wash and keep clean. And by the way the insole is made from Air Cooled Memory foam material, which gives you extra comfort.
Pros
Super soft
Lightweight
Breathable
Tested – ASTM F2892-11
Final Verdict
This is a great option which keep your budget, it don't have any extraordinary features, but possess all necessary features that should be in a shoes which you wear whole day.
Also, it is one of the most affordable model for women in our best restaurant work shoes review.
If you are looking for something really easy, good looking and playing the part, you could choose Soft Stride Galley, the model which is a kind of proven solution.
It have impressive style and comfortable inner, so all what you need, just dress your favourite clothes, put on feet Skechers and start your day.
Skechers still keep this model in their range because of its popularity, which came because of its simplicity.
Top of the shoe is made from soft leather, it is comfortable during whole day use and easy to be cleaned at the end.
The outsole made from slip-resistant rubber and have a good heel height – 1 ½ inch.
For the comfort this Skechers have a natural cotton blend inside of the shoes, padded collar and tongue, the insole is removable for easier care.
There is a pull-tab assembled in the back of shoe so you could easy put on or remove it.
Pros
Soft natural cotton inner
Removable insole
Tested – ASTM F 1677-2005 Mark II
Final Verdict
This Sketcher is comfortable and good looking and ready to prove it for many seasons more. If you are looking for the shoes for work at the first time, that would be a good choice for the begging of a good story.
Sometimes we have to make exceptions and this is the case, Dansko Professional is NOT SLIP-RESISTANT, but it have plenty of benefits which make them one of the best shoes for people who work all day long on their feet.
This clog is made from leather or fabric upper, doesn't mean which style would you like, that will be a great choice with long period of use, and even the polyurethane outsole is very durable.
Comfort is the cause why everybody love this shoe, inside is a roomy reinforced toe box, comfortable midsole and padded instep collar.
Protective heel counter allows the heel to move up and down freely for extra comfort.
The shoe have outsole with rocker bottom to propel foot forward and provide shock absorption and inner frame to reduce torque and provide stability. As a result you won't be so tired at the end of your shift.
Pros
Super comfortable
Durable
Easy to clean
Easy to hide scuff marks
Final Verdict
Dansko Professional is not common sneaker, it looks and feels absolutely another, it was designed for the ultimate comfort during the whole day and it is definitely one of the best work shoe for women. You just have to decide how the slip-resistant feature is important for you and what do you prefer – sneakers or you are ready for something else?
By the way actually Dansko have models with slip-resistant outsole, but which I tried didn't seems to me to be the same at comfort level, if you would try it, please let me know your opinion.
For those who would like to start using slip-resistant shoes and don't want to spend much that would be a good choice.
In this model you are not paying for the materials but still having all necessary features for kitchen use shoes.
This shoes are made from synthetic leather at the top and have durable synthetic overlays which makes them strong, but not good breathing, what could be good if you are wearing it during cold time of the year.
But at the same time they could be too warm during the summer.
The outsole as usual for such kind of Skechers made from slip- and oil-resistant rubber which protect you from possible injuries caused by falling down.
Good comfort provided by famous Skechers Relaxed Fit design which brings to the foot roomier and comfortable fit. Inside it have soft fabric lining, padded collar and tongue, supportive shock absorbing midsole and of course Memory Foam cushioned insole to make you working day very comfortable throughout the whole work shift.
Pros
Good heel support
Memory Foam insole
Tested – ASTM F2892-11
Final Verdict
The price is on the bottom level, but for this money you get many comfortable features which creates good shoes what can be used not only at the kitchen, but also for outdoor activities. Easy to buy, easy to use.
Sure Track Trickel is the entrance ticket for women to the world of slip-resistant shoes. These shoes priced on the lower end of the range presented in this overview, but represent excellent value.
The upper made from 100% leather, it would serve for a long time and it would be very easy to take care of them. Sides have mini perforated panels to keep your feet cool during hot days, the outsole is slip-resistant rubber to keep you on feet during wet days.
For the good price Skechers offers to you shock absorbing flexible lightweight midsole covered with memory foamed topped cushioned insole with their classic Work Relaxed Fit design likewise on top models.
Overall these shoes will provide you with the right amount of arch support and your feet will receive a customized fit.
Pros
Good price
Memory Foam insole
Durable
Tested – ASTM F2892-11
Final Verdict
If you want casual comfort work slip-resistant sneaker for a good price that is a good option for you. Welcome to the world of comfortable all day use work shoes!
Best Restaurant Work Shoes – Buyer's Guide
Contents:
Best Restaurant Work Shoes – Terminology
Upper –part of a shoe that cover the toes, the sides and top of the foot, and the back of the hill.
Midsole –part of a shoe that provides cushioning and rebound, placed between upper and outsole.
Outsole – part of a shoe which serves as a layer of protection, it have direct contact with the ground.
Materials and Technologies
Memory Foam – foam made from polyurethane with open bubbles, which creating a matrix where air can move, so the material molds to the shape of a person's foot and keep it for a long time.
ABZORB – technology presented by New Balance in which slip-resistant rubber combined with a soft midsole and insert.
FlexSole – special sole construction designed by Skechers which provide additional comfort during walk by extra flexibility of midsole and outsole.
Nappa Leather – typically dyed leather, noted for its soft hand.
Tests and Certificates
ASTM D471-16a – Products which passed this test were checked for ability its components to withstand the effect of liquids. In our best restaurant work shoes review we recommend to choose model which has at least this certification.
ASTM F2913-11 – This test check footwear for its ability to resist slip on flooring. Only slip-resistant shoe tested in laboratory conditions marked.
ASTM F2892-11 – The specification contains performance requirements for footwear electric protection. All shoes marked with ASTM F2892-11 – electrical hazard safe.
ASTM F 1677-2005 Mark II – During this test shoes checked for it slip-resistance on walkway under dry, wet or contaminated conditions.
Best Restaurant Work Shoes – Frequently Asked Questions
Q: Almost all sneakers on the market have rubber outsole, does it mean that they are all slip-resistant?
A: Although it absolutely your decision what shoe to wear during working day, just keep in mind that slip-resistant rubber outsole is not just a slice of rubber attached to a shoe, it is specially designed protector which have pattern created to work properly on water or oil on floor. For your safety it is better to invest in shoes which are marked by its producer as a slip-resistant.
Q: How to take care of my slip-resistant shoes?
A: First of all read carefully the information about yours shoes, usually it is possible to find it in attached materials in the package or on the tongue of your shoes.
Common recommendation is do not put your shoes to a washing machine, because it can compromise the materials of the shoe, just use a soft cloth and warm water (could be added not aggressive cleaning agents), don't forget to rinse your shoes and give them enough time to dry. For better effect put inside some paper and keep it away from drier.
Q: My new shoes are too firm, what can I do?
A: Any shoes have breaking period, usually it takes up to 48 hours of using it, to feel it really comfortable. For that period you could try to wear thick socks or if we are talking about leather shoes you could try to put some cream for leather on your shoes to make it softer.
Q: Is it possible to make my shoes fit better?
A: The easiest way is to change the insole, you could find it at Amazon or any shoes store near your home.
Q: What is the normal lifetime period of a shoe?
A: There is no correct answer, because it is always depends on conditions where are you using your shoes, how long are using it per day and how do you care about it.
The main thing that your shoes have to be comfortable and it is doesn't matter how old they are, one season or one year, if it look good but became not comfortable, it is better to change it. It is all about your health.
Best Restaurant Work Shoes – To Sum It UP
First of all it was really hard to choose models for review, but it was only the beginning of a great challenge. Checking and comparing so many competitive shoes took a lot of time, but finely Skechers McAllen for men and Skechers Comfort Flex PRO HC SR for women took the lead.
Both of this models are super comfortable, made from high quality materials which should last for a long time. They seemed to be perfect in everything, how they fit, how the work, how they looks on the feet with jeans or uniform, even the quality of assembling were very high, no marks of glue, no uncut threads.
This two models have great outsole, you have to be very persistent to make them just try to slip for a little, so there is no doubt that the future owner of any of them would be safe on wet floor.
Last but not least you will look stylish on any photo in Instagram wearing this shoes.
P.S. If you work in the kitchen or in a restaurant, you probably know how much food goes into the trash bin every day. For those who would like to start responsible consumption and save their budget, I made a review of the Vacuvita storage system – http://kitchengeek.com/vacuvita-review. And don't forget to comment did you like this best restaurant work shoes review.