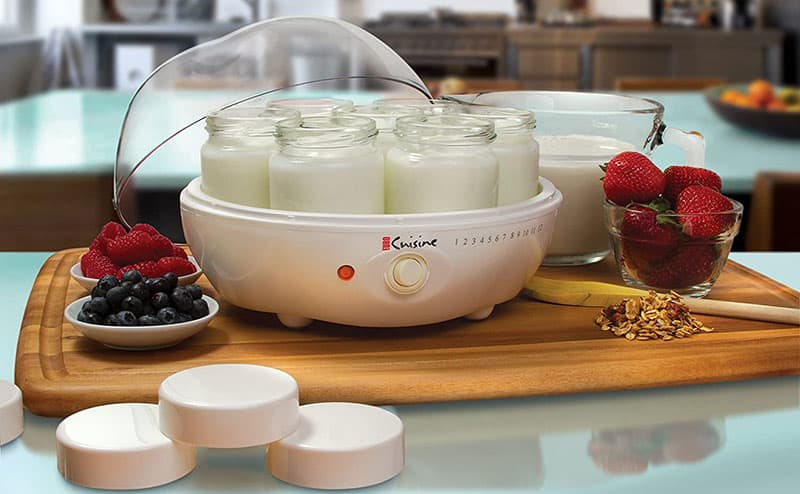 No doubt, yogurt tastes delicious, and it is healthy but making it at home is not always the first thing that comes to mind when you think of making your food at home. It is mostly believed that the process of making yogurt is complicated.
Here is good news for you; getting a yogurt maker can make the process far more straightforward. Apart from the fact that this must-have kitchen appliance makes yogurt supremely comfortable to cook, it is also pocket-friendly as you don't need to stretch your pocket to get it.

If you want to start making yogurt at home and thinking of the best yogurt maker to go for, we have researched for you. This article will show you the top 6 yogurt makers in the market and answers to questions about the process.
We will also show you the features you need to look out for to find the ideal yogurt maker for you.
Quick Look at The Top Yogurt Makers
| | | |
| --- | --- | --- |
| Best Yogurt makers | Why we choose | Who is it good for |
| Euro Cuisine YM80 Yogurt Maker | Best budget-friendly yogurt maker | Suitable for an individual that wants to save money when buying a yogurt maker without sacrificing performance. |
| Euro Cuisine GY60 Greek Yogurt | Best yogurt maker with strainer | Ideal for people who needs a yogurt maker that is durable and can survive any use they throw at it. |
| Instant Pot Aura cooker | Best multipurpose yogurt maker | Suitable for someone looking for a yogurt maker that can cook other meals. |
| Euro Cuisine YMX650 Yogurt Maker | Best for different yogurt flavors | Suitable for a person that wants to try out different yogurt flavors without cooking them differently. |
| Dash Greek Yogurt Maker | Best yogurt maker with a compact design | An ideal choice for people that want to make Greek yogurt but have little counter space. |
| Cuisinart CYM-100 Yogurt Maker | Best high-tech and large capacity yogurt maker | Suitable for a large family and people who take yogurt seriously. It is also ideal for tech savvies |
| Country Trading Stainless Steel Yogurt Maker | Best for personal use | It is ideal for people who don't like sharing their things with other people. |
Top 6 Best Yogurt Makers Review
If you want to make your yogurt at home without spending too much on a yogurt maker, the Euro Cuisine YM8O can be an ideal choice. The cost fits into the lowest of budgets. This kitchen appliance features durable glass containers that make making seven different types of yogurt flavors possible.
With the simple on/off switch, putting the machine to work is a breeze.
You don't need to worry about whether the unit is working or not because a light indicator is included to let you know. The side of this yogurt maker has a timer that marks when the yogurt will be ready. Also, the included transparent lid ensures that you see what you are cooking clearly.
Pros
Affordable
Simple and easy to operate
Dishwasher safe
Makes seven different types of yogurt flavors
Cons
The timer needs an improvement
No auto-shutoff
The Euro Cuisine GY60 may not come with a lot of unique features, but it is one of the best yogurt makers with high-quality built and components that makes it withstand any use you throw at it. This makes it more robust and lasts longer than its competitors.
You can use this appliance with homemade yogurt or the one you bought in the store.
It comes with a durable stainless-steel strainer that transforms about two quarts of plain or ordinary yogurt into a creamy, thick yogurt easily and quickly. An acrylic container is also included to catch your yogurt without messing your kitchen.
Also, it features a sealing lid that keeps the appliance sealed firmly while it is at work to prevent contamination. A serving tray is also added to make serving the yogurt a breeze.
Pros
The strainer and container are BPA free
Simple recipe and instruction for using yogurt cheese
Three-year warranty
Works for homemade and store-bought yogurt
Cons
It can be challenging to clean the strainer
If you need a kitchen appliance that will not only make yogurt but also cook some other meals, the Instant Pot Aura is your best bet. This machine is a yogurt maker, pressure cooker, rice cooker, slow cooker, baker, and to mention a few.
With the included touchpad for programming, you can easily and quickly choose any settings you want. Apart from the fact that it is a multi-use kitchen appliance, it is also a space saver due to its small size.
Also, this product is adorned with a cooking pot that is removable, non-stick, coated with ceramic, and constructed with aluminum. With the six quarts capacity, you can make enough yogurt for yourself and your loved ones.
A 1500 watts heating element at the base ensures that your yogurt gets the needed heat.
Pros
Customizable temperature and cooking time
Automatic keep-warm function
Versatile with ten smart programs
Easy to clean pot
Build quality is solid
Cons
Some users complained that it does not heat quickly
This product has some outstanding features that make it easy for you to prepare your homemade yogurt. It comes with a highly visible display that shows the time it will take your yogurt to be ready.
Also, the chance of forgetting your yogurt while preparing it is nearly impossible because the appliance will beep when the yogurt is ready. Besides, this machine is adorned with seven glass jars that are reusable and make storage hassle-free.
Additionally, you don't need to monitor your yogurt when cooking because this appliance comes with an auto temperature control and automatic 15-hour shutoff. You will know when the yogurt is done, and then you can put it inside a refrigerator.
Pros
BPA free
Dishwasher safe
Automatic shut off
Auto temperature control
Easy to identify glass jars
Comes with timer
Cons
You can't select your preferred temperature
Makes small quantities of yogurt
Do you have limited counter space and need the best yogurt maker that can fit in perfectly? The Dash Greek Yogurt Maker can be the answer. With less than 2.5 pounds weight and at 7.10 x 7.10 x 9.50 inches, this portable appliance comes with a lot of functions.
This machine features two BPA-free containers. One of the containers is included for fermenting when cooking, and the second container makes straining the yogurt inside the refrigerator a simple task. With this appliance, you can make about two quarts of yogurt at once.
Also, there are three color options available, allowing you to select the top of the range yogurt maker with your favorite color or one that best fits your kitchen.
A control knob is included at the front to allow you to change the temperature, set the cooking time, and also start and stop the fermentation cycle. You don't have to worry about finding an extra cabinet space when it comes to storing this unit because all the accessories fit inside the base.
Pros
Lightweight and compact design
Three color options to match your kitchen décor
Recipe book and database access
Two containers for fermenting and straining
Less prep time
Cons
Some users complained of overheating, causing the inside to melt
If you take your yogurt seriously, the Cuisinart CYM-100 is for you as it comes with a 50-ounce yogurt container. Even though not everyone has a large budget, this best yogurt maker is worth every penny with the features and functions it packs.
With this kitchen appliance, you won't need to worry about quickly taking your homemade yogurt to the refrigerator when it is done. It features an automatic cooling system that changes to a cooling temperature when your yogurt is cooked.
Also, a digital timer is included to allow you to see how long it will take your yogurt to be completely ready clearly and at a glance. It comes with four buttons that allow for simple control, making anyone operate it even if you have little to no experience.
Besides, the four-piece construction of this yogurt maker makes it easy to take apart and clean. This machine stands tall in its price range, so it is an ideal choice for you if you want to improve your yogurt quality and reliability and don't mind spending a little bit extra.
Pros
Recommended fermenting time can be set up easily
Durable construction
Automatic cooling system for perfect cooling temperature
Over six 8-once servings of yogurt at once
Cons
The quality and life span may need some improvements
This is one of the best yogurt makers that you can go for if you need one that you can take with you anywhere you go and can serve you alone.
The Country Trading Stainless Steel Yogurt Maker comes with a one-quart glass jar that is durable and makes making fresh organic yogurt for breakfast a breeze. It does not come with a heating element and timer, so you can rest knowing that the appliance will not overheat.
You don't need to be an expert to prepare yogurt with this machine. It comes with a 42-page yogurt making book that provides you with expert knowledge on how to make more than 12 different yogurts.
Also, the stainless-steel construction makes it durable and withstand any use you throw at it.
Pros
Easy and simple to use every day
Safe to use as it has no plastic and electric plug-ins
Easy to clean
Cons
It does not hold temperature well
Best Yogurt Maker – Buyer's Guide
Things to Consider When Purchasing A Yogurt Maker
Size – the choice of your yogurt maker when it comes to size, is often determined by the space in your kitchen and how much yogurt you and your family eat. If you have a large family that takes yogurt seriously, one with a large capacity is advisable. But if you occasionally make yogurt and have a small counter space, you can go for a portable best yogurt maker.
Temperature control – some yogurt makers have a preset temperature that works for most yogurt, and some types allow you to choose the temperature that is ideal for fermentation. Adjustable temperature control will help you a lot if you are serious about yogurt.
Functionality – there are yogurt makers that make regular yogurt, and there are some that are designed specifically for a type of yogurt. Also, there are some that double as a slow cooker or pressure cooker. If you have limited counter space or need an appliance that does more than cooking, a yogurt multi-use yogurt maker can be a good choice.
Key features – automatic shutoff, self-cooling, and timer functions are the crucial features you need to consider. It makes cooking your favorite yogurt a breeze. You can easily set the starting time and keep track of your yogurt with the timer function, and the cooling operation will ensure that your yogurt doesn't get spoilt before putting it in the refrigerator.
Flexibility – There are yogurt makers that make yogurt in small servings, and some make it in buck servings. Also, some allow you to create different varieties of yogurt at one time. If you want to prepare different flavors at one cooking cycle, go for the best yogurt makers offer six or more individual glass jars.
Additionally, consider how easy it is to clean the appliance, warranty, ease of use, and price. Don't exceed your budget, and go for a yogurt maker that offers at least a 3-year warranty.
How does a Yogurt Maker work?
Most electric yogurt makers come with a heating element that provides an ideal environment for bacteria (lactobacillus) to grow and increase. The element offers consistent temperature for about 8 to 12 hours or more to produce a ready to enjoy delicious creamy yogurt.
On the other hand, there are non-electric yogurt makers that don't heat the milk for you. You will need a separate source like an oven or microwave to heat the milk before putting it in the machine.
Take note that there are no fully automatic yogurt makers in the market. So, don't think making yogurt with the maker requires dumping all the ingredients in the machine, do a few settings, and you will get the yogurt.
It requires about 20 minutes to prepare the milk before you put it inside your yogurt maker.
How to Prepare Yogurt in a Maker?
Create a mixture of yogurt starter (bacteria that ferments milk into yogurt) and milk
Plug-in your yogurt maker for it to preheat
Pour the mixture into the glass jars and put them in the yogurt maker
Allow the yogurt to sit for 8 to 12-hours so that it can heat at constant temperature and ferment. Take note that some starters may take longer than 12-hours to get the full flavor
After the yogurt has reached its full flavor potential, remove the glass jars from the maker and out them inside the refrigerator before you serve it
Tips to clean and clear a Yogurt Maker
Clean the jars the daily – You need to clean the outside and inside of the jars to prevent pungent smell. It will also help you to avoid the growth of bacteria. Use dishwashing solutions and clear water to wash and clean the pots. Then use a soft clean cloth to dry the glass jar completely.
Don't pour the hot milk in the jar – ensure that the milk cools down before pouring it in the glass jars to prevent them from any form of damage like cracking.
Use a light brush to clean an electric yogurt maker – make sure your appliance does not go close to the water as it can get damaged. Also, keeping it close to water can cause electric shock.
Don't put your unit on a vibrating surface
Wash all the accessories before using the maker for the first time
Yogurt Maker FAQ
Why should I buy a yogurt maker?
Homemade yogurt is cheaper than buying from stores. More importantly, making yogurt at home means you will be able to use healthy ingredients. It is an ideal, simple, and affordable way to stay away from store-bought yogurt that can contain artificial sweeteners, colors, and flavors.
What is the maximum temperature a yogurt maker can reach?
The best yogurt makers get to a temperature between 43.3°C (110°F) and 46.1°C (115°F). Most of the yogurt makers available, whether the ones that have an automatic preset temperature or others that allow you to select the temperature, hold the temperature for up to 8-hours.
Wrap Up
There are a lot of reliable yogurt makers in the market, but we believe you won't take the wrong step by choosing any of the 7best yogurt makers mentions above.
We also hope that the guide and other information provided about the appliance will help you make the right decision when choosing and using the maker that meets your needs and requirements.