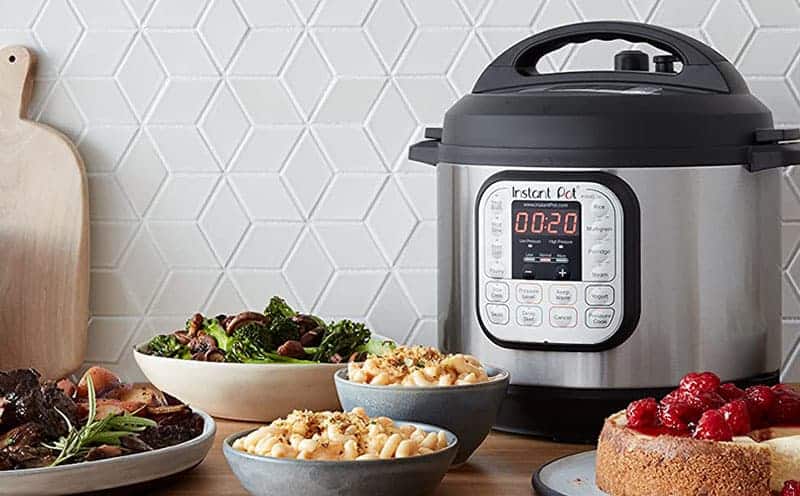 Do you know that you can come home and have a warm home-cooked meal ready and waiting after spending several hours working? If you and your household are always busy but like comfort foods, a slow cooker is an answer.
The kitchen appliance allows you to cook food without the need to attend to it over long periods. All you need to do is to throw all your ingredient in the cooker before going out in the morning, set the cooking temperature and time, and come back home to a cooked, tasty meal.

With the demand for slow cookers increasing in recent years and the market crowded with a lot of brands and models, choosing the best slow cooker for you can be tricky. But relax, we have found the best models for you. Read on to find out!
Quick View of the Top Slow Cookers in the Market
Review of the Best Slow Cookers
The Instant Pot Duo Mini slow cooker comes with lots of great features that make it do the job of seven different small appliances, and that is why it is the best overall. It comes in a 3-quart capacity, which makes it an excellent choice for limited spaces, side dishes, and small households.
The slow cooker is also available in 6- and 8-quart capacity to meet your cooking needs if you have a large family. Also, this multicooker comes with 14 one-touch programs that make the cooking process faster.
Additionally, you don't have to worry about your food getting cold after it is cooked because the auto warm setting included will continue to keep your food warm once the cooking time is up.
The appliance is constructed with stainless steel, which ensures durability, prevents stains from finger and residues, and also makes the pot easy to clean.
You can achieve the desired taste and flavor every time as the slow cooker will allow you to monitor temperature, adjust duration and heating intensity, and also monitor the cooking pressure.
The Instant Pot Duo Mini slow cooker is carefully designed to ensure your safety while cooking by including safety features like a high-temperature warning, lid lock under pressure, and more.
Pros
Highly versatile
High-quality construction
Durable and sturdy
Auto-warm setting last about 10-hour
Multiple programmable features
Cons
The lid needs some improvement
Some users complained about the customer service
Who is it ideal for?
This best slow cooker is ideal for anyone with a small apartment or limited storage in the kitchen. Also, it can be a great pick if you are not more than 3 in your household.
From the size, functions, and safety features to the construction and technology, the Ninja Foodi Slow Cooker check all boxes. The cooker is not only built to be attractive but also to stand the test of time with the quality plastic construction and non-sticky ceramic coat included.
You can cook your meal quickly with the tender-crisp technology offered by this kitchen appliance.
With the 5-quart capacity of the pot and the ceramic coated 3-quart cooking basket, you can conveniently cook more than four pounds of chicken and still have space for other ingredients. The appliance also comes with a recipe book that gives you ideas of what to cook in case you run out of ideas.
Additionally, the lid is about 4.5-inch thick, and it covers the cooker well to avoid spilling and ensure safety while cooking. The handle included also ensures that you carry the pot slow cooker easily when required.
Pros
More convenient and easy to use
Great crisper function
Easy to read timer
Simplified interface
Cons
Takes up quite a bit of room
Who is it ideal for?
If you want the Instant Pot Duo Mini slow cooker delivers but need something larger than 3-quart capacity, this can be the right choice. It can also be ideal for you if you like crispy meals with little fat.
The Instant Pot Ultra is superior when it comes to the number of kitchen appliances it replaces. This appliance replaces ten kitchen appliances, unlike most of the cookers in the market that are often 7-in-1. It means you can get more cooking tasks done faster.
Also, you can easily customize and preset cooking programs with simple click and twist programming. The large blue LCD allows you to have a clear view of the cooking progress.
Additionally, the pot features the latest 3rd generation technology with 16 microprocessor-controlled programs that take care of the cooking task for you.
This 3-quart capacity slow cooker also comes with tons of safety features and an automatic altitude adjustment that offers you more precise cooking time.
Furthermore, you can monitor your cooking with the cooking progress indicator, and perform both continuous and pulse steam release manually with the quick-release button included.
Pros
Print resistant stainless-steel exterior
A higher degree of control and customization
Very versatile
Durable and highly energy efficient
Cons
Part availability issues
Some users think the design needs some improvement
Who is it ideal for?
We think the Instant Pot Ultra slow cooker will be ideal for a small family that has a ton of food variety on their time table and anyone who travels a lot. Also, it can be a perfect choice for your next vacation.
If you are a fan of the Instant pot family and need a slow cooker that is bigger and offers more than one color at an affordable price, the Instant Pot Duo can be the answer. It is a 6-quart capacity pot that can serve a large household.
The lid holder this appliance feature is strong enough to keep the pot closed tightly while cooking your meal and prevent unforeseen accidents. Some safety features are also included to guarantee your safety and give you peace of mind.
Additionally, high-quality built accessories such as rice paddle, sealing ring, stainless steel inner pot and exterior, and soup spoon make the tool highly durable and ensure longevity.
The slow cooker is also available in red, teal, and white colors, giving you the chance to pick the one that suits your color preference.
Pros
App with over 1000 recipes
Survives constant daily use
Easy to use and clean
High-quality accessories
Available in three colors
Cons
Not Alexa enabled
Poor customer service
Who is it ideal for?
It is an excellent choice for a family of 6. The app also makes it ideal for an individual that often has little or no idea of what to cook.
Do you want the best slow cooker that won't require you to pad your budget and, at the same time, get the cooking job done for you efficiently? We present to you the Crock-Pot 4-Quart Manual Cooker that comes in an oval shape.
Unlike some of the top range slow cooker models, this appliance features a knob that moves easily from off to low, high, and warm.
With the low and high settings, you can customize your cooking and get your meal completely cooked when you want. The lid comes with a loop handle that allows a more comfortable grasp than a round knob handle. Besides, the design and construction make it a great addition to your modern kitchen.
Pros
More convenient lid handle
Maintain an even temperature
Versatile and durable
Good price
Cons
The handle may melt off due to high temperature
Who is it ideal for?
This Crock-Pot 4-Quart Manual Cooker will be the right choice for you if you need one of the most affordable best slow cookers without complicated buttons or settings. So, if you want something simple but efficient, this is for you.
This is a bigger crock-pot that can serve up to 7 people. It is easy to transport as it comes with wide handles and a reliable locking lid. With the lid gasket, you won't have to worry about your pot being messed up with spills because it provides an extra seal for the cover.
This feature also helps to lock heat and steam during and ensure that the food's flavor and taste are preserved.
Additionally, the Crock-Pot SCCPVL610-S-A 6-Quart comes with removable stoneware, which makes it easy to clean after use. The warm setting warms your food automatically so that your food doesn't get cold before you eat it.
The longevity and durability of this slow cooker are assured with the stainless-steel material used for its construction.
Pros
Easier to use
Dishwasher safe
Oven safe with lid
Easy to transport and clean
Cons
Who is it ideal for?
If you are looking for the best slow cooker that is portable, functional, and perfect for taking a large portion of food to the office, tailgate, potlucks, or other places you wish, the Crock-Pot SCCPVL610-S-A 6-Quart is ideal for you. Transporting it is hassle-free, and cleaning it is a breeze.
This kitchen appliance is one of the best slow cookers that are reliable and, at the same time, affordable. It comes with three smart settings – program, manual, and probe.
The program setting allows you to cook your food hands-free, the manual settings will enable you to be in control of the cooking process, and the probe settings allow you to measure the internal temperature of your food.
It means your food won't overcook or undercook – you will be able to comfortably cook your ingredient, especially a large cut of meat to temperature.
Additionally, the lid and the rubberized gasket with clips lining it is one of this top-rated slow cooker's most prominent selling point. These features ensure simple portability, prevent food from spilling, and also prevent heat from escaping.
With the power interruption protection feature, this kitchen appliance will remember the programmed time and heat settings and continue cooking when the power is back.
Pros
Spill-resistant and prevention lid
Three cooking choices
Affordable
Protected against brief power outage
Cons
Some users think the material quality needs some improvement
Who is it ideal for?
If you are a tech-savvy cook looking for the best slow cooker with extra portability and features without exceeding your budget, this programmable kitchen appliance will be a great choice.
Best Slow Cooker – Buyer's Guide
How to Find the Right Slow Cooker that Meets your Needs?
Not every slow cooker in the market is made for you. You need to consider some factors to find out and decide on the best one that meets your preference. The essential things you need to consider before making your final decision include:
Size of the pot – considers the number of people you will be cooking for and how large the meal will be when shopping for a slow cooker. You should also consider your kitchen's space. This will determine the size or capacity that will fit your needs, whether small, medium, or large size. Someone with limited space should go for a small or medium-sized cooker.
Shape – slow cookers come in different shapes. Although any shape you go for may suit your cooking needs, some work correctly for certain ingredients than the other. If you are cooking whole roasts or chickens more often, an oval-shaped pot will be ideal. But if you will be stews, soups, and the likes rounded shape, or even any shape will do.
Lid – the lid of the appliance is also an essential factor to consider. You need to go for a pot with a cover that holds tightly to avoid messing up your counter, the cooker's exterior, and the kitchen. A lid with an extra seal will be a good idea. Also, go for one that has a lid-handle that makes opening the pot easy and safe.
Type of slow cooker – we have the manual and programmable cooker available in the market. Your preference will determine your choice. If you want to always be in control of your cook, go for a manual slow cooker. However, if you want to have time for other important things while you cook your meal, a programmable slow cooker is a perfect choice. Just pour your ingredients into the pot, set the timer and temperature, start cooking, and come back to a cooked meal after getting other essential tasks done.
Construction material – we have seen situations where some slow cooker users complained about some part of the appliance melting, damaging, or getting too hoot. If you don't want to experience the same thing, go for the best slow cooker constructed with quality materials like stainless steel. Also, consider ones with heat resistant handles and accessories.
Other features – some come with extra features like a temperature probe for checking the internal temperature of what you are cooking. You should also consider pots that come with an automatic keep-warm setting and can cook a different variety of meals.
How Does a Slow Cooker Work?
A slow cooker is made up of an inner cooking pot, also known as the cooking vessel that is usually constructed with a glazed ceramic or porcelain, an outer housing with a base that has an electric heating element, and the lid which is often made of glass.
Each of the components works with one another to get the cooking job done.
The tin metal liner at the base conduct heat, transfer it to the inner cooking pot that contains your ingredients through the sides, and heat your food evenly. The amount of heat generated often depends on the temperature you set, whether warm, low, medium, or high.
While your food is cooking, the lid creates a pressure seal that keeps heat trapped in the pot to ensure your food cook well and brings out the flavor of your ingredient. The cover also makes sure there is little to no-spill, and there are no safety concerns when steam releases suddenly.
When the cooker gets to the cooking time you set, it will stop cooking automatically. However, some come with a keep warm feature that automatically switches to the warming mode and keeps the meal from getting cold before you come back home.
How to Use a Slow Cooker?
The steps involved in using a slow cooker are simple.
Ensure your slow cooker is clean if you have used it before and plug it in a power outlet
Put the ingredients you want to cook inside the pot
Set the temperature you want the ingredient to cook. It can either be low or high, and this often depends on the instructions of the recipe and whether you will be going out for a long time or not.
Close the pot using the lid and allow your food to cook
Turn off the heating element by switching off the cooker when the dish is done cooking. However, if you are not ready to eat the food, you can allow it to warm by using the warm setting
Safety Tips for Using Slow Cookers
Some people are often skeptical about their safety when it comes to using a slow cooker. Some even have concerns about food safety. Relax, there are some safety measures you can take to ensure that your cooker is safe to use.
Carefully inspect the power cord of your slow cooker to ensure that it has not frayed or melted before every use.
Get rid of the previously spilled recipe from the base and heating element
Unplug the appliance if not in use
Only use the cooker on a surface that is flat and safe
Defrost frozen food before throwing it in the slow cooker
Do not reheat leftover food in a slow cooker because achieving a safe temperature can take too long
What is the Difference Between a Slow Cooker or Fast Cooker?
The slow cooker is also known as crock-pot, and a fast cooker is also called a pressure cooker. They are used in the kitchen to prepare meals, but different from each other. Let us take a minute to compare both cookers.
| | |
| --- | --- |
| Slow Cooker | Fast cooker |
| Uses slow, low heat to cook | Uses fast, high heat to cook |
| Simmer meals over several hours and can also cook meals fast if needed | Only cook meals quickly |
| Perfect choice for busy professionals | Perfect for home canning enthusiast and people who often have free time and need foods to be cooked faster |
| You can cook food without attending to it (hands-off cooking is supported) | It doesn't support hands-off cooking |
| May require a lot of planning ahead | Meals do not require a lot of planning |
| There is only one type – an electric slow cooker | There are two types – stovetop pressure cooker and electric pressure cooker |
| Works at low altitude but may not be perfect for high altitude | Works well for both high and low altitude |
Best Slow Cookers' FAQ
Is a slow cooker safe to cook food?
If you use a slow cooker correctly, it offers a safe process for cooking food. Generally, they cook at a temperature between 170 and 280 0F, for many hours. This destroys bacteria and also ensure an even cook.
Is it safe to leave a slow cooker unattended?
There are two answers to this. Yes, you can leave the kitchen appliance for several hours without attending to it if it is set to a low temperature. On the other hand, no, you can not leave a slow cooker unattended for a long time if it is on a high setting.
What is the amount of liquid a slow cooker needs?
It often depends on the meal you are cooking. Ensure the liquid covers your ingredient if you are cooking poultry or meat for heat to transfer effectively. You can follow the directions and recipe of the manufacturer to find the right liquid or water needed for a particular type of food.
Can I put a raw ingredient in the cooker?
Sure, you can throw raw ingredients in the slow cooker. However, it is often recommended that you should brown raw beef or chicken before cooking them in your slow cooker.
Final Words
You can see that you have a lot of choices when looking for the best slow cooker to add to your modern kitchen. Whether you need a budget-friendly, multicooker, small size, big size, programmable, manual, and functional cooker, any of the top range ones mentioned above will meet your needs.
Remember, ensure that you know what you want before making the final decision.