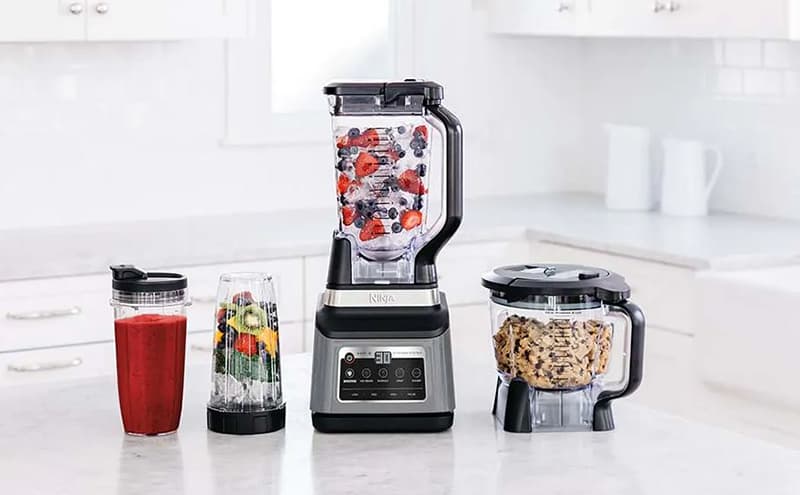 Do you know that an essential item necessary in any household feeding on a nutritious meal is a countertop blender? A blender makes it so easy for you to prepare food packs with essentials vitamins and minerals for your body's healthy functioning.
Also, it can crush ice, chop vegetables and fruits, and make smoothies or mix drinks. With the variant counter blender available in the market, we seek to inform you of how they work so you will buy a functional one that meets your needs.

So, let's sail to the island of the best counter blender available.
Top 7 Best Countertop Blender Review
This blender is perfect for an early morning smoothie before work. Its friendly price has made it popular in homes though it may not be the most durable, yet it serves well for the money put on it.
If you are looking for a blender that will help with your decision to add healthy ingredients to your diets, you just might love this.
It is made into a small and compact structure for easy storage, and its functionality is simple to adapt to, even for a first-timer. The cups, which come in two sizes, are made microwave safe.
Perhaps you might want to heat blended ingredients; you can do that without turning from the blender cup, thereby reducing messing up and saving prep time. And afterward, the cup and its lid can be placed in the dishwasher for cleaning.
You can also grind dry ingredients using the magic bullet special dry milling blade. This is a unique feature you will only get from Magic blender. You will also find it less noisy compared to other personal blenders.
Pros
Have separate blade for milling dry ingredients
Save prep time
Cups are microwave safe and dishwasher friendly
Very affordable
Easy to use.
Cons
Cups lack measurement line
Cups are small
Verdict
Although it is not a powerful blender that gives you satisfactory results if you are aimed at combining harsh ingredients or frozen fruits; nevertheless, it is affordable and can make simple shakes and smoothies fast and easily.
As a newbie in smoothies making or tight on investing, this would be ideal for you.
The Ninja Professional Counter Blender is a highly recommended, powerful blender for frozen ingredients, smoothies, and puree.
It uses 1100 watts motor with multiple speeds that you can easily switch from, such as the one pulse function and one single-serve preset- designed for the single-serving pitcher.
The manufacturer is keen on safety and therefore has device a means around it by ensuring the engine only responds when the pitcher lid is tightly secured. It will also help curtail messing up the kitchen. Incredible isn't it! Also unique to the pitcher is the removable blade hub.
You will get a satisfactory result when the pitcher is loaded to and more than half it's capacity. There is also an extra jar with a lid and a screw-on conventional blade. The base is made using plastic parts and stainless steel for durability.
Cleaning of the components is effortless: just blend warm water with drops of dish soap. You can as well use your dishwasher on all removable parts. But be extra careful around the blade when cleaning because they are incredibly sharp.
Pros
Good price
Dishwasher safe parts
Multiple speeds
Large capacity pitcher
Powerful motor
Verdict
Are you thinking of picking up a powerful blender for your large family? The Ninja professional counter blender is at your service for a long-lasting, quick, and fine blend.
It is no doubt that Ninja blenders are good, and that is why we have another of its product here. The Ninja Professional BL610 is a heavy-duty machine that is meant for professionals as well as those requiring heavy and large pitchers for their large family size.
It built consists of a large transparent pitcher of 72oz capacity with a handle that is slip-proof to keep your hand steady even when wet. The lids of the pitcher and its blade can be detached for easy cleaning and are dishwasher safe.
Also visible in the pitcher is its marking, which makes it possible to measure the fluid in it. The large capacity of the jar allows you to make smoothies, frozen drinks in large batches for your family.
Additionally, its six-blade assembly crushes ice to snow and blends ingredients smoother than you have ever experience. Now you can make those margaritas, blend those frozen fruits and dairy to make smoothies as well as make restaurant-style sauces and purees.
The base comes with easy push buttons to control power levels on a 1000 watts motor for fast processing. It works on three variant speeds giving you speed options when processing food with it.
Pros
Powerful blades
Fast motor
Large pitcher
Slip-proof handle
Easy to clean parts
Verdict
The right counter blender that can handle heavy loads with a powerful engine will save you prep time as a professional chief or a large family size person.
This is a powerful blender at a reasonable price. It will take you a few seconds to turn solid ingredients into the liquid. It blends, churn, chops, and crushes any element that comes in contact with it.
This machine has a medium-size jar measuring up to 40 oz, a BPA-free glass that is dishwasher safe. The lid is uniquely designed with a spout for easy and no messy pouring from the jar. Indeed, this blender was designed for smoothie lovers.
It is relatively easy to operate as you will always find the right setting that works well for your ingredient on the 12 blending functions. All you need to do is pour the liquid base followed by the other ingredients and blend.
The engine house is the 700-watt peak power that helps crush ice and blend frozen fruit giving you a delicious frozen drink anytime you desire it.
This best blender functions especially by continually pulling down mixture into blades for a smooth result, affording you whip up sauces, dressings, and purees.
Pros
BPA-free glass jar
Easy to clean
Easy to store
Spout lid for no messy pouring
Budget-friendly
Verdict
If you just make a decision on frozen drinks and need a blender for a single or person with a small family size at a budget-friendly price, the Hamilton multipurpose elite is the real deal.
5. Oster Blender Pro 1200Best economic and perfect for grinding coffee beans
The Oster Blender Pro 1200 is another budget-friendly best countertop blender with a stunning design. It is a simple model with basic functionalities and sturdy built. It is a heavy machine that comes with a motor power of about 1200 watts and 900 watts, which is enough to pulverize ice.
A Boroglass jar of 48oz is included, which possesses an incredible ability to withstand thermal shock. It is easily detachable and dishwasher safe. Coming alongside it is a 24-ounce smoothie cup with its separate lid.
Also, this blender comes with a smart setting technology that includes seven speeds and three pre-programmed settings.
The blade works in dual directions for chopping and grinding with an extra 3.5" wideness that gives precision, making room for ingredients downward pulling into the blade for more comfortable, faster, and smoother results.
Pros
Easy to use controls
Big smoothie jar
Exceptional at beans grinding
Extra blade wideness allowing for smooth grinding
Two directional blade movements
Cons
Not good for milkshakes
Too loud when in use
Verdict
Compared to other products with the same motor power and price, it has an additional smoothie cup of considerable size and easy to use function buttons. You should consider it except that you shouldn't be expecting it to give you a good milkshake.
It is the perfect choice for regular milkshakes and smoothies. This machine does more than making smoothies and milkshakes. It consists of a great selection of preset programs that aid at getting the best out of the blender and help you at whisking together hard recipes at the click of a button.
The included razor-sharp blade and five-speed setting ensure the machine crushes ice into snow and undertake other tasks in a moment and still maintain its sharpness. It comes with ten recipe cards that will inspire you to get the most out of the blender and use it with a variety of ingredients.
If you hate messy cleanups, then do not be alarmed; the blender has an auto-clean feature that will clean the pitcher and the blade surrounding at the click of a button- all without working yourself out.
You will find the preset functions to be of a great assistant when making smoothie and chopping, mixing, blending, pureeing, and liquefying your favorite food. The parts are dishwasher safe, therefore making it easy to clean.
Also, you can make use of the auto-clean button for the inside of the pitcher- add detergent and warm water to the pitcher, and in no time, you have a squeaky clean pitcher.
You can as well measure the volume of your mixture in the pitcher as it comes with easy to read measurement that will help you follow a recipe and keep to the quantities as instructed.
Pros
It very easy to clean
Make fine smoothie and milkshake
Can measure content clearly
Comes with ten recipes cards
The blade is serrated, making fine chopping
Verdict
As you consider purchasing a counter blender for your family, you should add Breville BBL620 to one of your options for its easy to use functionality and robust motor.
It comes with pro-quality precision and control and gives you a perfect result from making nut butter to hearty soups and more. The machines have an ultra-powerful motor with ten variant speed settings that allow you to adjust the speed when blending your recipes, giving you absolute control.
Also, it has a pulse button for fast manual blending and cleaning. The radial cooling system and thermal protection system helps to ensure that things run smoothly with the blender.
Additionally, the compact, heavy-duty base will remain grounded and won't move on the counter when in use. The 48 oz BPA-free container has clear markings for measuring fluids that come in shape and size that makes it easy to store snugly under the kitchen cabinet.
A four-inch laser-cut stainless-steel blade is included to mix or blend different ingredients. The package also includes a recipe cookbook and tamper (used for pushing ingredients down) for even blending of ingredients.
As the saying goes, nothing good comes cheap, so it is for this blender. It is more expensive than other conventional ones, yet one of the most affordable from the maker.
Although it has all these beautiful qualities, yet it has been reported to have a little struggle when it comes to chopping thick ingredients.
Pros
Self-cleaning mode
Ten variant speed settings
Pulse feature
Easy to store
Make hot soup
Cons
The handle is slippery when wet
Pricey
Verdict
Vitamix is like the king of blenders and has many of their products used in culinary schools, so you investing in this won't be a waste at all.
Best Countertop Blender – Buyer's Guide
What to Consider when Purchasing a Countertop Blender
The following are necessary things to consider when deciding on which blender to buy so that you won't end up with one that won't be relevant to you. Now let's take a look at them one after the other.
Conventional blenders are more significant in size compared to immersion and personal blenders. It can measure up to 20.5 inches. You may not be able to store traditional blenders under your cabinet easily, even though they offer more power and volume.
For this reason, you may need to put the blender on the counter that does not have a cabinet above it.
Personal blenders are shorter-usually about 13 to 16 inches; therefore, they don't take up space. On the other hand, you can store an immersion blender in a drawer.
Blender pitchers or jar usually come in glass or plastic material. Glass generally is cheaper and gives a decent look. It is compatible with both hot and cold ingredients and is dishwasher friendly.
But if it happens to be of low quality, it can shatter easily, therefore, making glass pitchers risky. Also, if it is made too thick, it can be relatively heavy.
Because of the above disadvantage of glass, many manufacturers prefer to use high-end plastics instead. This tends to be lighter, more durable, and safer. However, some are not dishwasher compatible and could be expensive.
Blender with higher wattage and more horsepower (more robust motors) gives higher speed, produces finer blends result. This makes them gigantic and more expensive than their lower-powered counterparts.
Blenders that have 2-3 horsepower and 1500watts motor are high-powered and efficient to blend nut into a smooth butter, grind grains into flour, and crush ice and frozen ingredients conveniently. They are also able to provide heat to the recipes being blended in them, thereby heating them.
Mid powered blenders in the range of 1100 watts can as well grind nuts and crush ice. These machines perform well when you want to get lighter tasks like pureeing and making smoothies done.
At the same time, blenders with a less powerful motor from 600 watts and below are not recommended for grinding tough ingredients and crushing ice. They work well with light drinks.
Immersion and conventional blenders are designed to assist with cooking occasionally, so they often feature multiple speeds. Personal blenders, on the other hand, only have a single speed option besides the option to pulse or operate continuously.
Some models feature the combinations of specific times and speeds, which are also known as additional presets. The presets speeds are meant for tasks such as making single-serving smoothies, soup pureeing, and ice crushing.
A strong blade that can stand the test of time should be considered over a sharp blade, which tends to dull over time. A better performing blender comes with strong blades rather than sharp ones. They are more able to crush ice and are easy to clean.
Conventional blender designs (with a motor base and a jar) are made to self-clean themselves effectively. Simply pour a few dish soap and water in the pitcher and run at high speed. That will help clean the inside of the container as well as the blade without any difficulty.
For personal blenders or those blenders that do not come with self-cleaning functions, the parts that food comes in contact with usually are dishwasher-friendly. Or you could just wash them by hand, but this will demand that you should be careful around the blade so as not to get cut by it.
Please note that blenders' electric parts cannot go into the dishwasher, but you can use a damp cloth to do the cleaning.
The low to medium quality conventional blender can be gotten below $100, while personal or immersion models can even come for as low as $50. And there are models of excellent quality that comes close to $100. The point is, the quality will determine the price.
Medium quality conventional blenders with significant accessories package can be gotten within the range of $100-$200. Also, some personal or immersion blenders which come from high-end brands can be obtained within the price range. This comes with better motors and materials.
From $200-$400, you will find conventional blenders with better built, more accessories, and perhaps heavy-duty power as the price goes up, even some exceeding $500.
TYPES of BLENDER
An immersion blender or you can simply call it a hand-held blender, is made up of an extended hand with blades and controls at the ends. Also, personal and hand-held (immersion) blenders are specifically suitable for preparing a fast meal.
They possess less power when compared to conventional blenders. But help to save space and are less pricey.
On the other hand, conventional blenders have a powerful motor, are larger, and occupy more space than personal blenders. Nevertheless, they help handle more massive tasks and are also the most expensive of all the blender types.
You can also find a lot of affordable conventional blenders that will produce good smoothies for you but may have a little set back at handling challenging tasks.
How Blender Works
For example, let see how the blender transforms a strawberry.
Put the strawberries in the blender and add your liquid base (water, for example), then ignite the blender. The motor is set into motion, and the blades begin to turn. You will hear the whirling sound and see the movement that is going on in the blender.
The tornado-like spiraling observable in the blender causes fluid to lift and circulate the content of the blend into the air. Now the strawberry is liquefied, and if you happen to add other ingredients, they are mixed and turned to liquid, then you can see your beverage beginning to form.
The repetition of this pattern will eventually blend the strawberry into good and thoroughly mixed smoothies until you switch off the power.
Difference Between a Full Size and Personal Blender
Both full-size and personal blenders are referred to as countertop blenders but differ in some way.
A personal blender comes with small containers where you can out the ingredients to be blended. The container can also be used as a drinking cup. It is designed to create serving for one person at a time.
A full-sized blender is designed to be in an upright position. It also comes with a container that looks like a jug. It comes with a large capacity jar and a heavy-duty motor offering multiple speeds, and prices range from low –high.
Why you Need a Countertop Blender
As a person seeking to unlock your cooking potential, it will be an exciting experience having a blender work for you. Your blender can help you achieve the following and more
Batters such as muffins and pancake
Cereal and grains like almond flour, breadcrumbs, and oat flour
Purees for baby food, hot or cold soups
Sauces, dressings, and dip, e.g., hummus, spreads, mayonnaise
Beverages as in frozen drinks, smoothie, blended alcohol drinks
Nuts like homemade nut butter, e.g., peanut
The blender will help you do justice to it all and create the most smooth and creamy products.
FAQ
Is a high-power blender right for me?
It depends on how complicated and challenging your recipes are. You can buy a low power blender if your aim is just to make a green smoothie, but if you desire something like frozen drinks or hot soup, you will need a high-powered blender.
Can I use my blender to make frozen drinks and for ice crushing?
Yes, you can. Provided it is high powered like those of 1000 watts and above. It can do the tasks correctly for you. Peradventure you own a low powered blender, it will be difficult, if not impossible, for your blender to crush ice or make frozen drinks unless you want to make a shipwreck of it.
What are the things I can use my blender for?
The countertop blenders are versatile devices, especially the full-size conventional blender.
It can be used to make pancakes and waffles batter, sauces, soup, make ketchup and mayonnaise, milkshakes, peanut butter, salad dressings, cauliflower pizza crust, smoothies, dips, cocktails, pudding, and many more.
Final Words
We have narrowed the list and bring to your sight the best countertop blenders in 2020. You can solve your nutritional problems and unlock your cooking potentials by adding a countertop blender to your kitchen appliances.
These blenders have been selected for budget tight, single or family persons, and one that desires a durable and high-end functional blender. So, whatever your category might be, own a blender and control your diets!