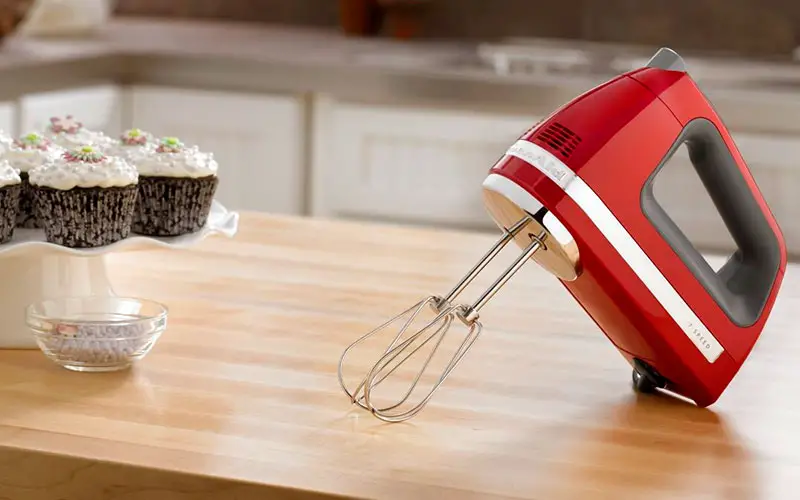 Whether you love baking or just cooking, a hand mixer is an extremely important tool to have in your kitchen. Mixing stuff by hand is hard and time-consuming luckily hand mixers are a great way to reduce this manual work while ensuring you get a more even mixture.
Kitchenaid is one of the top brands in the market that boasts of having some of the best hand mixers out there both in terms of quality and functionality.
In this article, we are going to explore and compare two of the most striking KitchenAid hand mixer models, the KitchenAid KHM7210ER 7 speed and the KitchenAid KHM926CU 9 speed.
While they are quite similar, the 9-speed model is basically an upgraded version of the KitchenAid 7-speed, and it comes with some nice extra features. Therefore, in this Kitchenaid Hand Mixer 7 Speed vs 9 Speed review, we will compare these two models side by side and help you determine which one really stands out.

KitchenAid KHM7210ER 7-Speed vs KitchenAid KHM926CU 9-Speed
KitchenAid is a company with a long reputation for making some of the most high-quality kitchen appliances. Their KHM7210ER 7-Speed and KHM926CU 9-Speed are amongst the top hand mixer models found in the market today. But how do they compare? Well, let's find out.


The KitchenAid KHM7210ER 7-Speed is a professional digital hand mixer with free restraint to some of the most original recipes. Build using innovative technology; it is among the best digital hand mixers in the market today. Now, let's take a closer look at some of the features that make it stand out.
Design and Build Quality
Built using polycarbonate material, this digital hand mixer comes with a charming design and brightly colored palettes. It is available in various colors (Onyx Black, CocoSilver, Contour Silver, Empire Red, Liquid Graphite, Pistachio, and White) and comes with a shiny chrome finish that is eye-catching and goes well with most kitchen décor.
The unit has measurements of 3.5-inch by 8-inch by 6-inch, thus taking up a small footprint. This compact hand mixer comes with an ideal size that fits in most kitchen cabinets and shelves without too much hassle.
Performance and Functionality
In terms of performance, the KitchenAid 7-Speed hand mixer is a marvelous little workhorse that is perfect for almost any mixing task in the kitchen. With up to seven different speed settings, this mixer is great for mixing even heavy ingredients.
It has 150 watts of power and a Soft Start feature that is responsible for gradually bringing up the beaters up to the speed of choice. The soft-start feature prevents chunks of ingredients from splattering all over your cooking area, thus ensuring a clean kitchen.
The different speeds are designed to mix ingredients starting from a slow stir then progressively increases speed up to a higher whip.
It greatly helps in mixing various ingredients and recipes to achieve the desired consistency.
Between speed one and three, you can easily combine ingredients starting with those chunky ones for slow stirring. At speeds amid four and six, you can also do various things, including mashing potatoes.
Speed seven is the highest for this digital hand mixer. You can use it for whipping meringues and beating egg whites. Generally, the functionality of this mixer is very good as it has a powerful motor that is also very quiet and ideal for working with.
Attachments
The KHM7210ER 7-Speed arrives with various attachments but some you will be required to purchase separately. Its packaging includes stainless steel turbo beater II accessories that are perfect for mixing heavy ingredients.
Also, you will find a Pro Whisk in the package for more flexibility. These accessories are made of stainless steel hence durable and dishwasher safe.
However, it is worth noting that this product does not include a storage case.
Usability
When it comes to usage, this hand mixer is just amazing. With a weight of only 2 pounds, the product is very lightweight. It is also convenient and comfortable to use as it gives you free arm movement and easy time reaching ingredients.
Besides being lightweight, the hand mixer has a soft-grip handle that makes it ideally comfortable to use. You literally won't feel any burden while using it.
Another great feature is the beater ejector button. This button is unique as it allows you to rapidly and effortlessly remove any accessories from the mixer with just a single press of a button.
The unit has a lockable swivel cord that can be moved and locked into either the right or left sides of the mixer. The multi-positional round cord allows you to approach and handle ingredients from various angles while also making it easy to wipe and clean.
Pros
Soft-start feature
Different speed settings
Multi-positional swivel and lock cord
Quiet operation
Comfortable to use
0ne-year limited warranty
Cons
Does not include a storage case
Verdict
Overall, the KHM7210ER 7-Speed is an ideal kitchen appliance for anyone who likes to make cakes, cookies, whip cream, pizza, bread, and any other dishes that need a well-mixed dough. It offers you the power and control to mix up your favorite ingredients perfect for any recipe and would recommend it for home use.

Another quality digital hand mixer with stylish design and attractive color, the KitchenAid KHM926CU 9-Speed comes as an upgrade for the previous KHM7210ER 7-Speed. It boasts of some extras that for sure make it unique. In this part of the review, we shall look at how the KHM926CU 9-Speed contrasts with its predecessor.
Design and Build Quality
When comparing the KitchenAid 9-speed to the 7-speed, you will notice that there are very few alterations appearance-wise. Just like its predecessor, the KHM926CU has dimensions of 3.5-inch by 8-inch by 6-inch.
Similarly, the 9-speed hand mixer is also constructed using tough polycarbonate material with a shiny chrome finish. However, in terms of color selection, the KitchenAid 9-speed hand mixer is available in more colors than the earlier version. For example, the extra color is Candy Apple Red – iconic color from Kitchen Aid.
Performance and Functionality
Unlike the previous digital hand mixer, the 9-speed is more powerful and produces high values of torque. This heavy-duty hand mixer is a handy kitchen appliance for whipping, kneading, blending, and mixing your favorite ingredients as well as trying out new recipes.
In terms of wattage, the KitchenAid hand mixer has 145 watts, which is a bit lower than that of the earlier version. Besides, the KHM926CU has up to nine different speed settings that can be used for more functions in comparison to the previous hand mixer.
Amid speed one and five, this hand mixer utilizes its Soft Start feature to bring the beaters up-to-the speed selected gradually. This process starts with slow stirring and combining of chunky ingredients as the speed increases progressively until the desired consistency is reached.
Just like in the earlier version, the soft start feature in this unit prevents ingredient chunks from splattering out of your mixing container. When you get to speed six, there is a lot more than you can do. At speed six, you can make a mixture of bread batter, sugar, and creaming butter.
In contrast to the earlier model, the highest speed setting for this one is nine. At speed nine, you will achieve the highest whipping, and there are a lot of things that you can do, including whipping meringue.
Attachments
Like its predecessor, the KHM926CU 9-Speed includes various tools and attachments that come in handy in any kitchen. Some accessories, however, are not available, and you might be needed to purchase them separately.
The unit comes with an exclusive accessory pack to provide endless opportunities in a single hand mixer. The kit includes two stainless steel turbo beater II accessories, a blending rod, two stainless steel dough hooks, stainless steel Pro Whisk and a storage bag for the tools.
Usability
Looking at usability, the 9-speed hand mixer comes with many accessories that can be used to perform more tasks than its prototype. It also comes with a long power cord that allows for easy arm movements while operating the unit.
However, this mixer is heavier compared to the earlier version. It weighs 3.3 pounds and can be a bit tiring when using. In spite of the heaviness, this unit also boasts of having a soft grip handle that offers comfort whenever it's in use.
On the other hand, this hand mixer has the beater ejector button that effortlessly and quickly removes accessories from the unit. All you require to do is single press the ejector button, and the beater will release.
Another similarity is with the lockable swivel cord. It has a long round multi-positional power cord that allows you to approach ingredients from varied angles. The swivel cord makes cleaning the unit easier.
When it comes to ease of use, this one is better than the previous model. Its packaging arrives inclusive of a storage bag that is used to organize and store the accessories neatly.
Pros
Great mixing consistency
Dishwasher safe accessories
Storage bag
Up to 9-speed settings
Soft start for easy operations
Soft-grip comfortable handle
Cons
You might be required to buy extra accessories separately
Verdict
This product is highly recommended for anyone fond of trying out and experimenting with new recipes. Being one hand-held mixer, it is a perfect go-to small appliance with endless opportunities.
Kitchenaid Hand Mixer 7 Speed vs 9 Speed – Overall Verdict
As you've noted from our reviews above and KHM926CU 9-Speed hand mixers are two completely different products.
In terms of the general outlook, both products have some similarities, including the design, size, and color availability. However, there are slight differences when it comes to usability and functionality. Also, the previous model comes with fewer tools and attachments than the 9-speed version.
To sum it all, both models are great appliances worth considering. However, we would recommend the KitchenAid KHM926CU 9-speed model for anyone looking for convenience in operation. On the other hand, KHM7210ER 7-Speed is an excellent choice for those who don't do a lot of heavy mixing.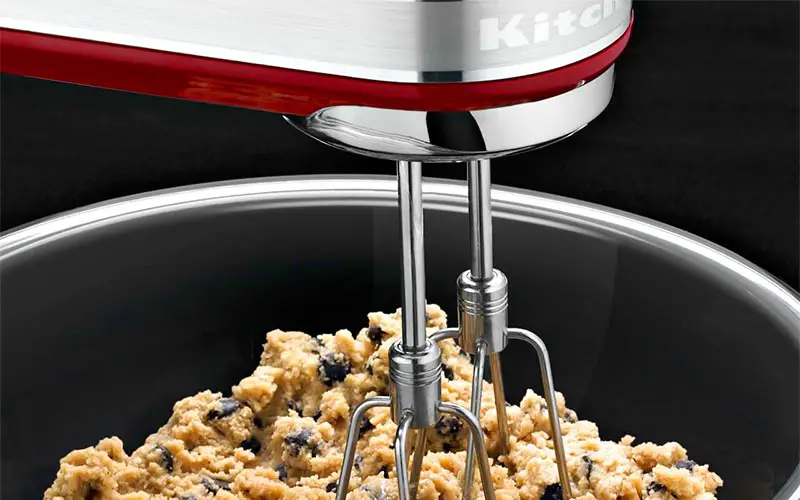 Kitchenaid Hand Mixer 7 Speed vs 9 Speed – Buyer's Guide
There is a wide variety of hand mixers with different sets of useful features and quality in the market. For this reason, it can be a bit overwhelming to decide which unit is best.
However, having the right information can help simplify this process, and in this guide of our Kitchenaid Hand Mixer 7 Speed vs 9 Speed review, we've done just that. We've broken down some of the key features to consider when shopping for a hand mixer so that you can pick a unit that will suit your exact needs.
Contents:
Weight
Have you ever made a 6 minutes frosting? Or tried beating together baking ingredients with batter for 5 minutes? Even using the lightest hand mixer, it can feel like a big load within the first 2 minutes.
A hand mixer that is too heavy will contradict the point of you purchasing a unit in the first place. You probably should choose something that's not too heavy and easy to hold for a period of time while mixing. Note that the more ingredients to mix, the longer you will hold it.
On the flip side, if you get a super light hand mixer, you might experience problems with control. You should be capable of holding your hand mixer with comfort for at least 9 minutes. The ideal hand mixer weight for most people range between 800grams to 1 kilogram.
Speed Settings
Almost every hand mixer on the market come with a variety of speed settings to choose from. Some of the models have a wider range than others. The choice of speed settings on a mixer depends on how much baking you do or how much variety you desire.
Different varieties of food will require different mixing speeds. In case you need a unit that will help you mix basic recipes, then you probably need to get a hand mixer with basic speed settings. Conversely, in order to tackle a wider variety of tasks in the kitchen, you will probably need to get more benefits from a hand mixer with more ranges of speeds.
The more speed control you have, the more effective will your unit perform. Nearly all mixers have a slow start setting that is useful for combining ingredients while adding the floor without making a big mess or splatters.
Remember to start at a slow speed and gradually build up your speed until you get an even mix. For every hand mixer, the controls should be accessible. You should be able to toggle between speeds quickly and smoothly.
High speeds are great for beating frosting or whipping egg whites while the slowest speeds are essential for mixing dry ingredients and gently mixing cake batter. Plus, getting a model with an on/off switch guarantees safety.
Power
First of all, a right-hand mixer should be powerful. There are some powerful, affordable hand mixers on the market. It is important to find out how much power you desire so that you make the right investment on the right kind of hand mixer.
How powerful a unit is, primarily depends on the wattage of its motor. A unit with a higher wattage motor should be able to mix thicker and larger ingredients, while a hand mixer with lower wattage is meant for thinner and lighter mixtures.
Having a majority of hand mixers start with a power of around 150 watts, you can decide to go higher if you wish. The 250 watts hand mixer is the ideal power convenient for most people. In addition, the power in a mixer can also affect the speed, given that a more powerful motor can turn the beaters faster.
Size and Shape
In case you are tight on space, you will probably need a hand mixer with a space saving-design, retractable cord, and compact body. The fact that most hand mixers are awkwardly shaped there's a need to consider their base surface. Stay away from round and curved base, instead look for more stable options with a completely flat surface.
Keep in mind that the bigger the unit, the heavier it will be. However, there is certainly a trade-off since the bigger the hand mixer, the more robust it will be. If you want something robust, you can choose to get a smaller machine but be prepared to spend a little more.
More often than usual hand mixers come with a storage bag. Due to their awkwardly shaped body, you will find it hard to squeeze into your small packed cabinet. Also, the storage case is useful in keeping the attachments in one place, ensure safety, and increase the lifespan of the unit.
Attachments
The accessories help you figure out what type of mixing can the machine be able to do. There are lots of mixing types starting from whipping, beating, creaming, folding and combining, etc. Just like previous features, the number of these accessories affects what functions your mixer will be doing the most.
Most hand mixers come with at least a pair of beaters, but we like a machine that includes other important accessories. For instance, dough hooks are useful for kneading bread while whisk is for whipping cream or eggs.
All hand mixers come with two beaters that are useful for the simplest mixing tasks. For most the basic beaters usually do ingredients mixing well enough. Sturdy stainless-steel beaters are more durable, however, at times the beaters might scratch up your nice mixing bowls. To prevent this, make sure you choose accessories that are coated with silicone.
If you can't get a mixer with all your desired attachment, you can buy them separately. On that note, it is important to consider the attachment with long arms that prevent splattering while ensuring your ingredients are mixed thoroughly.
If you know your cooking needs, then you are on the safe side to judge what accessories you will most probably need. On the other hand, it might be a good idea to select a few attachments that can cover all the options.
Comfort
Since using a hand mixer can be exhausting, it is important to consider the design of the handle. For this reason, there are a variety of handle sizes and types. Some models are designed with handles that slant upwards towards the front part of the mixer to reduce strain on your arms.
Some hand mixers feature swivel cords that are very convenient for left-handed people. While you have a variety to choose from, it is crucial to get a unit that is both ergonomic and preferably with a non-slip firm grip. Handles made of rubber or silicone grips are the best.
The right unit should be strong, sturdy, and with a comfortable grip. We can't really stress how important your arms comfort is vital for more effective control.
Ease of cleaning
Hand mixers scoop high points in regards to the ease of cleaning compared to stand mixers. Most hand mixers feature the latest technology designs such as a quick-release beater mechanism that make them fairly easy to clean.
New versions of hand mixers attachments are made of thin, curved stainless-steel materials rather than the old thicker materials that were hard to clean. Other models have seamless bodies and touch-screen controls that wins them more cleaning advantage.
Look for a hand mixture that is simple to attach and remove attachments for both cleaning and mixing. Some of these attachments can be dishwasher safe while others require hand wash after every use.
Depending on the type of hand mixer you purchase, most definitely you will be required to wash your mixing bowl by hand. And then clean the entire unit by rubbing it down with a clean wet cloth to ensure it always remains clean after use.
Noise Level
Kitchen hand mixers are going to produce some level of noise no matter what. Noise from a rotating hand mixer is not that bad, but the electronic ones will make quite a noise. Some of the electrical models are worse than others.
You can read customers' reviews and look for models that are identified for being quieter than the usual noise. With our current advanced technology, you will find some hand mixers that are purposely constructed to be as quiet as possible with no worries of waking up kids.
Kitchenaid Hand Mixer 7 Speed vs 9 Speed – FAQ
What is a good wattage for a hand mixer?
Basically, hand mixers' wattages range from 100 watts to 250 watts of power. However, a motor that is 200 to 225 watts would work just fine for thinner mixtures.
Yet, it is more confident that a 250-watt hand mixer can be as powerful as a 150-watt unit. Why is that? Because of how powerful a machine is, depending on the real strength of the engine. So, if the engine happens to be strong, the hand mixer can stir well; however, if the engine is weak despite having high wattage, the overall mixer performance is low.
Therefore, the wattage alone is not a distinct indicator of how strong a hand mixer is. However, it's essential to understand that a very high wattage is subjected to the high performance of the hand mixer and vice versa. Ensure you read customer reviews of various models to help you identify the right wattage for your needs.
How many watts is the KitchenAid 7-speed hand mixer?
The KitchenAid KHM7210ER 7 Speed hand mixer has only 150 watts of power. This is sufficient power to handle small tasks such as preparing puddings.
How many watts is the KitchenAid 9-speed hand mixer?
Compared to the KitchenAid KHM7210ER 7 speed, the KitchenAid KHM926CU 9-speed hand mixer has a comparable wattage of 145 watts. It features a DC motor that is more energy-efficient and lighter. However, you can't really compare wattage or power to an alternating current hand mixer.
Which is the best KitchenAid mixer?
There are several KitchenAid mixers in the market, and all of them have excellent performance; however, one of them stands out from the rest. The KitchenAid KSM150 Artisan mixer has a score of 93 out of 100 which is a result of having a different range of speeds, powerful motor, versatility, robust design, style, and the ability to mix bread dough.
It has gain popularity among many customers for being sturdier and the ability to tackle the tough task.
What is the highest rated hand mixer?
A hand mixer with the highest rating is the KitchenAid 9 KHM926CU. If you don't want a stand mixer, this one is the best unit to choose. Many people like the slow speed feature coupled with wide ranges of high speed.
I am scooping an average of 4.5 ratings in terms of ease of clean, versatility, durability, blending power, and comfort.
What is the best hand mixer on the market?
The Cuisinart HM-90s Power Advantage hand mixer is one of the most intuitive mixers in the market. It features a smart interface, powerful DC motor that is fairly quiet when used at lower speeds.
The mixer comes with an automatic feedback feature, so you don't need to be troubled about the start or stop of the hand machine. Plus, it has the most convenient storage case that stores all your accessories.
Do you need a hand mixer if you have a stand mixer?
A stand mixer basically mixes anything that a normal hand mixer does. However, a stand mixer allows you to blend, mix, combine, and whip your ingredients for longer periods without tiring.
You can definitely do more with a stand mixer because of the higher mixing power and special attachments that come with it. Due to the high wattage, stand mixers are more costly. The only setback, though is that a hand mixer is more portable than a stand mixer.
You don't necessarily need a hand mixer if you already invested in a stand mixer since they are one and the same thing. The difference vividly shows itself in terms of storage, power of control, portability, and cleaning.
Kitchenaid Hand Mixer 7 Speed vs 9 Speed – Conclusion
As far as hand mixers are concerned, you can never achieve a perfect mixture without investing in a quality unit. You simply can't ignore the mixing power ability, speed ranges, and several essential attachments that come with KitchenAid models of hand mixers.
From the above comparison, we can conclude that both mixers are great appliances. However, in terms of usability and functionality, the previous unit comes with fewer attachment tools than the 9-speed version.
In general, even if we would recommend putting your money on the newer version, it is important to understand either of the two options would do well. Eventually, your choice will be influenced mainly by your cooking specific requirements.
And you are also welcome to check our KitchenAid Knives Review!