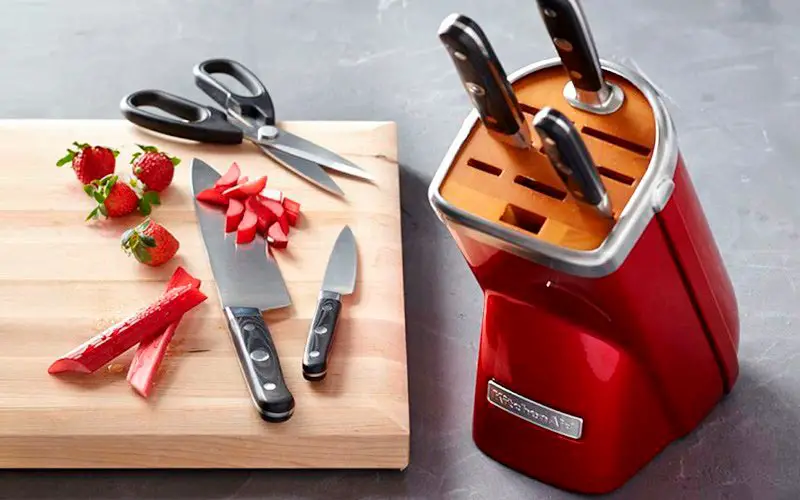 Let's face the truth; a kitchen knife is one of the kitchen tools you can't neglect when setting up your kitchen. But do you know that not just a kitchen knife but a good kitchen knife will go a long way to help you do the job smoother and get a better result? Chopping will be safer and faster when you have a perfectly sharp knife with the right balance and weight.
So, if you are tired of turning your Thanksgiving turkey into a butchered bird and want to upgrade to a decent kitchen knife, there are lots of great kitchen aid knives to choose from.
However, you need to consider some important factors to help you make the right choice. Read further as I show you the buyer's guide, best kitchen aid knives review on the market, and other helpful information to help identify the perfect knife for your needs.

Whether you are an avid culinary enthusiast or just learning to cook, this product suits any skill level. The set comes with an 8" chef's knife, slicer knife, and scalloped bread knife, 7" santoku knife, 3.5" paring knife, 5.5" serrated utility knife, 6" utility knife, 3" peeler knife, diamond sharpener, kitchen shears, and designer Block.
All the tools this set cam with are designed and forged from high-carbon German steel which offers durability and dependability. The knives have their blade ice tempered and hardened for edge retention and outstanding sharpness.
Also, the handle is constructed using non-porous fiberglass with the layers highly pressurized to give a secure grip, ergonomic comfort, and long-life durability. With the triple-rivet which includes a larger center rivet, the handle that comes with it is stabilized for agile performance.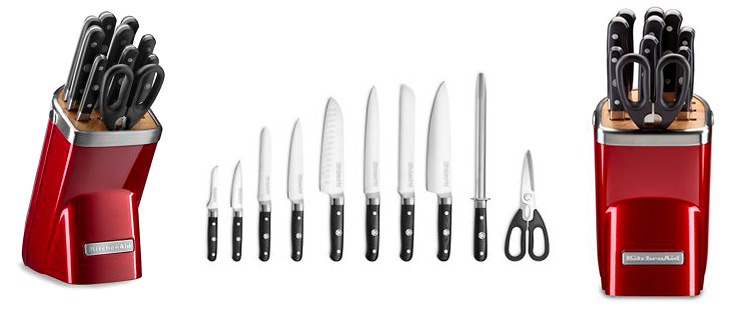 Additionally, the diamond grit sharpener is included to help enhance the performance of each knife by removing microscopic metal shavings from the blade and keeping it sharp always. The custom wedge block makes the KitchenAid KKFMA11CA Professional Series 11 Piece Cutlery Set unique as it is the only professional set of cutleries that comes with such a feature.
Pros
Ergonomically engineered handle for superior comfort and hand control
The blade is reinforced for durability, flexibility and great performance
It remains razor sharp for a longer time
A spacious and well-designed zinc wedge block
Cons
The scissor is not easy to clean because it can't be disassembled
Final Verdict
With the high-quality built and construction plus the well-designed and gorgeous look of the block, this product will last a lifetime to please the most discerning of cooks. It makes it makes sharpening, cutting, paring, boning, peeling, and chopping graceful and an easy task to do. In my Kitchen Aid knives review professional series of course gets the Top Choice award.
This is another product from KitchenAid for those who need a set of knives with an outstanding performance at an affordable price.
The KitchenAid 12-Piece Stamped Delrin comes with an 8" chef's knife, 5.2" serrated utility knife, 8" slicer, 3.5" paring knife, 5" santoku knife, kitchen shears, steel knife sharpener, and four 4.5 steak knives.
The blade of each knife in the set is crafted from high-carbon stainless steel. The construction and material keep the edge of your knives ultra-sharp for a longer time, so you won't need to sharpen it every time you use it. Just like other KitchenAid knives, the handle is constructed to give your hand a firm grip.
Pros
Ergonomically contoured handle
Perfectly balanced and weighted for accuracy and precision
Blades are resistant to stain and have an ultra-sharp edge
Precision forged full tang
Final Verdict
The design, quality, construction, and customer's satisfaction makes this product one of the best kitchen knives set around. In my Kitchen Aid knives review it take the position of Best Budget Pick.
From prepping your perfect vegetables to cutting your meat, this product might help you handle the toughest aspect of your chopping with class and ease.
The product comes with a set including 3.5" paring knife, 3.5″ and 4.5" santoku knife, a 5.5" serrated utility knife, 8" bread knife, 8″ Slicer, 8" chef knife, six steak knives, a built-in knife sharpener, and shears. The blades are forged with German stainless steel that provides them with enduring ultra-sharp edges and long life durability.
Unlike other brands of knives in the market, the KitchenAid KKFTR16SL has a diamond grit sharpener integrated into it. This feature allows you to sharpen the knife faster and easier. Unlike honing the in-built sharpener ensure the edge is razor sharp. Additionally, the set of knives come with ergonomically engineered handles that feature bolster and full tang.
With this feature, you are ensured of easy handle control and ultimate comfort. Also, it comes with a sleek knife box that makes sure you conveniently remove the knives when you want to use them and replace them with little to no stress when done.

Pros
Enduring razor sharp edge
Easy placement wood block
Triple rivet handle for added durability and balance
Integrated sharpener for quick, easy and rim sharpening
Dishwasher safe
Cons
The block scratches easily
Final Verdict
No matter what you have on your menu you can get the job done easily and faster with the features this product brings to the table. The number of cutlery and its quality brings to this Kitchen Aid the name of Best Value for Money set in my Kitchen Aid knives review.
When it comes to an alternative option with superior, high performance, and topnotch material, the DALSTRONG Gladiator Series Colossal Knife Set might be able to meet your needs. It offers a lot of cutlery options to ensure your every need from boning and slicing to peeling and chopping are met.
The product comes with one 8" chef's knife, 9" carving knife, 7" santoku knife, 8.5" chef knife, 6" serrated utility knife, 6" utility knife, 7" nakiri knife, 9" bread knife, gladiator series honing steel, and 3.5" paring knife,. Additionally, it comes with six 5" straight edge steak knives, one 2.75" paring knife for bird' beak, and one boning knife. All these will provide you with a perfect start and finish while cooking.
The blades are forged with high-carbon ThyssenKrupp German steel. This makes them resistant to wears and ultra-sharp to achieve maximum resilience and ultra-thin slices. Also, the sets come with laminated handles constructed with pakkawood which makes it beautiful and strong.
It features three rivets and mirrors polished bolsters that provide you with good balance and maximum comfort. The shape of the handle makes it easy for you to grip and maneuver during use.
Dalstrong does not recommend to wash their knives in a dishwasher. In case you need a dishwasher safe knife set, check our review of them.

Pros
Full tang and stainless steel end cap for distinction and added balance
Quality and robust full tang
Stain resistant blade precisely tempered for flexibility and hardness
Hand polished razor sharp blade
Cons
Some users complained about the uneven block
Final Verdict
The DALSTRONG Gladiator Series Colossal Knife Set combines quantity with quality. It also adds some additional feature of excellent customer satisfaction, style, and durability. If you are looking for a set of knives designed to maximum unity with low maintenance, this is the one for you.
Of course, Dalstrong has a high price, so in my Kitchen Aid knives review, it is placed only as a competitor to the Kitchen Aid Professional series.
With smooth curves and boldly angled lines plus a sleek and slim design, this product might fit into the perfect design you are looking for in a knife. From a chef's knife and a serrated knife to a boning knife and carving knife, this product has it all.
The blade is forged with high alloy German steel that provides superior edge retention, sharp edge, durability, and hardness.
Also, it comes with patented handles that have angled bolster. This feature ensures a firm grip that naturally accommodates your hands with comfort. Additionally, an acacia woodblock is included to keep the knives safe when you are not using them. The material the block is made of ensures it does not get rotten or damages easily within a short time of use.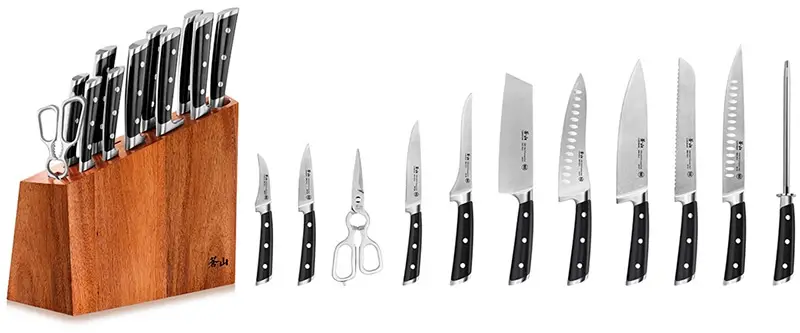 Pros
Exceptionally well balanced and durable for heavy kitchen use
Precise and effective cutting function
Ergonomic handle with patent pending design
Full Tang
Cons
Some users complained that it is heavy
Not dish washable
Final Verdict
With the unique aesthetics of this knife, you can't go wrong purchasing it because it offers outstanding functions. Compared to other series the Cangshang S Series 60140 is updated to standard. In this Kitchen Aid knives review Cangshang appeared because of its affordable price and good quality.
Kitchen Aid Knives Review – Buyer's Guide
Contents:
The Types of Kitchen Knives Available – Kitchen Aid Knives Review
There are different types of knives available for different purposes. This means if you buy a knife that is not designed for what you are using it for; it might fail you even if it is a great knife. Understanding the various types of knives available should be the first step to purchasing the right tools for you.
Chef's knife
It is also called a cook's knife. Originally, this knife is designed to disjoint and slice large cuts of beef. But today it is a general-utility knife in the kitchen that you turn to for most types of meat prep and chopping vegetables. It comes
with a smooth, large blade that can be used for dicing and slicing any food item in the kitchen.
Paring Knife
It is a utility knife that is smaller than the chef's knife, perfect for chopping vegetables and peeling fruits. It is a good choice that makes it safer and easier to do a more delicate cutting task such as cutting of smaller foods.
Carving knife
This is a type of knife with a thin and long blade having a sharp tip. It is used to produce slices of poultry or meat. If you are someone who deals with large chunks of meat and poultry in your kitchen frequently, this is a perfect choice to carve thin uniform slices from your cooked chicken, turkey, or meat.
Serrated knife
The serrated knife comes with a long, thin blade with serrated edges perfect for softer vegetables and fruits such as tomatoes. Also, it makes it easier for you to cut bread without smooshing or tearing it up. If you are someone who cooks baked pastries and bread often, you might need a serrated knife in your kitchen.
Boning knife
If you are someone who frequently buys meats that require further butchering, a boning knife can be a great option. It is a type of knife that helps you to remove bone from your meat easily.
This type of knife is available in different degrees of flexibility, and it can handle cutting through ligaments, tendons, and bones. If you cook thick meat frequently go for a boning knife with a stiffer blade but if you cook up lots of delicate meats go for a knife with more flexibility.
Additionally, if cooking fish is what you do most in your kitchen go for a filleting knife. It is a type of boning knife that comes with a blade that is more flexible, sharper, and thinner.
By now I believe you should be able to figure out the type of knives you want in your kitchen. But do you know that there are some other key factors you need to consider to find the perfect knives for you and your kitchen? Of course, figuring out the type that suits your need is just one of the important part of the selection process.
Kitchen Aid Knife Production – Kitchen Aid Knives Review
Here is the insight look to Kitchen Aid knife production.
What are the Factors to consider when Purchasing a Kitchen Knife? – Kitchen Aid Knives Review
Construction
Knives are constructed in two ways; stamped and forged. The forged knives are the ones molded out of steel subjected to great heat. Because of the forging process, the blades are strong and do not bend easily. Generally, they are considered as high quality. On the other hand, stamped knives are punched out of a piece of steel using a machine. However, when compared to a forged knife it might require less maintenance such as sharpening.
Blade Built and material
Kitchen knives are either made of stainless steel, high-carbon stainless steel, carbon steel, or ceramic. If you want a knife or set of knives that are easy to sharpen, durable, and strong go for the one built of stainless steel. On the other hand, knives made of carbon steel are sturdier and stronger, but they are not as durable as the ones made of stainless steel. You might have to deal with rust and stains.
If you want something more durable than carbon steel and a bit stronger than stainless steel you can buy a knife made of high-carbon stainless steel. For knives with blades built with ceramic, they are lightweight and stay sharp for long but are harder to sharpen when they are long.
To cut a long story short, the best option you can opt for are knives made with stainless steel and high-carbon stainless steel.
Handle
Composites, metal, plastic, and wood are the common types of material knife handles are made of. Ensure you go for the one that is comfortable for you. Your preference, shape, strength, and size of your hands will determine how comfortable you will be using the knife.
Additionally, I will advise you to go for metal and plastic handle because they tend to last longer. But wooden handles can get rotten easily from constant contact with water.
Weight and balance
The weight and balance of the knife you choose to buy boils down to your preference. That is why I always advise a newbie to hold and try the knife before purchasing. If you are buying from an online store, you can read reviews of other users about balance and weight.
Additionally, purchase a knife that comes with an evenly distributed balance between the handle and the blade. It will help you reduce strain on your forearm, wrist, and hand. Also, it will keep your cutting motion smooth without using much effect.
Ease of use
Remember that it is only a sharp knife that does the job better. So consider going for kitchen aid knives that are easily sharpened and can maintain their sharpness for long. Also, invest in knives with handles and blades that are easy to clean.
Conclusion – Kitchen Aid Knives Review
How many knives do you have in your home kitchen? A well-equipped kitchen should have more than one type of knife, and the KitchenAid knives are one of the top knife sets you can invest in. With the review of the top KitchenAid knives provided above, you have the chance of trying high-quality knives that can make a big difference in your kitchen.
When you know the types of knives, you want and pay attention to all the factors that make up a great knife you will be able to decide on the perfect knives for your cooking. Remember that a good knife will make your food preparation go faster, chopping gets easier, and overall cooking experience more pleasant.