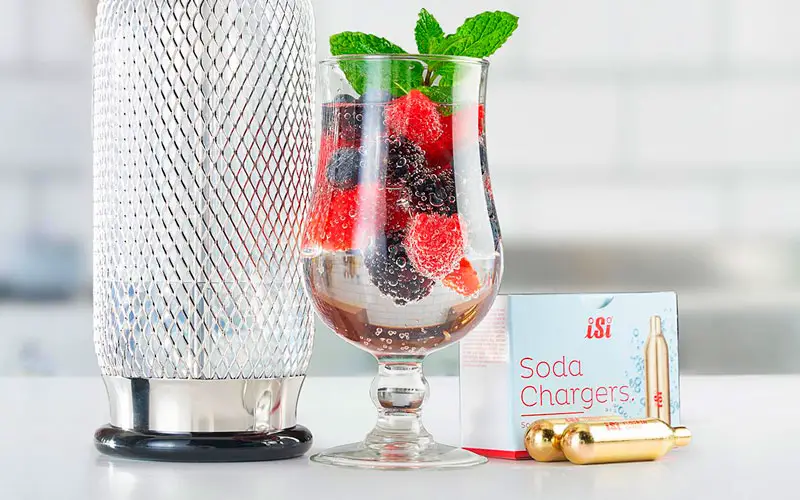 After dozen of questions from our readers about different types of CO2 cartridges on the market, we made an ultimate best co2 cartridges review full of useful and detailed information.
Which we hope will be useful not only for cook lovers but also for everybody who needs co2 cartridges for any reason. What types of co2 cartridges available, what is the difference between them, and does the cartridges with food-grade gas-only useful for soda or seltzer makers?

CO2, a gas readily available in the atmosphere, is essential to human life. You can think of it as the sync between human life and plants; humans breathe in oxygen and release carbon dioxide. Plants, in turn, take this carbon dioxide and release oxygen into their environment.
However, CO2 now has a variety of applications, one of which is the preservation of food and carbonating of drinks. If you have ever wondered how beers and sodas have their fizz or what is fizz? The answer isn't far, CO2. They are released into sodas with the aid of CO2 cartridges that contain stored CO2.
For better knowledge and understanding of CO2 applications and the best ones, you can get in the market, read on!
What is a CO2 Cartridge?
CO2 cartridge is a small container filled with gas (pressurized carbon dioxide). They have an average weight of 56g and looks like the size of a thumb. This makes them handy for usage and retrieval. They are versatile and are used in bicycles, air guns, beer and soda production, and many more.
CO2 cartridge is also available in different sizes 12 grams, 16 grams, and 25 grams. These sizes contain different amounts of gas and pressure released.
How are CO2 Cartridges made?
CO2 cartridges available in the market are quite similar despite being from different brands. They are produced in a factory and start as steel sheeting.
This steel sheeting is then cut and separated into flat discs before being run into a molding machine. The machine shapes the disc into tiny cups, and just as a fetus in a mother's womb, and you can describe this as the beginning of their shape.
Afterward, they are run again through several punch machines to further shape and elongate the cups till they resemble a cylindrical test tube.
The ends are then pressed or pinched to form tiny mouths where the gas can escape. Depending on their usage, a lathe is used to thread the cup, or they are immediately filled with Co2 gas, where threading is not required.

What Are The Different Applications Of Co2 Cartridge?
Carbonating soda or drinks
Many people like to make beer and carbonated drinks at home. One essential material to make homemade beer is CO2. It helps in the preservation of the drink and keeps the homebrew under pressure.
When making beer, homeowners use CO2 cartridges to carbonate it for an amount of time. CO2 cartridges are also used in carbonated sodas and water to give them a fuzzy appearance and can be served at parties.
Airguns or airsoft pistols
C02 in airguns and pistols are used to charge the weapon before propulsion of the metal pellets in the gun. This means CO2 cartridges are an essential instrument in air pistols and airguns. The cartridges inserted depends on the size of the gun, small-sized air guns would require small-sized cartridges while large automatic air pistols use larger sized cartridges.
Or you go all out and use small compression tanks for storing the carbon dioxide gas. Asides from airguns, CO2 cartridges are widely used in projectile weapons, and some paintball guns are also designed to utilize CO2 cartridges for propelling paintballs.
Bicycles
Do you know that you can use CO2 cartridges to pump your flat bicycle tire? They act as emergency pumps and are usually inserted in CO2 inflators before being used to pump the tires. Using CO2 cartridges for bicycle tire repairs is increasingly popular because of their effectiveness and efficiency.
Instead of exerting power with a manual pump, simply attach a CO2 inflator to your valve stem and watch your tire pump in minutes. Both inflator and cartridge are smaller than a manual pump which also gives it an edge, easy to carry around. However, the cartridge can only be used once and are available as threaded and non-threaded cartridges.
Threaded vs. Non-Threaded cartridges
Both cartridges are similar in design and function except that the threaded cartridge is screwed into the CO2 inflator head while the other is pushed or pressed.
Before you decide which one to buy, here are some pros and cons of both types of cartridges.
Threaded cartridges are costlier than non-threaded cartridges. However, they have more CO2 gas inside and may be worth the extra money if you prefer using them.
The non-threaded cartridge is easier to use than the threaded cartridge. They require less effort to use, just push them into your inflator head. Threaded, however, requires more effort, and several people have claimed it's harder.
Threaded cartridges take up less space as they are used in head-only inflators while the non-threaded cartridge is non-cupped.
As earlier said, they both have the same function, and the only thing you should watch out for that is your cartridge matches the inflator head you are using. If you're still unsure, simply buy both cartridges and test on different tires to find the most convenient for you.
Co2 Dragster
Dragsters are used in many high schools to demonstrate to students the laws of momentum and aerodynamics. They are miniature cars constructed by the students and are propelled with CO2. The CO2 is included in the form of CO2 cartridges and are placed at the rear bottom of the cars. They help propel the car along a straight line, and several factors like drag, wind, speed, and momentum are recorded during the race.
Grades of Co2
Against popular belief, there are different grades of CO2, and they should be used accordingly. Grades, in this case, refer to the level of purity of the gas you are purchasing. Food grade CO2 and beverage grade co2 both have 99.9% purity levels while industrial and medical grade has 99.5% purity.
This means both food and beverage grade has undergone several processes to ensure the purity of the gas. The 0.1% of impurity that may be available in the gas includes benzene, ammonia, and carbon monoxide, which are not healthy for the body.
Other grades of co2 and their purity level include:
Research grade – 99.999%
Super-critical Fluid – 99.998%
Laser grade – 99.95%
Anaerobic grade – 99.95%
Bone dry – 99.8%
For CO2 used in CO2 cartridges for bicycles, they are usually less pure than a food-grade CO2.
Food-grade cartridges
Food-grade cartridges contain CO2 deemed to have passed the level of purity required for use in food (99.9%). They are readily available in stores and gas stations and can be used in the preservation of meat and other kinds of food. Food-grade CO2 is different from other CO2 due to its special process of handling, transport, and storage.
All materials used, such as cylinders, tanks, bottles, hoses, and more, are thoroughly cleaned inside out to prevent contamination from other gases or oil. They also undergo strict supervision from the FDA to ensure the gas is fit for human consumption.
Review of the Best CO2 cartridges

This soda charger is available in Gold color and can be used with iSi soda siphons to make carbonated water, soda, and other drinks. The pack comes with ten chargers that help eliminate impurities (salt) in your drink, and also gives it a refreshing taste. Make your fizzy drink with the iSi 10-Pack Soda Charger.
It is easy to use, store, and requires only one application (cannot be reused). The charger is also made with strict adherence to North America Electrical standards. It has a long shelf life and can be transported easily.

Leland soda chargers are 8 grams of C02 Seltzer Water Cartridges suitable for producing soda, beer, and other drinks that require CO2. Each cartridge weighs 1 pound and can effectively produce at least one liter of carbonated drink. With this soda charger, you can easily make carbonated drinks at home anytime you want.
The pack contains ten cartridges, and each is manufactured with the highest quality. They cannot be reused or refill but has only one shot.

If you are looking for one of the top cartridges for bicycle tires in the market, the Innovations Genuine CO2 Cartridges can be a solid choice. This CO2 cartridge is a 16-gram threaded cartridge.
It comes in a pack that includes six cartridges, each weighing 54grams and constructed perfectly with aluminum. You can use the Innovations Genuine threaded CO2 cartridges for road, race, and standard tires.
It is designed with premium materials and is of the highest quality. The CO2 filled in the cartridge is pure and contains no additives or impurities (oil) that could otherwise clog the valve stem or inflator. Its thread is 3/8" and 24 threads per inch and should be paired with a threaded inflator. You can only use the cartridge once to inflate your bicycle tire.

Mole zap/Ant Zap 16g CO2 cartridge is ideal for filling flat bicycle tires during a race or hike. The cartridge comes in gold color, and it is free from additives. One cartridge of this brand is sufficient to fill a standard bicycle tire. With it, you will use less time to refill a flat tire during a big race.
The Mole zap CO2 cartridge pack includes six cartridges, and the entire package weighs 12 ounces. It is, however, easy to store and transport. Pair with a compatible inflator to get the best results.

Umarex CO2 capsules are high-grade capsules specifically for air guns. They are grey and weigh 1.08 pounds. The CO2 capsule is versatile and can be used on almost all air guns. Umarex also guarantees quality and clean capsules that will not dirty your gun valves.
This CO2 capsule is available in 12-gram cartridges or 88-gram cartridges and ensures a lifetime of premium performance. The pack contains 12 cartridges that conform to a standard size, weight, and temperature specifications. For best usage, always airgun valve oil on the tip of the CO2 capsule before installing it in your gun. This prevents leakages and will extend the total lifetime of your airgun.
Best CO2 cartridges – Frequently Asked Questions
What are the dangers of Co2 cartridges?
CO2 cartridges are awesome products, and they essentially make life easier – from pumping flat bicycle tires in minutes to carbonating our beers and soda. However, they can be hazardous if misused or stored improperly.
Explosion
CO2 cartridges are banned on airplanes because even a slight shift in air pressure can cause an explosion. Although the chances of this happening are slim, air regulators do not want to risk the lives of passengers with an unforeseen explosion. CO2 cartridges except when used in mechanical limbs and life jackets are always transported on the ground and in very secure storage.
Extremely cold
CO2 is a cold gas that can be brutal to your skin. Several cyclists who are just trying out CO2 cartridges for the first time often get their hand frosted/blistered due to misuse and contact with the gas.
If you do not position the inflator and valve of your tire properly, you can easily have gas escape and stick your fingers to the cartridge. One way to curb this is by using rubber gloves when pumping your tire.
Inhalation
Direct Exposure to CO2 gas from cartridges or canisters can lead to death. The gas immediately goes to the brain and stops oxygen flow, which does not lead to death but can cause severe brain damage.
One-shot
Another downside of Co2 cartridges is that they can only be used once. If you're on a mountain trail or bike race and you have multiple tire flats, you would need to have more than one cartridge handy.
Even if you have more than, extreme care and precision should be used when refilling your tire tubes else you may waste your cartridges. You can go with manual pumps as substitutes and several cartridges when you embark on a long race.
CO2 cartridges should be stored in a cool and dry place, so they are not affected by excessive heat. Also, they should be kept upright and in a position where they do not roll sideways and hit other cartridges or obstacles.
How do you know the cartridge size and type to buy?
CO2 cartridges are available in various sizes, 12g, 16g, and 25g, depending on what you want to use them for. For small bikes, smaller 12g cartridges are ideal, while 16 – 25g cartridges are better for mountain bikes.
However, the easiest way to know which size to opt for is by knowing the working pressure of your bicycle tire. Each cartridge comes with a working pressure and should match what your bicycle tire needs for full inflation.
Can I control the gas in the Co2 cartridge?
Thankfully there are two types of cartridges, flow and a non-flow control type of cartridge. The difference is that the flow type has a control level to stop and continue flow while with the non-flow, there is no control level included.
So if you're new to using CO2 cartridges, you should consider buying the non-flow instead of the latter. Your chances of wasting the gas entirely are minimal if you do not position the bicycle tires properly when filling with the gas.
Is all CO2 food-grade?
No, not all CO2 is food-grade. As earlier stated, there are several types of Co2 available for different purposes. And food-grade co2 is regarded as a very pure form of CO2 good for the preservation of food.
They are treated in the highest form of quality and have been certified clean by the FDA.
Can I use food-grade cartridge to brew beer?
Yes, food-grade CO2 can be used in beer production. They have the same level of purity and are frequently used interchangeably with beverage grade co2.
Best CO2 Cartridges – Conclusion
From the information provided above, you might agree with me that CO2 cartridges are quite useful and have a range of applications. In bicycles, they are a temporary and quick fix for flat tires. The force of the gas also makes it useful for propelling pellets in air guns and carbonating water and drinks.
Additionally, CO2 cartridges are also used in medical and industrial applications. So, when choosing the perfect one to use, ensure you consider what you want to use it for; is it for bikes, drinks, airguns, or other applications?