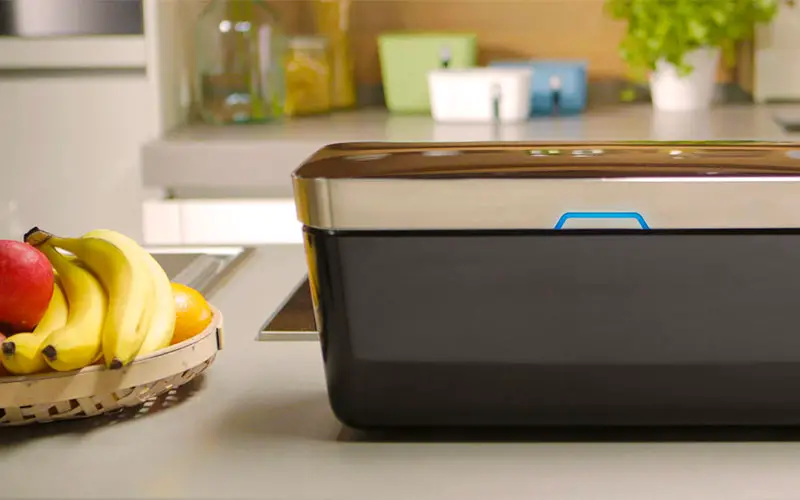 Have you ever tried to count how many foods you or your family throwing away? Imagine that every time after launch or dinner you are throwing your money. Imagine? Are you puzzled about how to reduce your waste and save money? This Vacuvita Review will help you!
The introduction of Vacuvita has changed the market of vacuum sealers and generated the new branch – food vacuum storage systems. Vacuvita has made giant strides to outsmart other food processing and preservation systems.


This vacuum storage system helps to prevent wastage of resources and preserve food for about five times longer. It is a complete system that comes with a vacuum seal storage bags and containers.
This product is made of the quality and durable features that together work to give a perfect solution to dry and wet food items that are susceptible to getting spoilt.
Vacuvita One touch food storage system helps to vacuum packed food inside special bags and also has a Home Base unit that sits on the kitchen to store items which you may need frequent access to, vacuum pack food in containers that you later keep in either your cabinet or freezer.
Vacuvita Review: How Does Vacuvita Work?
Food spoilage usually is caused by microorganisms and almost all microorganisms need oxygen to live.
If you remove the oxygen you reduce the growth of certain microorganisms. In addition, it is better to prevent light from affecting food, because it also causes the growth of bacterias.
When you store food in a vacuum and then in the freezer, you remove almost all the causes for food spoilage. The combination of the Vacuvita with the additional storage containers and bags is ideal for this.
Vacuvita suggests two options to store food.
How to Vacuum-seal bags and conteiners?
First, one is very close to the usual sealers with the difference, that you can vacuum not only bags but also containers.
To start vacuum bags or containers you have to attach the adapter and vacuum tube to the end of the Home Base and either the bag or container to the other end. All these units come in Home Base Kit.
After you attached the adaptor you are ready to start. Put the product you want to storage in a vacuum in the bag.
Connect the adaptor to the marked area and start sealing by pressing the button.
To stop sealing just take away the adaptor from the bag.
Before using the container check the valve on the box cover and then make the same steps as sealing the bags.
How to store food in HomeBase?
The second option of use let you keep all that you need frequently just under your hand. Home Base has enough volume inside to keep some products inside, other words it is a big vacuum food container.
The main thing – you don't need to make any difficult operations to vacuum your products with it.
Press the button on the front panel, wait for a second then Vacuvita will open the lid automatically. Then put the product you want to store and close the lid. That's it, that's all.
Automatically, this storage system creates a vacuum for the preservation of your food items.
In a few seconds, you will have perfectly preserved your foods.
Probably you can store any food in a vacuum, except soft cheeses, mushrooms, and garlic.
Vegetables such as broccoli, cauliflower, cabbage, and Brussel sprouts should first be dried and blanched.
Vacuvita Review: Features
The Home Base has an outer dimension of 1.8×12×8.25 inches. It is made from high-quality plastic, massive, glossy, and durable. It is not easy to scratch during common use, and on the other hand very easy to clean.
All plastic parts are BPA- and BPS-free, they are food graded and safe.
The interior dimension is about 16×7×6 inches that are large enough to hold a loaf of bread and other food items.
The kit is provided with a power cord and 14v DC Power adapter, it can work with an input of 110-240V.
Vacuvita vacuum storage system has three containers: large (not included), medium (not included), and small, which are reusable. However, the kit has 5 large bags and 5 medium bags. The manufacturer recommends using it once, but the final decision is up to you. At least, never reuse it after storing raw meat, poultry, or seafood.
Also, the system has a manual and a quick start guide to teach about its operation, use, and maintenance.
Extra
In addition, it is possible to seal glass jars with Vacuvita. Pay attention that not all glass jars are compatible. For sure you can use Mason jars. They can be vacuum-sealed within the Vacuvita easily.
You can also do multiple jars at a time.
Full process will take approximately up to 60 seconds to complete. Place the jars in the Home Base, with the lids of the jars slightly loose, and press the button. Finally, you can tighten the lids.
The complete vacuum system ultimately saves you from wasting a lot of money on food and curb the rate at which your food spoils. With the reusable containers feature and large space that can accommodate many items, these together have made it a household choice. Vacuvita vacuum storage system is a great product that can ever be the best among other storage facilities.

Vacuvita Review: Sous vide
One of the greatest features of this system that I have to point out that Vacuvita is ideal for sous vide cooking. You have to vacuum-seal the bag with the use of the Vacuvita Home Base and then the cooking may commence.
Sous vide – is a method of cooking in which food is placed in a plastic bag or a glass jar and cooked in a water bath with a low temperature that is accurately regulated (around 131-140 °F) for a long time (from 1 and up to 48 hours or even more in some cases). The goal is to cook the item evenly, ensuring that the inside is properly cooked without retains juices and aroma that otherwise would be lost in the process of boiling, baking, or frying.
Vacuvita Review: Design
Vacuvita One touch vacuum storage system's Home Base has a large storage setting designed in a way to comfortably sit on the kitchen cabinet. The Vacuvita comes in different colors such as white, green, black, orange, and blue.
Best place for Vacuvita will have enough space for itself and some clearance for opening the lid. However, keep in mind that the socket for the vacuum adapter and hose that comes with the system is located on the back of the Home Base, and you probably will need some space during vacuuming containers or bags as well.
The design of the Vacuvita system includes and not limited to a QR code on the side of the container. There is a Vacuvita app to keep track of the food you may have stored in the containers and the app will alert you before the expiration of the food in the containers.
The containers, however, are so opaque that you can not see what is in each container unless you have labeled each of them or open them to see through the tiny frosted window on the front.

Vacuvita Review: How to Take Care?
To keep HomeBase in a good shape, clean it with a soft cloth and non-aggressive soap, do not use any abrasives. Don't try to put it in a dishwasher.
Other parts of Vacuvita fit in the dishwasher and are dishwasher-safe. This is also true for the vacuum hose.
On the back wall of the Home Base is an easy filter located. I recommend you to check it sometimes, you may need to clean it.
Vacuvita Review: Add-ons
After some time you started to use Vacuvita or any vacuum sealer, you will definitely need some extra bags and containers.
For Vacuvita you can find next add-ons:
Vacuvita Review: Alternative Product
If you need a vacuum sealer just to prepare food for storage for a long time in the fridge or freezer, then it probably would fine to you, to choose a cheaper solution. One of the best alternative sealers at the market is FoodSaver FM2435.
For a reasonable price, you get the vacuum sealer, few bags, and vacuum sealer rolls, which would be enough for the first time. Adapter to seal container also included.
Overall FoodSaver is a well-known brand, they produce good vacuum sealers. If you choose this one, you can be sure that everything will work perfectly.

Vacuvita Review: Drawback
There are few drawbacks to the design of the containers. The most prominent one is the ribs on the lid and the lump on the bottom of the container, which poses a hardship on washing away wet foods. The best solution to make the bottom and lid of the container smooth.
Vacuvita Review Quick FAQ
Are seal a meal bags BPA free?
Good bags are BPA free. Also, they don't contain plasticizers and phthalates. To be sure that you are holding in your hands' good meal bags – read all info on the package carefully.

How long will vacuum-sealed food last?
Most foods that were vacuumed and placed in the refrigerator will last up to 2 weeks. In case you freeze it, it will last up to 2-3 years in the freezer.
While not vacuumed food will last 1-3 days in the fridge and up to 8-10 months in the freezer.
Vacuvita Review: Conclusion
Pros
The storage system is large enough to hold a couple of food items
It helps to keep food items fresh
Vacuvita preserves food and ultimately prevents against food wastage
Three ways to store food: Home Base, containers and bags
Cons
It requires extra space on the countertop
The price not low
A few years ago when I was seating in the kitchen counting family budget with my husband, we realized that our family throwing away hundreds of dollars every month. Thanks to our son who poured a whole bottle of milk into the sink due to the fact that it was dried up. At this moment our planned expenses raised on the price of Vacuvita. But it was a good investment.
Vacuvita vacuum storage system is not a new concept birth from technological advancement. Vacuvita aims to ensure that your food has a longer lifespan before it gets spoilt. This product is one of the best technological domestic appliances every home needs!
Vacuvita One touch vacuum food storage system is a remedy for all homes and a necessity that you can not afford not to have. As a prospective buyer of this product, you must be aware that it is though costly, and this is due to its quality features. The product's functionality is great.
What are vacuum sealers used for?
The vacuum sealer removes the oxygen from the package with placed food inside, it helps reduce the growth of certain microorganisms to prevent food spoilage.
What is the best vacuum sealer for home use?
If you need to store food with the possibility of quick access, the best option at the market is Vacuvita Storage System.
What is the best vacuum sealer to buy?
For those who need a vacuum sealer only to store food in bags and containers, FoodSaver FM2435 is a proven solution.