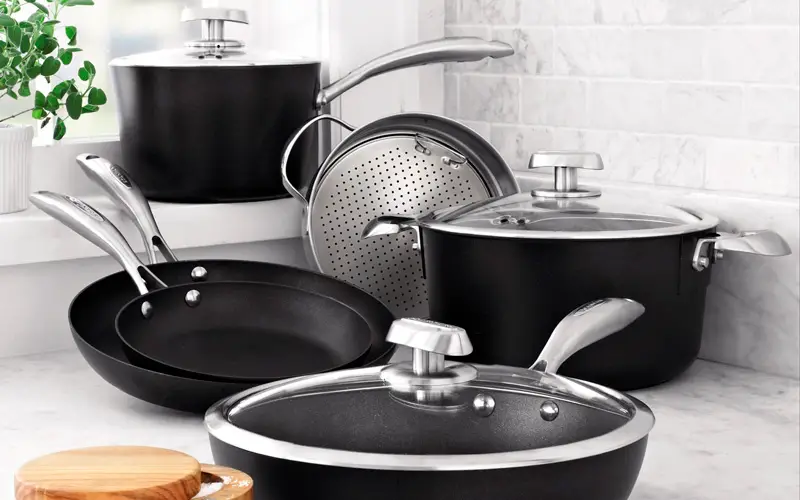 Cooking has been revolutionized by a lot of companies, and producing advanced cookware had been a thing in the chef world. One of the companies that put in a lot of time and effort to make sure cooks don't is Scanpan.
Compatible with most cooking surfaces except induction cooktops, the cookware produced by Scanpan allows searing, deglazing, and browning giving its users the freedom to cook in ways that can not be achieved using non-stick frying. Our Scanpan CTX vs Professional comparison and reviews will help you choose the best model that will make cooking easier for you.
Due to the fact that less or no fat is used for cooking when Scanpan products are used, you can try out a more healthy and delicious recipe. One of the reasons the Scanpan products became very popular is because of their dishwasher friendly nature.

What is a Scanpan Cookware?
Scanpan Cookware is a brand that was birthed in Denmark during 1956. The company goes by the name "Scanpan Denmark AS," and they are said to be dominant manufacturers of pots and pans which is made out of pure pressure-cast aluminum.
The brand boasts of owning one of the largest cookware collections that are free of any Teflon material. The cookware products made by this company are both Perfluorooctanoic acid (PFOA) and Perfluorooctane sulfonate (PFOS) Substances.
All pans and pots provided by the company are the right types of kitchen products to use if you really care about the environment and if you are health conscious.
If one finds herself replacing her family's cheaply made non-stick cookware, the details in this Scanpan CTX vs Professional review will amaze you.
This particular model of Scanpan, CTX Deluxe Set may be the perfect cookware set for a lifetime of cooking with amazing results. Multi-layer fused construction produces rapid and heated distribution to every part of the cookware set.
This set includes a reused aluminum along with a Ceramic Titanium PFOA-Free non-stick interior coating and an 18/10 stainless exterior. Pans can be used in any heat conditions on any cooking top including induction as well as in ovens so switching heat sources is made very easy.
The products require just about 5 seconds to be cleaned by hand or you can throw it in the dishwasher.
Description and Design
The Scanpan 10-piece Deluxe set utilizes the same 5 layer aluminum and stainless steel as the rest of most Scanpan's Cookware sets. It has got a modern PFOA-Free non-stick interior, metal lids with steam vents, and glass inserts. This cookware set can withstand temperatures of about 500 degrees Fahrenheit.
This Scanpan cookware product set is metal utensil safe and dishwasher safe, but it is advisable to avoid them occasionally. The non-stick feature maybe ten times stronger than steel, but it is solely not ten times as scratch-resistant.
The handles of the pots and pans in this set do a pretty nice job of staying cool. They are fixed in one place with rivets that do not come out easily. The non-stick job performs excellently as it is one of the cookware set that has the best non-stick feature.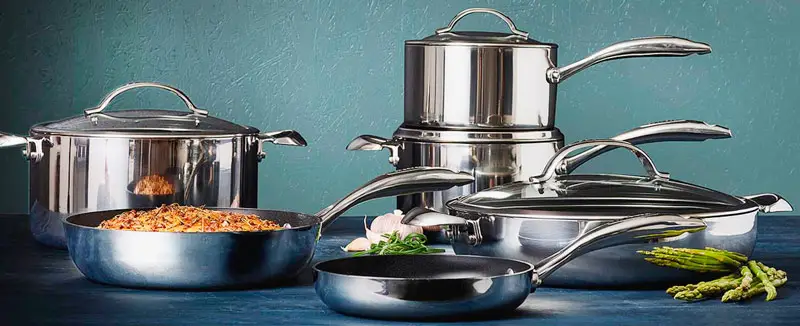 What is included in the set
2-quart saucepan with lid
2.75-quart saucepan with lid
7.5-quart dutch oven with lid
8-inch Frying pan
10.25-inch Frying pan
10.25-inch sauté pan with lid
Features
The Scanpan CTX Deluxe set features a patented non-stick coating. This means easy searing, deglazing, and browning. This makes the food to retain its flavor, avoiding reaction with the coating. It also makes it easy to clean up.
It has a thick base that provides fast and even heat distribution. This means no hot spots and partly burnt food.
The patented non-stick coating is 10 times harder than stainless steel, and it is also scratch-resistant.
It is built in Denmark. This Scanpan Cookware is constructed to last almost a lifetime, and it also comes with a lifetime warranty, which gives you peace of mind.
The Scanpan CTX Deluxe Set is perfect for all stovetops and cooktops. Unlike its most Scanpan cookware, this model supports induction.
Pros
PFOA-Free
Solid construction which makes it durable
It has a ceramic titanium coating
distributes heat fast and evenly
Compatible with all types of cooktops
Great price
Cons
Both saucepans have almost the same size what is not useful
Bit heavy
The Scanpan PRO IQ is still among the top performers today created by the Scanpan company, and this quality cookware is an investment. This cookware set might be pricey than the others, but if you need a pan that can extensively cook in a professional way while lasting almost a lifetime, you should look no further.
The look of the Scanpan PRO IQ utilizes a thoroughly clean and sleek line to produce a stylish finish. The lids and the handles of the cookware product include a finish of matt stainless with polished mirror highlights. This two-way polish practice can only be adopted by using advanced technology.
Description and Design
The Scanpan PRO IQ is designed in such a way that you get to see the value of your money. Due to its design, it is suitable for the environment, and it is safe for you and your family. This cookware set is suitable for all cooking surfaces, but unlike most products, it is specifically good for also induction.
The surface of the PRO IQ is made up of patient ceramic-titanium which is very safe to use with metal utensils, and it also allows searing, browning, declaring, braising, and other forms of food preparations that cannot be done with traditional non-stick cookware.
Using the PRO frying pan, your meal requires little or no fat for preparation giving you and your family a healthier choice.
The patent non-stick construction used on this cookware set relies on a coating; Green Tec non-stick cooking surface is created by firing a ceramic-titanium compound into the pan at 36,000 degrees Fahrenheit and also twice the speed of sound.
When that is done, the ceramic-titanium particles immediately liquefy and permanently anchor themselves to the pan. A specially made non-stick compound is then placed and spread on the surface, ensuring a lifetime of use without interacting with the food as well as peel off.
The superior design used for the Scanpan PRO IQ is for expert results. The industry-leading cookware set features a 100% recycled aluminum body with a thick base that makes sure it is quick and even heating and no hot spots.
All skillets are guaranteed not to have blisters and peel.
Elegant and ergonomic polished handles are riveted on each cookware in the set so they won't come loose. The Scanpan PRO IQ is oven safe for up to 500 degrees Fahrenheit, and it comes with a lifetime warranty.

What is included in the set
3-quart saucepan with lid
6.5-quart dutch oven with lid
6.5-quart pasta insert
8-inch Frying pan
10.25-inch Frying pan
10.25-inch sauté pan with lid
Features of the Scanpan PRO IQ
The Scanpan PRO IQ has a thick base that provides fast and even heat distribution. This means no hot spots and partly burnt food.
It features a patented non-stick coating. This means easy searing, deglazing and browning. This makes the food retain its flavor, avoiding reaction with the coating. It also makes it easy to clean up.
The Scanpan PRO IQ is perfect for all stovetops and cooktops. Unlike its most Scanpan cookware, this model supports induction.
The patented non-stick coating is said to be 10 times harder than stainless steel, and it is also scratch-resistant.
It is built in Denmark. This Scanpan Cookware has a lifetime warranty, which gives you peace of mind.
Pros
Strong craftsmanship
Made of recycled aluminum
Work with all types of cooktops
It is easy to clean
Hard to scratch
Distributes heat fast and evenly
Cons
Discolors when washed in the dishwasher
Scanpan does not save oil as expected
Scanpan CTX vs Professional – Buyer's Guide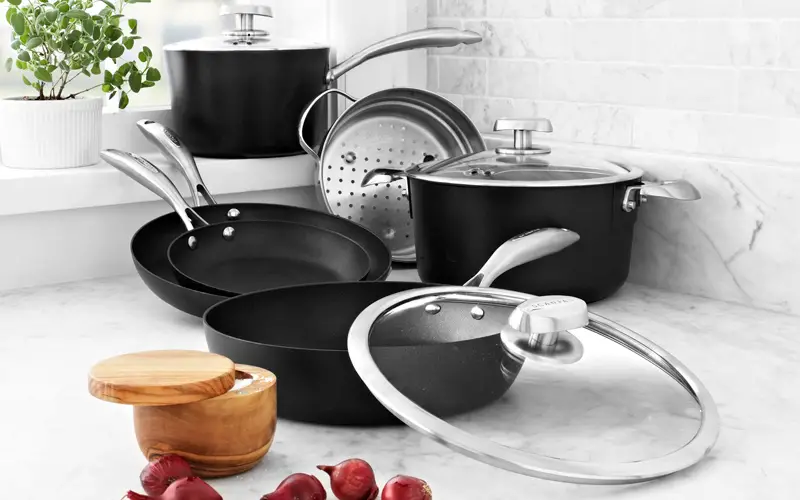 Scanpan makes great cookware sets, and the two models of Scanpan CTX vs Professional are no exception. If you are still unsure about the choice you want to make, we have done the research for you, and we have produced insight comparing which product set is better for you.
Contents:
Although both pans look the same, Scanpan did an excellent job in differentiating them with the slightest difference.
Construction – Scanpan CTX vs Pro IQ
Both Scanpan cookware models have been constructed using 3 ply 5 layers clad design. The Cookware products are designed in such a way that they are first layered with steel for initial induction.
Then it is layered with an aluminum alloy layer, which is then coated with a pure aluminum layer, and then it is layer with another aluminum alloy. Finally, this is covered with an 18/10 magnetic stainless steel with a satin finish.
This construction technique makes the cookware product more environmentally friendly and easy to use. The 5 layer design is implemented when it comes to heating since the 3 interior layers of aluminum ensure quick heat distribution and maximum heat retention.
This design makes it last long for years, meaning it does not warp.
Handles
One of the huge differences between the Scanpan PRO IQ and the Scanpan CTX Cookware is the handle design. While the PRO is fitted with an easy to use raised knob handle, CTX has a skinny metal strip as its handle. With the raised knob handle, the PRO is easy and more comfortable to use in the kitchen.
The challenge that users experience when they handle the CTX is that the shiny metal handle with a metal strip design makes it hard to grasp, especially when hot.
However, the PRO handles are raised, which makes it easy to grip avoiding the fire beneath. The difference in this feature affected the decision of a lot of users who decided to opt-in on the safer one.
Finishing of the Exterior
Both Cookware products have a PFOA-free non-stick patented ceramic titanium finish. With this type of finish, users have assured a non-stick feature when in use, and pans and pots are also made easy to clean up.
Scanpan users will definitely agree that the finishing on both cookware set gives them a clean, beautiful look. This affects the aesthetics of the kitchen positively.
Lids
Both the PRO and the CTX have a glass lid with stainless steel around the rim. The CTX and PRO lids have handles. These handles come in handy when removing and returning the pan lid onto the pan. The handle of the PRO lid is a metal knob shape while the CTX is in the shape of a metal strip.
The metal knob of the PRO is preferred to the metal strip of the CTX because just like we said, the strip tends to get too hot which makes it challenging to grip well when removing the lid from the cookware or putting it back.
The glass lid has its advantages as it helps its users see how their cooking is progressing without opening the lid. The metal rims also help in protecting the glass from breaking.
Lastly, the lid on both cookware products has a small vent on its rim. This vent allows gaseous steam to escape instead of popping the lid up and down. I would then say that the manufacturer and the company scored a perfect point with the design of the lid.
Most people think that because the lid is made of main glass, it is going to be heavier. The weight of the lid has no connection to the performance of both models.
Cook Tops Usage – Scanpan CTX vs CTQ
Both the PRO and the CTX can be used on various cooking surfaces; this includes gas cooktops, ovens, induction cooktops, and electric cooktops. Both Scanpan models are mainly popular because they are said to be induction friendly. This is a must-have feature for both models which makes its users like it very much.
This is because it makes the cookware product multipurpose. This helps users save a lot of money since they do not have to buy specific cookwares whenever they want to use a different cooking top or methods.
Cleaning – Scanpan
According to the company, both cookware products can be cleaned in the dishwasher, just like any other dishwasher-safe products. Normal scrubbing is also easy. Both models have a symmetry design, which adds to the ease when it comes to cleaning them.
Also, the non-stick feature on both the CTX and the PRO makes it easier for its users to clean the product after use. Users highly appreciate this little convenience.
Note: Although both models are dishwasher safe, it is best to wash your cookware by hand. When the dishwasher is being used, please make sure that it is placed on the top rack.
Use of Utensils (Metal)
The Scanpan PRO and CTX models have a ceramic titanium non-stick coating which makes them safe when using a metal utensil. This means that the cookware product does not scratch when interacted with a metal utensil. For this, both cookware sets are known to be durable by its customers.
Price
The price of the two cookware sets and individual products may vary from retailer to retailer. It is essential to know that price and sales do change at any time.
If it's the price that is your major key, I advise that you check both prices before you select or make your final decision. Although bought product sets have slight differences, the functionality of both sets is almost equivalent.
Maximum Temperature
Looking at both Scanpan Cookware sets, they both can be used in ovens up to 500-degree Fahrenheit. This is because the exterior component is made up of mainly stainless steel.
The casserole pans are the most bought individual products because users can use these pans in the oven comfortably.
Does Scanpan Have a Lifetime Warranty? – Scanpan CTQ vs CTX
Scanpan gave both models a lifetime warranty. This means that as far as you use to purchase any of the two sets, you are guaranteed their perfect condition as long as they are in your possession. To be clear, the warranty works mainly where the carelessness of the user does not cause the product's malfunction.
Types of Cookware
These product sets are suitable for any type of professional or simple cooking. If you plan on browning your food, searing your stake, sauté your potatoes and even back your casserole, both Scanpan cookware sets will come in handy.
The PRO and the CTX models have amazing durable and user-friendly pans such as casserole pans, frying pans, saucepans, etc.
Users tend to get a wide range of selections from this brand. They also come in different sizes, which makes them more ergonomic. Individual pieces can be purchased as well as While sets too.
Scanpan CTX vs Professional – Cookware Care Tips
Congratulations if you have decided to buy any of the Scanpan cookware sets found in this buyer's guide, but you do need the right care tips to help preserve your pricey investments. With the proper caution and care, your Scanpan Cookware products should last for years, almost a lifetime.
Do not confuse non-sticking with burning your meal while cooking. The fire is an element that is stronger than any material used inside the cookware pan to protect it from sticking.
What I am trying to say in the above paragraph is that you should not leave your Scanpan pots and pans unattended or you would burn the surface. You have to know that the non-stick feature works reasonably not carelessly.
If any of the cleaning instructions goes contrary to what the manufacturer puts up on the label, please adhere to the guidelines of the superior authority, the manufacturer.
With that said, I do believe that most Scanpans should be hand washed for several reasons. Washing Scanpan cookware products with hands will help preserve the pristine condition of the cookware set.
Use a mild and gentle dishwashing soap. Since all Scanpan cookware products have non-stick interiors, customers should consider using dishwashers with no bleaching agents.
Wipe with a dishcloth. Since there are no food crumbs stuck on the surface of the cookware product, it feels better to use a dishcloth and gently clean the pans and pots. Avoid harsh scrubbers because this might harm the interior coating.
Lastly, always avoid lending your cookware products to anyone, including your close friends if you really value them. Cookware will surely depreciate with time, and giving them out enhances the time needed to give in.
Scanpan CTX vs Professional – Is Scanpan Safe?
Yes, Of Course, it is. Scanpan Cookware products are safe in the following areas:
Oven safe (up to 500 degrees Fahrenheit depending on the handles)
Dishwasher safe
Avoids traditional non-stick coatings (PFOA/PTFE)
Metal Utensils Safe
Scanpan CTX vs Professional – Conclusion
Scanpan has it noted as one of the highest producers of cookware products in Denmark because of its innovative and advanced cookware ideas and designs. This vision was all manufactured utilizing the friendliest process environmentally to save the earth.
The fact that this company is environmentally friendly and supportive is amongst the significant selling point of the company. The company uses aluminum and raw products which are manufactured using a rigid eco-friendly process.
These two series, Scanpan CTX and either Scanpan Pro IQ are great. Doesn't matter which one you will choose, you will be glad with your descision.
If in any case you don't want non-stick cookware, then another great brand that will work for you is All-Clad with it's D5 serie.