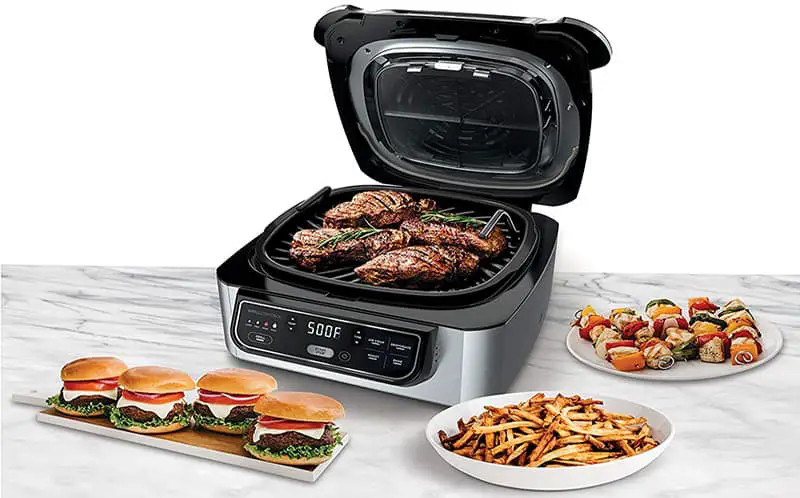 The worst period of the year for barbeque lovers is the period of waiting for the "barbeque season" before getting to have a taste of your favorite barbequed food.
Worst still, you have to go through smoke and fire, which can make you all sweaty and stressed before getting to eat the food you've been craving for months, which is so frustrating. Thankfully, there is now a solution to these problems, which is contact grills.
Contact grills allow you to not only get rid of smoke and fire while grilling. It also provides you with the chance to eat your favorite barbequed food throughout the year, not minding the season.
This is because you will get to grill your food indoors in a more hygienic and less stressful way with the same great taste.
Keep reading to find out all you need to know about contact grills.
Top 7 Contact Grills Review
Ninja food 5-in-1 electric grill is an all-around contact grill that aids in searing, sizzling, air frying, and grilling your food. Its 500F compactness helps in delivering grilled marks and savor to your food.
Also, the cyclonic grilling technology created in it allows in grilling the food on every side, providing you with a very delicious and crunchy texture on your food.
Additionally, it is manufactured with a BTU cooking power that offers the food grilled indoors with an exquisite flavor that is similar to the tastes of food grilled outside.
Highlighted Features
Cyclonic Grilling Technology
Provides about three cooking options
Simple and easy to use control panel
Pros
Smoke-Free.
A Super-hot high-density grill grate
Comes with a cleaning brush and recipe book.
Fish does not require flipping
Cons
The temperature is not adjustable.
This grill offers you the opportunity to grill your food at a temperature of 500 degrees Fahrenheit because it makes use of 1800 watts of power. As a result of the high temperature, you are offered the opportunity to sear meat, fish, and also poultry easily.
This model grants you the chance to adjust the height of the cover on top to about six heights. It also has an indicator that notifies you when it is hot enough to place the food for grilling after preheating.
Highlighted Features
Provides about six cooking options
Adjustable top cover
Adjustable temperature
Dual-zone temperature control
Pros
Components are safe to wash in dishwashers
Removable/ reversible grill plates.
Extra-large cooking surface
Very versatile.
Adjustable temperature
Cons
Warranty service is limited
The Maxi Matic Elite EMG-980B is one of the best contact grills that enables you to grill steaks indoors and outdoors. It has an adjustable temperature, with a glass lid that is just the right size to stop oils from splashing.
Also, the glass lid enables you to keep track of your cooking without having to open the cover.
Highlighted Features
Glass lid that helps to cover your food while grilling
Five adjustable temperature settings
Indicator lights.
About 1400 watts thermostat control
Pros
Dishwasher safe
Heat up evenly and fast
Can be used both outside and inside
Every component feels sturdy
Cons
The lid is sometimes unstable
This is a very economical contact grill that helps in preparing your food very fast as its heat is about 35 percent faster than a regular contact grill, granting you the opportunity to cook within 10 minutes.
This model presents you with a variety of healthy meals to make with its non-stick plate that helps in reducing the amount of oil you use to cook.
Highlighted Features
35 percent faster heat-up than regular contact grills
Fat removing design
Indicator lights
Adjustable hinge
Pros
Plates are removable
The sloped grilling surface drains about 42 percent of fat
Can serve about four people
Highly versatile
Simple and easy
Cons
No way to control the heat
This model helps in reducing the quantity of oil used while cooking, and also the amount of smoke it emits while perfectly cooking your food by using infrared heating technology. It is perfect for grilling delicious brown food throughout the year without having to worry about smoke at all.
Highlighted Features
Infrared heating technology
On/ off switch
Reflectors
Pros
Cleanup and setup are a breeze
Non-slip feet that assure stability
Quick and consistent heat up
Even grilling with no smoke
Cons
Temperature is not adjustable
This is one of the best smokeless contact grills available in the market. It has an inbuilt turbo smoke extractor that makes sure that the grilling process is smokeless. It also has a digital control panel that helps to adjust the temperature and several other settings.
Highlighted Features
Inbuilt smoke extractor
Smart temperature control
Pros
The ceramic grill surface is non-stick
Allows you to choose your preferred cooking temperature
No added oil or butter is required
Interchangeable cooking surface
Durable construction
Cons
Some customers say that it is not hot enough to leave grill marks.
This grill comes with a precision grilling technology that helps to cook your food with an automatic sensor. The features detect the number of foods placed on the grill, depending on the thickness of the food.
Highlighted Features
Precision grilling technology
Automatic thickness measurement
Nine auto cooking programs
Two cooking modes
Automatic control panel
Pros
Four temperature settings
The cooking process is easy to monitor
Lots of servings (about eight)
Durable thermoplastic and ergonomic handle
Best Contact Grill – Buyer's Guide
How to Pick the Best Contact Grill?
When shopping for a contact grill, there are certain factors to be considered before purchasing one with the best quality so as not to be able to lower the quality of the food you grill.
Here are some key factors that have to be considered before purchasing a contact grill.
Size: When shopping for a contact grill, you have to consider the number of people you plan to grill for at once. If you plan to grill food for one or two people at once, it is advisable to go for a small compact designed contact grill. However, if you are grilling for a large number of people, it is not advisable to purchase a small contact grill, as it can only be used to grill food for about three to four people at once. Also, the space available in your kitchen has to be considered before purchasing a contact grill to ensure easy movement around it.
Adjustable Temperature: Before purchasing a contact grill, make sure that the temperature is adjustable. This is because the temperature is essential for the supply of heat and the grilling of the food, especially meat. After all, the temperature has to be high at first before adjusting it to a medium temperature to achieve a fantastic result. Once a contact grill robs you of the opportunity to change the temperature it provides, then it is not worth purchasing. An ideal contact grill's temperature should be between a scale of 100 – 450-degree Fahrenheit.
Source of Energy: Before purchasing a contact grill, you have to consider the source of the energy that powers it up. When shopping, you will find numerous contact grills, in which some are powered by gas, some by fuel, and some by electricity. Although none of them is higher than the other in quality, the ones powered by electricity is easier to use, and they also make less noise than the others.
Power: This is a necessary aspect to look at as it concerns the time you would spend while grilling, i.e., how fast the griller is. If you don't want to spend a considerable amount of time when warming or grilling food, it is, therefore, advisable to purchase a grill whose power is about 1800 watts.
Ridges on The Grilling Plates: If you love to see those perfect grill marks on your grilled food, then it is better to get a contact grill that has deep ridges. Deep ridges also help to drain excess fat when cooking.
Quality of the Plates: When shopping for contact grills, make sure to purchase one with a non-stick material. This will help in preventing your food from sticking to the plate. It also makes cleaning easier.
Heat Distribution: Before purchasing a contact grill, you need to consider the distribution of heat of the product of your choice. If the heat is not evenly distributed, it might affect the process of grilling your food. Therefore, it is necessary to make sure that both the top and bottom of the plates evenly distribute heat while grilling.
Cleaning Ease: You will agree with me that cleaning is an essential aspect of cooking. Cleaning also helps a lot in the maintenance of a machine. Therefore, you have to ensure that your contact grill is easy to clean before purchasing it to ensure the high maintenance of your preferred contact grill.
Dishwasher Safe: Making sure that the plates in your contact grill are dishwasher safe helps a lot in maintaining it. This is because it will reduce the risk of scratching when washing with a sponge.
Replaceable Parts: Before purchasing your preferred contact grill, ensure that the parts are replaceable. This will go a long way in helping you as you will be able to change just a component and not the whole contact grill whenever there is a default in any of the parts.
What is a Contact Grill?
A contact grill, which is also known as clamshells, is a machine that uses compressed heat to help in grilling food indoors using heated plates to enable the food to cook faster.
How does a Contact Grill work?
A contact grill makes use of high-powered components to heat the plates it uses for cooking. Thus, the cooking properties provided by each plate is somewhat different. There are three different types of containers used for cooking in a contact grill.
They are; flat plate, ribbed plate, and mixed plate.
Why you need a Contact Grill
A contact grill is a necessity for grilled food lovers for several reasons, some of which are:
A contact grill enables you to have a taste of your favorite grilled food any day at any time, especially when it isn't comfortable to grill outside.
A contact grill enables your food to grill faster than the conventional way.
A contact grill can be used not only for grilling but also for baking, roasting, and frying.
A contact grill provides more healthy food because it has a cover that helps in keeping bacteria from perching on your food while cooking.
A contact grill is very easy to clean.
Why not get a contact grill today and enjoy these benefits?
Panini Press Vs. Contact Grill
A panini press is used for a sandwich while providing heat for it to cook.
A contact grill can also serve as a panini press in some cases, although this is depending on the type of contact grill you are using as some contact grills are equipped with unique settings that aids in making sandwiches, while some don't.
However, if you spend most of your time camping, or you have a preference for sandwiches and not grilled foods, it is advisable to get a panini grill. This is because a panini press can be placed on a camping fire or a stove, thus conserving electricity for those who do not fancy grilled foods.
Contact Grill Vs. Open Grill
Both contact and open grills make your food turn out great. However, some things differentiate them. These are some of the things that distinguish them:
Cover: This is the main difference between the contact and open grill. A contact grill has a floating cover while an open grill has a lid.
Time Spent while Cooking: The time while cooking on a contact grill is relatively lesser than the time spent while cooking on an open grill. This is because the food cooked on a contact grill does not require regular flipping, unlike the food cooked on an open grill. The food cooked on a contact grill can be ready within 20 minutes, whereas the food prepared on an open grill needs a lot of time because it has to be flipped regularly to cook well.
Taste: Each one has a unique flavor to it, thus, making it almost impossible to compare the taste. However, it is essential to note that the food prepared on an open grill has a more tender and juicier flavor, whereas the food prepared on a contact lid has an even taste.
Experience: Grilling on an open grill tends to provide a great experience than grilling on a contact grill. This is because an open grill could be used outside, and it will also take you through the whole grilling process, whereas a contact grill just requires you to place the food into it, after which your already cooked food is delivered right into your hands.
Cleaning: Cleaning up a contact grill is sometimes easier than cleaning up an open grill, especially when the plates are non-stick and removable. However, if the plates are not non-stick, cleaning can be quite challenging. Open grills, on the other hand, does not provide the opportunity to choose a non-stick plate, which makes cleaning challenging at all times.
Features: It is no news that contact grills provide more features than an open grill. These features offered by the contact grill enables contact grills to be versatile and fast in cooking. Meanwhile, an open grill provides little or no features, and this makes cooking slow.
How to clean a Contact Grill?
Cleaning is an important task to conduct after cooking. It is no news that cleaning can be a little bit messy and tiring. Here are helpful tips on how to clean a contact grill after usage.
Leave the contact grill to cool for some time after grilling.
Once it is cool enough, place some damp paper towels on the surface of the grill.
Close the grill and leave for about 15 minutes.
Once the 15 minutes is over, open the grill and remove the damp paper towels.
Wipe the surface with another damp paper towel.
Once you follow these procedures regularly, you will be able to maintain your contact grill very well.
How to Grill Indoors Safely
Grilling is mostly done outside. It is, therefore, vital to consider some things before you start grilling indoors. Here are some useful points to be considered before you begin to grill indoors:
Safety: To most people, safety should only be considered when grilling is done outside. However, safety precautions must also be strictly adhered to when grilling indoors. When grilling indoors, ensure that you check your grill regularly to lower the risk of excess smoke that can lead to a fire.
Make use of dry ingredients: Dry ingredients are the best choice for an indoor grill since the primary source of energy is electricity. Dry ingredients should be used to marinate your food before placing it on the grill, to reduce the smoke and steam produced, and also to ensure your food has a delicious crispy taste.
Use a blowtorch to make food crispy: Using a blowtorch on your griller is very useful in making your meat crisp as possible. It is advisable to make use of low heat first before flashing the griller with a blowtorch, especially when cooking meat.
Use liquid smoke: It is possible to achieve a smoky taste when grilling is done outside by using some liquid smoke. However, you have to be very careful when making use of it, especially if you are using it for the first time as it is strong.
Make use of dry rubs: Making use of dry rubs when grilling indoors is a unique way of adding flavor to the food. It is also a healthier option than using the sauce as it reduces the mess a lot. This method also helps the food become crispier.
FAQ About Contact Grills
Can I use a contact grill inside my house?
Of course! A contact grill is designed to be used indoors. It also makes use of electricity to get its primary source of power, making it the best grill to be used indoors.
What are the top brands of contact grill I should go for?
Above, we have listed the top seven contact grill available in the market. Please do well to go through each one and pick out the model that suits your area of interest best.
How long can a contact grill last?
A contact grill can last for a lengthy period, about five years to be precise. However, for it to last this long, it has to be maintained regularly. Also, whenever you need to replace a part, make sure to do so and not just dispose of it quickly, to save money and lengthen its longevity.
Conclusion
Having a contact grill is a must for every lover of grilled food because it presents to you the opportunity to enjoy your favorite grilled food regardless of the weather or any other environmental factor.
Contact grills aids in completely eradicating the downsides of open grills and presenting you with a whole new experience without reducing the great taste found in grilled foods.
With the information provided above, we believe that you are now equipped with the necessary knowledge needed to purchase the best contact grills for you.