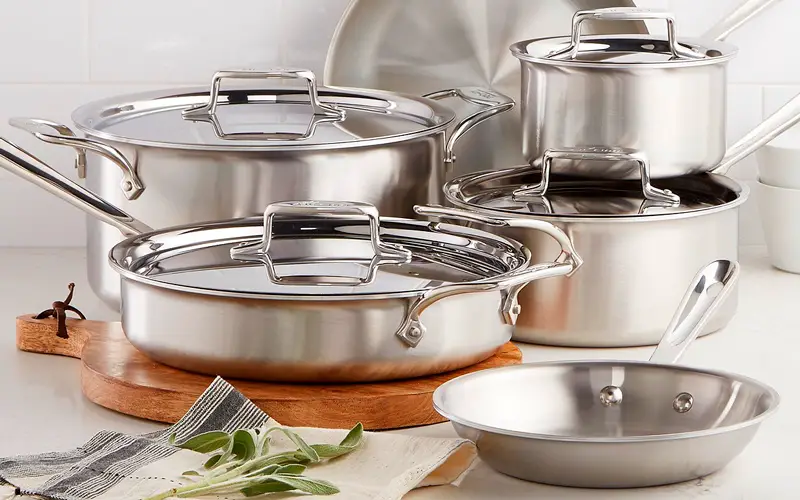 If you are a food enthusiast or you have been in the presence of foodies, you might have heard about the company All-Clad being mentioned when talking about the products associated with the trade. The name All-Clad has become a new meaning to excellence in the cooking industry, and currently, there is no doubt that it has also become a household name.
If you look at any food publications, if it comes to the cookware section, no matter the brand, it will be compared with the All-Clad. The company has brought forth a cookware set that is clad when it comes to design so henceforth, the name All-Clad. So what is a Clad Cookware? Let's move on to our All-Clad D5 Review!

What is a Clad Cookware?
To better get an idea of what Clad cookware is, you might try to get a dime or a quarter coin. Look at the edge of these coins, and you would notice that they were 3 pieces of metal bound together. Ironically, All-Clad used to print quarters, dimes or half dollars for the government of the United States.
Over the next few years its founder, John Ulam, found out that by coming different metals together, special properties could be discovered and achieved. The company found out that when you bond aluminum or stainless steel, stainless steel, and copper, this will result in a cookware set that will be used all around the world because of its features.
18/10 stainless steel became the anthem of the cookware surface because the steel does not interact with the food. The main metals chosen were aluminum, which was essential for quick heating, and copper, which also outshines aluminum.
All-Clad D5 stainless steel cookware is a product that is composed of a magnetic stainless steel exterior attached to two layers of aluminum for absolute heating and 2 layers of 18/10 stainless steel. To be clear, the magnetic steel is used for all cooktops including induction, aluminum handles the even heating, and 18/10 stainless steel for even higher heat and also prevents the food from interacting.
If cooking is your passion, All-Clad creates an ultimate experience for cooks so that they can invest in what they love doing – growing, creating, accomplishing, and passing down, stories, tips, and as well as secret recipes.
For more than 4 decades, the company had been building heritage of American metal craftsmanship. The company continually evolves and innovates hence producing the D5 cookware to meet the changing needs of users who demand professionalism in the kitchen.
Description and Design
The All-Clad D5 14-piece pots and pans have one of the sleekest designs you can ever see when it comes to kitchen utensils. A lot of users and reviewers agree with the fact, and just like anyone, they were skeptical at first due to its price.
The All-Clad D5 is designed to fulfill almost every area of food preparation, which involves boiling or braising, sautéing, and searing.
When one uses this cookware set, they are designed to transfer heat evenly when browning the meat as well as hold up the heat well enough to carry out this technique. The cookware set is also intended to use medium heat, which is perfect when sautéing.

The All-Clad D5 may look and feel heavy-duty as they are, but don't be deceived and conclude that they are heavy. Most people who purchase this cookware set will discover that the products are slightly lighter than they thought they would be.
This cookware set gives a professional cooking experience. It implements 5-ply constructed layers which give its name D5, and this innovation helps ensure that heat conductivity and response time is at their best.
This simply means that heat is transferred from the cookware surface directly to the food in a short period of time. This prevents users from ending up with undercooked meals on the inside and burnt food on the outside because the heat is distributed equally fast enough.
What is included in the set:
2-quart saucepan with lid
4-quart saucepan with lid
3-quart saucepan with lid
6-quart saucepan with lid
8-inch Frying pan
10-inch Frying pan
8-quart stock pot with lid
12-quart stock pot with lid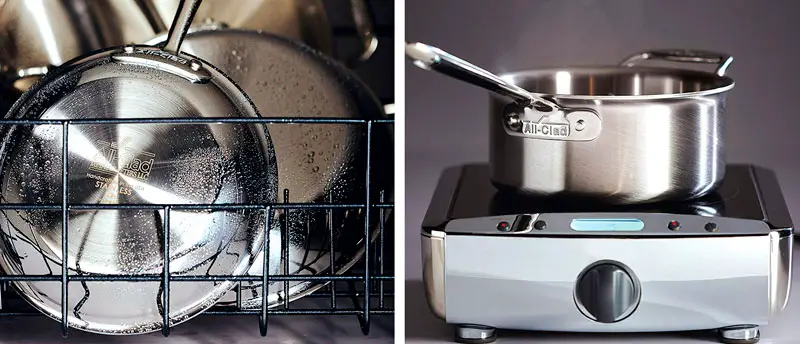 General features of the All-Clad D5 Set
The D5 Cookware Set features a potential personalized base. The heat-resistant stainless-steel manages with huge enhance, and it is appropriately secured with stainless steel rivets for durability.
The cookware set featured a smooth stainless-steel lid and flared flowing extremely refined stainless steel cooking surface area with a starburst. This provides an excellent level of resistivity as well as simple servicing.
5-Ply bonded construction with changing levels of stainless steel and conductive steel for even heating throughout and durability during use.
It is optimized for induction with its cutting edge technology.
This cookware set is produced and made in the United States.
It can be used in the oven, and it is broiler-safe for up to 600 degrees F.
It is dishwasher safe, and it comes with a lifetime limited warranty.
Unique Features of All-Clad D5 Set
The All-Clad D5 Cookware Set features slow and equal heat. This means a perfectly browned meat throughout from the center to the sides.
The 5-layer cookware's 18/10 stainless steel internal with its very refined starburst absolute provides a natural keep level of resistance which stops meals cooked to pick up a metal taste. The fingerprint-free exterior stainless surface also provides remarkable beauty.
The All-Clad D5 Cookware Set provides pouring lips, a dishwasher-safe convenience, large handles with bolsters and it is improved for induction. With this cooking set, you can experience a used lifetime satisfaction with this most famous range of the All-Clad D5 stainless steel set.
Pros
It heats up faster and evenly spreading throughout
Durable and professionally made
Has superior stick resistance
The surface of this cooking ware does not react with the food
Safe up to 600 degrees Fahrenheit
Compatible with all cooking tops
Comfortable handles
Fare price for professional grade cookware
Cons
Could be a little bit heavy for some users
Still the set is not cheap
Final Word
All-Clad made great cookware, which you will love from the first view. It is gorgeous, durable, and cooks perfectly. I loved that it is not very heavy with comfortable handles and has the most useful sizes. As a result of our All-Clad D5 Review – the D5 set is a PREMIUM Choice.
The only point – is the price, which is OK for those who really like to cook and spend a lot of time in the kitchen, and not very wise for others. In case you don't want to spend much money, but want good cookware from All-Clad the D3 set will be a good choice.
During our research on the All-Clad D5 Cookware set, we noticed that a lot of buyers kept on asking about the D3 Cookware set and most people also try to compare it to the D5. So this All-Clad D5 Review will not be full without mentioning the D3 set.
One thing you need to know is that the All-Clad brand is high-end, and it costs much more than most other brands. Customers are also happy with this set, and the ratings are very high.
Description and Design
The All-Clad D3 Cookware set is made up of material which is 2 layers of 18/10 stainless steel with a layer of aluminum in between on both sides. The aluminum core attracts heat faster while the addition of stainless steel to the material ensures even distribution of heat across the entire surface towards the rims.
The stainless steel interior with a starburst finish offers a natural stick-resistance letting you know when the food is ready as well as avoiding it to react with the surface giving it a metallic taste. The handles are solid stainless with rivers attached to them.
This D3 Cookware set is made in the United States, and the stainless steel exterior material offers warp resistance, dishwasher safe, and the use of induction.
What is included in the set:
3-quart saucepan with lid
3-quart saucepan with lid
10-inch Frying pan
8-quart stock pot with lid
Features
It is dishwasher safe. The D3 Cookware set is easy to clean up, and it is very convenient when using a dishwasher. (By the way – check our Finish Dishwasher Cleaner Review)
The 3-ply construction consists of durable stainless steel with an aluminum core for easy heating and consistent cooking. This tends to heat and cook the food evenly.
It is oven and broiler safe. It can be used in the oven or broiler for up to 600 degrees Fahrenheit without the lids.
Made in the USA, it has an anti-warp feature created by the stainless steel during use.
The All-Clad Company gives its users a limited lifetime warranty. You can use D3 cookware set for years.
Pros
Easy to maintain and clean
Can be used in the oven as far as it is below 600 degrees
Durable and professionally made
Won't give you a bad metallic taste
Has superior stick resistance
Energy saving
Optimal for induction
Cons
The pans are somewhat heat
Final Word
All-Clad D3, in general, has everything that you need to cook delicious food. It is not professional grade cookware, which is good for those who don't spend a lot of time in the kitchen. It is still very easy and comfortable to use, as a "plus" – three layers are lighter than five.
Overall in our All-Clad D5 Review, we see it as a great option and more than Value for Money choice.

All Clad D5 Review – Buyer's Guide
Getting to know the details about the All-Clad can save you a lot of stress when selecting the best cookware set to get for your home. In this section of All Clad D5 Review, we will discuss mainly what makes the All-Clad special and what cookware material is the best and also the difference between the D3 and D5 Cookware set.

Contents:
What is the Best Cookware Material?
The All-Clad D5 Cookware is made up of different materials that give its users the ability to cook easily. On the other hand, most cookware is made up of only aluminum, stainless steel, and non-stick. These materials have their benefits, and their weaknesses and most cookware use them separately. Let us take a look at the most commonly used metals and coatings in cookware.
Stainless Steel
This material is the most popular choice used during the construction of Cookwares. Stainless steel conducts heat very well, and it does not cause a reaction to your food. This material is also known to be very durable, and cookware that is being optimized with stainless steel will last almost a lifetime.
It is also very resistant to corrosion, and it would need proper maintenance to keep it looking new. It can be hectic when cleaning but soaking it in hot soapy water and scrubbing it with baking soda once a week will keep any cookware made with this material in good shape. The exterior part of D5 Cookware is made up of stainless steel.
Aluminum
This material is an ideal choice for cooks who want to start in the food industry. It heats well, and heat distribution is even making sure all sides of your meal is totally covered. It is very lightweight, and it is cheap, saving people a ton of money.
Although this material is a reasonable choice, however, cookware made out of aluminum will react with the food giving it a metallic taste. Pans high in aluminum are also not advisable to be used for gas stovetops as they tend to warp at high heat. All-Clad Company knew this; that is why aluminum is used only in between stainless steel.
Non-stick
These types of pans are coated to prevent food from sticking to the surface. This types of cookware promote a healthier lifestyle as little, or no grease is required, which eliminates cholesterol from your food. They are dishwasher safe and easy to clean. The All-Clad D5 Cookware set has a non-stick feature which also prevents meals cooked from sticking to the pan.
What makes the All-Clad D5 Brushed Cookware Special?
Most people ask why this particular cookware is unique. If you are not accustomed to it, D5 brushed stainless steel cookware is one of the most modern cookware lines made by the company "All-Chad." It is designed to be effective and fast while providing even heating along with a gorgeous brushed stainless steel body.
The faster and even heating is a result of its 5-layer construction. This cookware was constructed with the combination and the binding of metals making this cookware 20% more efficient when conducting heat.
This cookware is ideal because the exterior part of the products which are made up of stainless steel does not react with alkaline or acidic foods. The surface of this cookware is also perfect for searing and browning. This cookware is durable for any cooking surface, and you can even use them in the oven at 500 degrees. The cookware with the non-stick surface is safe to be used in the oven up to 400 degrees.
All-Clad D5 products come with a lifetime warranty from All-Clad, and it is manufactured in the United States. Each cookware can be used in a dishwasher, and non-stick products are recommended hand washing.
Why should you choose All-Clad D5 Cookware?
When the cookware market is overcrowded with different types of cookware sets, why would you choose the All-Clad D5 Series?
The answer needs in-depth analysis. And we found them during preparing All-Clad D5 Review.
If you look at the various features of the All-Clad cookware, you will find out that considering its D5 construction technology, heating retention, quick heating up as well as innovative designs and comfortable handles, the All-Clad D5 cookware is worth picking out amongst the variety of products available. These are the reasons you should consider owning this cookware set.
Highly Heat Retentive
Due to the construction, this cookware heats very slowly and evenly to get a good roast on one side as well as holding the heat longer for the other hand. Due to this fact, you are likely to get more searing and browning from the pans. This will give your meal a uniform browning throughout.
Non-stick Interior
The D5 cookware set features a highly polished interior that is said to be stick-resistant. No matter the type of meal you prepare with the cookware set, its surface won't react with the stainless steel interior surface bringing in an unpleasant metallic flavor.
Quality Construction
The All-Clad D5 stainless steel cookware features a quality 5-ply bonded construction. Using "a" as aluminum and "s" like stainless steel, the construction goes in this order s-a-s-a-s. This mixed layer of both steel and aluminum ensures the cookware provides 20% more even heating. The extra Stainless steel used in the middle of the cladding makes this cookware more durable as well as energy-efficient.
Comfortable Handling
The handling of the D5 Cookware Dey has been redesigned to make sure its users can use it efficiently and comfortably. Although not much has been changed, there was a significant change in the thumb groove. The handles are made to be less thick with rounded edges. This makes the cookware set to be much more comfortable in your hand.
Versatile Cookware
The D5 cookware cooks any food you want to prepare and enjoy. This set offers two frying pans to prepare any omelet to roasted meat. With the 4 types of saucepans, you can make melted chocolate, festive salsa, or creamy fondues to your taste. The saucepans are ready to serve you meat with a reduced fat content as well as shrimps, crisp, and veggies. The stockpot can serve during the preparation of stews, soups, chili, and so much more.
Durable
Because the All-Clad D5 cookware set is one in which any of its individual product is used consistently, it is made to be strong and very durable. This cookware set posses as a companion years after years in the food industry.
The heat resistance steel in the layer and the handles makes this set more durable. The rivets provided for the handle makes it very secure. The All-Clad Company offers a limited lifetime warranty, which means that its users can enjoy a lifetime of cooking with the D5 cookware set.
What is the difference between All-Clad D5 and D3?
We have already mentioned in this All Clad D5 Review another great set from All-Clad is the D3 Cookware set, which is less expensive than the D5 Cookware set. So a lot of questions have been going around the net, most people want to know the difference between both.
Finally, what is the difference between the All-Clad D3 Cookware set and the All-Clad D5 Cookware set?
Well to simply put it, the D3 Cookware products consists of three bonded layer which is made up of stainless steel for its base, an aluminum core for its center material and 18/10 grade stainless steel as the cooling surface.
The D5 Cookware products, on the other hand, is made with 5 alternating layers made up of both aluminum and steel. The base is made up of a magnetic material that is superior enough for induction cooking.
Apart from the materials used to build the two cookware, the main differences lie in the weight, rims, bonded layers, and handles. The All-Clad D5 Cookware Products are weightier than the D3 Cookware Products, but at the same time, the handles feel sturdier than that of the D5.
The rims on the D5 Cookware products are curved, so it's easier to pour while avoiding spillage. The D3 Cookware products have flat rims.
When it comes to performance, there is no huge difference between the D5 Cookware set and the D3 Cookware set, although most professional cooks can still differentiate the slight difference.
Both the D5 and the D3 Cookware set will exceed your expectations, but the D5 is said to push the D3 out of the market due to its ability to be less prone to warping, better design, and the 2 additional layers.
All Clad D5 Review – Conclusion
After Researching and evaluating the cons and pros of the All-Clad D5 Cookware, we can say that this cookware set is an excellent buy. It comes with a lot of features, which makes cooking very fun and sweet.
Other than being used every day for food preparations, the D5 Cookware set could also be an excellent present set. Using this package will make you feel pleasure as well as comfort.
The stainless steel feature makes it quite durable, clean, and marks free, implying that it will last for almost a lifetime. If you are also on a budget, you can go for the D3 set which has nearly all features but costs less than the D5 cookware.