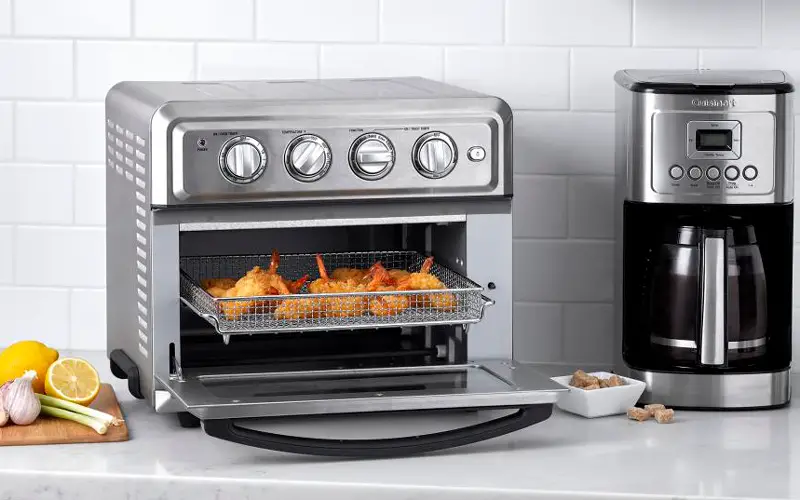 An air fryer can cook faster, easier, and more healthy food than many other appliances. It is the reason why it is so popular on the market and why it is sold millions of pieces in a year.
When I decided to buy my air fryer, that was a bit complicated to make a choice, cause there wasn't any information from the first hands. Which air fryer is the best, and what is a better place to buy it?
While thinking about future Christmas and all the gifts I need to prepare, I decided to choose an air fryer for my mum and to use this opportunity to make the best Buy air fryer vs. Amazon air fryer review: which model to select and where to order?

I started my search by reading several reviews and checking the best sellers on Amazon and Best Buy. Finally, my choice stopped at the next two models.
I choose this air fryer because I own one. I love it cause it is elementary in use. It has a simple set of push-button controls. To set the temperature and time, you have to use up and down arrow keys. Other buttons power on the unit, start and pause the cooking cycle, and switch between different cycles.
Lots of cycles/features is another reason to have it in this review. Ninja Air fryer allows you to air fry, roast, reheat, and dehydrate food. With a wide temperature range (105 to 400F), you can do lots of things.
My other lovely point is its basket with ceramic non-stick coating. It makes the fried chicken so delicious that it will be difficult for you to say where it was prepared. In Ninja air fryer or an iron skillet? Besides, the basket, crisper, and rack are dishwasher safe.
The only cons which I can mention are the size. This air fryer honestly is not too big and can handle only up to 2 pounds of french fries, which is not enough for my family. If you want something bigger, from my point of view, you can choose Philips XXL Air Fryer. You can find more details about it in our Philips Air Fryer Review.
Pros
Several features like roast, reheat and dehydration
Great quality
Dishwasher safe basket
Affordable price
Cons
4-quarter is not enough sometimes
Verdict
This air fryer is very easy in use. You don't have to be experienced user of kitchen applainces. As a bonus, it is effortless to care about it, no hard work, a dishwasher can handle with it. It is not so big, what could a pros or cons at the same moment, all depends on your needs.
The second model which I chose is Cuisinart TOA-60. I placed it in our review because of its versatility. This is not just an air fryer, but it is also a toaster oven and a convection oven. It is a bit more expensive than Ninja but much more affordable than buying two pieces of appliances (an air fryer + convection oven).
The quality of prepared food is excellent. It makes crispy chicken wings and exceptional french fries, just as deep fryers do. Actually, I bought it to replace my old Ninja air fryer while I was preparing this review. And I have to say; I wasn't expecting that is so good! Also, it toasts exceptionally too.
This is one of the most popular air fryers on the market, according to plenty of reviews, high rates on Best Buy, and Amazon. And in general, I can understand why. You can cook french fries, chicken, bread, pizza, vegetables and many other recipes in it. For sure, it is the most versatile appliances in my kitchen after my Thor full-size range there I cook almost everything.
Cuisinart TOA-60 is a great option when you do not need to cook a lot, and you need to make it fast without any control from your side. By the way, it has a 60-minute timer with auto on/off function. The only thing that I don't like about it that all parts are not dishwasher safe.
Pros
Veritile Air Fryer with toaster/oven feature
High-quality of materials
Auto On/Off timer
Reasonable price
Verdict
I just started to use this Air Fryer, but I'm already surprised how good is it. For sure that is a great option for everybody who don't like to spend much time for cooking. Several features allows you not only to cook. It can also reheat pizza and other food from your fridge.
I was not going to make any review of this Air Fryer, cause I didn't have an opportunity to test and try it. But some of my readers said that I have to add it here. Also, it is popular among several reviews on the web.
This air fryer looks to be big enough for my family. It has plenty features. There are such programs available as steak, seafood, poultry, bacon, frozen foods, french fries, and many others.
It is very easy to handle with it, no special knowledge needed. The instruction is clear, and the interface is also good, so you can unbox it and start to use it immediately. The basket is dishwasher safe and all the plastic is PFOA-free and BPA-free. In addition, Cosori provides 1-year warranty, which can be extended for one more year.
Pros
11 preinstaled programs
Dishwasher safe
Big volume good for big families
Great price
Cons
Not available at Best Buy
Best Buy Air Fryer vs. Amazon Air Fryer: What to buy?
Price
While I was preparing this material, for both air fryers, the best price was at Amazon. To be fair, I have to mention that Best Buy has a price match service, but it requires you to do extra work.
1 point goes to Amazon.
Delivery
Well, according to my experience with both resellers, I will say that they both are doing a great job. Both are trying to be the best everywhere. So both have same-day delivery and next-day delivery. We got a draw here 1-1.
Products
To compare products will be a bit strange, so here I want to examine how easy it is to choose on websites of these resellers exactly these two air fryers. One of the best air fryers according to several reviews and ratings.
Ninja has a rating of 4.8 on Best Buy, with 793 reviews at the moment of publishing this review. On Amazon, it has the same rating with 2,264 reviews. Cuisinart has a score of 4.6 and 476 reviews and 4.2 with 1,895 reviews.
If you tap "Best Air Fryer" on both websites, Amazon will show you, Ninja, in TOP3, while Best Buy has it only as TOP4 after few other air fryers, which altogether have only 84 reviews (that is strange). None has Cuisinart in TOP, but Amazon marks it as "Best Seller".
So, it is easier to find them on Amazon. And as well, I would say that for me, it is crucial to read as many reviews as possible before buying any appliances. So I would say, that Amazon with its thousands of reviews, wins this point. One more point goes to Amazon.
Customer service
To be honest, I never got a reason to complain about both resellers, so there is nothing to say from my side. May you write me down? So I will put your experience here. For this moment, it is the draw (1-1).
Verdict
Finally, from my point of view, the score is 4-2 in favor of Amazon.
Best Buy Air Fryer vs. Amazon Air Fryer: FAQ
What is an Air Fryer?
These countertop appliances don't fry food at all. Basically, it works as a small convection oven. A fan circulates hot air inside, and sometimes some oil. This hot air quickly cooks food instead of oil in a deep fryer. Most have capacities from 2 to 5.8 quarts and several programs for different types of food.
Does the Air Fryer Make Food Healthier?
Yes, it is. But you should understand that it is healthier compared to a deep fryer. In other words, you still need to use oil, but you don't need to use it so much.
Also, you have to understand that it could influence taste, compared to the food from a deep fryer. From my point of view, the food from an air fryer is good, but it is different.
Everybody from my family noticed it during testing french fries. But on the other side, nobody noticed any difference in vegetables. So the main idea here that an air fryer requires less oil, which helps it to cook more healthy food. And at the same moment, it influences the taste of food.
What Are the Best Foods to Make in An Air Fryer?
Well, it all depends on you. I mean, what do you like best. For sure, everybody would be delighted by already fried and frozen food. All kinds of it, like french fries, chicken nuggets, buffalo wings, are excellent.
Also, there are some perfect air fryer specific recipes, my favorite I added to this review to the recipe section.
My advice for all recipes – Don't overload an air fryer's basket. It can significantly slow down cooking. The main problem that overload keeps air from reaching all of the food. That for with a great probability the food in the center will not be fully prepared.
Can you put frozen vegetables in the air fryer?
No doubt, you can cook frozen veggies in the air fryer. That will take about 20 minutes. You can cook it with some oil or without. Check our recipe for roasted vegetables!
What Size Air Fryer Should I Get?
How many people do you usually cook for?
For the big family, it is better to choose Xl and XXL versions of air fryers. Their size usually stands between 6-8 quarts.
In case you cook for 3-4 persons, then I will recommend buying an air fryer with a capacity of 4-6 quarts.
For couples, the best choice is the 3-quart models.
Also, always keep in mind how many free spaces you have on your countertop.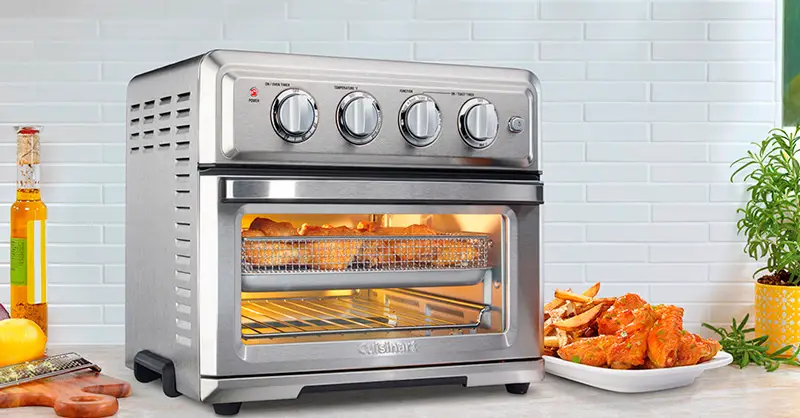 Best Buy Air Fryer vs. Amazon Air Fryer: Recipes for Air Fryer
Roasted Vegetables
Nothing could be easier than cooking veggies in an air fryer. You need to preheat the air fryer to 360 degrees F (180 degrees C). Then add vegetables (arrange in the fryer basket), olive oil, salt, and pepper. Cook vegetables for 10 minutes, stirring after 5 minutes. And that's it.
My favorite veggies are garlic and sweet potato. To get golden nuggets of roasted garlic, you need only 15 minutes. To cook sweet potato, cut it into little cubes, put it in an air fryer, and sprinkle it with some olive oil.
Crispy Chickpeas
It is not only a healthy snack, but it is also tasty and much less expensive than other snacks you can purchase. You need only chickpeas and some seasoning. To cook chickpeas, just make sure to drain them. Then you need to put them in the air fryer basket. Make sure they are spread out across the bottom. Close the lid, and set the temperature to 390 degrees Fahrenheit.
First, you need to cook them for about 5 minutes. After 5 minutes, your chickpeas should be dry and ready to be sprayed with oil. I recommend spraying them at this moment and then left them in an air fryer more for 10 minutes. Just don't forget to shake them a little bit.
Then, add half of the seasoning, shake the basket, and cook for the last 2 minutes. Now you can put chickpeas in a bowl and add the rest of the seasoning. Let them cool and enjoy your crispy chickpeas.
My favorite seasoning is Chili lime and BBQ, but you can try any other. Definitely, the air fryer does a much better job than the oven. The convection dried each chickpea to crisp perfection.
Quick Doughnuts
Oh yeah, I didn't believe it too, but it is true. With an air fryer, you can cook even doughnuts. The dough should be the same as for usual doughnuts, let it rise in a warm spot until doubled in size, about 1 hour. Then punch out your doughnuts and let them rest and rise for one more hour. After they are ready to be cooked, preheat an air fryer and start cooking at the temperature of 375F for 6 minutes.
Depends on the size of your doughnuts, you can prepare a different amount in a moment. Notice that they shouldn't touch each other in the basket. Take them out and put them on a cooling rack when they are deeply golden. Continue with the rest of the dough. While ones are cooking, another one could be seasoned.
Here are your perfect golden healthy doughnuts. Fantastic, isn't it?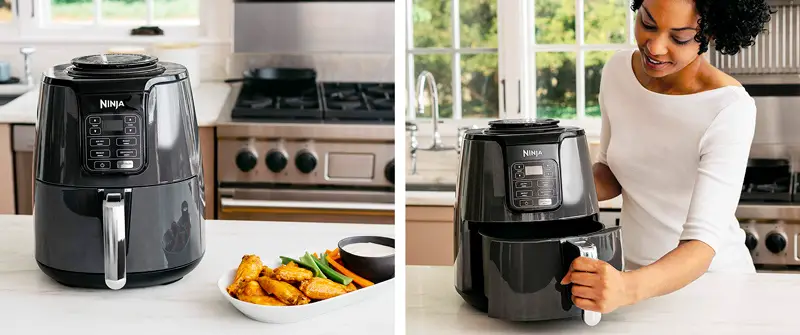 Whole Chickens
The air fryer makes chicken with crispy skin and tender flesh. Depends on the size of your air fryer, you can cook a small three-pound chicken or a bigger one.
To cook one, you need to add seasoning like salt, pepper, and others. Put the chicken in the air fryer basket breast side down. Cook for 50 minutes at the temperature of 360F and then flip the chicken and cook for 10 minutes more. Before taking it out, check the temperature of the breasts, for the best result, it should be 165F. For sure, you will be surprised how delicious and juicy this chicken is.
Wings, Shishito Peppers, and Other Snacks
The best thing about cooking different snacks with the air fryer, it that you don't need to run a whole oven or range for it. It takes the same time, but much less effort. To cook Shishito Peppers, you usually stir-fry it on wok or skillet, stand behind the range and waste your time that you could spend on something more enjoyable.
To cook them in the air fryer, you need to preheat the air fryer for 3 minutes. While waiting for the air fryer to be ready, spritz the peppers all over with olive oil. Then cook in one batch for 8 minutes at the temperature of 400F. Don't forget to shake the basket at least once. Finally, add salt and squeeze with lemon wedges.
You will find them delicious and not so messy as ones prepared in a wok.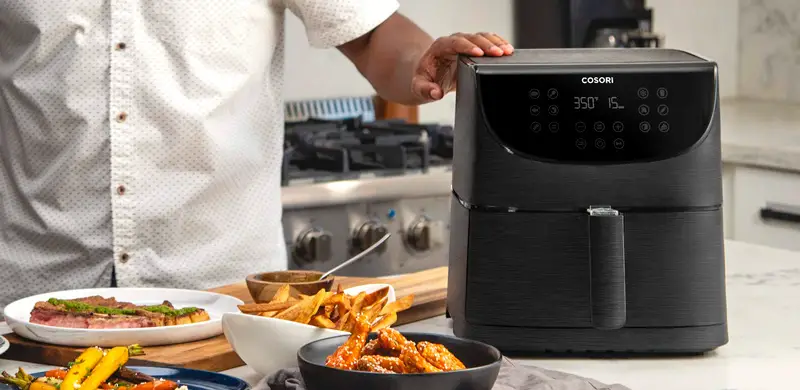 Brownies
I was also surprised when I knew that the air fryer could bake. I was delighted to cook things like brownies and personal pizzas. That is very easy to do, and as in previous recipes, you don't need to run the oven. What is really great during the hot summer days.
To cook the brownies, you need to preheat the air fryer at 330 F for 3 minutes. And then put the baking pan with the brownie batter in the air fryer and bake for 15 minutes. I recommend checking brownie with a toothpick before taking it out. After it was entered in the center, it should come out mostly clean. Enjoy!
Best Buy Air Fryer vs. Amazon Air Fryer: Final word
Finally, while I was preparing this material, I bought two air fryers — one for my family and one as a present to my mum. Ninja Air Fryer will go to my mums' kitchen, Cuisinart will stay at my place. Both are great, and I can honestly recommend any of them.
According to the place where to buy, well, my vote goes to Amazon, but still, this decision is up to you.
I hope this Best Buy Air Fryer vs. Amazon Air Fryer review was useful for you, and now, at least you know how handy is an air fryer. It can cook several recipes, and save not only your time but also energy. That is much more efficient to run a small air fryer, than a whole oven or range.