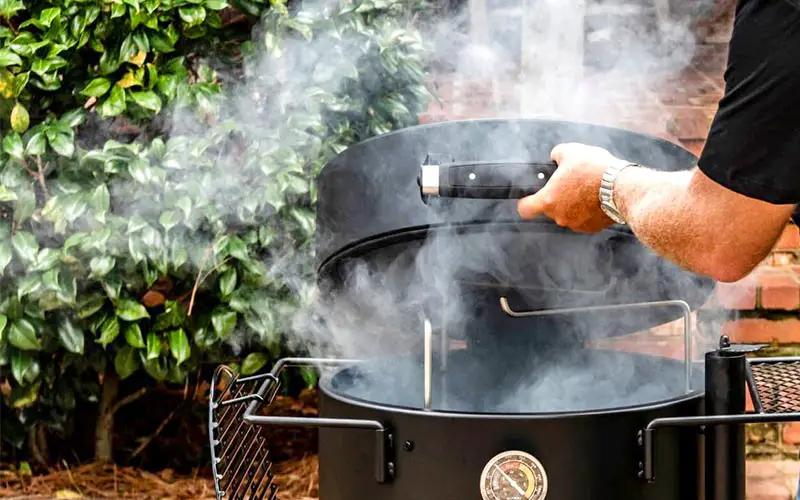 Do you want your meat to taste delicious and have that smoky smell that reminds you of a bright summer day? If yes, then smoke it!
Smoking meat is one way to leave your meat tasting and smelling heavenly. Throughout history, humankind has used different means to preserve food and make it taste better. Smoking is one way.
You do not have to build a fire outside or start felling trees and chopping wood to get the same taste of smoked turkey today.
Fortunately, some grills and smokers help serve the same purpose. Also, to achieve an even better taste, the type of wood used to smoke your meat is essential.


Montana grilling gear smoking and cooking wood chunks are the best maple wood for turkey. Even if you are a bad cook, these wood chunks add deliciousness to your meat. It gives the turkey a smoky flavor. Furthermore, it burns hot. This ensures that your turkey is grilled quickly.
If you are a health-conscious person (which you should be). The Montana grilling gear smoking and grilling wood chunk are excellent for you.
The wood chunks are 100% organic. No pesticides were applied in the curing of the wood. Thus, you don't have to worry that dangerous chemicals contaminate your food.
The wood gives off a natural smoky smell that reminds you of the outdoors. It even gives your turkey a slightly sweet taste to enhance your culinary experience. To achieve an even higher taste, it is best for it to be soaked in your favorite choice of liquid.
Pros
100% safe and can be used directly on your grill or smoker
Cut in proper sizes with very high quality
The wood chunks are completely organic. There are no pesticides used
They are completely free of dust
It adds a smoky flavor to your favorite foods
They can be used for a variety of foods from turkey to chicken to pork and vegetables
Cons
If you have a perchance for big woodcuts, the small size of the chunks might put you off

Oakwood is a fan favorite. Many folks who love grilling and smoking meat find that oak wood gives a unique taste. Oakwood gives a medium to heavy smoking flavor to your turkey because of the denseness of the wood.
The smoked flavor is not too intense. Western Premium BBQ Post Oak BBQ cooking chunks work great with every type of meat, but especially turkey. It is more intense than apple and cherry.
However, it is still lighter than other woods like hickory. The Western Premium BBQ Post Oak BBQ cooking chunks can be used for different meats. Pork, beef, lamb, and sausages give off a pleasant taste when smoked with this wood, also great for smoking chicken. The wood burns slowly, but hotly.
Thus, it cooks your meat evenly and is excellent for searing. Furthermore, the thick smoke it gives off adds to the flavor of the turkey.
The oak wood is cut into 4" blocks. This size allows it to fit into the smoker easily and be used as a single source of heat. As with the other woods on this list, the Western Oakwood is completely natural without any pesticides, and other chemicals added.
Pros
The Western Oakwood is dense in nature. This denseness contributes to the thickness of the smoke that it gives off
The Western Oak wood burns slowly and can be used as the only source of heat
There are no pesticides added to the wood. It is 100% natural
Most wood is cut into uniform 4" blocks that can fit easily into the smoker and can be added into the charcoal grill

Applewood is a medium wood that gives a fruity taste to the meat. Its dense nature makes it give off a lot of smoke which adds to the flavor of the meat. People love the light flavor the wood brings to the meat.
Applewood does not only work well with turkey, but it can be used on any other meat you use to smoke food. The wood chips are cut into small sizes. This is one of the problems we have with the Big Green Smoking Chips. Because of their size, they cannot be used solely as a source of fuel or heat.
Big Green Egg is a well-known brand and their quality is always on top level. These chips could work with any type of grill, doesn't matter is it a charcoal or gas grill or even an electric smoker. And of course, the brand doesn't matter either, it works well with Weber and Komado Joe.
By the end, apple wood is also great for smoking all other kinds of meat, as example – for smoking ribs.
Pros
Applewood is great for turkey and different types of food
The medium wood gives off a lot of smoke that enhances the flavor of the meat
The bag is re-sealable. Wood will be dry all the time
The Big Green Egg smoking chips are low price
Cons
The wood cannot be used as a source of heat

Famous for their premium alcoholic drinks, Jack Daniels is also known in BBQ circles for their wood chunks. Made from old white oak barrels, this oak wood chip is great for smoking turkey. The barrels used to store whiskey are cut up to make these wood chunks. No wonder BBQ lovers especially love these oaks.
The wood chunks are cut in 1" sizes. These produce an intense smoky flavor that gives turkey an ideal flavor. Unlike other woods on this list, the Jack Daniels wood BBQ smoking chips are stored in bags made of strong, high-quality materials. The bags have little chance of ripping.
This protects the wood from moisture and stops rot and damage. As a bonus, the bags are re-sealable. Therefore, they can be used repeatedly. The bags are not as heavy as they weigh just 1 ½ pounds.
Since the wood is made of oak barrels used to store whiskey, they give off a subtle flavor of the whiskey. When this mixes with the rich flavor of turkey, it delivers a delicious flavor. However, these wood chunks deliver a flavor that can overwhelm the taste of the turkey.
Thus, they should be used sparingly. If not, it can provide a strong smoky smell. If you like to use lots of chips, it is going to be great for smoking brisket, because it is much more difficult to overpower its own taste.
Pros
The wood chunks give a "whiskey-smoke" that enhances the flavor of the turkey when mixed with the natural flavor of turkey
The bags are made of strong, high-quality materials
The bag can be resealed for repeated use
Cons
Type of wood which can overpower the flavor of meat – don't use too much

Alder is an excellent wood for smoking seafood like fish. It gives a light and sweet flavor. This mild wood originating in the Northwest of the USA comes with a light flavor that sweetens your food.
Although primarily used to smoke seafood, it is great for turkey and other poultry. Under cool temperatures, it burns at medium heat.
Camerons product smoking wood chunks is an alder wood that has all the good features of natural alder wood. The bag weighs about 10 pounds. However, due to the non-uniform cut of the wood, the bags might weigh differently.
To enjoy the maximum flavor from Camerons smoking wood chunks, soak the wood for 20 minutes and then burn.
Pros
Alder wood is great for seafood and works really well for turkey
Camerons wood chunks give off a sweet smell that is not overpowering
It is reasonably priced and is long-lasting
100% natural. It does not contain dust or any bark
Cons
The wood is cut unevenly. Some contain chunks, and others include chips which can be annoying
Best Wood for Smoking Turkey – Buyer's Guide
Contents:
The wood used to smoke turkey is one of the most critical factors that affect how it will taste and smell. Some woods enhance the taste. Others preserve the taste. Moreover, some others might overwhelm the flavor of the turkey.
Each wood has a maximum amount of heat it can generate. Woods also have different rates at which they burn. Moreover, they have an unusual amount of smoke generated.
Thus, you need to know the types of woods used to smoke a turkey. Turkey is not like other meats. It is tender and tends to dry out quickly, especially if it is not well-cooked. So that you can make an informed choice, this buying guide contains the essential things you need to know about the types of wood.
First, let us see the benefits of using wood chips or chunks in smoking turkey.
Why use wood chips?
The meat is not the sole source of flavor and wood chips are not primarily a source of heat. The propane gas or charcoal used provides the heat. Although some wood chips can be used as a sole source of heat, their primary function is to add an extra layer of flavor to your turkey. Different woods provide great tasting smoked turkey.
Types of wood to use to smoke your Turkey
Before discussing the best woods for smoking turkey, you should avoid some woods. Evergreen trees produce woods that are not ideal for smoking food. For example, wood from trees like eucalyptus, pine, spruce, and redwood among others are not good for smoking. The resinous nature of these woods will spoil your grill or smoker and change the taste of your meat.
In fact, some of these woods produce smoke that is dangerous to health. You should also avoid woods that are covered with mold, fungus or have been painted. Woods that have been chemically treated should be avoided. These woods contain chemicals that will make your food taste horrible and can damage your health.
Hickory
We love hickory because it is one of the most versatile woods for smoking. It can be used to smoke anything, from poultry to beef to vegetables and seafood. It produces smoke that has a powerful flavor. With this in mind, hickory should be used sparingly, or mixed with chips of lighter wood. If not, the strong flavor can overwhelm the natural flavor of your turkey and make it bitter.
Apple Wood
Apple is a fruity wood. It burns slowly. Hence, it takes a patient person to use this wood. Apple rewards this patience with a strong, versatile flavor. Its flavor is not too strong because it enhances the real flavor of your turkey. Since it is a light wood, mixing it with a heavy wood like hickory can produce wonders. It gives a sweet, light flavor. The light smoking intensity is excellent for tender foods like poultry, fish, and turkey.
Cherry wood
Cherry wood is a fruity wood just like applewood above. It shares many of the characteristics of applewood. It is slow-burning. It is great when mixed with heavier woods like hickory or oak. It produces a sweet, fruity flavor and tends to leave your food with a dark brown color. It is good for delicate foods like turkey.
Oak
Oak is a favorite of many BBQ lovers. It is very popular in these circles. And for a good reason! It offers some of the most distinct flavors of smoked meat. A medium wood, it is not as heavy as hickory, neither is it as light as cherry and apple. This helps it strike the right balance between flavor and taste. Oak gives an earthy smoke flavor but does not overwhelm the flavor of the turkey. It is great for all forms of meat. From red meat to sausages and poultry, oak wood is very versatile!
Maple
Maple is the third type of light wood in this section. Similar to apple and cherry, it gives a light and sweet flavor to your turkey. Unlike apple and cherry, it does not produce a lot of smoke. It gently seeps a sweet flavor into the meat. When mixed with heavier woods like oak, it enhances the flavor of the turkey.
Mesquite
Mesquite is a fast-burning, high-temperature heavy wood. A heavy wood, it produces quite a distinct and strong flavor in your turkey. Just like hickory, it should be used sparingly or runs the risk of making your meat taste bitter. It can be mixed with lighter woods.
FAQ on the Best Woods For Smoking Turkey
What is the best wood to use when smoking a turkey?
Turkey and other poultry have tender meat that can absorb smoke. They also have a natural flavor that many find delicious. Thus, when choosing the wood to use to smoke a turkey, it is wise to use wood that will not overpower the natural flavor of the turkey.
To achieve great tasting turkey, use light wood. This includes woods like cherry wood and apple.
Some BBQ lovers and experts also love experimenting with different woods. They mix different woods to produce a unique, yet sweet flavor. One of the most popular combinations is maple and plum.
Is Pecan wood good for smoking Turkey?
Pecan produces a stronger flavor than woods like an apple but is weaker than dense woods like hickory. Hence, it is great for turkey and one of the best woods for smoking turkey. Pecan is good for smoking almost anything, but with turkey, it makes it taste extraordinarily delicious.
Is oak good for smoking Turkey?
The almost perfect balance between the smoke and flavor makes oak good for smoking turkey. It even tastes better with flavored oaks like the Jack Daniels wood chips. These oaks chips are from barrels of aged whiskey. It adds a sweet, "whiskey-smoke" flavor to your turkey.
Is Cherry wood good for smoking Turkey?
Cherry wood is a fruit tree wood. As a result, it produces a fruity and sweet smoke that enhances the natural flavor of turkey and other poultry. To get an even better flavor, combine cherry wood with dense woods like pecan. The result might leave you astonished.
How do you prepare a turkey for smoking?
Smoking a turkey is quite simple. Here are the steps required.
Get your turkey. It might be fresh or frozen. The best turkeys are fresh ones. However, if that is unavailable, get a frozen turkey that has been minimally processed. Before bringing it, make sure it has completely thawed out.
Prepare the turkey. Remove its insides and detach the skin from the breast. If this is not done, the brine will not reach the breast meat.
Prepare your brine solution and immerse the turkey. When brined, the turkey retains its flavor. Ensure all the parts of the turkey are brined.
Wash and drain your turkey. After removing from the brine solution, thoroughly wash the turkey in water, preferably in cold running water. After thorough washing, drain the turkey of moisture, both inside and out.
Cure. Curing the turkey means leaving it in a refrigerator for half a day or a day. This will let the brine and salt penetrate the meat evenly.
Spice the turkey. This is a fun part. Add a variety of spices to make your turkey taste good. Spread the herbs and spices on every part of the turkey and let it soak in.
Smoke. Prepare your smoker and let it reach at least 220 degrees before putting the turkey. Depending on your choice, add wood chips to add flavor.
How long does it take to smoke a turkey?
It depends on the heat applied and the size of the turkey.
A general rule of thumb is that it takes 30-40 minutes per pound. However, this is no hard and fast rule. A completely smoked turkey or chicken should have an internal temperature of about 165 degrees. If the breast temperature exceeds this, then the turkey is overcooked.
Conclusion – Best Woods For Smoking Turkey
Smoking turkey can be a fun experience. There are many manufacturers of smoking wood. However, the woods listed above are the best woods suited for your needs.
With each of the products having a different flavor, it is now up to you to determine which one suits your taste (pun intended). Remember the different qualities of wood (burn time, denseness, smokiness, and flavor) will affect the eventual taste and flavor of your turkey.
Therefore, choose wisely and enjoy the best-smoked turkey you've ever made!