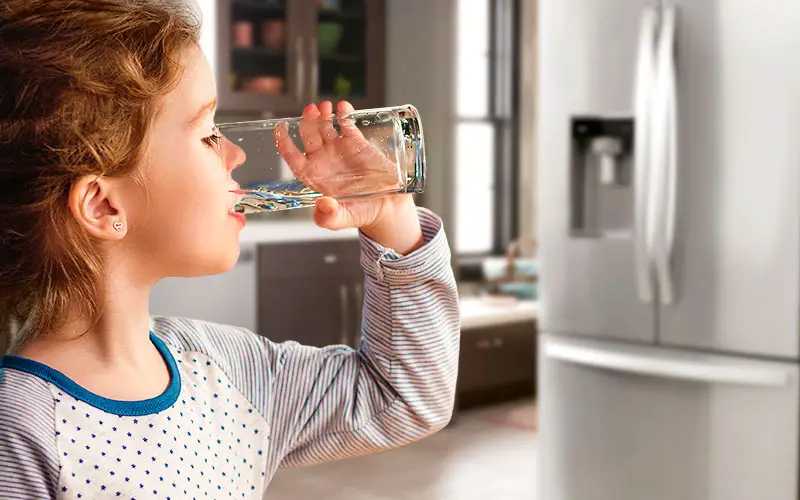 Do you know that if you want to have access to great-tasting water in your home, high-quality refrigerator water filters are the most convenient way to go?
Filters help to reduce contaminants like chlorine taste and odor, microbial cysts, and heavy metals and chemicals in your water. This makes the water in your home safe from harmful chemicals and safe to use.
In this Everydrop Water Filter Reviews, we have put together a collection of the best Everydrop water filter.
Also, we provide answers to frequently asked questions about refrigerator water filters and make available other helpful information that can help you make the right choice in the market.
Enjoy!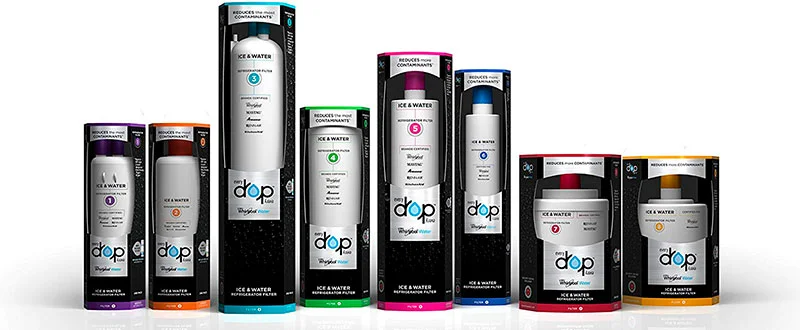 Factors to Consider When Choosing Refrigerator Water Filters – Everydrop Water Filter Reviews
Apart from Everydrop water filters, there are many other brands on the market.
Due to this, finding the best refrigerator water filter can be challenging. However, considering some criteria can help you in the purchase journey. These include filtration capacity, certification and contaminants, compatibility, and replacement solution. Let's take a proper look at them for better understanding.
1.Replacement solution
The replacement solution available is an original equipment manufacturer (OEM) and aftermarket or off-brand water filters. Both options are good. What do we mean?
If you have enough bucks to spare, you can go for OEM fridge water filters. But if you are looking for a more affordable water filter, the off-brand can be a perfect option, and some of them do the job better, just like the OEM version. A perfect example is the Everydrop water filter we will discuss in this article.
2.Filtration capacity
The capacity of filters is rated in a gallon, and the rating tells you the specific number of gallons of purified water the filter can offer before you replace them. The filtration capacity can vary from 200 gallons to 400 gallons in different water filters. Take note that 300 gallons are the standard filtration capacity.
It was noticed that filters with lower gallon rating often remove a wide range of contaminants. Maybe it is due to the all-out filtration process. This means that even though higher gallon ratings can be a better option, lower filtration capacity isn't necessarily a bad thing. Also, don't pay any attention to the life you see on refrigerator water filters.
3.Certification and contaminants
Generally, the one filter fits all household rules do not work when it comes to refrigerator water filters. What is suitable for someone's household may not be suitable for yours. The type of filter you choose should depend on the kinds of contaminants that can be found in the water that you get at home.
You can know the contaminants you face in your water at home by sending a direct sample to a professional lab. Alternatively, you can check the latest Consumer Confidence Report of your local water utility. You will be able to know the best water filter that fits your household when you know the contaminants you face.
Additionally, you need to look for NSF Standard 42 and Standard 53 certifications. The NSF Standard 42 certification is all about eliminating common impurities like sediments and chlorine.
It means the filter will help improve the taste and smell of your water. But the NSF Standard 53 certification is for volatile organic compounds, heavy metals, cysts, disinfection byproducts, and other contaminants with health effects.
4.Compatibility
Ensuring that the water filter you want to go for fits your fridge correctly is critical as it will help prevent leaks. To find the perfect water filter that is compatible with your fridge, follow the steps below.
Find out the model number of your refrigerator. You can check the owner's manual for the number. Also, you can check the label which can appear on the back kick-plates, face frame, inside the fridge, or beside the crisper drawer depending on the type of refrigerator or brand. Here is how a model number looks like LTA256249SR or DA37-01320B. Alternatively, you could visit the website of your fridge brand or contact their support team to obtain the model number.
Match the model number to the list of the fridge a specific filter supports. You can do this by using Partfinder on Amazon.
5.Other factors such as PSI range, water flow rate, etc.
The pounds of pressure per square inch (PSI) of your water filter should be compatible with the specific PSI range of your refrigerator's water system.
Typically, aftermarket and OEM water filters share the same water flow rate and temperature range.
Now that we have set your foot on the right path to purchasing the perfect refrigerator water filter for our household let us show you the best Everydrop water filters you can find in the market – check our Everydrop Water Filter Reviews below.

If you need a refrigerator water filter that is compatible with a wide range of refrigerator brands and also removes a lot of contaminants, this Whirlpool water filter can be a fantastic choice.
Pros
It features NSF certifications which include 401, 42, and 53
The product can reduce 24 contaminants, and this includes pesticides, lead, waterborne parasites, and pharmaceuticals
This Whirlpool EveryDrop refrigerator water filter 1 can work with Amana, JennAir, KitchenAid, Maytag, and Whirlpool refrigerator
You can use it in the bottom freezer, top freezer, and side-by-side refrigerators if they accept filter 1
The filtration capacity is 200 gallons, and the filter life is 6-months
Cons
Some users think it is quite steeply priced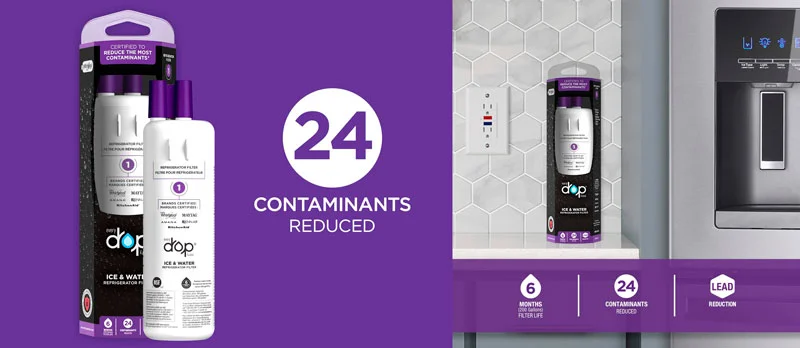 The Whirlpool Refrigerator Water Filter 2 is another top Everydrop water filter you can find in the market. It promises to turn your unhealthy water to clean and healthy water. Also, it has a better filtration system that is worth trying out if your brand of refrigerator includes Amana, Maytag, JennAir, KitchenAid, and Whirlpool.
Pros
It comes with NSF certifications such as 42, 401, and 53 which speaks volumes about its effectiveness
The product has the capacity to reduce 24 contaminants and up to 99-percent of chemicals such as lead, and other pollutants
Whirlpool Refrigerator Water Filter 2 also comes with 200-gallons filtration capacity with six months of filter life
Many users experience better-tasting ice and h2o
Used for bottom-freezer refrigerator
Cons
The product is only compatible with bottom-freezer refrigerators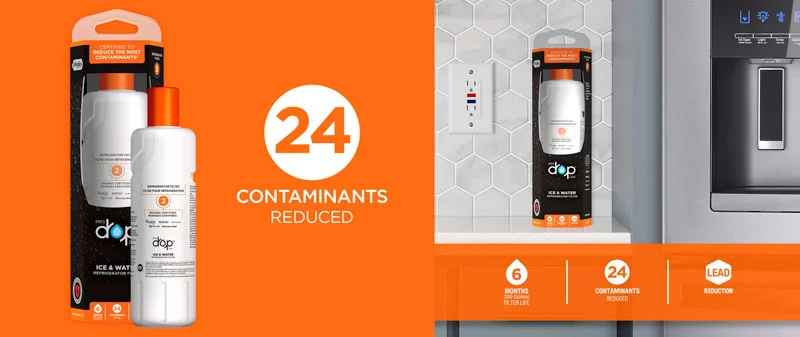 With the powerful technology the Whirlpool Refrigerator Everydrop Water Filter 3 features, they are very effective in fighting against lots of pollutants and chemicals. This is why many users consider it to be the best choice for kids and older adults.
Pros
It comes with high-quality triple filtration technology, which helps to reduce 66 contaminants from your water
The contaminants the product removes include parasites, ducts particles, pharmaceuticals, and other harmful chemicals. It also helps to reduce lead
This water filter is compatible with side-by-side refrigerators that are made available by Whirlpool, KitchenAid, Maytag, Amana, JennAir brands, and other refrigerators which accepts filter 3
NSF certified
Used for bottom-freezer refrigerator
Cons
May give a loud noise while installing it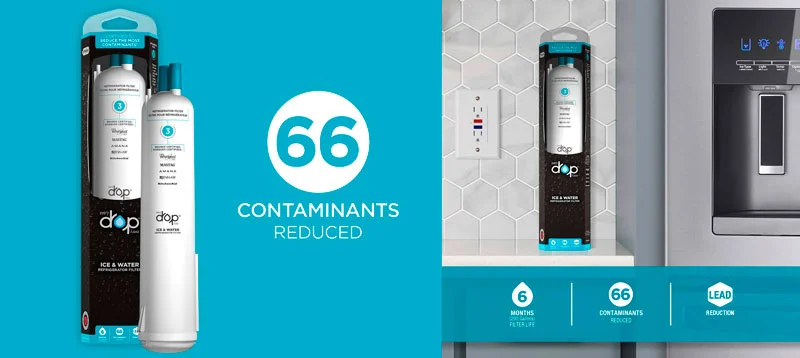 This is another Everydrop water filter from Whirlpool. It uses an excellent filtration system that is efficacious in dealing with chemicals and pollutants in water. Healthy drink and high-quality clean is guaranteed when you use this Whirlpool Refrigerator Everydrop Water.
Pros
Premium and advanced filtration system which has the capacity of reducing 23 contaminants to about 0.1 percent. The contaminant the product removes includes pesticides, mercury, and more
Guaranteed fits for Amana, JennAir, KitchenAid, Maytag, and Whirlpool refrigerator brand and other ones that accept filter 4
Excellent filtration capacity of 200 gallons with a filter life of six months just like its counterparts
The product is compatible with side-by-side refrigerators, and bottom freezer refrigerators
Cons
Some users complained about the durability of the water filter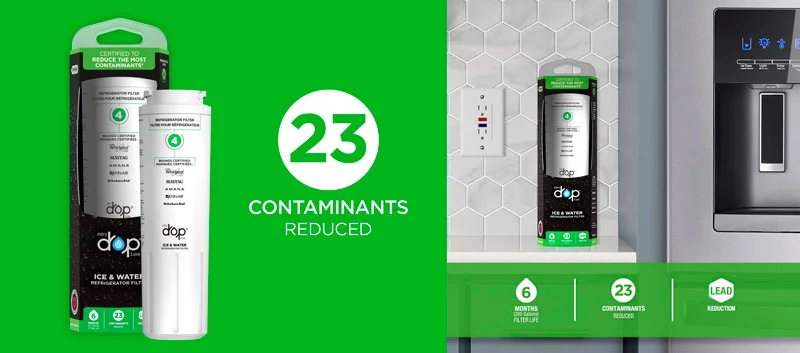 This is also another water filtration from Whirlpool that doesn't disappoint most of the people who have been using it. Just like other Whirlpool Everydrop water filter, this Whirlpool Refrigerator Everydrop Water Filter 7 comes with advanced filtration technology for sufficient liquid purifying and cleansing.
Pros
This product comes with a verified filtration system that reduces seven contaminants, including cyst, asbestos, mercury, lead, and more
The filtration capacity of this Whirlpool Refrigerator Everydrop Water Filter 7 is 250 gallons
The leading brands this product is certified to fit are JENN-AIR and MAYTAG and replaces the filter with model number UKF7003
It comes with NSF certifications which include 42, and 53
Cons
Capacity is 250 gallons, but lifetime still six month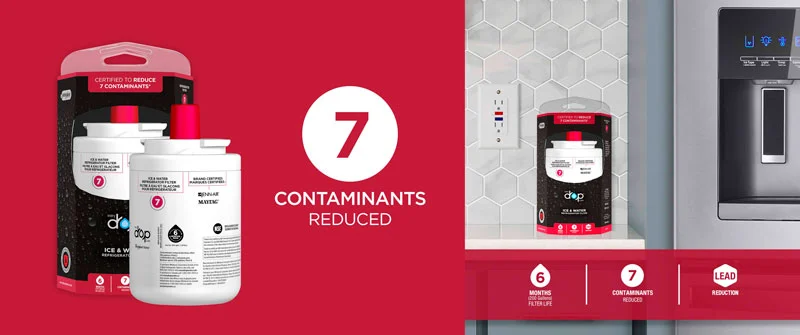 Even though our focus is to help you choose the right Everydrop water filter, we think we will be helping people who wish to eliminate bulky pitcher or water bottles by discussing this Evrydrop water dispenser. Honestly, without this product, our Everydrop Water Filter Reviews wouldn't be complete.
Everydrop Water Filter Reviews – Buyer's Guide
Contents:
What Is The Best Refrigerator Water Filter?
Sometimes the best product for you is the one that meets your needs satisfactorily. But to cut the story short, the best refrigerator water filter is the one that can reduce lots of contaminants, have NSF verification and certification of at least 42 and 53 (very important), and maybe 401. It should also replace more than two models.
Also, the best water filter for refrigerators should be compatible with the bottom freezer, top freezer, and side-by-side refrigerators or at least two of them. Additionally, the best often have a high-quality build, longer warranty, and are easy to use. When all these features and other important features are met, then you no doubt have the best refrigerator water filter.
Are Refrigerator Water Filters Worth It?
Looking at the reviews of people who have used and are using water filters in their household, we can report that water filters worth it. Many of the users have found that it improves the quality of their water and makes it healthy for them to drink.
There are also bad reviews about its effectiveness and performance. However, good reviews are more than bad reviews, and this means it works for a lot of people using it. Note that opinions can be different from person to person.
What Is The Best Time To Change My Refrigerator Water Filter?
The best time to change the water filter of your refrigerator is at least every six months. This is a general rule of thumb that is recommended by most experts and manufacturers of the refrigerator.
However, the time can vary based on some factors such as the rate of flow ads usage. If the rate of usage is high, you might need to change the filter before six months. So how do you know that it is time to change your filter?
The water will taste like tap or icky
You will perceive an unpleasant odor from the water
There will be a gradual decrease in the pressure of the water
What happens if I Don't Change My Refrigerator Water Filter?
If you don't replace your water filter on time, an unabsorbed water contaminant will be permitted. Also, bad taste, bacterial, and bad smell will saturate the refrigerator filter and force it to leak impurities into your water. This can result in nausea, cramps, headaches, diarrhea, and other health issues.
Can I Use My Refrigerator Without Water Filter?
Yes, you can use your refrigerator without a water filter, at least in some cases. The type of refrigerator you use and whether or not it comes with a bypass plug will determine if your refrigerator will function without a filter.
If your refrigerator does not come with a bypass plug, you can use a filter cap to close the filter housing. But if it has a bypass plug, you must install it properly, so that the Ice and water dispensers work without a filter.
Do Water Filters Remove Arsenic?
When you check the list of contaminants that most water filter reduces or remove, you will notice that most manufacturers don't list or mention arsenic as part of what their water filter removes. Of course, it is unfortunate. But there is good news. Many of the reverse osmosis filtration systems can reduce arsenic contents in water to about two percent.
How Long Do Unused Refrigerator Water Filter Last?
If you leave the water filter unused for a long period, it might slightly deteriorate due to age-related wear. However, if you buy a reliable filter and store them properly (a cool, dry place), you don't have to worry about the refrigerator water filter expiring.
How does a refrigerator Water Filter Work?
The water filter uses two techniques to get rid of contaminants and other unwanted and harmful products from your water. The techniques are chemical filtration and chemical filtration.
Chemical filtration – this method or technique make use of active material to get rid of dirt chemically from the water passing through the filter.
Physical filtration – is a method where the filter uses strains to get rid of filth from your water.
What Are The Most Common Type Of Water Filters And Where Are They Located In your Fridge?
Canister filters, in-grille filters, drop-down filters, and slide-out filters are the most common types of water filter you can get for your refrigerator.
In-grille filters
They are thin and lengthy. You can operate them by using a push-button they come with. It can be hard to see because the purifier is likely to blend with the grille. In-grille filters are often located at the bottom area of your refrigerator and have a knob that can be ejected.
Slide-out filters
This kind of filter is similar to the grille. However, there is a difference. Slide-out filters have a slab that you can open through a quarter turn or a push button. They have also located at the bottom of your fridge.
Drop down
They are located in the drop-down section of your fridge. This type of filter is stored in extra containers which you have to open before you remove the filter.
Canister filters
They have the shape of a barrel and are stout and shorter than grille filters. Canister filters are often located in the top food compartment inside your refrigerator.
Inline filters
This type of filter is an external kind of water filter connected to your refrigerator via the liquid connection network.
Final Words – Everydrop Water Filter Reviews
Today, brands such as Whirpool are the top manufacturers leading the water filter industry. Choosing from these brands can increase the chance of purchasing the best water filter that will work effectively.
Check the compatibility, filtration capacity, NSF certification, number of contaminants it reduces, and the PSI range. Also, take your time to analyze the size and other technical aspects. We hope this post helps you to choose the right water filter for you.
Did you like this Everydrop Water Filter Reviews? Please comment!