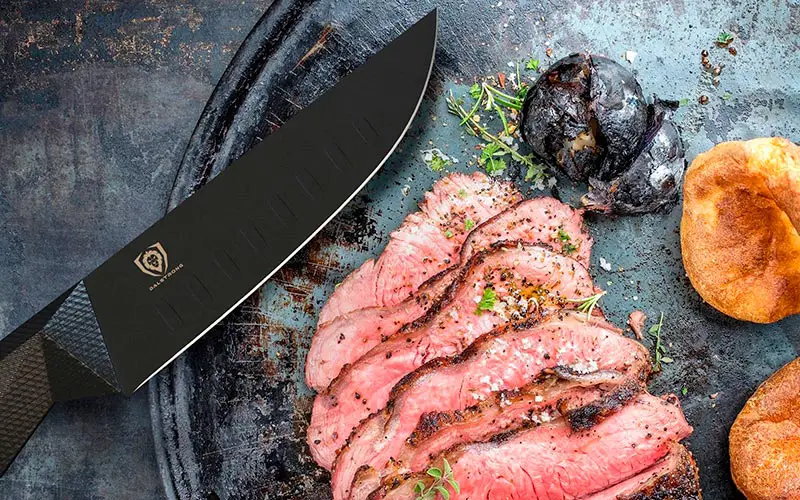 If you are someone like me who likes eating steak and also have friends who always wait outside the door for steak night, you might agree with me that steak is one of the best foods to master.
No doubt, making a great steak depends on lots of things going right when you are cooking it. Cutting your steak is an important part of the cooking process that factors into the end result. But how do you intend to cut your steak into delicious, tender slices if you don't have the perfect tool; a steak knife?
For you to have a perfect cut of a great steak and make a world of difference for anyone that eats out of your steak, you need the best steak knife.
So, how do you pick the perfect one for you from all the tons of steak knives out there? Don't worry; I am going to show you the best steak knife set you invest in and some other information that can help you have an informed purchase.
With the traditional design, outstanding craftsmanship, and cutting edge technology of the DALSTRONG Steak Knives Set, it is no doubt one of the best steak knife set you can get on the market.
The set comes with straight edge blades that are forged with imported ThyssenKrupp high-carbon German steel. It is expertly heat-treated and incredibly sharpened with hand to about 16 degrees per side to offer a straight, clean cut.
Also, the streak knife features luxury pakka wood handles in black color. The product has a long tang with three rivets that ensures a comfortable grip, handling, and maneuverability. Each of the knives comes with a matching sheath for proper storage and to also ensure you don't get cut when you are not using the knife.
Additionally, rock hollow dimples are included to make sure your meat falls off the blade easily. The product is engineered to perfection and polished to a satin finish.
Pros
Carefully tapered for flexibility, minimal slicing resistance, and improved hardness
Money back guarantee
Comes with sheaths for protection
Attractive packaging making it a perfect gift
Cons
Some users complained of a rust spot
Final Verdict – Dalstrong Gladiator Review
The DALSTRONG Steak Knives Set has a bold design; therefore it might be a perfect choice for people with big hands. I will advise people with smaller hands to look out for other options because they might not be comfortable holding this knife.
The Zwilling J.A. Henckels might not be the most expensive steak knife set, but it is reasonably priced for what it offers. It comes with 4.5 inches serrated blades that are forged with high-carbon stainless steel that are durable and stay sharp for many months. The blade of this eight set of knives is a full tang that is held by three rivets. This feature makes it very sturdy and easy to pick up and use.
Also, the handle of the Zwilling J.A. Henckels is made of synthetic. It means you don't have to worry about bacterial forming in their handle or wood rot when it is immersed in water.
However, I would advise that you don't wash it with a dishwasher because of the blades that are made of high carbon steel. Additionally, the product comes with a wood storage box for easy storage.
The box features two snap closures and hinged tops to keep your knives safely.
Pros
Life warranty against defects
Ice-hardened high carbon steel blades that are durable
Stay sharp always and only requires little maintenance
Dishwasher safe
Cons
Some users complained of rust and spotting
Final Verdict – Zwilling Twin Gourmet Review
Zwilling might be a perfect option if you plan to entertain more than four or six people. Also, if you are someone who hardly gets time to keep your steak knife sharp, you can try looking into this product. It is definitaly one of the best steak knives under $100.
This product comes with seven blades forged with high-carbon steel that is resistant to discoloration, corrosion, and rust. The blades feature serrated edges that offer great precision and better durability and strength.
Handles are included and constructed with Santoprene which provides comfort and ensures the 9.25 inches knife does not slip even when your hands are wet.
Also, the construction of the handles makes sure it does not damage when exposed to oils and cold and hot temperatures in the kitchen. The edge of the steak knives are tapered, and this makes honing easy, sharp, last for a long time, and also ensure stability and increase in efficiency when chopping and cutting.
The bolster is also included to provide balance, durability, and better handling when cutting your meat. Additionally, it comes with a professional storage roll which has a detachable shoulder strap.
Pros
Non-slip, contoured, comfortable Santoprene handles
Lightweight, heavy-duty professional knife roll that resists abrasions, tears, and scuffs
The full tang that runs the entire handle length
Fully forged steel tapered for razor sharpness
Full bolster for excellent balance
Cons
It might tear meats apart
Final Verdict – Mercer Culinary Genesis Review
The mercer culinary genesis 7-piece steak knife set is a professional choice that is affordable for meat-lovers. All the quality it features makes it a special product of high-quality professional grade. Great choice for the best steak knives under 100 $.
This product is a great mix of elegance and sturdy craftsmanship offering a traditional and classic design. The Trudeau Laguiole is a high-performance steak knife that is inspired by the artisanal craftsmanship of a village known as Laguiole in France.
The product comes with six serrated stainless steel blades that remain sharper for a longer period and require little minimal maintenance. The stainless steel construction of the blade makes it resistant to rust when subjected to wet conditions.
The steak knife also comes with a full tang and thick gauge that allows you to pick up, handle, and use easily without worrying about it falling from your hands. Also, the handle of the product is made of hand-finished pakka wood with hand stamped details. This feature provides the steak knife with strength and beauty and also makes it resistant to moisture.
The blade measures 4.5 inches and the full length including the handle measures 9 inches. Additionally, the knife comes in a gift box with an amazing design.
Pros
It offers five years warranty
Ergonomic, triple-riveted and hand-finished handles
Forged, premium, and elegant stainless steel precision blades with optimal performance and durability
Sharp, sturdy and well finished
Cons
Handle of 1 from 6 knives were not tighten enough
Final Verdict – Trudeau Laguiole Review
If you want a steak knife that combines classic with traditional design and also comes with premium features at a budget pricing, you can't go wrong going for Trudeau Laguiole steak knife. Premium steak knives under $100.
If you are looking for a seamlessly designed, sharper, more durable, and stronger steak knife, you probably won't find one like Wusthof Gourmet.
The product comes with four knives having 4 3/4″ blades forged of high-carbon stainless steel.
This type of blade is designed to stay sharp even after many uses. Also, the knife's blades are straight edge and work well for cutting roasts, chicken, chops, and steaks.
Additionally, the product features a poly handle, three rivets, and a full tang which ensure a firm grip without slipping off your hands. Even though this knife is dishwasher safe, hand washing is recommended to maintain long term sharpness.
Pros
Handle, and a blade is well balanced
Synthetic handle designed for control and comfort
Moderately priced
Extremely sharp out of the box and great for everyday use
Cons
Classic, but looks a little bit cheap
Final Verdict – Wusthoff Classic Steak Knives Review
If you need a sharp knife that will cut through any meat, and you don't care about something that meshes well with formal flatware, these might be the best steak knives for you. Classic steak knives under 100 $.
If you are looking for something stylish and can still get the job done, here is one for you!
Dalstrong is known for making steak knives with exhilarating design and thrilling performance.
The product is designed to be muscular, aggressive, and sleek. The exceptional craftsmanship and amazing design make it stand out from other steak knives. The blades are forged with high-carbon German steel which allows you to strike at any angle.
Additionally, the blade comes with a non-reflective, black titanium-nitride coating that adds to the sinister appearance, improves the non-stick properties, and makes it tough and resistant to corrosion.
Also, the knife features a fiber-resin military-grade G10 handle which is nearly impervious to moisture, cold, and heat. The geometry of the handle is unique and features aerodynamic, sharp lines that tuck snugly on your palm. Additionally, the handle comes with a midnight black titanium coating that contributes to its functionality, sophistication, and unforgettable styling.
Pros
A ruthlessly sharp edge that ensures precise, clean cut and excellent edge retention
Perfect balance between resilience and performance
Full-tang for maximum durability
Tapered bolster of the handle ensures a comfortable pinch grip
Minimize hand fatigue, perfect balance, and optimize function
Beautiful storage box with individual sheathes
Cons
A little bit big for everyday use
Final Verdict – Dalstrong Shadow Review
From the construction of the handle to the built of the blades, the Dalstrong steak knives set delivers the performance and thrill you need in your kitchen. Steak knives under 100 $ with awesome design.
Best Steak Knife Set – Buyer's Guide
Contents:
What are Steak Knives used for?
Steak knife used for cutting meat, such as beef, chicken, and others. Probably a steak knife is a sharp table knife, it could be serrated or straight edge, usually has a wooden or composite handle.
The blade could be stamped or forged, the last one usually is more expensive. Using the wrong knife can result in a "rough" cut and will make your steak harder to eat.

How to Choose the Right Steak Knife?
There are some factors you need to keep in mind before spending your bucks on a steak knife that best fits your kitchen. These include the construction, type, handle, blade size, and much more. If you are not going for the best steak knife sets reviewed above, reading this section will provide you with extra information for a perfect purchase.
Best Steak Knife Set – Type of steak knife blade
When it comes to the type of streak knife blade, there are four options, and they are straight-edge blade, hollow edge blade, serrated blades, and micro-serrated blades.
However, experts do not recommend micro-serrated blades, and hollow-edge blades are not common. The straight-edge blade and serrated blade are the most common. This means you have basically two choices to pick from.
Straight edge blades
The blades are sharp, straight and with a thin edge to cut your meat. This might be your best shot if you need a basic knife that can cut your meat easily and leave a smooth edge on it. But if you are going for a straight edge steak knife, you will need to learn how to sharpen a steak knife because this blade requires frequent sharpening to get the best out of it.
Serrated blades
This second option features many small ridges or multiple teeth at the bottom of the blade. The jagged edges leave a ragged edge on the meat, and it might appear like it is tearing your steak apart.
Also, it requires more effort to cut., unlike straight blades, they are more likely to stay sharper and do not require frequent sharpening or maintenance. But when it does, it might be difficult to sharpen.
Apart from the fact that most people prefer to use the straight edge blades, I will also recommend it because the knife type makes cutting your meat an easy task and leaves smooth edges on your steak.
Best Steak Knife Set – Size of the blade
Steak knife comes in different sizes ranging from 5-inches to 7-inches. If you want to cut more easily and have a better cutting quality, smaller blades are the perfect choice to go for. They have more flexibility and are easier to hold.
Also, if you know how to sharpen the blade, the shorter ones are easier to maintain. Even though longer blades may have an appealing effect when placed on a table and are used by high-end restaurants, they don't always give a clean cut.
Best Steak Knife Set – Handle of the blade
Most of the common streak knives available on the market are made out of plastic, wood, or metal. Each of these choices has there advantages and disadvantages. If you need a steak knife with a handle that gives a more sophisticated appearance, opt for knives with wood handles.
But if they get wet, they can rot easily and start giving unpleasant odors. Handles made of metal might appear more durable but have a less conventional appearance. The last option which is the plastic handle is easier to care for, but its appearance is less refined.
Blade materials
Steak blades are forged with different materials, and they are high carbon steel and stainless steel. Knives made of high carbon steel are lightweight, sharpen easily, and stays sharp for a longer time. However, it can get rust with frequent contact with water.
You can hand wash it and dry it immediately to avert rusting. On the other hand, blades made of stainless steel resist corrosion, last longer, and are easy to maintain.
Best Steak Knife Set – Balance
This is one of the factors most buyers neglect, but it is as important as the sharpness and size of the blade. When picking the best steak knife set for you to ensure the handle look proportional to the blade, and the knives are comfortable to pick up and hold. Also, check if the blade is in a straight position with the handle or it is at an angle.
Best Steak Knife Set – Tang of the knife
A knife tang can either be short or full. Blades with short tang can fall off after using it for a long time because the blades only go halfway down the length of the handle. Even though they might be a good choice, a steak knife with a longer tang might be a better option. Unlike the short tang with one rivet, long tangs have two to three rivets which makes them more secure and easier to hold.
Best Steak Knife Set – Fit
Take a closer look at your choice of a steak knife and check how well the components are placed together. Ensure it appears seamless and there are no seeable gaps between the handles and blade. An excellent fit contributes to the overall strength and rigidity of the knife
. Also, when you go for a knife with a good fit, it ensures it serves you for a long time because fluids, moisture, and other contaminants will be prevented from getting into the handle of your knife.
Best Steak Knife Set – Budget
The price of the best steak knife set varies with quality and brands. No doubt, the best always comes at a high price but don't confuse a high-priced steak with high-quality.
Some affordable knife sets are as appealing and effective as high-end steak knife sets. With the different designs, colors, sizes, and shapes available make sure you pick a set that works for you without breaking the bank.
What Are the Best Steak Knives to Buy?
1. DALSTRONG Steak Knives Set
2. Zwilling J.A. Henckels
3. Mercer Culinary
4. Trudeau Laguiole Steak Knives with Pakkawood Handles
5. Wusthof Gourmet
6. Dalstrong Steak Knives Set – Shadow Black Series
It is possible to find many options for steak knives on the market. The best knives have forged blade. The most expensive either a handle from premium materials. Which one is best especially for you depends on your needs. For rare use, you can buy common knives with stamped blade and composite handle, the normal price for set is about $100.

How do I care for my Steak Knives?
All types of steak knives available do not require high maintenance. However, there are some things you need to do so they can keep performing at their best.
Hand-wash your steak knife after using it and dry them immediately. Do not use a dishwasher because the banging around, a chemical in the soap, and high temperature can go a long way to affect the performance of the knives.
Keep the edges of the knives sharpened before each use.
Keep your steak knives in a knife tray, knife roll, magnetic strip, knife block, or the box they came in. You should not store the knives loose in a drawer.
In case you need dishwasher safe knife set, we prepared such review for you.

Are Serrated Steak Knives Better?
For cutting meat the best option is straight edge. Using serrated knives for meat is a common mistake. While you are using a serrated knife, you are "sawing" a food, what is OK for hard cutting, as for example hard bread crust.
Premium steak has a very tender structure and for the best cut, you need a sharp and straight blade.
However, keep in mind that the straight blade is easier to maintain.

How to Sharpen a Steak Knife?
Sharping of a steak knife is the same operation as sharpening any other knife. The easiest – to use handheld or electric sharpener. Professional – to use wet stone or rod.
For both options, I recommend using sharpeners recommended by the manufacture of a knife. Usually, manufacturers use the same type of steel for the blades and sharpeners, so they will work together in the best way. This is extremely important for high price knives.
How to sharpen a knife with the handheld sharpener.
How to sharpen a knife with the wet stone.
Do You Sharpen Serrated Knives?

Serrated knives usually don't need so much attention as those with a straight edge. As serrate knives function as a saw, it can cut even when it is dull. However, in this case, the cut will be ragged.
To sharpen a serrated blade you have to sharpen each serration individually, which will take time. As a result, you will get a knife that cuts smoothly.

Sum Up
Picking the best steak knives for under $100 for you is an important decision. With the products reviewed above, I believe you shouldn't have a problem choosing the best one for you. Before making the purchase, remember to weigh all your options by considering the factors that make up the best steak knives.
P.S. Don't have a grill to cook a steak? Check our great review – Best Gas Grills under $200/