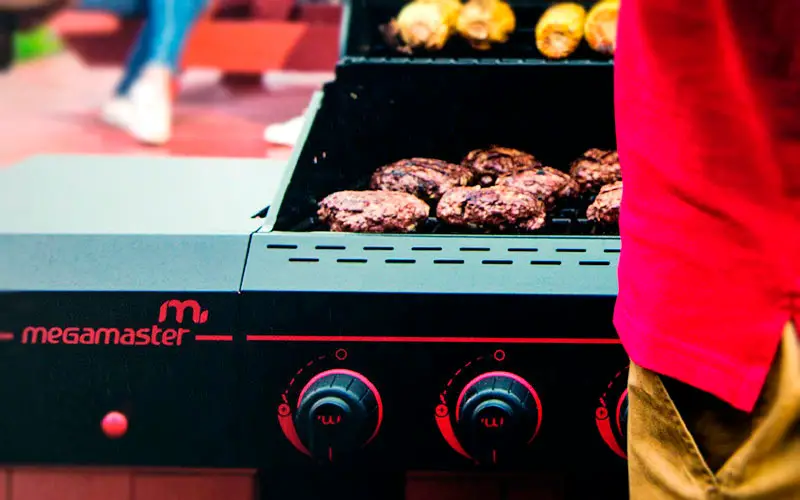 When does your grilling season start and end? Is it during the summer alone or holidays? If you are someone like me, your grilling season will start from the first day of the year and end on the last day in December.
However, regardless of when your grilling season starts you will need a grill to get outdoor, come together with family and friends, and most importantly make delicious foods.
But do you know there are dozens of grills on the market? Some are affordable for people on budget while others are expensive for those ready to spend extra bucks. So, how can you know the one that is suitable for your needs without wasting your money especially if you are on a budget and looking for an affordable grill?
Don't worry; I am going to show you the best gas grills under $200 on the market and other information to help you during your purchase. Read on!

If you are looking for a gas grill that can generate high heat consistency, the Megamaster Propane gas grill might be a perfect choice.
The product features six high-quality burners which provide a flame roasting energy of 54,000 BTU with each burner having 9,000 BTU. It comes with a total grilling space of 753.38 sq. Inches (Warming rack is 210 sq. inches, and primary cooking area is 543.38 sq. inches).
This is enough space to cook for people with a large family or hosting a huge number of friends. Also, it has battery-operated electronic ignition which helps to fire up the burners without any delay that might take a toll on your safety.
Built-in thermometer is also included to give you the opportunity to regulate the temperature to the precise amount needed or required. At the upper part of the grill, there is a porcelain wire warming rack that ensures you keep your food warm and tasty till you are ready to consume it.


This product is constructed with cast iron and stainless steel. It features side shelves and a control panel made of steel. Also, the grates and cart legs are constructed with cast iron. All these features make it durable and last a long time.
Two heavy-duty cart-style wheels are included for you to move the grill in case you want to change where it is located. Furthermore, the grill features a tank lock and tank hole below it to conveniently and safely keep your propane gas tank in place
Pros
Durable and high-quality construction
Uniform heat transfer and exceptional heat retention
Wide side shelves for enough space to keep supplies
Easy to read guide and accurate temperature control
Easy to move when relocation is required
Cons
It might require an extra hand if you want to move it because it has only two wheels
This gas grill almost under $200
Final Verdict
With the large workspace, the Megamaster Propane gas grill provides, and the efficient six burners, you don't have to worry about your huge number of friends and family coming over. From its construction to its features this product worth more than what you are paying for and that is why it is one of the top grills you can get out there.
If you have a small family or limited space in your home, the Char-Broil Performance 300 is constructed well and might be a great choice. It comes with two burners that dispense a total of 24,000 BTUs.
Also, the product features a cooking area that measures 300 square inches and a swing-away rack that measures 100 square inches. With the cooking space, the grill can hold about 15 burgers. It comes with electronic ignition and a temperature gauge that lights the burners when needed and helps control the amount of heat required to cook.


Additionally, the grill comes with a lid constructed with stainless steel, grates constructed with porcelain-coated cast iron, and side shelves constructed with metal. All these features showcase the product's quality of workmanship, durability, and efficiency.
At the foot of the grill, there are four casters that help for stability and mobility. Also, an access storage cabinet is included to store accessories and a propane tank. Furthermore, the grill has a grease pan that is removable and coated with porcelain.
Pros
It is easy to assemble
Grates hold heat well and prevent food from sticking on it
Fast and reliable temperature control
Convenient storage cabinet
Easy cleaning and reliable grease pan
Cons
It is not suitable for large families
This gas grill almost under $200
Final Verdict
If you are more casual about grilling and don't want to spend a fortune buying a grill, this product has what you want. It is also a good option for people who don't want portable or tabletop grills.
This might be a good option to opt for if you have a small space in your home or looking for a grill to take along when going for your next trip.
With its small size, this product comes with 285 square inches of grilling area and delivers 20,000 BTUs of heat around it. This feature can help you satisfy your mobile grilling needs as you can cook up chicken breasts, chops, thick streaks, and much more without issues.
The Coleman RoadTrip features two burners that can be adjusted independently to provide you the precise cooking temperature you desire.


Additionally, it has buttons that give you the opportunity to ignite the burners instantly.
The cooking surface of the gas grill is constructed with cast iron, and the grill grates are coated with porcelain which makes the built durable. Two slide tables are included on either side of the grill to make ingredients handy and keep tools easily.
Pros
It has a stand with wheels that are collapsible for easy transport and compact storage
Drip trays are removable for easy cleaning with less spillage
Grilling grates are versatile as they are interchangeable with other cooktops and durable
Portable and compact storage
Burners with two temperature zones and precise control
Cons
Too small wheels don't allow to pull the grill around because the lower end of the grill drags on the ground
Final Verdict
With the size and foldable stand and wheels, this is one of the best gas grills that can follow you anywhere you go. Also, the ability to accommodate other cooktops is a big plus.
If you are looking for something that looks simple but does the job well, this grill might be able to meet your needs.
The Char-Broil Classic comes with four burners that produce 32,000 BTUs of heat around the cooking space that measures 405 square inches.
This is enough space to prepare about 18 burgers for your family. 190 square inch swing-away warming rack that is coated with porcelain is included perfect for toasting or sideburns and to offer a secondary cooking area. The grill comes with a Piezo ignition system which helps to light up with a push of a button.


Also, the product features a firebox and grill lid constructed with porcelain-coated steel. The built makes it ready for any kind of use and weather. Side shelves made of metal are one of the features that provide you with enough preparation space.
Additionally, the inline burners are constructed with stainless steel which makes it be at the top of its performance for as long as you use it. Included are also two six inches wheels that provide easy movement from one location to another.
Pros
It is constructed to be durable and withstand elements and weather
Grates are resistant to rust and easy to clean and cook on
Provides enough preparation and workspace
Long-lasting performance burners
Durable and reliable control knobs
Cons
Putting it together might take time
No temperature gauge
Final Verdict
With four burners that give good efficiency and the cooking area, this grill is a good choice for bigger family too. It is a decent and inexpensive grill that looks very nice and worth the money. Definitely it is one of the best options for gas grills under $200.
Do you need a small gas grill that is suitable for tailgating parties or camping? The Cuisinart Petit Gourmet might be what you are looking for to meet your needs. With the size, you won't go wrong choosing it if you have a small balcony in your apartment.
This gas grill comes with a stainless steel burner that produces 12,000 BTUs of heat around its 240 square inch cooking grate. It is a modular grill-surface system that has its panels connected to the grill securely.
Included is also a unique ignition known as twist-start ignition to start-up the burners easily.
Also, the product features a temperature gauge that ensures you monitor the cooking temperature, so your food doesn't get burnt. Additionally, side shelves that are foldable, cooking grate constructed with cast iron, and removable drip tray are all included to ensure durability, efficiency, and performance.
Pros
Handle remain cool while cooking
The base is sturdy and durable
Easy and quick to setup
Double-wall stainless steel cover
Compact enough for small decks and balconies
Cons
Some users complained about its durability
Final Verdict
The portability and design of the Cuisinart Petit Gourmet makes it one of the best gas grills under $200 you can get on the market today. It is lightweight and small that you can pick up easily and move it. Also, its one burner does not limit its ability to get hot and cook your burgers and steaks.
Best Gas Grills Under $200 – Buyer's Guide
Contents:
Best gas grills under $200: Why Choose A Gas Grill Over Other Types?
It is time-saving and convenient
When you come back home tired and need to cook for your family, using other types of grill like the charcoal grills can frustrate you and waste your time. But you know what? A gas grill won't. It is more convenient and won't make cooking a messy task for you.
Exact and instant temperature control
You can easily control the temperature using a knob while grilling. There are some with a thermometer built in them to help you monitor the cooking temperature and regulate it when needed. This is rarely seen in other types.
Warms up evenly and speed
Unlike other types where you might have to cook a few minutes after starting the grill, gas grills start warming up immediately you put it on, and the temperature is evenly distributed.
It is versatile
With the different sizes of burners that come with gas grills, you can create various cooking areas with different temperatures. For bigger meats, there are bigger burners, and for smaller meats, there are smaller burners to meet the heat requirement.
Easy cleaning and low maintenance
The draining tray, grates, and burners are easy to clean. You won't have to be struggling with ashes that can be frustrating to clean off a grill.
Best gas grills under $200: Types of Gas Grills Available?
There are many types of gas grills, but they can be categorized into two. They are Natural gas grills and liquid propane grills. Natural gas grills are grills connected to a natural gas line, and you will require the help of a licensed gas fitter to help you with the installation.
n the other hand, liquid propane grills feature a hose and regulator which connects a liquid gas tank with the burners. You can either seek the help of a professional installer or do it yourself.
Factors to Consider When Choosing a Gas Grill?
There are many brands of gas grills with beautiful designs, low prices, and amazing features. But unfortunately, not all of them can do the job well. There are some that don't do what they claim. So here is a quick tip: don't fall for appearance! You can use the factors below to compare your choices and come up with a wise decision.
Size
If you have a large family would you go for a subcompact car? I guess no! The same thing applies to a gas grill. If you have a large family or you will be cooking for a large number of friends, you would not go for a two-burner gas grill. When picking a gas grill, think of the number of people you will be cooking for and the number of meats you wish to grill at the same time.
There are grills with more than two burners that fit large families. Also, think of where you will put it in your home. Is there enough space to accommodate the grilling machine? Ensure you go for the one that will create free spaces around the grill and at the same time meet your needs.
Build quality and materials
No one wants to waste their hard-earned money on an investment that won't meet their expectations and last a reasonable amount of time. Your best bet is to go for a gas grill that is constructed with high-quality materials. To know you are getting a high-quality built gas grill look for terms like heavy-duty aluminum, cast iron, and stainless steel.
These materials won't rust easily, even after many years of use. Other signs of good built are single pieces of stamped metal cook boxes and solid welds. Beware of flimsy metals painted to attract you!
Budget
Don't go beyond your boundary. Your budget is your business so don't let anyone influence you into spending more than what you can afford. There are affordable gas grills that can get the job done. Even though good things are expensive, you can get the best gas grills under $200 that will do what expensive ones do. However, if you want to consider some special features you might need to stretch your budget.
Essential features
Go for a grill with a high-quality ignition system so you can ensure safety and don't have to wait for a long time before the ignitor light the gas.
A grill with a good piezo sparker and an electric starter can be a perfect choice. Also, a grill with extra workspace and storage can be a perfect choice as it provides you with a place to rest your tools, drinks, and other items. You can also consider purchasing grills with a fuel gauge, side burners to cook your dishes while grilling or roasting.
Best gas grills under $200: What is the best gas grill to purchase?
The best grill to purchase covers all your needs. Are you going to use the grill on your patio or are you going to take it with you to a picnic by the lake? Another important question for how many people will you cook on it? This answer will depend on the size of the grill.
If you need a backyard grill for everyday use, the Megamaster Gas Grill is the best choice. For those who plan to use the grill once a week or less – the Char-Broil Gas Grill is the ideal solution, for a large family, choose one with 4 hobes, otherwise the 2-hob grill will be fine. If you need a grill to take with you on a trip – the Coleman Roadtrip Gas Grill is perfect.

Best gas grill under $600: What is the best two burner gas grill?
The best option on the market for a gas grill with two burners – Weber Spirit II. It's like a luxury car that looks and works best. Your neighbors will respect your choice, even if they do not like barbecue parties.

Best gas grills under $200: How much is a good grill?
By a good grill, I mean that it will work for a long time, in other words, it is durable, it should have good burners with enough BTU for its size and, at least, such a thing as electronic ignition for your safe.
These features can be found in the grill from $100 if it is fine for you to use a travel or tabletop grill. If you need a free-standing grill with at least two burners, you should be ready to spend about $150 for it.
Best gas grills under $200: What is the best cheap grill?
Remember about durability, safety and usability. Two of the cheapest gas grills with such features are the Char-Broil Classic with 2 burners and a small portable gas grill from Cusinart CGG-180.

What is a built in gas grill?
The built-in gas grill is almost a rangetop, with the difference that there is no griddle and hood in the range top. The built-in grill can be both inside and outside, which will affect its price.
Outside grills are more expensive because they are made of high-quality steel for services in bad weather conditions, such as humidity and low temperatures.
The built-in grill can also be roll-in or drop-in. Drop-in grills are installed on a stone island and are placed mostly permanently, while the roll-in grills have cast and can be disconnected and moved to another place.
What is the best built-in gas grill?
The top three brands on the market are American Outdoor Grills, Napoleon, and KitchenAid. Here are some of their models.
Best gas grills under $200: Is Char-Broil a good grill?
Char-Broil is one of the most important grill brands in the United States. The company appeared in the 1940s and produced the first cast-iron coal grill, which was very popular.
Char-broil began selling their first gas grills in the 1960s, and now they are one of the world leaders in this market.
The company settled in the United States but now has production in China. And this is one of the answers to why it is so affordable. Another thing is that Char Broil uses not expensive steel in its grills, unfortunately, this affects not only the price but also its durability. The approximate lifetime of Char Broil, if you use it very often, is about 5-7 years.

Best gas grills under $200: Useful things to know while choosing a grill
Adding to the features mentioned above, some tips can help you with the right purchase. These are:
Don't let BTU numbers fool you. Lower scores are sometimes better than higher BTU. What is important is the heat flux which is the BTU's measurement per square inch
Consider a gas grill with wheels if you will be changing location frequently or storing the grill occasionally
If you will be cooking into the night go for a grill that comes with grill lights as standard equipment
Go for a model that will make it easy and convenient to access a tank, mount it and connect it
Purchase a grill having handles that will not get hot
Oh, you might be asking if the natural gas grill is better or the liquid propane gas grill. This is something you have to decide yourself. Consider which one will be cost-prohibitive.
Also, if you will like to be fixed to a single spot while grilling and if there is a good place where you can run the gas line. The more flexible of the two is propane gas grill, but natural gas is more convenient. Unfortunately, you can't find natural gas everywhere. So, carefully think before making a final decision.
Conclusion
You can spend thousands of dollars on a gas grill, but you should know that it is not the amount you bought it that matters. The performance, durability, and efficiency are what matters. With the review of the best gas grills under $200 provided above, I believe I have been able to set your foot on the right part to choosing the best for you.
You will not be making a mistake by picking from one of the products mentioned above. However, if you have a different choice in mind, make use of the factors to consider when choosing a gas grill and compare your choices before making a final decision. An informed purchase will ensure the best purchase!