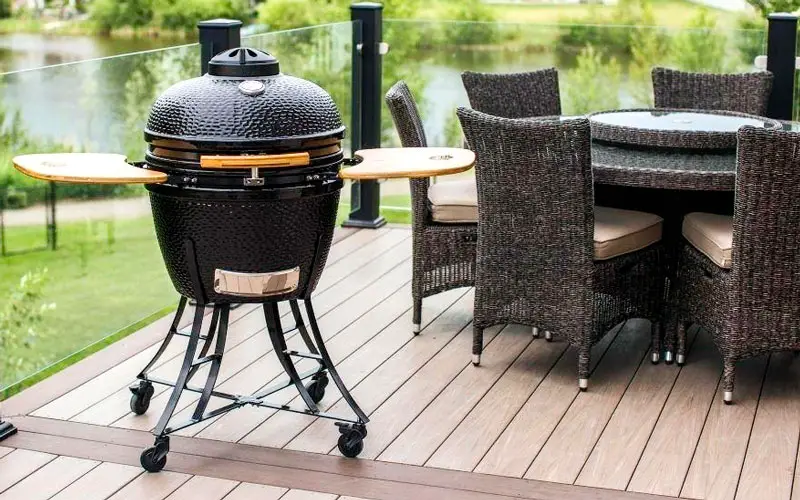 No matter what your job, hobby, or ambition is, there always comes a time when you want to move to the next level. The outdoor enthusiasts get more sophisticated equipment; videographers upgrade to high-tech drones, photographers get bigger lenses.
So what do most grillers do? Actually, most head out to stores to pick out a new shiny outdoor machine. Others prefer the art of smoking their meats. For other serious grillers, their solution is to pick out a Kamado grill to boost their hobbies.
If you have already made up your mind on going to acquire a new Pit Boss Kamado, we over here have put in place a comprehensive guide to help you make a choice. We also selected an alternative kamado grill for you to buy in case you end up not getting the Pit Boss due to factors affecting the situation.
So without further wasting of time, let's get into the Pit Boss Kamado Review.

The Pit Boss 71220 Kamado BBQ Ceramic Grill Cooker makes it so easy for its users to produce a world-class BBQ in their own backyard. Its users are amazed by its quality, beauty, and versatility of the reversed version of a traditional Asian cooker. It was built and designed to last and at the same time, regulated to fit everyone's budget.
The Pit Boss Kamado grill is an all-in-one charcoal cooker that can just cook about anything in numerous ways. The ceramic walls of this kamado product are built in such a way that the naturally produced heat is trapped inside the machine.
Description and Design
The Pit Boss has two types of ceramic girls, which are the 24-inch versions (71240) and the 22-inch version (71220), but we are only going to be talking about the 22-inch version. The Pit Boss 71220 Kamado BBQ Ceramic Grill Cooker can accommodate a lump charcoal.
It is made up of thick ceramic walls that help trap the heat produced by the cooker inside while spreading it evenly in the chamber cooking and sealing the juice in the food.
You can say this Kamado grill is shaped like a fly with gold and black coatings all over it. To give more control to the heat, this egg-shaped ceramic body product is equipped with a bottom slide vent and a calibrated top damper. This additional function gives its users the ability to slow cook their pizza, steak, sear, and at the same time smoke meat.

The Pit Boss 71220 Kamado BBQ Ceramic Grill Cooker comes with two-layer stainless steel cooking grills that offer about 567 Square-inch of cooking space. This platform is also designed with about two foldable side shelves which are made out of bamboo and storage space in which you can store your cooking equipment and food preparation.
The grills of the Pit Boss Kamado comes with heavy-duty hardware that tends to secure the delicate part of the Kamado's body in place. This product comes with a wooden handle, which adds to the product's design.
The cover has a tight fit, and it is also loaded with a spring behind its hinge. The Pit Boss 71220 Kamado BBQ Ceramic Grill Cooker also comes with wheels that can be locked to provide portability as well as stability during use.
It is important that this Kamado grill is pretty heavy at 180 pounds and since the ceramic part is very fragile, it should be moved or assembled by two people.
Features
This grill cooker features two-layer cooking grills. Unlike most grill cookers, this kamado grill has two-tiered stainless steel grates which can make it possible to switch grates to adjust the rate at which the food cooks.
It has a plunger that absorbs shocks while providing additional protection from slams and bumps extending its life span significantly.
It comes with a dual-shelf system. This grill is designed to take up less space as possible, so it features a foldable shelf that is placed by the sides to provide an optional space if needed.
It features an external thermometer which is boldly located at the center of the lid, giving you a solution when it comes to monitoring the temperature inside the cooker.

It has a cast iron calibrated damper. This particular function makes it possible for you to control the temperature using the damper system. It allows you to control the heat source for slow-cooking meats or meals that take longer to cook.
The Pit Boss 71220 Kamado BBQ Ceramic Grill Cooker provides a free ash removal tool which makes charcoal clean up a bit easier.
The grill cooker has a very clay design. This grill is a beautiful grill which features heavy-duty ceramic parts and up to 304 stainless grids with excellent finishing.
Pros
Made with quality raw materials
Has a handsome bamboo finishing
Portable and easy to assemble
Has a ceramic rust-proof bowl
Comes with two layers of cooking space
Calibrated vents which can help temperature control
The thermometer can be replaced if damaged
Great price
Great price
Cons
The ceramic can be fragile
You can't use pellets or wood chips in this griller
Final Verdict
If you really want a great grill, but you don't want to spend much money on a ceramic kamado grill, this is the right choice. One of the best features of ceramic is the ability to resist rust.
Cheaper grills that are made out of metals can rust easily, which in turn is prone to shorten its durability. Another reason you should consider this product is because of its ability to retain and control heat.
I recommend this kamado product. It may not be perfect, but the comparison between the quality and the price is decent here. This is VALUE for the money in our Pit Boss Kamado Review.

The Kamado Joe KJ23RHC Classic II Charcoal Grill has made a name for itself in a market that has been controlled and influenced by other major grill cookers such as Big Green Egg. While this cooler may not be the first type of grill to be made, it is very much innovative and has brought standardization to the market.
If your primary concern is to use this grill to replace the traditional barbecue experience of cooking slow meat, then set your mind as we unveil the standardized features the Kamado Joe KJ23RHC has to offer.
Users who purchased the Kamado Joe KJ23RHC Classic II Charcoal Grill do not doubt that this is one of the strongest and easiest-to-use Kamado grills. If you are in a situation whereby you want to host a backyard family and friend's barbecue, this cooker gives you all the innovative features needed to satisfy everyone.

Description and Design
The Kamado Joe KJ23RHC Classic II Charcoal Grill is the best grill that money could buy. This grill serves as one of the easiest grills to use because of its specially designed airlift hinge, which helps reduce the weight of the product by a whopping 96%.
This feature gives its users the ability to close and open the dome with only one finger if they want to.
This grill cooker has a unique flexible cooking system called Divide and Conquer, which gives its users a multi-level half-rack cooking space. This clever system gives you the ability to cook a variety of meals at different temperatures at the same time.
If you want to multitask and cook a variety of meals at the same time, the Kamado Joe KJ23RHC Classic II Charcoal Grill is the one for you.

To handle the airflow in this product, Kamado installed a control tower top vent which helps its users control and keeps the airflow in this device precise. This innovation made it possible to easily keep the internal temperature range of the Kamado Joe KJ23RHC Classic II Charcoal Grill at the desired rate.
The control tower top on this device is made up of a rain-proof, no-rust, and an all-aluminum part, meaning that it will last for a really long time.
The gasket found in this grill is made from a double thickness wire mesh fiberglass. This feature makes it possible for the Kamado Joe grill to offer an ultra airtight seal which Kamado claims to last for a long time, ten times more than the other gaskets.
The Kamado Joe KJ23RHC Classic II Charcoal Grill also comes with a slide-out ash drawer. This can significantly help reduce the mess caused by charcoal, making clean up easy – and quick. The Kamado Joe KJ23RHC Classic II Charcoal Grill also has an in-built thermometer which makes temperature control easier.
Pros
A thick ceramic construction
Has an eye-catching red porcelain finish
It can cook multiple meals at different temperatures
Comes with innovative features such as an ashtray
It has a lightweight hood
It has side tables to store cooked meals
Rust-proof
Cons
More pricey compared to other types of grills
Low battery
Final Verdict
Despite the price tag, this grill is definitely worth your money. Large cooking area, efficiency, high quality of details, and a supporting lid opening mechanism all make this grill the best kamado grill. No matter the size you go with, the Kamado Joe is a fantastic grill.
I recommend this product to those who want versatility when they grill or those who want to impress their family members and friends. Whether it is your first or your next kamado grill, you would be happy to have this innovative product.
This the TOP CHOICE of our Pit Boss Kamado Review.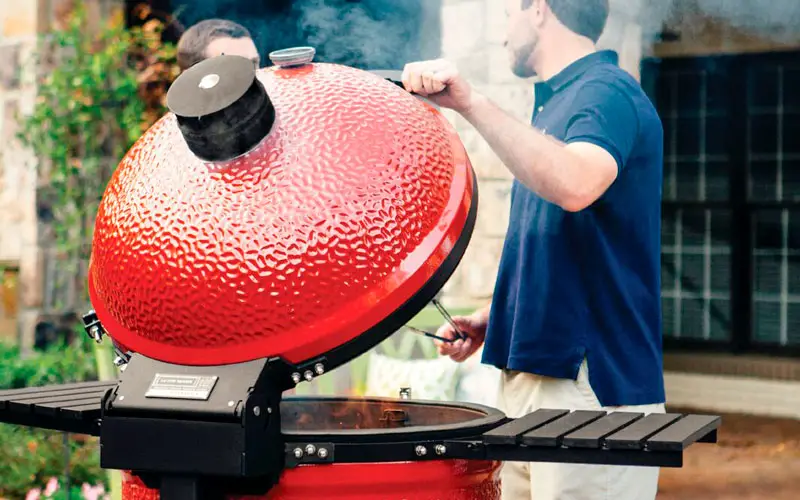 Pit Boss Kamado Review – Buyer's Guide
Just like any investment, you have to do your research before you go and pour your hard-earned cash down the drain. By the time you finish reading this section, you should have the necessary knowledge you need to make your decision. Let's start with Pit Boss Kamado Review origin. What is Kamado?
Pit Boss Kamado Review Guide Contents:
What is a Kamado Grill?
A Kamado grill is a revolutionized form of barbecuing, and it is also one of the oldest forms of outdoor cooking which prevents the meal from coming in contact with direct flames. In fact, these kamado-shaped ovens have been around for several millennia. Here are different stories as to how this oven came to be, but this is as basic as it can get.
A clay-like cooking vessel was created in China then made its way into Japan. Over the years, the Japanese adapted to it becoming a first-rate rice cooker while naming the innovation "mushikamado."
This invention was just like the tandoori oven, and the two shared similar roots. It is also believed that the Japanese made use of some of the technology found in the tandoori oven. The word Kamado, when translated from Japanese means" stove" or" cooking range."
They are moving further on into the 1940s. American soldiers who were being deployed to Japan started bringing back souvenirs and items from Japan, including the kamados and the hibachis.
The Americans liked the cooking innovation and decided to adapt it to grilling rather than the original intent it was designed to carry out, cooking rice. Most suppliers started adding hinges and lid, and also the ability to control and regulate the airflow.
An importer from Atlanta went full time into Kamado in the early '70s and added his own ideas including switching from clay to ceramic which birthed the big green Egg. The Egg dominated the markets for years, and many companies started offering their own designs on the Kamado.
Most known Komado grills made by:
How does the Komado Grill work?

Kamados are easily distinguished with its easily-recognizable shape. Typically, the cooking vessel sits on a stand, and more options are available during purchase. Some may have an external surface attached beside the grill.

The lower part of the kamado grill, which contains almost ⅔ of the product is where the coal burns beneath. The Kamado grill has a domed shaped lid with an in-built thermometer. There are vents that are stationed above and below, and when it is used correctly, you can regulate the temperature.

A perfect kamado grill seals tightly when the lid is closed. The interior is designed and constructed to reflect heat coming out from the coal evenly around the interior. There are some models of kamados that are made with metal, but the most common raw material used for most models is ceramic.




The Kamado grill is best used with lump wood charcoal rather than briquettes, but some sources indicate that briquettes work just fine. When it comes to smoking, users can add a big chunk of wood together with their charcoal.

The fire produced by the Kamado is located near the bottom of the cooker on a small grate found above the firebox. Air flows into the device from the bottom then ash falls into the ashtray.

A fire ring is found directly above the coals where the grill rests on. The grill is located at the top of the lower section of the product, and the upper section is the adjustable top vent caps and the hinged lid.

What makes the Kamado great?

Quick research reveals the price range of the Kamado grill. You can get a small entry-level cooker for about $150, but for a professional XXL, a top model can be gotten for about $4500.

Most kamado products from this selection may have an average price range of about $750 – $1300. So what makes kamado grills great while costing a chunk of money?

To first understand, you need to realize that buying a kamado grill is an investment. A grill created by Kamado is a finely crafted piece of cooking equipment that would last for years as long as it is kept with the required maintenance needed.

Secondly, when using a kamado grill, the cooking experience is one you would love to enjoy. Most professional grillers, once they start making use of kamado grills, can never go back. The kamado product provides versatility, and it acts as more than just a hot surface for barbecuing burgers and searing steaks.




This feature plays its part mostly because of the precise control over the airflow in the system. With little practice, you can learn how to achieve a certain temperature over a long period of time.

With the kamado grill, low and slow cooking of meat like ribs and briskets is very easy to attain. If you want your grill to achieve maximum heat, you can open up the vents and watch your thermometer rise. High heat is perfect for searing steaks.

The last reason why the kamado grill is excellent is that it can cook evenly because of its affected heat. This feature is perfect for making pizza. Standard grill cookers have to be constantly monitored, and if the technique is not perfected, you will end up getting your pizza burnt. With the Kamado's even heating, it can act as an ideal oven for pizza and bread.

Features to look for when getting a right Kamado grill

There are a lot of kamado products out there but what differentiates the good from the bad?

Size

This is the most crucial factor that affects your purchase. There are different sizes of kamado grill which are available in stores and online.

The typical kamado grill has less cooking surface compared to an average charcoal barbecue. Be cautious when selecting a unit and aim to get one who has enough space to handle all your needs.

If you want to prepare a huge rack of ribs or feed a vast number of people at a friendly barbecue party, you will need a bigger model. If you want to prepare meals for just your wife and kids or a few friends over, a smaller cooker may be used.

Construction Material

Most kamado grills are made out of ceramic or stainless steel which is being coated in enamel. The type of materials you choose depends on you, and each construction material used has its strengths and flaws.

Most people prefer ceramic due to the fact that the material seems to trap the heat inside the product, and it is also immune to rust. If you prefer to carry your grill around, you can go for the metal option, so it doesn't damage if dropped or handled carelessly.

Build quality

With the fact that once a product is on fire in stores, possible low options will suddenly start appearing within the market. I totally support saving money and all, but if that requires undermining the quality of an item, I do not encourage going for that product.

Cheaper kamado products may have thinner walls, which can pose a huge weakness to hold a constant temperature. The main reason most users buy kamado grill is because of the heat retention technique, so why would you want to give that up?

A small price for the grill may be appealing, but a more expensive model may just serve you very right giving you the best cooking experience.




Accessories and Work Space

One of the best features of the kamado grill is its versatility. Most models have add-ons from skillets to stacking grills, rotisseries, pizza stone, etc. Apart from accessories that can be used on the cooking surface, there are also rakes, ash baskets, carts, and racks available.

Before settling for one kamado girl, it is essential to know what extras are included in the package and which accessories you will need to buy separately.

Pit Boss Kamado Review – Conclusion

If you had doubts about getting a kamado grill before you started reading this article, I hope I have changed your mind. They are versatile and a unique style of outdoor cooker providing years of enjoyment and delicious meals.

If one likes all kinds of food, they will never get bored with the kamado grill. Although they may cost more than a typical barbecue grill, they are worth the investment. Both grills listed above will do the job, and they will do it well.

Whichever grill you choose, I hope you find yourself preparing the kind of meals you thought only professionals could do.