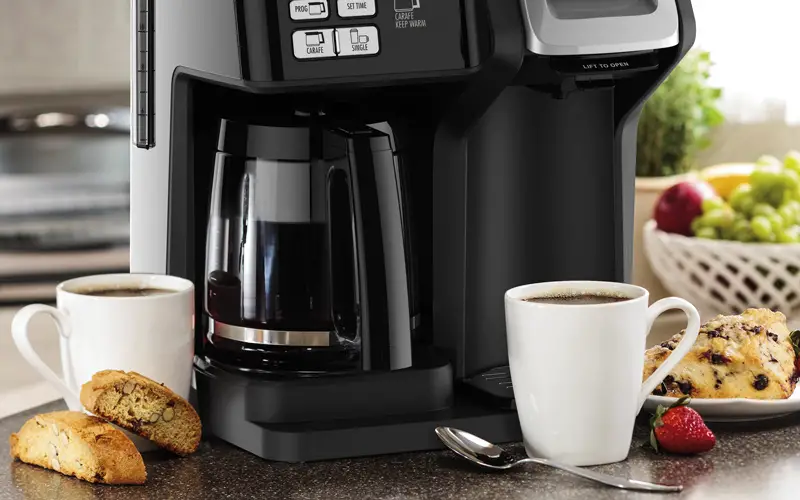 Nothing seems better than taking an early morning coffee (from espressos to lattes) before the start of the day to keep you agile and active. Whether you like your coffee hot, warm or cold, there are technologies in place to help brew your coffee from home.
Such brewing technology is embedded in the Hamilton Beach Coffee Maker. The Hamilton Beach Coffee maker comes with features that allow you to make fresh warm coffee from home or in a professional setting. Hamilton Beach coffee can brew a premium-roast or basic coffee within a short time, and it is cheap to maintain. Here we have Hamilton Beach Brewmaster Review.

Are you looking for a super-fast brewmaster? The Hamilton Beach 12-cup coffee maker is your best option. It comes with a sizable capacity to fill 12 cups of coffee. It comes out of the box with size dimensions around 8.5 x 6.8 x 14 inches and a weight of 6.97 pounds. This size is a portable option for Kitchen use.
The product is constructed out of a stainless steel material along with edges of plastic material; this Brewmaster is resistant to rust. Also, the coffee maker comes in 3 different offers – 3 brewing options such as regular and bold coffee.
A carafe is also included to ensure easy pouring of coffee with fewer spills. The carafe, which appears as a transparent glass flask, receives the brewed coffee in drips and allows for quick dispensing with less mess in pouring.

Furthermore, the presence of a cone-shaped brew basket is available to help filter the brewed coffee to a limited extent, but not like a substitute for the paper-like filter. What's unique is that the brewer has a programmable clock/timer to set an adequate time for brewing.
You can program the time your coffee starts brewing automatically once it reaches the time frame. The presence of accessible buttons (such as the start, on, and end) puts you in full control of the brewing machine.
This Brewmaster comes with an auto-shutoff option that allows the brewer to turn off automatically after a 2-hour standby time.
Embedded on the Brewmaster is an LCD that shows the timing option. There is a natural view water-like window that allows you to see how your coffee brews. Using this Brewmaster will give your coffee the flavor you desire.
Pros
It comes with a water filter
Two hour standby
High heat retention time
Programmable timer setting to brew coffee at any desired time
Cons
No audible alert once brewing is done
Exercise your brewing control with the Hamilton Beach 10-cup coffee maker. This Hamilton Brewmaster appears like every other traditional Brewmaster, only that it has an auto option. It comes out of the box with size dimensions around 11.2 x 9.1 x 14.2 inches and a weight of 5.5 pounds. It comes with a capacity able to fill up 10 cups of coffee.
The Brewmaster is made entirely of a durable plastic material and works like a traditional drip coffee but does not include a carafe. However, the coffee maker features an internal tank that holds the coffee hot and fresh for no less than 3 hours, even after brewing. It also comes with an enclosed brewing system.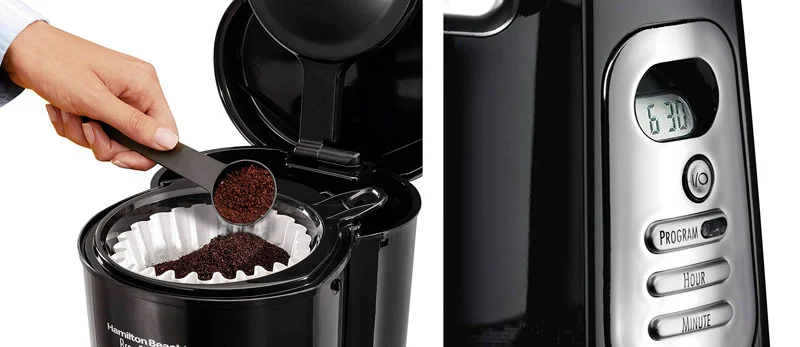 Dispensing coffee from the internal tank involves pressing a bar on the Brewmaster whenever you are ready. The inner tank prevents spills from the brewer. Also, the product features a removable water reservoir in which is filled with water to assist with the coffee brewing process. There are programmable control options embedded in the Brewmaster. The control allows for making timer settings in hours and minutes. The timer function allows you to preset the time you want to brew your coffee.
Besides, the lack of a carafe allows the coffee maker to dispense one fresh cup at a time through drips. With this Hamilton brewmaster, you get to maintain your coffee fresh no matter hours your coffee stays on the hot plate.
Pros
3-hours heat retention time
Durable construction
The water reservoir is removable to facilitate easy filling up
Timer function for time preset
Cons
The reservoir sometimes leaks
Like other Hamilton brewmaster reviewed earlier, the Hamilton Breach 40540 brew station is a free-standing coffee maker that brews coffee with fresh flavor. This Brewmaster is the best type that can be used to prepare hot and fresh coffee for a large group of people. It comes out of the box with size dimensions around 11.3 x 11.3 x 16.8 inches and a weight of 4.7 pounds.
It is made entirely of stainless steel materials and some parts with durable plastic. Unlike many other products, this Brewmaster features a one-handed dispensing function that allows you to fill your cup of coffee by placing the cup against the coffee dispensing bar.
The coffee dispensing bar was designed to work effectively with ceramic and plastic cups. This one-handed function eliminates the need to make use of two hands in filling your coffee cup – There is no button to press or lever to pull.
Also, this Brewstation is quite easy to fill. All you need is to remove the cap and place it under a tap to fill with water, and then you can add your grounded coffee.

For effective brewing, the coffee maker features a dual heater system. This feature ensures that your coffee fresh and hot for hours. The central heating system brews up your coffee in a short period, like 45-60 seconds. For comfort when handling, the coffee maker dispensing area comes with higher cup clearance than other brewers and a removable drip tray for easy cleaning.
Pros
Presence of Dual Heating system for fast brewing
Allows one-hand dispensing bar functionality
The coffee and water basket are removable, allowing for easy maintenance and fast clean-up
Presence of ergonomic comfort grip handles for easy transport
It comes with an easy to fill design
Cons
The metallic part often gets hot, which might be dangerous
The Hamilton Beach 49976 flex-brew coffee maker gives a flexible option to create different kinds of coffee. It comes as a 2 in 1 brewmaster with a carafe side and k-pod side. It comes with size dimensions around 11.4 x 12.2 x 13.7 inches and has a portable weight of 6.37 pounds.
The Brewmaster is made out of stainless steel material, and some parts are made of plastic. You can make a single-serve with the use of the K-Cup side and brew filtered drip coffee. The two brewers each feature their reservoirs. The carafe side can provide up to 12 cups of brewed coffee.
Also, the product features a non-stick heating system that gets your coffee brew in a matter of 3 minutes and keeps warm for 2 hours after brewing.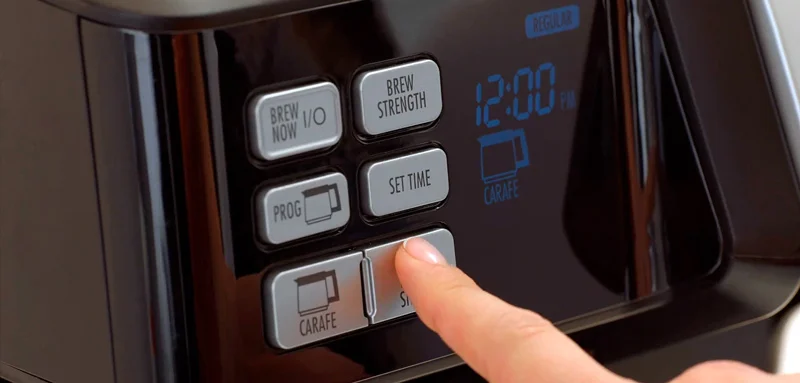 A cup rest at the K-pod side doubles as a storage space, to keep some ground coffee. The cup rest also adjusts to fit tall mugs. The presence of a programmable time functionality at the carafe side allows the setting of a timer option to brew your coffee at your desired time.
An auto-pause feature is also included. A 2-hour auto shut-off gives you rest of mind in case you are wondering whether you switch it off or not.
It is created to be compatible with Melitta's small paper filter/ cupcake type filter, which allows you to purify your brewed coffee. With this flex brew coffee maker, you can brew up to 14 oz with ground coffee and 10 oz. with K-pod.
This is our Best Choice Coffee maker for this Hamilton Beach Brewmaster Review.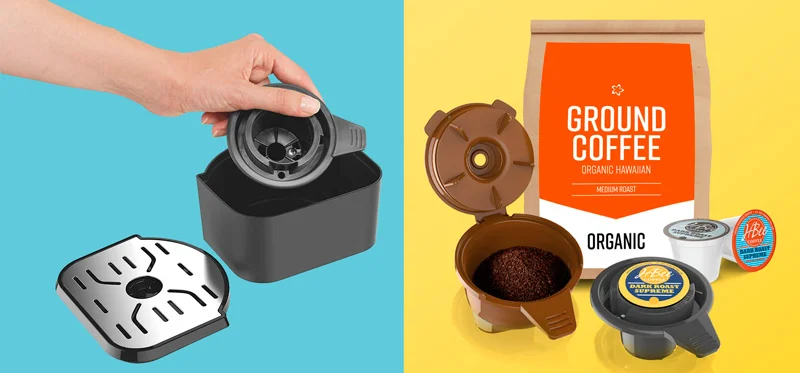 Pros
Auto cut-off saves energy
It has a stainless steel body design, which assures one of durability
A dual water reservoir helps save time
The presence of Nonstick Hot plate help keeps coffee warm for 2 hours
Can brew both fresh and soft pods coffee
Cons
Filling in water involves removing the coffee maker from the cabinet
The drip tray isn't removable. Therefore it can't be cleaned easily
Hamilton Beach is a company well-known for making exclusive Kitchen wares with strong durability. They have incorporated their state of the art in the Hamilton Beach 6-cup coffee maker. It comes with the ability to fill up 6 cups with brewed coffee.
When it comes to space, the brewer has size dimensions around 12.01 x 6.11 x 9.57 inches. It is quite flexible and comes with a lightweight design of 1 pound. When it comes to material construction, it is made up of stainless steel, which contributes to its durability. Also, an enclosed brewing system that comes with an internal heater is included.
Besides, this Brewmaster features a removable internal tank for easy filling and which keeps your coffee fresh and warm for a while. It features intuitive controls that allow you to control the Brewmaster easily. With this Brewmaster comes a programmable press bar to help dispense coffee a cup per time.
Pros
Dishwasher friendly
Stainless steel improves the Brewmaster's durability
It comes with a portable appearance
Hamilton Beach Brewmaster Review – Before Buying a Hamilton Brewmaster
Capacity:
When masking the right buying decision. The first question to ask yourself is; how many servings of brewed coffee can I get from the coffee maker.
Your choice of capacity will depend on whether it is meant for home use or a coffee shop (professional setting). While some Hamilton Beach Brewmasters can provide up 6, 10, and 12 servings, others can provide up to 40 servings.
Therefore, if you need to make coffee in a regular coffee shop or for a large family, you will need one with a 40 serving capacity. Those with 6 -12 cup servings can be used basically in your home kitchen.
Size:
The size of the Hamilton Beach Brewmaster goes a long way to determine how you can adequately store your Kitchenware. Therefore if you are buying any grade of Brewmaster for essential home use, ensure it comes at a size dimension to fit into your Kitchen cabinet.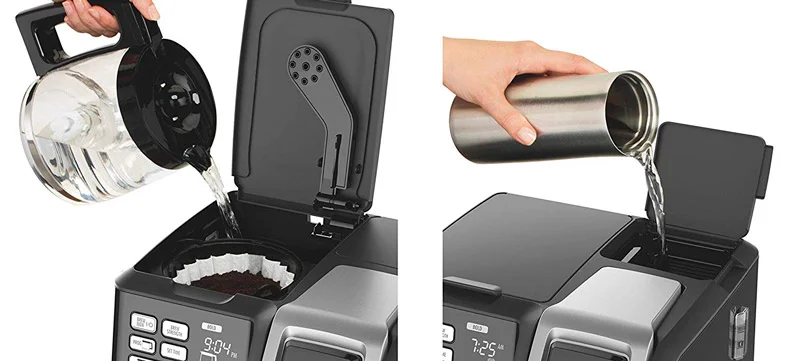 Heating system:
The Heating system goes a long way to determine the rate at which your coffee brews and the extent to which it maintains flavor. Some coffee makers come with hot-plate that has more heating power than others.
Available with the hamilton beach brewmaster are different grades of heaters dual heating hot plate, non-stick hot plate. For whichever grade you want to be sure to understand their heating power.
Dispensing type:
The form of dispensing coffee determines how easy your coffee can be served. While there are coffee makers that make use of an easy pour carafe, which is quite susceptible to slips and coffee mess-up, others use a drip dispenser (directly from the brew tank).
Making use of the carafe seems to be a faster means of dispensing coffee. Meanwhile, using a coffee maker with a drip dispenser can be quite slow. Therefore, whichever grade you choose will depend solely on your personal preference.
Hamilton Beach Brewmaster Review – FAQ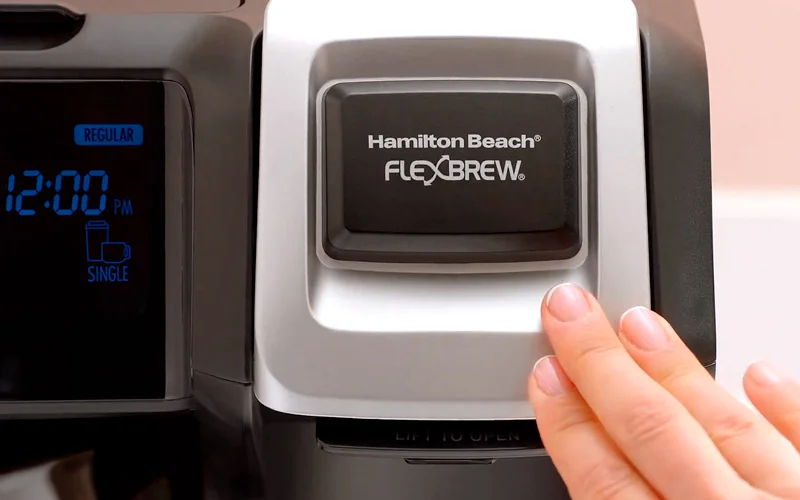 1. How do you make Hamilton Beach coffee?
Your coffee can either come in two forms, which are either cold or hot, but both forms must pass through a brewing process. Making a hot coffee latte involves taking some directional steps with your Brewmaster.
Locate the water reservoir and fill it with water to a capacity based on the number of cup servings you want. Ensure the water reservoir is in place.
Line the filter basket with a rounded coffee filter such as a paper type.
Add approximately one level tablespoon of grounded coffee based on your desired coffee strength.
Then push the brewing button to set to any desired brewing option, which can be regular, bold, or 1-4 servings.
Press the ON button to begin the brewing process.
You can monitor the level at which your coffee brews through an available transparent glass window available with the Brewmaster.
Then if you still desire your coffee hot, serve that way. In case you need it cold, you have to pour over blocks of ice. The Brewed coffee easily melts the ice.
2. Is the Hamilton Beach BrewStation BPA free?
This question often comes up because the internal components of some Hamilton Beach Brewmasters are made entirely of plastic, and plastic contains a significant part known as Bisphenol-A (BPA).
BPA is an industrial chemical often used in the manufacture of durable plastic materials. However, you don't want your coffee to get contaminated with BPA. But you don't need to worry. Some technicalities have been made in place to keep the coffee bean filter from BPA. Therefore, the Hamilton Beach brewmaster can be regarded as been BPA-free.
3. How long should a coffee maker last?
The life expectancy of a coffee lies from a few years to a decade. However, this factor is dependent on how properly the Hamilton brewmaster is being maintained. It also depends on the build quality of the parts. However, if properly maintained, your coffee maker should last between 5 -10 years.
4. What is the best Hamilton Beach coffee maker?
Out of the exclusive list of Hamilton Beach coffee maker chosen fro this Hamilton Beach Brewmaster Review, we consider the
Hamilton Beach (49976) FlexBrew Coffee Maker
to be the best due to the 2 in 1 (carafe and drip coffee dispenser) different option it affords and dual functionality.
5. How do I clean my Hamilton Beach coffee maker?
Cleaning and proper maintenance of a typical Hamilton Beach coffee maker are what makes it last for decades. The best part of cleaning the Brewmaster is to wash off dirt from the filter system and water reservoir. You take proper maintenance by taking the following steps:
Placing empty carafe and filter basket into the coffee maker and firmly closing the filter cover.
Then you can add one pint of white vinegar into the water reservoir.
The coffee maker is then powered by pressing the power button and switch off after 30 seconds.
Then wait 30 minutes for the vinegar to totally get rid of stains and turn again till the brewing cycle is finished.
Switch off the coffee maker, empty the carafe and pour one carafe of water into the reservoir.
Put on the coffee maker to start brewing again.
Repeat the process, but ensure you do it with more carafe of cold tap water. Once the repeated process is complete, turn it off.
Wash the carafe and filter from any leftover vinegar before making any beverage.
6. How often should I perform the cleaning process?
By cleaning, you are elongating the coffee maker's life span. Now depending on how you use the coffee maker routinely, you must also ensure they have cleaned accordingly. For brewmasters used daily, it is mostly advised to clean at least once a month.
7. Why does my Hamilton Beach Brewstation leak?
The leak on the Hamilton Beach brew station might come directly from the internal tank due to particulate build-up in the tank seal. Resolving this issue requires you to turn your brew tank upside down over a Kitchen sink and long-pressing the dispensing valve and use water to flush it for about 35 seconds.
8. Is any of Hamilton Beach brewmaster dishwasher safe?
Yes, some components, such as the carafes (either stainless or glass) are top-rack dishwasher safe. The same can be said about brew baskets, pod baskets. But it is still advised the check the product user guide on instructions on how to clean.
9. What makes a Coffee maker noisy?
If your coffee maker starts making some noisy sounds while brewing, then you don't have to worry. It is normal for a coffee maker to make gurgling and boiling sounds near the end of a brewing cycle. You can hear this sound anytime you switch the machine back on.
Hamilton Beach Brewmaster Review – Bottom Line
You may not find a traditional coffee maker that can keep the flavor of your coffee fresh for long. That is why the Hamilton brewmaster was introduced. They come with mechanical features that allow for programmable and easy dispensing functionality. However, since there are different grades based on primary use and capacity.
There is the need to make a comprehensive review of what each Hamilton Brewmaster entails to make the best buying decision. Selecting any of the Hamilton Beach brewmaster mentioned above won't make you regret spending your hard-earned money because they have what you need to make a perfect early morning coffee.
Did you like our Hamilton Beach Brewmaster Review? Please comment! And don't forget to check our Keurig Vs Nespresso Review!