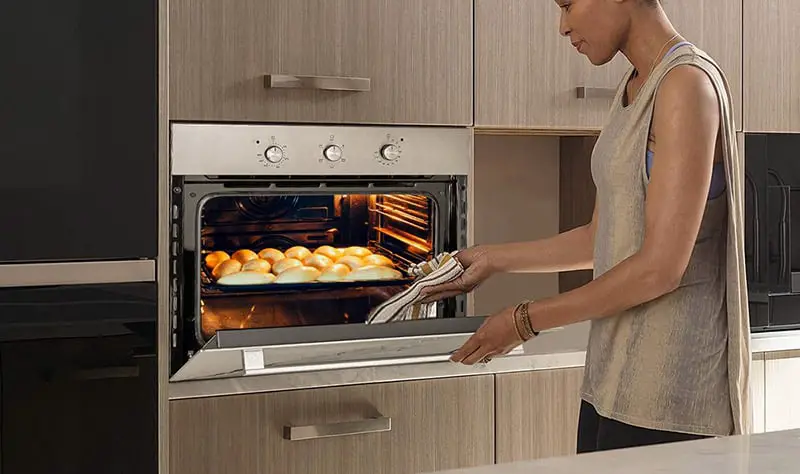 One of the ways to give a more custom look to your home is by using a wall oven that blends seamlessly with your kitchen space. Although the two configurations of oven available are single and double wall ovens, the single wall oven is often an ideal choice for you if your home has a small space.
You can simply install it into the kitchen wall or cabinet without taking up much of your space and, at the same time, allowing for more flexible cooking.
Before you choose a single wall oven for your new or remodel kitchen, you need to be sure that you are making the right choice. But because of the tons of convection wall ovens on the market, picking the best single wall ovens can be a tough task.
That is why we have researched and put together the top of the range single wall ovens you can choose in 2020. Read further to find out!
Review of The Best Single Wall Ovens
If you want to showcase your cooking style to your family, the Empava 24" Single Wall Oven can be an ideal choice with the ten cooking functions it offers. The product is multi-functional, including functions such as bake, preheat, true convection broil, convection roast, broil, roast, and more.
With the stainless-steel finish and tempered glass, this single wall oven is built to last. Also, the construction and design make it ideal for all spaces and create an effortlessly modern look.
The tempered glass has two layers that ensure you don't get your hand burnt. Additionally, a rack is included to provide you conveniently put your food to cook. Also, the rack can be adjusted to five different positions to suit the size of what you want to put in the oven.
It's 2.3 cu.ft capacity allows you to cook more than one dish at the same time. A forced cooling exhaust system is also included to ensure the oven does not overheat during use.
Pros
Bonus baking tray is included
Enamel inner tank is easy to clean
Easy under-counter installation
LOW-EMISSIVITY coating technology to keep the outside cool
High power heating and uniform cooking
Cons
Some users complained that it sometimes takes longer to heat up to the desired temperature
Here is another best single wall oven from Empava that is multi-functional and allows you to cook your meal with little to no effort. This product comes with four basic cooking techniques to help meet your cooking needs.
The available cooking capacity of 2.3 cu.ft also ensures that you can cook many dishes at a time. Additionally, this convection oven uses less energy and heat up faster, making sure your meal is prepared more quickly.
With the included triple layer tempered glass and LOW-EMISSIVITY coating technology, you can avoid injury and burns as the features keep the exterior of the oven cold during use.
The enamel tank of the oven is resistant to heat discoloration and stain. This makes it easy to clean and also ensures durability. It also features a single rack and five different rack positions that allow you to adjust the rack easily as needed.
Pros
Triple-tapered glass for safety
Stainless-steel construction for high durability
Timer function
Easy to clean
Great design
Cons
Some customers complained that the product came damaged
Look no further than the GASLAND Chef ES606MS 24" Built-in Electric Ovens if you are looking for a single wall oven with mechanical control and more cooking functions. This product comes with an aluminum alloy handle that makes it easy to open the oven's door and also ensure longevity.
The stove is built to serve you for long and endure any use you throw at it as it comes with high-quality stainless-steel construction and 3-layer tapered glass.
The six functional cooking modes also ensure you adjust the temperature to meet your cooking requirement. Also, the three control knobs, which includes temperature controller, timer, and cooking modes control, makes it easy for you to be in control and choose the ideal settings for you.
Additionally, the GASLAND Chef ES606MS comes with one baking tray, glove, and grill to make cooking more comfortable, safer, and faster.
Pros
Durable for long time usage
Resistant to rust
More cooking functions
Reliable mechanical control
Removable door for easy cleaning
Cons
Customer support may be an issue
This is another product from GASLAND Chef that is reliable and going to be a great addition to your modern kitchen. Unlike other products from this brand, this oven comes with a smaller capacity of 2.0 cu.ft, making it an ideal choice for families that won't be cooking for a large number of people.
The detachable door, high-quality glass door, stainless-steel construction, and solidly built handle make sure that you use the oven for years and also clean it with ease.
Additionally, a rack is included, and it is durable enough to carry your dishes. You can also remove and insert the rack into any suitable position with the five shelves position cavity that comes with the GASLAND Chef GS606MB.
Unlike some of the best single wall ovens mentions so far, this product uses natural gas. The six multi-function cooking mode also makes it an ideal choice for your cooking task.
Pros
Easy to install
Reliable and durable
Reasonable size and weight
Cooking functions are powerful
Glass structure provides safety
Cons
Small and not suitable for larger families
Just like most wall ovens, the GASLAND Chef ES609DS single wall oven comes with a three-layer tempered glass door, removable door, and handle made of aluminum alloy.
However, it comes with nine multi-functional cooking modes, which include convectional, defrosts, bottom heating, grill, convection, temperature controller, cooling fan, timer, and oven light.
Also, it features a mechanical control for an easy switch between time and temperatures and a digital display that shows cooking time.
Pros
It cooks faster
Easy to operate digital timer and display
High-quality construction
Energy-efficient cooling down fan
Cons
The instruction manual needs some improvements
This product comes with the standard features that the GASLAND Chef brand offers in their single wall ovens.
The features are a high-quality and durable glass door that isolates heat, detachable doors that is easy to maintain, a single rack, and a five-layer shelf that ensures adjustability and 24-inch size.
However, the GASLAND Chef ES611TB comes with 11 multi-functional cooking modes that provide you with more cooking options. Not only that, but it also comes with a sensor-touch control system for easy control over temperature, cooking time, and cooking mode.
Also, the included digital display shows you the cooking temperature and time clearly.
Pros
Excellent quality and looks great
Lots of cooking modes
Several buttons to do the simplest things
Good value and price
Cons
Instruction manual needs to be improved
Some users think using symbols to indicate the control system is not the best idea
Best Sing Wall Ovens – Buyer's Guide
What to Consider when picking a Single Wall Oven
When buying a single wall oven, there are some key points you need to consider, and they include:
Power source
Oven either runs on gas or electricity, and each of these fuel types has its disadvantages and advantages. Gas wall ovens need professional installation and extra piping, but electric wall ovens are cheaper and easier to install.
Also, you don't need a convection fan for a single wall oven that uses electricity before maintaining an even and more consistent heat. Additionally, the electric model offers convection and infrared broiling, while the gas model provides basic broiling.
If you want a single wall oven that offers dry heat, go for an electric stove but if you want one that provides moist heat suitable for cooking a whole fish, large cakes, and the likes, the gas oven will be ideal.
Capacity
Your needs should determine the capacity of the single wall oven you will go for. If you need something that will handle a 20-pound chicken or huge turkey roast, you should go for a 27-inch or 30-inch wall oven. With this type of size, you will get around 4.5 Cu.f to 5 Cu.f capacity.
However, if you won't be cooking substantial food items, an oven that is between 24-inch and 27-inch or smaller in size should do.
Controls and settings
Single wall ovens often come with either mechanical knob controls or sensor touch control. Some even come with a combination of mechanical and digital control. It is easier to get familiar, fix, and use knob-controlled ovens.
However, if you want a stove that comes with sleek control, the sensor or soft-touch option will be an ideal choice. Additionally, some high-end models come with high-end control, like voice command and other smart controls.
Note that they often come at a higher price than ones with knobs or touch control.
Door quality
The quality of the glass door of your oven is essential if you don't want to put yourself and your family in harm's way.
A single wall oven with two- or three-layer tempered glass is often the best because it helps to isolate the heat generated by the stove and prevent it from getting to the outside. So, it means the door won't be hot and cause injury when you are cooking.
Other points to consider
The number of cooking modes
Reliability – invest in an oven that will serve you for years
Ease of cleaning. Remember, cooking can sometimes be messy. There are some ovens that self-clean. You won't go wrong, picking them as long as they meet other criteria.
Size – ensure you go for the one that fits perfectly into your cutout dimension, especially if you are replacing an older model.
Wall vs. Range Ovens
No doubt, Range and wall ovens are a crucial part of a functional kitchen. However, they are different in appearance, size, cost, installation, and more. Take a look at the comparison table below to find out more.
| | |
| --- | --- |
| Wall oven | Range oven |
| You can easily find an electric wall oven | You can easily find a gas range oven |
| Easy to install at any height and also offers easy access | Easier to install but it provides a hard-to-reach access |
| It offers oven only | It often comes with a cooktop and an oven |
| Wall oven are often small in size and save space | Range ovens often come in big sizes and take a lot of space |
| It is not always easy to maintain and repair | Maintaining and repairing a range oven is easier |
| This style of oven is more affordable as it can start as low as $300 | Range ovens can cost anywhere from $400 and above |
| Wall ovens can last around 13 years | This type of oven can serve you for up to 15 years if well maintained |
Difference Between Single and Double Wall Ovens
Double-wall oven and single wall oven models are the two styles of wall oven available. The space you have in your kitchen and your cooking habit will determine the style that is ideal for you. Although both are wall units, there are some differences between them.
You can install a single wall oven below a cooktop or under the counter to provide your kitchen with a plush, in-built design, and also maximize space. This style comes with one cooking zone. It is ideal for people with a small kitchen space and doesn't cook often.
On the other hand, you can not install a double wall oven under the counter, but instead, it is built-in. This style of wall oven comes with two cooking zones for more cooking flexibility. Also, it often features broiling or convection capabilities in one of the zones.
If you always throw parties, have a big family, or a professional home cook, this oven is an excellent choice because it is a time saver.
What Convection mean in a Single Wall Oven
Convection heating is one of the top features you should consider whether you go for an electric or gas wall oven. An oven with convection heating features a fan that is located on the back wall. The fan ensures you get an even result by moving the hot air around your food.
In a modern single wall stove, the convection fan can be switched off or on to take in your recipe.
Convection heating is available in types, and are dual or twin convection, true European convection, and traditional convection.
As mentioned earlier, the traditional type function by moving hot air around; however, the fan of an oven with true European convection comes with a third heating element that offers a more uniform temperature and better cooking result.
As for the dual convection, it is similar to European convection, but it has an additional fan.
Single Wall Ovens FAQ
Do I need ventilation for my wall oven?
Wall ovens usually come with an internal vent, so they do not need to vent to the outside. Modern-day single and double wall ovens feature vent below the door to keep the appliance cooler and also improve their appearance.
Should you run a new single wall oven before using it?
Running your single wall oven before using it will help you remove the chemical residue in your new appliance. Allow enough ventilation, set the temperature of the stove to high heat, and allow it to run at the temperature for about one hour.
Then switch it off and let the oven cool a bit before you open the door. You can repeat the process to get rid of the smell.
Final Words
No one can help you to choose the perfect single wall ovens. It is for you to decide on the model and brand that offers the ideal blend of reliability, functionality, efficiency, design, size, and features that will bring a great cooking experience to your kitchen and home.
However, the six best single ovens mentioned in this article can be a perfect place to start your selection process if you don't know where to begin your search.